2022 A4DE: Kyron Bacon takes maiden win at Aussie 4 Day Enduro
Kyron Bacon has etched his name on the prestigious Australian Four Day Enduro (A4DE) trophy with outright win in the biggest off-road event downunder. Jessica Gardiner also makes history claiming her sixth win in the Women's class.
E1 and the overall for Bacon
Results are split into classes and naturally it was Kyron Bacon's all the way with the Final Moto win on day four the icing on an already baked cake.
Conditions were mixed all week with greasy tracks and unpredictable weather Bacon was at home from day one when he clocked the fastest time overall. The worse the conditions got (cold and wet) the bigger the margin out front for Bacon.
Check what Kyron had to say at the finish:
Filling out the E1 podium after four days was Cooper Sheidow (Kessner Motorcycles, KTM) and Jeremy Carpentier (Yamaha JGR Ballard's Off Road Team), with respective times of 2:34:01.318 and 2:34:32.634. Contrastingly though, it was Sheidow and Blake Hollis who claimed the silver and bronze in the Final Moto, knocking Carpentier down to fourth.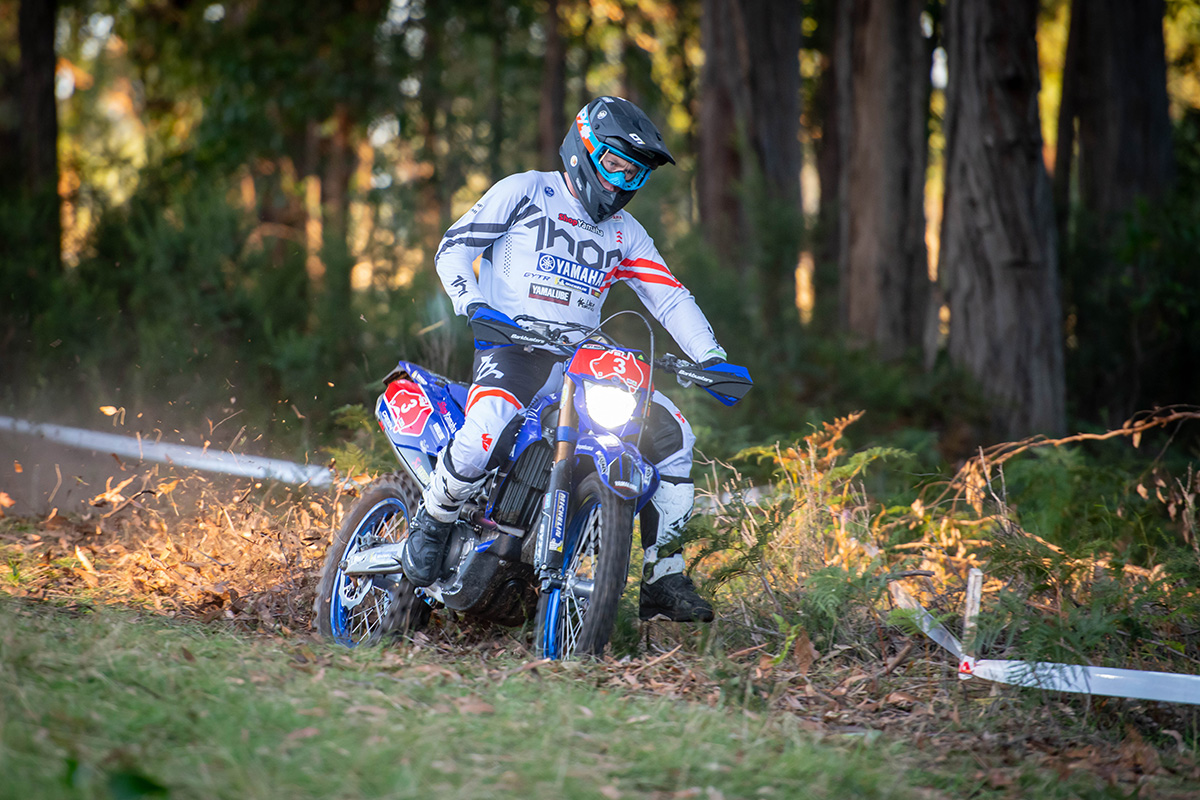 Greeny wins E2 class
He had some challenges throughout the event, especially yesterday in Day 3 after losing to Waters. After all that though, the E2 A4DE title was won by Green with nearly a minute to spare! The Yamaha racer has solidified a place in every fans heart, after earning a hard fought title with a total time of 2:31:34.604.
"I'm pretty relieved to finish off Day 4. It was hard work," explained Green. "I got a good start and the holeshot [in the Final Moto]. I was about two laps in and thought to myself 'wow, that red plate holder is on my back wheel'. It was an awesome weekend - challenging, slippery and hard to race.
"I had a few mistakes this event, so we'll go back to the drawing board and learn from it. I'm super stoked to be racing Toddy [Waters], we have great banter and I love it."
Todd Waters took home second place win overall in E2, demonstrating how versatile his skill set is in both Motocross and Enduro. Waters also won the Final Moto with a total time of 15:08.634, beating Green by nearly six seconds.
Beta's Fraser Higlett stole third place overall, just behind Waters with a total time of 2:35:58.657. With a result like that, it bodes well for the remainder of the racing season.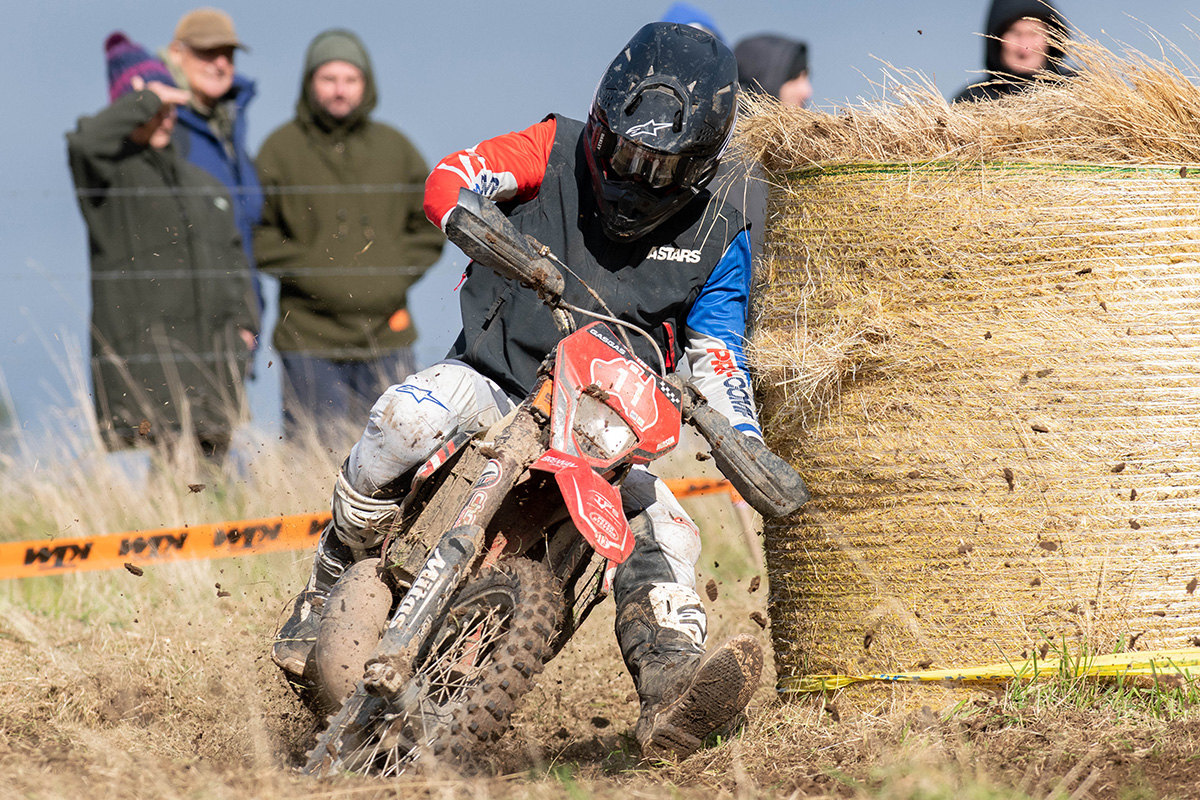 Mason steals E3 victory
Thomas Mason won the 2022 E3 title after a consistent performance on the GASGAS all week to clock a total time over four days of 2:32:27.991.
"I feel relieved that I can put this A4DE in the books," confirmed Mason. "Today was good – I had a bit of a scare before the Final Moto, where my kickstarter broke just before the race. But we got it sorted and this event has reflected my best results.
"I didn't know what to expect coming into the event. I was aiming for a top 10 finish and to get in the top five after time off is a great confidence boost."
Claiming the Final Moto win in E3 with a total time of 15:21.505, Andrew Wilksch put on a a show for fans as he tussled with Mason for class honours and Bacon for the overall. But for a time penalty Andy could have taken the E3 crown.
KTM's Stefan Granquist protected his third place position in E3 overall and in the Final Moto, finishing the A4DE with a total time of 2:34:05.969.
2022 A4DE combined (scratch) results:
Kyron Bacon (Shop Yamaha Offroad Racing Team) 2:29:38.401
Joshua Green (Shop Yamaha Offroad Racing Team) 2:31:34.604
Thomas Mason (Gas Gas) 2:32:27.991
Todd Waters (Husqvarna Offroad Racing Team) 2:32:36.528
Andrew Wilksch (Simford Racing, Husqvarna) 2:33:14.324
Cooper Sheidow (Kessner Motorcycles, KTM) 2:34:01.318
Stefan Granquist (KTM Offroad Racing Team) 2:34:05.969
Jeremy Carpentier (Yamaha JGR Ballard's Off Road Team) 2:34:32.634
Fraser Higlett (Beta) 2:35:58.657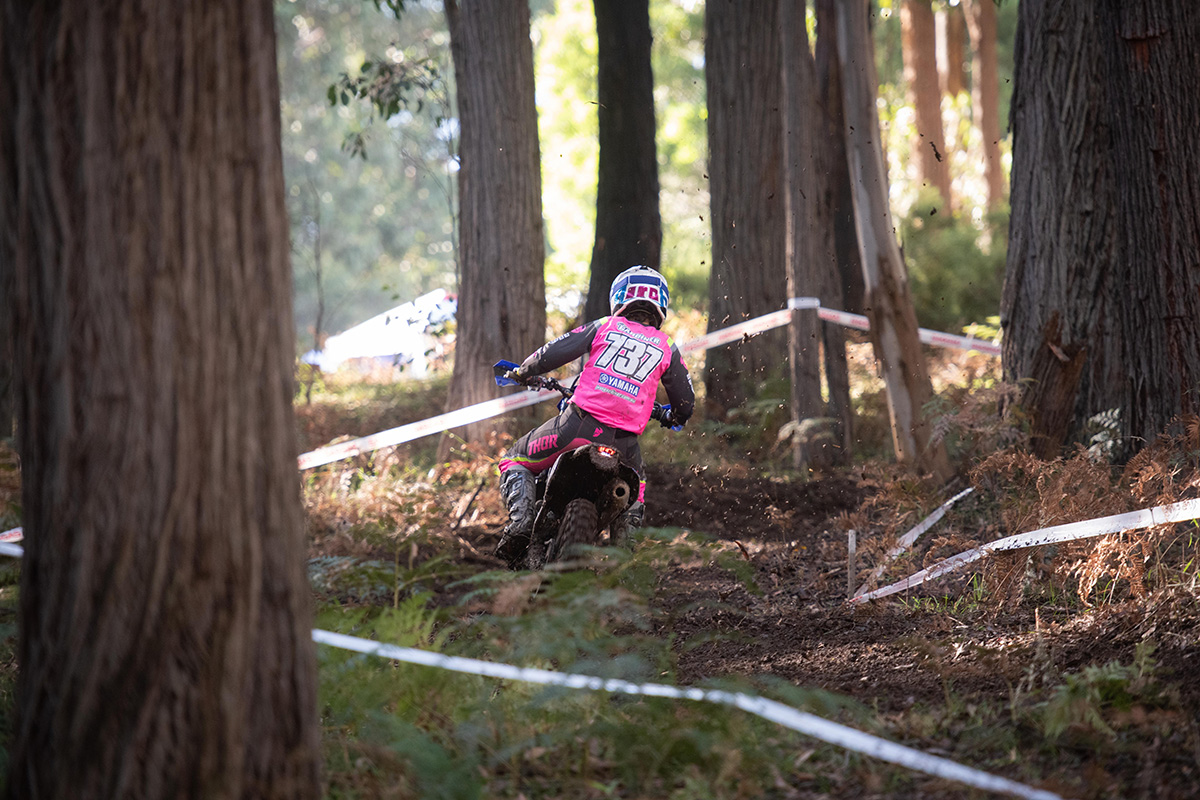 Sixth A4DE title for Gardiner in Enduro Women
Jessica Gardiner's seemingly unstoppable run in the A4DE sees her take home a sixth Women's title. After smoking the competition in the Final Moto with a total time of 17:18.835, Gardiner was again head and shoulders above her rivals.
"I feel ecstatic to earn my sixth title!" Says Jessica. "I was nervous going into the Final Moto. Everyone is watching and your body is tired, but you need to put on a show and demonstrate your riding style.
"The start was exhilarating, where I needed to keep ahead of Emelie who's on a bigger bike. I was lucky to get that holeshot and it set me up well for the rest of the rest.
"Winning definitely doesn't get old! I'm so thrilled with this result."
KTM's Emelie Karlsson earned both second place in the Final Moto and in the overall Women's class ahead of Ebony Nielsen (KTM) third overall in her first ever A4DE. With a humble mindset of staying upright for four days, Nielsen's end result is a testament to her skillset.
2022 A4DE Women Top 3 Provisional Progressive Results:
Jessica Gardiner (Yamaha JGR Ballard's Off Road Team) 2:52:00.916
Emelie Karlsson (KTM Offroad Racing Team) 2:57:11.800
Ebony Nielsen (KTM) 3:09:25.783
Darren Lloyd won the Vets class in a total time of 2:48:20.134, Jason Salopayers took a comfortable win in the Masters with 2:54:57.959
The date has already been set for the 2023 A4DE in Harvey, Western Australia with the Trail & Enduro Motorcycle Club of WA hosting the event for the sixth time on May 17-20.
More information: www.trailandenduro.com.au
Photo Credit: Troy Pears