Rhayader 2 Day Enduro results: Steve Holcombe wins…on a Beta 125
Results from the Rhayader 2 Day Enduro where Steve Holcombe topped the timesheets on a Beta RR 125 two-stroke in a race weekend which served as dry (sometimes wet!) run for the 2024 EnduroGP of Great Britain.
Steve Holcombe has been quietly clocking up the hours on his home-built Beta RR 125 two-stroke training bike this season. When racing in the UK, the seven-times world champion has used the baby Beta mainly in a Welsh Sprint Enduro series.
Until this weekend when Holcombe pitched it against some bigger boys in what was billed as a dry run for the 2024 British EnduroGP round at the same venue, the Rhayader 2 Day Enduro.
The race was a test for the GP for the Rhayader club and organisers who ran a programme of Friday night prologue plus two full days racing on the 16 tests which are planned for 12 months time.
Holcombe was in fact sandwiched between the two Sherco Factory Racing riders, Wil Ruprecht and Hamish Macdonald for much of the weekend including the prologue results. The Antipodean pair also took on the Mid Wales event in preparation for next year's GP.
Ruprecht took the prologue and day one win, heading Holcombe by over 20 seconds with a total time of 1:03.30 on the clock after nine tests (three laps of three). Holcombe finished on 1:03.53 with Hamish Macdonald a further 13 seconds back in third. Max Ingham and Josh Gotts completed the top five on day one.
Day two could have been a repeat performance for the 2022 E2 World Champion Ruprecht but the Australian hit the deck hard in the final test and was not able finish.
That opened the door for a surprised Steve Holcombe to take the overall on the 125 Beta in a total time of 1:57.17 for the two days combined. Macdonald clocked in just 10.64 seconds behind and both were well-clear of Max Ingham who completed the overall podium.
Tom Sagar grabbed fourth overall with Harry Edmondson rounding out the top five after a mixed weekend's bag of conditions which saw a decent list of retirements.
Ross Danby took the Expert class win with Women's Enduro World Champion Jane Daniels taking P7 in that class.
2023 Rhayader 2 Day Enduro results (combined):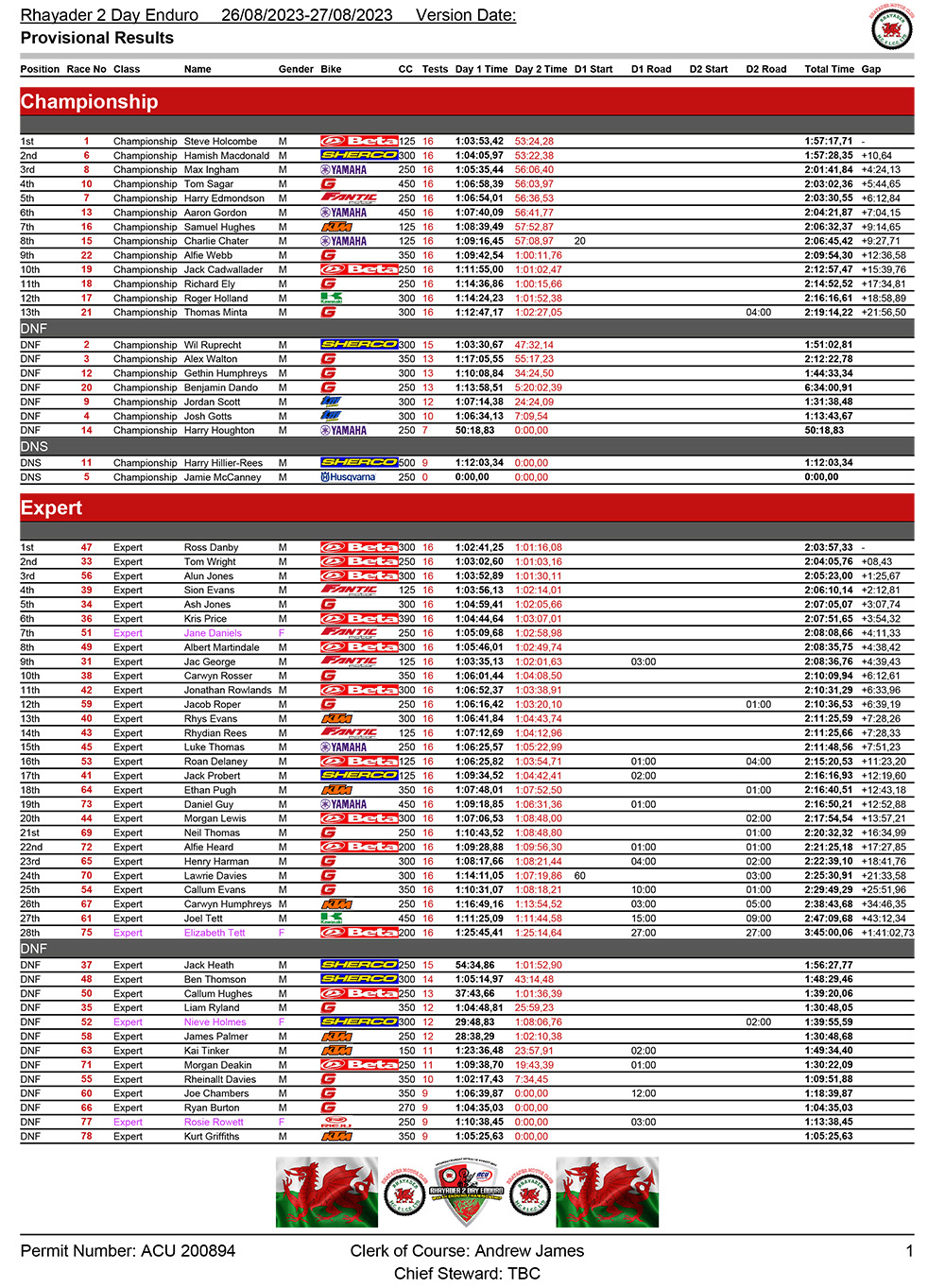 Photo Credit: Phil Hodges