Colton Haaker wins 2020 AMA EnduroCross Championship
Colton Haaker has taken his fourth AMA EnduroCross championship with third place at the final round of the 2020 series at Glen Helen raceway – Cody Webb and Trystan Hart take runner-up battle down to the final corner in the final moto…
The final AMA EnduroCross race of the season had a simple enough ticket for Colton Haaker, follow your main rivals home and back-to-back titles are yours. The Rockstar Husqvarna rider has been the consistent best rider through a truncated six-round series all based at the Glen Helen Raceway and with all the hard work done a solid finish would be enough.
The track layout has changed across the races to mix things up and EnduroCross racing is never predictable and despite Haaker needing to just finish top six history tells us to expected anything come the three motos.
Behind Colton the contest for runner-up spot overall couldn't have been closer between three-time champion Cody Webb on the FactoryONE Sherco and FMF KTM's Trystan Hart who began round six separated by just four points.
Haaker lays down a marker
For the second race in a row, Colton Haaker set the fastest hot lap time to earn the first gate pick for the first of the three motos with Hart and Webb a close second and third.
Hart earned another Fox Holeshot in moto one with Haaker, Abbott, Gerston and Webb in hot pursuit. Webb eventually worked his way up to second and kept Hart honest but had to settle for the runner-up spot at the final flag.
Haaker meanwhile looked to be taking a smart approach and rode conservatively on what he described as an "oversaturated" track to take third. Beta's Max Gerston battled with Abbott for much of the moto and eventually took fourth and fifth respectively.
Second moto bites again
In the second moto, which inverts the moto one results for gate picks, Spenser Wilton took the holeshot on his KTM and led the riders through the first lap. Webb was the first of the top riders to work through the pack and he took over the lead at the end of lap two.
Haaker and Hart both had problems on the first lap putting them at the back of the pack. Webb opened a small gap and Hart passed Haaker as they eventually worked their way up to second and third position and they finished in that order. Gerston finished fourth and Kepple rounded out the top five.
One more final moto shootout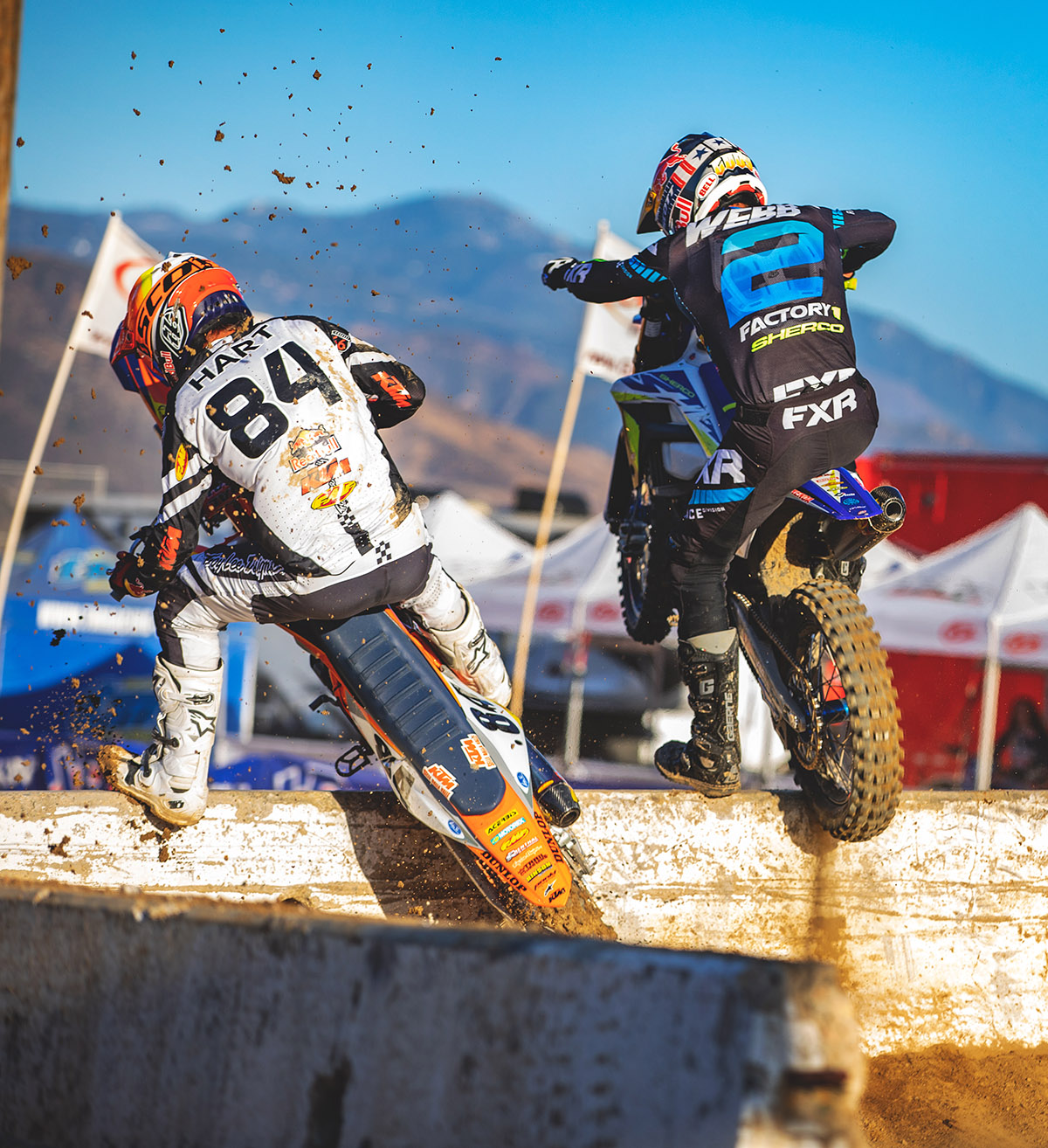 Hart and Webb were now tied on points going into the final moto and it was Hart that again took the Fox holeshot. Haaker was second entering the Rocky Mountain ATV/MC rock garden but Webb shot past and into second.
Haaker was looking less conservative and made a pass on Webb for second which he held for a couple of laps before Webb work his way back past. Webb then made a big push to close the gap on Hart and was able to make a last-lap pass attempt when Hart got stuck on the IRC tire climb.
Webb then fell off in the final corner but recovered for second in the moto and narrowly take P2 overall from Hart by just one point. Haaker had a front row seat of all this but settled on keeping out of the mayhem to finish third in the moto, third overall for the day and with it a well-earned 2020 championship.
Say what? Haaker, Webb and Hart explain their final races:
"Tonight, I was pushing as hard as I felt like I needed to on an oversaturated track." Explains Colton. "It was really wet in the first moto so I took it easy and let the race come to me and finished third. I ultimately finished third in each moto but each race I got more comfortable with being in the position I was in. You just had to be smart out there.
"This year was really tough for me, I had a bulged disc in my back at Round 2 and since then I've been fighting it really hard but I'm happy to come away with my fourth title."
"That final moto was a little finicky and I didn't totally trust Haaker in the beginning." Says Cody. "I think I rode a little too soft in the beginning because I didn't want to risk second in the championship. Then I charged and reeled Trystan in and he made a mistake at the end so I threw a Hail Marry at the finish there to try to make a pass.
"We had a good season and the Sherco factory was able to send over some maps and settings to help improve the bike. The tougher tracks these last few races also helped me be more competitive. Ultimately, it was a good year and I feel that we can improve from here."
"I don't really care about the overall win today…unless your number one, it doesn't even matter." Said Hart after the flag. "All I care about is getting that number one. So the most important thing for me is that I am there with Colton and Cody and can compete for that number one plate. I got the speed so now I just need to be more consistent."
2020 AMA EnduroCross Rnd 6 results:
Trystan Hart, 1-2-1, KTM
Cody Webb, 2-1-2, Sherco
Colton Haaker, 3-3-3, Husqvarna
Max Gerston, 4-4-6, Beta
Noah Kepple, 7-5-4, Husqvarna
Cooper Abbott, 5-7-5, KTM
Cory Graffunder, 6-6-7, Yamaha
William Riordan, 8-9-9, KTM
Ryder Leblond, 10-8-10, KTM
Ty Cullins, 11-10-8, TM
Spencer Wilton, 9-12-11, KTM
Branden Petrie, 12-11-13, KTM
Anthony Johnson, 13-15-12, KTM
Daniel Lewis, 14-13-14, Husqvarna
Adam Hartnagel, 15-14-15, KTM
2020 GEICO AMA EnduroCross EnduroCross Championship results: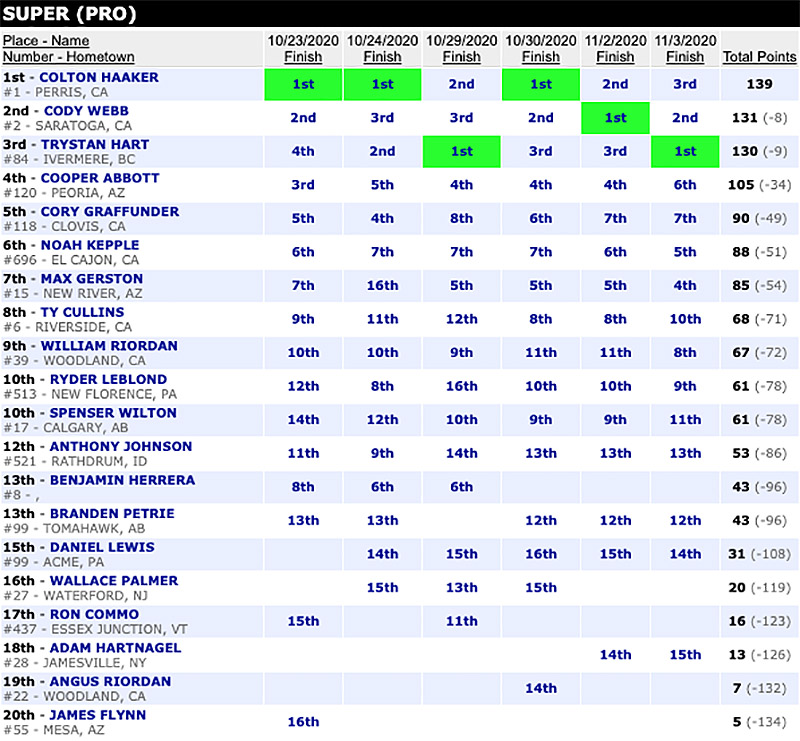 Ty Cullins 3x Junior Champion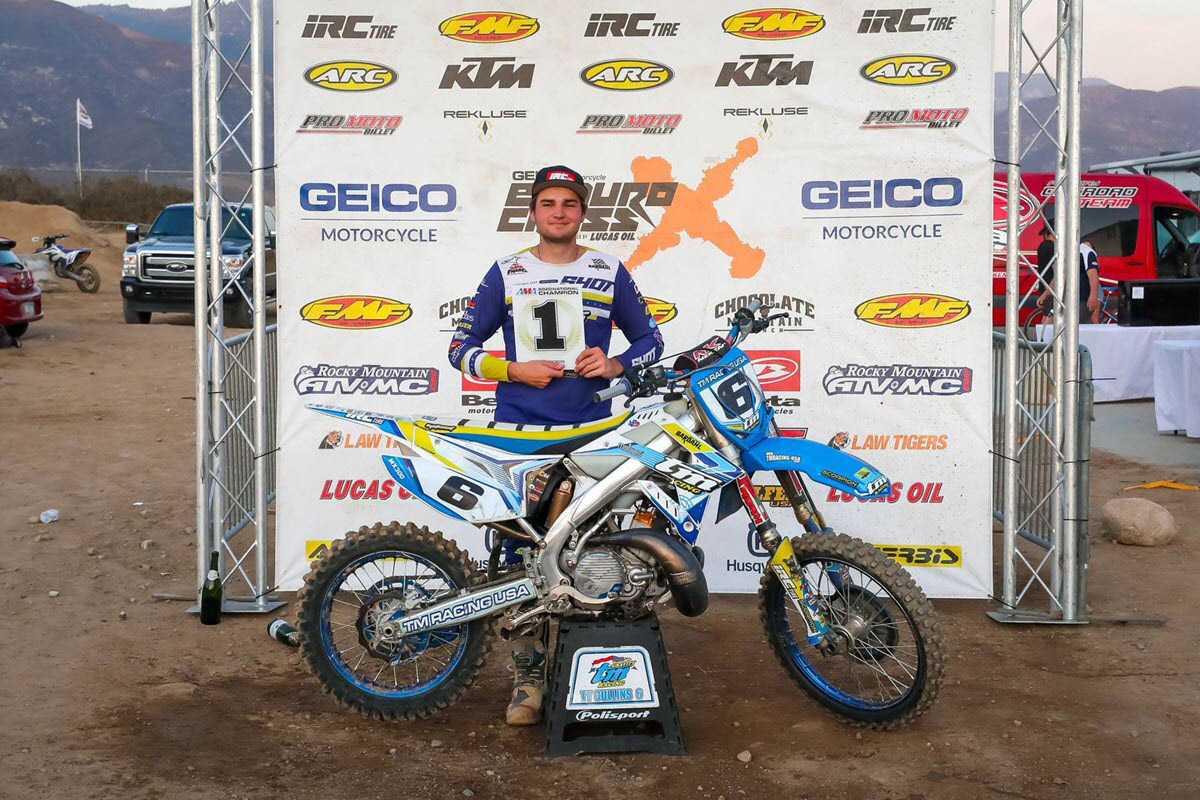 For the third year in a row, TM rider Ty Cullins earned the Junior championship title after a tight contest with William Riordan across the six rounds. Cullins finished eighth in the overall championship and just one point ahead of seventeen-year-old William Riordan after the pair traded places all season. Ryder Leblond, another teenager rounded out the top 10 in the series.
Tanke takes victory, Turner takes 4th WEX title
Beta's Morgan Tanke took the win in the Women's class to end Shelby Turner's perfect season. Tanke took the holeshot and never relinquished the lead. Turner put the pressure on to the end to finish a close second and wrap up her fourth EnduroCross Women's championship. Tanke was second in the championship. Sherco's Louise Forsley finished third at the final round and third in the championship.
Tyler Smith won the Amateur/Intermediate class at the final round and took the championship on his Husqvarna. Shelby Turner finished second in the race on her KTM and second in the championship. Joshua Fout rounded out the podium at the final round and took third in the championship on his Yamaha.
TM rider Ryan Gouveia won the final round of the Vet 35+ class and edged out defending champion Craig Thompson for the championship. Dan Hayakawa rounded out the podium at the final round and Kyle Strever finished fourth in the race but earned third in the overall championship on his Yamaha.
Complete race results: http://www.resultsmx.com/endurox/class.asp
The complete six race series will be broadcast on Fox Sports 1 from November 7.
More information: www.endurocross.com
Photo Credit: Jack Jaxson + MJSMotoPhotos | Mary Rinnell