2023 EnduroGP results: Garcia and Freeman fight it out on day one in Spain
Results from day one of the 2023 EnduroGP World Championship in Spain where a titanic battle between Josep Garcia and Bradley Freeman eventually saw the Beta rider win out over his KTM rival after a storming final lap.
2023 Spanish EnduroGP Day 1 in a nutshell:
Overnight rain which continued into day one here in Lalin for the 2023 Spanish EnduroGP certainly played role. A long, tough transfer and slick conditions in the tests gave chance for bike control talent to shine as much as it gave rise to errors and even time penalties as riders struggled to make the checks.
If you wanted to see talented riding in tricky conditions, Steve Holcombe shone as he got the day underway with the first two test wins in slick conditions. It would have been a very good day for Holcombe except for a blip on the second visit to the extreme test where he crashed and lost over 20 seconds. It was a blip which kept him away from a potential day win.
The fight for the overall therefore condensed to just two riders, Josep Garcia and Brad Freeman who traded test wins with Holcombe throughout the day.
Josep was dominant in the first two visits to the 7km enduro test which proved his strong point, keeping him a top the time sheets.
But Freeman was again dogged as the day progressed and got faster, topping every test in the final lap and a half, correcting the deficit in the enduro test to Garcia, to take his third win of the season by a margin of 11.55 seconds.
The overall and E3 class win makes it three from three for Brad: "I started a bit slow and it wasn't as wet as we expected but it was really, really slippy. You had to be careful and I think I was just too cautious. It dried out and I got my flow and it turned out to be a good day, I got the win over Garcia in the last test. Same again tomorrow."
Garcia let the lead slip away but takes away an E1 class victory: "I am really happy to be back on the EnduroGP podium and take the E1 class victory. I was in front for much of the day but crashes in the last tests cost me some seconds there. But we were in the fight until the end and we keep pushing tomorrow."
Third overall and first in E2, Steve Holcombe says the mistake cost him a chance: "Overall it wasn't too bad and I started well but in places I was too sensible and in the last two extreme tests I made too many mistakes. I got stuck for a long time in the second visit. I tried two different options in how I approached the tests and each was the wrong way around if that makes sense. It's great to win E2 class, it's been a long time since I stood on the top step at a GP, but I'm disappointed with my riding. I look forward to tomorrow."
Though well clear of the rest of the field in fourth scratch, and P2 in E2, world champion Andrea Verona says he was disappointed to not challenge the top three closer.
Where was everyone else? They are probably asking themselves the same question this evening as the top four riders ran comfortably clear of the rest in an impressive display.
The next best rider in fifth, Hamish Macdonald, was over a minute and a half back on fourth and 2.31s down on the winner.
How far down the list of first class riders do you want to look? The top four today were awesome in the conditions. Check the gaps in E1 and E3 class between P1 and P2…
A feature of the Junior and Youth class results were some time penalties which affected a huge number of them. The cause? The heap of rain dumped on the Galician hills made a long transfer difficult and caused time penalties. It's all part of the game kids.
Among those clocking a minute was Albin Norrbin in the Juniors and Kevin Cristino in the Youth class and it prove costly for Norrbin who could have won without it.
Instead, his Fantic teammate and points leader Jed Etchells who collected the win, 7.71s to the good with Jeremy Sydow overtaking Spanish favourite Sergio Navarro for third in the last test.
Luckily for Cristino in the Youth class many of his rivals also caught a minute penalty so he didn't lost out. The championship leader was free to take this third day win of the season, 10.54s ahead of Thibault Giraudon for a repeat of the opening GP. Leo Joyon was third but well-over a minute behind.
Enzo Marchal took a comfortable scratch win in the Open World Cup, 31s ahead of Jiri Hadek with the pair taking Open 4T and Open 2T honours respectively. With less than 15 riders, it's fair to say this class is not so well supported this weekend – although a huge entry for Spanish national championship round running here is the culprit.
Once last and very sad piece of news to report today is the sad loss of Pierre Ludovic during the event. Enduro21 joins the entire EnduroGP community today in sending our thoughts to his family and the LM Racing team.
2023 Spanish EnduroGP scratch day 1 results: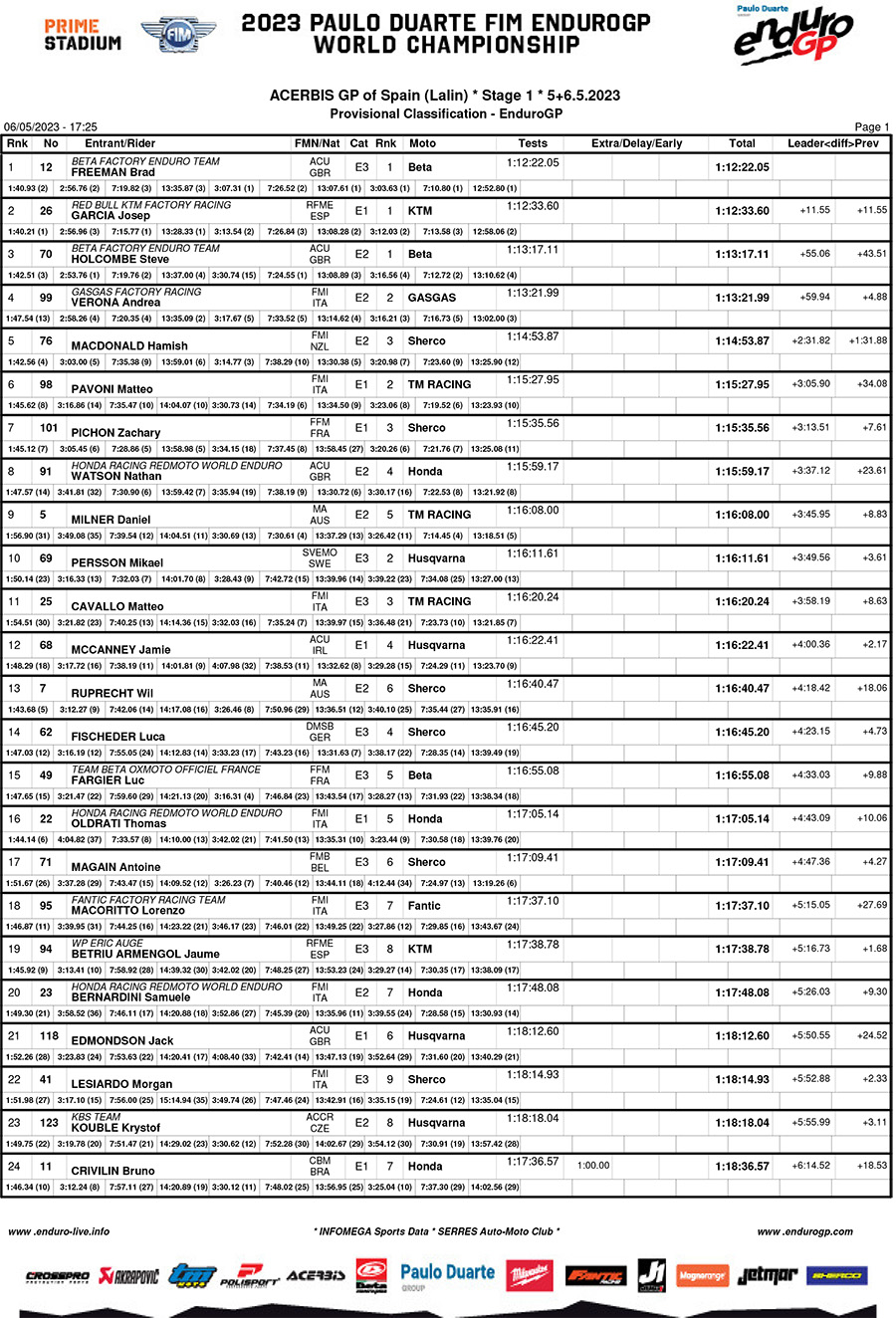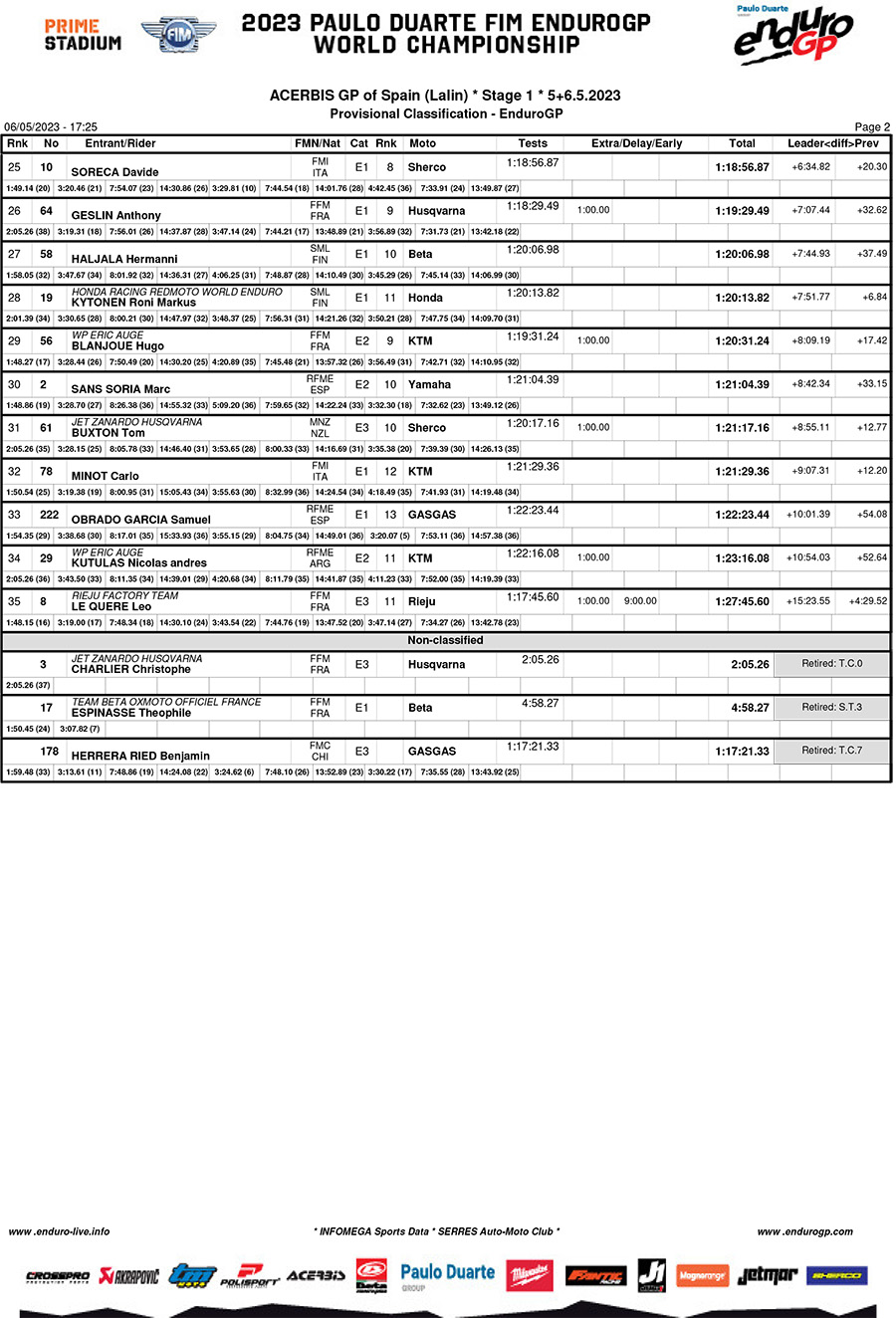 E1 class results: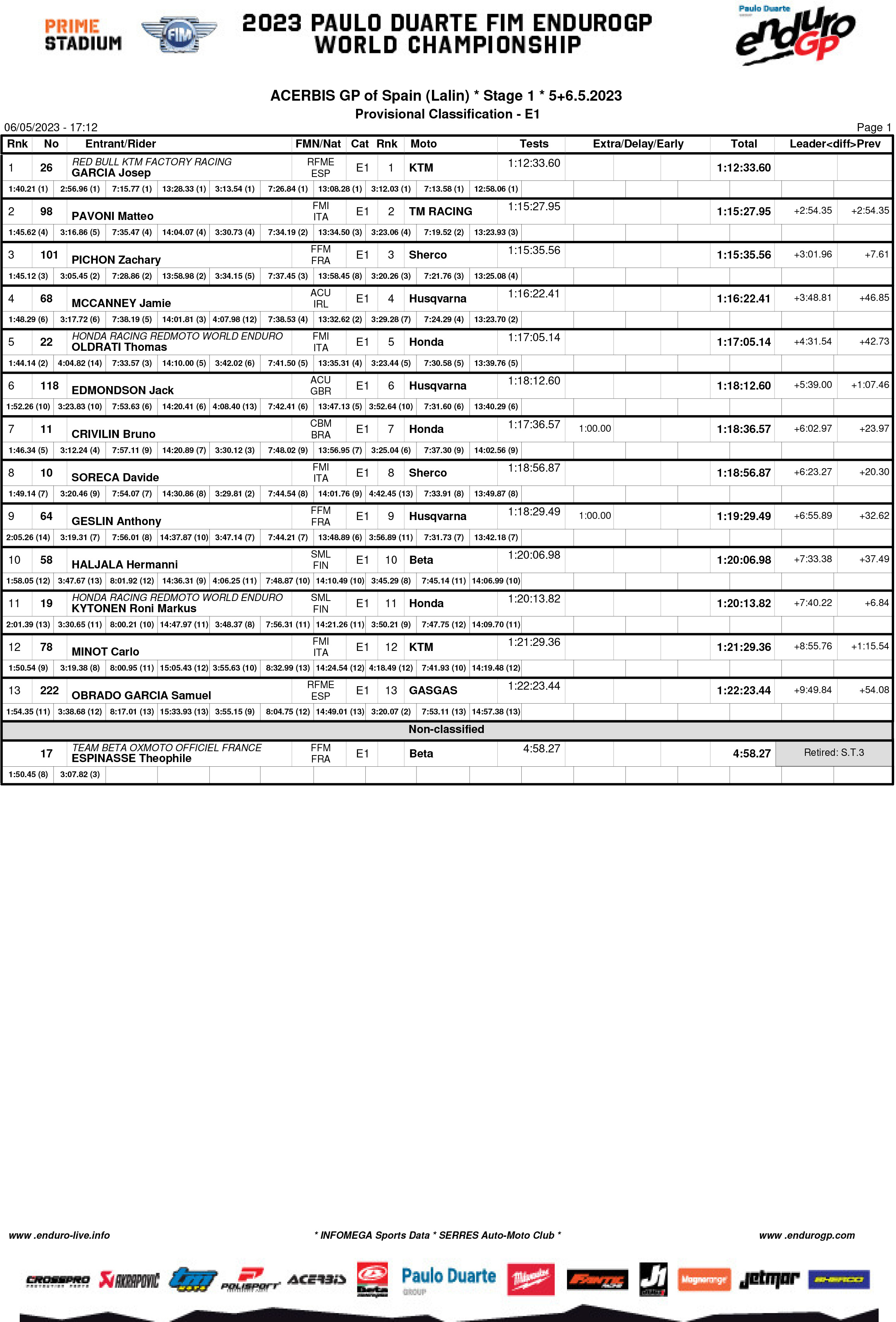 E2 class results: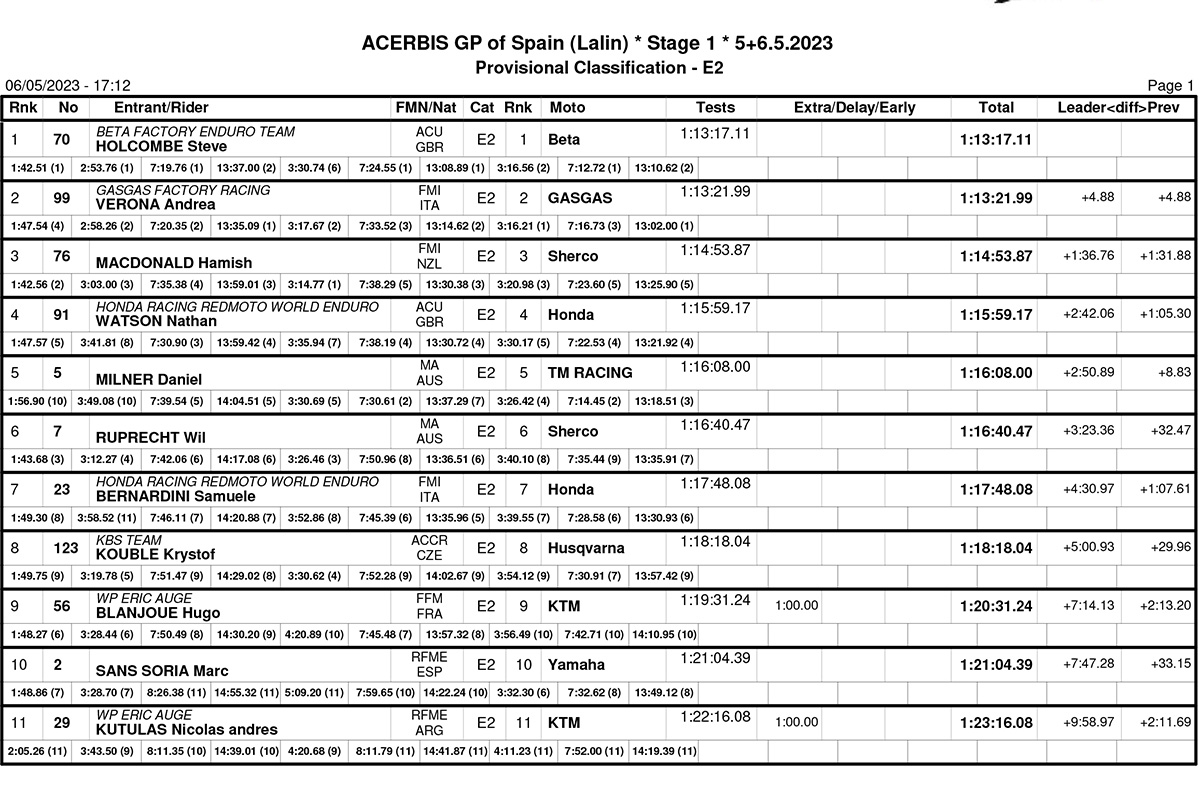 E3 class results: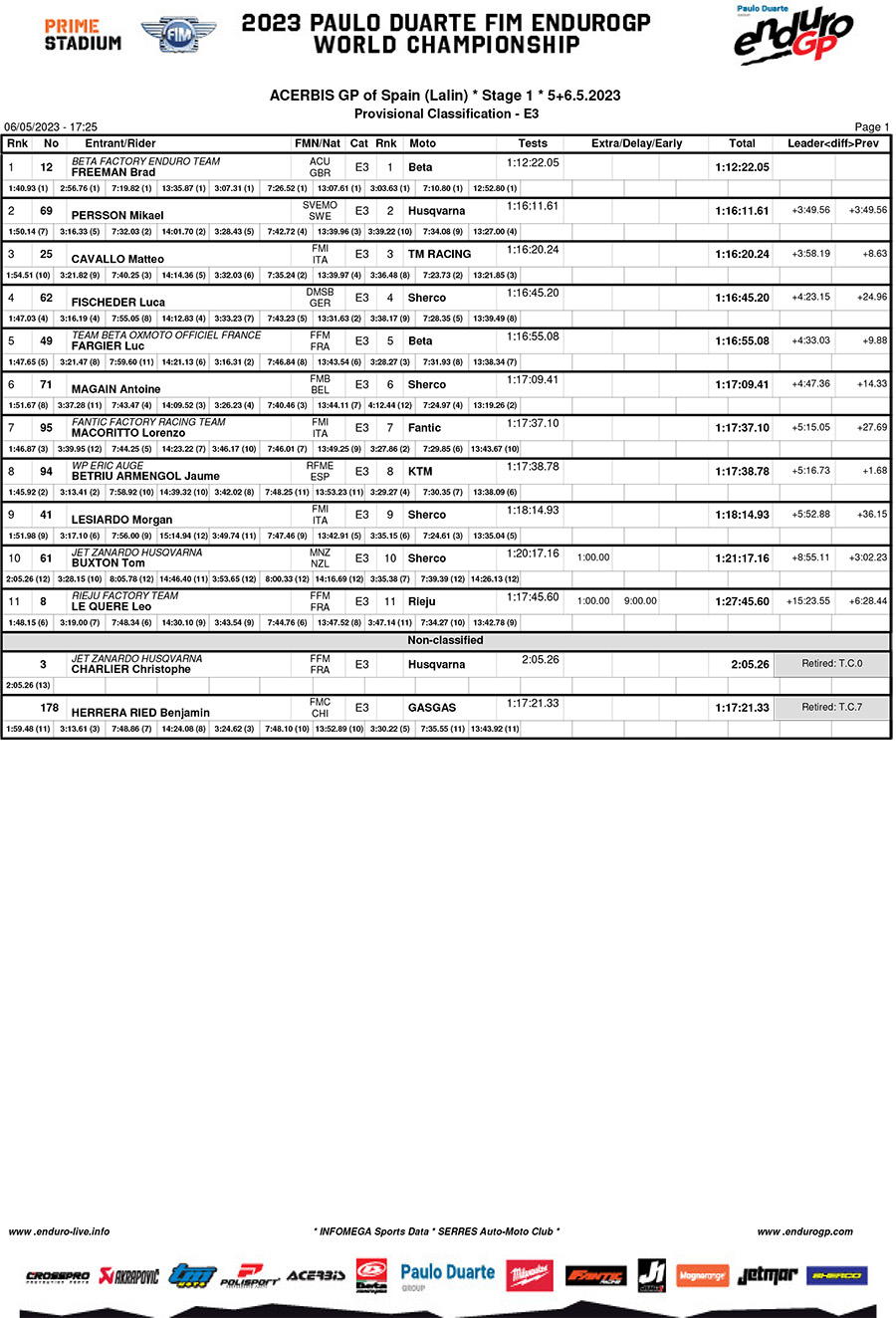 Junior results: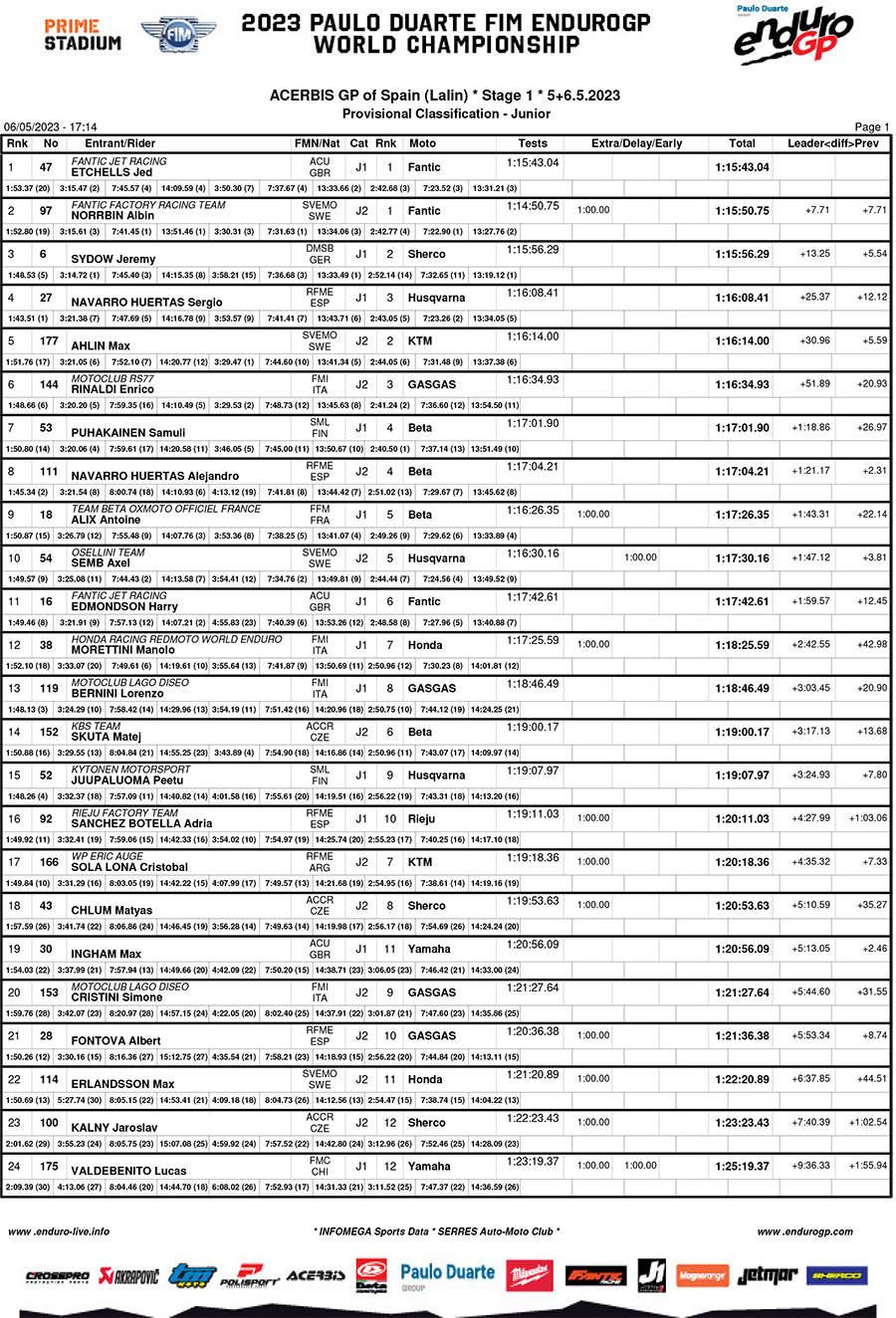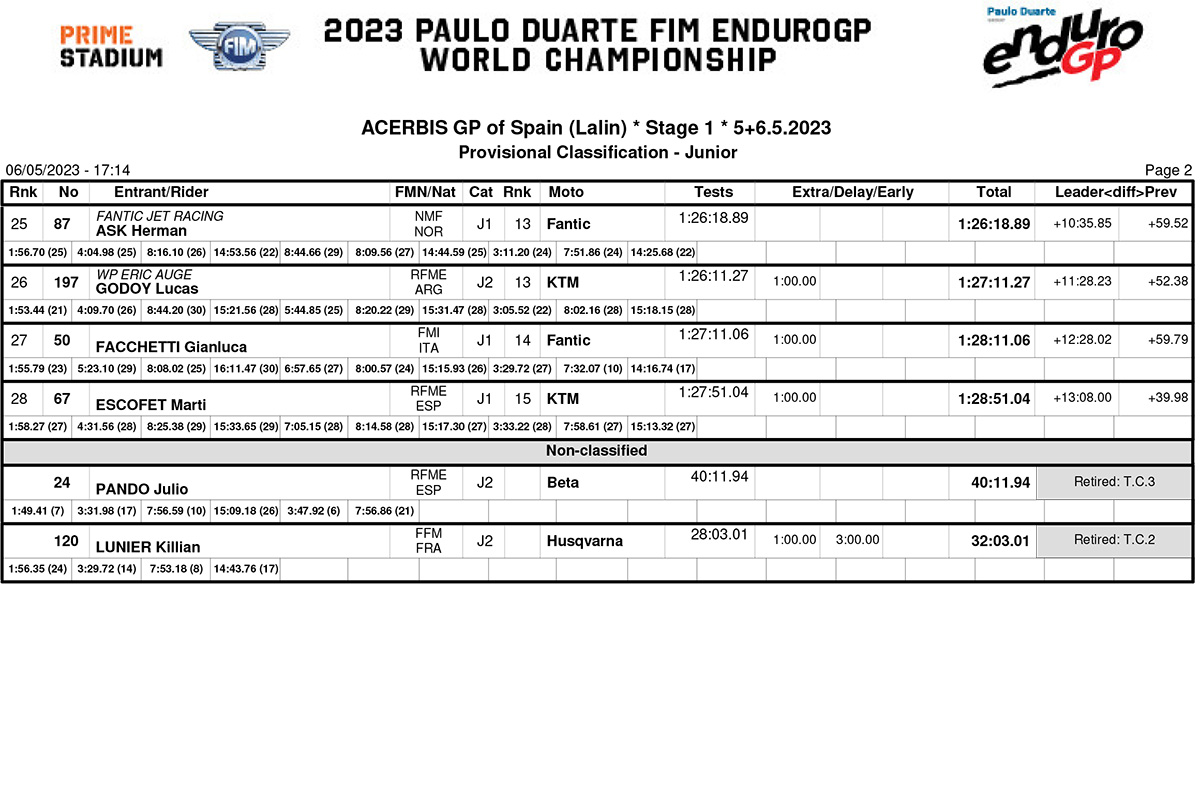 Youth results: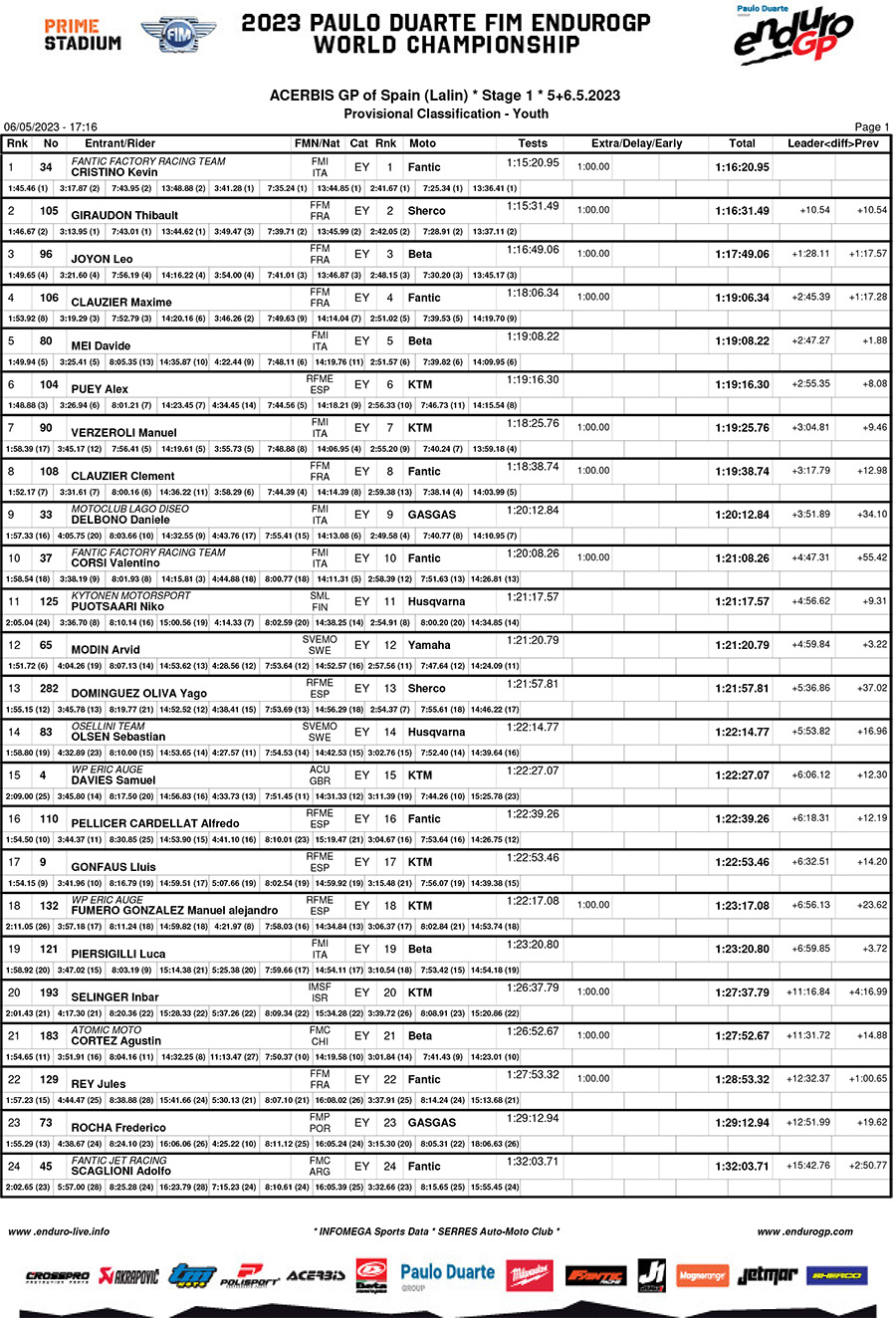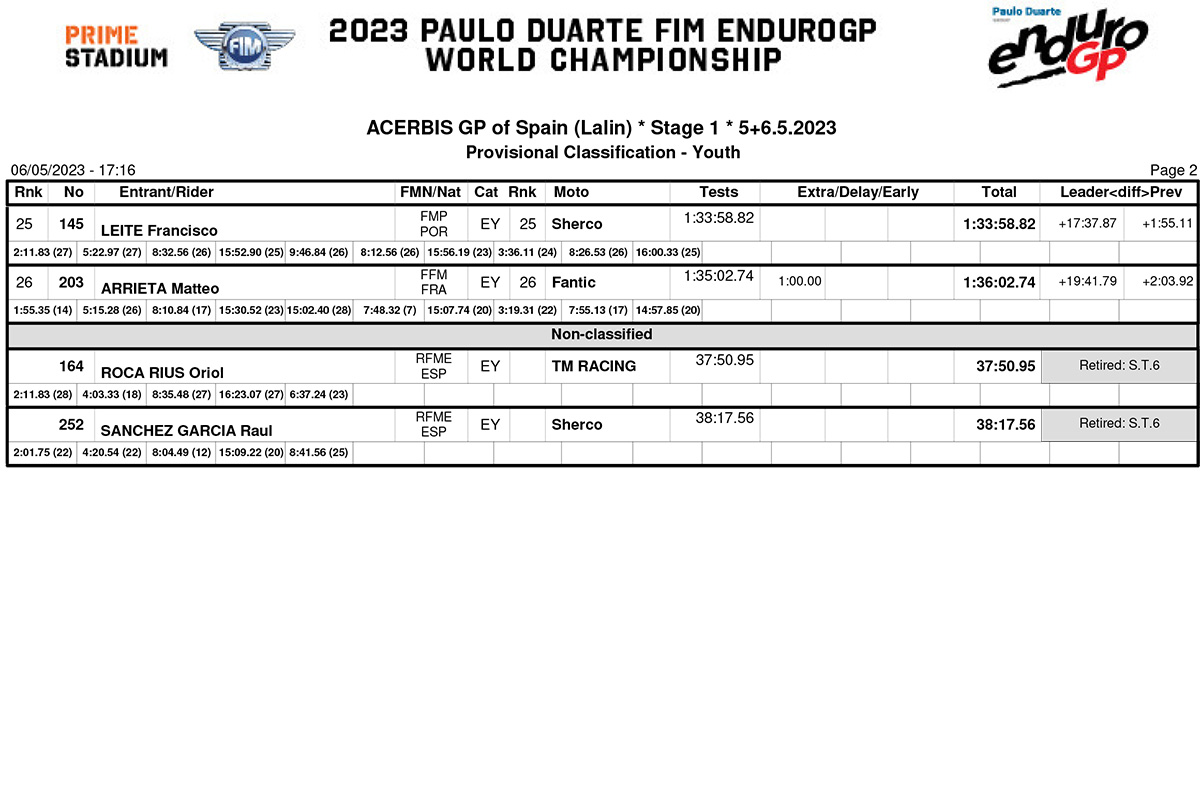 Open 4T class results: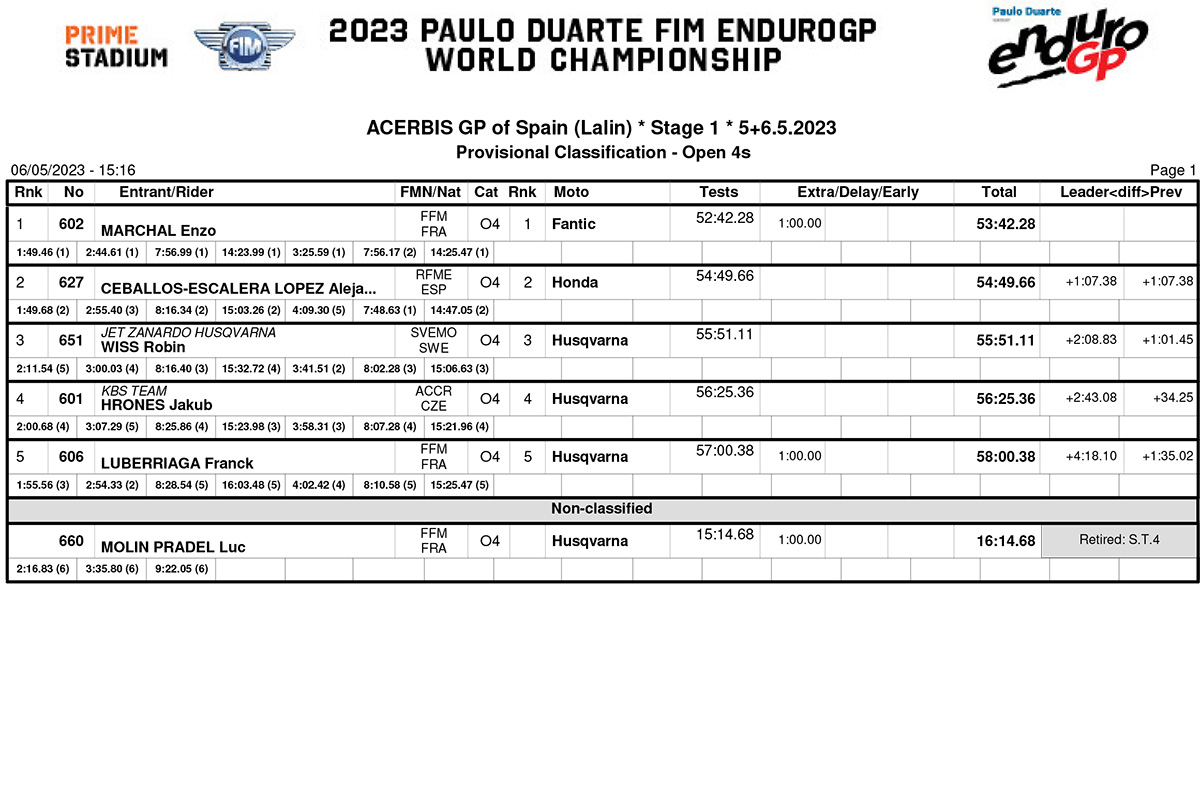 Open 2T class results: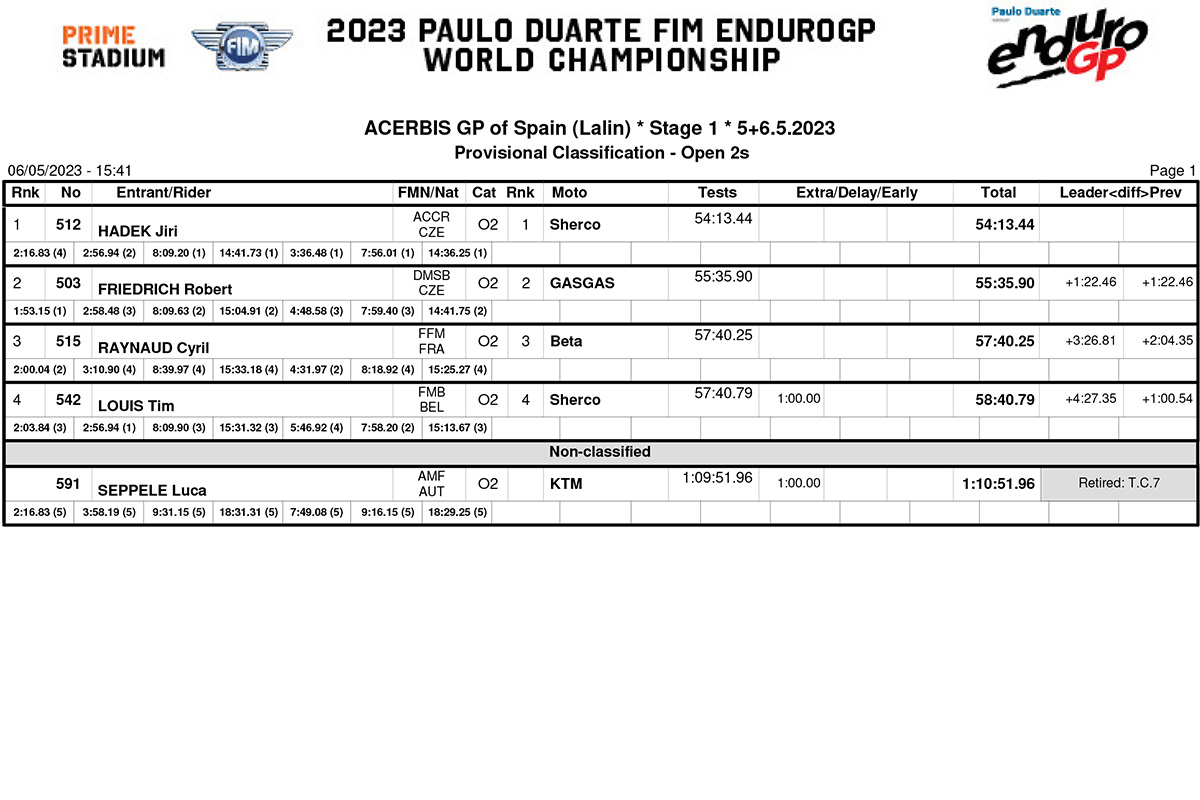 Photo Credit: Future7Media