2023 EnduroGP results: hard fought win for Freeman on day two in Spain
Results from day two of the 2023 EnduroGP World Championship round two in Spain where once again Brad Freeman and Josep Garcia battled tooth and nail to the last test, with the British rider finally collecting his fourth day win of the season.
2023 Spanish EnduroGP Day 2 in a nutshell:
The day dawned drier but with so many Spanish national riders also competing this weekend, the tests were battered and no easier than yesterday despite the conditions.
The usual suspects this weekend were back at it. Brad Freeman, Josep Garcia and Steve Holcombe began as they left off on day one.
Brad Freeman's seven straight test wins showed devastating form. We were halfway through the second lap of three before anyone else got a look in. Even then, just to make sure of the win, he clocked up his eighth win from the nine taking the final test.
Equally impressive was how close Josep Garcia kept hitting the timing beams. You could say they were on the limit and spent most of the day within fractions of seconds right to the very end when the last test saw them 0.02s apart.
All those fractions added up though and with just under a 12s margin, Freeman took a hard fought win for Beta: "I finally felt today that I was riding like I know how. I rode well in Italy but I felt a lot of pressure and I was nervous. Today I felt more relaxed and it felt good. I had a great battle all day with Josep, we were fighting for nothing, half a second, it was crazy but so much fun. But I got it done and it has been a great weekend but of course it is overshadowed by the unfortunate loss yesterday."
(Note: Brad is referring to the very sad death of the LM racing team manager following a road traffic accident on the course on day one)
Garcia gave it everything as always but says Brad just had something different going on in the extreme test each lap: "My goal for the weekend was to try to come back and fight for the victory [after round one] and we did that across the three days. Today was incredible fighting with Brad, we were within the same second so many times. He was a little better in the extreme test, I felt good there but each time he took smoe seconds and I don't know what the difference was. For sure I will work hard for Finland and Sweden, the championship is so long and hard we stay focused on being consistent."
Third place and making it all three classes on the scratch EGP podium, Steve Holcombe comes away with 3-3 overall and 1-1 in E2 class for a much better results than 12 months ago in Spain: "I was a lot happier with my riding today, just a little more consistent. It helped being a little drier but overall I'm really happy. Last year in Spain I came away with some injuries and so to finish with some good points in the championship this weekend is a real positive."
Best of the rest today surprisingly was Andrea Verona who says fourth isn't what they are aiming for: "I didn't ride so well across the two days. I started quite good yesterday but after the first lap I started to struggle and made some mistakes crashing which cost me a lot of time. I struggled to find the feeling this weekend in the tests and I crashed trying to push – really, I didn't understand how to ride the tests and this is the problem. Second in E2 and fourth overall is not the results we are working for. I think we need to improve the bike a little but also me for the next GP in Finland."
Antoine Magain finished top Sherco rider and second in E3 class but was pipped by a resurgent Nathan Watson in the last test for fifth overall. Wil Ruprecht, Theo Espinasse (first non-factory rider), Matteo Cavallo and Hamish Macdonald complete the top 10.
Interesting nerdy fact of the day is to look at the gaps between riders from around P8 to P16 – it's nuts how close they all were. All were having a better day two here in Lalin but the brutal truth is they were fighting among themselves as none had anything like the speed of the top three.
After setting out his stall at round one in Italy as a title contender, German Jeremy Sydow bounced back for the day win in the Juniors. "Seems like Sunday is my day! I had a really good feeling in every test and I think I didn't make one mistake, it was a perfect day." Says Jeremy.
Behind him by 15 seconds, Jed Etchells is still leading the Junior championship points after P2 today with Albin Norrbin taking third.
The pattern is already set in the Youth 125 class with Fantic's Kevin Cristino completing a four from four day wins so far this season. He finished 30 seconds ahead of his only challenger, Sherco Academy rider Thibault Giraudon who headed compatriot Leo Joyon in third by over one minute. "Spain was not my best GP last year so it is good to finish first both days this year. But today the mechanics give me the best bike and I rode my best so it is perfect." Says Kevin after his win.
Enzo Marchal repeated his Open World Cup winning form for the second day. The gap was bigger today though with over one minute gap to Spaniard with the pair taking 1-2 in the Open 4T class ahead of Robert Friedrich, third scratch and first in the Open 2T class.
2023 Spanish EnduroGP scratch day 2 results: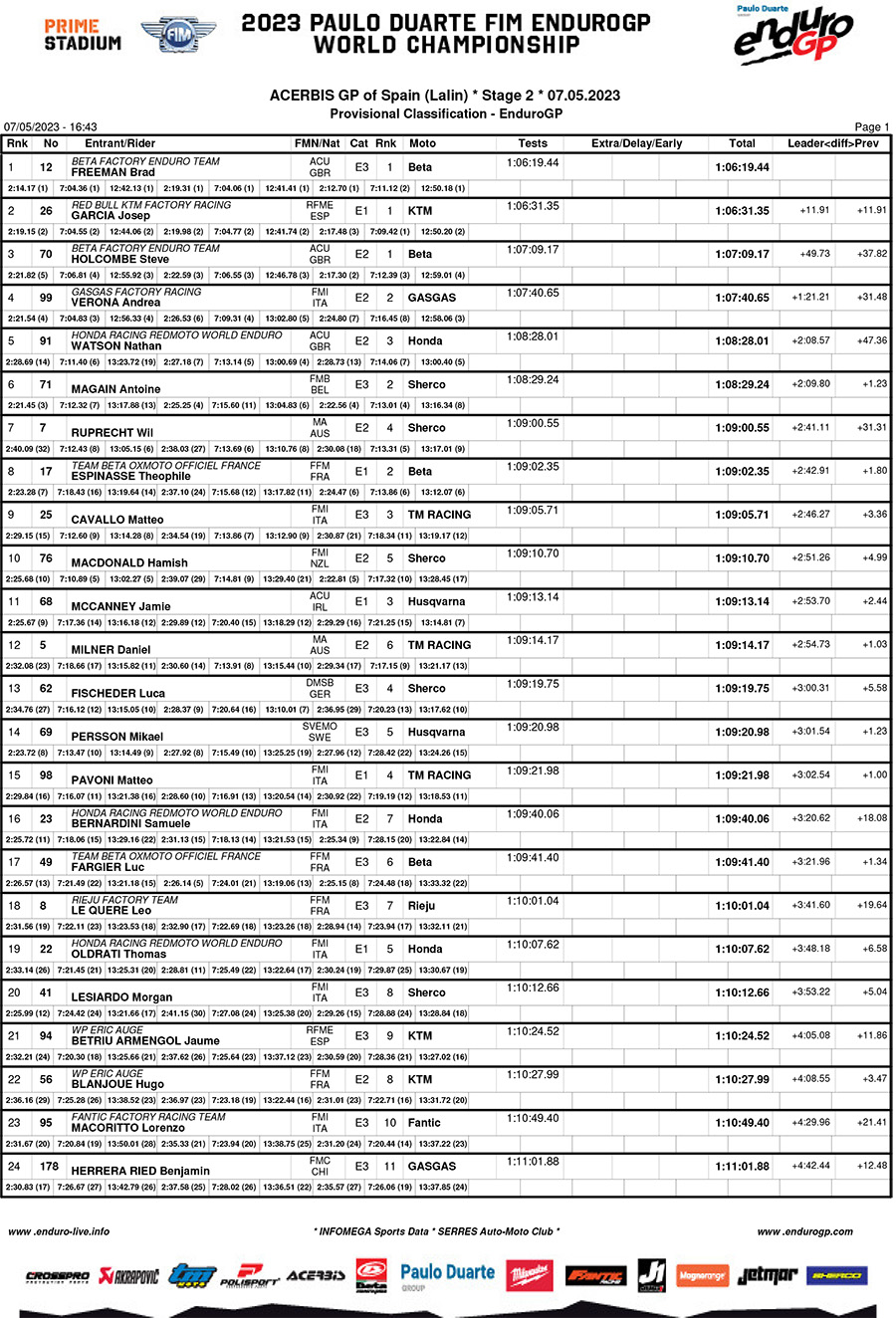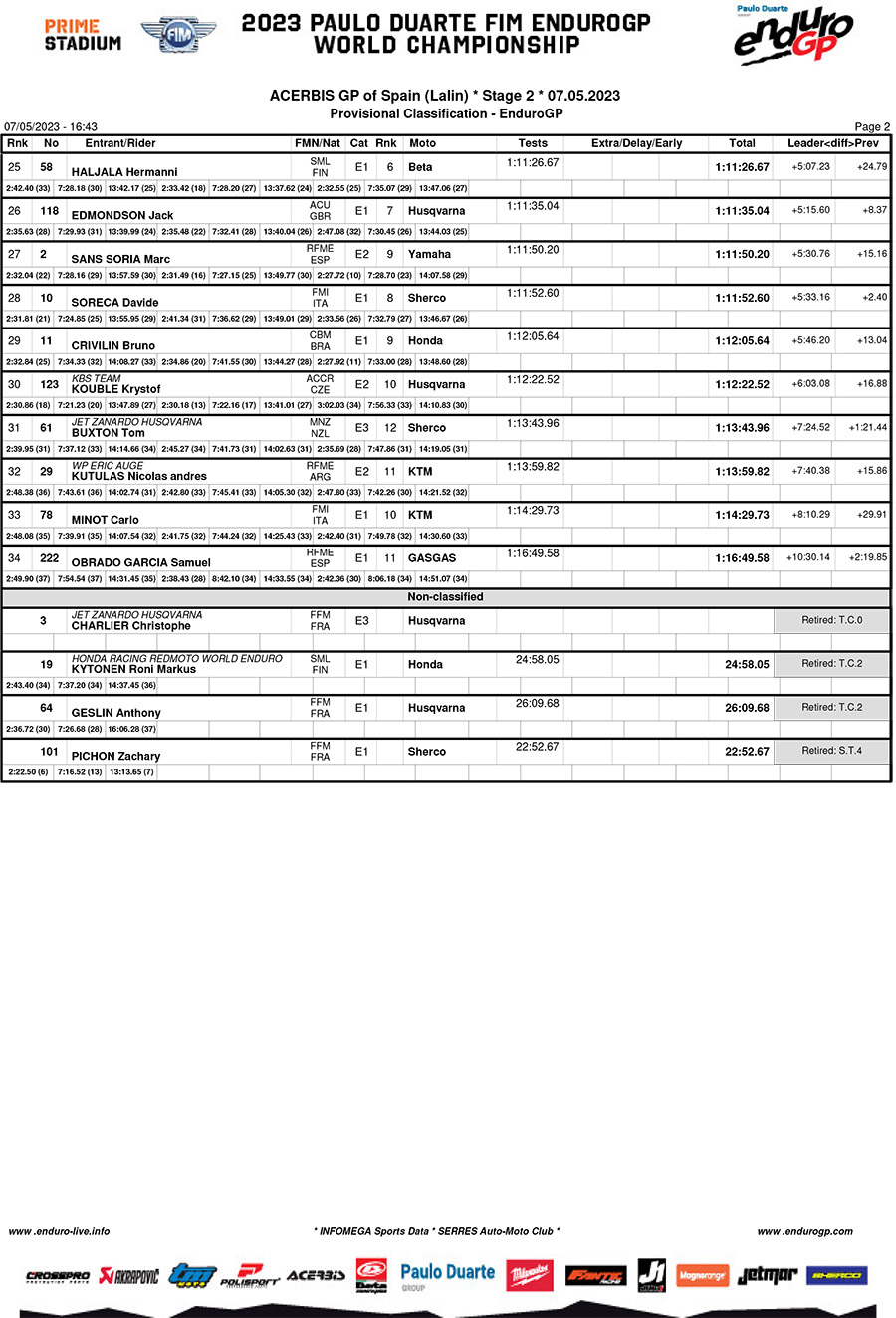 E1 class results: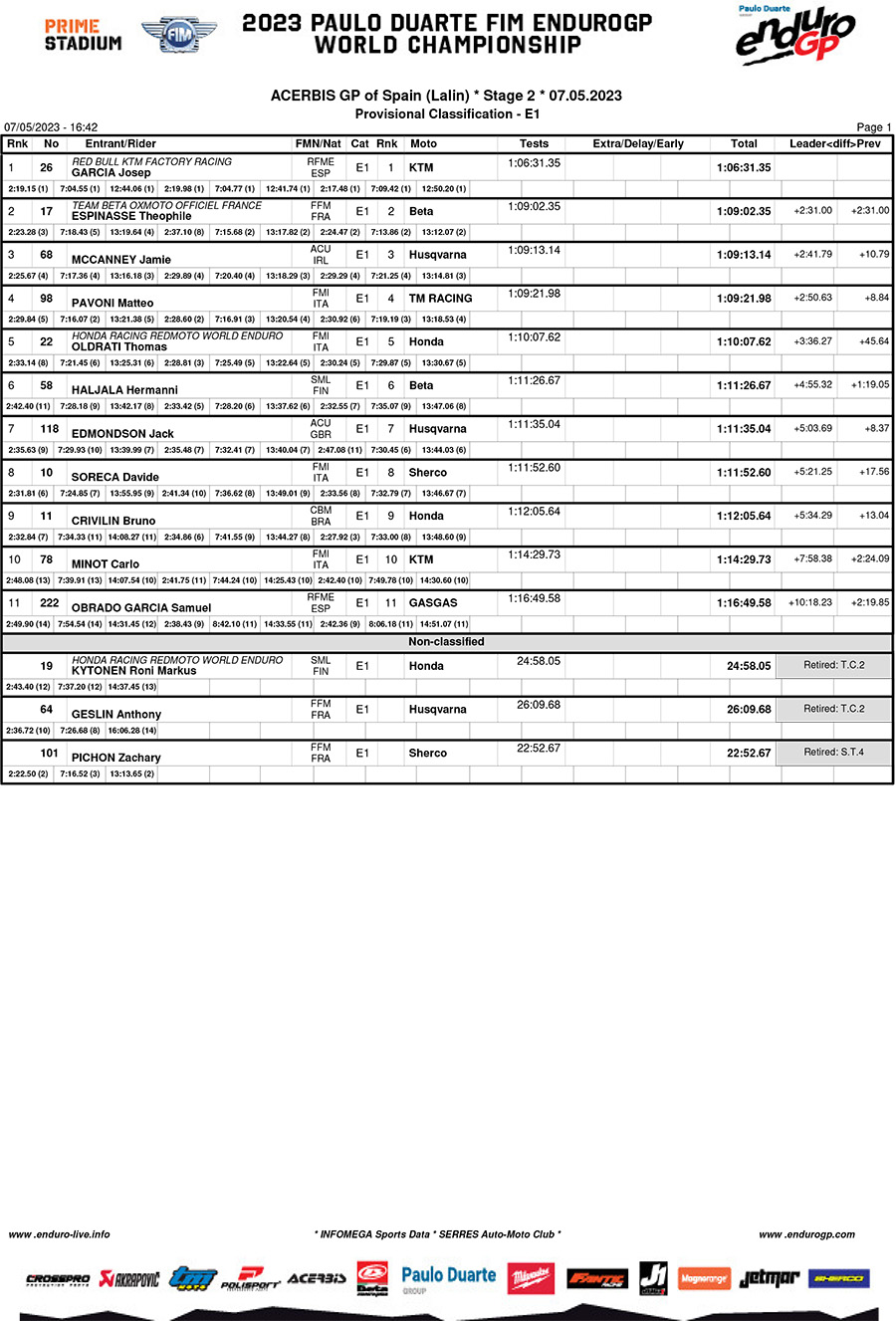 E2 class results: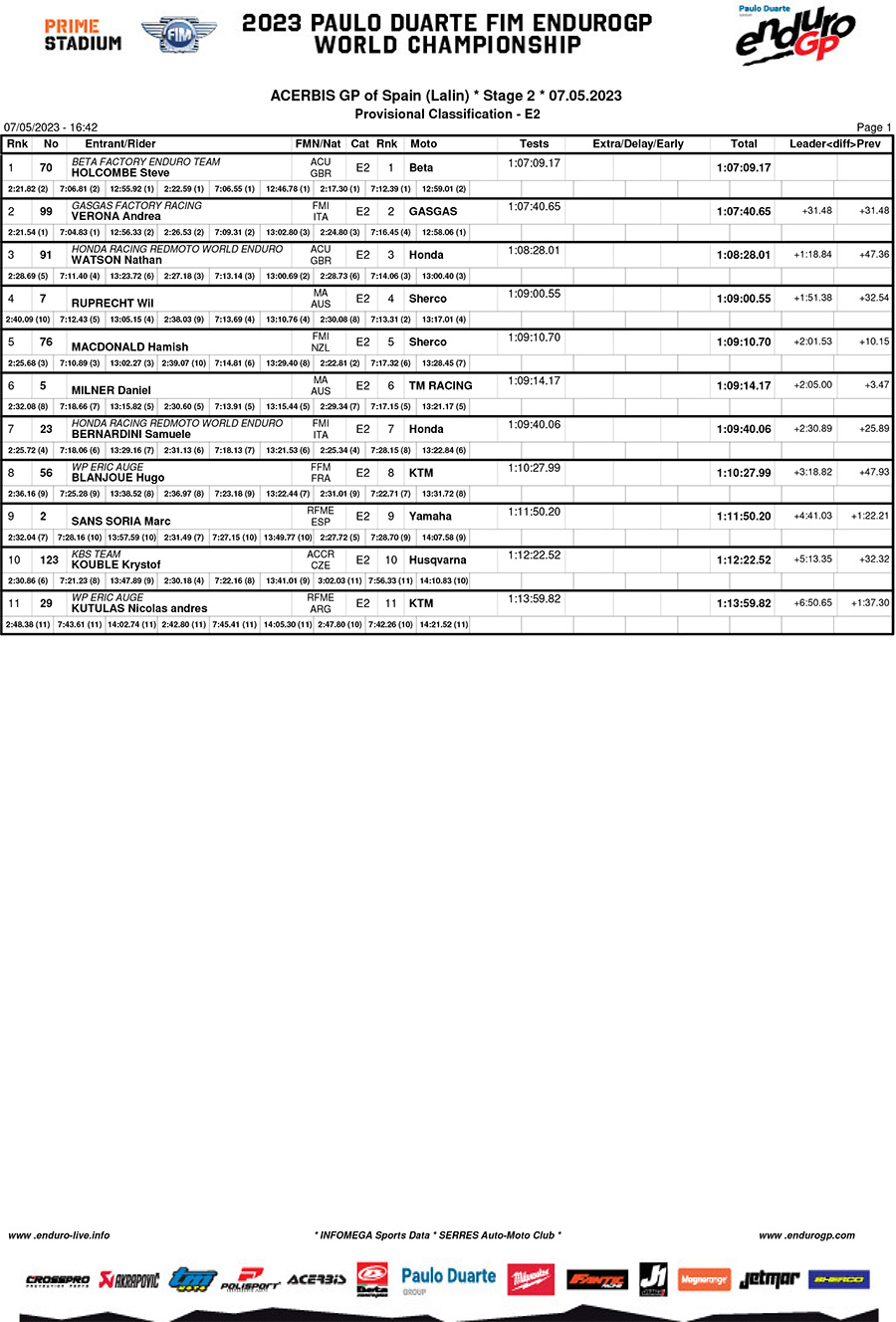 E3 class results: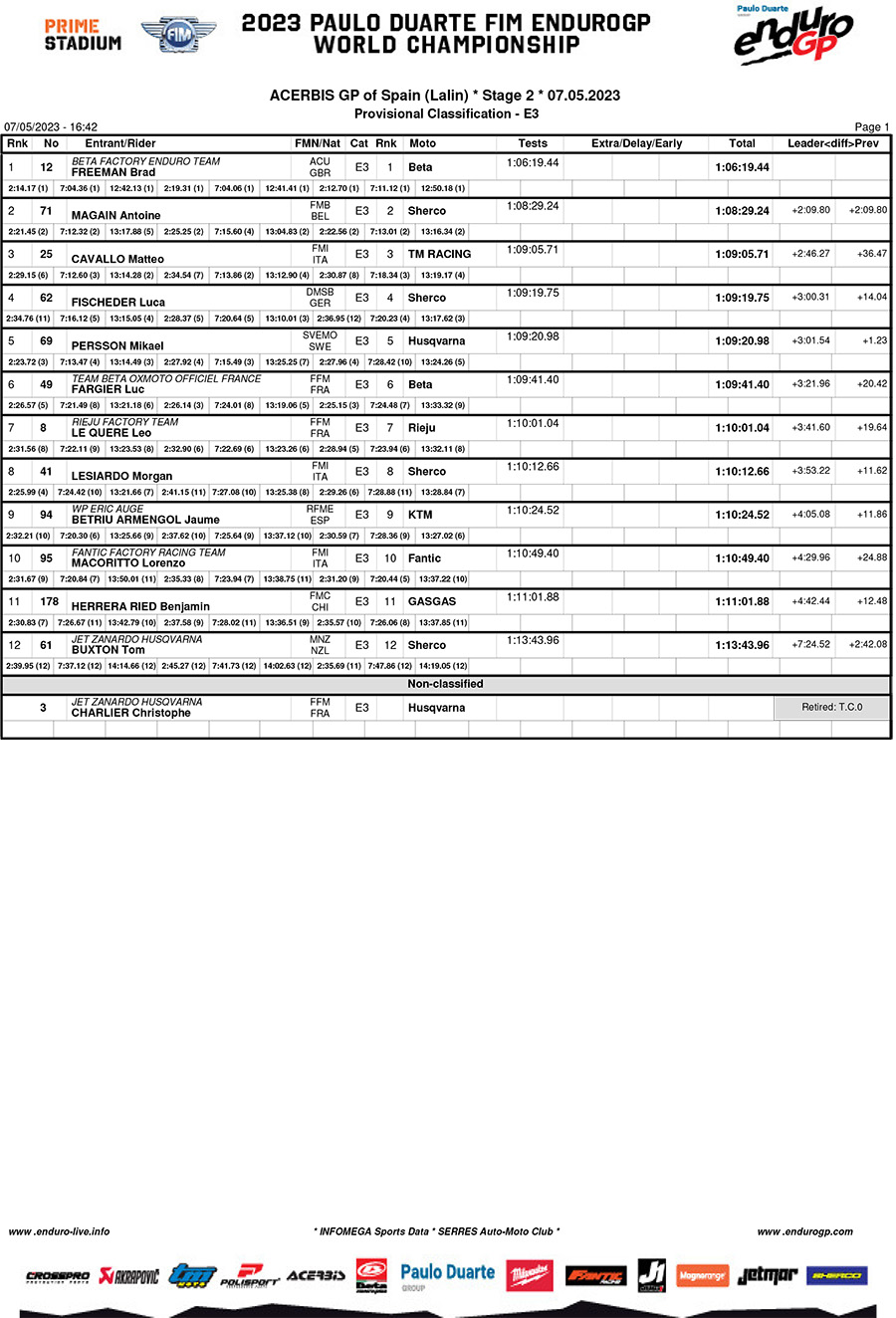 Junior results: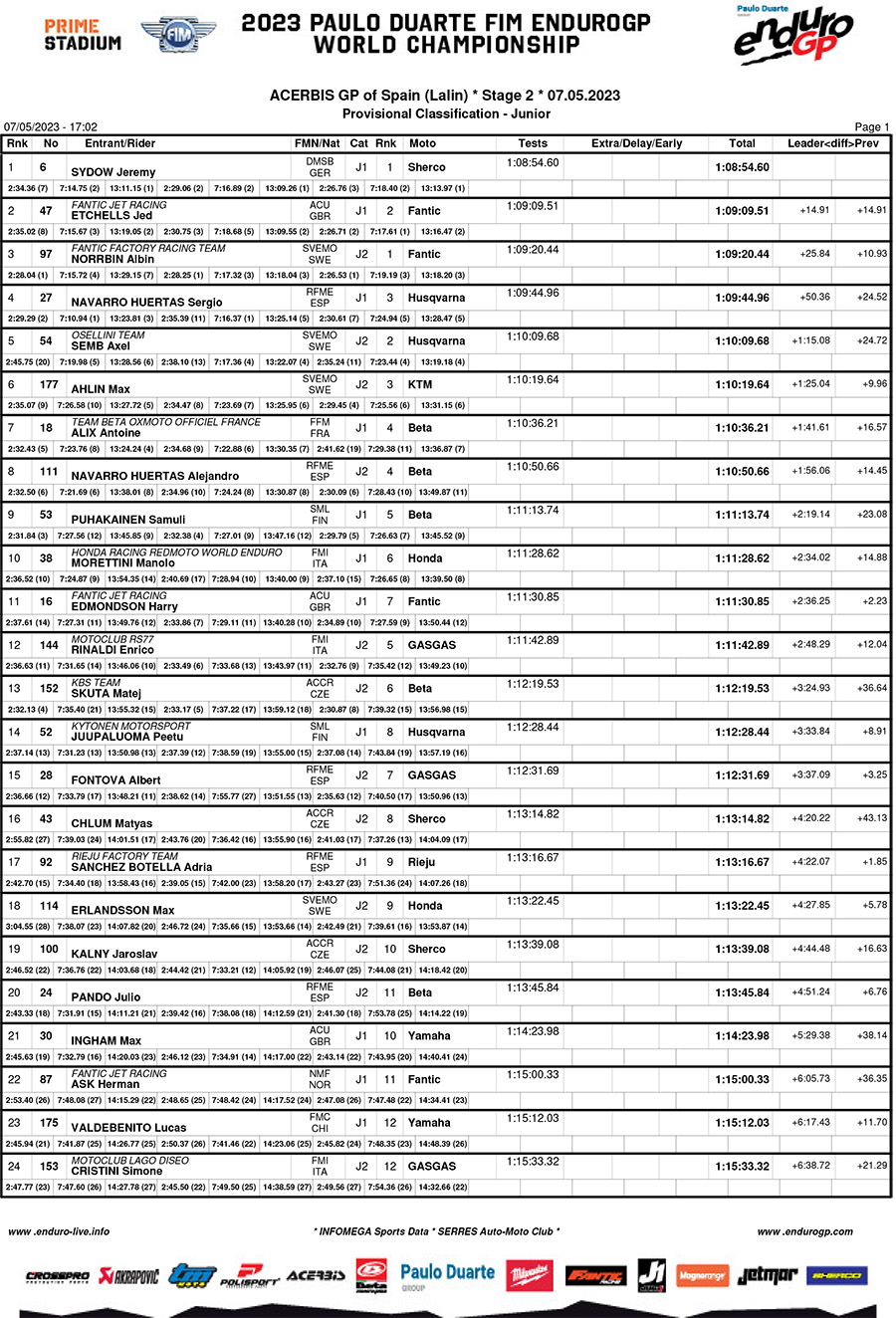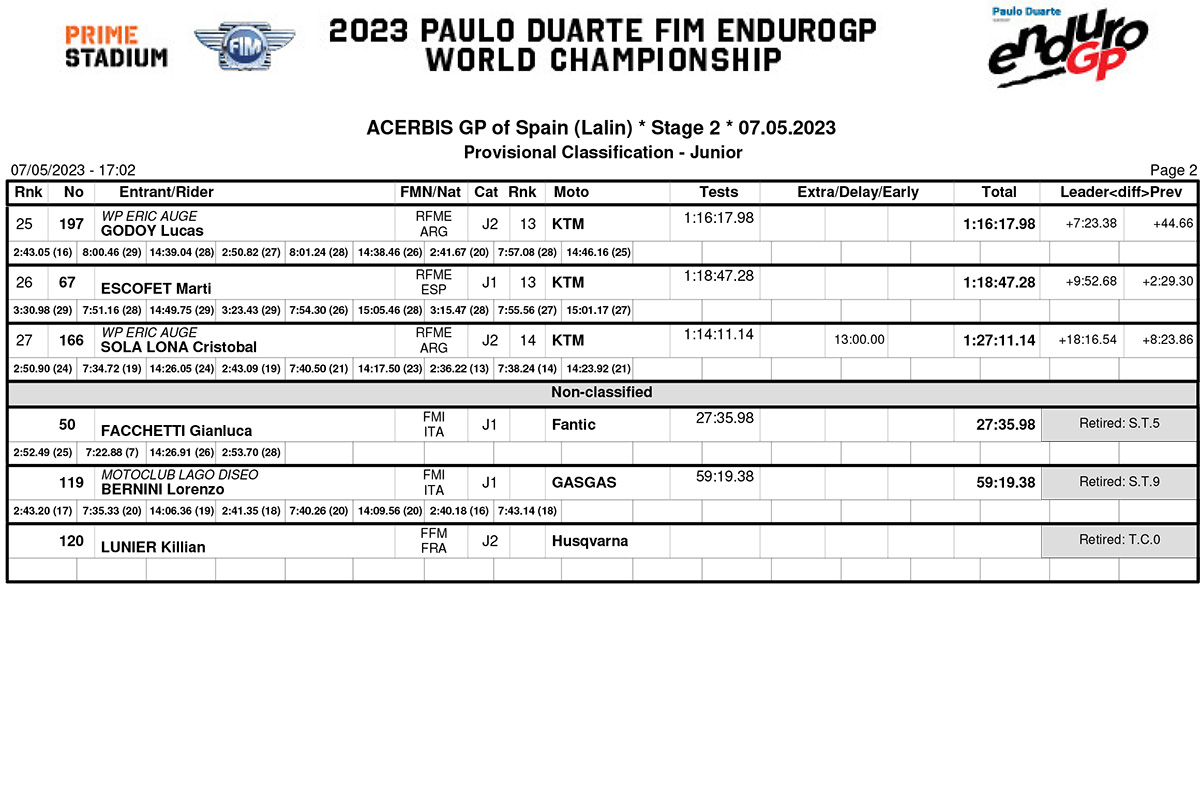 Youth results: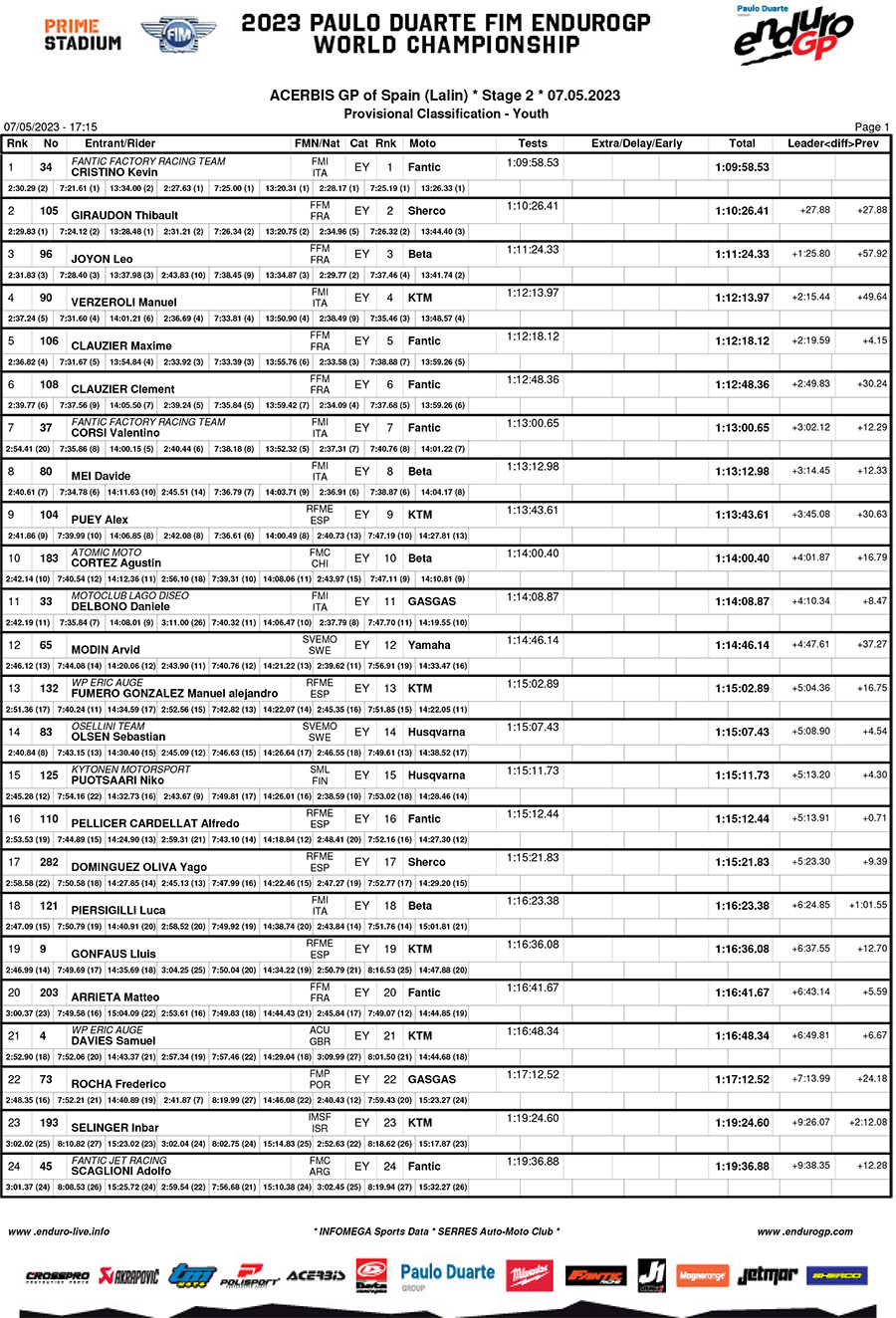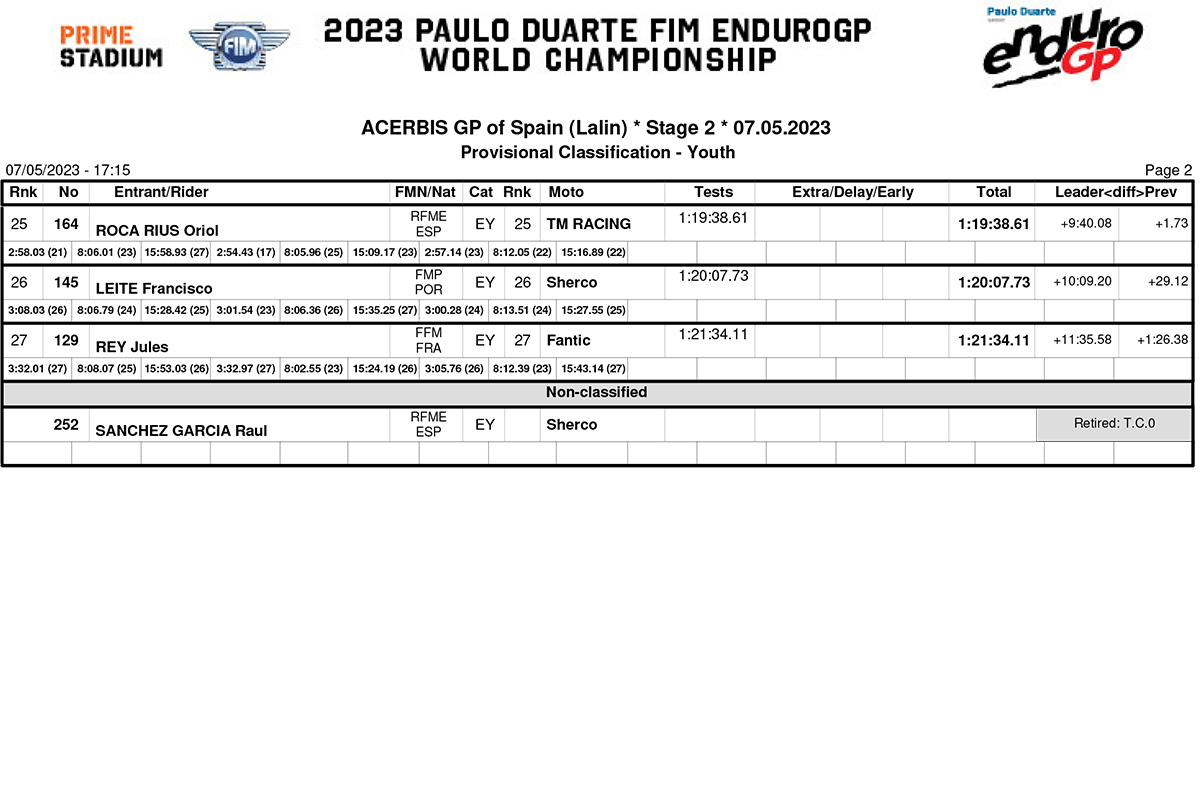 Open 4T class results: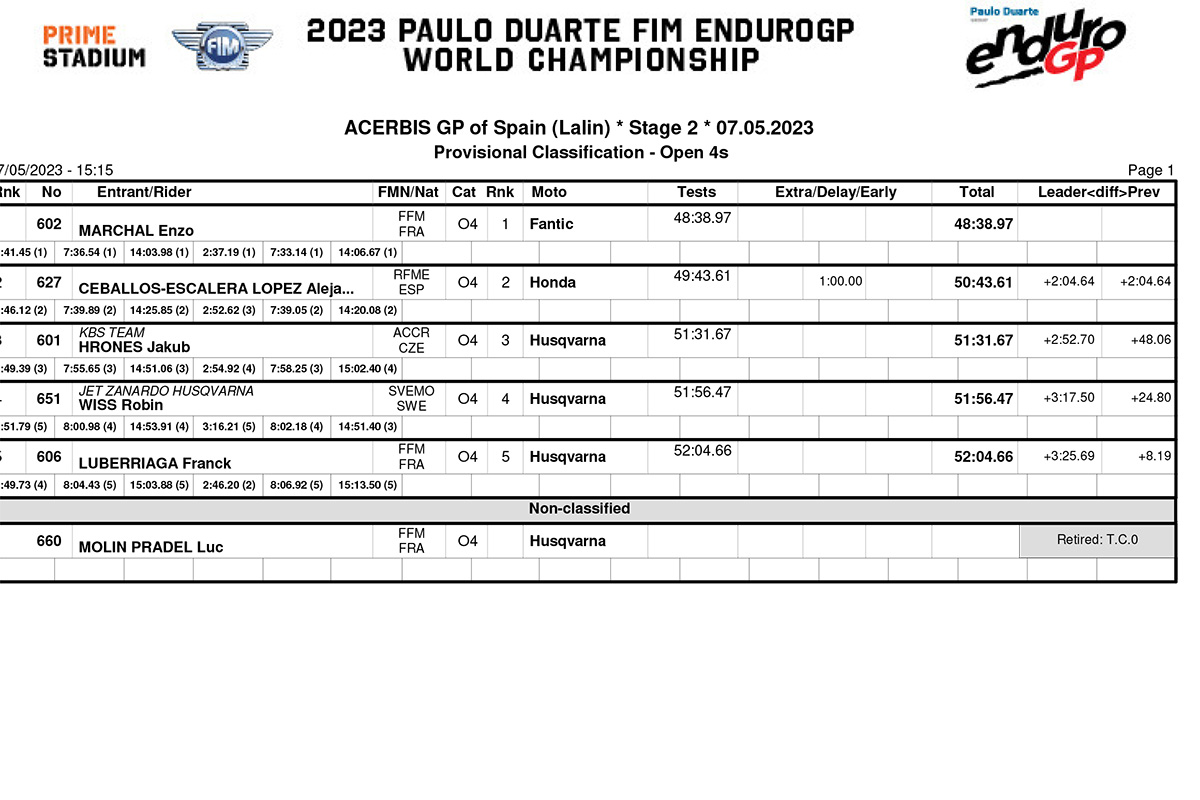 Open 2T class results: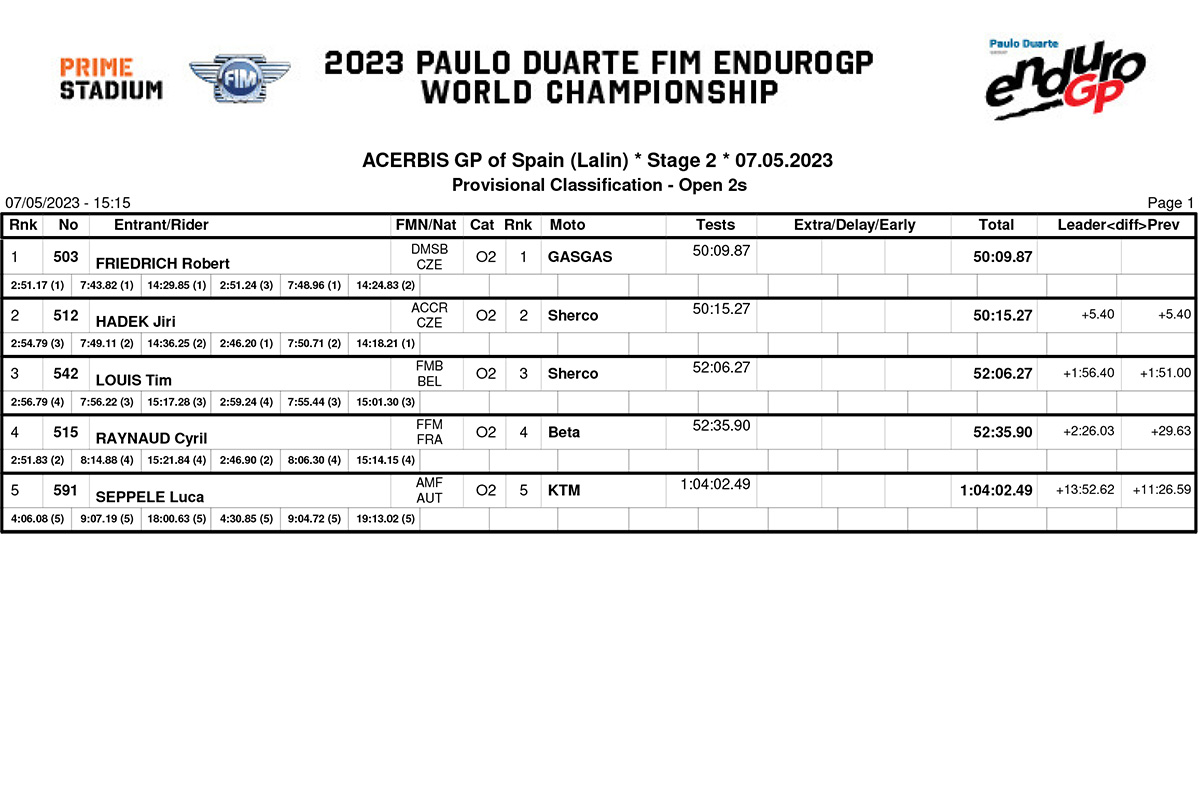 Photo Credit: Future7Media