EnduroGP of Germany results: Garcia wins day 2 – Ruprecht, Freeman and Edmondson crowned champions
Result from day two of the 2022 EnduroGP of Germany in Zschopau where Josep Garcia did the double but Wil Ruprecht, Brad Freeman and Harry Edmondson claim the 2022 E3, E2 and Youth Enduro World Championship titles.
EnduroGP of Germany day 2 in a nutshell:
Conditions were drier and warmer on day two here in Zschopau and although the tests had taken a beating yesterday, a breeze and fairly good soil meant things were already getting tacky and drying as riders arrived on lap one.
It was still hard mind you, we count 35 retirements today and a grand total of four E2 class finishers.
If all eyes were on the overall result yesterday, day two was all about the E2 and E3 title chase. Wil Ruprecht entered the day with a comfortable points advantage which only a disaster could take away but Miki Persson and Brad Freeman had all to play for with the pair equal on points.
Let's start with Wil who might have looked like he was faltering with a heap of time lost over his rivals in the scratch result to finish 14th. But the Australian says he just wanted to make sure of claiming his first-ever world crown and wasn't about to make any mistakes on this last day. It's a first for Wil and technically only the second world title for Australia too (Stefan Merriman was born in New Zealand, Matthew Phillips is a Tazzy fact fairies).
Meanwhile in E3, Brad and Miki went at it like two titans with Persson arguably having his best ride of the season to give everything against the multi-world champ.
Brad admitted he was nervous, but "pulled my finger out" and grew a gap clear of Persson plus started challenging Garcia for the overall.
No-one could accuse Persson of not trying, he gave it everything but Freeman showed his class in almost winning the overall to claim the 2022 E3 world crown. That is Brad's eighth world title no less.
None of this is to ignore the overall winner this weekend, Josep Garcia. With six wins this season he has the most victories of anyone and although that didn't bring any world crowns (thanks to a crash at the Italian GP), it did move him ahead of Ruprecht in the EnduroGP scratch standings for second overall behind Verona.
The new EnduroGP world champ Andrea Verona and Nathan Watson put in some graft this afternoon contesting the final scratch podium place of the season. It was Verona who took it by a tiny 0.39s. Which is typical of these top six or so riders this season.
Junior: This class was just as close as it was on day one with Roni Kytonen in the mix and leading halfway through the day with Albin Norrbin, Luc Fargier and Zach Pichon all seconds apart. But as ever the champ Pichon found his way to the front, despite admitting he needs to improve in these conditions for next year (he moves into E1 class), taking the win by 5s from Kytonen second and Norrbin third. Pichon also wins the J1 world title, Fargier is J2 champ.
Youth: The 125s sounded great fizzing around the German hillsides today. The autumn air made them all the more tune full. The result? Thibault Giraudon pulled the win out the bag, even with a 15 seconds time penalty. Kevin Cristino was second ahead of Samuli Puhakainen but it was the guy in fourth who has all the applause, Harry Edmondson.
Harry's hard work had already been done before today and he too just needed to bring it home to take the 2022 Enduro Youth World Championship. It was an emotional one and a family one as Harry becomes the third person under his home roof to claim a world title on a 125 after father Paul and brother Jack.
Women: We've laid it out already this weekend but the fight for third in the Women's championship came to the wire today. Rosie Rowett had the upper hand yesterday with P2 and it was always in Rowett's hands today as she edged a comfortable minute clear in third and claim that final overall championship place.
Jane Daniels was again well clear of the rest of the girls (two minutes) and the drier conditions helped Mireia Badia to climb up a position into P2 today for second in the championship. The win means Daniels took eight wins from eight racing days this season...
Open class: The scratch results for the open class boys went the way of Alejandro Ceballos-Escalera but it was Goncalo Reis who claims the 2022 Open 4T class title today. The Spaniard topped the time sheets 12 seconds ahead of Robert Friedrich and Jiri Hadek third. Open 2T World Cup winner Harry Houghton (who won eight days on the bounce earlier in the season), jumped into the seniors and E3 class where he finished ninth.
That's it, over and out 2022 EnduroGP season. You played a blinder.
EnduroGP of Germany overall results, day 2: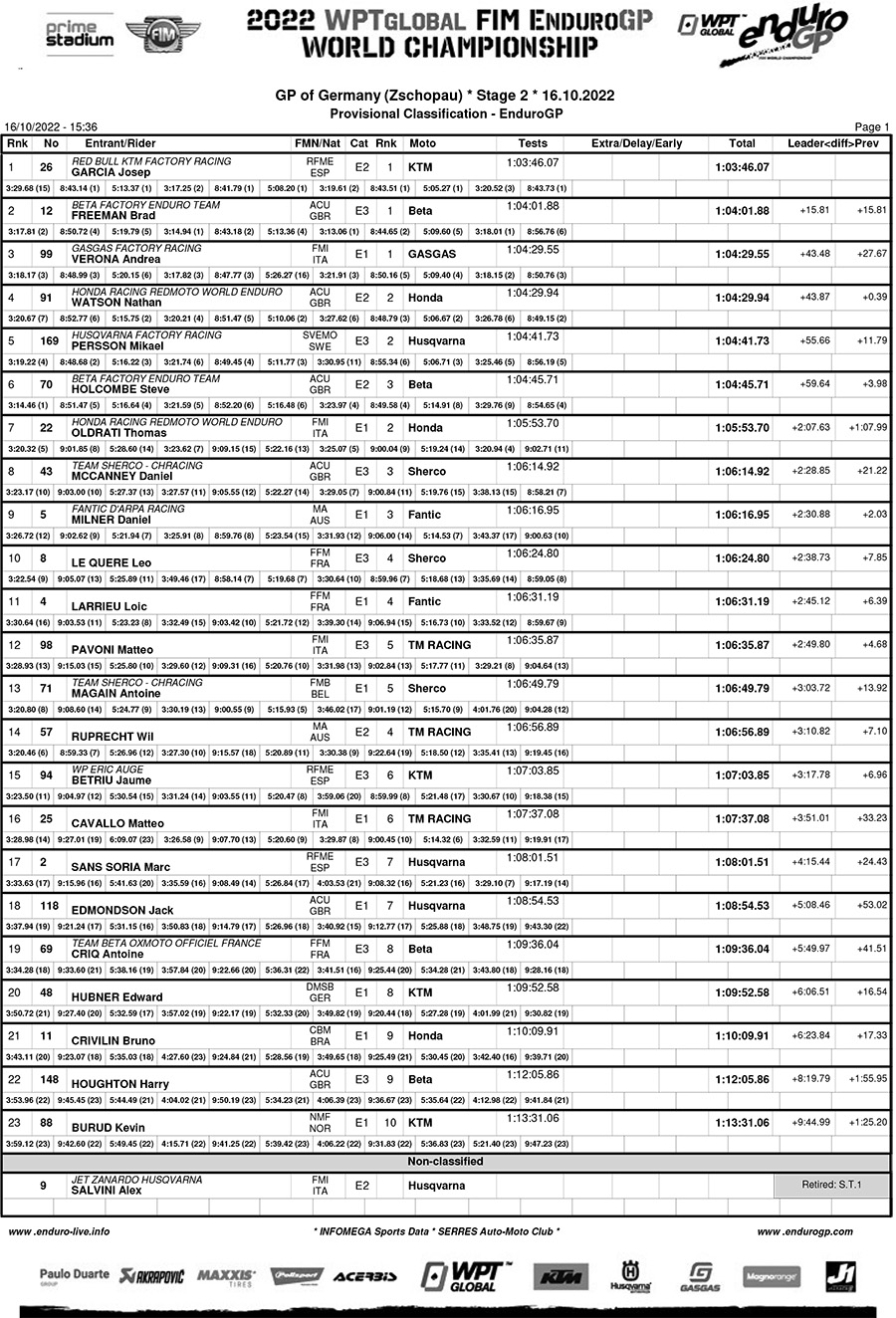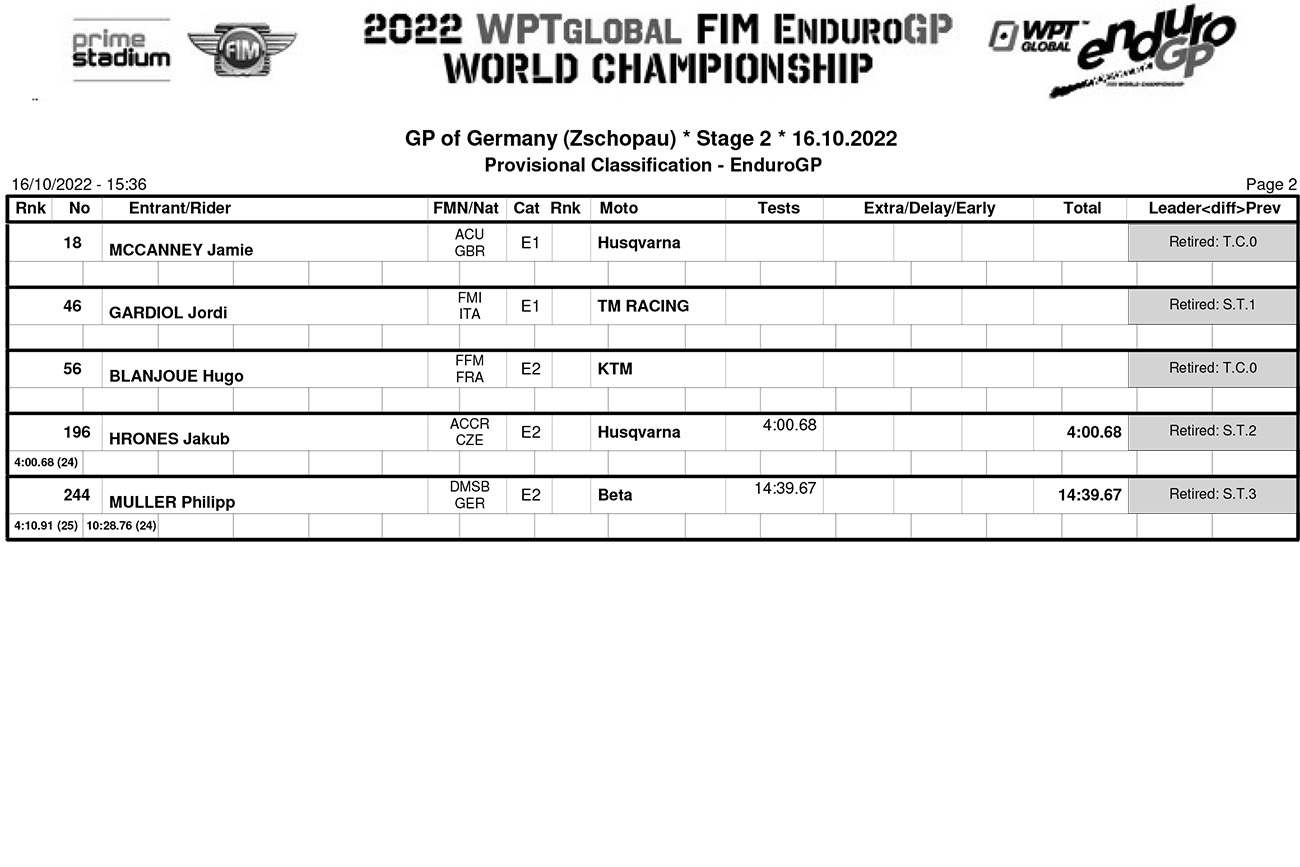 EnduroGP of Germany E1 class results, day 2: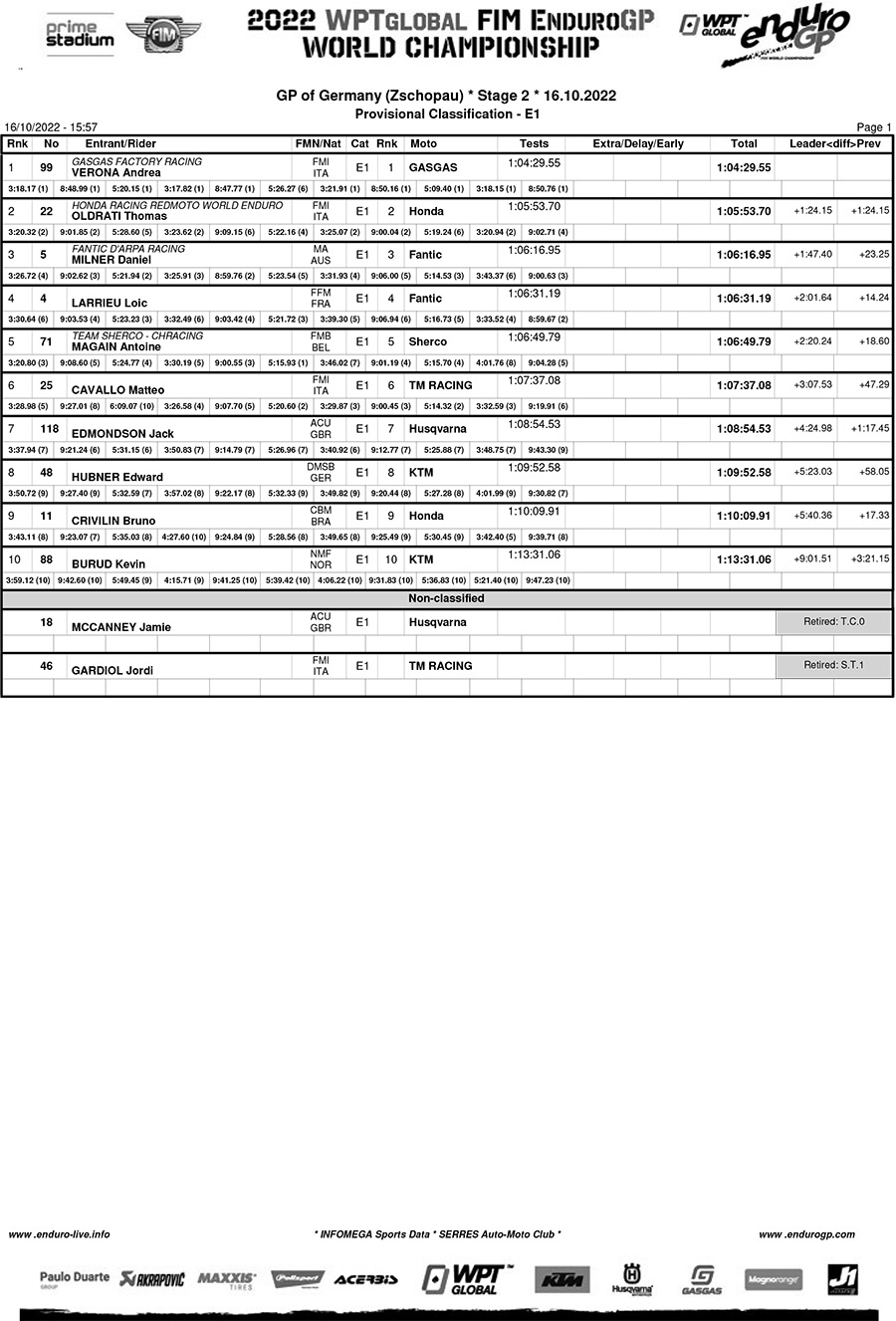 EnduroGP of Germany E2 class results, day 2: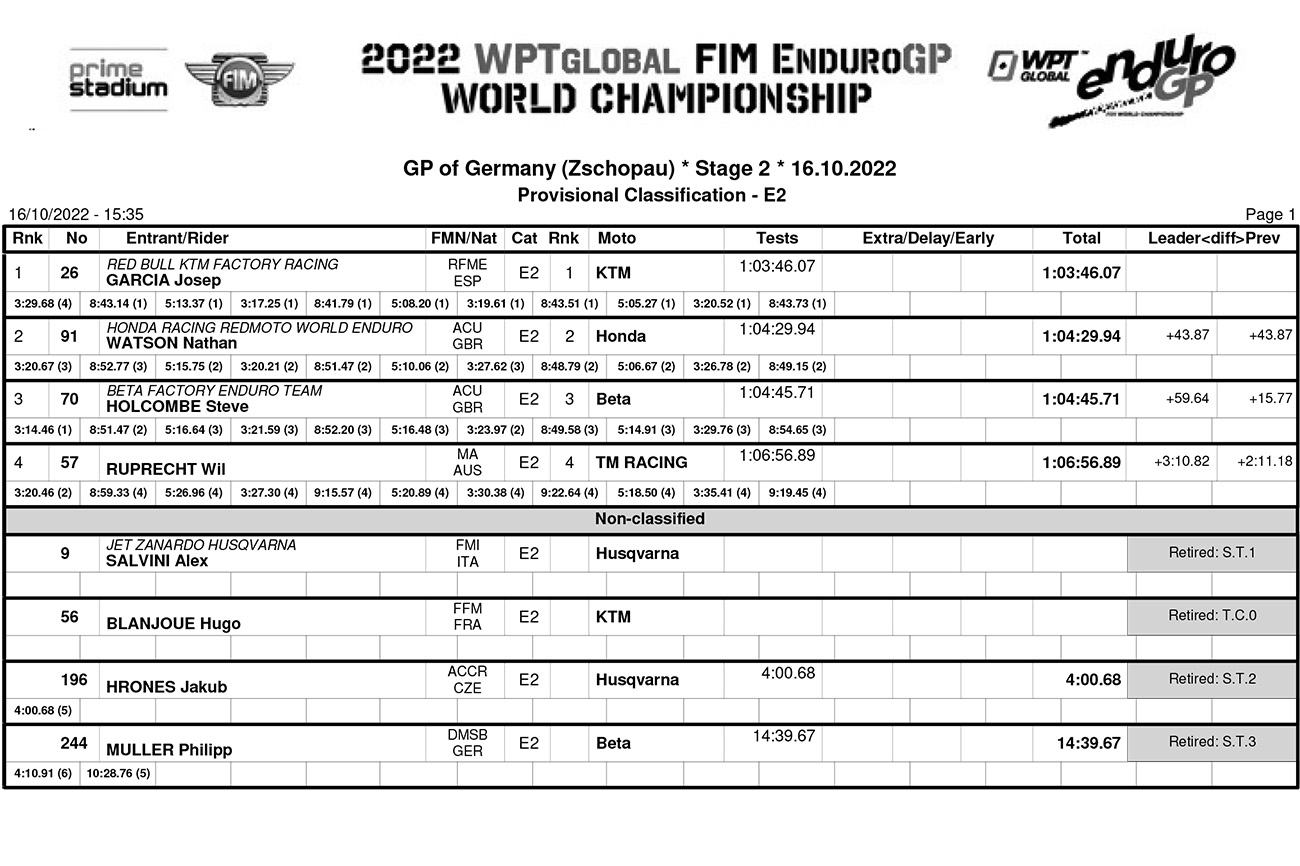 EnduroGP of Germany E3 class results, day 2: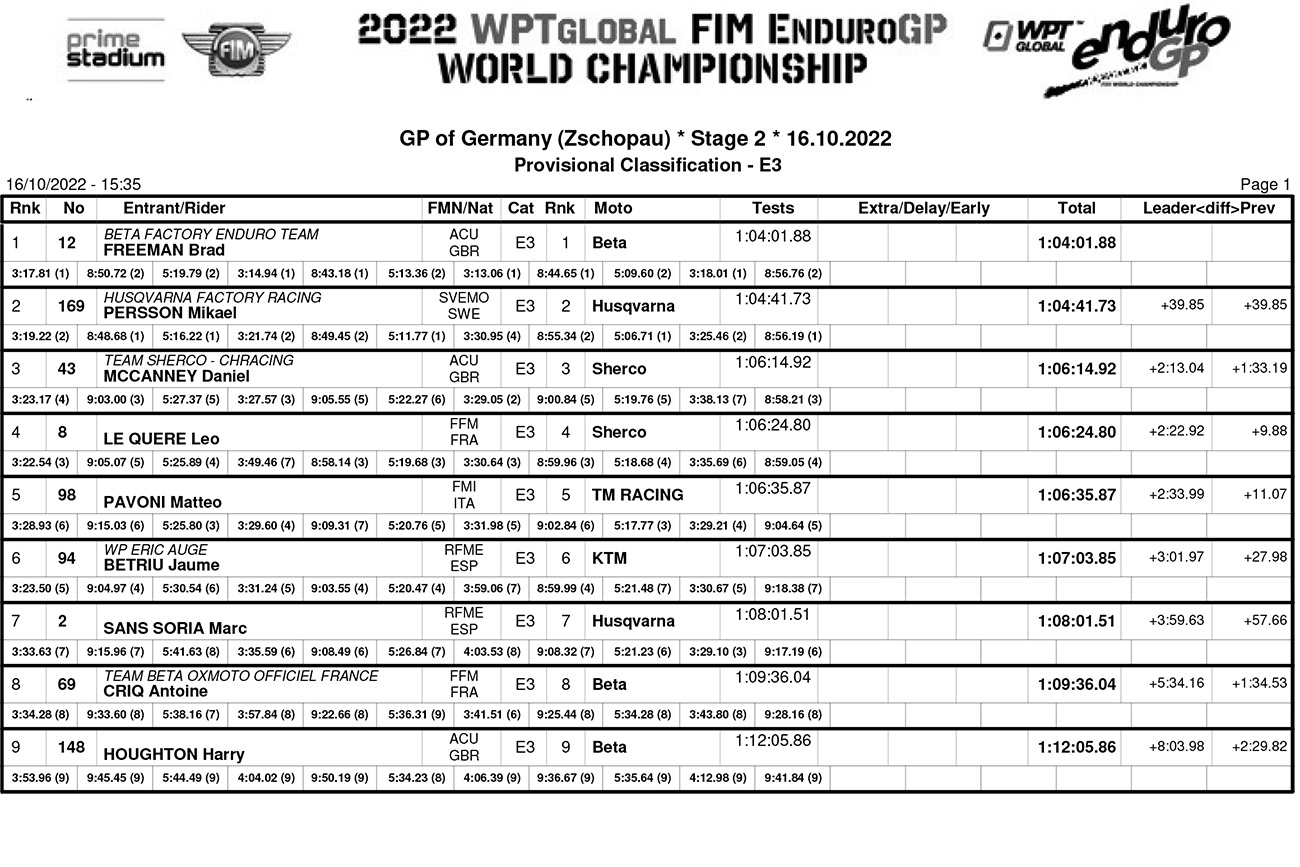 EnduroGP of Germany EJ class scratch results, day 2: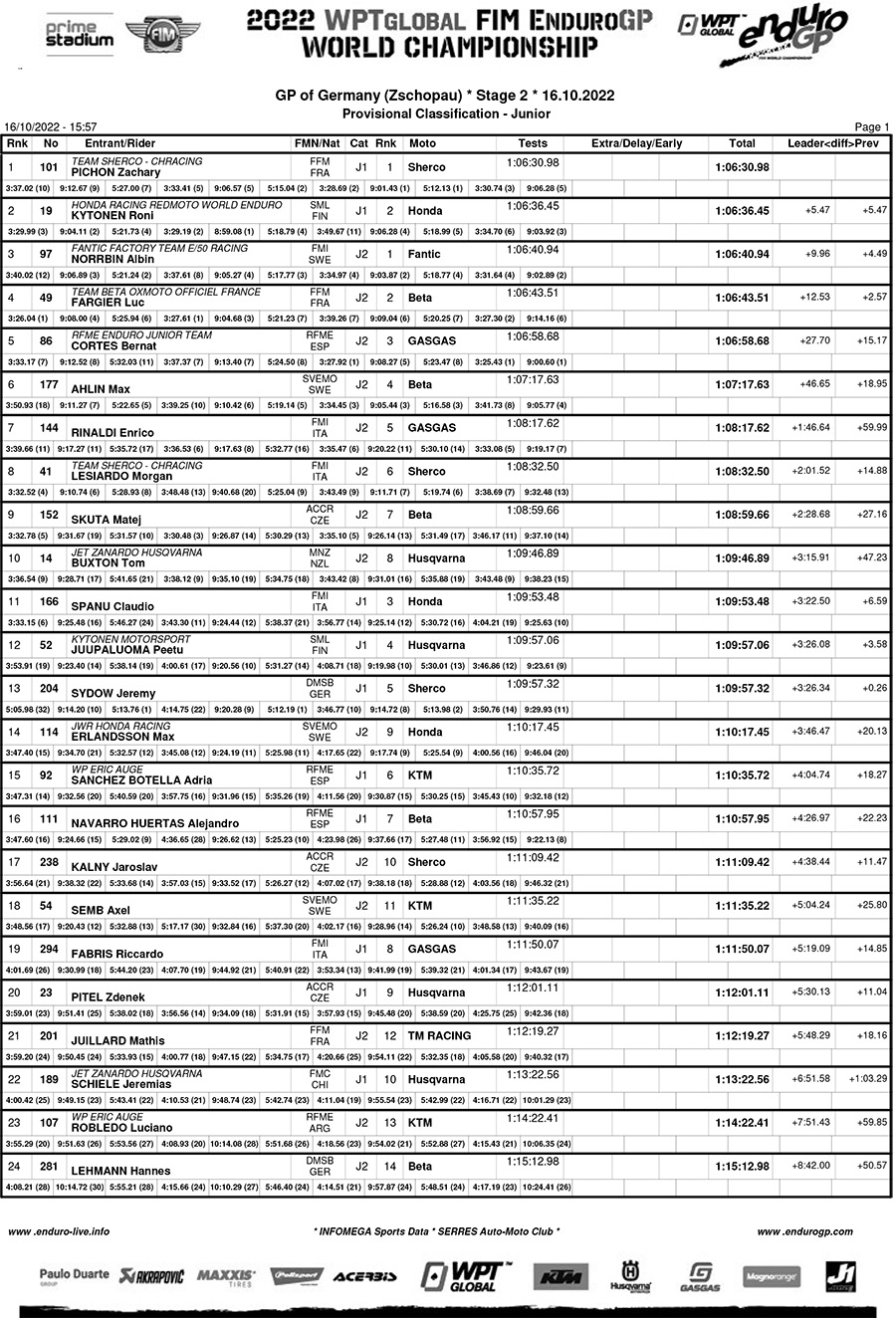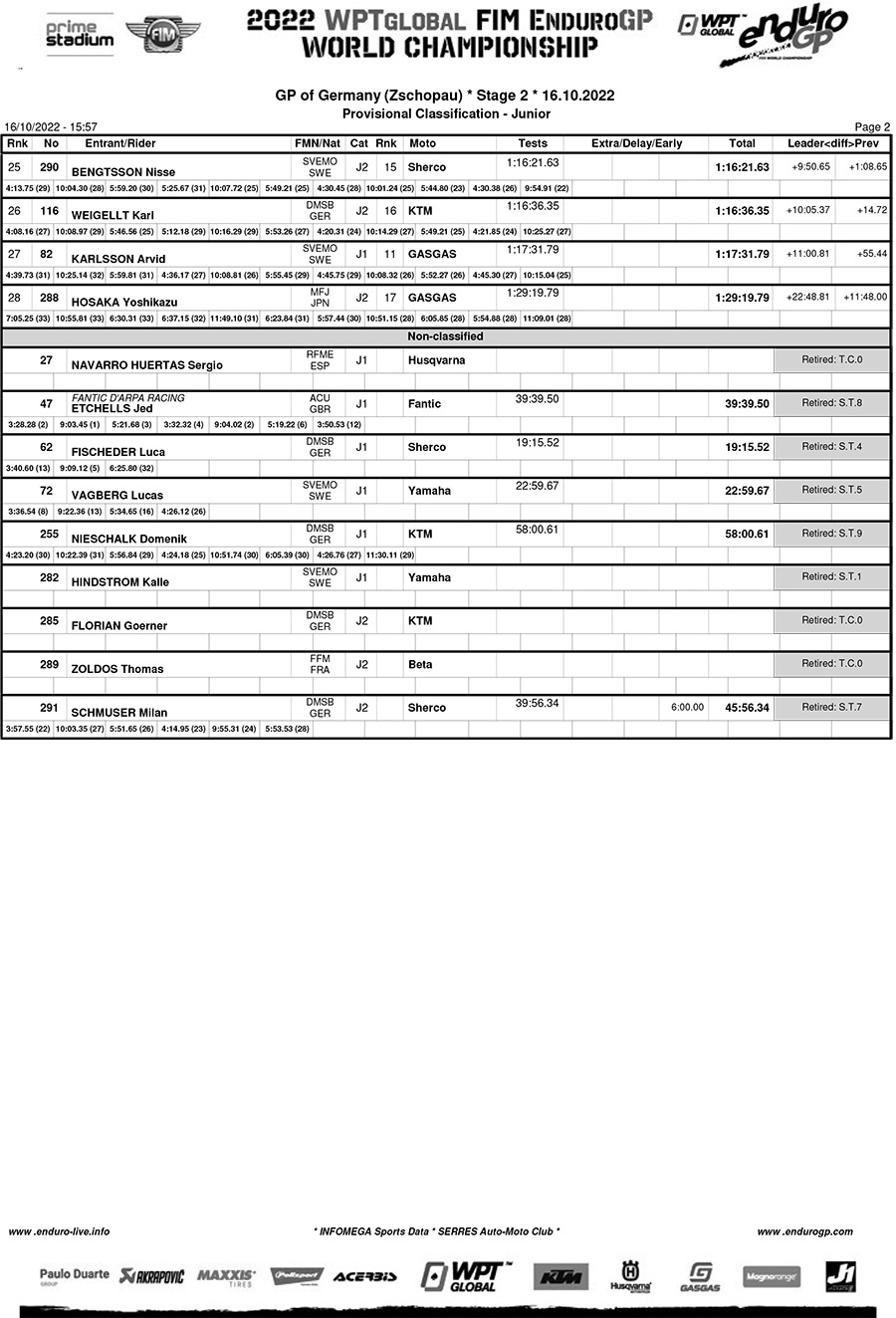 EnduroGP of Germany EY class results, day 2: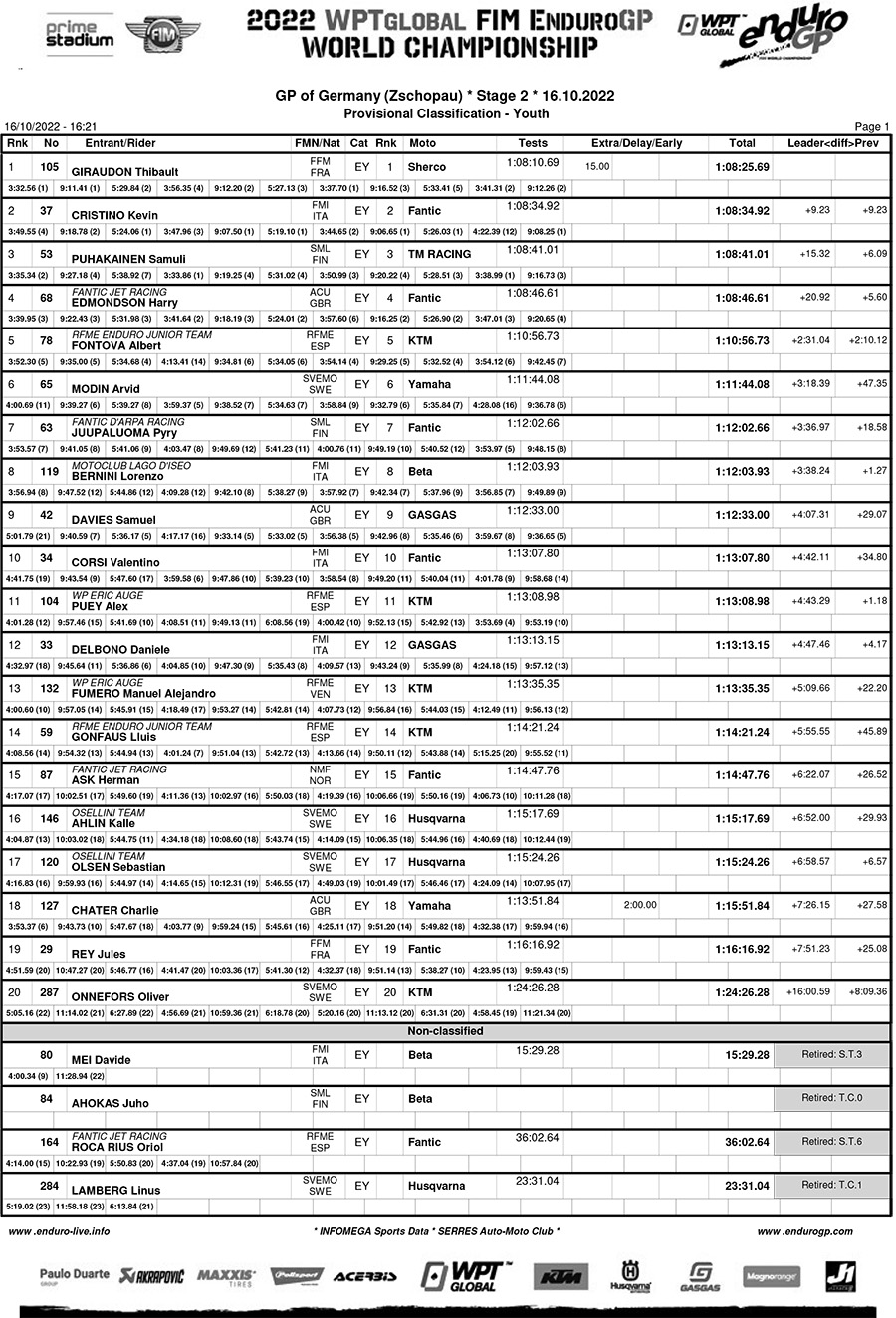 EnduroGP of Germany EW class results, day 2: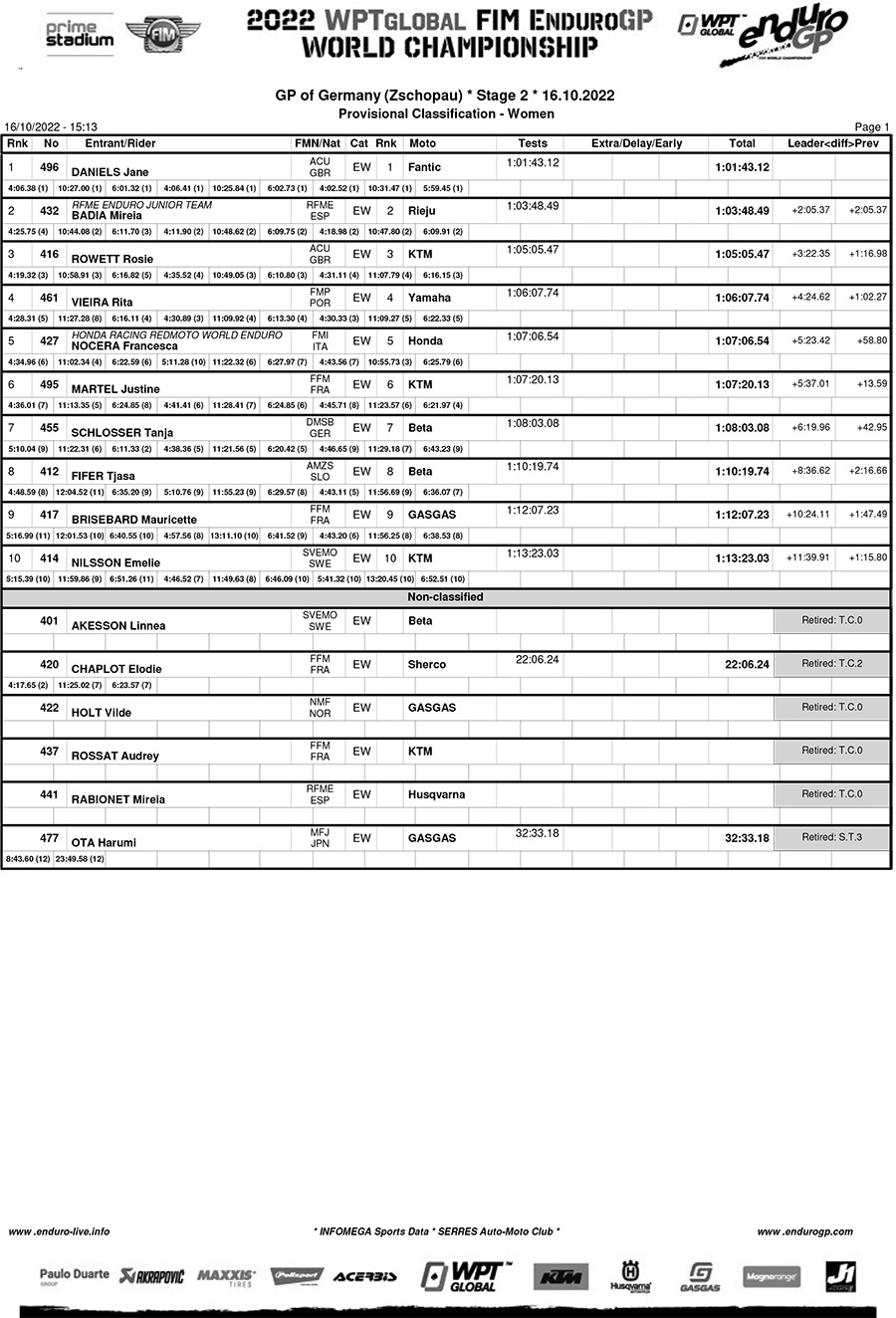 EnduroGP of Germany Open World Cup class scratch results, day 2: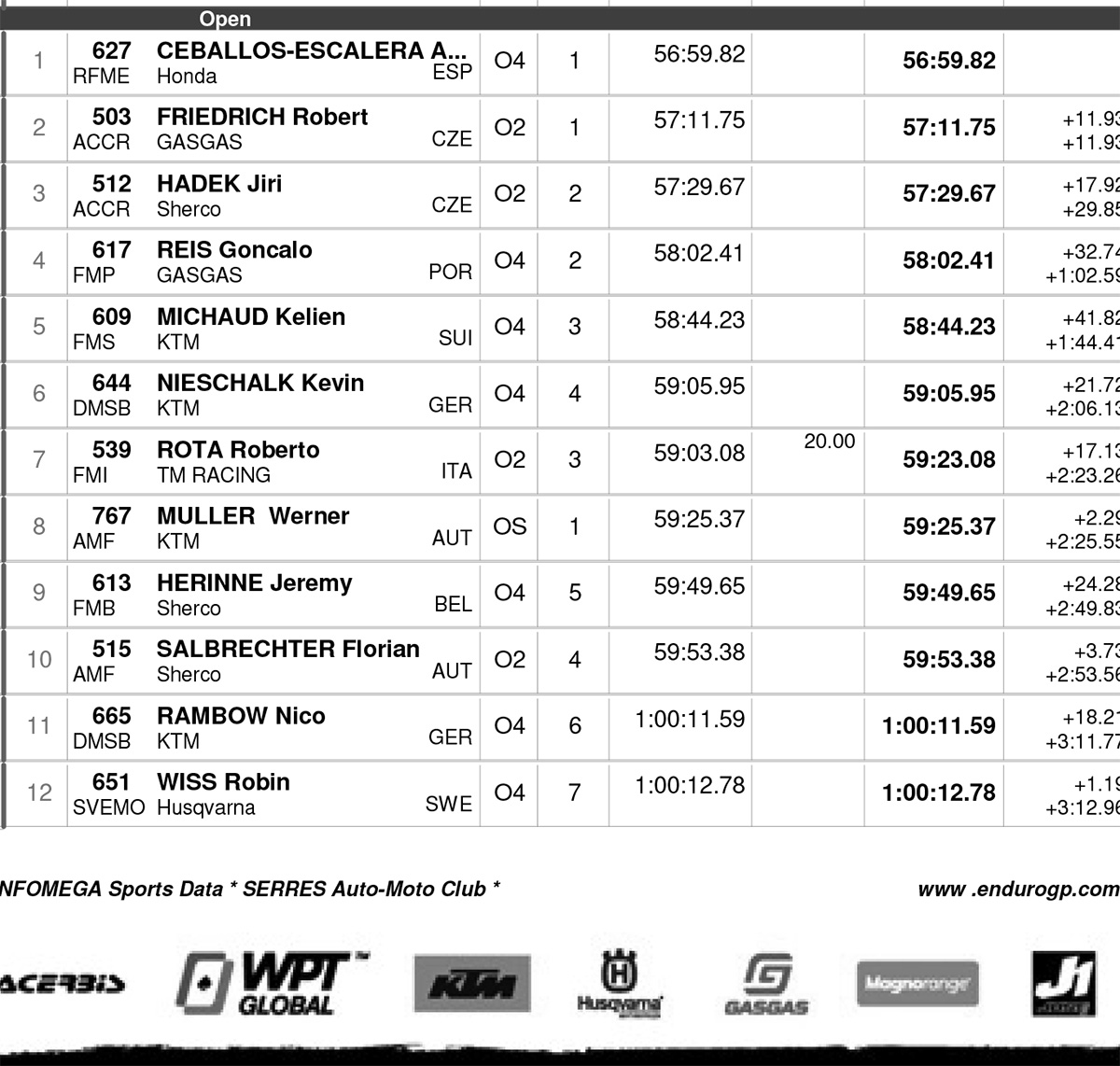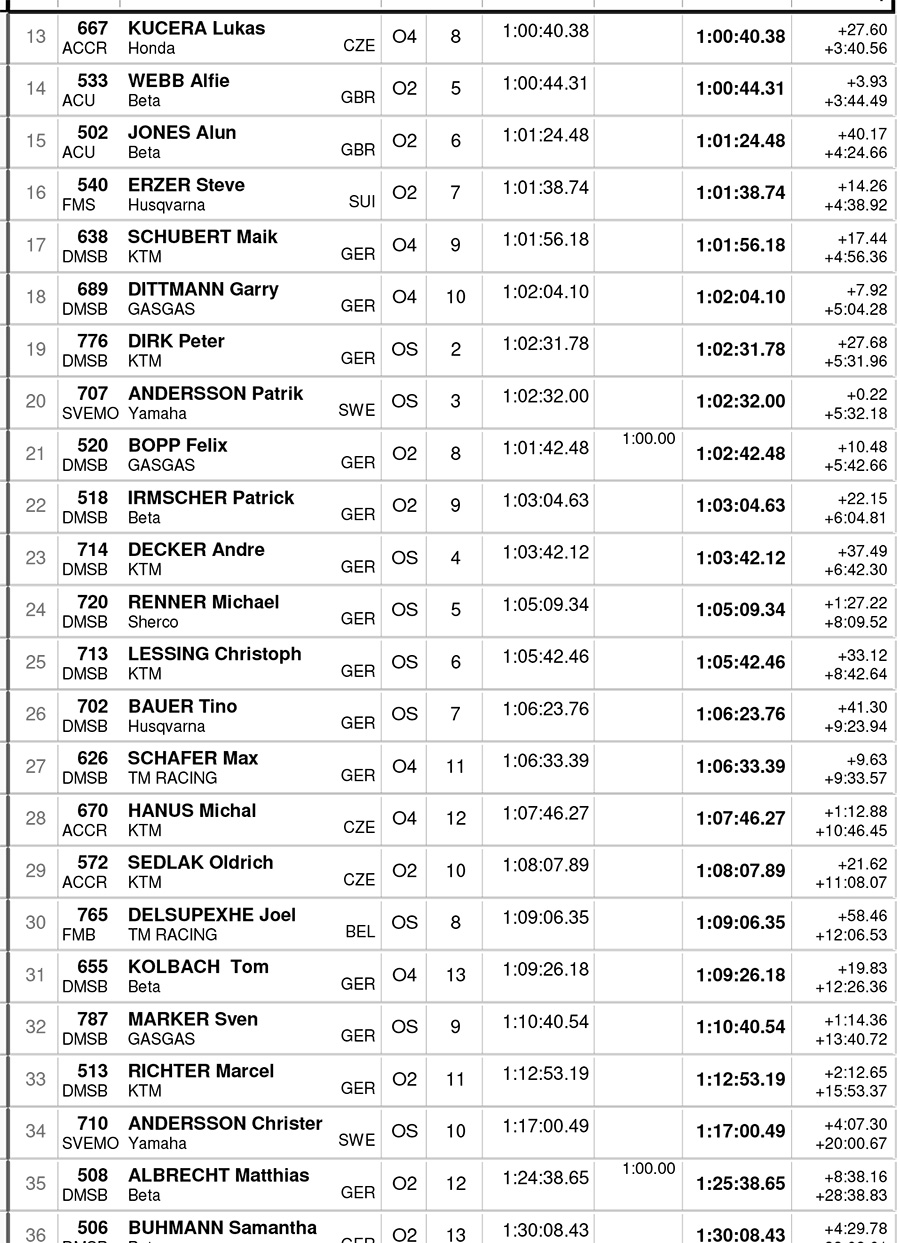 Photo Credit: Future7Media | Andrea Belluschi + Nicki Martinez + James Flemming