EnduroGP of Hungary results: Garcia wins day one – bike issues cost Ruprecht
Results from day one of the 2022 EnduroGP World Championship round six in Hungary where Josep Garcia climbed ahead of a titanic top 10 fight ahead of Nathan Watson and Andrea Verona who extends his points lead after Wil Ruprecht's bikes expires.
2022 EnduroGP of Hungary day one in a nutshell:
The penultimate round of the world championship season should naturally be a hotly contested race weekend across the classes but, after a fierce and dramatic season already, day one in Hungary proved one hell of a contest.
The local marshalls were a slow to wake up this morning and fix tapes brought down overnight by strong winds as riders hit the first of 12 tests (three per lap, four laps) – the wind did help blow the dust away though.
From the start it was super-close between Josep Garcia, Wil Ruprecht, Andrea Verona, Daniel Milner, Antoine Magain, Steve Holcombe, Nathan Watson, Alex Salvini and even Jamie McCanney were all within fractions of each other in a crowded top 10.
Thomas Oldrati would have been in the thick of it too but for a 30 seconds time penalty for a broken chain last night in the Super Test (actually test one and counts towards day one times).
By the second lap things were still close but a gap emerged behind Ruprecht, Garcia and Verona back to Holcombe, Watson, McCanney, Salvini, Milner and Magain. Still, anyone of them could have bagged the podium and things ebbed and flowed with each test.
The third lap saw riders stretching their legs on tests and gaps appeared, along with a few mistakes. Holcombe got caught out by a derailed chain on the first Enduro test on lap three which dropped him out of contention, and showed how close it is this season as he went from podium challenger to P10. He would climb back to seventh.
Little by little Josep Garcia was stretching an advantage out front by now and by the last of the four laps he held a comfortable lead ahead of Ruprecht. Coming back on top after hand surgery and a hard GP last weekend "was the plan" Garcia said after a near 20 seconds win overall and in E2.
Lap four saw disaster strike for Wil Ruprecht after his TM gave up in the middle of the Enduro test. It was game over for the luckless Australian who didn't deserve this but continued (kinda) and was then later excluded.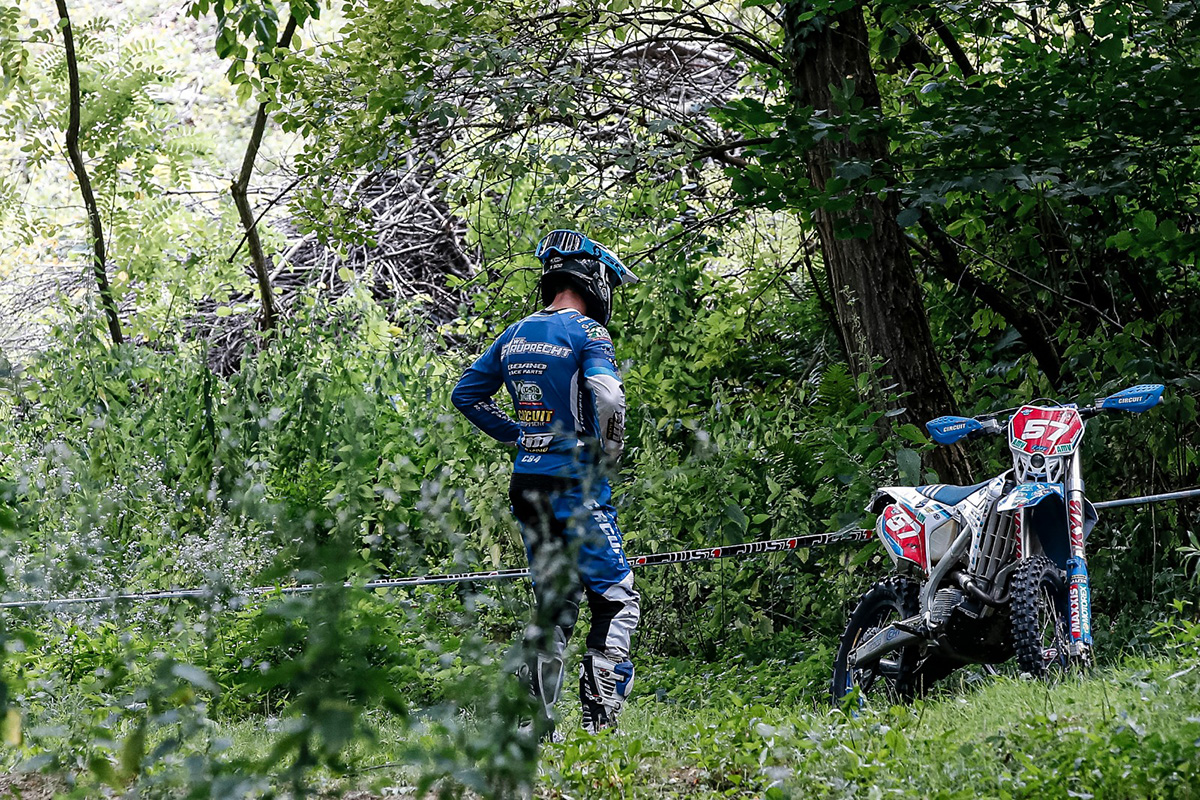 While this was going on, Nathan Watson quietly climbed into second place scratch on the final lap. The Honda RedMoto rider got stronger through the day and narrowly beat Verona to P2 by 1.77s.
Ruprecht's woes handed Andrea Verona (P3 today and E1 winner) even more slack out front in the EnduroGP championship standings. With just three racing days left this season, the Italian holds a 26 point advantage.
The Fast Eddy Racing team is brand new this season and though there are some very experienced hands on deck for the all-British privateer squad, fourth overall and P2 in E1 behind Verona for Jamie McCanney is no small achievement.
Alex Salvini came home in fifth for his best result of the season to complete the E2 podium ahead of Daniel Milner in sixth, in turn completing the E1 podium.
The fight for the E3 win was also super-close with a five rider battle separated by seconds by the final timing beam. Jaume Betriu it was though who headed the big bikes home to finish seven seconds ahead of Mikael Persson, with Matteo Pavoni a further second back third.
After looking like he was on the come back last week in Slovakia, Brad Freeman had a bad day. Suffering still physically he finished 23rd and sees Persson close right in on the championship points lead.
Winner last time out, Roni Kytonen was doing his best today to prevent the Junior points leader Zach Pichon potentially sealing the Junior World Championship this weekend – it was mathematically possible.
But normal service was resumed in the dry conditions as Sherco's main man Pichon, after three racing days off the top spot, gradually extended his advantage all day to win 30 seconds ahead of Kytonen. The title remains open but it's getting closer for the Frenchman.
Sherco (and France) finished the day with a double win after Thibault Giraudon put on a show in the Youth 125 class. Kevin Cristino and Harry Edmondson have been tough nuts to crack in this class all year but the youngster took his second day win of the year, 3.51s ahead of Cristino with Samuli Puhakainen pushing Edmondson uncharacteristically off the podium.
Italian Roberto Rota put his TM on top of the Open class scratch results (and Open 2T class) just 5.8s ahead of home hero Norbert Zsigovits (Open 4T winner) with Robert Friedrich third.
Check out the day 1 action: 2022 EnduroGP of Hungary Day 1 highlights – dust and glory for Garcia
GP of Hungary day 1 results – EnduroGP scratch: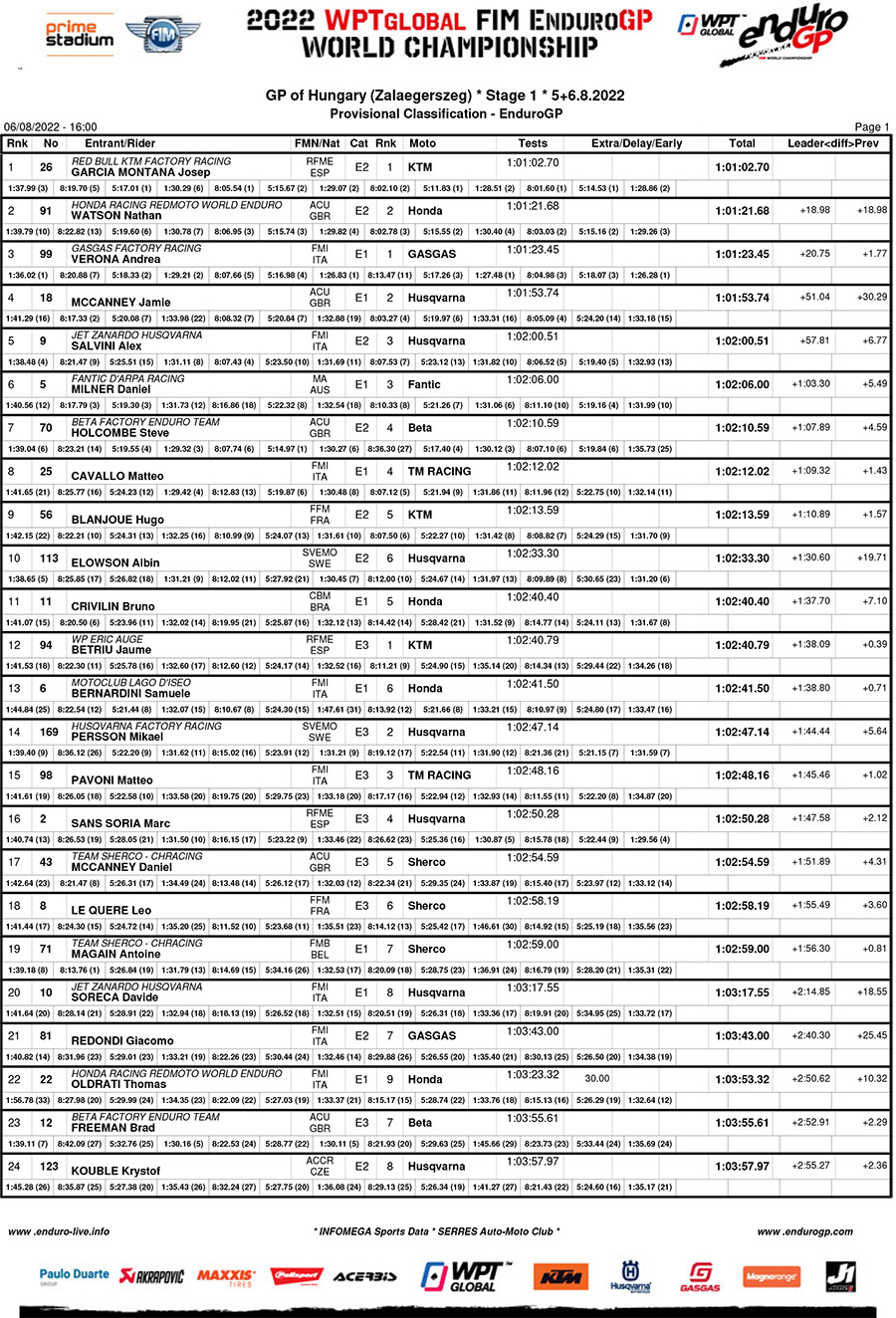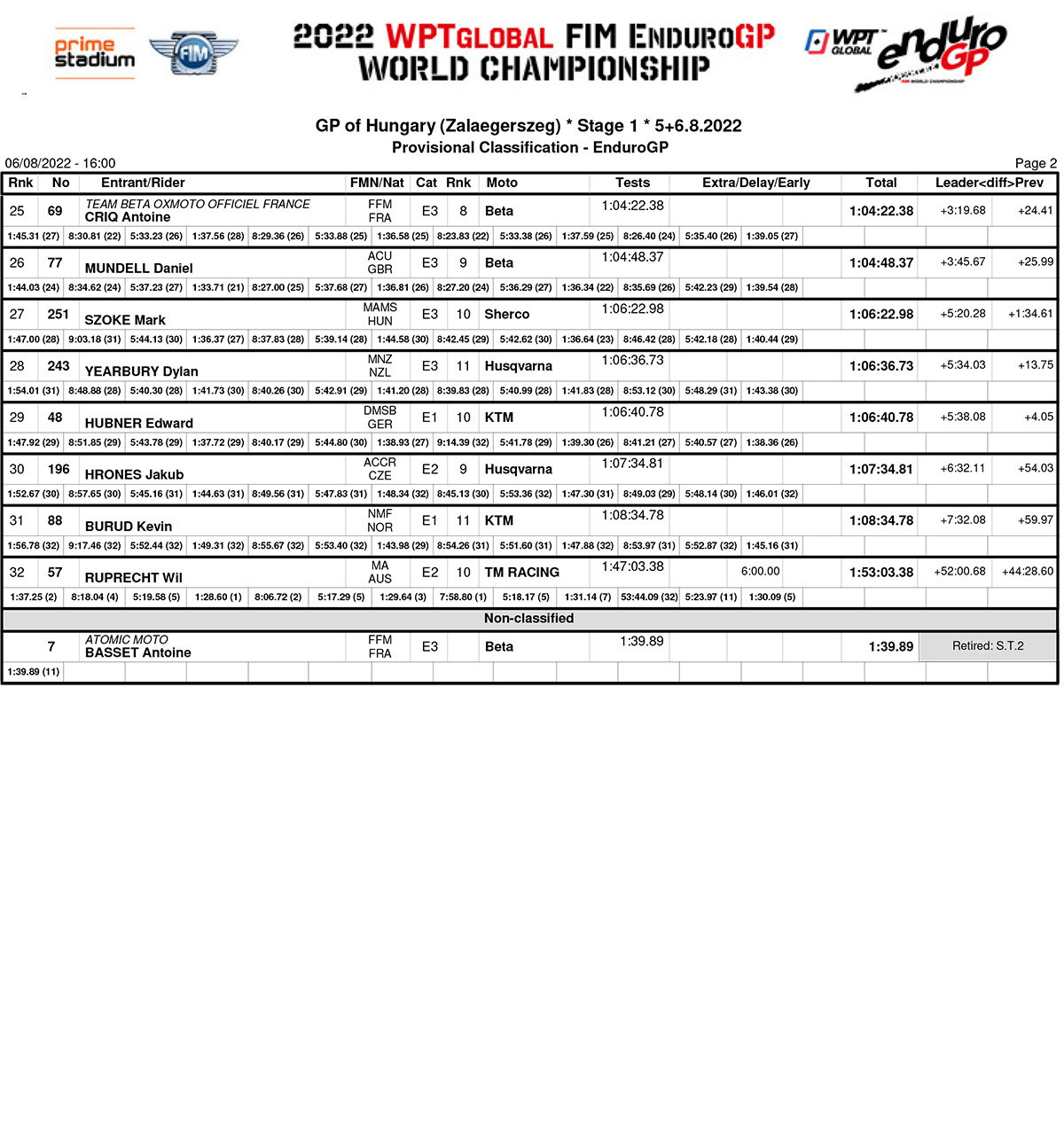 GP of Hungary day 1 results – E1: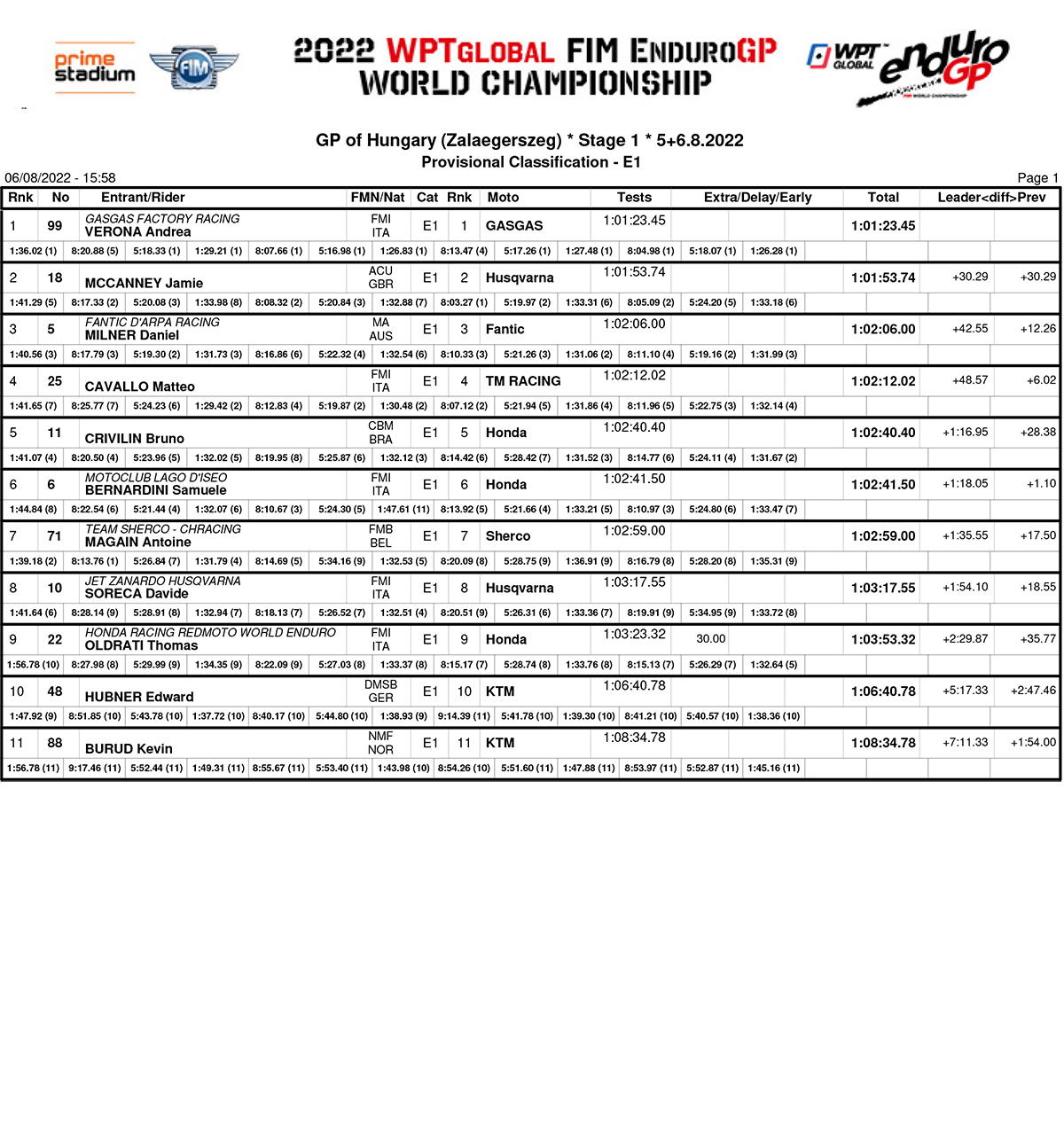 GP of Hungary day 1 results – E2: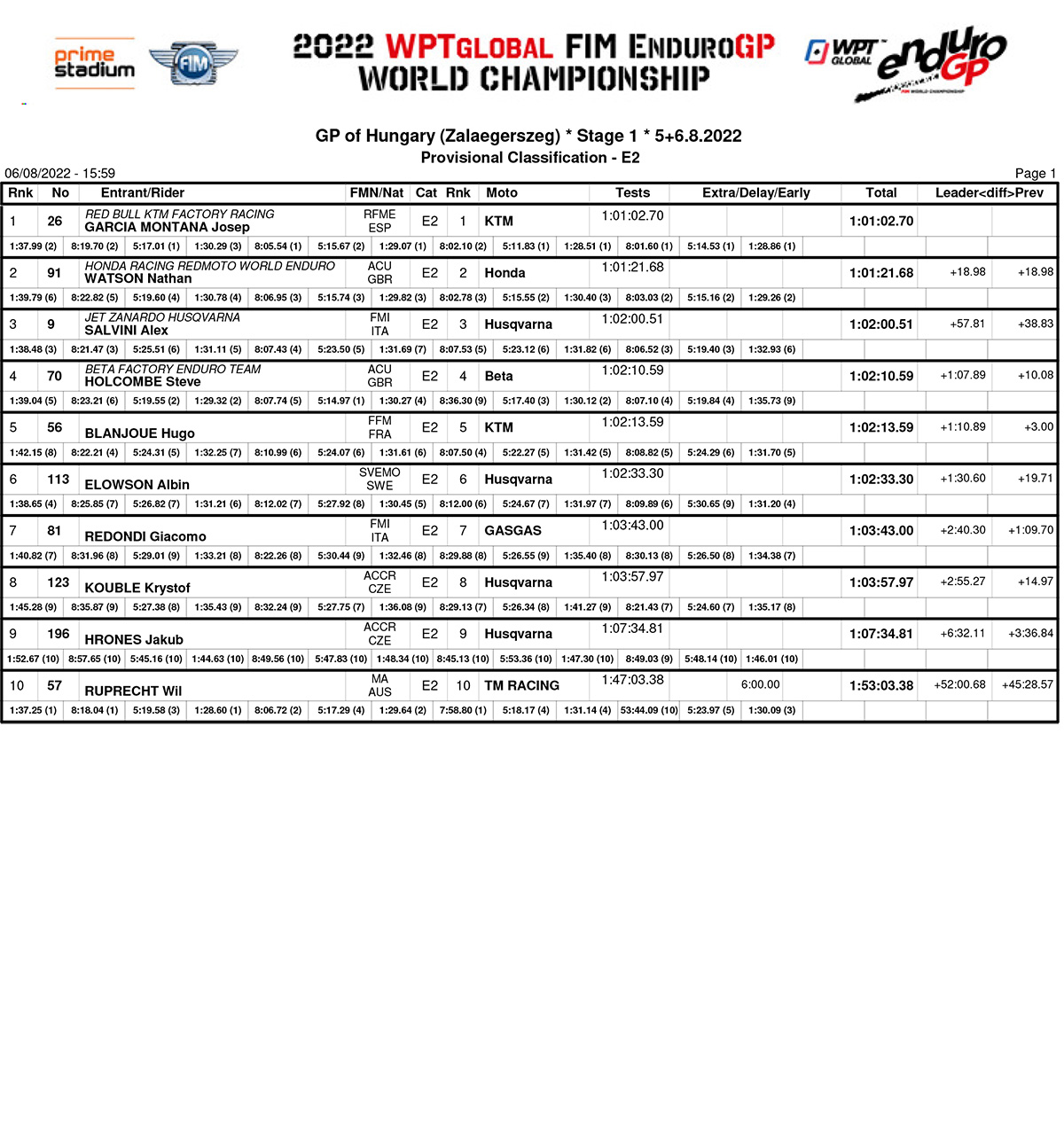 GP of Hungary day 1 results – E3: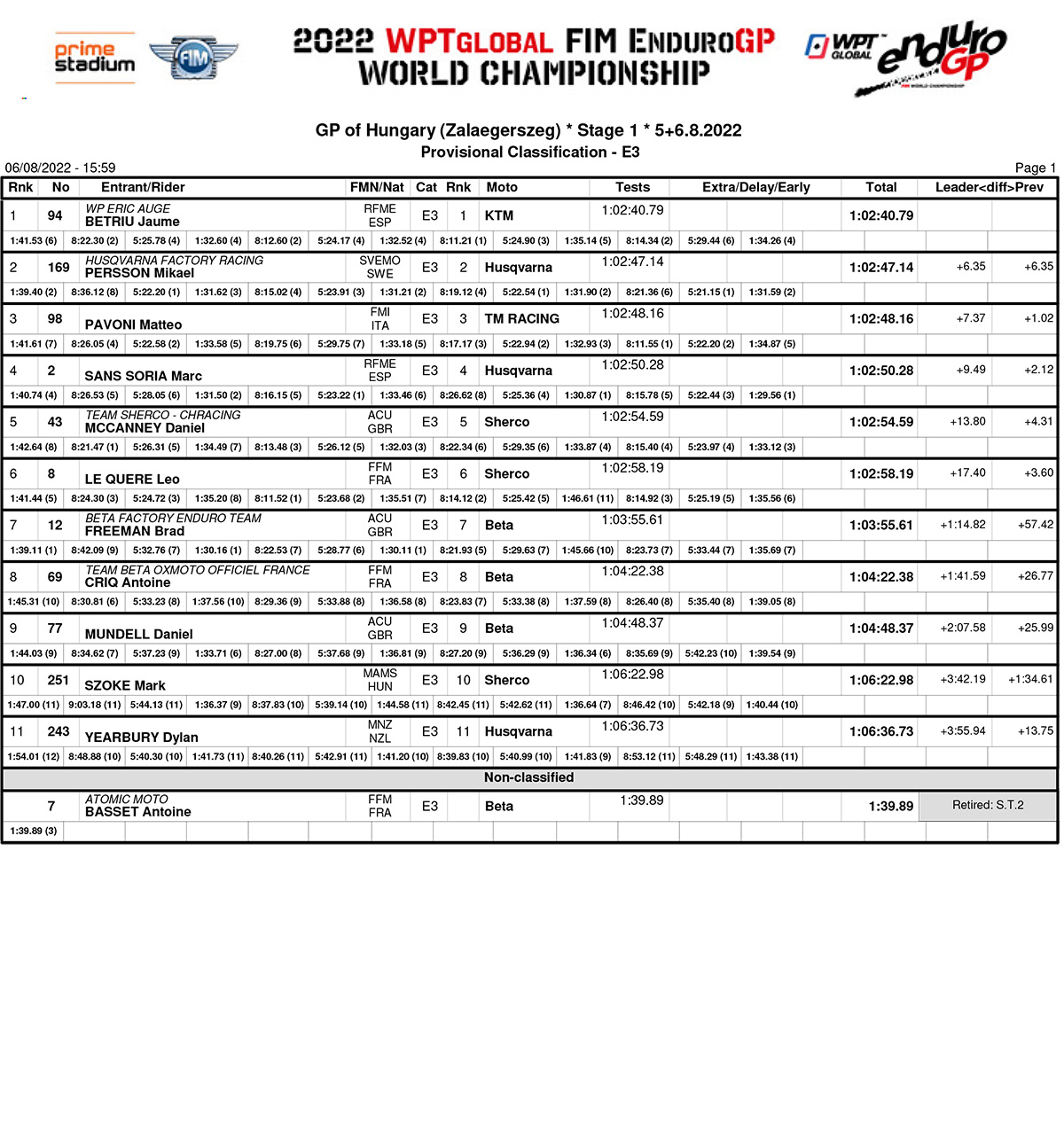 GP of Hungary day 1 results – Junior scratch: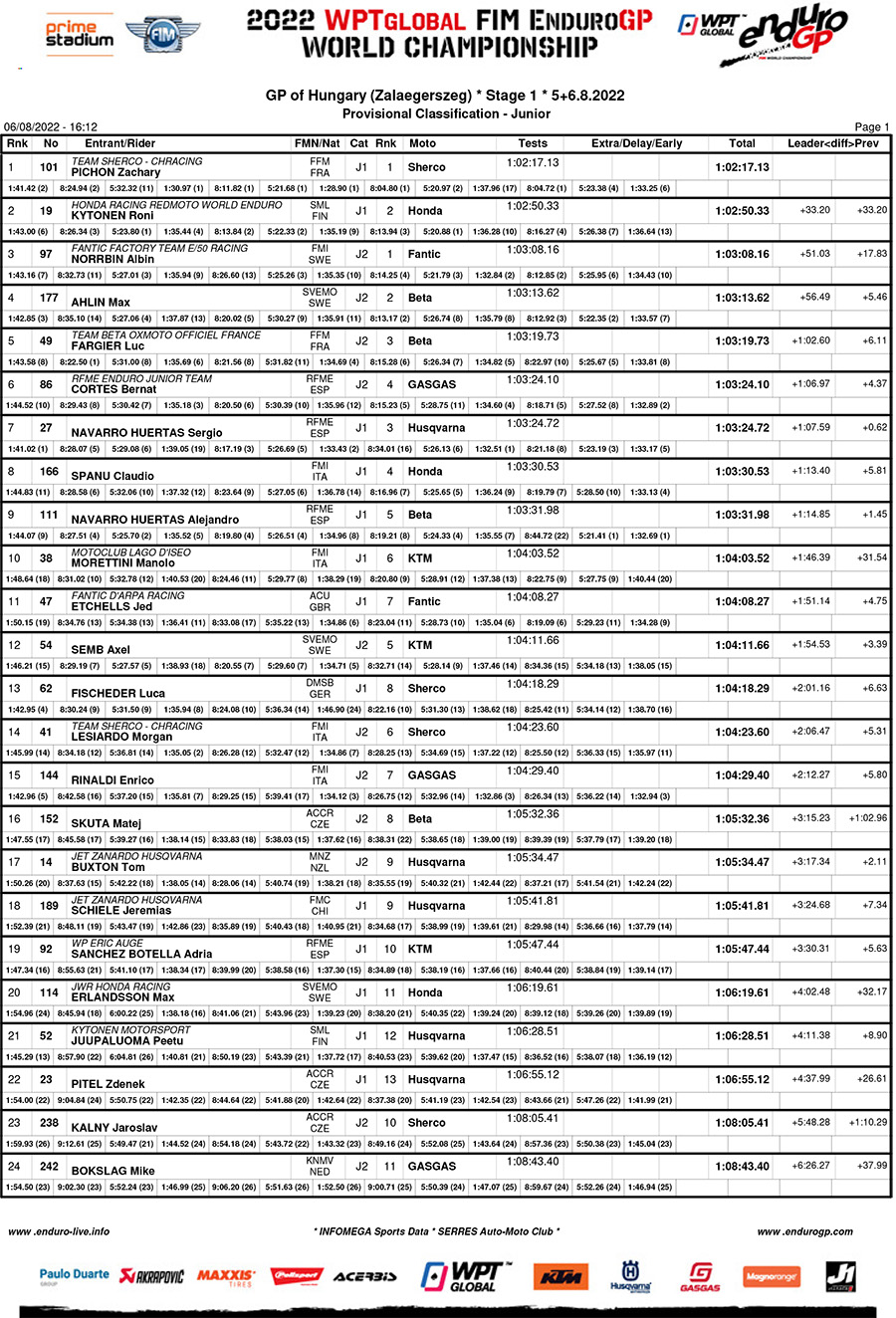 GP of Hungary day 1 results – Youth: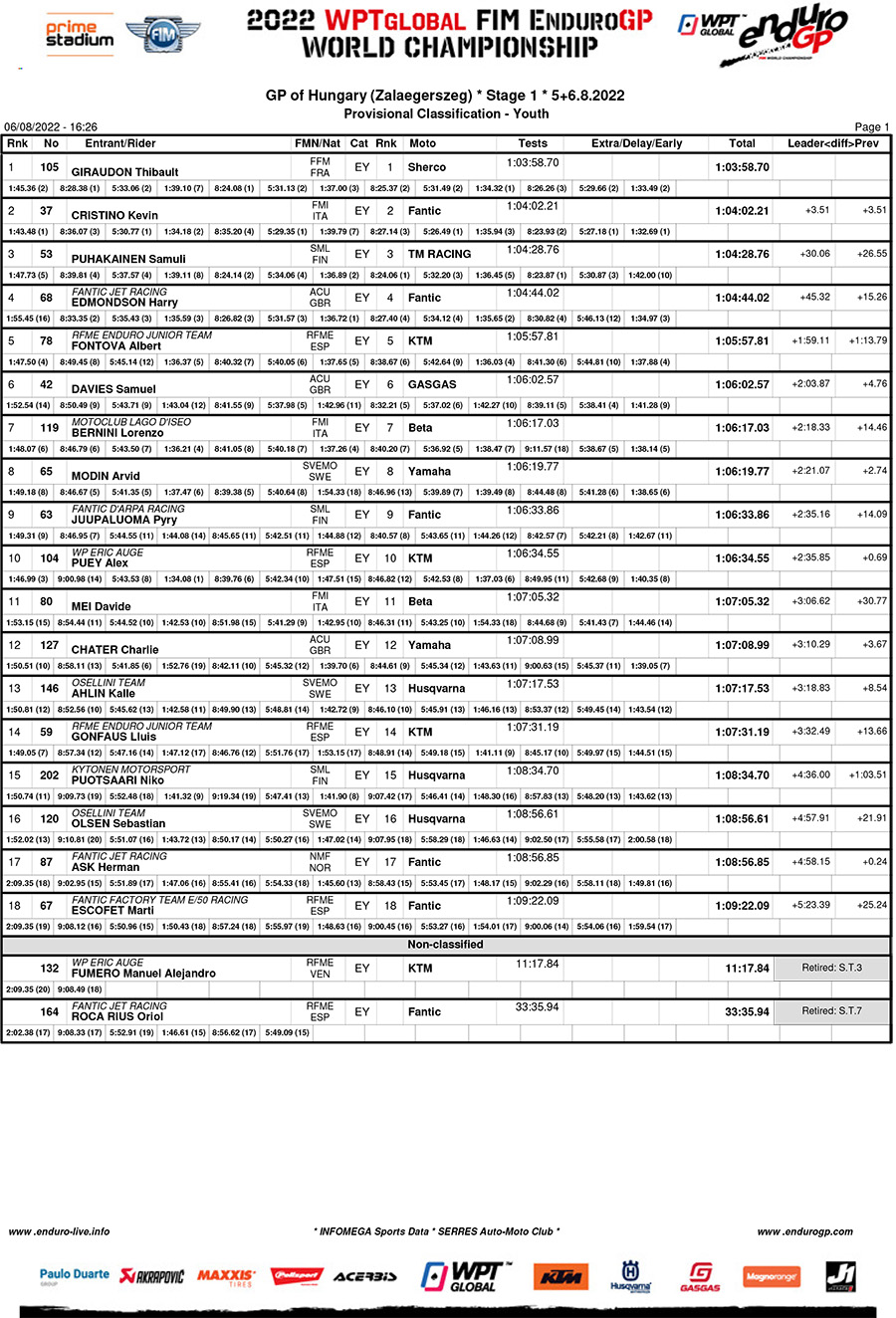 GP of Hungary day 1 results – Open (scratch):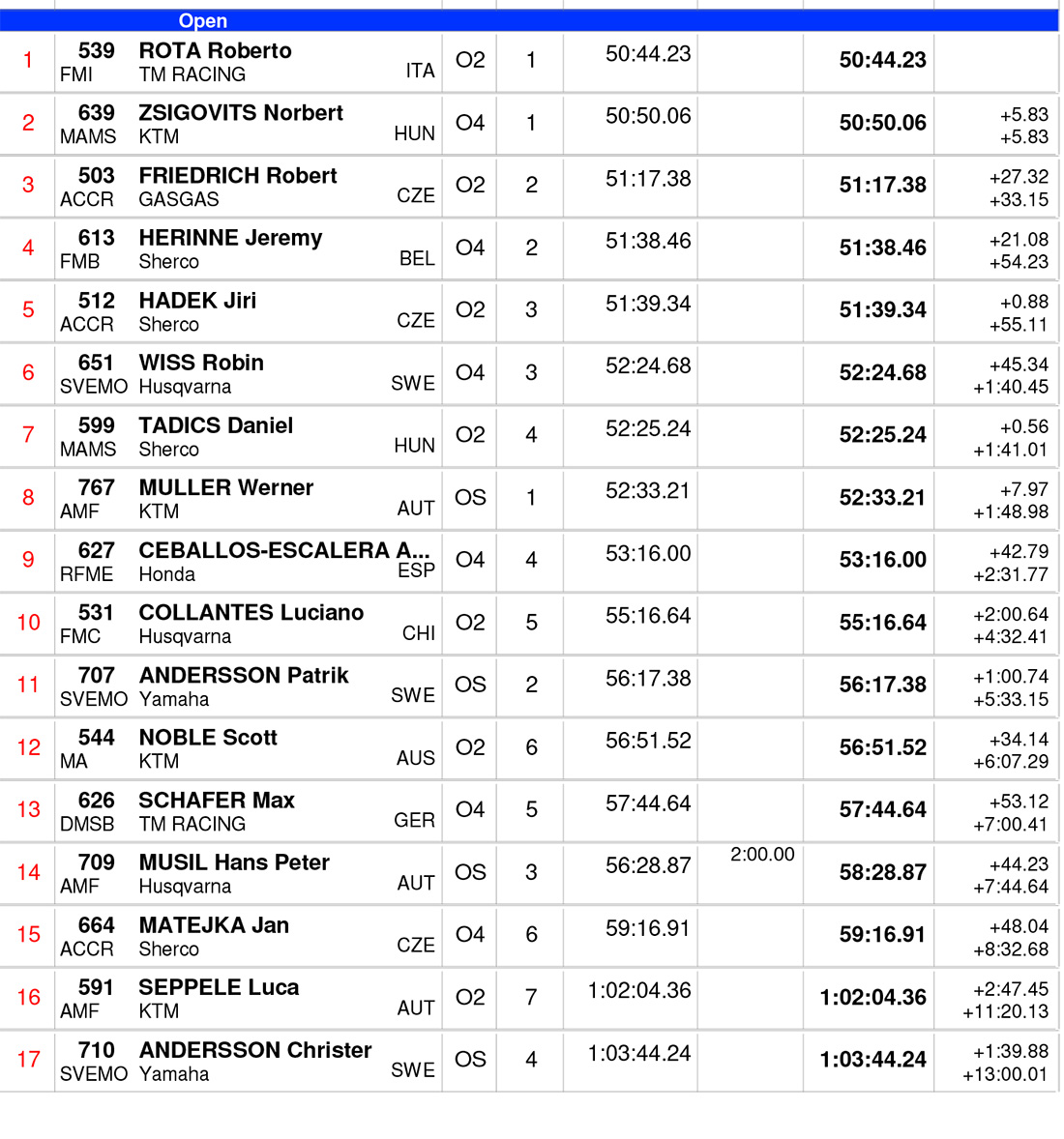 Photo Credit: Future7Media | Nicki Martinez