EnduroGP of Portugal Results: Garcia fastest from Pichon in Friday Super Test
Results from the Friday night Super Test at the 2023 EnduroGP of Portugal in Valpacos where a close contest saw Josep Garcia put the Red Bull KTM fastest of all ahead of Sherco Racing's Zach Pichon and GASGAS Factory Racing's Andrea Verona.
EnduroGP of Portugal, Valpacos Super Test in a nutshell:
It feels a bit nuts how late the Friday Super Test can be scheduled sometimes. Here in Valpacos, the first of two weekends back-to-back in Portugal closing out the 2023 EnduroGP season, the opening test of the weekend didn't even start until 8pm. With the running order going in reverse the big-hitters go last which meant a 21:34hrs start time for the last pair away Brad Freeman and Steve Holcombe. They are naturally the first away tomorrow morning too for two long days riding the demanding tests – don't ever let anyone kid you this game is a walk in the park.
Thankfully there were just a sprinkling of national class and Open World Cup riders to get through before the championship riders started hitting the track and the show was a spectacular one once things heated up.
Next weekend sees the Women's World Championship conclude and Rosie Rowett was a lone contender from that title race here this weekend, holding her own in the Open classes where Enzo Marchal went fastest of all with a 1:36.50.
The Youth 125 class arrived shortly after and livened things up with a heap of blue smoke and some decent whips on the open Super Test track.
Up the sharp end it was the usual suspects going fastest with top five remarkably all within a second of each other. Leo Joyon it was who took the first test honour, 0.53 ahead of points leader Kevin Cristino.
You'll have to scroll through the Junior timings a long way before you find a time to beat those fizzing 125s – Albert Fontova was the first if you're asking with a tome good enough for third in class in the end, narrowly bettered by Sergio Navarro.
Fastest of all in the Juniors though was points leader Jed Etchells who laid down a marker for his rivals with a 1:31.03.
It took a while for the senior classes to go faster as well and the reality was some incredibly close times with two young riders, Zach Pichon and Samuele Bernadini, laying down benchmarks better than many more experienced rivals.
It was the first time for a while we've seen the Beta team-mates Steve Holcombe and Brad Freeman duke it out in the dual-lane Super Test at the same time. They went last of all after a fairly straightforward night where only Hamish Macdonald was notable for a costly mistake. Everyone else seemed steady-away really.
Josep Garcia and Andrea Verona were spectacular on track togther and seemed to spur each other on. Garcia it was though once again who sailed to the fastest of all times with a 1:28.17, half a second faster than Pichon with Verona 0.2 further back.
Tomorrow starts the real action with three long laps in the Valpacos hills which should be around seven hours in total. Riders face spectacular rocks in the Extreme test, a relentless enduro test with endless corners and a wide and fast Cross test all to be tackled three times.
EnduroGP of Portugal, Valpacos Super Test results: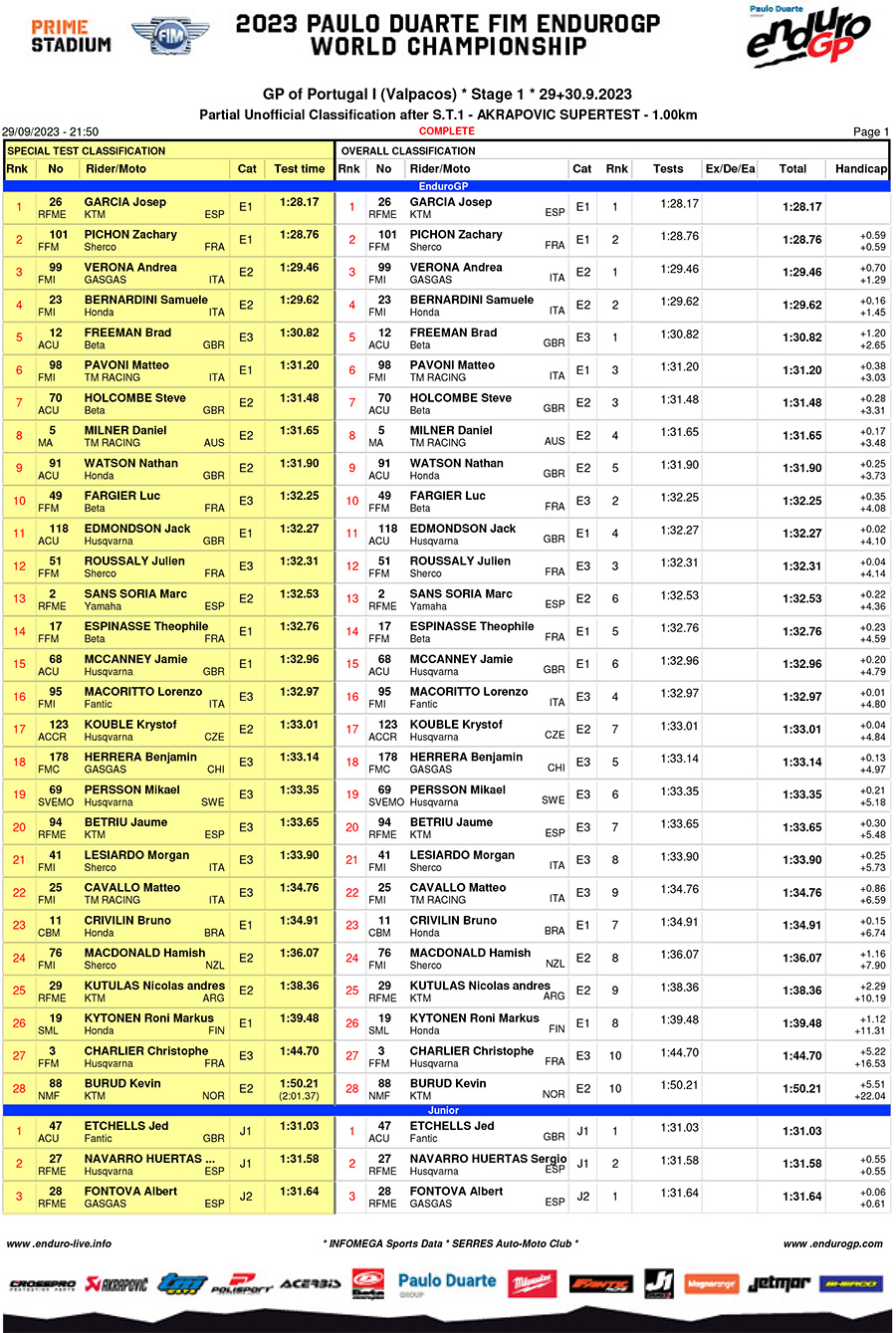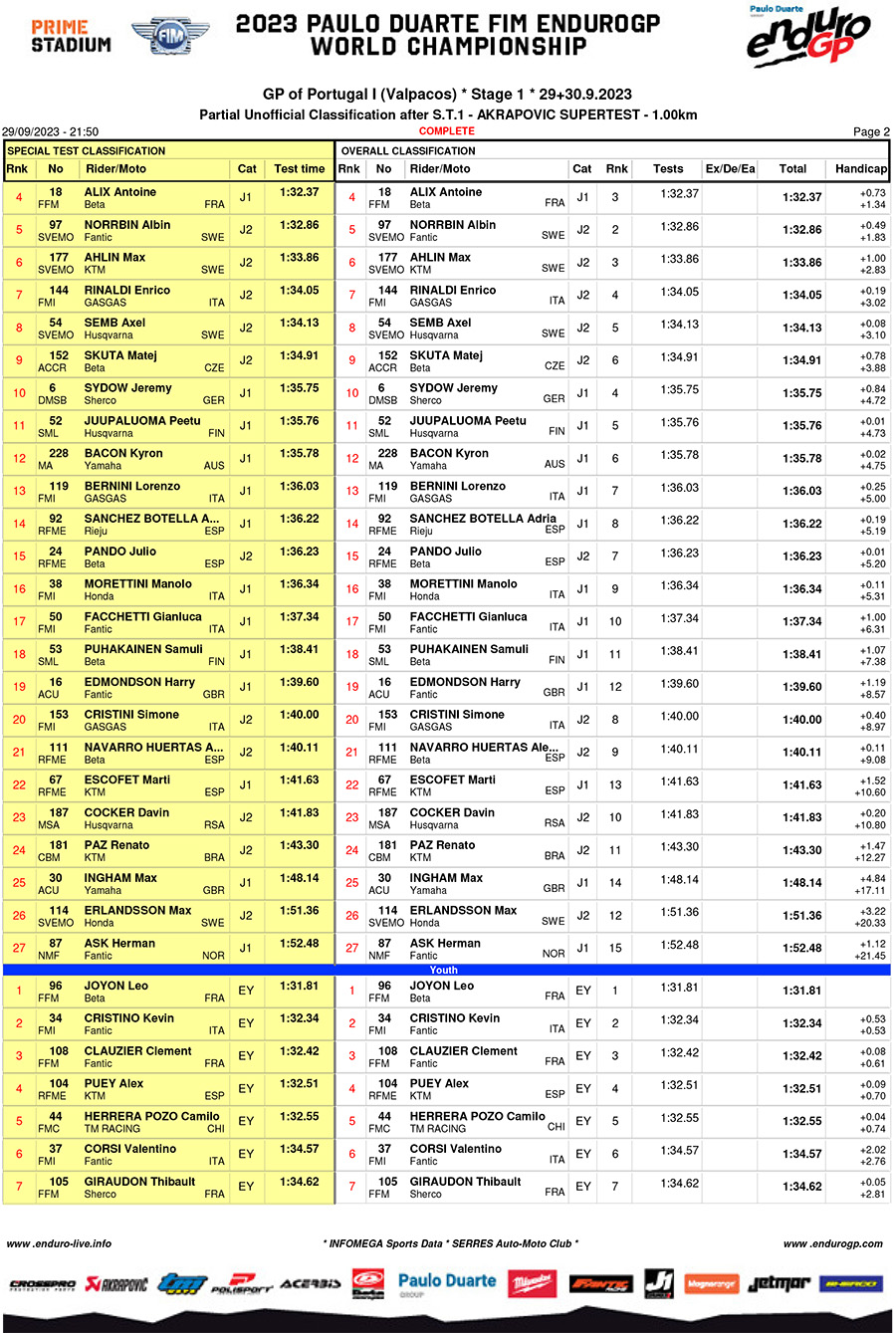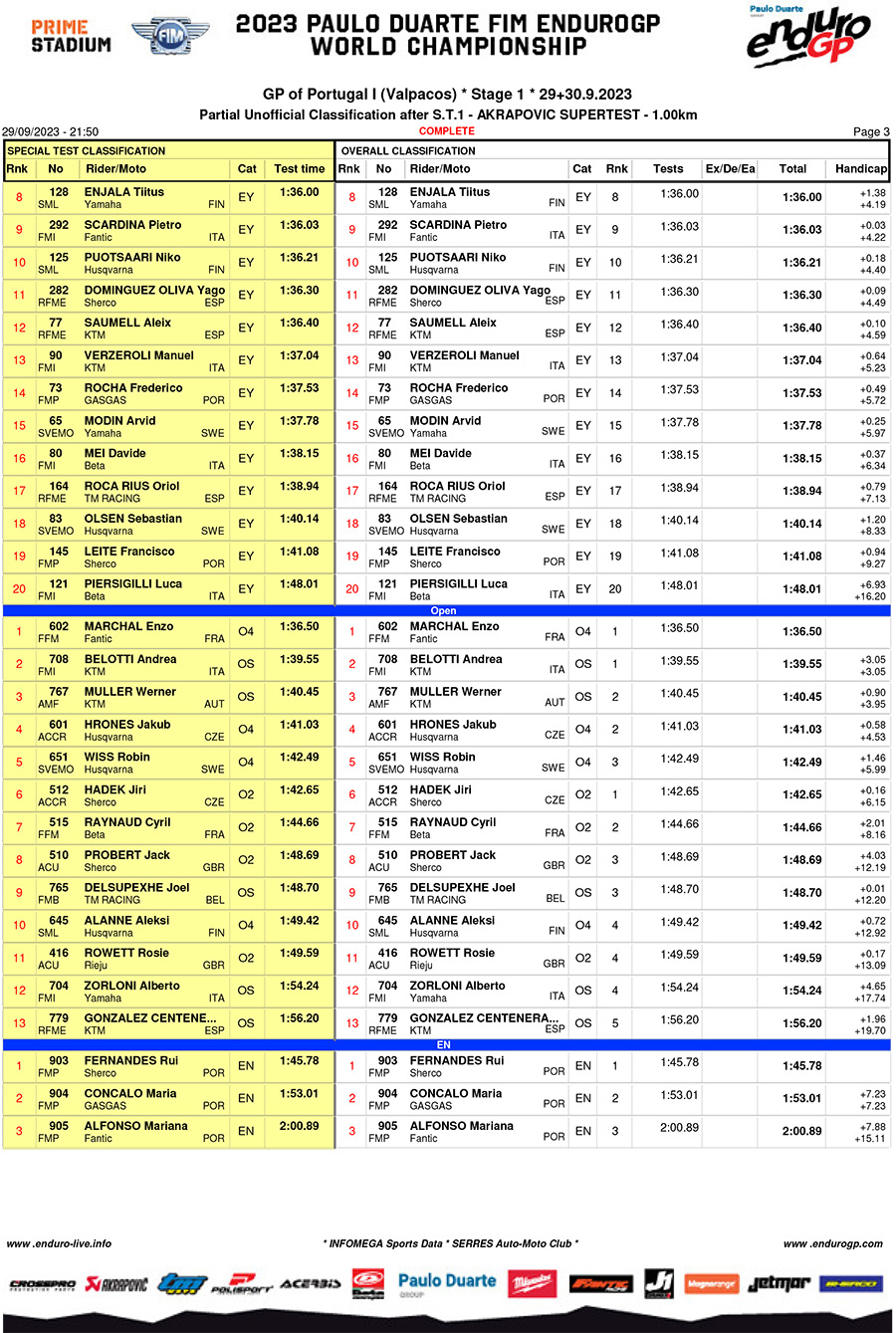 Photo Credit: Future7Media | Nicki Martinez