EnduroGP of Portugal Results: Thrilling day one brings out the best in Garcia, Verona and Holcombe
Results from a superb day's racing at the 2023 Paulo Duarte EnduroGP World Championship round six in Valpacos, Portugal where a fast trio of Josep Garcia, Andrea Verona and Steve Holcombe traded test wins right to the wire for victory.
EnduroGP of Portugal, Day 1 in a nutshell:
On day one here in Valpacos Josep Garcia and Andrea Verona were quickest out the blocks, tackling the spectacular extreme test rocks in the morning light like most of us eat breakfast.
They were soon joined at the top of the timing sheets by a slow(ish) starting Steve Holcombe and the trio traded fractions of seconds differences through 11 tests (three laps of three, plus two more) and for a total of seven and a half hours on the clock.
Victory for the day arrived at the wire in final lap after a series of nail-biter test results where Garcia had a slender lead, but Verona and Holcombe were banging on the door and less than five seconds separated then with one to go.
A flying final test flourish from Garcia sealed the show for the KTM rider, claiming his first overall since day one in Sweden, round four (ahead of his monster crash on day two in Sweden!).
Josep was more than happy with the overall and the E1 class win: "It feels so good to be back on the EnduroGP podium That crash in Sweden was a tough moment and Slovakia was really tough. Then in the summer we worked so hard but you need to be racing to know where you really are and it feels incredible to come here in the first race back and be healthy and see the hard work has worked. I am really happy and tomorrow we try it again."
Second in the final test brought second overall for Andrea Verona and the GASGAS rider takes the E2 class win: "It was a really good day with a fight from the first to the last tests, I like teo race like this. Finishing P2 overall and P1 in E2 I should be happy about my day but I prefer to win! We will try again tomorrow."
Steve Holcombe took a fighting second in E2 and third scratch to drop a couple of points to Verona: "It was a good battle. I lost a bit too much time this morning and was a little bit too nervous going into the first extreme and enduro tests. But I was really happy to find my rhythm and put up a good fight. Congrats to Josep, he had a really good last test and I look forward to fighting with the guys tomorrow."
The Zach Pichon we expected this season turned up this weekend. The summer break has given the Frenchman time to re-find his form but though he is fast here, he was "only" good enough to be best of the rest today in fourth place and well over one minute down. That saiud it was good to see a 250cc two-stroke up there on the E1 podium in second where Fast Eddy Racing's Jamie McCanney joined him and Garcia in third.
Samuele Bernadini completes the top five scratch and the E2 podium for Honda RedMoto.
That fast three was a fast four in the first half of the season but it's no surprise to see Brad Freeman in (fittingly for his race number) P12. A summer break doing nothing following a head injury made today a tough ask but he was in the E3 fight on day one.
It might have been around the top 10 mark but Freeman remarkably was still finding himself fastest in class for the first laps before Jaume Betriu and Mikael Persson got their acts into gear. A similar final test flourish from Jaume, just as his Spanish compatriot Garcia pulled off for the win, meant the WP Eric Auge rider Betriu claimed the first world championship victory for the 2024 TBI-engined two-stroke from KTM. Freeman and Persson completed the E3 podium.
Jed Etchells and Albin Norrbin were not playing games today in their pursuit of the Junior class honours either – both at this GP and for the championship that is.
As with the EGP boys, times were incredibly tight often with fractions of seconds separating the top three or four riders including Norrbin and Max Ahlin posting exactly the same time, more than once – it was hard to believe.
Etchells and Norrbin it was though who pulled clear, gapping everyone else by a minute and it too came right to the wire with Albin claiming the final couple of tests but Jed just hanging on to win by 1.1 seconds.
Sergio Navarro got stronger as the day progressed to overcome Jeremy Sydow for third in class with Kyron Bacon making his first world championship appearance this season, taking a test win along the way to fifth overall.
The Youth class saw a familiar pattern too with Kevin Cristino back on form and trading blows with the French duo Leo Joyon and Thibault Giraudon – all three of them spectacular to watch on their 125s. Each took wins across the 11 tests but Fantic's flying Italian, Cristino, bagged the lion's share to seal the win by five seconds from Joyon and Giraudon 10s back in third.
Enzo Marchal ran out an easy winner in the Open class taking the scratch result (and Open 2T class) by almost two minutes ahead of Jiri Hadek.
2023 EnduroGP of Portugal, Valpacos day 1 scratch results: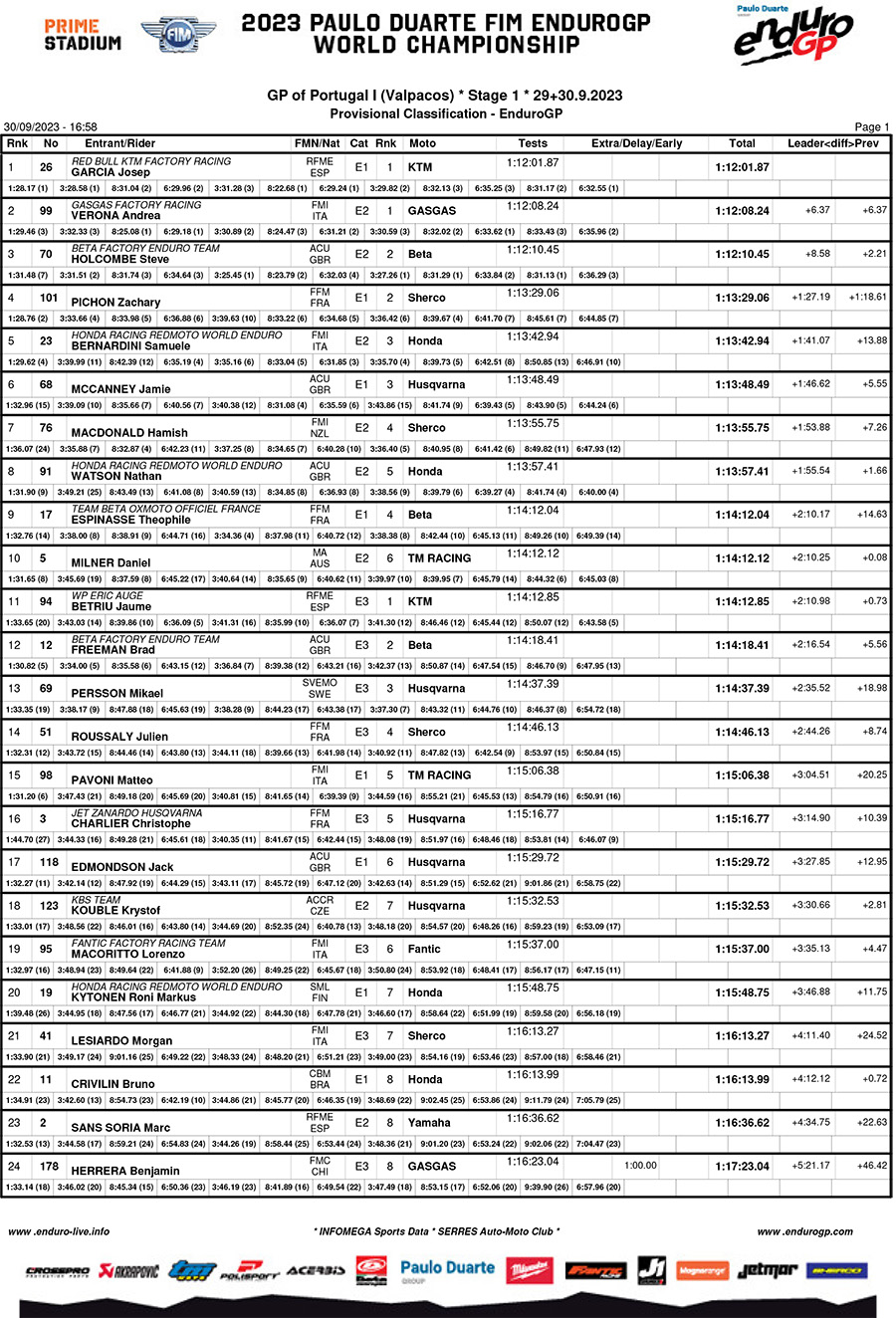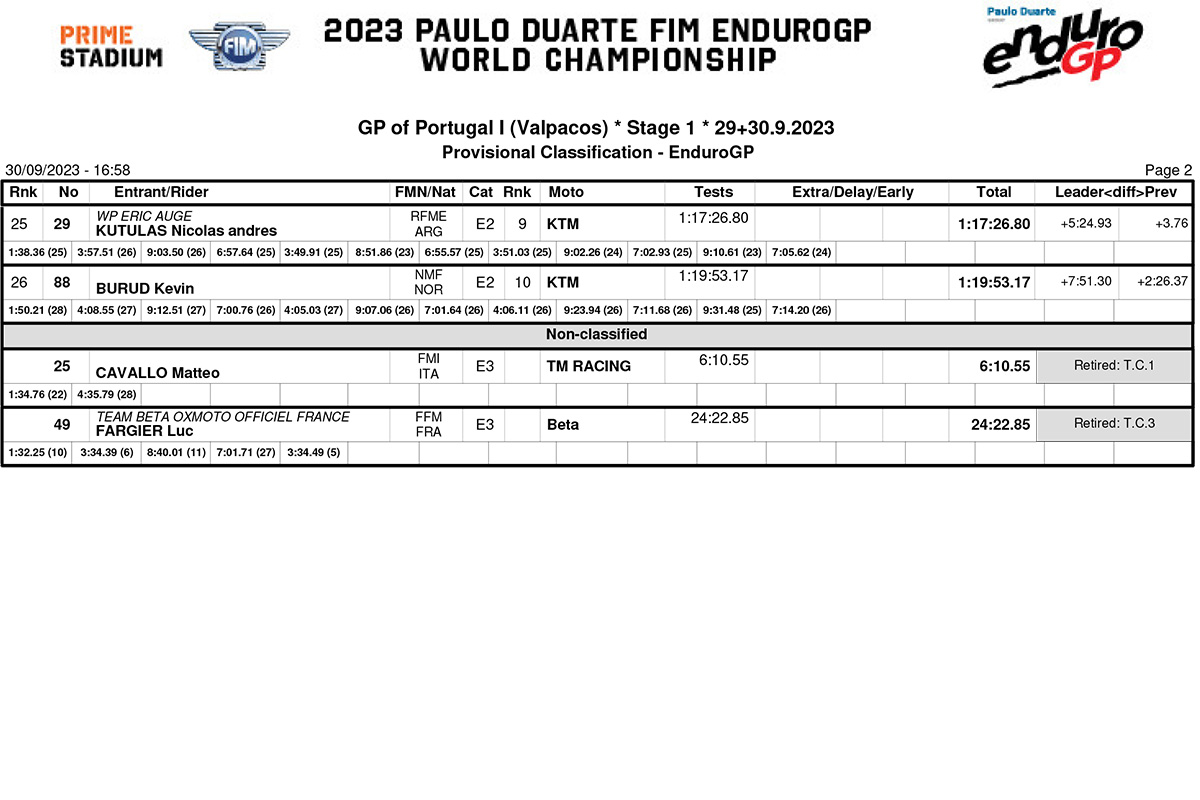 E1 class results: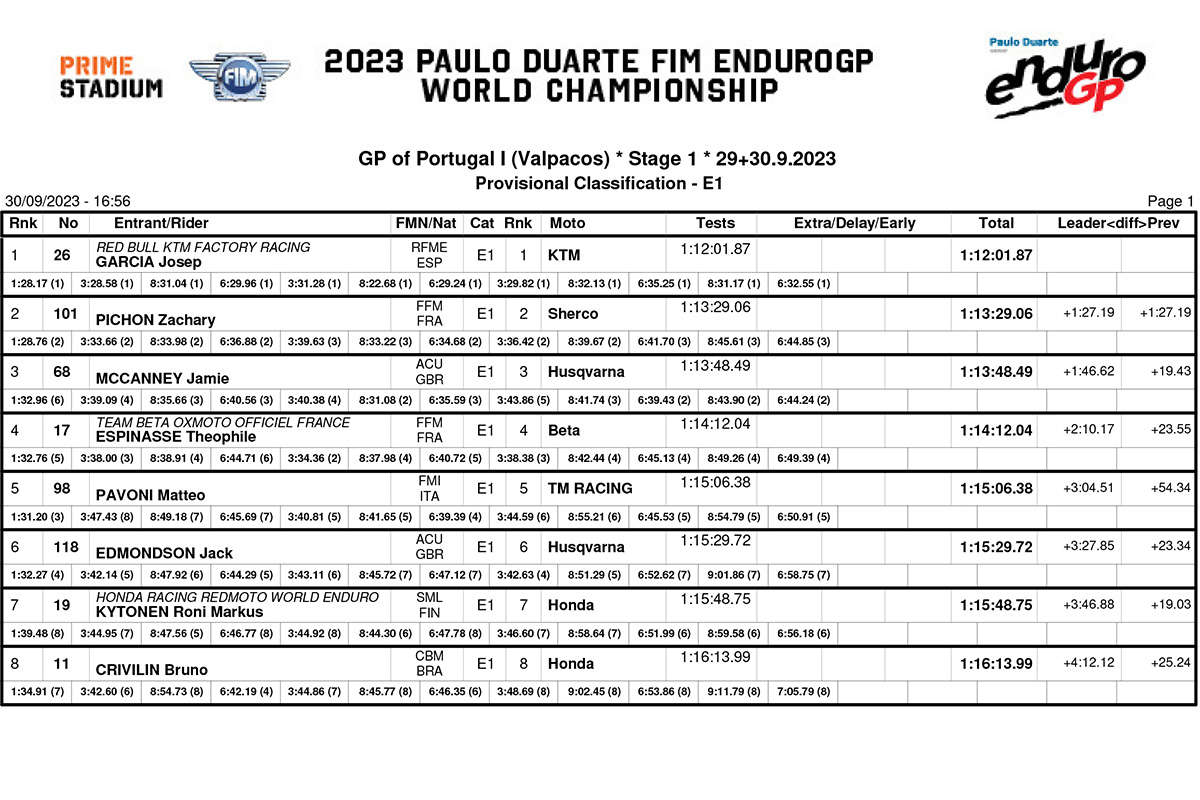 E2 class results: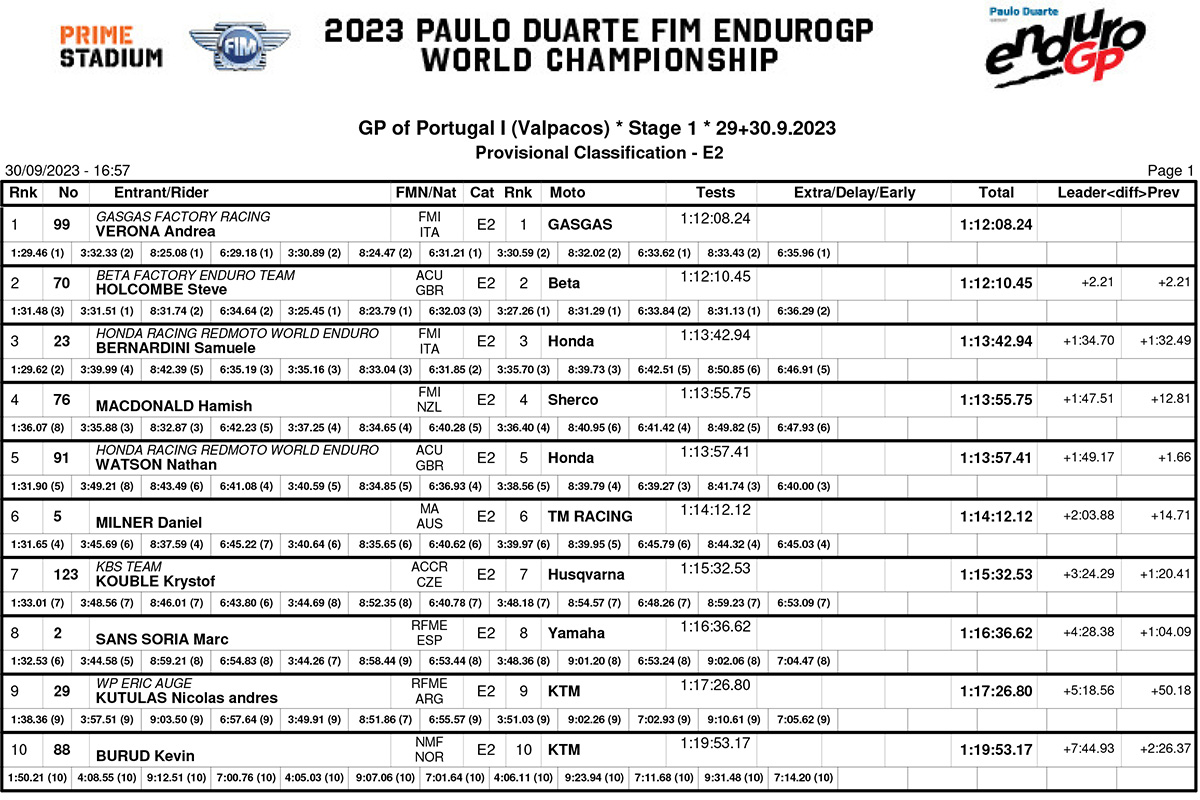 E3 class results: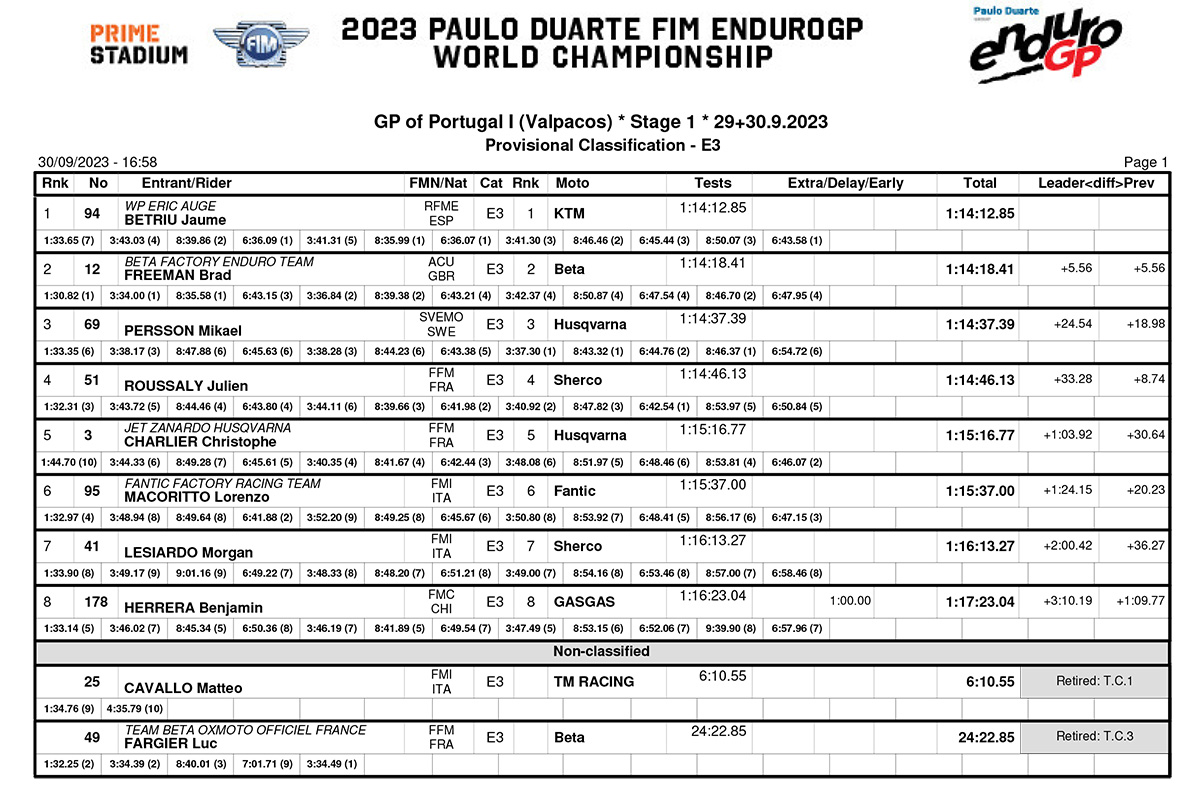 Junior scratch results: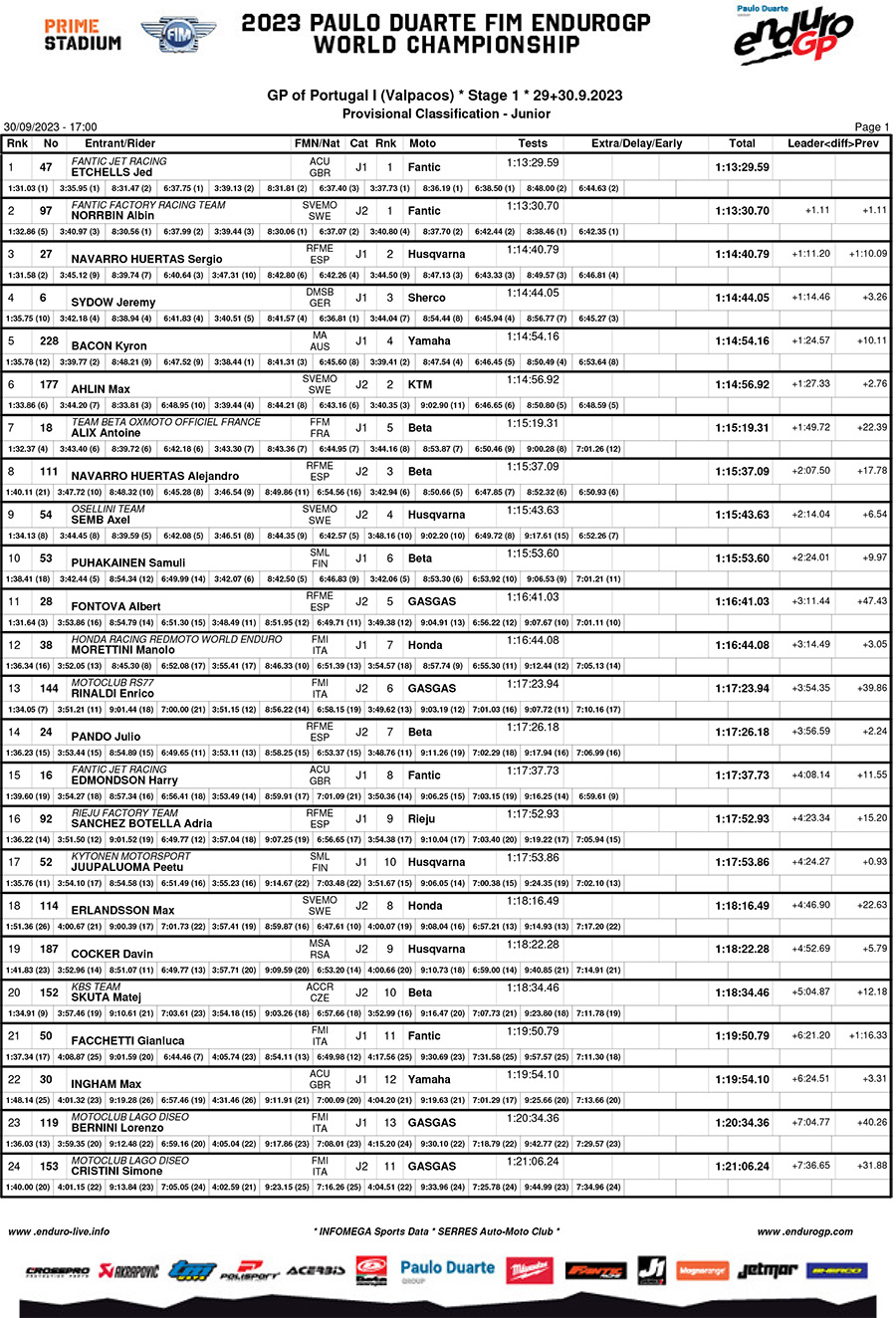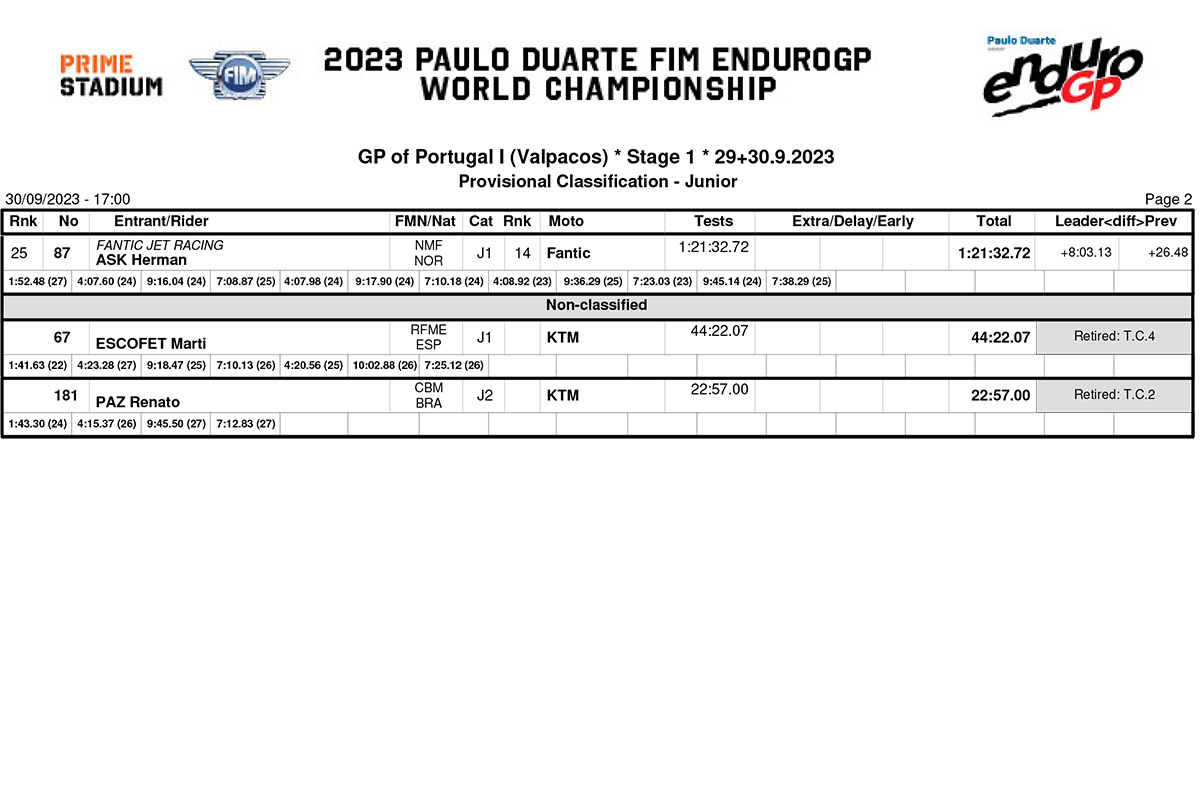 Youth results: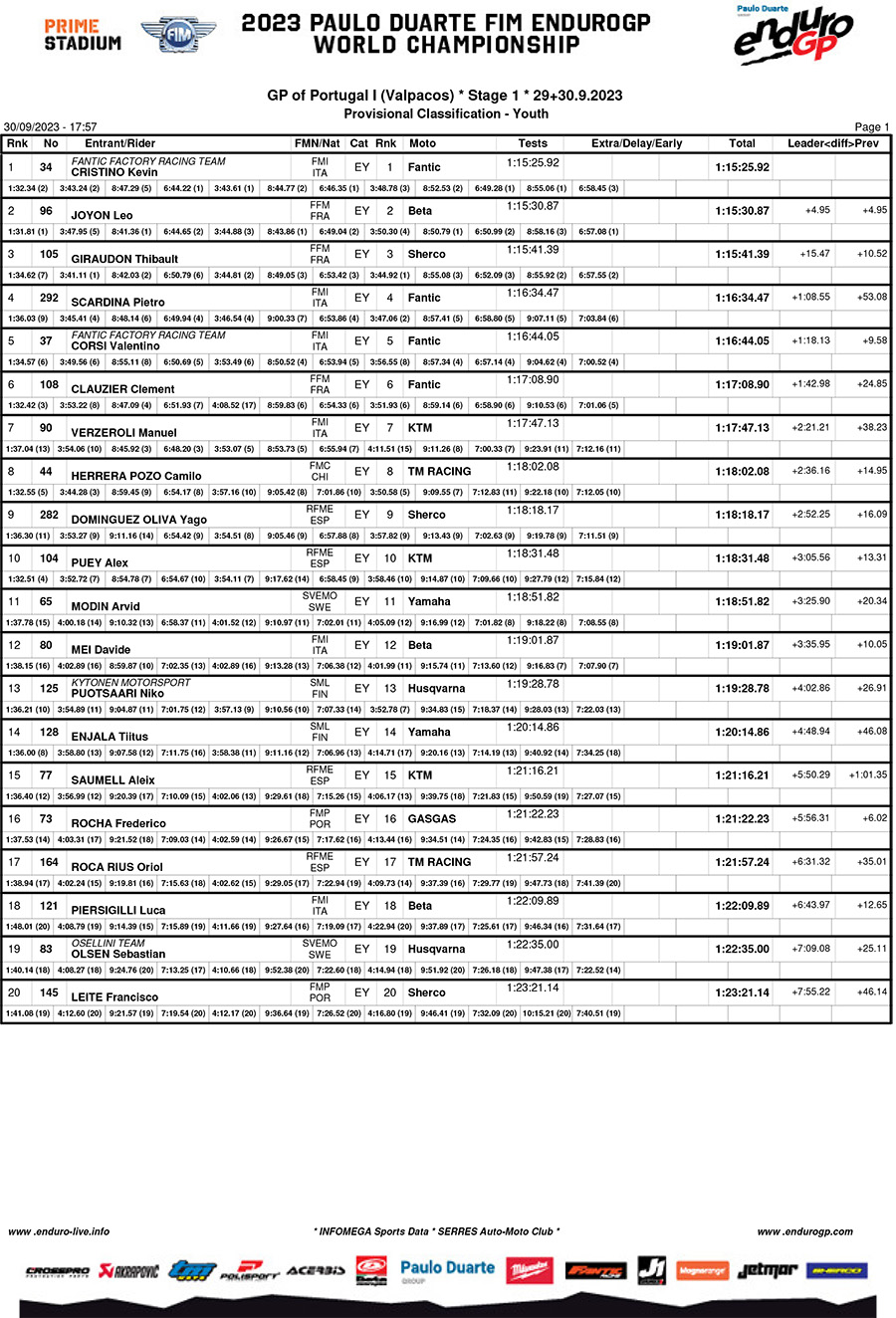 Open scratch results:
Photo Credit: Future7Media | Nicki Martinez