EnduroGP of Portugal Results: Garcia wins by 1.9 seconds from Holcombe on day 2 in Valpacos
Results from day two at the 2023 Paulo Duarte EnduroGP World Championship round six in Valpacos, Portugal where Steve Holcombe and Josep Garcia played out an epic duel for the win down to the last test – reigning world champion Andrea Verona third but suffers hand injury.
EnduroGP of Portugal, Day 2 in a nutshell:
It's always impressive when a single rider dominates a race or championship but the truth is it's kinda boring. Throw two, three or four riders in the mix, all at the top of their game and all pushing each other to exceptional displays on their bikes, and there's nothing like it.
That's what we have here in the 2023 EnduroGP World Championship; an awesome display of talent, championships on the line and no holds barred. It's awesome.
Day two dawned pretty much identical to day one here in Valpacos with the same dry but challenging tests and transfers and with three riders clearly dominating proceedings: Josep Garcia, Steve Holcombe and Andrea Verona.
Again, riders tackled basically four laps of three test except they missed out the Extreme test on the final lap to make 11 in total with a start time of 09:00 and finish time check back in the paddock for the final time seven hours and 12 minutes later.
Steve Holcombe didn't give his two rivals a two test head start today and was on it from the get-go. The world championship gold plate holder banged out the fastest first couple of test to create a five seconds margin and then they trio proceeded to trade wins, fractions of seconds a part once again, through the day.
By the end of lap two Garcia had closed the scratch time gap to Holcombe, in part thanks to fast Cross test times, and by the third lap it had become a two-horse race as Verona made a costly error on the final Enduro test, hurting his right hand in the process.
Garcia's speed in the Cross test turned around a 5s deficit to a 0.49s lead with two to go but Holcombe was equally fast on the Enduro test and swung it back again with one to go…the final visit to the Cross test with Steve's lead set at 3.86.
It came down to a monumental effort on the Cross test from both riders but the Red Bull KTM rider nabbed the win by 1.9 seconds, taking his first GP double of the season and moving him to third in the points standings: "It was a perfect weekend with 1-1-1 across the days. Incredible. It was a dream to comeback like this but we made it happen. It wasn't the perfect day, I had two crashes but I was able to keep pushing and give everything right to the end. It was an awesome fight with Steve. I would like to say I enjoyed it but you enjoy it more when you have a gap! Looking forward to next week."
Second by 1.9 seconds is agonisingly close but you can't say Steve Holcombe wasn't giving it everything: "It was unfortunate to have a day like that and lose it in the last special. I think it was one of the hardest faught second places I've ever had. I felt really good today and pushed from the start. I crashed int eh second enduro test but other than that I'm really happy with my riding. It sucks for Andrea to crash in the last enduro test, I hope he is ok. But second best, we'll take that and head to next weekend feeling good."
The result means Holcombe opens a 19-point lead in the EnduroGP standings with two points scoring days still to go. It's a nice cushion but as Verona proved today, things can happen.
The reigning world champ Verona's costly error on the penultimate test remarkably didn't knock him off the podium, which is testimony to how far ahead these guys are that he could haemorrhage almost a minute in two tests and still come out third overall: "Until the last lap it was a good day for me. I was battling with Josep and Steve again all day long. I was eight seconds back but I crashed in the last Enduro test and it knocked me, I have a painful hand and I hit a tree which took my breathe away so for a few seconds I was struggling to find air. I gave away a lot of time to them in those last two tests but I finished and e saved the day I would say with third overall and second in E2. We'll get it checked an hopefully we can race next weekend."
Nathan Watson takes the best of the rest honour on day two. With no disrespect intended, he leads an impressive pack of riders who just can't match the fast three this season. Hamish Macdonald completes the top five after a titanic scrap between these above two plus Zach Pichon, Daniel Milner and Jamie McCanney all day. No-one should pretend these boys aren't trying though.
Ninth overall and taking the E3 class win, Brad Freeman will no doubt be disappointed not to be fighting for the overall win but he takes a step closer to the E3 world crown with one round remaining after beating Mikael Persson (P11 overall) + P2 in class).
A strong set of test wins in the first lap ensured Albin Norrbin had the upper hand on day two in Portugal. The Swedish rider was clocking times good enough for top five scratch and was impressive in the Enduro test most of all. It helped establish a 15 second lead by the end of lap two which Albin doubled on lap three for a convincing win.
Fantic 'team-mate' Jed Etchells remains in charge of the championship points table with 210 to Norrbin's 200 as we head to the final GP next weekend.
The fastest rider in the AORC series right now, Kyron Bacon, bagged himself a podium in the Enduro Junior World Championship today. One day to bed-in and then, boom! A podium and a rare treat to see a Yamaha up there too. Good times in the Johansson MPE Yamaha team tent tonight.
The Youth class followed the same pattern as the Juniors with a Fantic rider, this time Kevin Cristino the championship leader, running away with a comfortable half minute victory. The Italian all-but has his hands on the 125 title (27 points lead) and could claim it on day one next weekend.
Leo Joyon was the closest challenger in P2 but he closed the day almost 30s down after running close yesterday.
Easy winner on day one in the Open class Enzo Marchal was absent on day two which allowed Jakub Hrones to take the scratch win after a more consistent day by the Czech rider. Compatriot Jiri Hadek was second again but closer at just under seven seconds adrift. Each took the Open 4T and Open 2T classes respectively.
2023 EnduroGP of Portugal, Valpacos day 1 scratch results: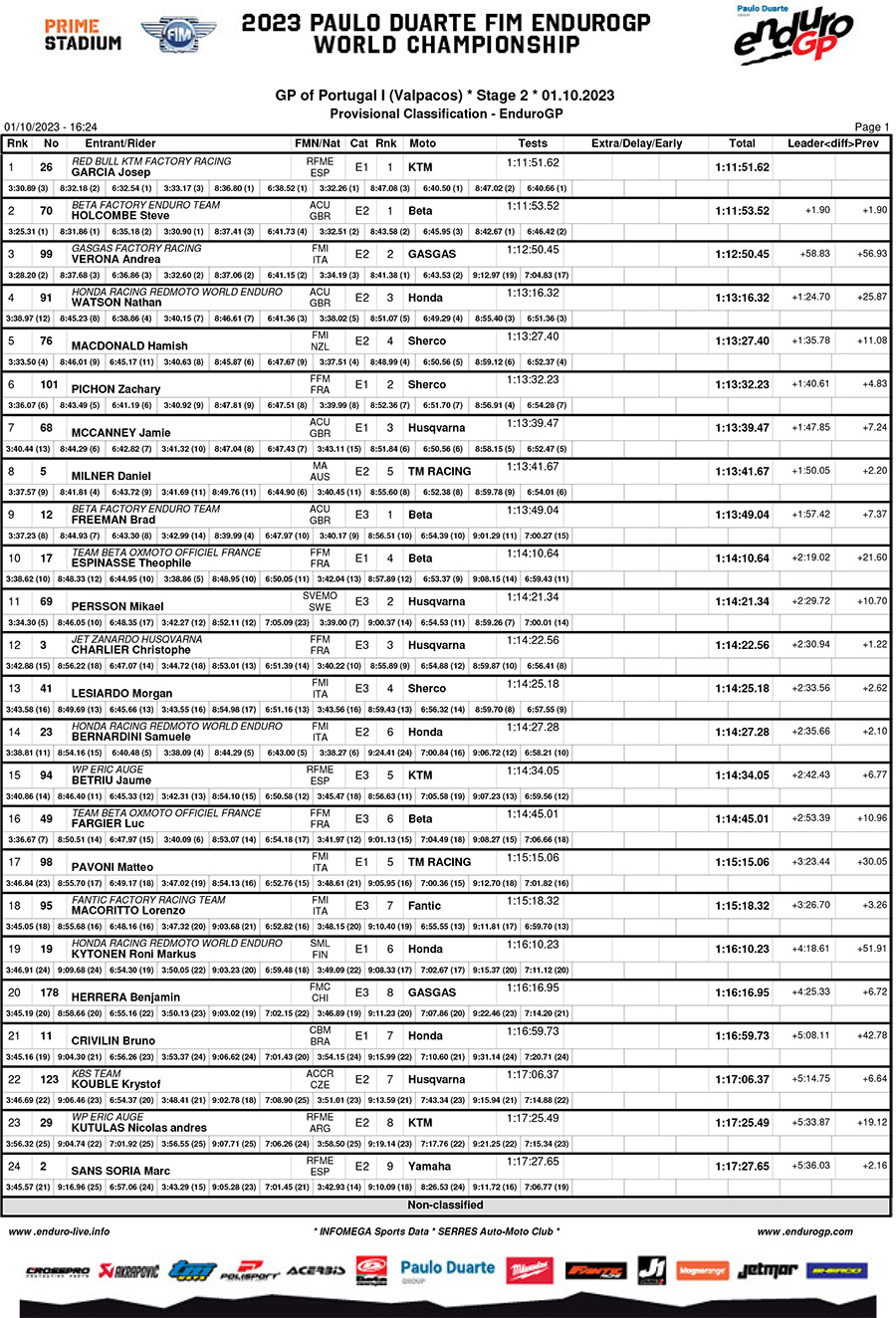 E1 class results: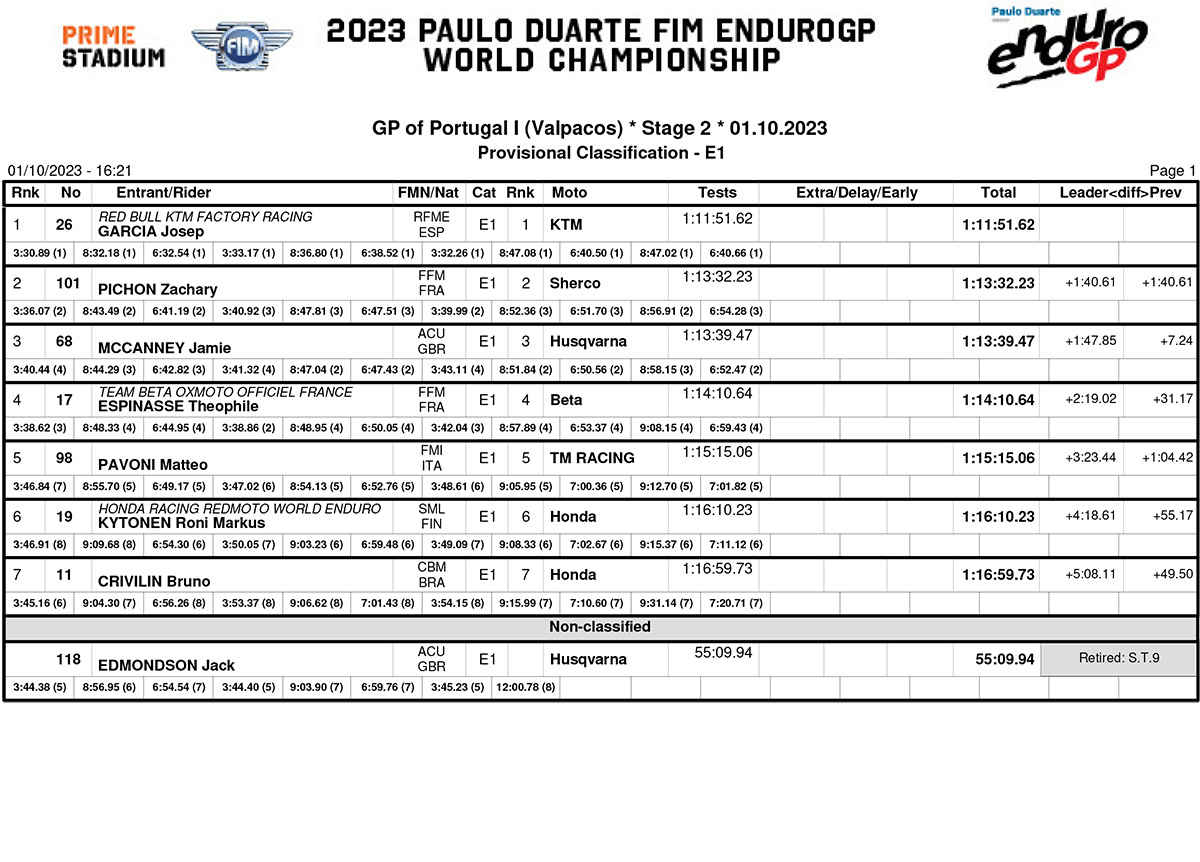 E2 class results: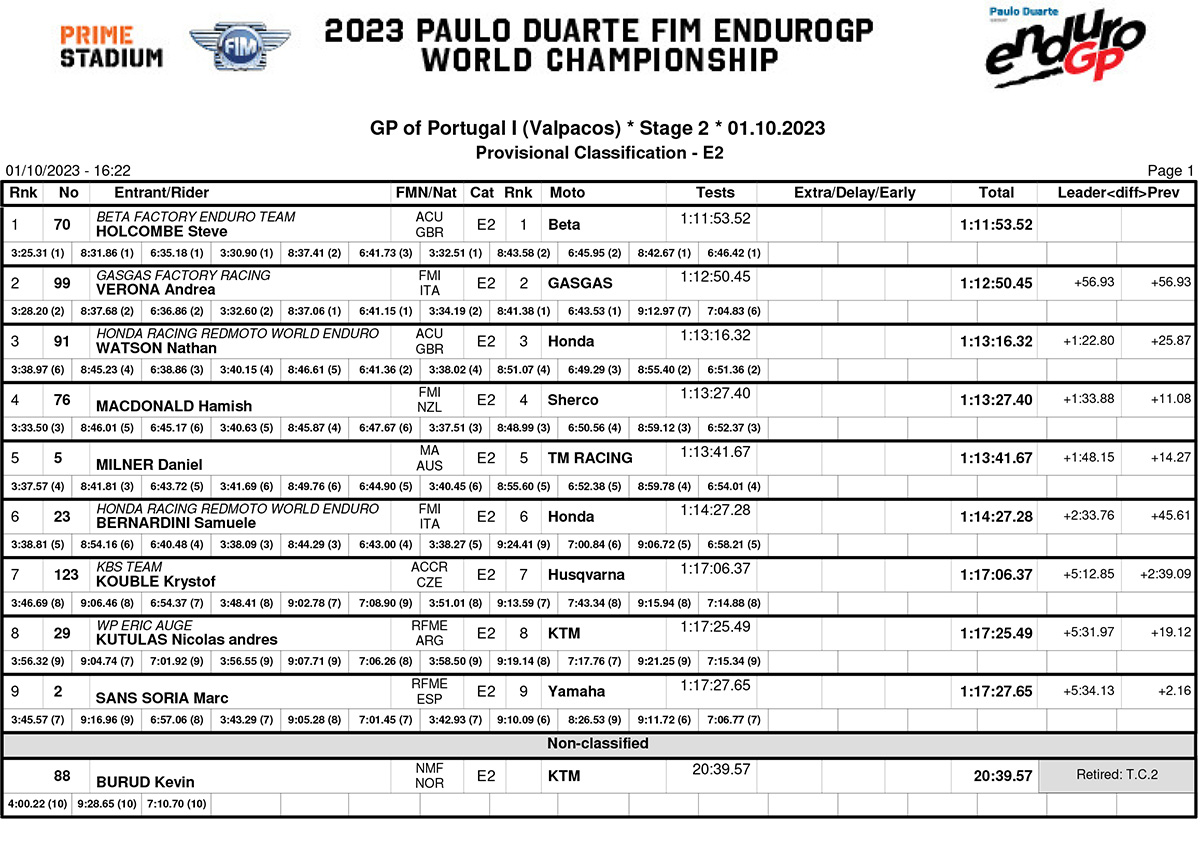 E3 class results: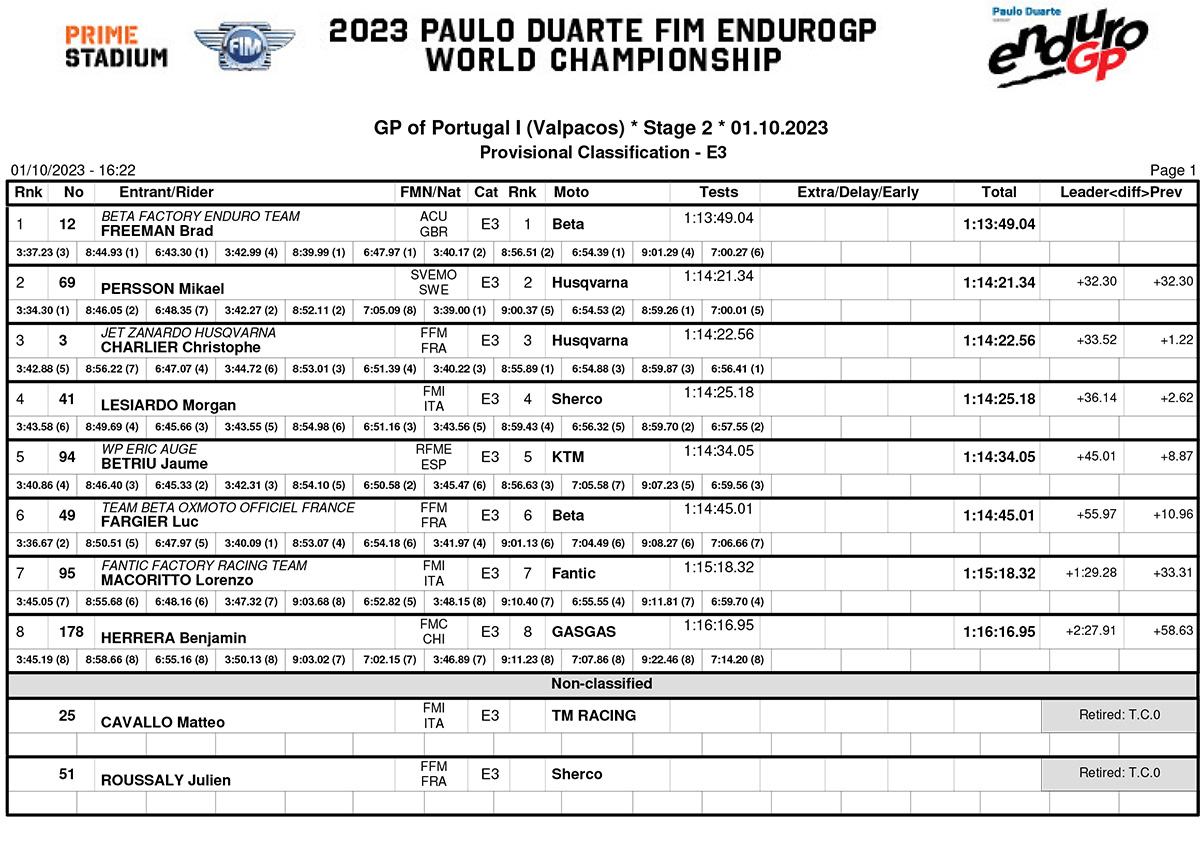 Junior results: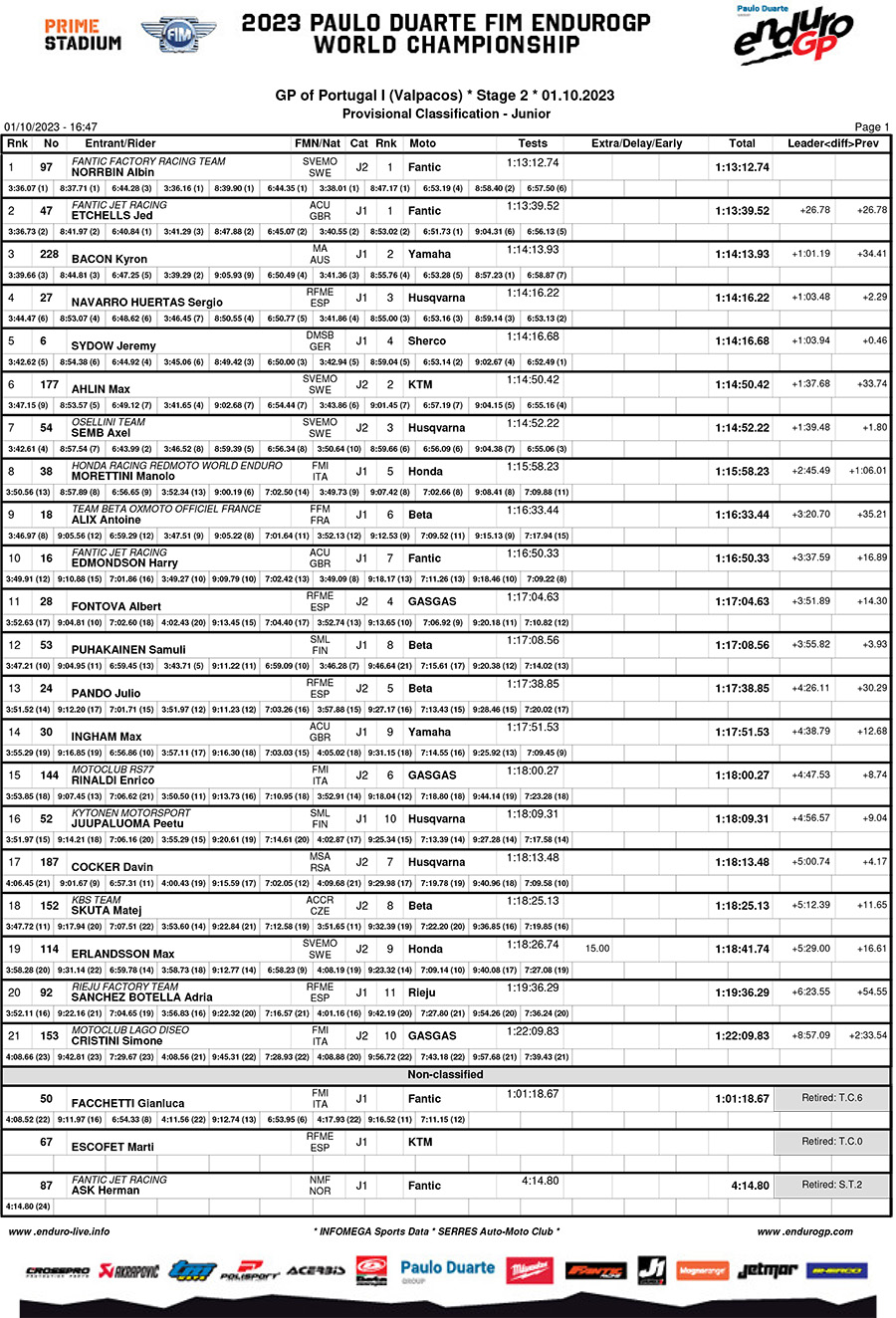 Youth results: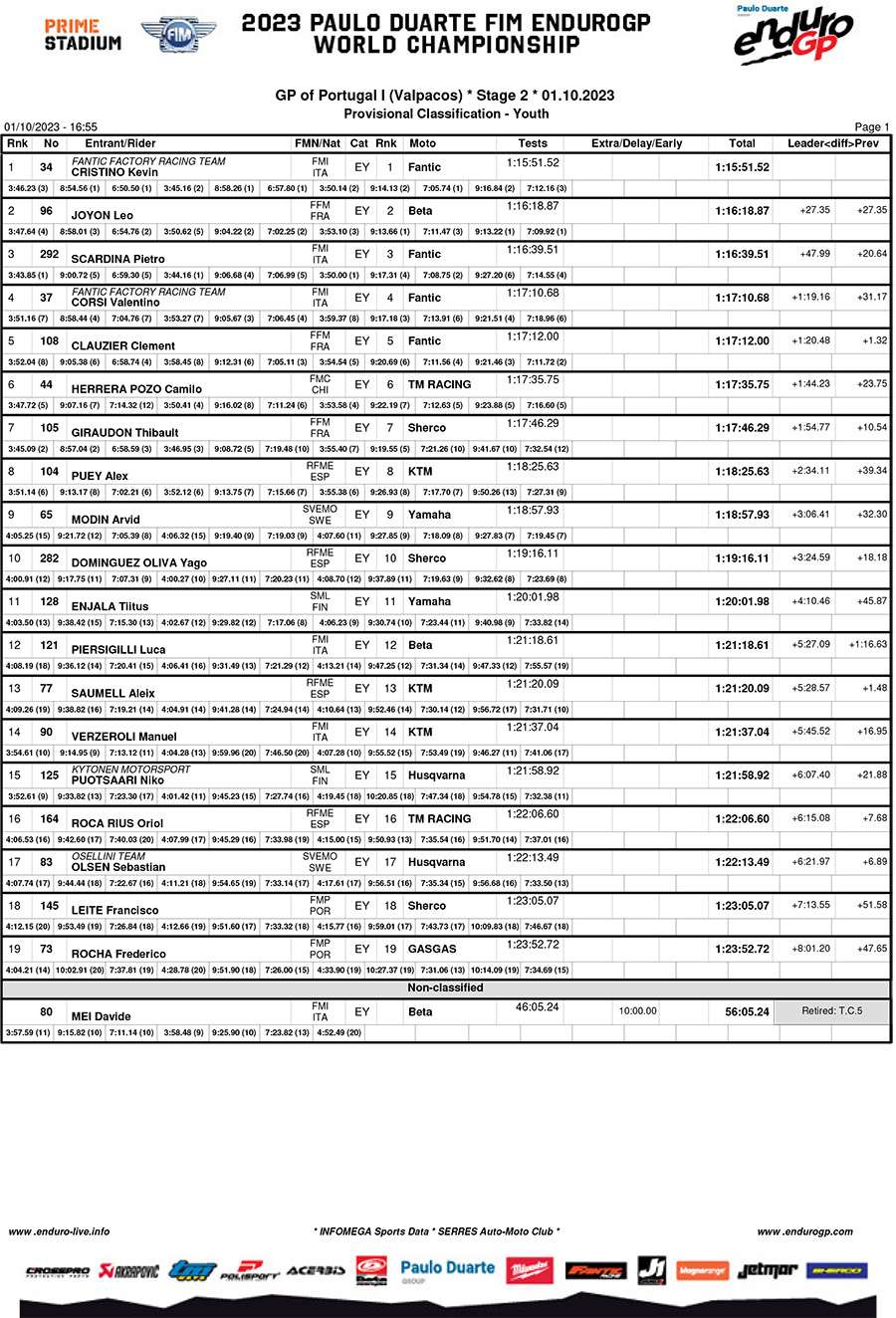 Open scratch results: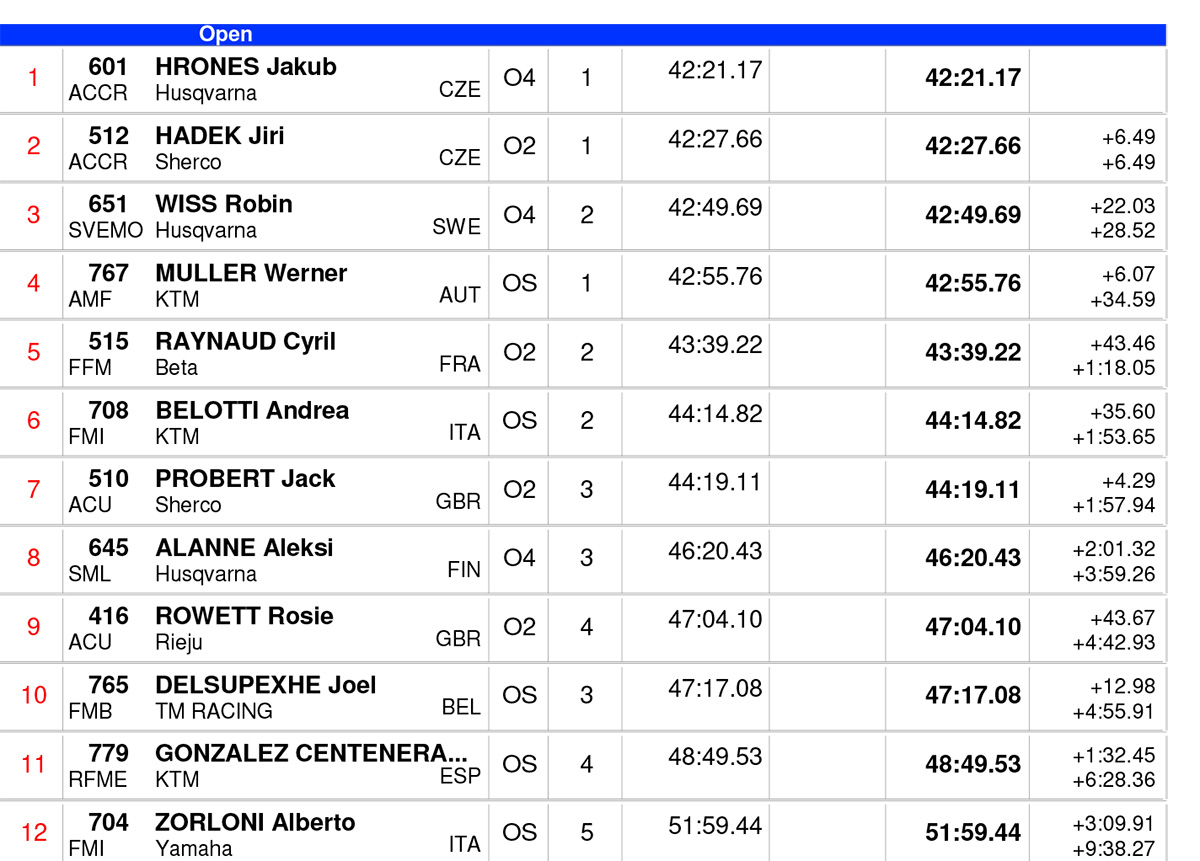 Photo Credit: Future7Media | Nicki Martinez