EnduroGP of Slovakia results: Verona hands it to Ruprecht on day 1
Results from the EnduroGP World Championship round five in Slovakia where a three-way battel for the win played into the hands of TM Racing's Wil Ruprecht as Andrea Verona crashes in the last test – a bit of mud brings out the best in Steve Holcombe for third.
2022 EnduroGP of Slovakia, day 1 in a nutshell:
Unbelievably the 2022 EnduroGP World Championship witnessed some rain at last today at the Slovakian GP. Ok, it was only muddy in patches but the drizzle from the sky was a constant threat and riders had to be mindful of it. The Slovakian GP is also characterised by two nice, long tests – the Cross and Enduro tests – which you could call 'old-school' physically as well as being a bit less MX-style.
Those long tests made the difference today with the fastest three – Andrea Verona, Wil Ruprecht and Steve Holcombe. Verona and Ruprecht traded the overall scratch lead all day and there was never much in it between them with Holcombe narrowly a step behind overall.
The points leader Verona took a small advantage in the last lap but, it ain't over till it's over and a get-off in the last test saw him lose 15 seconds and the Australian gladly accepted the invite for the win.
It was a return to the top after a big crash in Portugal at the last GP for overall and E2 winner Ruprecht as he tries to regain the EnduroGP points deficit: "I was riding good but not to the level I can usually push to today and that's just down to limited bike time since my crash in Portugal. So I'm a little surprised to get a win in my first GP back but I'm happy with that."
Verona took second, plus the E1 win, and says he was happy with that: "Today was a good day but I made some mistakes but I think it was easy to do that today. I was first before the last test but I crashed twice and, well, anyway I am happy with my riding and we'll see tomorrow."
One more trip to the enduro test might have helped Steve Holcombe in the British weather condiotns, the Beta rider was getting stronger in the last tests. But it was another podium, second place in E2 and a close to an overall win for Steve: "It was nice to ride a really good enduro like this, it's been a while since we've ridden tests that long in the world championship. For sure there are some ifs, buts and maybes like a different compound rear tyre could have helped. But overall I'm really happy with the day and really looking forward to tomorrow."
Josep Garcia wasn't his usual self this first race back from injury but pulled P4 out the bag, and third in E2 class, but 38 seconds down on Holcombe.
Brad Freeman couldn't quite carry his speed in the shorter tests in the long tests but secured fourth and resumed normal service in E3 class (P1).
A bit of bite to the soil seemed to bring out the best in a few riders today including Swede Max Ahlin and German Luca Fischeder in the Juniors. They finished first and second respectively and ahead of championship leader Zach Pichon who gets beaten for only the second time this season.
Another Scandinavian taking his first win of the year in class was Sami Puhakainen who took his TM to the top of the Youth 125 time sheets. This class normally delivers the closest of battles but the Finnish rider stormed it for a near 50 seconds advantage. Not for the first time this year, championship leader Harry Edmondson pulled an extra gear in the final tests. The Fantic rider took over P2 from Thibault Giraudon in the last two timed specials.
Adam Tomiczek was also impressively far ahead of his Open class rivals. The Polish rider set scratch time 1:14.7 faster than Spaniard Alejandro Ceballos-Escalera Lopez with the pair respectively taking the Open 2T and 4T results.
GP of Slovakia day 1 results – EnduroGP scratch: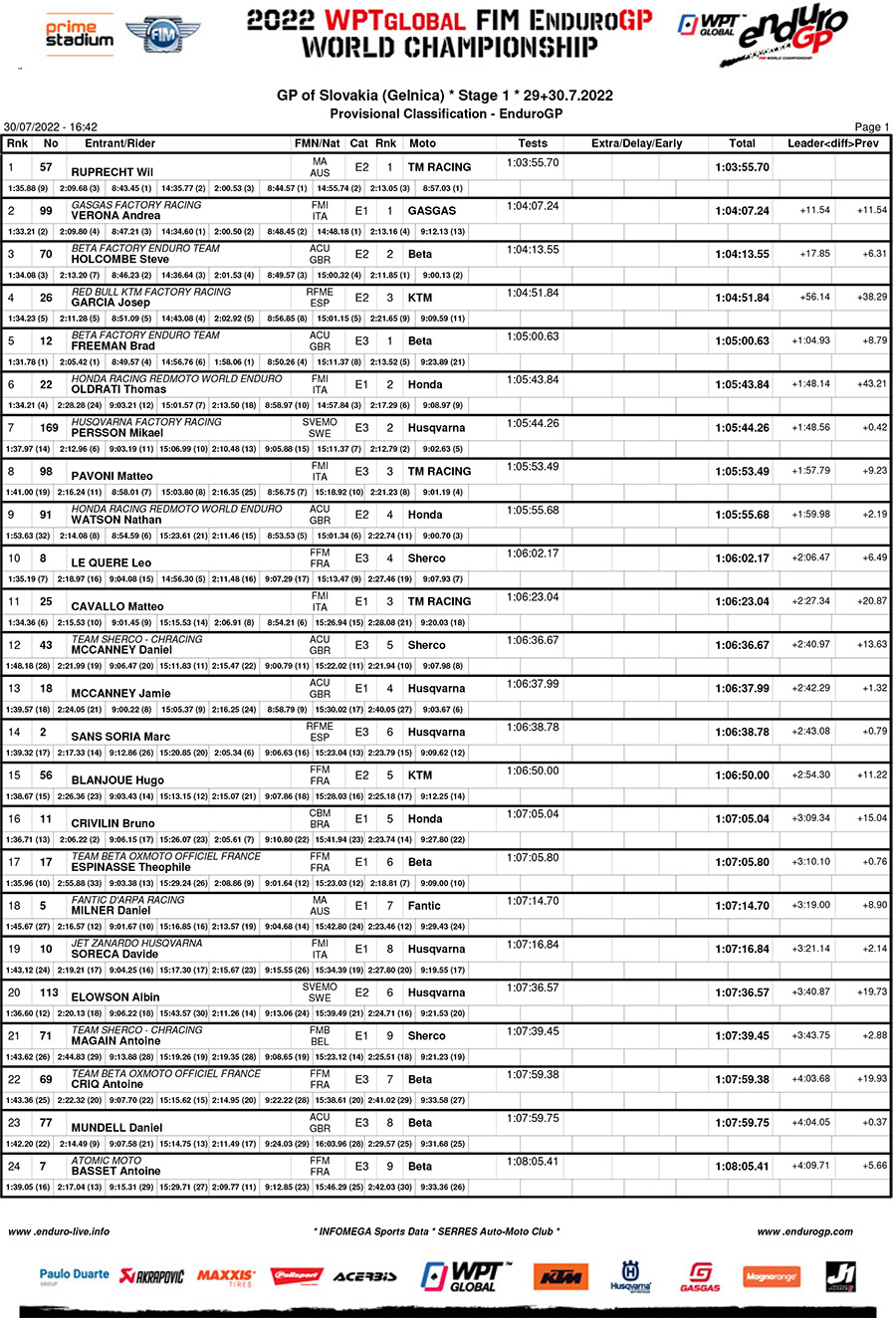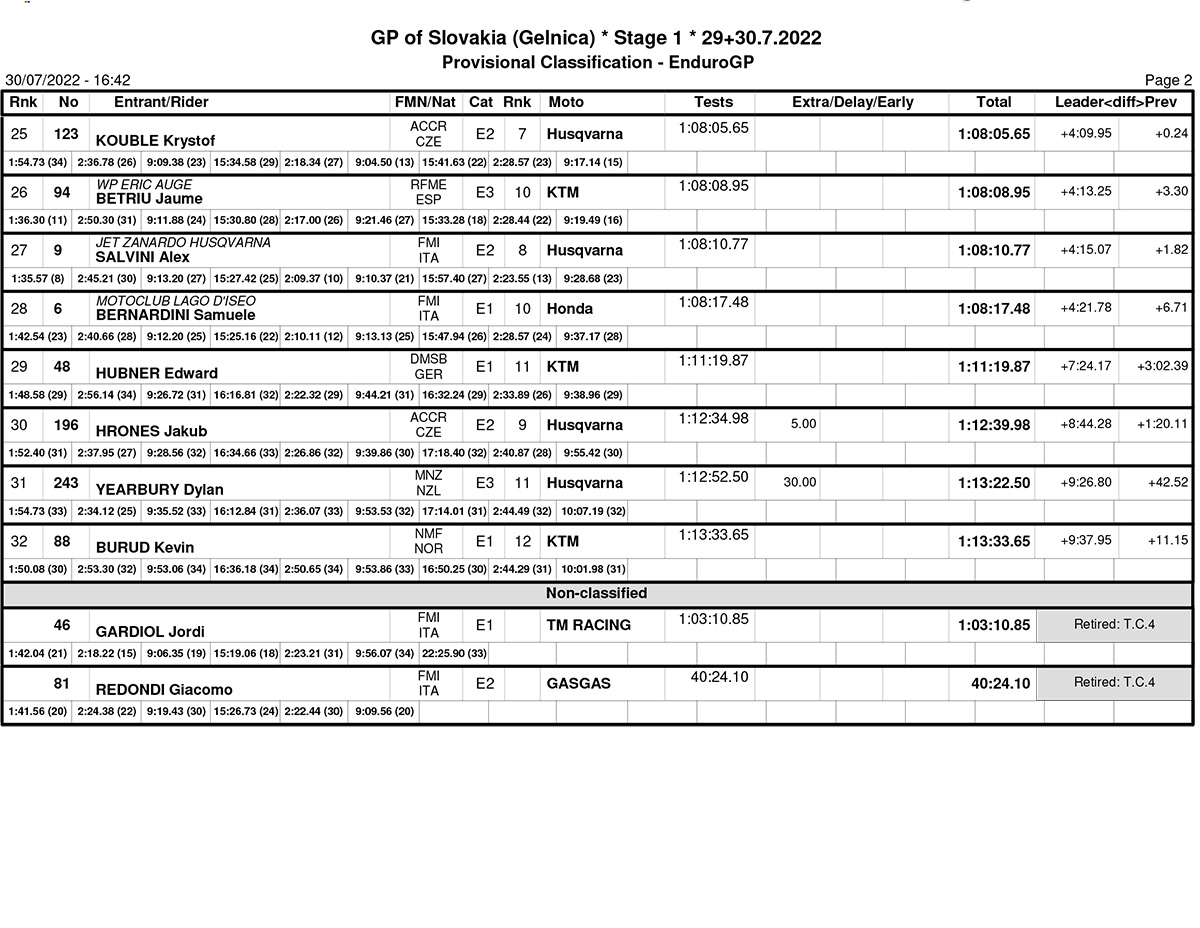 GP of Slovakia day 1 results – E1: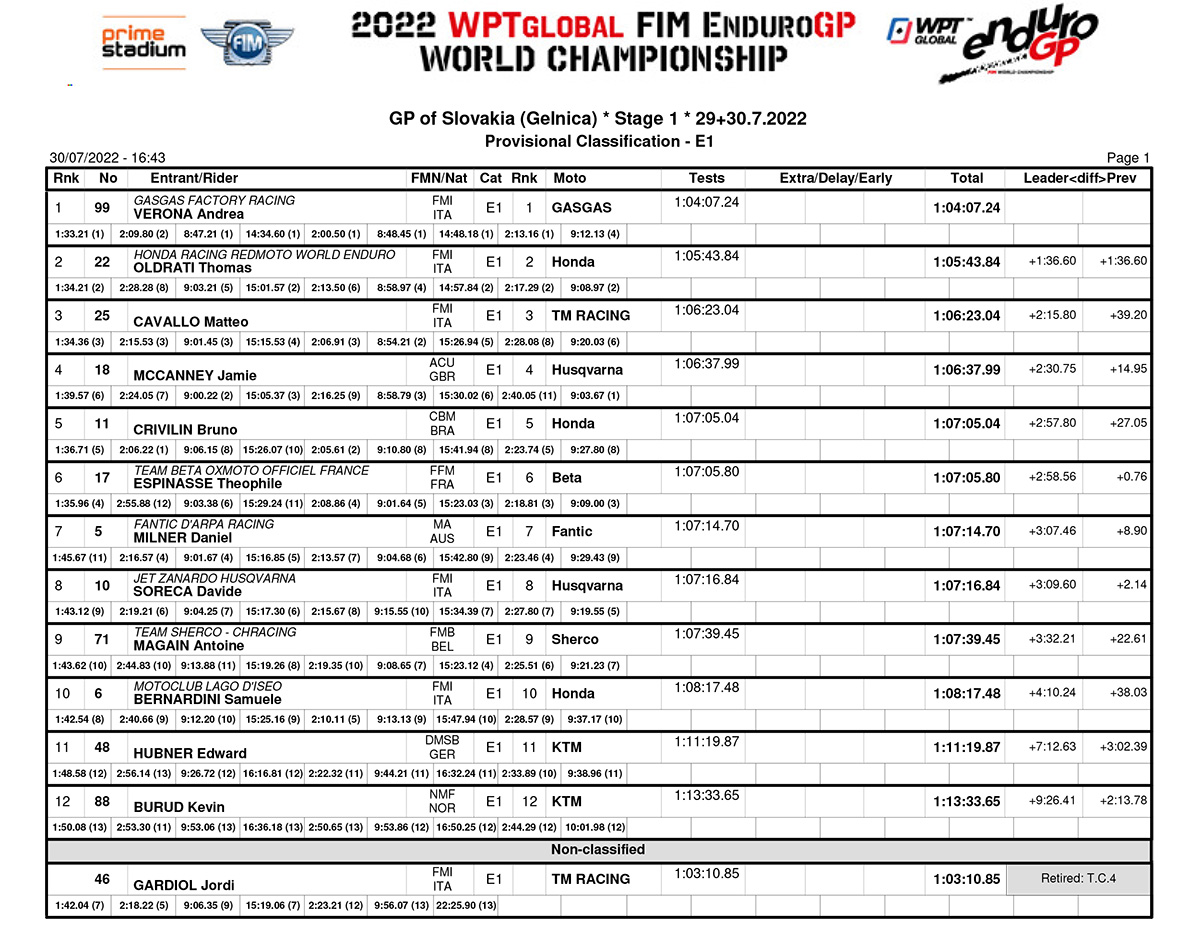 GP of Slovakia day 1 results – E2: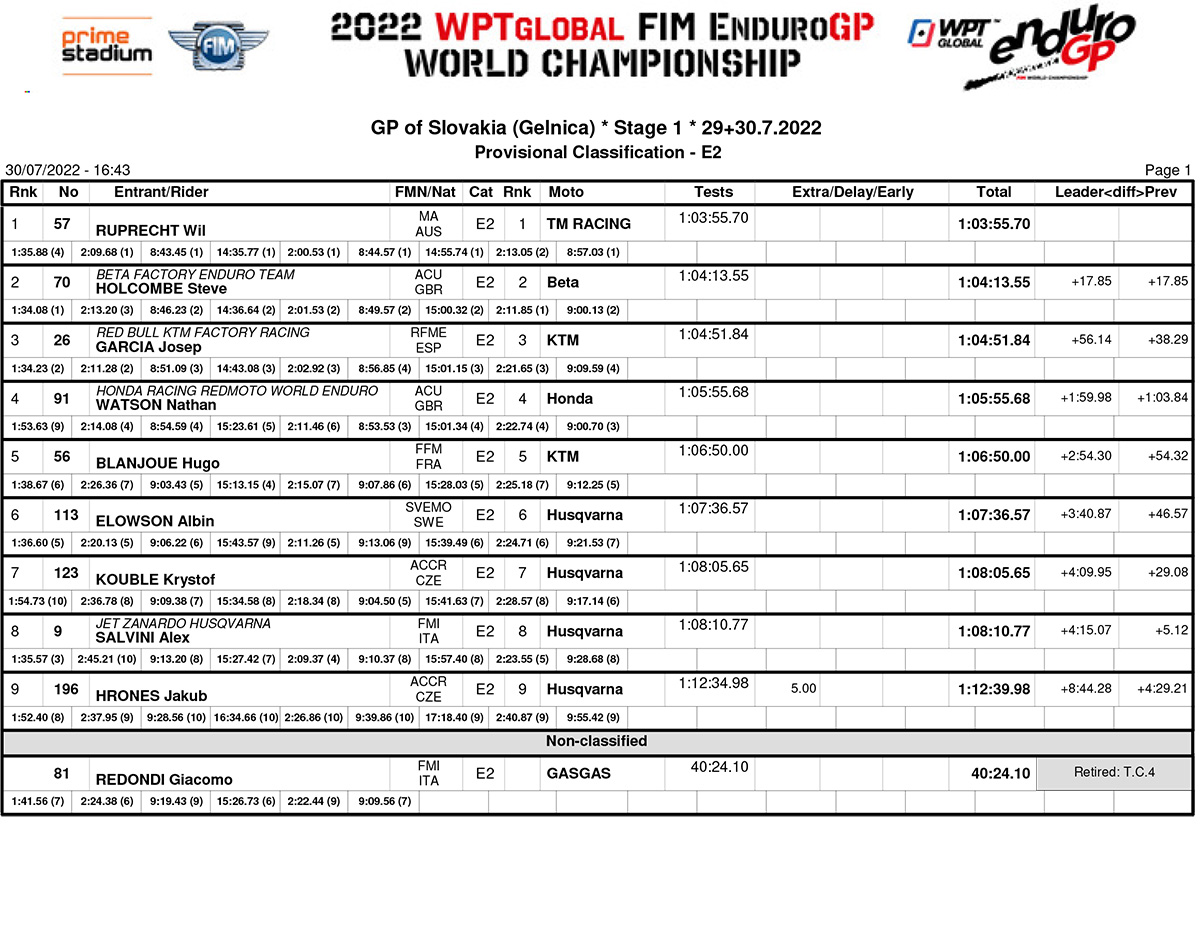 GP of Slovakia day 1 results – E3: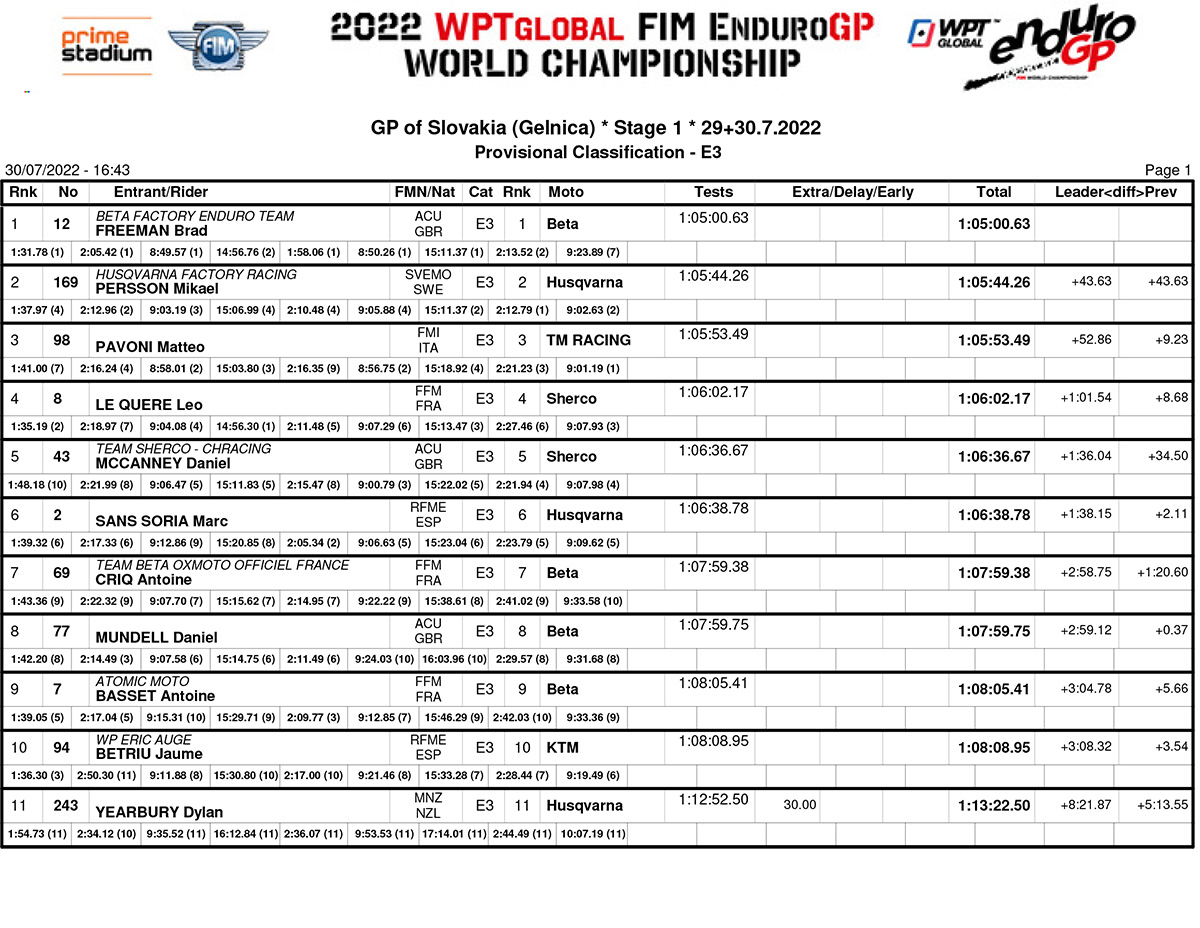 GP of Slovakia day 1 results – Junior: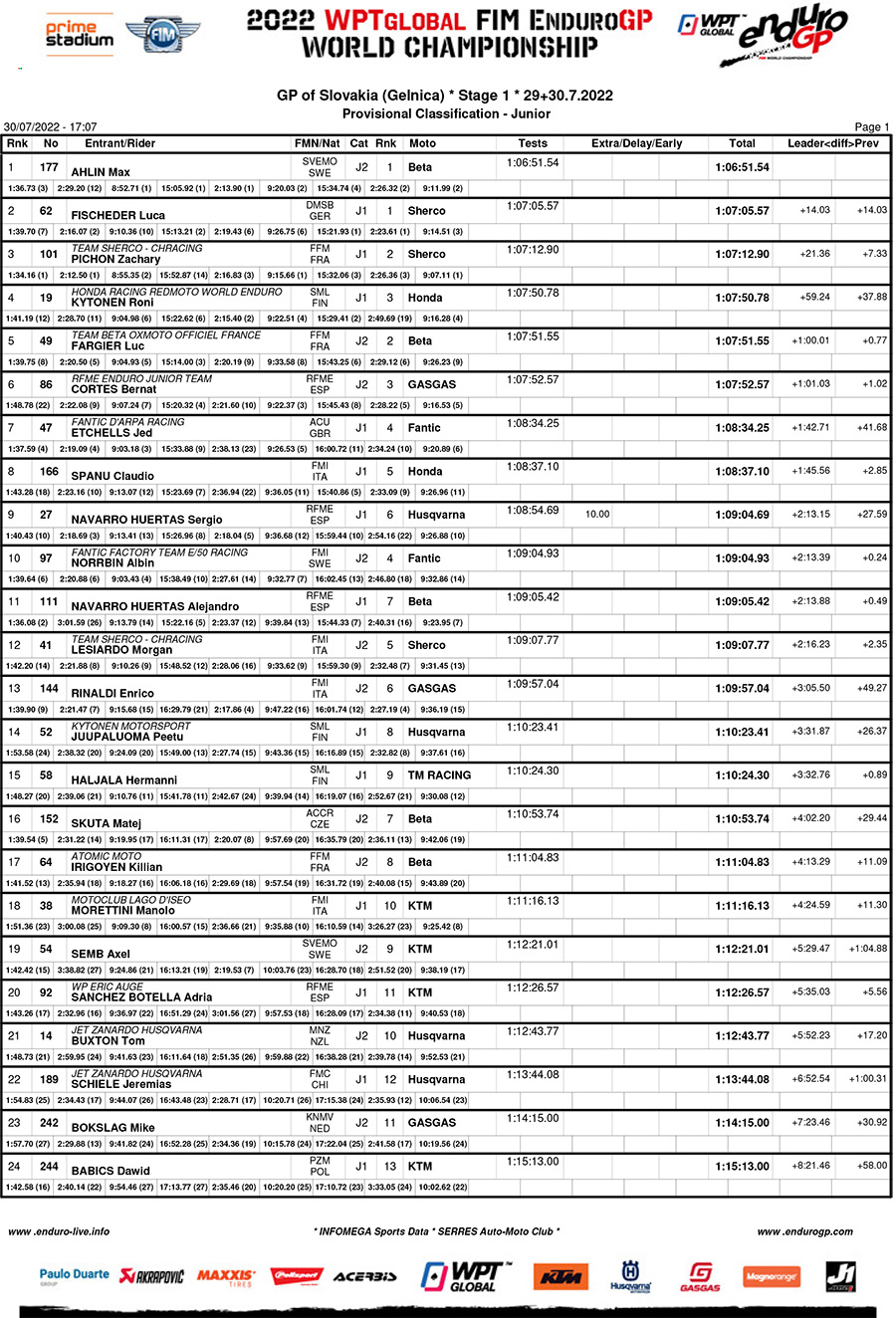 GP of Slovakia day 1 results – Youth: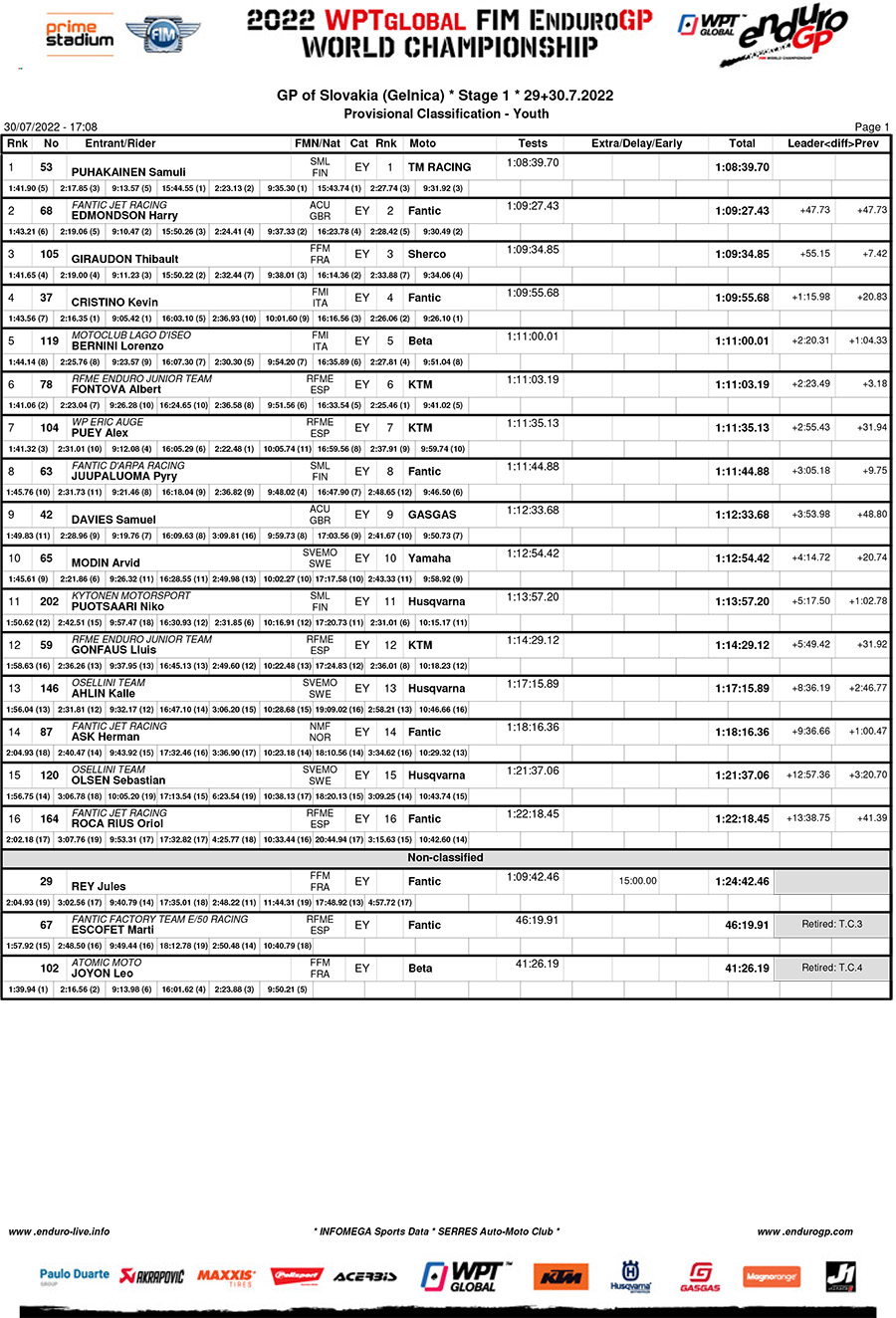 GP of Slovakia day 1 results – Open (scratch):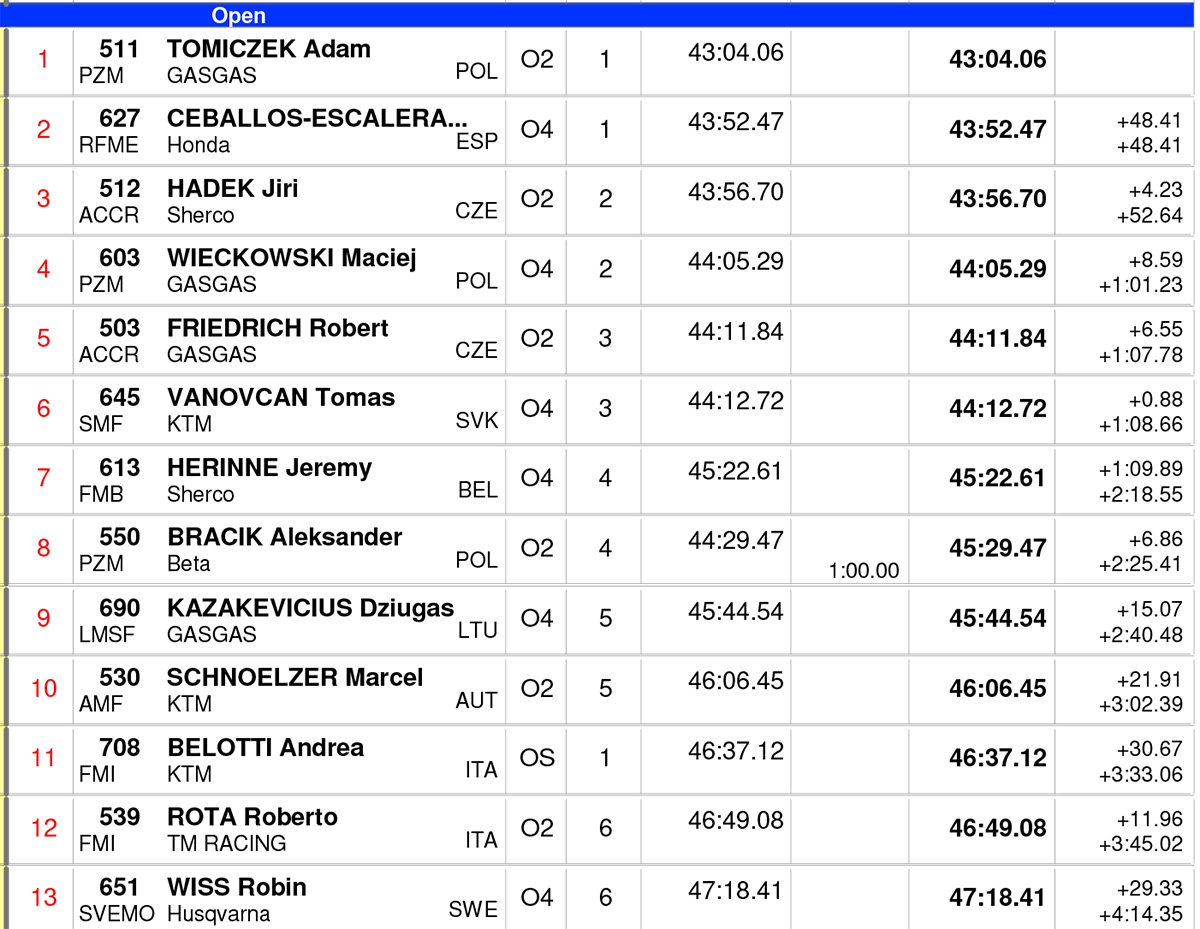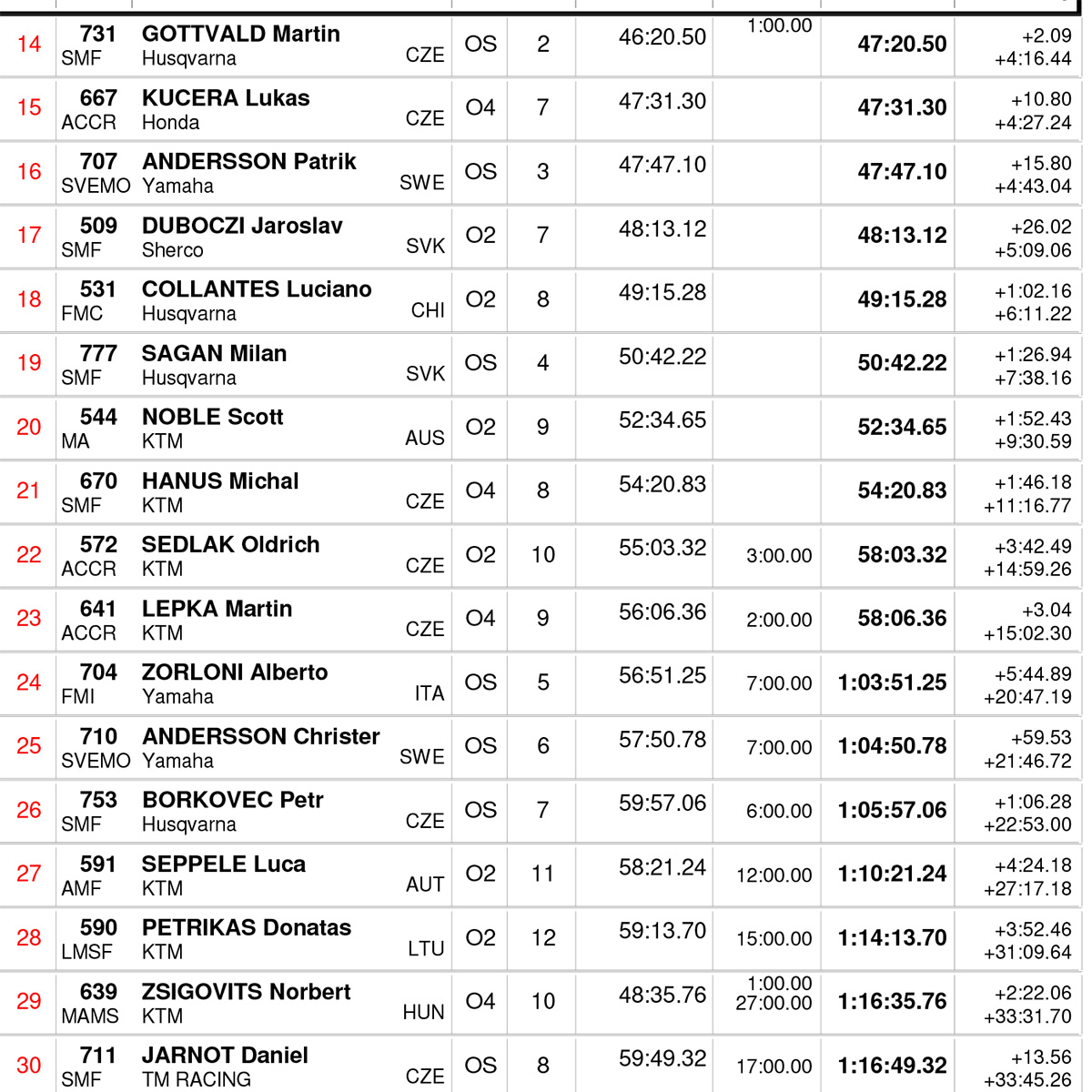 Photo Credit: Future7Media | Nicki Martinez