Results feed: French EnduroGP day 1 – Freeman edges towards 2019 World title
Day one win in France for Bradley Freeman means one hand on the 2019 EnduroGP title – Steve Holcombe crowned E3 World Champion.

EnduroGP of France day one in a nutshell:
Brad Freeman cemented his EnduroGP world championship lead in impressive fashion, showing little sign of nerves with a measured performance topping his main rival, Steve Holcombe all day for a winning margin of almost 20 seconds.
Holcombe's battle in fact was with Daniel McCanney for the E3 class win (and P2 overall) with McCanney taking four test wins (the most of any rider). Though he didn't take a single test win, Holcombe was consistent on the time sheets and did enough to seal the E3 World Championship here, his fifth in total. It leaves that monkey off his back for day two to concentrate on the EnduroGP title but Freeman looks in no mood to let off the gas.
Loic Larrieu and Alex Salvini continued to fight tooth and nail for the E2 world title. A very strong second half of the day saw Larrieu take the class win and move the fight for the title to the final day, tomorrow – a single point seperates them.
Wil Ruprecht, Enric Francesco, Dan Mundell, Antoine Magain and Theo Espinasse all were in with a shout of the Junior win at different points but Ruprecht topped the timesheets consistently. At the finish it was Ruprecht by a mere 1.7s over Espinasse who rued a poor start to his home GP.
Enric Francisco dropped dramatically down the order in the last lap, from first overall to 13th after a crash, but did enough to take the Junior 2 World Championship.
Taking a calculated third place, Hamish MacDonald claimed the Youth 125 the first New Zealander since Stefan Merriman to win a World Championship.
French rider Nathan Bererd and Spaniard Sergio Navarro were separated by seconds throughout three laps and 10 tests in the Youth class. At the finish it was Berrard's day by 0.91s.
The standout performance of the day across all classes has to be Jane Daniels in the Women's World Cup. Daniels finished 3:02.07 clear of second placed Sanna Kairkkainen with Mireia Badia third.
EnduroGP of France 2019, day 1 results, EnduroGP overall: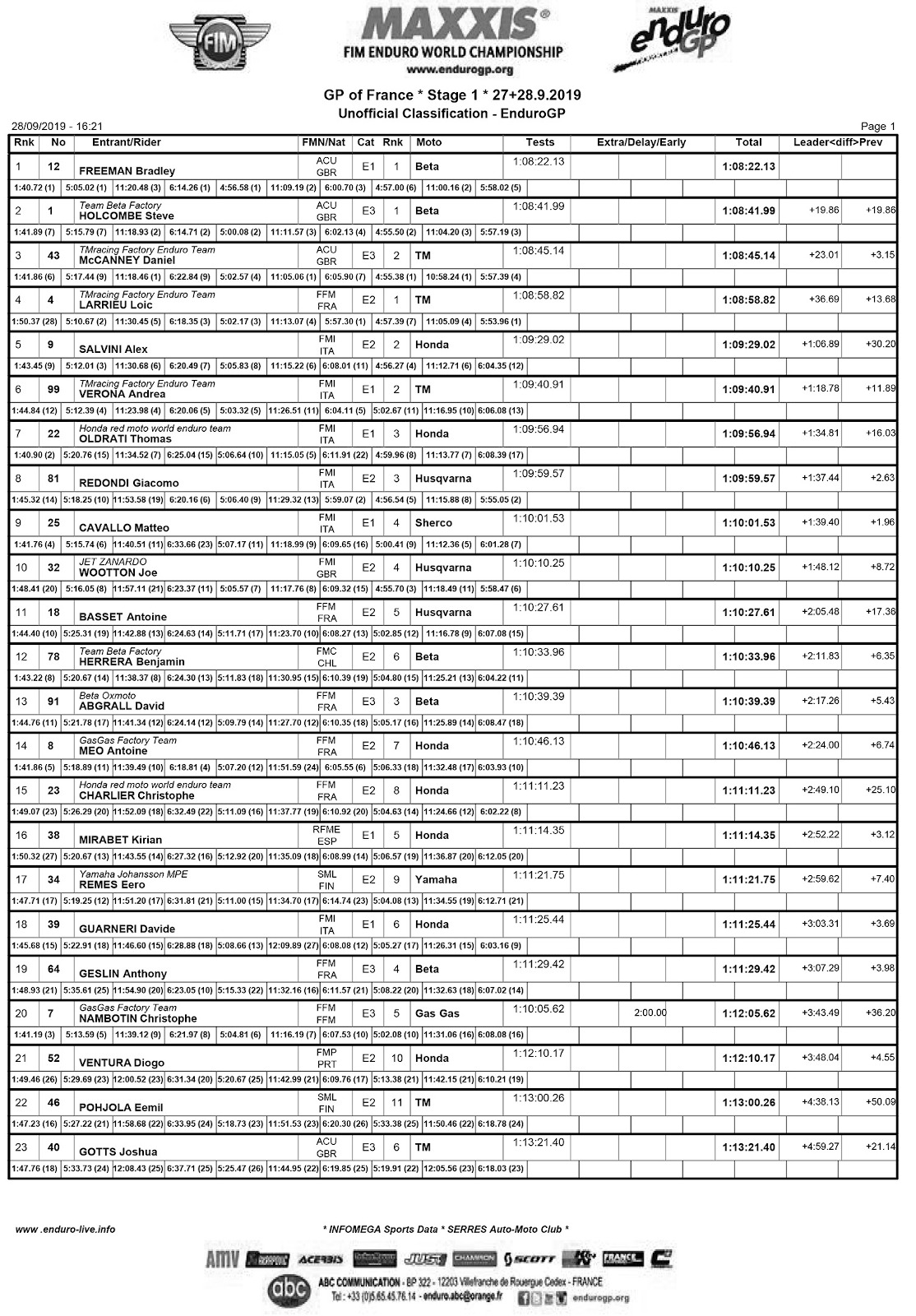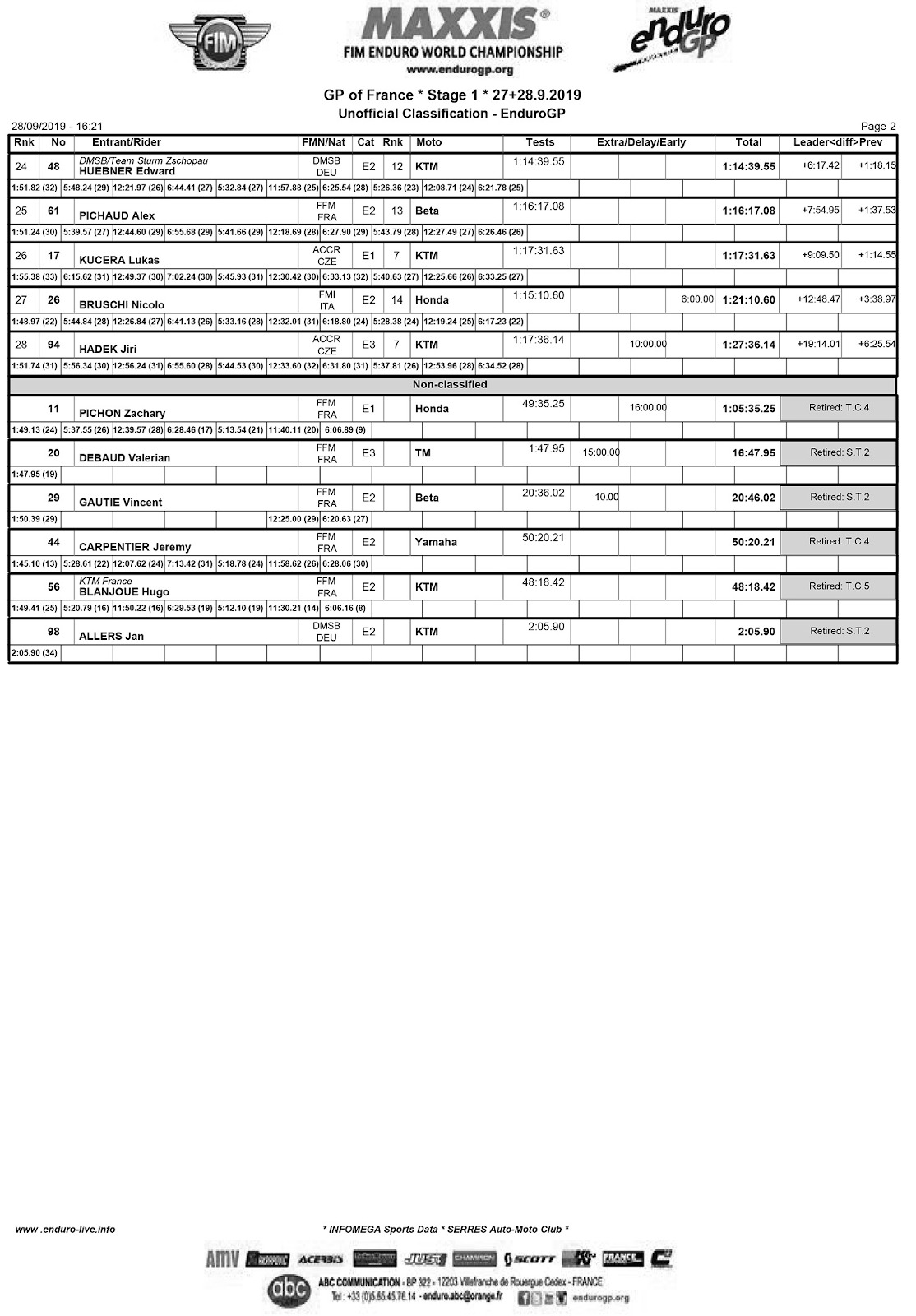 E1 class: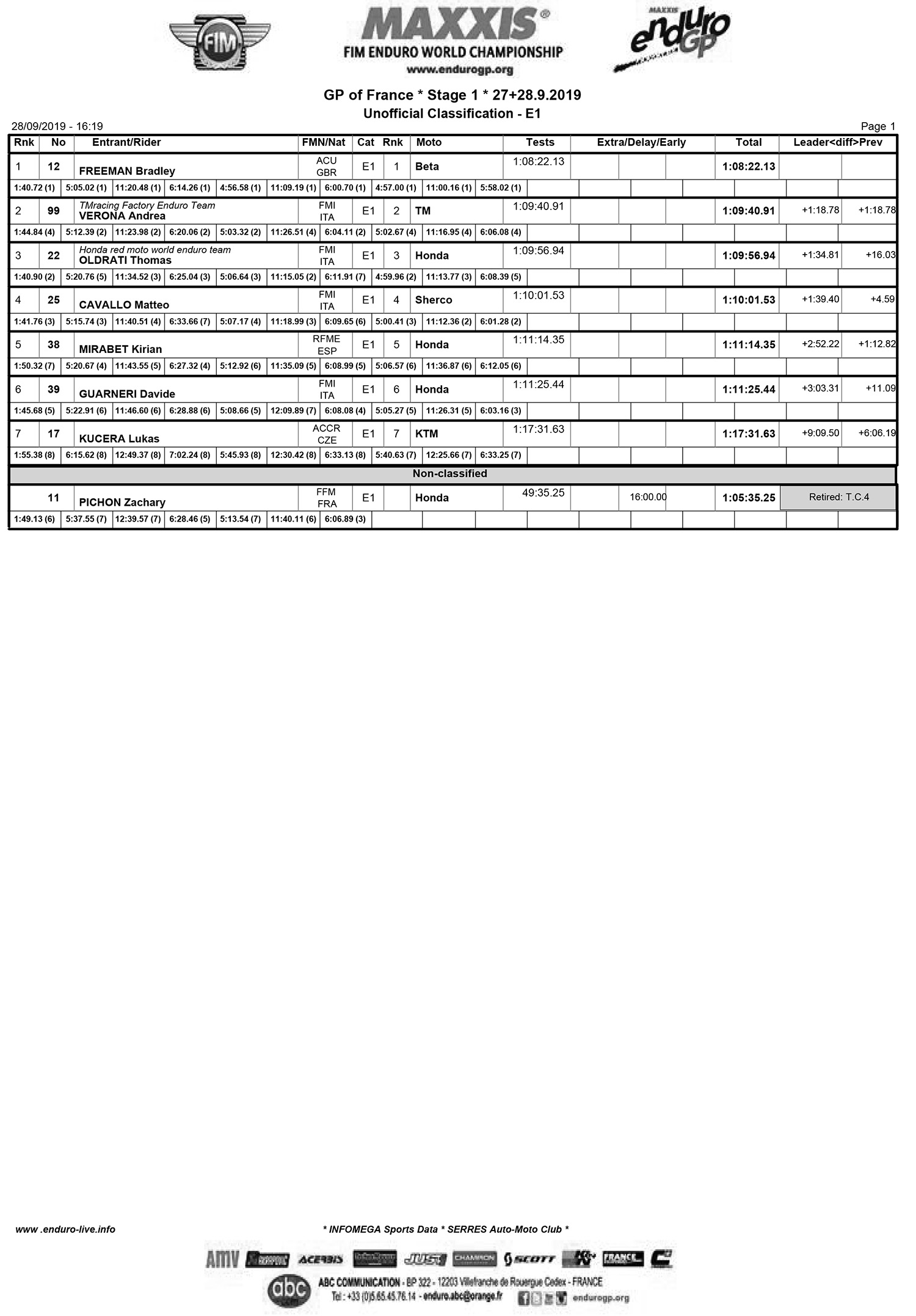 E2 class: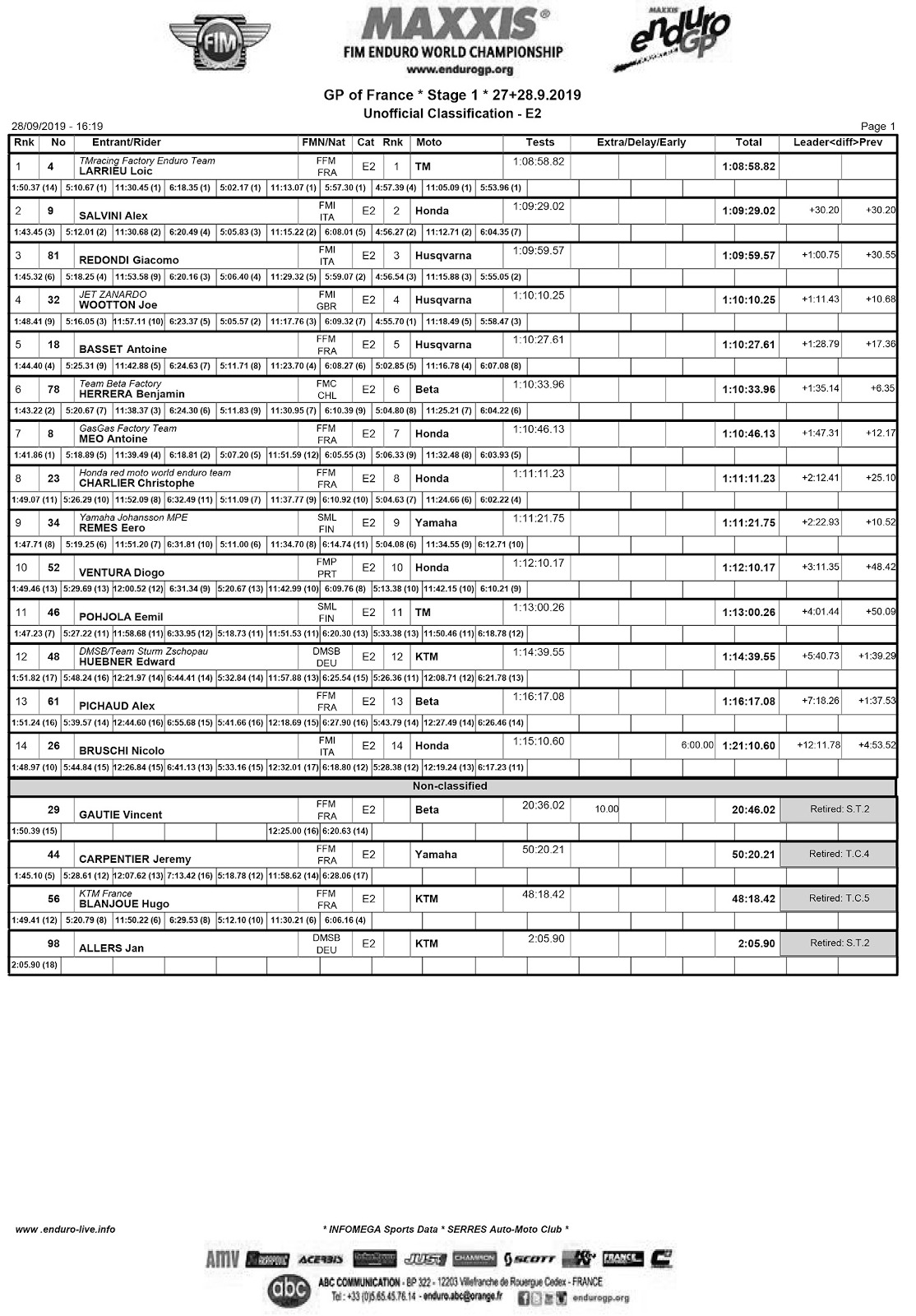 E3 class: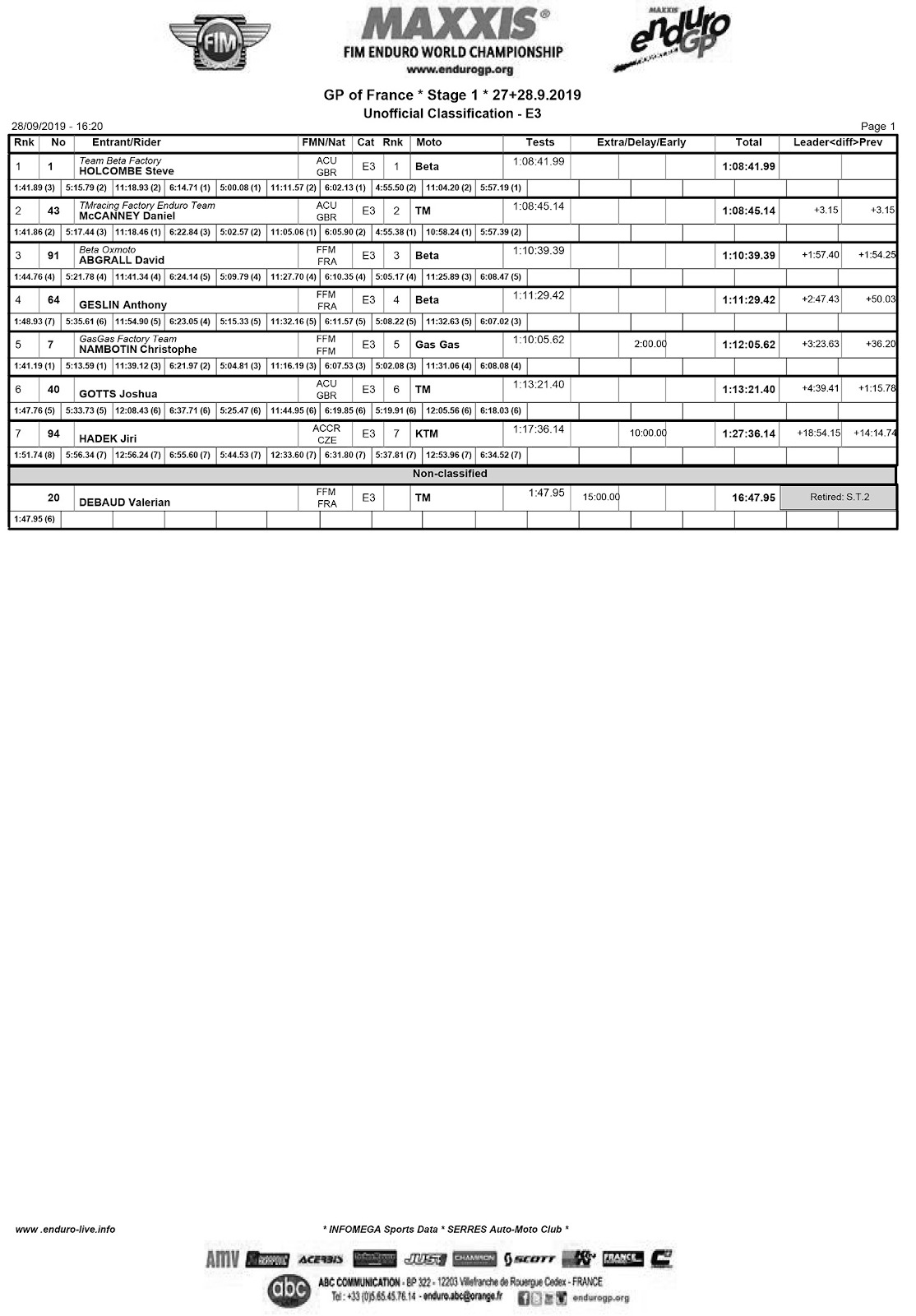 Enduro Junior overall: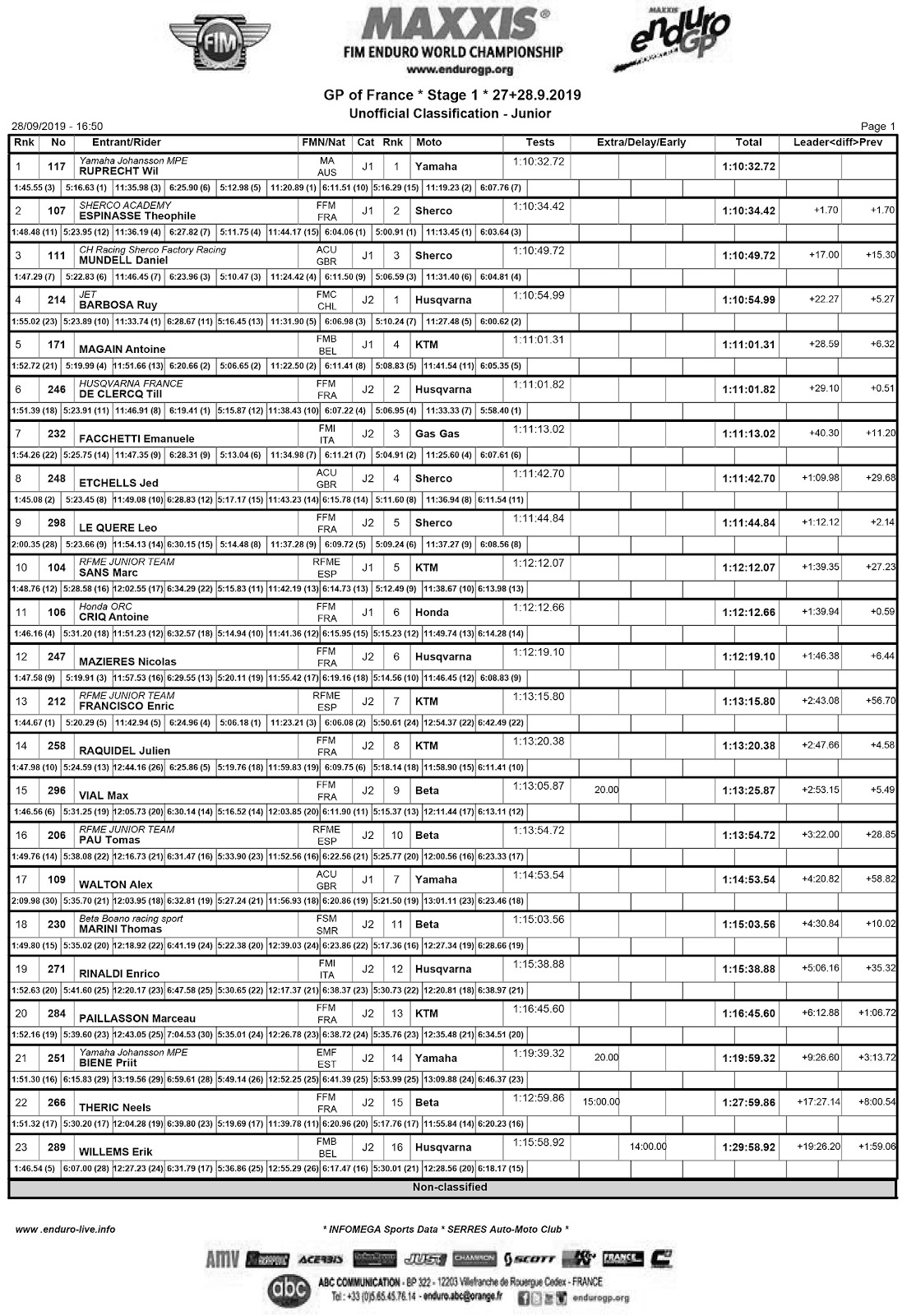 Enduro Youth 125: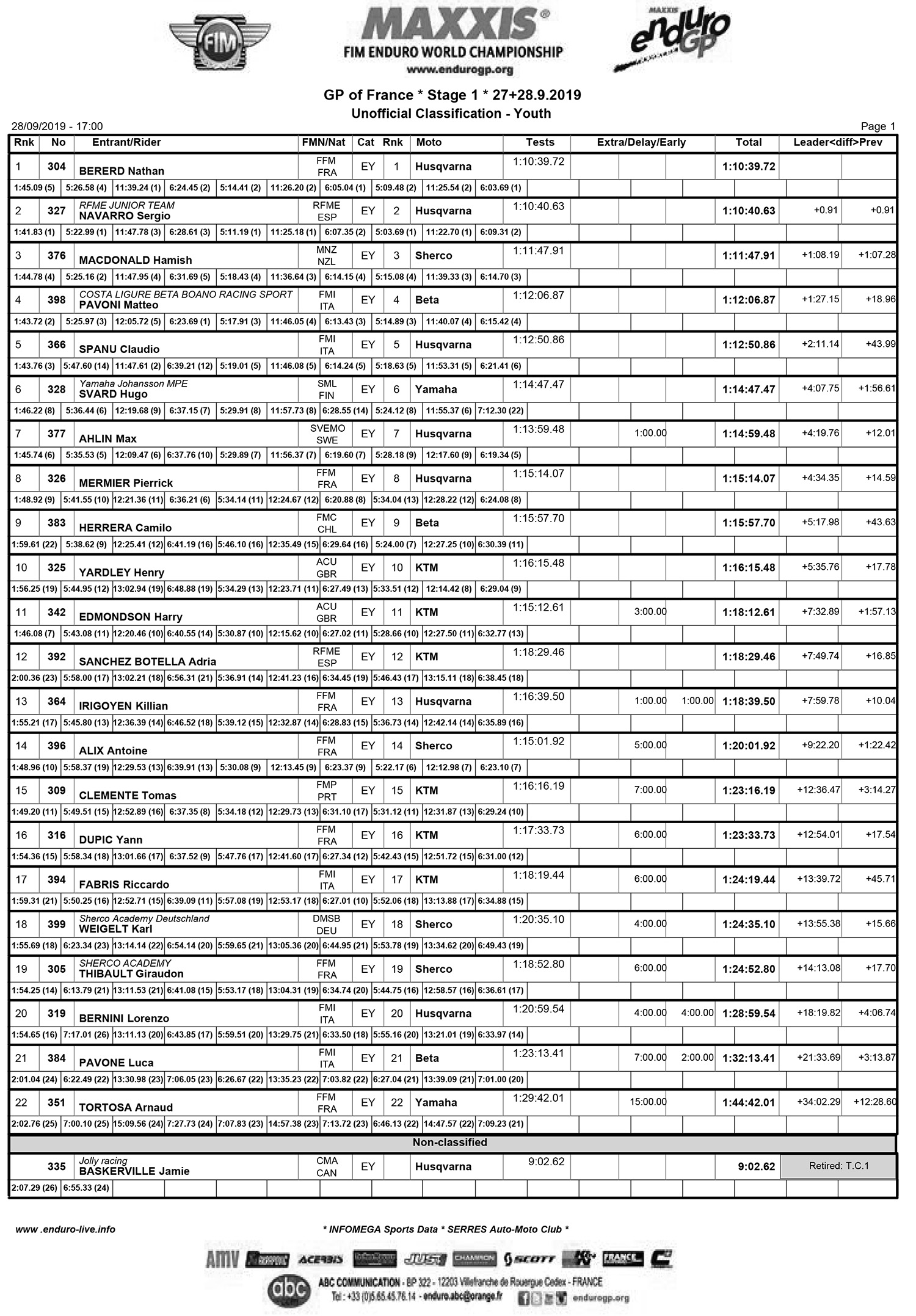 Enduro Women: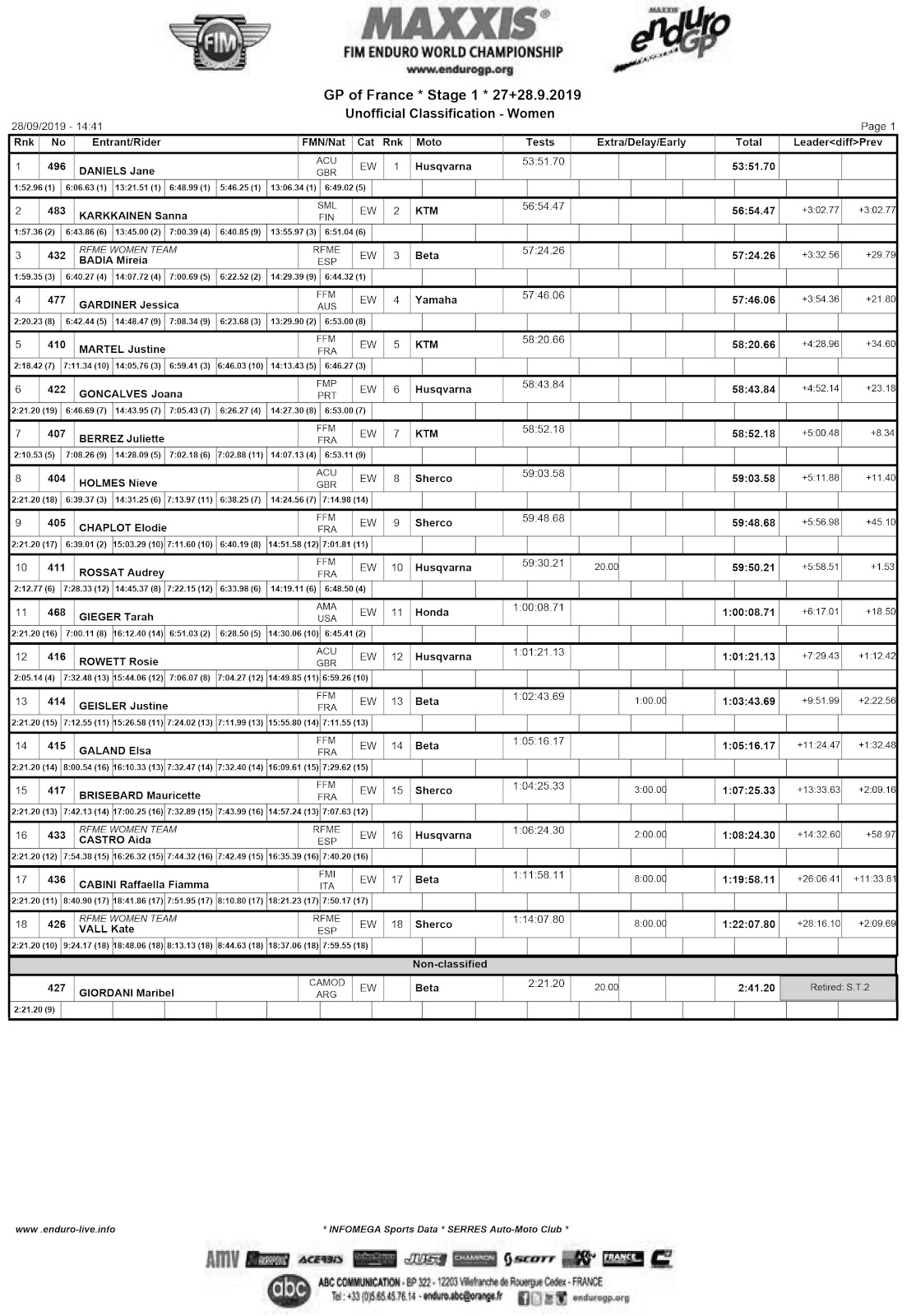 Open two-stroke: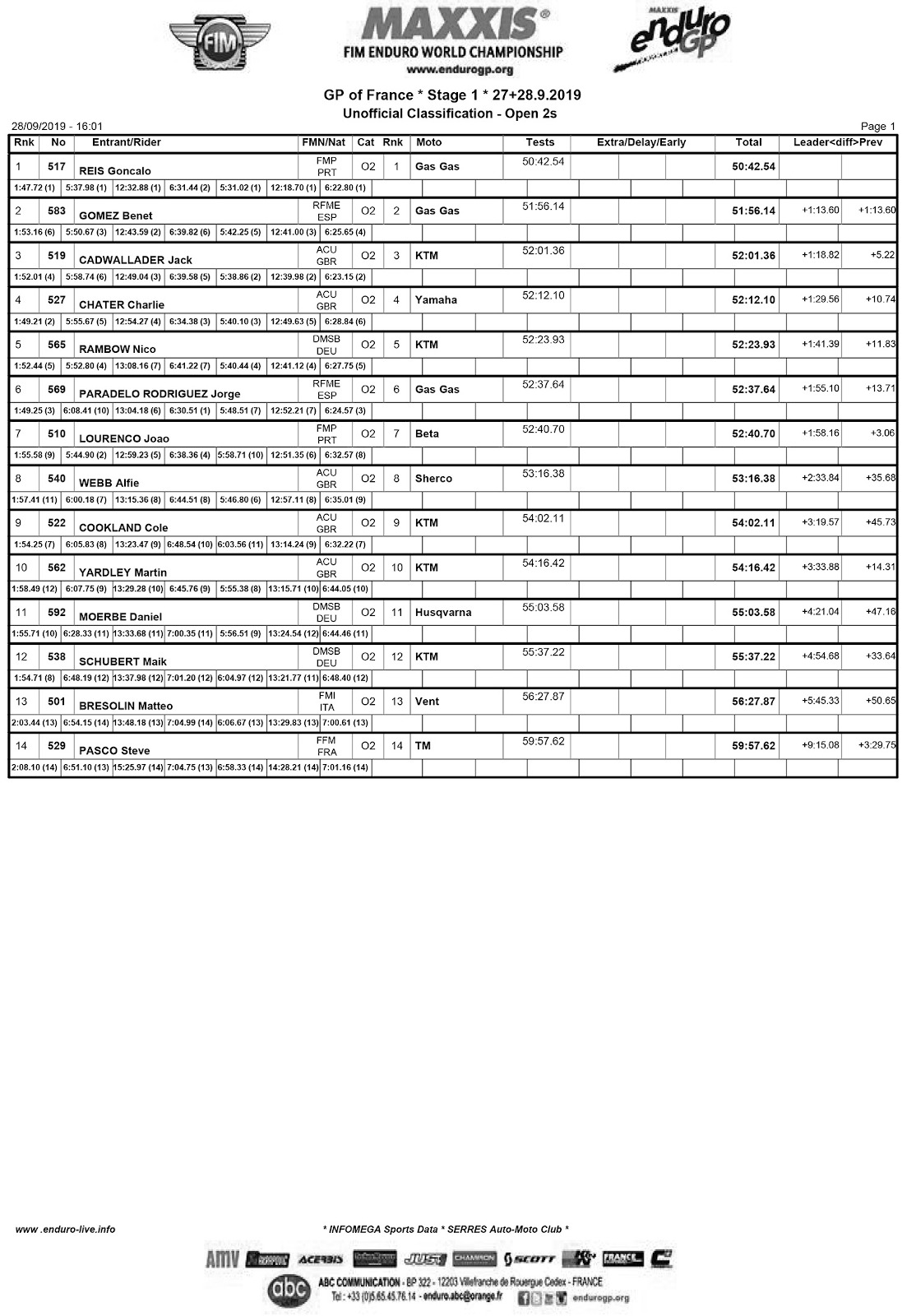 Open four stroke:
Open Senior: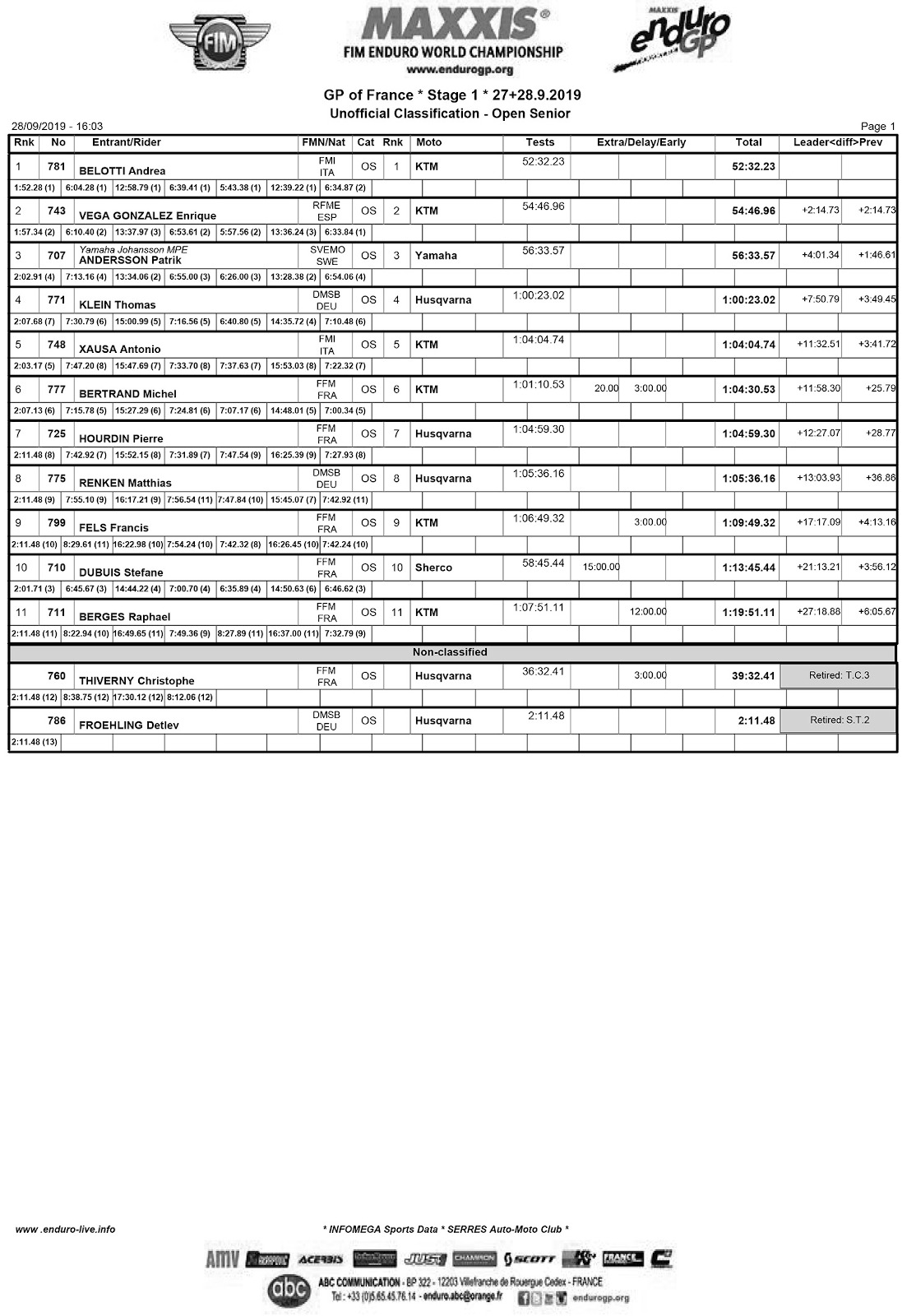 Photo credit: Future7Media/Andrea Belluschi