2022 European Enduro Championship final rounds this weekend in Germany
The final of the 2022 European Enduro Championship lands in Rüdersdorf, Germany this weekend with Belgian Erik Willems on the verge of the overall title plus European Nations Trophy team and Vintage classes.
Baring disaster, Belgian Erik Willems can secure the 2022 overall European Enduro championship on the first of two days racing in Germany this weekend. Nearest rival and challenger all season has been Dan Mundell but the British rider lost a lot of points at the previous round in Sweden. A DNF due to a front wheel issue means Dan needs a similar disaster to fall Willems' way if the championship is to go to the wire.
Willems leads the overall with 100 points, Mundell is on 79 while Belgian Damiaens Dietger is third on 67.
Individual European class awards need to be claimed still in Rudersdorf this weekend too including E1 class which Maurizio Micheluz has dominated and leads on 111 points ahead of Federico Aresi on 97 and Dawid Babicz on 73.
Scratch leader Erik Willems is also in charge of E2 class with 111 points, 14 ahead of Nicola Recchia while Giuliano Mancuso is currently third on 71.
The E3 class is a closer contest though between Damianes Dietger on 99, Mundell on 95 and David Abgrall third on 94.
Holmes poised for Women's European title
The team Great Britain ISDE winner Nieve Holmes has one hand on the Women's European title thanks to the 117 points lead. She too could win on day one depending on her rivals results with Marie Vilde Holt in second on 93 while Frenchwoman Marine Lemoine is third on 90.
European Nations Trophy
Many of the leading riders this weekend will also be racing for the European Nations Trophy with Trophy, Junior, Senior and Ladies team silverware up for grabs.
European federations have called on their best riders to represent their flag with the French senior and junior teams looking very strong on paper. Germany will naturally be ones to watch in home soil too along with Swedish, Czech and Italian teams.
European Enduro final round course map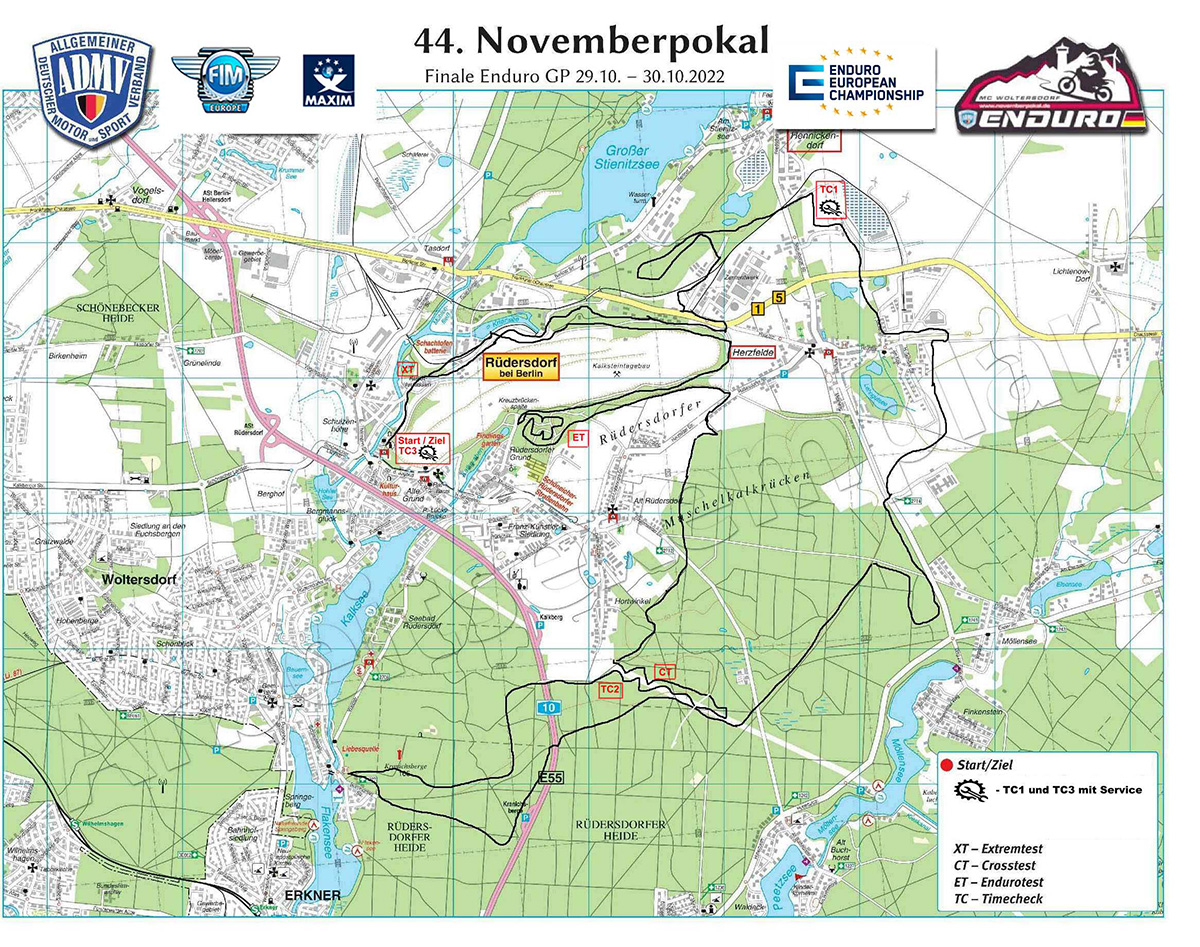 Three tests, three laps, two days
Located east of Berlin, organising club MC Woltersdorf are no strangers to hosting the European Championship or EnduroGP rounds and Will base the event in the Rüdersdorf museum with the parc ferme within historic walls of the museum.
Riders will face three special tests on a 55km circuit, three times a day: Extreme Test, Cross Test and Enduro Test.
The Cross test is about six kilometres away from the paddock on a slightly sandy meadow. The Enduro test is only four kilometres away and has several ascents and descents through the middle of the forest. The extreme test is based just outside the paddock.
Don't forget the old bikes (and guys)
This event also sees the final of the Vintage European Championship. The historic ambience on site in the museum, and a lot of passion for classic enduro bikes in Germany, should make this a cool event in itself.
The award ceremony for the whole European championship is on Sunday evening from 18:00 in the grounds of the Museum Park.
More information including live timing: www.enduroeuropean.com
Photo Credit: Robert Pairan