2020 Roof of Africa: All systems go in Lesotho
The 2020 Motul Roof of Africa will be as hard as usual say event organisers – the "Mother of Hard Enduro" is all set for December 9-12 dates in Lesotho and entries are still open.
"I'm happy to squash the rumours that this year's routes will be easier than usual." Says Charan Moore, Motul Roof of Africa Route Director and Manager of Live Lesotho. "That's certainly not the case, so I'd advise riders in every class to get out there and train and prepare properly in anticipation of some epic Extreme Enduro action." You've been warned!
Although ongoing travel restrictions in many countries may limit the number of international riders who can make the December 9-12 event this year, Wade Young (Sherco Factory Team) will be back to defend the Gold Class title he won so decisively last year. Young has won an incredible five Roof of Africa titles including the last three in a row – only Roof legend Alfie Cox has more victories to his name.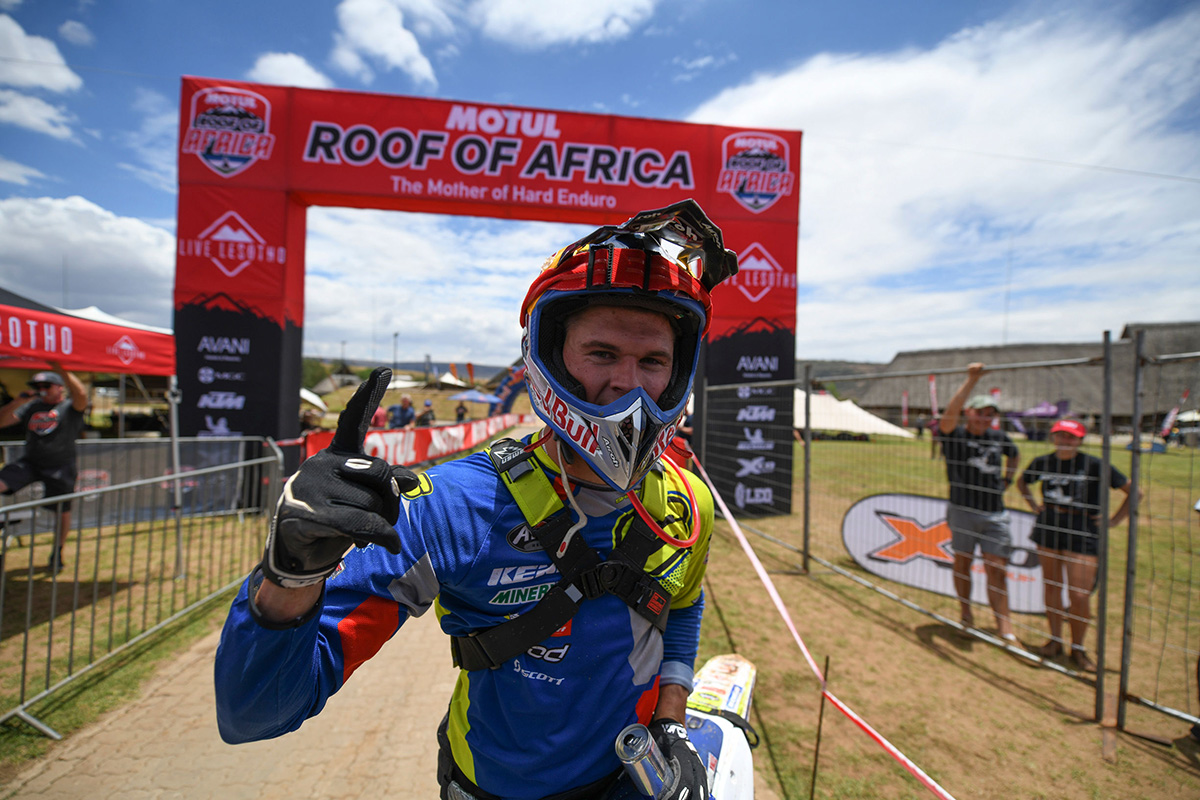 More than 200 riders are already signed up and the organisers are confident the event will be as well-supported as it always is with entrants from across southern Africa. Restrictions will be in place in terms of people attending including a ban on spectators and there will be no 'Round the Houses' or EnduroX' qualification races to avoid gatherings.
After a year in which the Extreme Enduro season has been severely disrupted, with many events either postponed until 2021 or cancelled, the Motul Roof of Africa will stand as one of the few major international extreme races.
It is important to note that while the safety measures for Motorsport events around the world are evolving, the current regulations, in compliance with MSA's event requirements, will include:
All entrants and support staff will need to supply COVID-19 tests that indicate a negative status within 72 hours of their arrival at the border for entry into Lesotho. You will then be allowed 14 days of travel and the same COVID-19 test can be used when returning to South Africa. The organisers are confirming if their medical partner will have a COVID-19 testing station at the event.
Screening and sanitising protocols will be followed at the start of each section of the event, including a verification process and scrutineering, time trial and all race stages.
There will be no spectators or hospitality this year to avoid mass gatherings and maintain social distancing.
Each competitor may have up to 5 crew members so a total of 6 people per entry (1 competitor and 5 crew). The DSP for each race day will be open to riders and crew only.
There will be no Round the Houses or EnduroX to avoid mass gatherings and maintain social distancing
The programme of events will include a verification process and scrutineering on Wed, time trial on Thurs and race days 1 and 2 on Fri and Sat respectively.
There will be no bike wash facility – again, to maintain social distancing.
It is uncertain at this stage if there will be a prize-giving ceremony for each class - an application has been made to MSA for permission and approval is awaited. It has been confirmed there will be no main prize-giving ceremony for the remainder of the competitors, although medals will still be available for finishers and trophies will be made available for collection after the event.
The organisers are committed to the safety and wellbeing of everyone connected with the Roof and are determined to eliminate the risk of disease transmission.
For more information about the COVID-19 measures that are being implemented, entrants are encouraged to visit the official Roof of Africa Facebook page: https://web.facebook.com/theroofofafrica
Entries remain open on a strictly first come, first served basis. Various payment schedules are available up until the last day of November 2020, when entries close.
More information: www.roofofafrica.co.ls