AMA Extreme Enduro: bad weather at Bad Medicine Extreme doesn't stop Hart
The battle for supremacy in the 2021 AMA Extreme Enduro Championship swung the way of Trystan Hart at the Bad Medicine at Fallen Timbers Extreme Enduro, the penultimate round of the season, where "moments of brilliance, mixed with bad decisions" cost Cody Webb.
FMF KTM's Trystan Hart and FactoryONE Sherco's Cody Webb at Bad Medicine Extreme enduro in a virtual deadlock for the championship, with a round to drop each it was neck and neck in the points. But in a weekend where Webb came out punching in the qualifiers only to blow hot and cold in the main race, Hart's win could prove decisive in the title race.
Bad Medicine, bad weather
Saturday saw riders complete two races to determine start order. Race one was a short six-mile loop which Webb won on the Sherco 13 seconds ahead of by Ryder Leblond who was in turn 42 seconds ahead of Hart. Keith Curtis was P4 ahead of FMF KTM's Taylor Robert.
Then the rains came and turned the conditions on the slick Ohio clay into something altogether more treacherous and which would make the second race a war of attrition. The conditions became so difficult on this race, that only 16 riders were able to complete the 10-mile lap. Only two others were able to make it to the second checkpoint.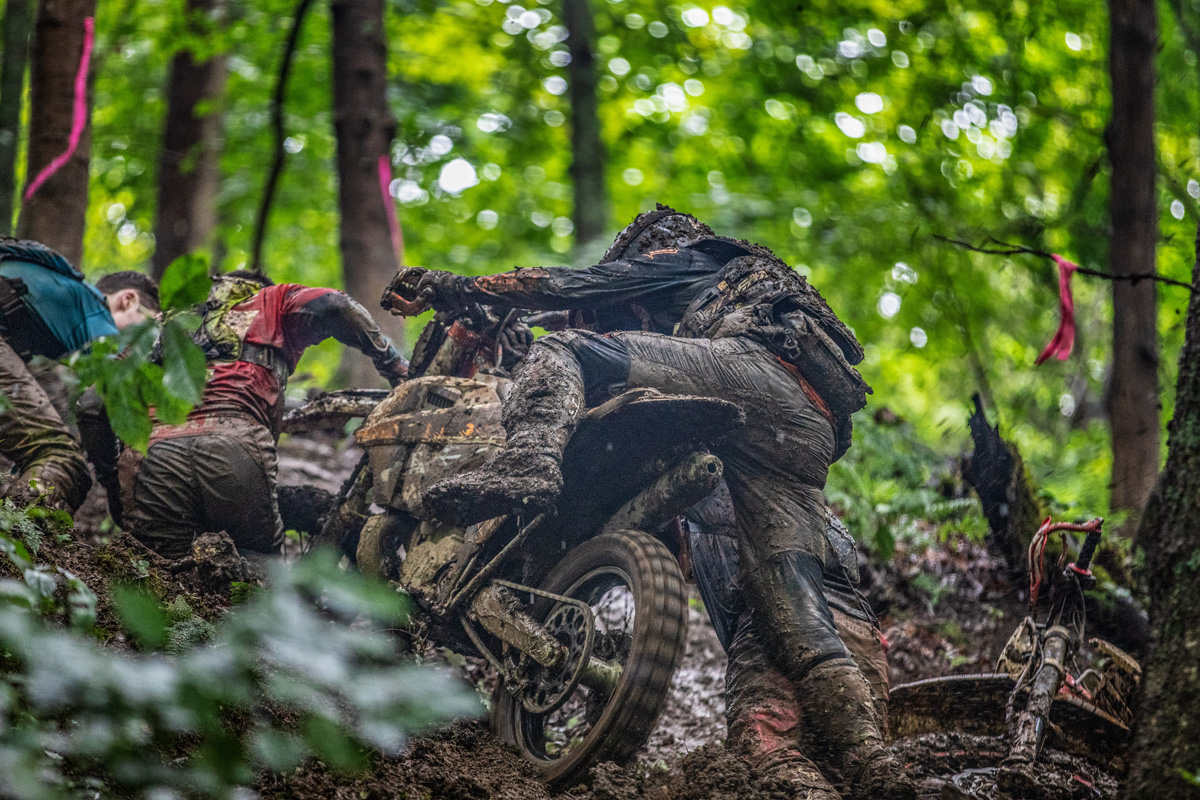 Webb again took a wire-to-wire win in the second qualifying race on a longer 10-mile loop which again saw bad weather. Hart was 1:07 behind in P2 followed this time by Jordan Ashburn, Taylor Robert and Ryder Leblond.
Already crowned Women's champ, Louise Forsley had a tough time of it on the day after feeling unwell she tried to race but had to admit, especially in the conditions, it was better to fight another day.
Like a pig in sh*t?
As Sherco USA team described it, conditions for Sunday's main race were "pleasing to a pig" which is a polite way of putting the fact the weather turned conditions from hard to near impossible.
The race was almost over for Webb at the first corner with a crash putting him last. Hart meanwhile was making hay while the sun wasn't shining as they passed the first check point with a five minute lead.
As the race unfolded that lead would ebb and flow as Webb recovered ground in the tough rock section called Brett's Diner only then to throw it away on a slick hill climb and handed heaps of time back.
Hart had the lead from lap two and just kept the hammer down while others struggled to keep it consistent. By the final flag and after four brutal hours of racing Trystan had over 13 minutes lead for a resounding victory.
"It was a fun weekend at Ohio." Said Hart. "We had lots of rain leading up to the race and with the clay dirt, we knew it was going to be an extremely difficult race. I had a very good start in the Main Event, which proved to be very important.
"I played it safe for a little bit, before getting into a grove and trying my best to keep it on two wheels for the remainder of the race. I'm extremely pumped to get my sixth win of the season at possibly one of the hardest tracks of the year!"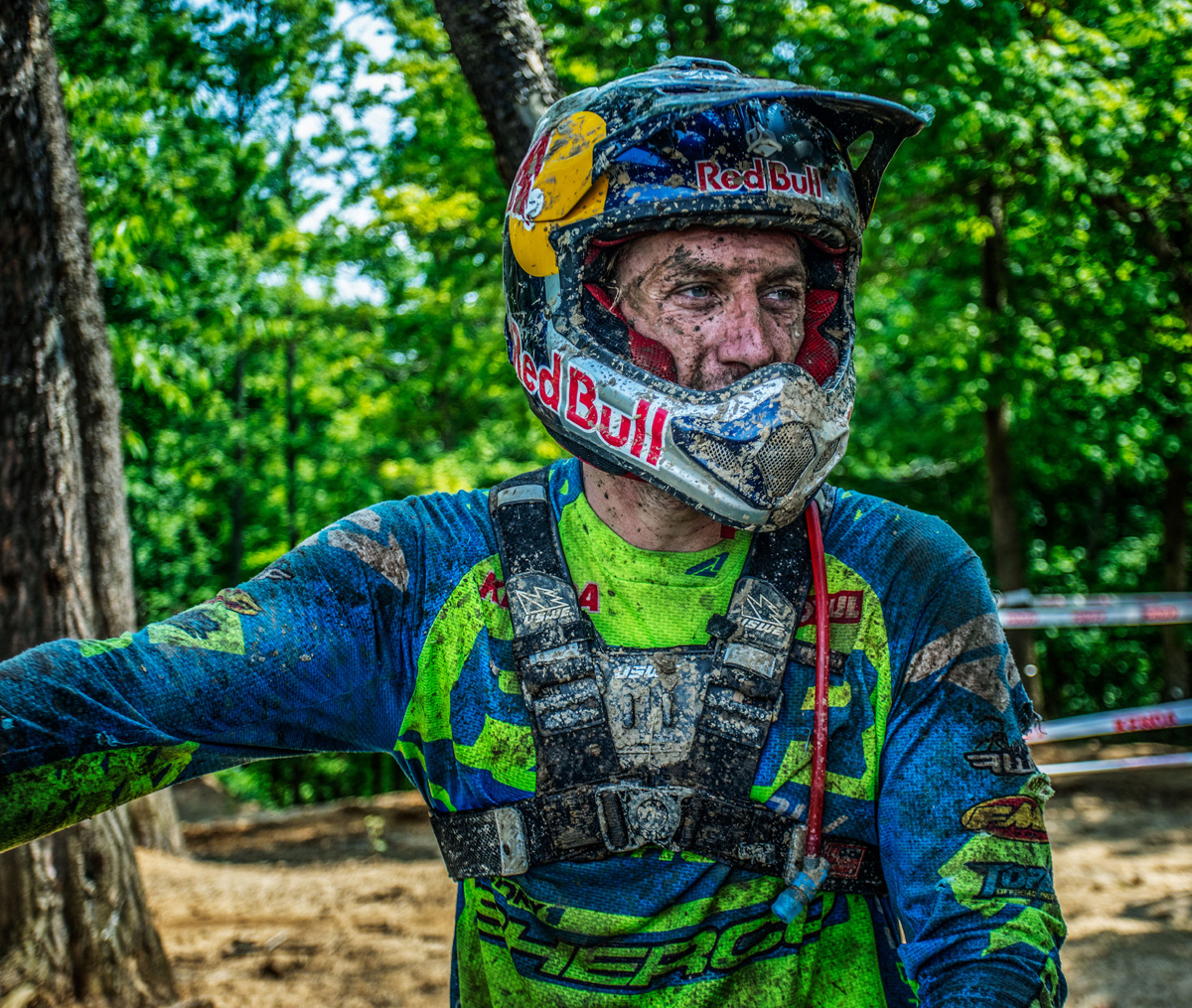 Despite his best efforts to close the gap back down, suffering from a back injury and bad cramping in the latter stages of the race meant Cody had to settle for P2 on a day when he admits bad decisions cost him. "I had a chance to get the lead back on the last lap," explained Cody, "but between my back, and horrible cramping, I just couldn't put it together. Things just didn't go my way today.
"I had a terrible first lap. Went down in first corner, jarred my back 10 minutes in, got into the lead by the gnarly rock section and then just got ruined on a nasty hill climb that took me multiple attempts and I had a huge deficit. I made a big push and closed the gap to the point I could've won. Then I cramped up last lap and couldn't get the job done. Tough day for me with moments of brilliance, mixed with bad mid race decisions."
Ryder Leblond came home in third nine and a half minutes down on Webb with Jordan Ashburn the fourth and final rider to complete the five laps.
2021 Bad Medicine by Fallen Timbers Extreme Enduro results: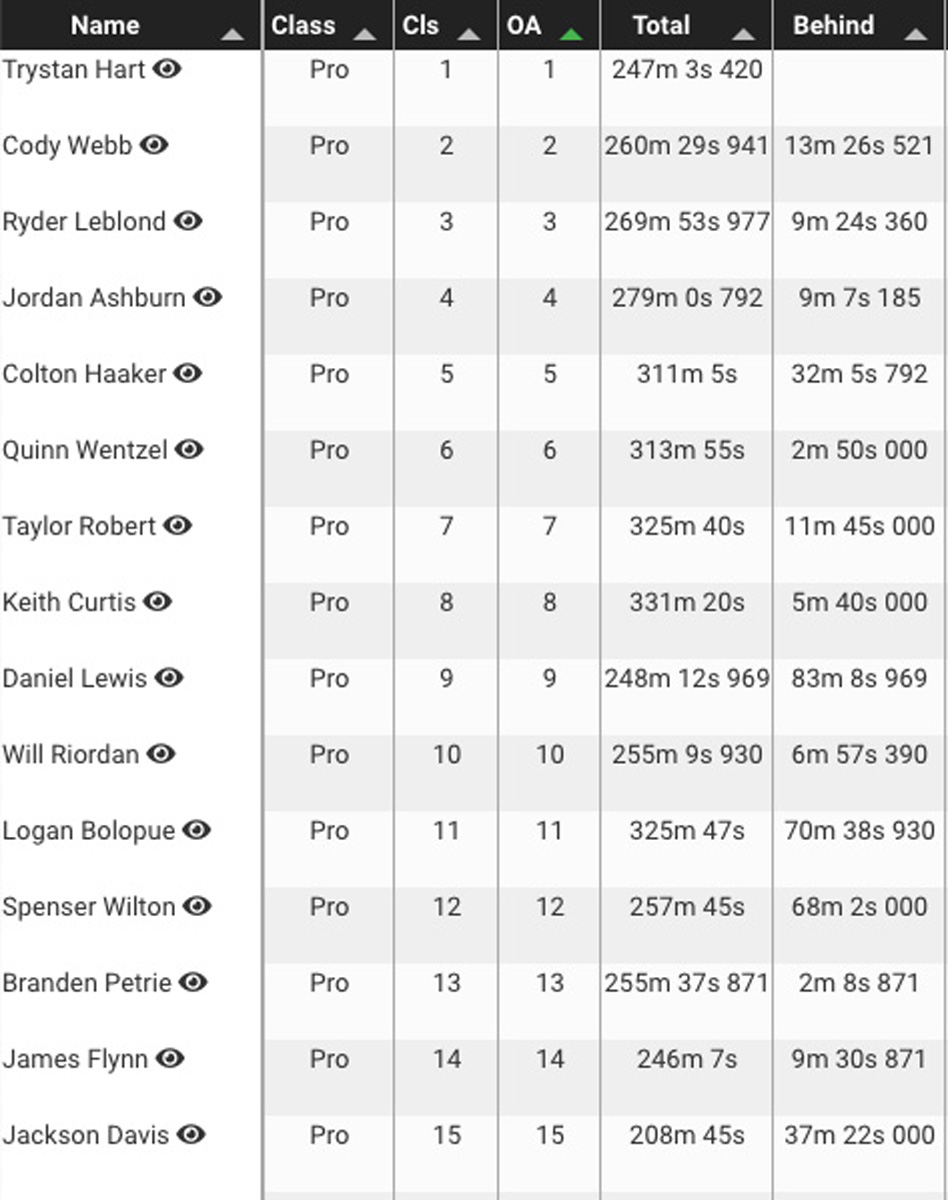 The final round of the Kenda AMA Extreme Off-Road series (overall and the East series) is the Battle of the Goats at the Brushy Mountain Motorsport Park in Taylorsville on August 6-7.
The men's overall champion will be crowned there and Trystan Hart has the advantage after two wins on the bounce. With five rounds complete in the AMA East Extreme Championship, Hart now also has that regional points lead with one round remaining.
But it ain't over till the singing starts and both titles are far from decided.
More information: www.amaextremechampionship.com
Photo Credit: MJSMotophotos | Mary Rinell