Hard Enduro Series Germany: MelzExdrähm win for Hentschel
The German Hard Enduro Series Germany moved on to Meltewitz for round four and the "Melz Exdraehm" lived up to its Extreme name with Leon Hentschel continuing his run of form.
After its cancellation in 2020, the SHC Meltewitz club pulled out the stops to hold the event again this year in the Dornreichenbach quarry. It proved a perfect weekend's racing in good weather, a good crowd and strong riders numbers despite the ongoing Coronavirus restrictions in Germany.
Hentschel dominates again
As the leader of the Endurides Prolog Award, Leon Hentschel once again showed his class as the first rider in the Superenduro-style prologue. No rider coming close to his time of 1:14.319 with ex-Trial rider Max Faude placing second and Marc Wulf completing the top three in the single lap qualifiers.
The Melz Exdraehm is traditionally a three-hour enduro on a demanding lap which can take amateur riders sometimes more than two hours for a loop around the former quarry.
Championship leader Hentschel, was in no mood for hanging around, set the pace at the front and completed eight laps in total.
Marc Wulf kept him honest on the first lap: "The first lap was quite exhausting," Explains Hentschel. "Marc was able to keep up with my pace and only later I was able to extend my lead to get another win, this is the main thing."
Just as at the previous round last weekend, Max Faude finished second but was helped out when Wulf had technical problems: "I broke something on the brake, which meant I had no braking effect." Says Wulf. "But I was able to fix the problem and still move back up to third place."
The former trial world championship rider Faude consolidates his second place in the championship.
MelzExdraehm fast facts:
Race 4 of the 7 round series
Weather: 22 Degrees, Cloudy
Endurides Prolog Award Winner: Leon Hentschel (GasGas), 1:14,319
Winner: Hentschel
Fastest Lap: Hentschel 20:16,518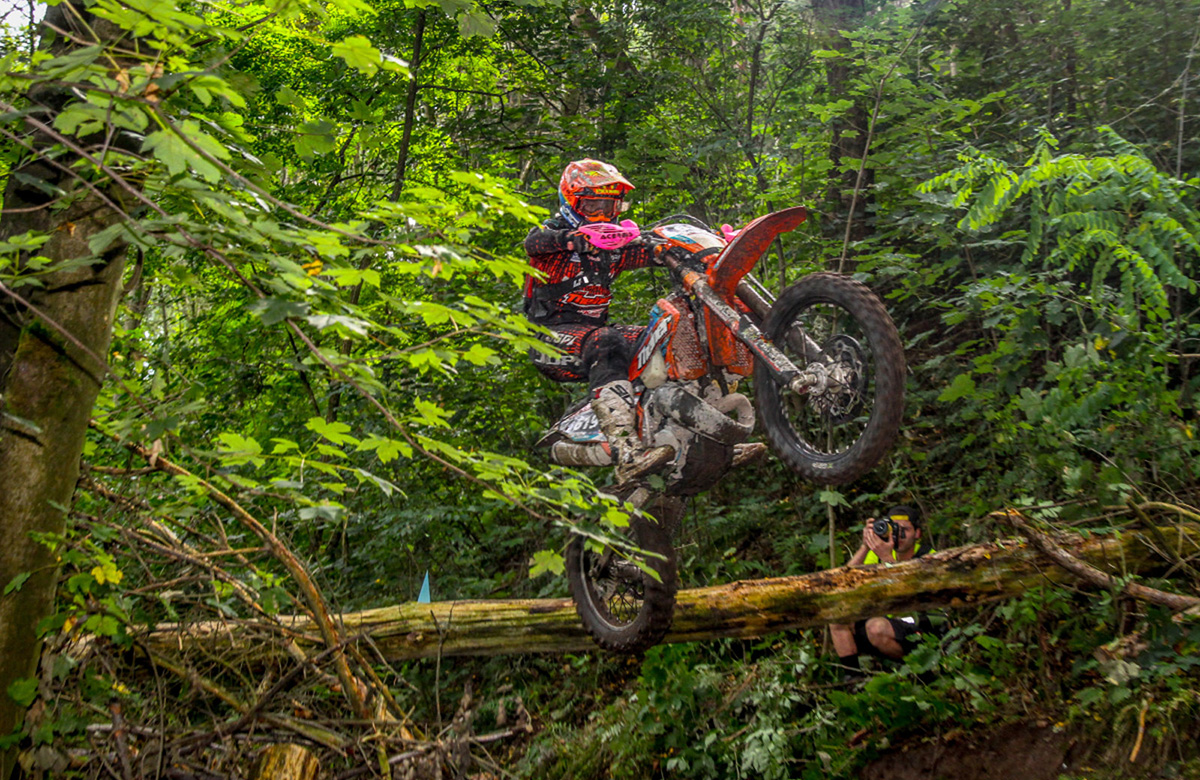 Excitement in the Juniors
The Enduro.de Junior class is proving to be the hot class this year with six young riders placing among the top 15 overall, which shows that there are still young talents in the German extreme enduro scene.
Paul-Erik Huster again took victory ahead of Louis Richter and for the first time Arvid Meyer took to a podium position.
Timo Jungmann took victory in the senior category and is heading for the championship title as the MAXXIS HardEnduroSeries moves towards the next race, another back-to-back weekender on October 2 in Reetz and October 9 in Schwepnitz.
More information: www.hardenduro-germany.de
Photo Credit: Toni Keller | TK420 + Denis Gunther