2022 GNCC results: Ben Kelley wins brutal Big Buck Rnd1
Results from round one of the 2022 Grand National Cross Country, the Big Buck GNCC in South Carolina where Ben Kelley took a dominant win ahead of Josh Strang on a day marked by big crashes and EnduroGP boys Josep Garcia and Steve Holcombe making GNCC debuts.
The opening round of the 2022 GNCC season had it all going on. Ben Kelley carrying a number one plate and winning the opening round for the first time in his career, Josep Garcia and Steve Holcombe making GNCC debuts and a typically brutal GNCC course dishing out a battering to bodies and bikes.
When the flag dropped sending 440 riders out onto the 12.5 mile Big Buck course, the FMF KTM boys Ben Kelley and Josh Toth were quickly out front and laying down a marker.
Early blistering pace didn't fade as the three hours ticked by and Kelley's off-season training at the Russell Ranch has clearly reaped rewards. Ben's performance was a carbon copy of GNCC's most successful son and if the game plan for him is to 'be more Russell' then it's working. His victory at Big Buck was equal to his mentor.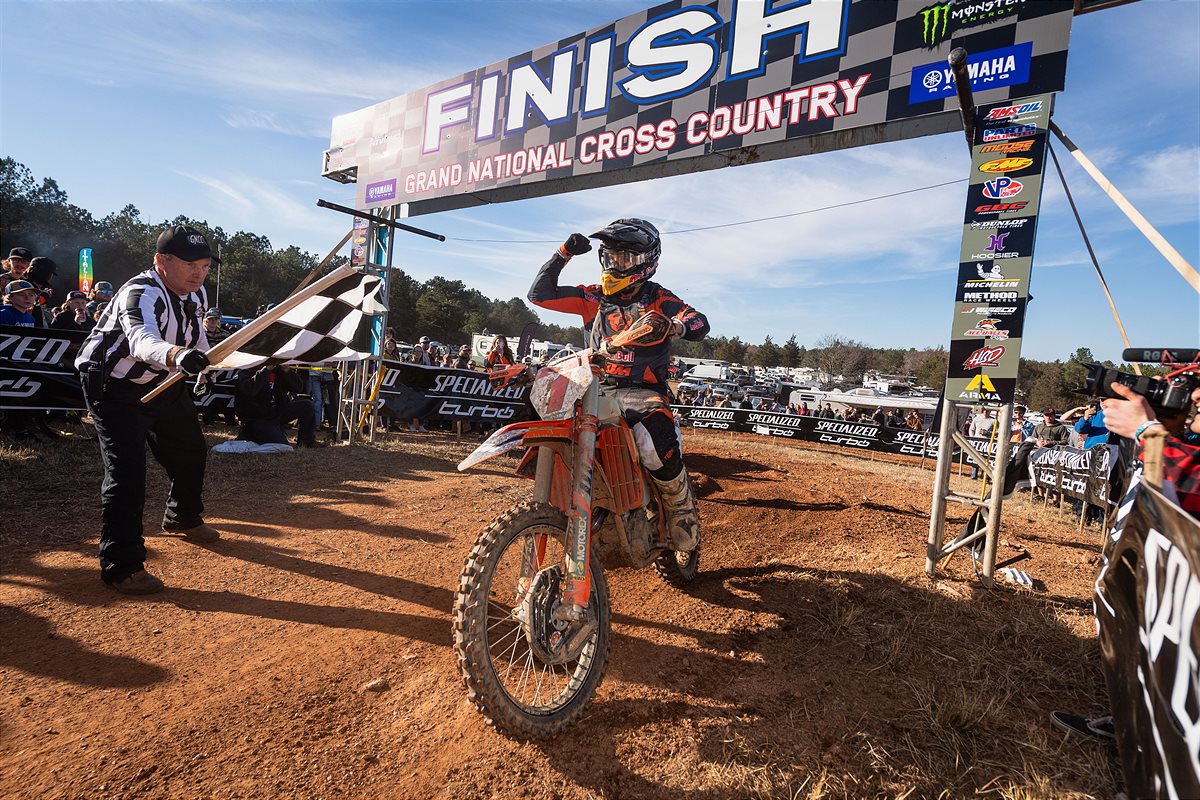 "I was excited coming into this race," Ben explained. "I had a solid off-season – it had its ups and downs but I trusted the process and put in the work.
"I got off to a good start, I was confident because I rode really good here last year and I let it slip through my fingers with getting stuck and a bunch of crashes, so I knew if I just played it smart and stayed off the ground, I'd be good.
"I had one pretty hard crash getting caught up in a tree but other than that, it was a smooth race and I felt super good. It just feels good to put in a solid result and get the win."
Crashfest
We haven't heard a debrief or read a team race report from Big Buck which doesn't contain mention of a crash or two. Stew Baylor, Thad Duvall and Johnny Girroir were the headline acts spending the night in the local medical centre but they weren't alone in finding the ejector seat.
Mike Witkowski and Jonny Girroir were laying some definitive markers down in the XC2 250 class – in the top five overall in lap one – but Johnny G hit the deck hard on lap two and at time of writing it is unknown the extent of his injuries. Thad Duvall will also start another season with some more metal work being added to his body after "a bad one" according to Josh Strang.
When that drama settled and with Kelley relentless out front, it was the battle inside the top 10 which took all the attention with Josh Strang, Jordan Ashburn and Steward Baylor all hounding each other and closing Josh Toth in the fight for podium places.
Strang hustled through to P2 and as the final lap arrived Baylor was on a mission. Toth had gone from second to fifth and Ashburn was keeping things honest.
But Baylor got bit by the Big Buck ejector button off 450 Yamaha. Remarkably, despite fracturing his neck and wrist, he finished the rest of the eight miles and finished ninth in class. It looks like we're in for another Baylor comeback in 2022.
That left Strang and Ashburn having an epic last lap battle, swapping plastic a couple of times on the way but eventually it went to Josh who says he was happy to take P2 at round one.
"It's been a long time since there has been this many guys that can go this fast." Said the Australian at the finish. "I felt like I was riding well but I kept getting passed!
"There were some big crashes out there today but I kept riding my own a race and doing my own thing. I made some passes and kept my head down.
"Towards the end I just kept hearing bikes behind and realised I had to keep pinning it and then in the last lap I had a great fight with Jordan and we swapped plastic there but we got it done. Second place first race of the year, I'll take it."
EnduroGP boys rude awakening
What about the EnduroGP riders making their high-profile debuts stateside? Both Steve Holcombe and Josep Garcia are racing the first three GNCC rounds ahead of the EnduroGP World Championship season starting in May. Both arrived in America just one week before the Big Buck and it's fair to say if this is pre-season training then it was quite a work out.
Following in the foot steps of riders like Juha Saliminen and David Knight, it's fair to say they got a wake-up call on the tough course and relentless pace at the sharp end of the GNCC Pro classes.
Both Garcia and Holcombe have competed three-hour XC races before and are no strangers to actual racing (as opposed to racing the clock). But this was not their usual bread and butter and certainly it was a learning experience for both.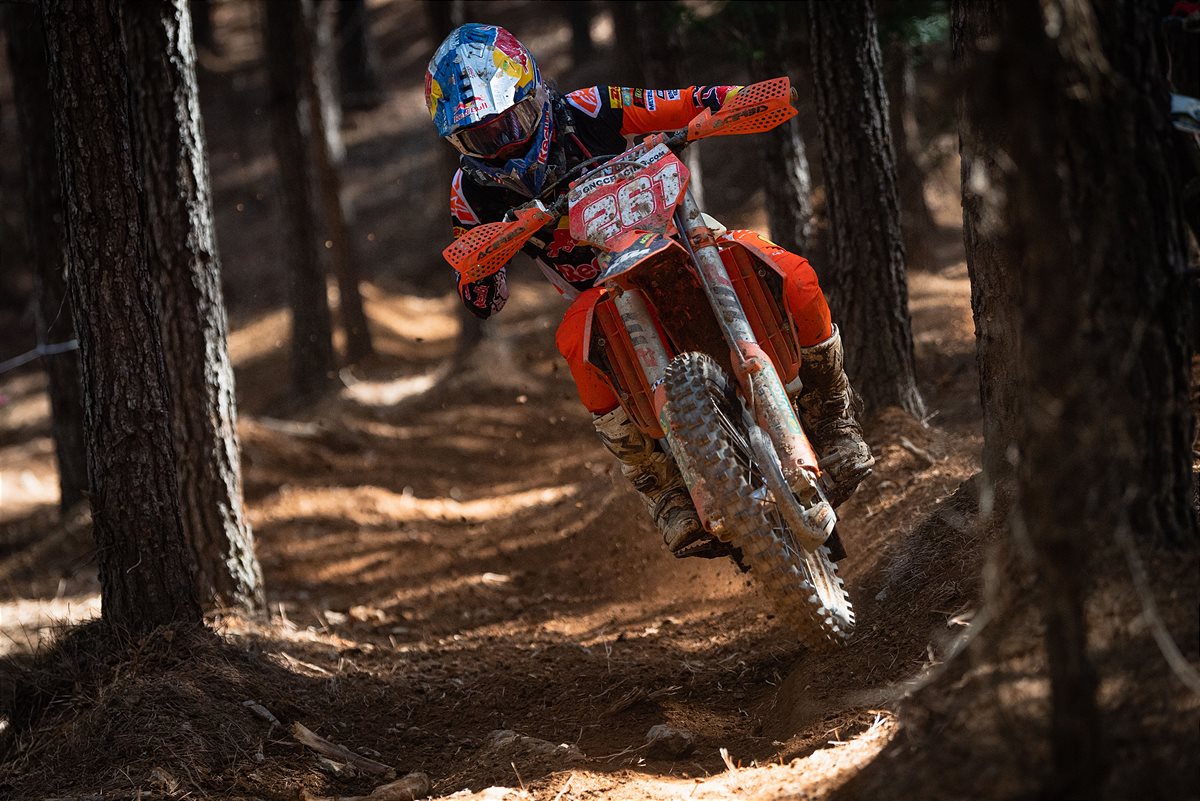 The pair were pretty evenly matched as the race panned out, posting similar lap times and were knocking on the door of top 10 finishes.
Despite crashes, Josep faired best in ninth overall, taking eighth in XC1 class and relishing the new experience."First race done here in GNCC and it was a cool experience." Said Josep.
"The start went pretty good but I had a big crash in the beginning and I was dead last. I tried to come back to the front group and I catch them but I had another crash. The first three laps were horrible with crashes and I lost them [lead riders] for all the race.
"But I figured out how to just find a good pace and in the last two laps I felt really good so, it's a new thing for me. I have to learn many things but the most important thing is that I enjoy it."
Holcombe 14th and 10th in class
For Steve Holcombe it wasn't a case of keeping off the ground but keeping hold of the bars that proved a problem. The Beta rider had serious problems with arm pump and then blisters as he battled through the three hours. "I made a pretty good start and made up a few positions to ride around with Strang and Thad." Says Steve. "But then I just pumped up and could not hold on. The pace is so close every time I lost the wheel of the guy in front, the next one would get me until it settled down a bit and I could ride more like I know I can.
"After lap two I started to find the flow but the course was rough compared to what I expected and I was in every single hole, getting beaten up. Around lap four I started to feel blisters on my hands and they just got so painful."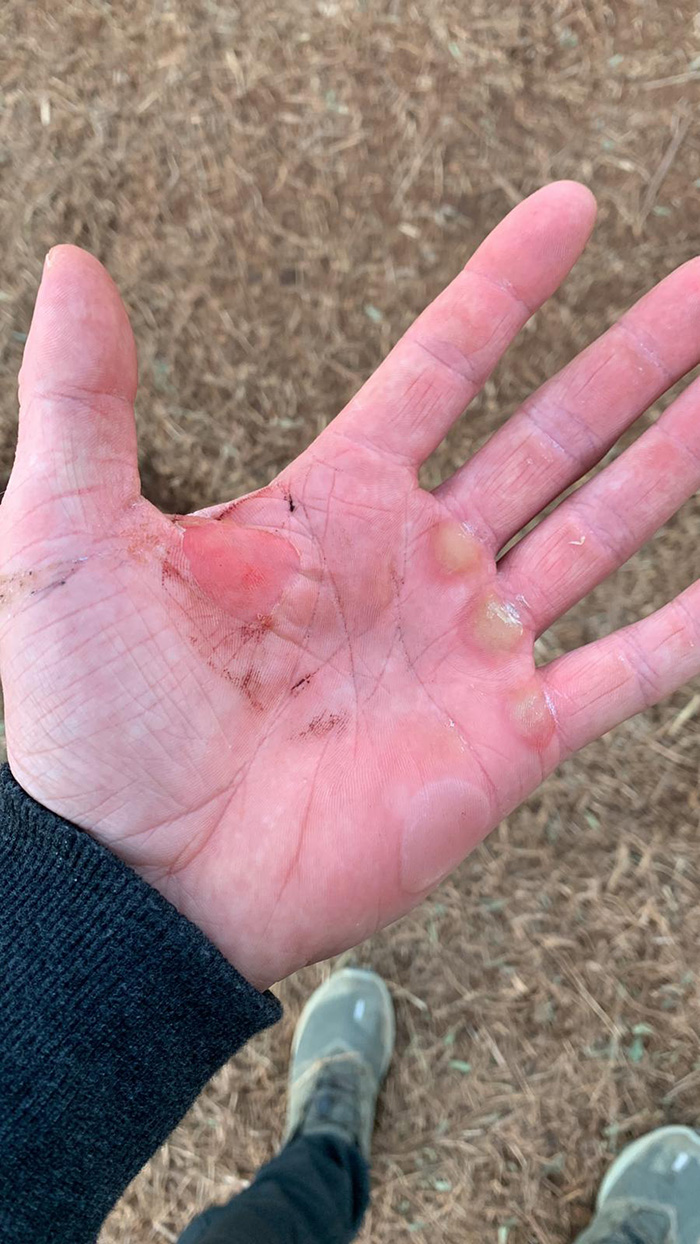 "I know I have good pace and though I'm disappointed to not be able to show what I can do at GNCC, we'll work on bike set-up in these next two weeks to make sure we're in a better place for Florida. All said and done it was one to put own to experience!" Steve added.
Mike Witkowski continued as he had started and dominated the XC2 class. After Girroir went out, Lyndon Snodgrass converted his holeshot into P2 but had to fight off the pressure from Ryder Lafferty who took third ahead of Ruy Barbosa and Jack Edmondson.
Jack Eddie has also made the switch from EnduroGP to the GNCC this season but, unlike Garcia and Holcombe, he's in it for the long-haul competing the whole season with the Magna1 Motorsports team. Jack was fifth in XC2 and 15th overall behind his compatriot Holcombe.
2022 Big Buck GNCC overall results (top 25):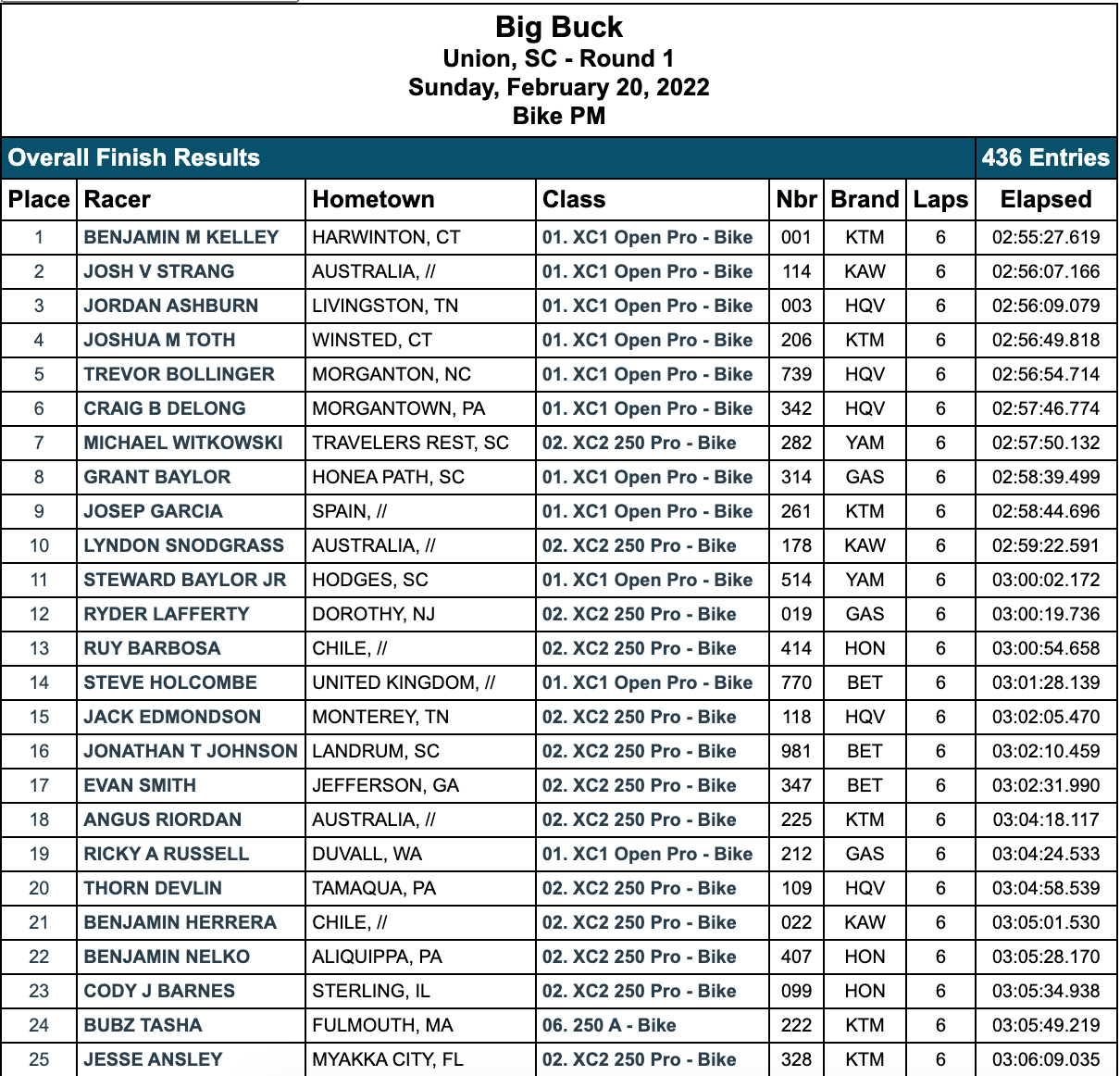 Archer the clear winner in the A.M race
The morning race went the way of the WMX riders Rachel Archer ahead of resurgent Tayla Jones. The pair set the pace not just in the Women's class but overall with a one-two finish, one minute apart and clear ahead of Evan Earl was third overall and first Sportsman A rider home. Korie Steede finished P7 and completed the WMX podium.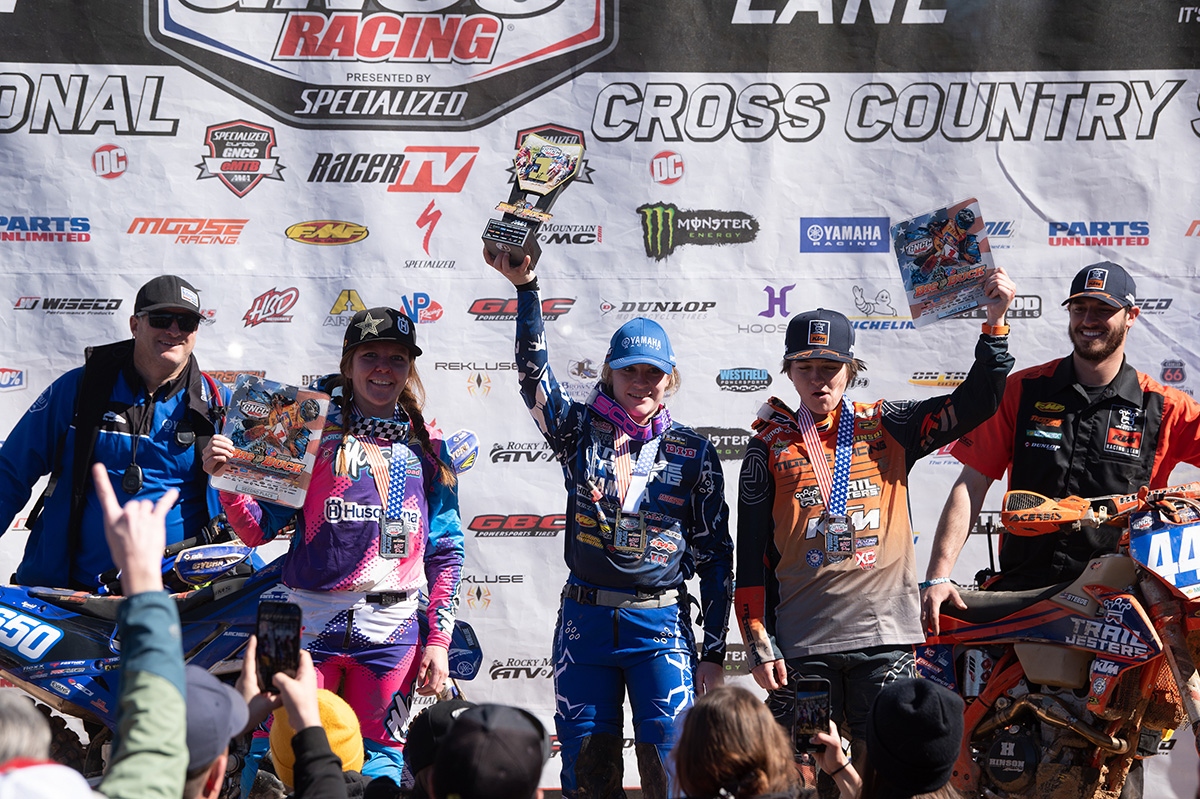 2022 Big Buck GNCC morning race results:
Round two of the 2022 GNCC season is in two weeks, March 5-6 at the Wild Boar in Palakta and the Florida sand.
Photo Credit: Mack Faint + Ken Hill