Ben Kelley and Josep Garcia take 1-2 finish at Wild Boar GNCC Rnd 2
KTM Factory Racing riders stole the podium at round two of the AMA Grand National Cross Country series with Ben Kelley taking the win at "one of the hardest races of the year" ahead of Josep Garcia second in only his second GNCC race.
Florida's brutal conditions in Palakta florida for round two of the 2022 GNCC season are notorious. A stark contrast to conditions at Big Buck and round one, two weeks ago, the Wild Boar GNCC saw high temperatures and relentless sand whoops as deep as humans in what many consider the hardest physical conditions of any round in the series – this year made harder by being so dry and without the notorious swamps.
Magna 1 Motorports Husqvarna's Jordan Ashburn led the way as the main PM race got underway with KTM Factory Racing's Josep Garcia behind. It wasn't long before round one winner Ben Kelley was on the case and half way through the first lap split the fastest pair and come the end of the lap was looking relaxed on Ashburn's tail.
Temperatures heated up in the afternoon race and Kelley seemed happy to follow Jordan's pace as they completed lap two. With an hour in the bag, Kelley took the lead and proceeded to gap the rest of the field by a whopping four-minute margin.
"Florida is one of the hardest races of the year and coming into it, you just never know if you're going to bonk out there, but I felt strong the whole race." Said Kelley.
"I had a top-five start, which I was happy with, and the dust was gnarly so I was able to work my way up into second. I freight-trained with Jordan a little bit and Josep was close behind, and I just tried to stay smooth and off the ground. I tried to enjoy it because this track is just gnarly and it worked out in the end, I'm pumped to get the win."
Garcia makes his mark
In only his second appearance in the series, Josep Garcia delivered a performance worthy of his World Championship title and his predecessors coming across from Europe to tackle GNCC.
Garcia took second off the start and settled into a rhythm on the opening lap, third and tailing Kelley and Ashburn. The Spaniard no doubt took some tips from the KTM training camps with Kailub Russell to pace himself for two and a half hours, setting himself up for a head-to-head battle for second coming into the final lap.
When Jordan made an easy mistake on the final lap, Garcia needed no second invite and carried second place to the finish for his best ever result.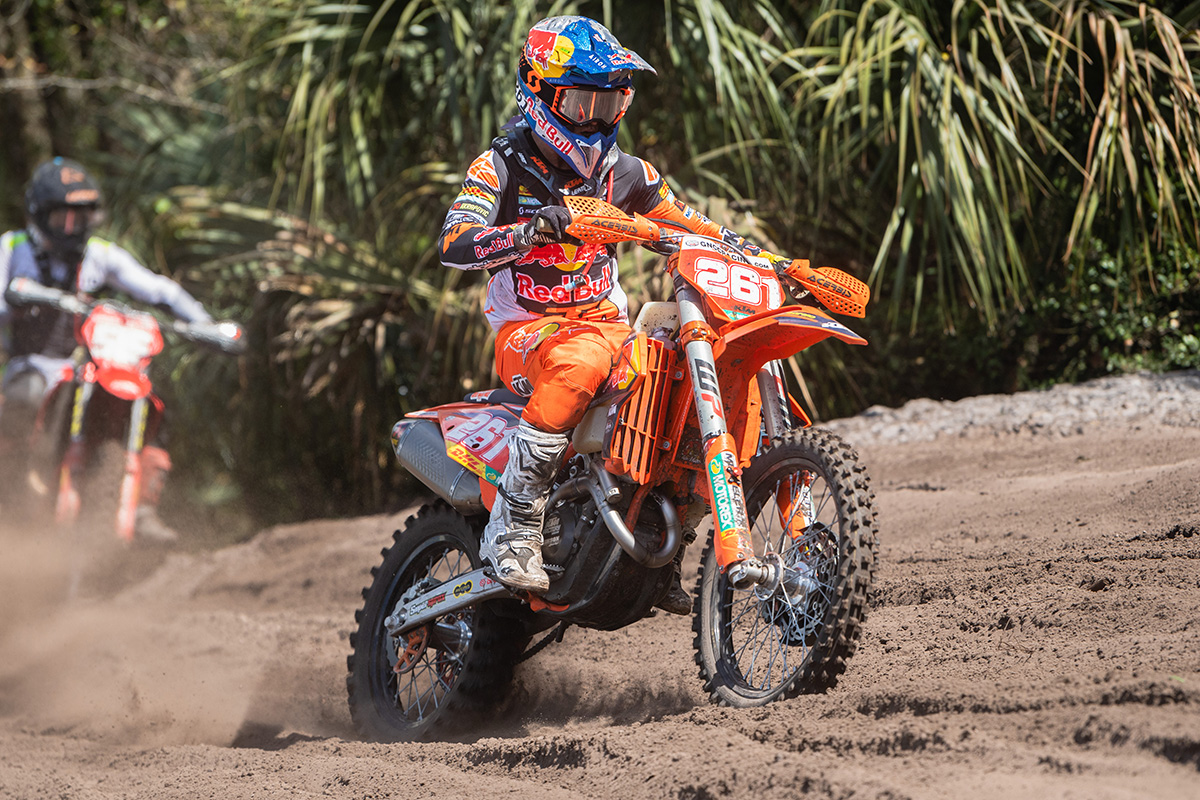 "It's amazing to come here to U.S., the fans are so good here and I'm really happy to be second, it tastes like a win for me." Explained Josep.
"The second GNCC of my life and to be on the podium is amazing – it's a dream come true. Congrats to Ben, we had a great battle with Jordan in the last laps and I'm really happy. Thanks to Kailub Russell, KTM and all my sponsors that support me, I'm so happy."
Rockstar Energy Husqvarna Factory Racing's Craig DeLong and teammate, Trevor Bollinger rounded out the top five in the XC1 Open Pro class. Rev Motorsports GASGAS Racing's Grant Baylor came through to finish sixth in XC1 after working his way up through the pack.
Pro Results – Wild Boar GNCC: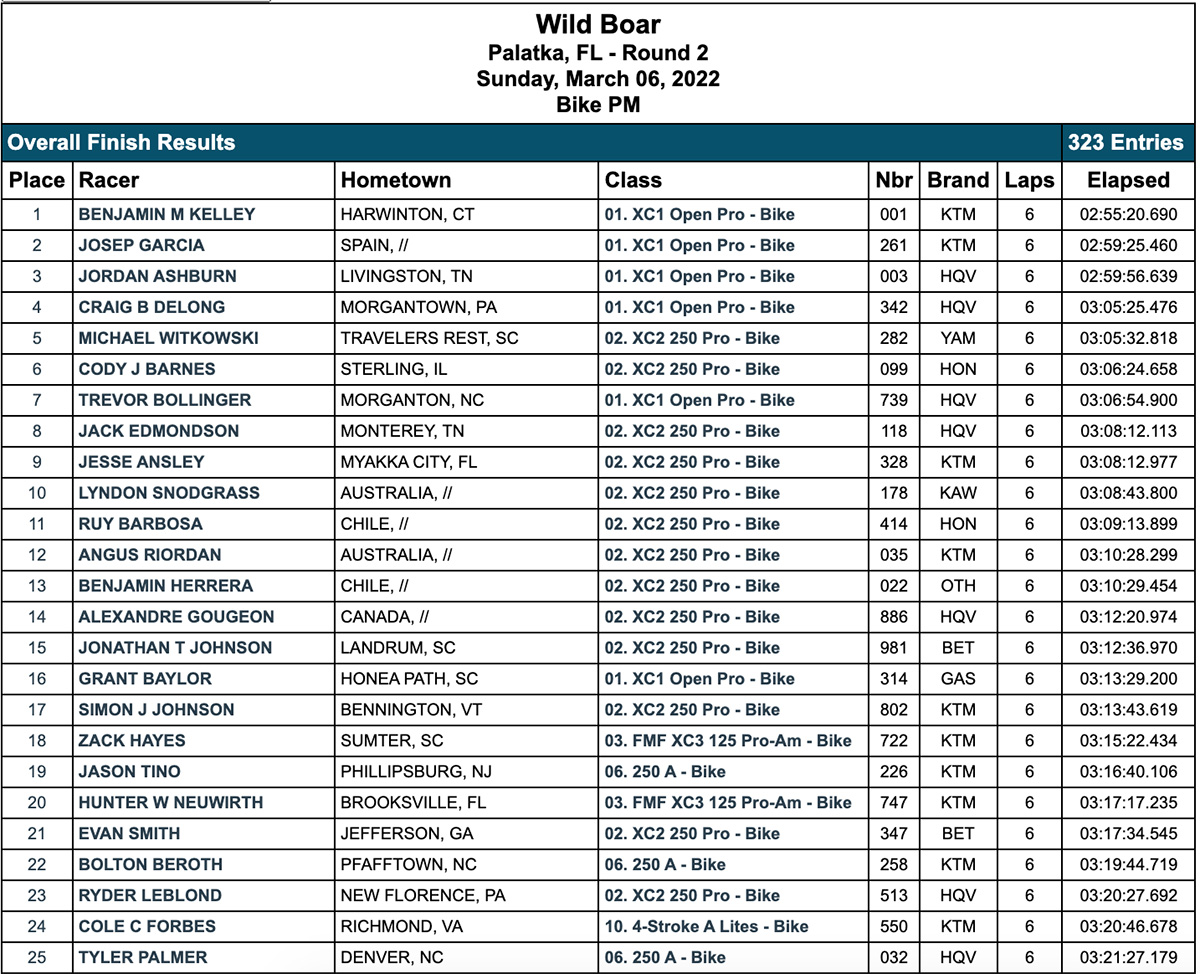 Heat puts Holcombe out
Steve Holcombe was in the thick of it and fighting inside a tight-knit top 10 as the temperatures heated up.
Steve was riding mindful of pacing himself for the three hours when a "silly crash" saw him unable to restart his hot Beta. When he eventually did get going again, having lost almost 10 minutes, Steve said it made no sense to continue with the race already a lost cause.
Holcombe wasn't alone and joined Josh Strang, Josh Toth, Ricky Russell and Todd Kellet (another UK rider over for some GNCC action) as retirements with the latter four joining a notable list of injured riders already in this season.
Witkowski class act in XC2
If Ben Kelley has started 2022 with impressive form in 2022 then he is being matched in the XC2 250 class by Mike Witkowski on the AM Pro Yamaha. Witkowski led from the start and basically never looked back as he ticked off XC1 riders each lap to haul up to fifth place overall at the finish. On a 250 in the Florida sand that seemed all the more impressive.
Jack Edmondson made a great start to his second GNCC race of the season and tailed Witkowski in the early laps, looking as happy on his Magna 1 Motorsports 250 Husky as Jordan Ashburn did on the 450.
Phoenix Honda Racing's Cody Barnes joined Edmondson and the pair traded back and forth for the podium positions for the majority of the race. Barnes made the pass stick with two laps remaining but both suffered in the brutal heat and fell off Witkowski's pace for the last lap.
In the end Barnes continued his solid 2022 form for second with Edmondson recording his best GNCC result one minute behind in third.
Overall Championship Standings after Rnd2: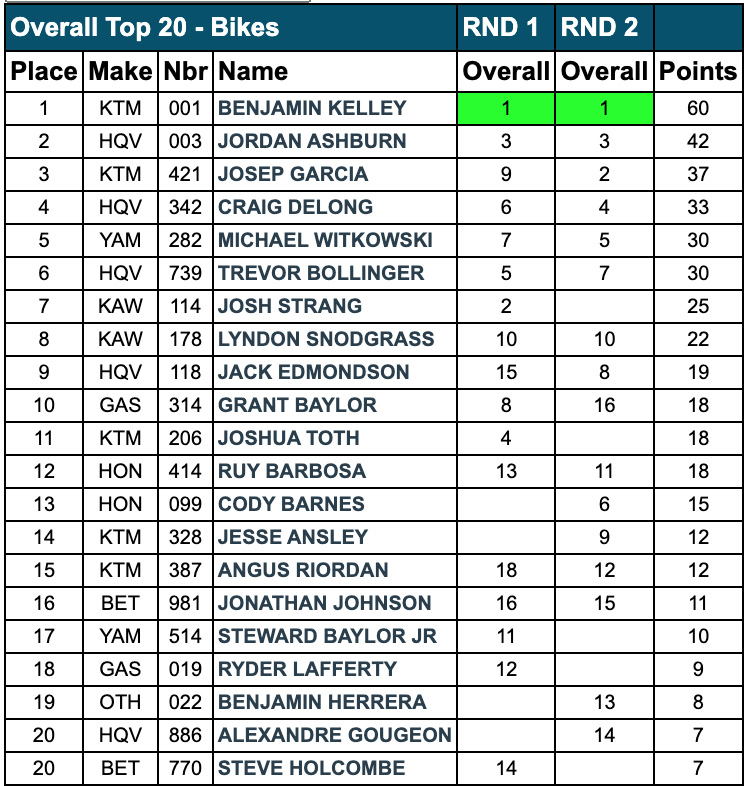 Archer two-from-two in WMX
AmPro Yamaha's Rachael Archer is every bit the match for the XC1 and XC1 boys and took the lead of the AM race part way through lap one. Archer lead all four laps of the two-hour race, coming through 48 seconds ahead.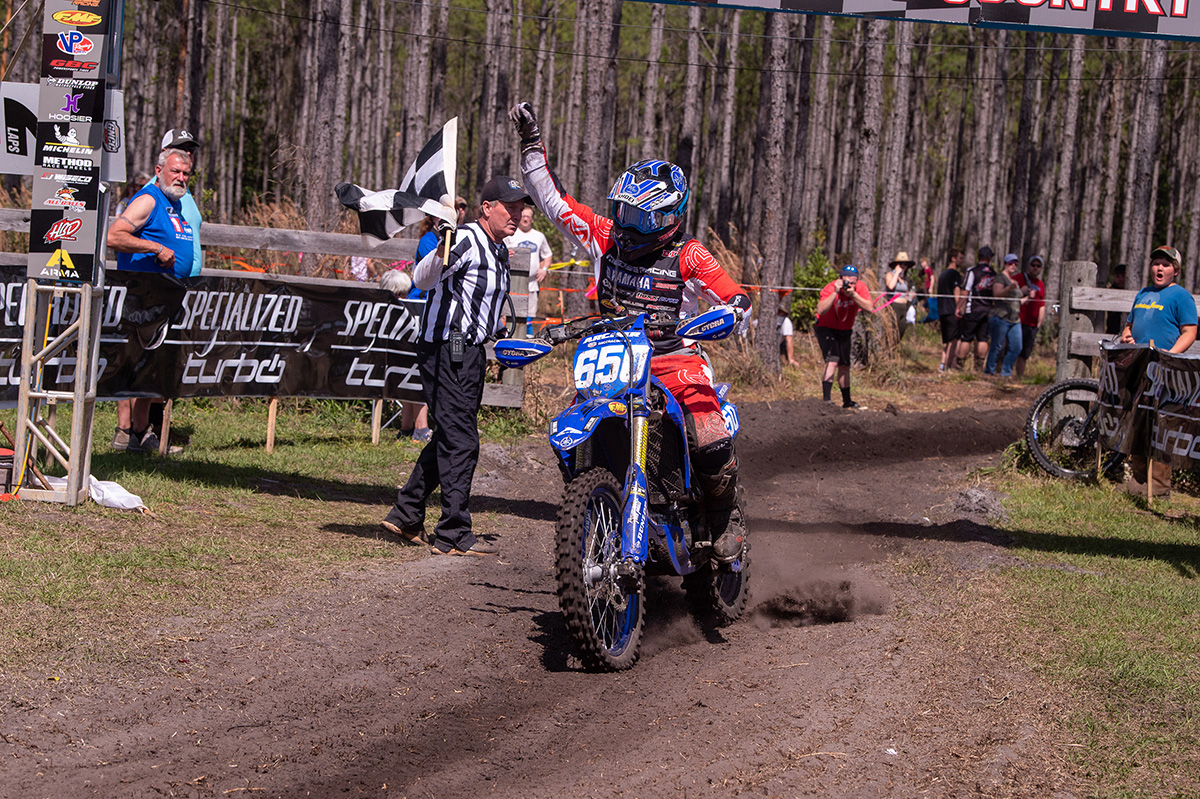 Trail Jesters KTM Racing's Korie Steede and Rockstar Husqvarna's Tayla Jones battled for the podium and initially not far from Archer's tail. Steede looked happiest in the chase and continued to push and catch Archer as the white flag came out but lost the tow on that last lap and settled for second overall in the WXC class in Florida.
Jones was another rider finding the conditions hard but held on for third overall, rounding out the WXC podium at round two.
AM race results – Wild Boar GNCC: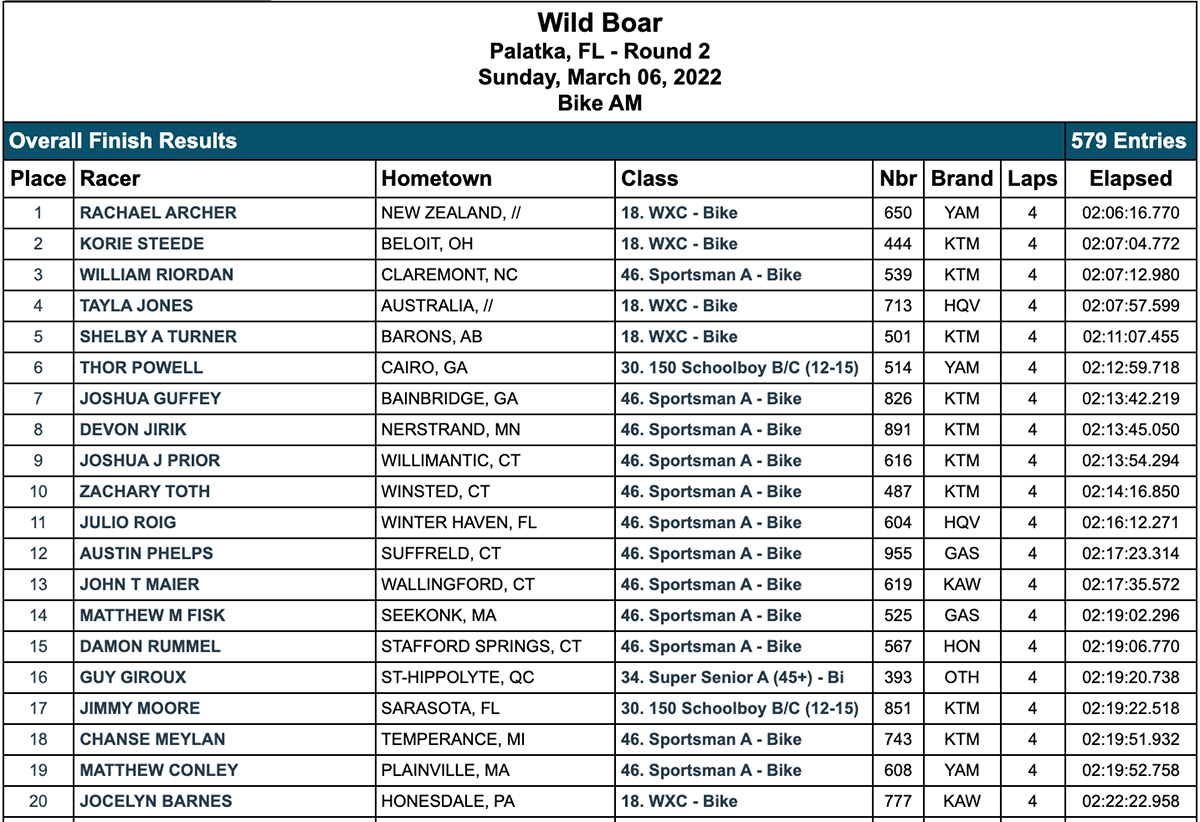 Round three of the GNCC series lands in Washington, Georgia for The General, next weekend on March 12-13.
Photo Credit: Ken Hill