Burr Oak GNCC: Last lap pass gives Baylor the win and championship lead
Steward Baylor's relentless 2021 Grand National Cross Country win rate finally brings him the points lead after taking the Burr Oak GNCC victory ahead of championship rival Ben Kelley.
If you are Ben Kelley it must have felt like a train has been coming into the station 2021 GNCC all season. A healthy points lead from early in the championship has slowly but surely been eroded as Steward Baylor ticked off the wins after a crappy start. It didn't, and doesn't, seem to matter how hard Kelley works at it or how close he gets, Baylor just keeps notching them up.
At the Burr Oak GNCC, round 11 of 13 this season, Baylor ticked off seven in a row but it wasn't easy this time. It all boiled down to the last lap after early leader Jordan Ashburn relented to Kelley around the half way point. Baylor was third and relentless with his pace in taking over Ashburn and, after one mistake from Kelley, the roles were reversed and Steward put the AmPro Yamaha across the line first.
This was despite riding with a knee problem from lap one, "I felt my knee pop on the first lap and couldn't really straighten my leg, I was digging deep all day." Explained Baylor.
"With two to go I made a little mistake on a log and then on the last lap I was putting some pressure on Ben and I saw him make the same mistake on that same log, so I knew he was cussing the same way I was. But that is racing and that was a fun day."
Speaking about the points standings and how that may or may not affect his mentality, Baylor seems as relaxed as ever, "I knew if I won I'd come away with the white plate but it was just another day. A lot of these guys put too much pressure on themselves and I've been there and done that.
"The last thing I want to do it say it is a life changing event if I win this championship or not. I love racing and if I come second and he wins I'll still be happy riding my dirtbike and I'll have a smile on my face."
Burr Oak GNCC results: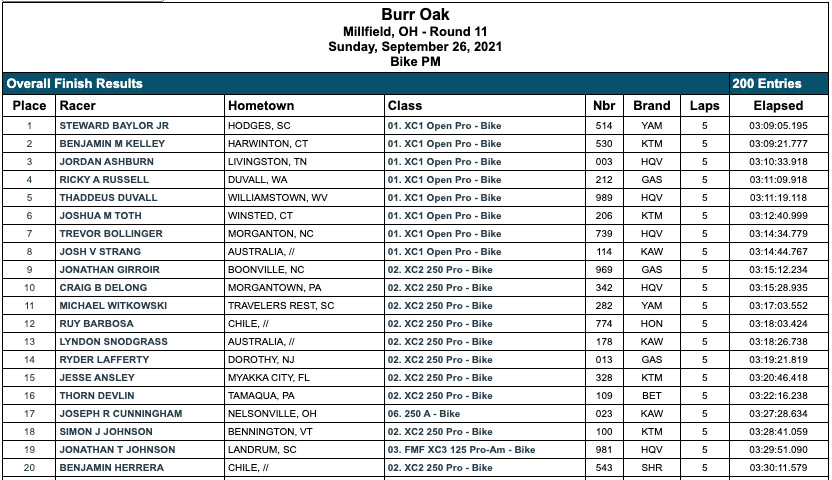 Learning lessons from Kailub
Baylor had it enough the other way around let's not forget. Kailub Russell was relentless in his pursuit of crossing the line first and could win from the front or snatch it on the last lap in equal measure. Baylor had a few lessons from Russell over the years and knows both how it feels and how to dish it out.
Those finishline celebration bike flips are sure putting a smile on fans faces…
Pressure off for Kelley?
Ben Kelley had less of a smile on his face at the Burr Oak GNCC finish line. The KTM USA pilot took over the lead mid-race and seemed to have it in the bag but a mistake cost him dearly.
You make your own luck in racing some say and Baylor put himself in the right place to take advantage when Ben made a mistake in the trees. "I felt like I was doing everything right, I just had a few mistakes and crashes out there that were all my own fault." Said Ben. "I pushed hard and did everything I had to do to get into the lead and halfway through the last lap I had a crash trying to go over a log and got tangled in some trees and it chewed off my shifter…I gave it my all and got second. I'll be back in two weeks to go for that win."
The consolation here though, after finally succumbing to the Baylor steamroller, is the pressure could be off Ben a little. He is the chasing rider now.
Overall points after round 11: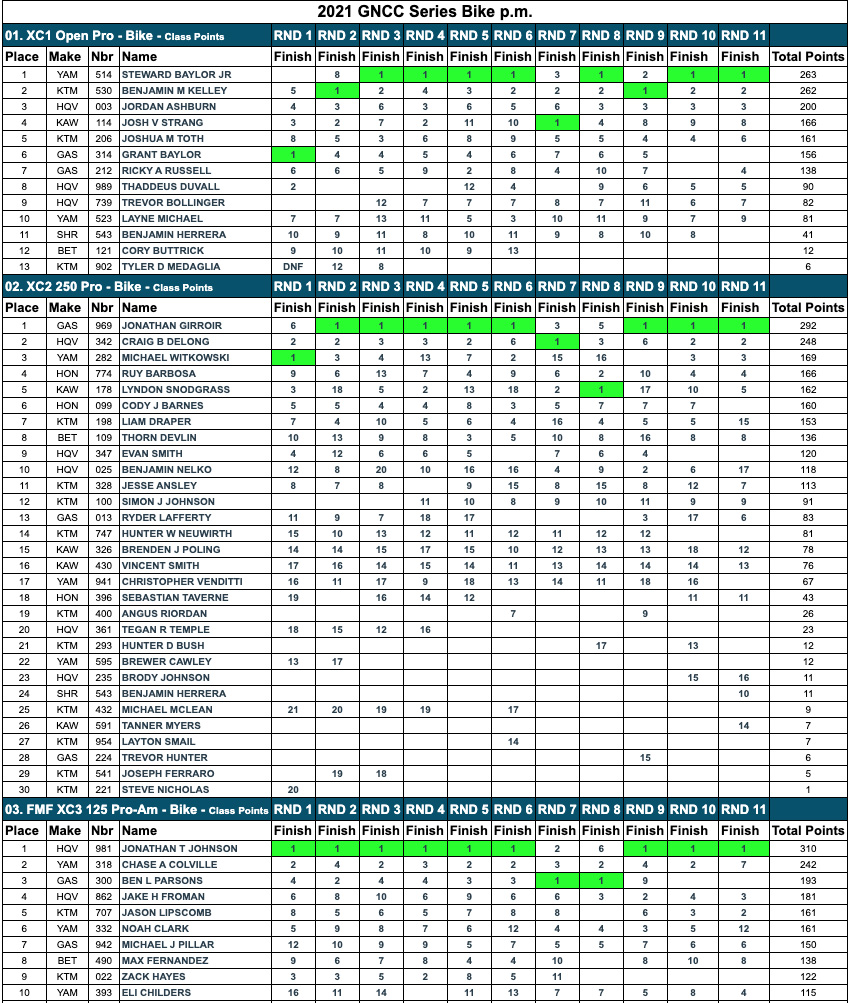 Jordan Ashburn was again up the sharp end of the Burr Oak GNCC and set the pace for the first half of the race. But a mistake when he admitted he was tired on the last lap saw the Tennessee rider not making a hillclimb and that allowed the lead two riders to get away – a win for this guy is surely overdue though.
Ricky Russell got the better of an equally intense fight for the best of the rest with Thad Duvall and Josh Toth for fourth, fifth and sixth.
Johnny Girroir XC2 champion elect
The points gap in the XC2 class is heavily swinging in Johnny Girroir's favour – he has a 44 point lead over Craig Delong in class after eight wins from 11 rounds.
Delong isn't letting go of his XC2 crown easily and hounded his GASGAS riding rival all race but it wasn't enough, again.
The XC2 riders finished ninth through to 16th with Mike Witkowski completing the podium ahead of Chilean Ruy Barbosa again fourth and Australian Lyndon Snodgrass rounding the top five.
Jonathan Johnson has been totally dominant all season in the XC3 class and with another win at Burr Oak, his ninth, he is the first rider in the major classes to wrap-up the 2021 national title with two rounds to go.
Becca Sheets takes big WXC win
The championship protagonists in the Women's XC class are keeping this one close right to the wire. Rachel Archer and Becca Sheets traded the lead during the race but Sheets says "I think I just had a bit better flow today" in taking her sixth win of the season.
The points position now is 291 to 289 in favour of Sheets with two rounds remaining.
WXC class points after round 11: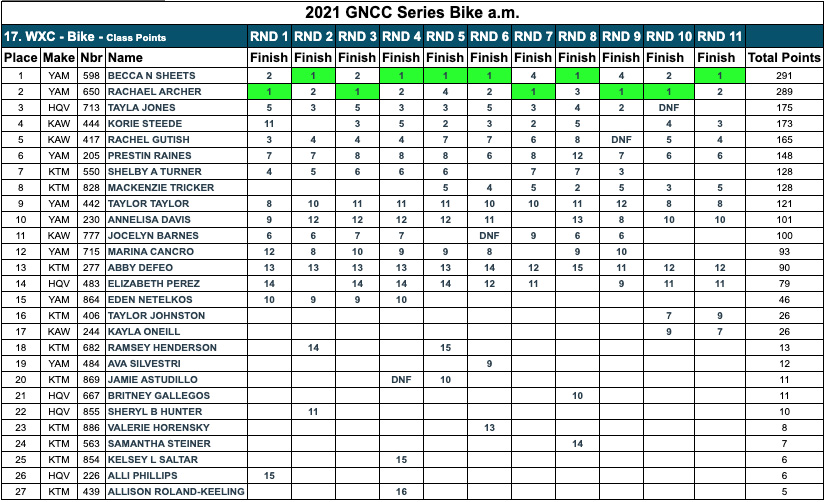 GNCC Racing continues with round 12 on October 9-10, the Buckwheat 100 in Newburg, West Virginia. The Ironman GNCC concludes the season on October 23-24 at Crawfordsville Indiana.
More information: www.gnccracing.com
Photo Credit: Mack Faint + Ken Hill