2021 GNCC: Game on as Ben Kelley wins Buckwheat 100 – Girroir claims XC2 title
A dominant but overdue performance by FMF KTM Factory Racing's Ben Kelley at the Buckwheat 100 GNCC reclaimed the AMA Grand National Cross Country championship points lead from Steward Baylor with one round remaining – Johnny Girroir had to work for it but claims the 2021 XC250 crown.
Ben Kelley came into the penultimate round of the 2021 GNCC season just one point down on Steward Baylor but on the back of seven-straight defeats at the hands of his Yamaha-mounted rival. To say he needed to bag a win was an understatement.
Kelley got off to a fifth-place start and moved his 350 XC-F into second-place by lap two. A lap later he took the lead and never looked back, steadily gapping Baylor to lock a two-minute victory at the end of three hours and setting up nicely a final round showdown on October 24 at the Ironman GNCC.
"I'm focused more than ever on this championship and today I just rode really good." Said Kelley, ending his win drought. "Some days you're just on it and I felt like that today – really smooth, really fast and the bike felt amazing.
"It was nice just to put a race together, stay off the ground and be able to charge hard. Stu and I are both fighting tooth and nail for this but everyone's got respect and can be friends. I'm looking forward to the finale at Ironman, hopefully I can put on a good show!"
"I ended in a tree, had a big crash…it was just one of those days" – Stew Baylor
"It was just one of those days." Said Steward after the race. "I felt like I had good speed and early on I felt like I could gain time but then just stupid stuff…little mistakes, a front-end push and I ended up in a tree. Then I had one big crash and that was kind of the game-changer.
"Some days you're on the track and everything clicks and other days it just doesn't, today was one of those days. But we'll be ready for Ironman. I've ridden well the last few times there and won it two of the last three times we've lined up so we'll look forward to that one and have fun either way."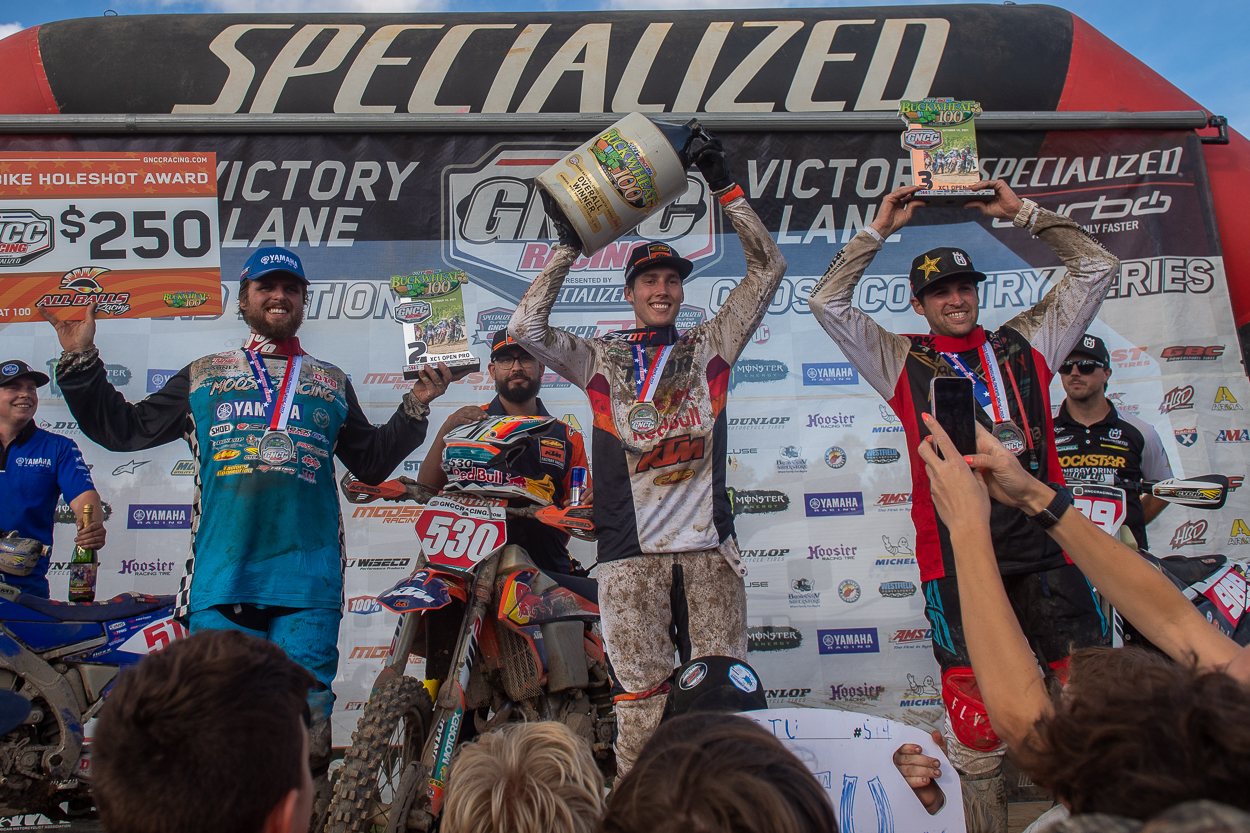 DuVall finally back on the podium
Rockstar Energy Husqvarna Factory Racing's Thad DuVall finally made his second podium appearance of the 2021 season on Sunday with a hard-fought third-overall at the Buckwheat 100 GNCC. After missing six rounds due to injury, Thad's return to the podium has been a long journey – even when he was back to fitness, bike issues have affected his results.
Thad shuffled around the fifth-place spot for most of the race before working his way into third on the final lap after a titanic battle with Layne Michael, Jordan Ashburn and Josh Strang.
"It's been a while since I've been up here on the podium," DuVall said despite having to push his bike the last few metres over the line. "The fans today were crazy, this is kind of close to home, so that kept me going all day.
"I don't think it's ever felt so good [to be back on the podium]. I've put in a lot of hard work the last couple years and it feels like it's been a lot. Coming into this year, I was probably in the best shape ever staying with Kailub [Russell] and I was feeling the mojo after getting second at the opening round but a stupid mistake knocked me out for a while. I came back, but still wasn't very comfortable so I went to Kailub's for a month-and-a-half over the summer and it was awesome. This feels good for sure!"
Buckwheat 100 GNCC results: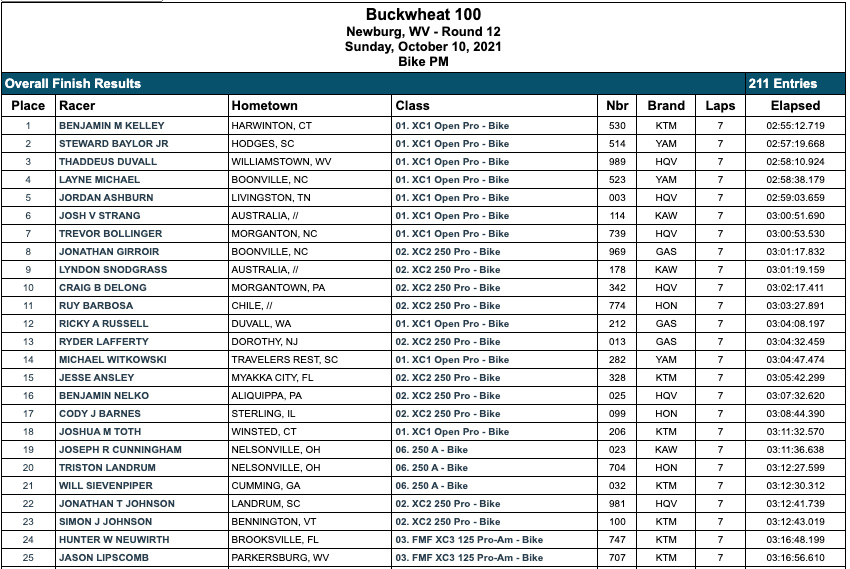 2021 GNCC points standing with one round remaining: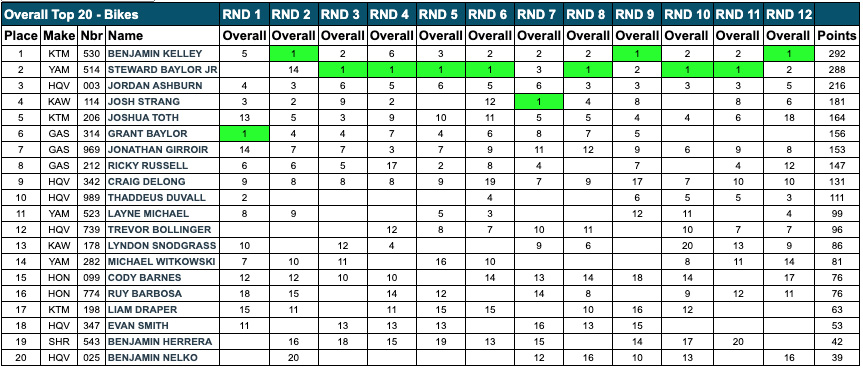 Johhny G claims first Pro-class crown
"A bit of a rollercoaster ride" seems about right for Coastal GASGAS Factory Racing's Johnny Girroir at the Buckwheat 100. Nobody said it would be easy but Girroir had to work hard to get through the pack and make a pass for the lead with just two laps to go.
The thing is Girroir only needed to finish inside the top five in XC2 to clinch the 2021 GNCC National Championship, but that ain't his style and it seemed like winning with a win was his only option.
Girroir would do just that as he crossed the finish line 1.3 seconds ahead of second, clinching the XC2 250 Pro National Championship.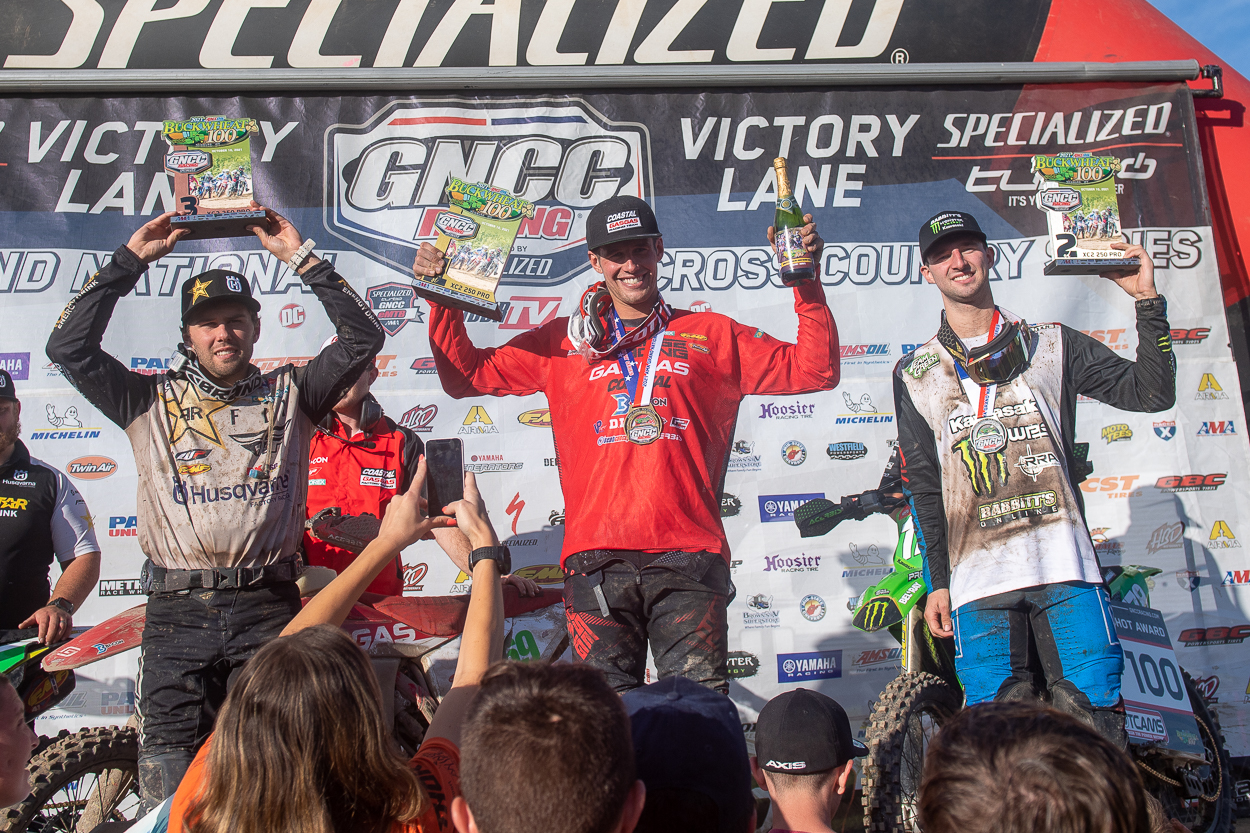 Babbitt's Kawasaki's Lyndon Snodgrass was back to form and ultimately presented Girroir with the biggest challenge – the pair were separated by just one second at the flag.
Third but in the mix for the win all race was defending XC2 champion Craig DeLong who held the lead for the early laps.
As has been the case all season, he couldn't hold off Girroir and with two laps remaining lost out to Johnny and Lyndon to cross the line third on the day and a second place in XC2 for the season.
Two wins on the bounce gives Archer points lead
Mackenzie Tricker grabbed another $100 Trail Jesters Holeshot Award at the start of the AM race on Sunday but the story was all about Becca Sheets and Rachel Archer who picked up their season-long battle at the Buckwheat.
Sheets made the pass on Tricker during the second lap with Archer not long after and the pair swapped the lead position throughout the remainder of the race in what was one of the best duels of the weekend.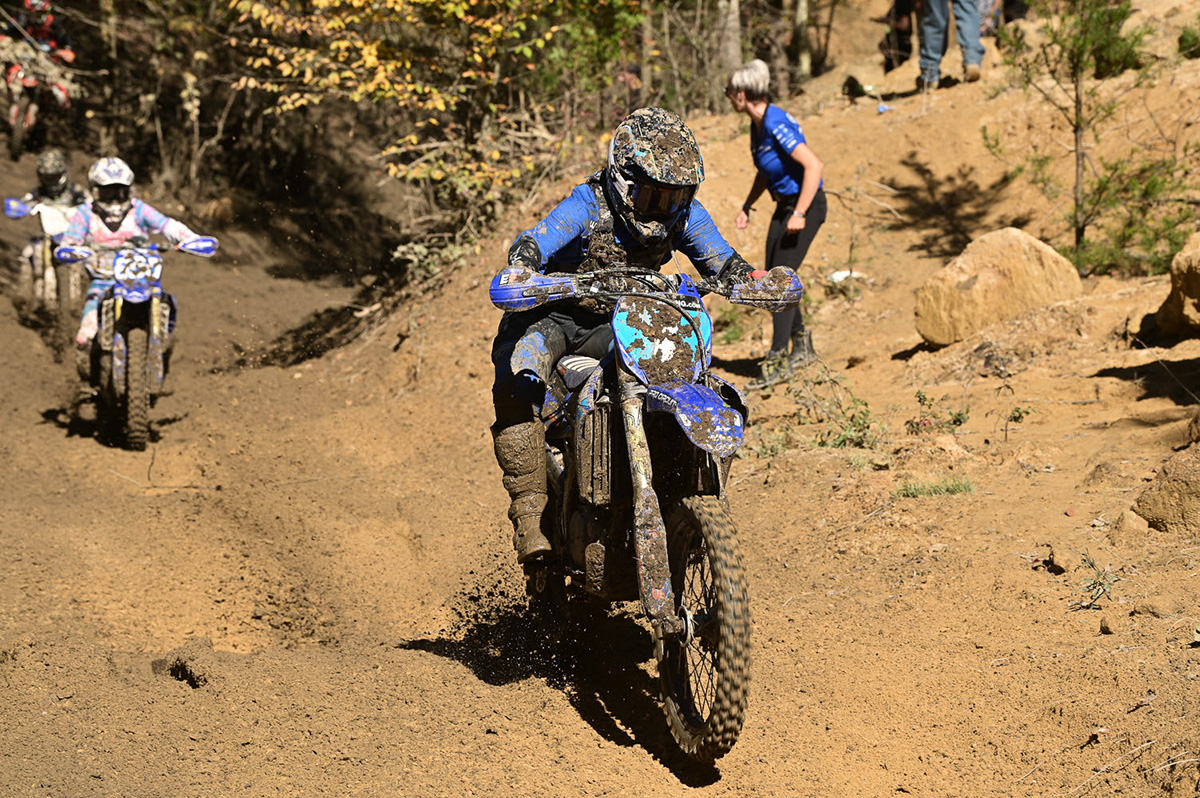 As the white flag flew, Archer out front but Sheets emerged from the woods for the final time in the lead position and with a six second margin crossed the line to take a very important victory in the WXC title race.
Archer has a seven point lead heading to the final race at the end of the month, the Ironman GNCC at Crawfordsville, Indiana on October 24.
Buckwheat 100 GNCC WXC results: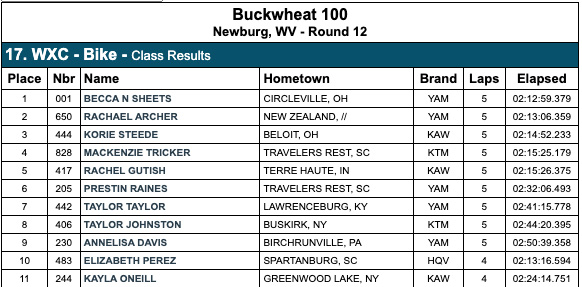 Photo Credit: Shan Moore + Ken Hill + Mack Faint