AMA National Enduro: Kelley beats Baylor at the Lumberjack
FMF KTM's Ben Kelley claimed his first AMA National Enduro Series win ahead of Steward Baylor who made a costly error in the opening test at round six of the 2021 season at the Lumberjack Enduro in Bergholz, Ohio.
The contest between Ben Kelley and Steward Baylor in the 2021 season is already established as a classic ding-dong duel for supremacy. The duo, who will both miss the 2021 ISDE next week, took advantage of the time they would otherwise have been walking tests in Italy to resume their season-long battle at round six of the National Enduro series in Ohio.
Despite not winning a test all day, it was Kelley who took his turn on the top step after finishing the day ahead of AmPro Yamaha's Baylor by 11.477 seconds.
With victory, Kelley became the fourth winner in six rounds of the series this year. The win was also Kelley's first since the 2019 season.
"It's been a long time coming," said Kelley. "The climbs were huge. Everything was on a hill, with a lot of off-cambers, deep ups and downs so you had to be cautious and try not to slide off the trail.
"I'm happy to get a national enduro win, especially since they're not my strongest format. I'm a little surprised but I'm pumped to get the win."
First test error costs Baylor
Stew Baylor won two of the six tests and though he had to settle for runner-up spot, he extended his lead in the championship chase to 40 points with just three rounds remaining.
Baylor was fast, as usual, but missed an arrow in test number one, which got him off on the wrong foot. "The last few races I've been trying to really start my day off with a good first test, but after that, that kind of just really frustrated me," said Baylor.
Swim halts Toth's winning run
Josh Toth appeared to be heading for his third-straight National Enduro win, with a strong lead after three tests. However, the FMF KTM rider buried his bike in a creek in test four and lost over five minutes pumping the water out of the engine.
"About halfway into test four, I came to a water crossing and hit a bad line where it was getting kind of deep and I committed." Explained Toth. "It was only about a foot or two across to go onto this riverbank. I tried to take a wheelie into it, and it just dropped off waist deep. It was murky water, so you really couldn't tell how deep it was going to be and unfortunately it got me."
Craig Delong seems to be getting his enduro legs under him. The Rockstar Energy Husqvarna rider was in the battle for first place with Kelley and Baylor heading into the final test but came up just short and settled for third.
"It was kind of a bit of a nail-biter there at the end," said DeLong. "We weren't sure how it turned out at the finish. I knew we were going to be on the podium, but we were in the hunt for the win."
DeLong's Rockstar Energy Husqvarna teammate Trevor Bollinger had another solid day heading back into form he is capable of and finishing fourth.
"I felt good first couple tests, but I had a few crashes the last three tests," said Bollinger. "It just sucks I had those crashes. I feel like I could have been on the podium or even been in the fight to win the thing. But we're in the right direction. We've just got to clean up a few things."
Coastal Racing GasGas' Ricky Russell had a consistent ride for a top-five finish, finishing fifth in four of the six tests.
Ansley in charge of Pro 2 class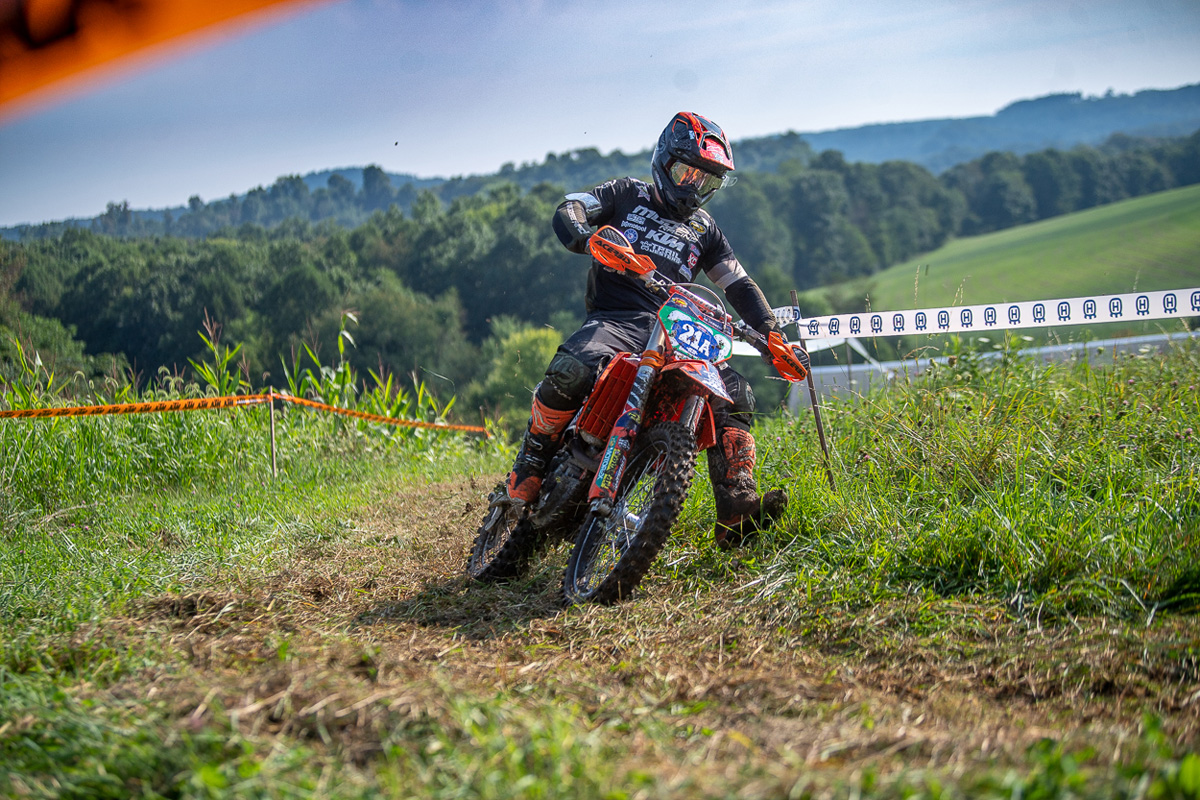 It seems that Jesse Ansley can have a bad day and still win the NE Pro 2 class. The Trail Jesters Racing KTM rider now has six-straight Pro 2 wins and was a solid sixth in Ohio.
"My riding wasn't the best," said Ansley, "I just couldn't really find that flow like I needed to. Me and this terrain here don't really gel that well. That's something I need to work on for sure for the future."
XC Gear/Enduro Engineering/Moose Racing/Husqvarna's Ryder Lafferty bounced between sixth and seventh all race and finished off the day in seventh overall.
Former pro motocrosser Broc Hepler made a rare national enduro appearance and came away with a respectable eighth overall and second in the NE Pro 2 class.
Seven-Sixty Husqvarna's Ben Nelko, who won the NE Pro 2 class in Ohio last year, battled with Ansley for first in the class. Nelko was third NE Pro 2 rider and ninth overall ahead of Toth in 10th after his mishap in the creek.
Archer nails Women's Elite class
Despite crashing in the first two tests, Rachel Archer (AmPro Yamaha) won three of five tests to top the Women's Elite class. "I had no idea where I was sitting, so I just pinned it every test," said Archer. "I ran into some lap traffic and got tangled up. Then I managed to get out of it the next three tests and take the win."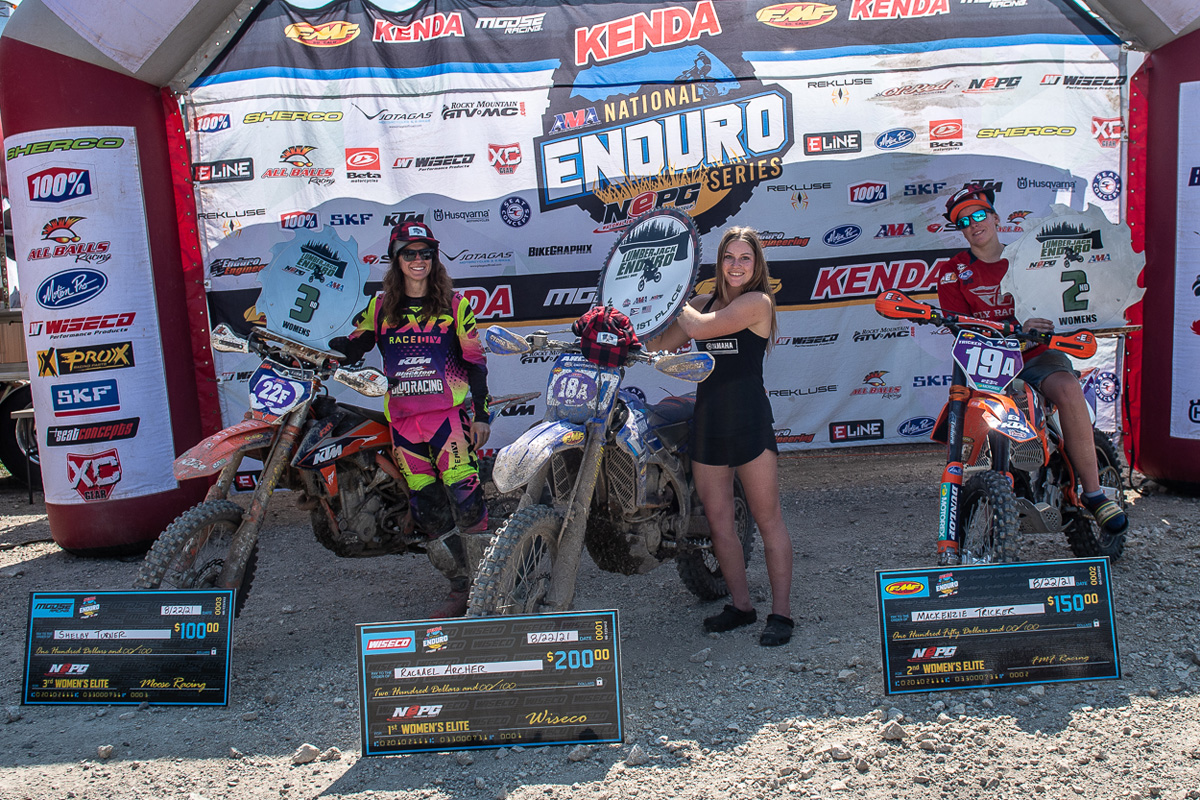 Enduro Engineering/Fly Racing KTM's Mackenzie Tricker won the remaining two tests for second in class: "It was a really good day honestly, until the last test," said Tricker. "I got stuck on the last hill right at the end of the test. I got to the top of the hill and it was the end. I ended up losing a minute and a half, which I think ended up messing up my day. I was leading going into that test. Honestly, I worked really hard since Pennsylvania. I made some big improvements and I was able to compete with Rachel today."
FXR/KTM's Shelby Turner finished third, ahead of Rachel Gutish, now on a Kawasaki alongside Kori Steede.
Dakota Devore won the AA class on a KTM, with Tanner Whipple (Kaw) and Nathan Rector (KTM) rounding out the top three.
Nicolas Haftl (Hsq) took the Open A win, with Zach Huegel (Yam) in second and Josh Monsrud (KTM) third.
2021 Lumberjack National Enduro results (top 20):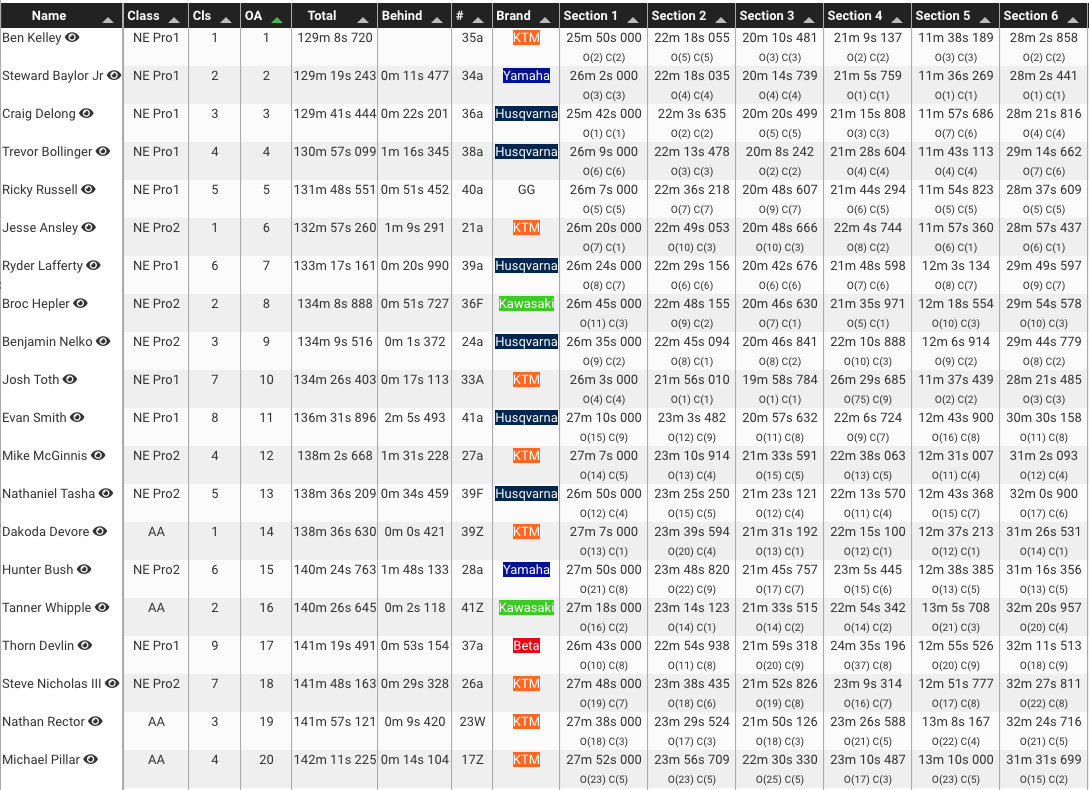 The AMA National Enduro Series resumes on October 3 with the Muddobbers Enduro, round seven of the series in Matthews, Indiana.
More information: www.nationalenduro.com
Words and Photo Credit: Shan Moore