GNCC 2023 kicks off this weekend – Who's aiming for Jordan Ashburn's No1 plate?
Magna1 Motorsports Husqvarna's Jordan Ashburn will sport the number one plate at this weekend's opening round of the 2023 Grand National Cross Country series, the Big Buck GNCC in Union, South Carolina.
It was a season of consistency and determination that brought Jordan Ashburn a long earned maiden senior National Championship title last year – a victory also for all those privateers in the face of immensely strong factory teams in America's highest profile off-road racing series.
As is the way of life, apart from that coveted number one on his front board, it all flips back to zero with the start of a new season and Ashburn will certainly have a long list of riders ready to take it away over the course of 12 rounds finalising in October.
Stepping up to XC1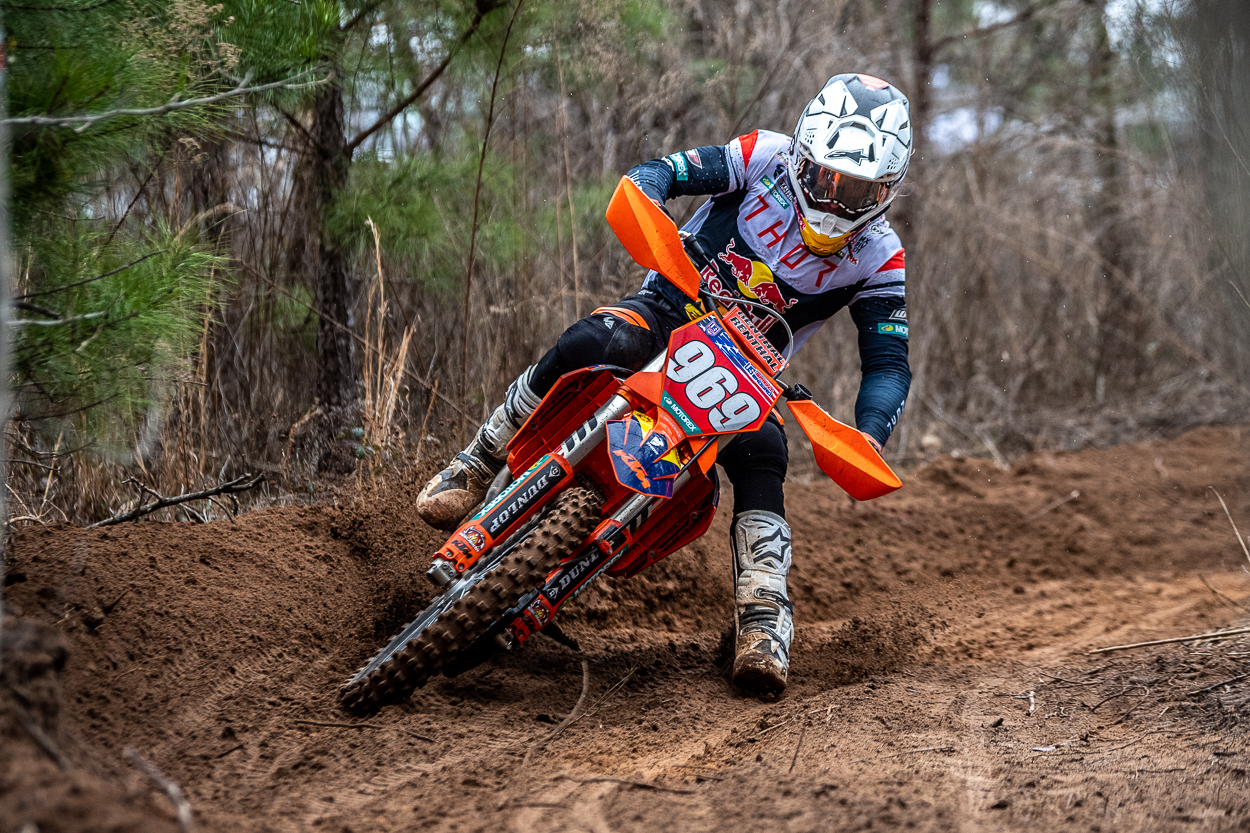 The XC1 class has a whole list of movers and shakers this season, podium contenders moving teams, returning from injury or with points to prove. The list of riders returning from injury includes FMF KTMs early runaway leader last season, Ben Kelley and Rockstar Husqvarna's Trevor Bollinger. An outing in Enduro earlier this month was his first, rusty step into action after that broken leg so don't expect fireworks here yet.
On the other side of both those factory tents are a couple of riders well and truly ready to step up, Johnny Girroir and Craig Delong. Delong has a season in XC1 on the Husky under his belt now and knows what's needed but arguably the pre-season's hottest prospect is Girroir on the big KTM.
Stepping up to the main class can be a recipe to get bitten but this guy has started his season with Enduro wins and looks ready for it. After dominant form on the 250s, Johnny has long looked ready for an upgrade and bets against him winning in his maiden XC1 season would be brave ones.
Riders making a move back to former teams include Steward Baylor now on the Rocky Mountain ATV MC, Tely Energy KTM Racing team – aka the A-Team…
AmPro Yamaha have a couple of high-profile movers too with Ricky Russell who should have been joined by Zach Osbourne but the former AMA MX champ is also sidelined with an elbow injury for now.
Babbitt's Online Monster Energy Kawasaki Team Green's Josh Strang will also be back to GNCC Racing this weekend after injuries plagued him last season. Perennial contender, Strang is joined on the Green Team by National Enduro champ Grant Baylor this season and the younger Baylor brother has history at Big Buck.
Anther perennial contender Thad Duvall has moved to the Coastal GASGAS Factory Racing and equally is always a rider to watch for the overall. That's 10 potential winners and counting…
Red plate defence for Snodgrass
In the XC2 250 Pro class Babbitt's Online Monster Energy Kawasaki Team Green's Lyndon Snodgrass will defend his 2022 National Championship and number one plate much like his XC1 counterpart.
Behind the Australian, things are much more open with a string of riders overdue a step-up of their game for a national title. That includes Coastal GASGAS Factory Racing's Ryder Lafferty and Phoenix Racing Honda's Ruy Barbosa are among those although the season will be poorer for the fact there are no junior riders for the official KTM and Husqvarna teams who've bred so many champions for so many seasons.
After earning the win in the FMF XC3 125 Pro-Am class last season, Magna1 Motorsports Husqvarna's Brody Johnson will make the move up to XC2 250 Pro. This will leave the door open for some fellow XC3 racers to earn the win and a National Championship this season. Spykes KTM/Husqvarna/FXR/Shoei's Jake Froman will look to be a front runner in the class this season, and newcomer Bells Electric/FXR/FC Suspension's Toby Cleveland will aim to get another win under his belt after earning his maiden win in his first-ever XC3 race last year.
Title defence for Archer
After close racing all last season in the WXC class, AmPro Yamaha's Rachael Archer is aiming to defend her National Championship this season.
Archer will have Trail Jesters KTM Racing's Korie Steede among the riders hot on her heels, aiming for more overall wins in the AM races beginning this Saturday.
Unfortunately, Rockstar Energy Husqvarna Moose Racing Surge Off-Road Coaching's Tayla Jones suffered a bad pre-season crash and will be sidelined for a while.
More information: www.gnccracing.com
Photo Credit: Magna1Motorsports + Shan Moore