2023 GNCC results: Steward Baylor bags Big Buck victory – was it the last ever loop-out?!
KTM riders dominated the opening round of the 2023 Grand National Cross Country (GNCC) Series in Union, South Carolina with Steward Baylor taking home the Big Buck trophy ahead of Ben Kelley and what's this, the threat of a last-ever loop-out?
A holeshot for XC1 rookie Johnny Girroir was a fast start but it wasn't too far into the first race of the season before Steward Baylor took the lead and set about blitzing a gap which ultimately he would control to the finish.
Baylors make a habit of winning at Big Buck and on their native South Carolina soil but it wasn't without close attention from Ben Kelley who was impressive for his first three hour race back following a major leg injury midway through 2022.
Ricky Russell was along for the ride also and after the lead three got past a fading Girroir (who eventually finished 20th overall), the gap ebbed and flowed as pit stop strategy played a role. But Baylor had enough in the tank to put in some fast laps at the end of the race and take anotehr popular win:
"I'm really pumped on the way I started even though I didn't have the greatest starting position." Explained Baylor after his first race back on the Tely KTM. "I was right up in the front, made a couple of moves and by the end of lap one, I found myself in the lead.
"I'm one of those riders that once I get clear track, I can ride my own race and that's what I did! I felt the pressure there for a little while as the guys started reeling me in, but I was able to find another gear with two to go – the track was really gnarly, but I was able to find a couple of seconds to win the event."
Last-ever loop out?
The only question left unanswered as Baylor approached the finish line was would he do one of his trademark loop-outs?
"I told myself I wasn't goanna loop the bike but the crowd was awesome, so this is the last one. Hell, it's been stressful, it's been tough, we've been wearing a lot of hats lately to make it happen but big shout out to the Rocky Mountain guys, they're carrying us right now."
Kelley pumped with P2
The fight for the podium behind Baylor was interesting as FMF KTM's Ben Kelley took his first three-hour race back from a broken femur last year and showed impressive form. He battled with AmPro Yamaha's new signing Ricky Russell for much of the race and was happy to pull off P2: "It's good to be back GNCC racing. I started back of the pack and was just feeling it out. We were running like a freight train and I just picked off guys until I got through to third where I had a good battle with Ricky.
"I snuck by him on lap three and I was pushing to stay smooth and stay off the ground. We caught Stew at the pit change around but by that time I was gassed. He picked up the pace and I had nothing.
"P2 is way better than I expected. I wasn't even sure if I would be out here. I had the mindset to get points but once you're out there will power and pride kicks in."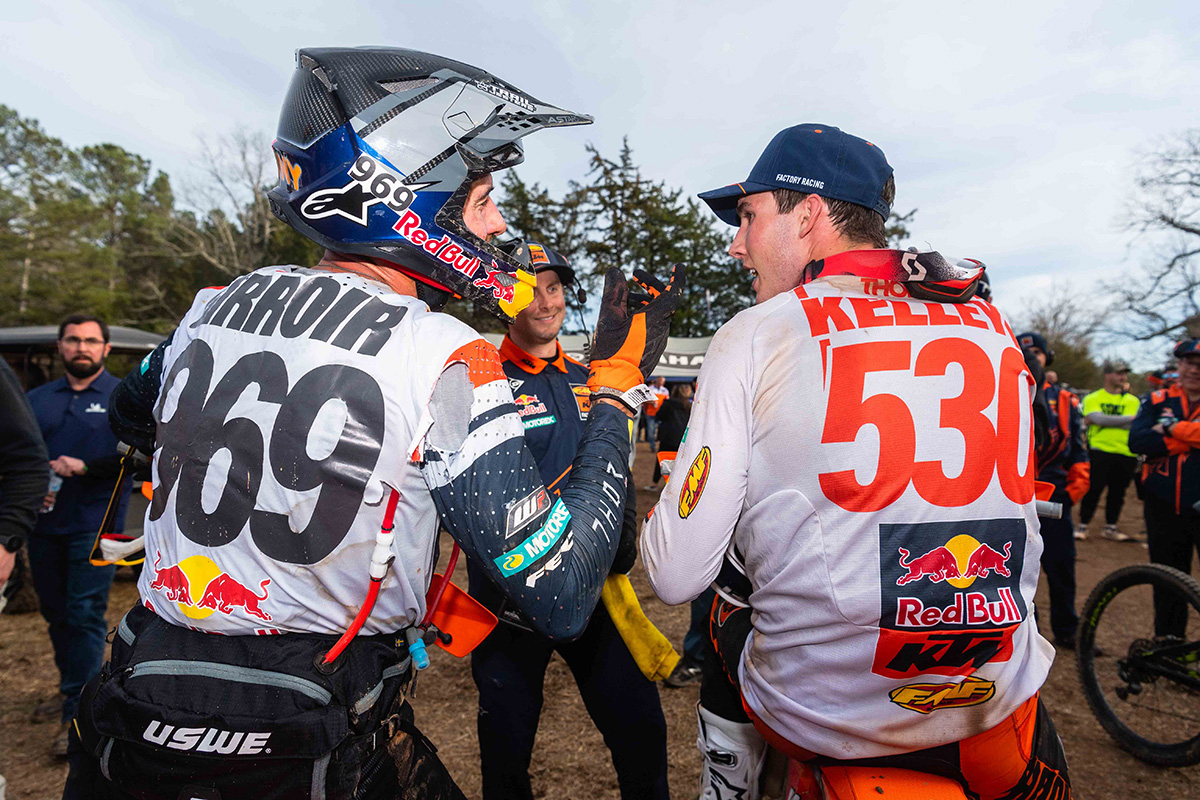 Speaking after his third place finish on his first GNCC race under the Yamaha tent, Ricky Russell says he needs to do some homework on the last hour of the race: "I was trying to race Stew at the start and he was riding great and I made some mistakes and tightened up a bit. After that I waited till I loosened up and Ben got by so I just tried to latch on. I rode well but kept losing ground. It felt like every time I felt comfortable there, something happened. Speed was there, I just got a few things to work out in that last hour."
Ashburn's title defence start with P4
Reigning GNCC champ Jordan Ashburn was fourth after race-long fight with Craig Delong and a close-knit pack including Layne Michael, Grant Baylor and Thad Duvall. As the white flag flew for the final lap, Rockstar Husky's rider had gotten by the reigning champ and the pair were pulling themselves into towards Ricky Russell, but Ashburn pulled a fast final lap and edged away for P4 ahead of Delong fifth, Grant Baylor and Duvall.
2023 Big Buck GNCC results: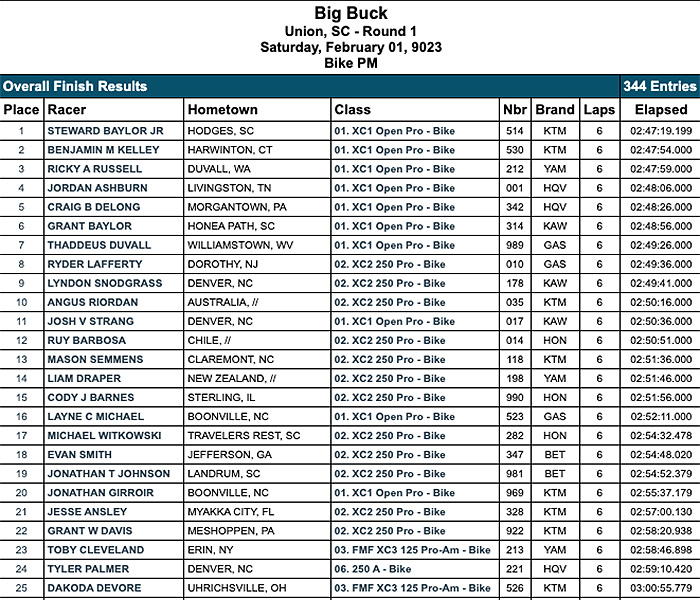 XC2 250 class seperated by seconds
XC2 class saw 2022 champ Lyndon Snodgrass and Even Smith battle for the holeshot, running each other wide at turn two, letting Ruy Barbosa through as the pack headed into the woods for the first time.
The Chilean Phoenix Honda rider set a solid pace with Snodgrass always on his tail, the pair pulled inside the top 10 overall quickly.
Cody Barnes got the better of his Honda teammate for second by half way but was soon overtaken by the battle for eth win between Angus Riordan, Ryder Lafferty and Snodgrass. That trio had a hell of a fight in the final couple of laps for the XC2 podium with Lafferty eventually getting the win ahead of the two Australians, Snodgrass and Riordan.
Shout out to Toby Clevland leading the way home on the XC3/125 class. Toby was quickly in the lead off the start and was pushing past the XC1 and XC2 guys up to almost top 10 overall at one point before dropping back to finish just a couple of places behind Girroir. Not bad on a 125 smoker!
Steede and Archer "give it everything"
With the lead swapping six to eight times during the last lap and both Korie Steede and Rachel Archer separated by nothing in the main morning race, the WXC class delivered a classic at Big Buck.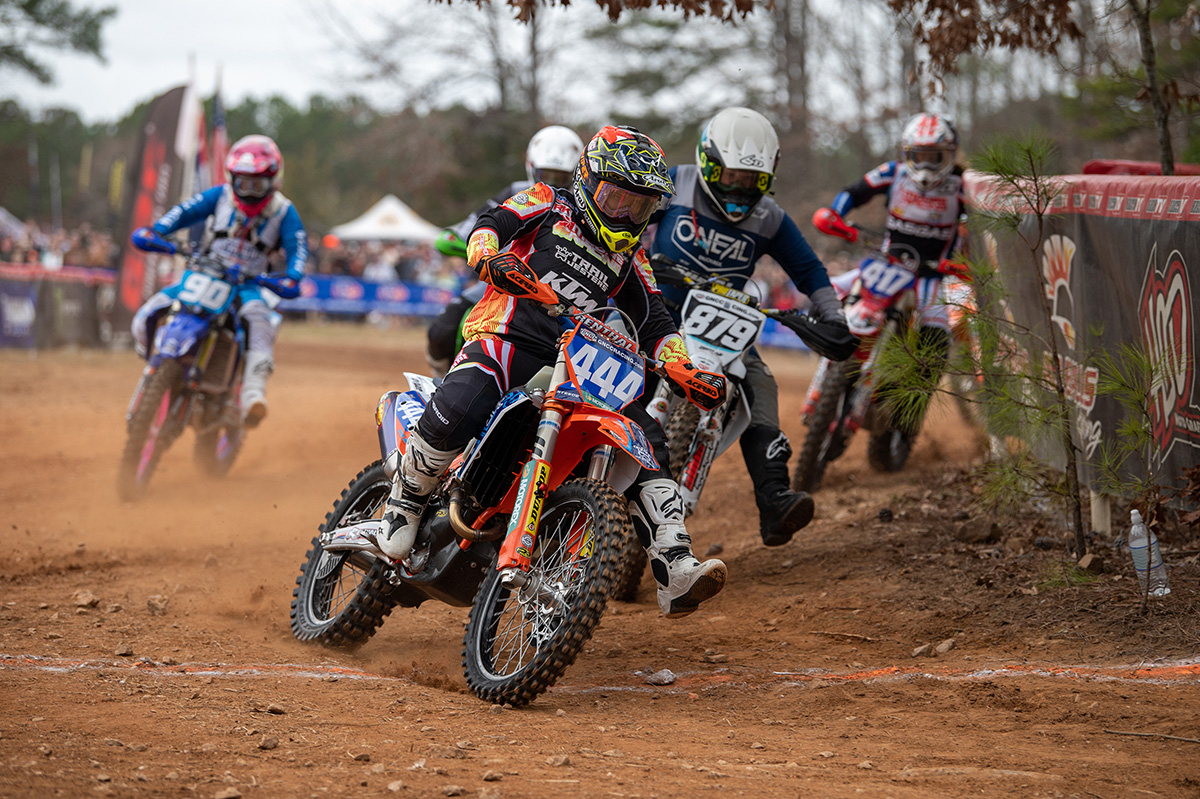 In the end it was Steede who took the opening round Women's class win, taking the AM race ahead of the reigning champion Archer: "It was gnarly out there, we were both giving it everything. I'm so happy to get the win."
Big Buck AM race 2 results: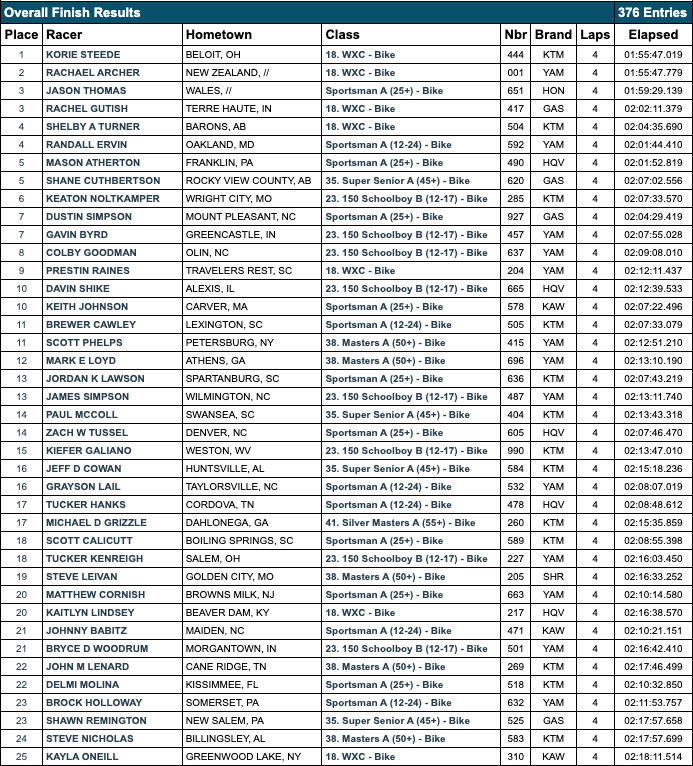 Photo Credit: Mack Faint