GNCC Results: Baylor takes fourth victory of 2021 at Hoosier  
Round six of the 2021 Grand National Cross Country (GNCC) Series at the iconic Ironman Raceway saw Steward Baylor take win number four and Becca Sheets beating Ryan Sipes for the morning race overall win.
It seems that no matter which part of the USA GNCC lands, demand to get out and race is on a high this season. Even when it is the notorious Ironman course like it was this weekend, 750 riders in the morning race and over 700 for the afternoon, three-hour main event this Sunday are typical numbers.
The Hoosier GNCC was the new name for the first visit to Crawfordsville, Indiana this season and saw a different track to the usual Ironman course through the woods and open farm fields. It was more free-flowing in places but still featured the muddy bomb holes and water crossings...
Baylor's fourth win of 2021, despite crashes
The main event saw Jordan Ashburn head Thad Duvall to grab the holeshot before the Am Steward Baylor and Layne Micheal, along with Ashburn pulled a gap on a gaggle of riders jostling in the top 10 positions.
Baylor's strategy since getting on his early-season DNF and 14th place finish has been to get to the front early and set a relentlessly fast pace. With his teammate Layne Michael along for the rider, the AM Pro Yamaha pairing had over half a minute lead at the halfway point.
But mistakes – Baylor "went swimming" according to his team manager – meant the lead began to shrink as championship leader Ben Kelley knocked out faster laps and closed them down.
A lead of over 40 seconds dropped to under 10 at one point as Baylor hit a rough lap littered with crashes and issues with lappers. Kelley had been working hard to get in touch which meant he had no answer to Baylor's "heater" lap which followed. The gap grew again and Steward took his fourth win in succession. It means the once huge points deficit has reduced to just five at this halfway point in the 2021 series.
"I got a pretty good start and made some passes to get in the lead in the first mile. I was ok with following him. We were carrying a phenomenal pace." Explained Baylor.
"From there we kind of separated ourselves for a while but we just had one lap where we just got stuck with the lappers and got stuck in a mud hole and we went from 40 seconds up to seven seconds up. I made a lot of mistakes I made a lot of mistakes, I think in one lap I got cleaned out by three lappers and then fell on my own once.
"But I was able to put a pretty good heater lap down with I think three to go. I knew I had to focus and nail my marks and on the white flag lap the lead was 17 seconds and I just kept my head down and rode my own race to take home another one."
2021 Hoosier GNCC XC1 Pro results: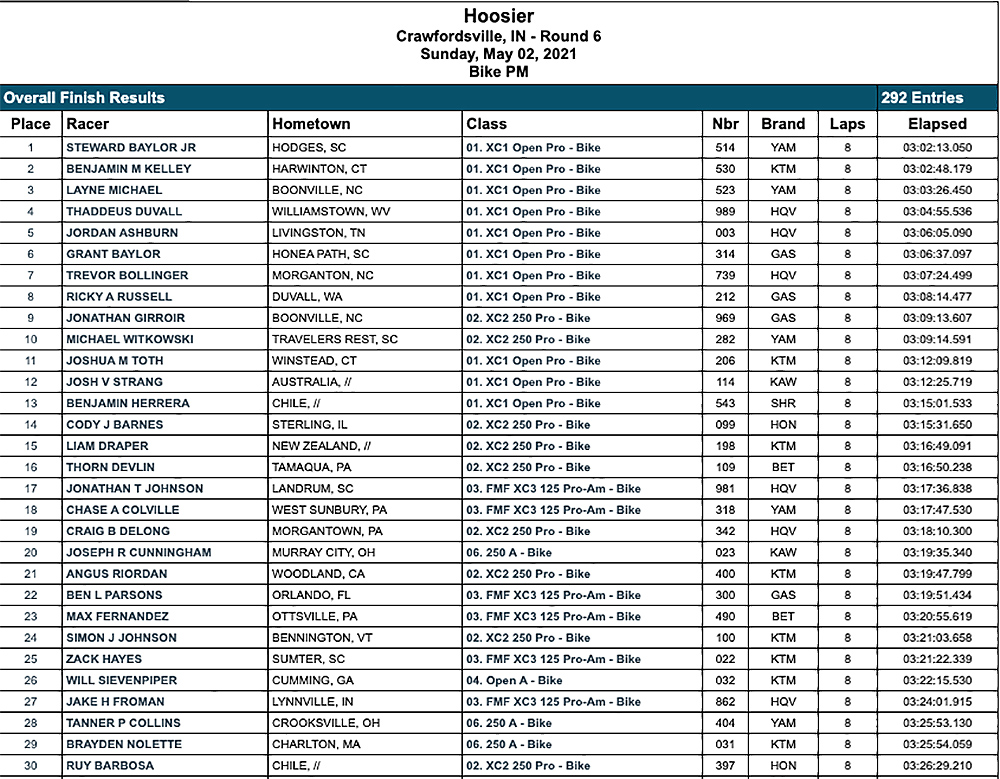 Improve early laps admits Ben Kelley
By his own admission, GNCC points leader Ben Kelley probably lost this race in the first two laps. A short and sharp second pitstop by the KTM team separated Kelley from the pack and unleashed him to set faster laps and close in on the lead pairing. The trouble was when Baylor put down that hot penultimate lap, Kelley was spent.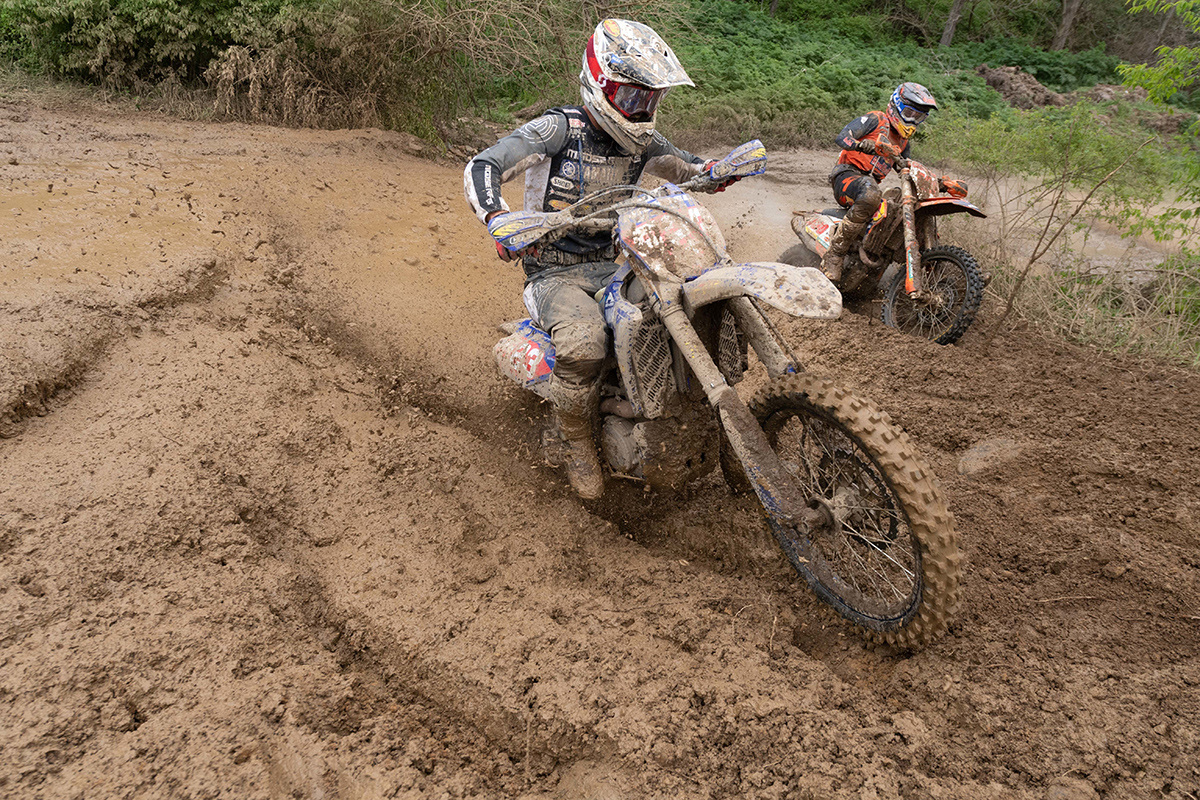 "It was a solid race but I've got to be better my first two laps and get on Stew's wheel early on." Said Kelley. "I know if I'm there, I can make it happen in the end, I've done it before. Hats off to him and everyone else, they rode well. The track was gnarly and rough but I had fun and gave it my all, second-place was what it was today."
A.O.B.
If the limelight is being hogged by the battle for the championship, then it is taking something away from at least one other rider, Thad Duvall. Thaddy was on the podium at round one but then got injured just a week later. Back for round five, the Rockstar Husqvarna rider had a stick rip a fuel hose off and ended up 12th after a lengthy stop to fix it. This weekend finally things came good and the multi-time GNCC runner-up brought it home in P4.
"I tried to ride my own race at the beginning but I made a lot of mistakes and got super tight," Duvall said. "I felt really good towards the end, so I just kept hammering. To come out and get fourth at the first race back, I'll take it. It's a good building block so we'll keep building up the pyramid and hopefully we'll get some wins."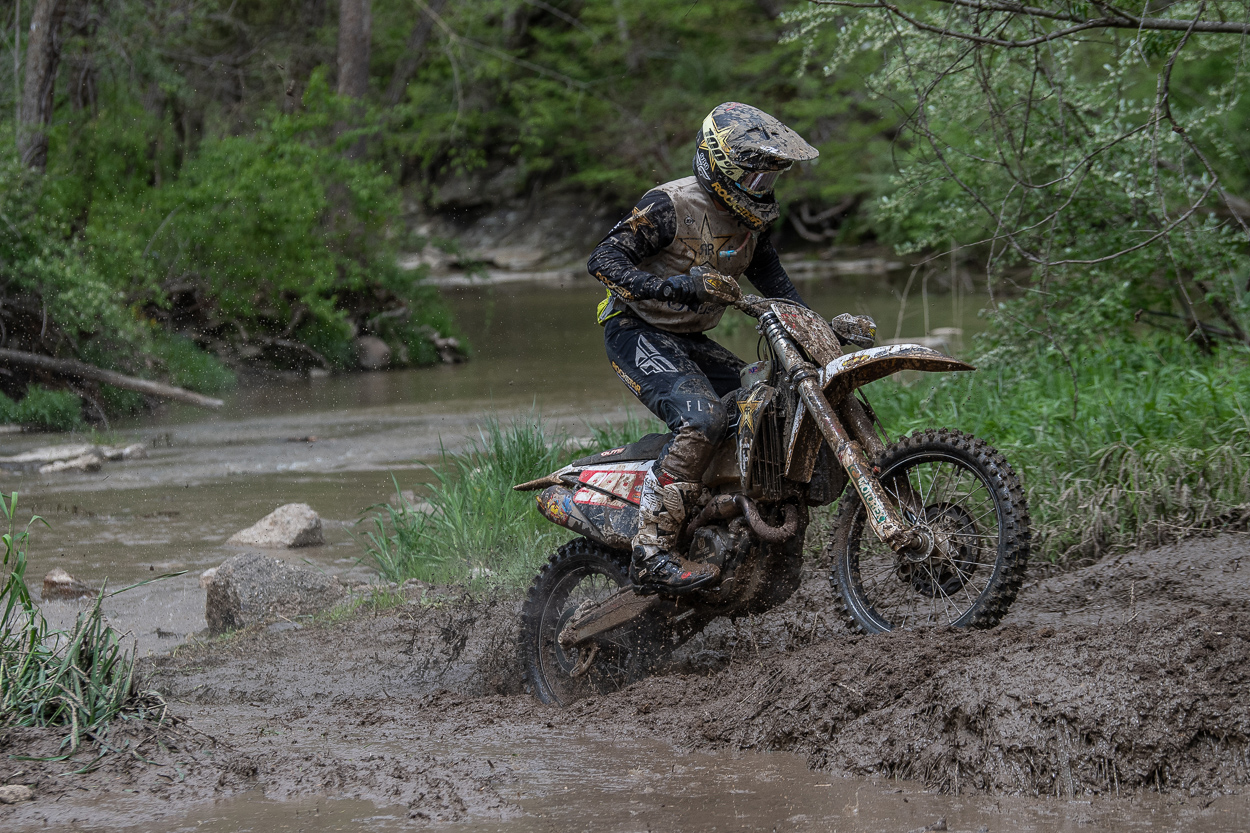 Could it get any worse for Josh Strang and the Babbitts Online Kawasaki Team? All too often the green bikes have had to call in the pits mid-race and the Hoosier was no different. This time it was a chain guide causing the Australian to pit after nestling in the pack of riders fighting for the podium.
Josh is not out of it at the halfway stage of the championship if Baylor is anything to go by, he sits in fifth and 40 points behind on 92, but he has his work cut out and it feels like these guys can't buy luck right now.
Johnny G show in XC2
Looking at the results and seeing a fifth win on the bounce for Johnny Girroir on the Coastal Racing GASGAS might have you thinking this is getting easy. It wasn't. Mike Witkowski was yet another Yamaha rider leading their class with Girroir fighting from fifth to P2 by mid-race.
The pair went nose-to-tail for the second half of the race, swapping the lead all the way to the flag which Girroir just nailed by under a second.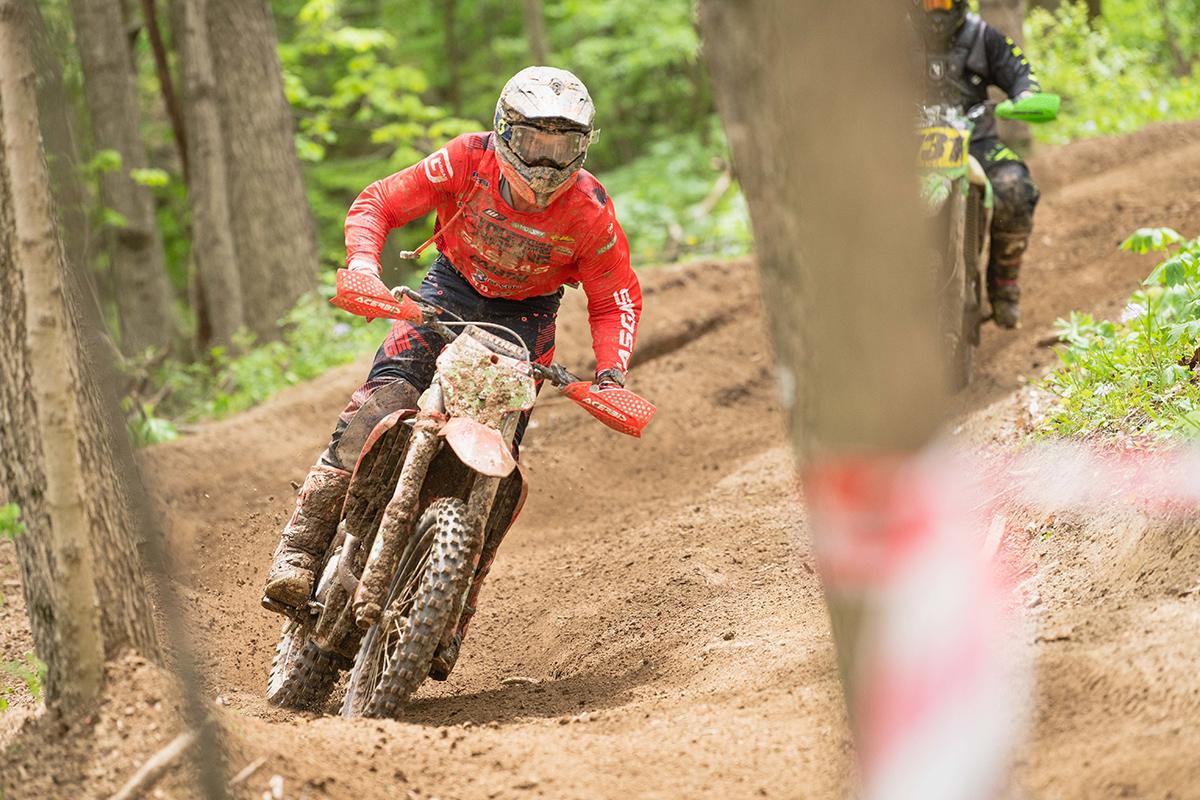 "For sure I had to work hard for that." Said Girroir. "Mike was riding fast and smooth and it is hard to compete with smooth and fast. We had a hell of a battle all race. He ended up sliding out in the last lap and I knew I had to take that right then and there.
"He ended up catching right back up and pushing me all the way, that last lap was a real heater."
Asked about his now points lead if it affects his race strategy, Johnny said: "Na, I wanna win. That's what we're here for."
XC1 + XC2 Championship points after round six: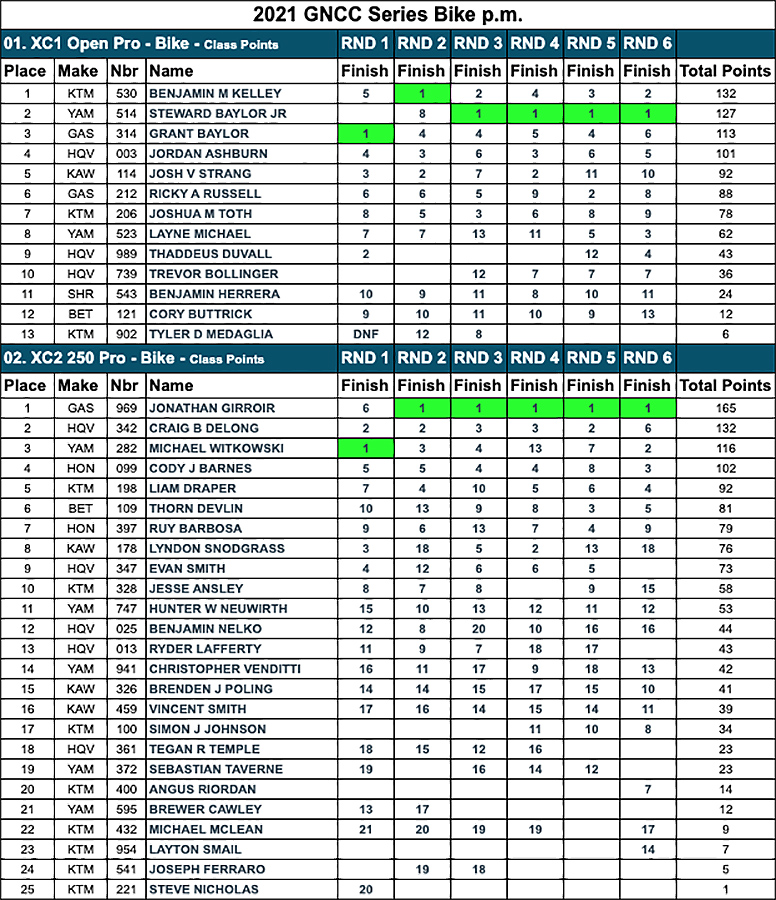 Sheets beats Sipes
As if Becca Sheets needs added motivation for winning these morning races – she has won four now this season – the added spark of beating both Ryan Sipes and Travis Pastrana (as well as the rest of the WMX field) produced an inspired race win from the BABS Racing Yamaha rider.
Rachel Archer finished a minute behind, second in class and third overall after clocking a nearly identical time to Sipes over race distance. After taking her Kawasaki to the holeshot in the morning race, Korie Steede brought it home third in class. Sheets who now sits on 170 points, 17 ahead of Rachel Archer.
2021 Hoosier GNCC AM bike race results: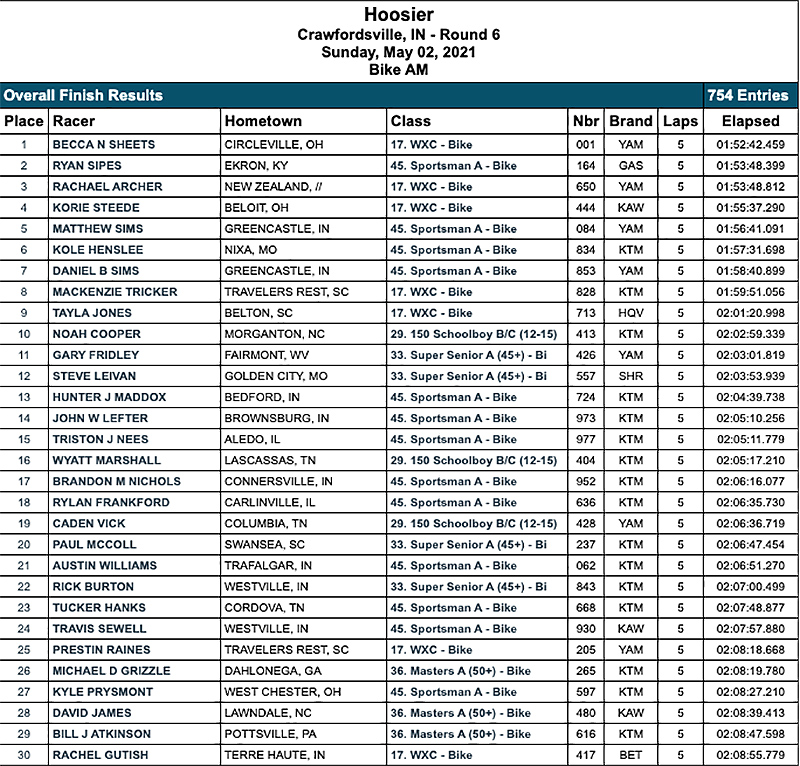 Photo Credit: Mac Faint + Shan Moore