GNCC Results: Josh Strang takes 2021 John Penton GNCC win
Josh Strang turned the tables on a troubled 2021 season to take his first victory in "brutal" conditions at the 34th John Penton GNCC ahead of championship leader Ben Kelley.
With temperatures around 90 degrees, it was hot and humid Sunday Creek Raceway in Ohio which saw round seven on the 2021 Grand National Cross Country Series. The 34th running of the John Penton GNCC promised much with Steward Baylor on a winning run and closing down Ben Kelly's championship points lead as the series reaches the half way stage.
When the flag fell Ricky Russell put the Coastal Racing GASGAS out front with championship leader Ben Kelley piling on the pressure. The pair swapped places with Kelley taking his turn to lead only to hit a snarl-up of riders on a hill and see the gap closed right down again.
Sitting in third in the opening laps, Josh Strang was putting in a relentless performance on the Babbitt's Kawasaki. Despite bagging three podiums this year he's also had a run of bad luck abd clocked a ninth, a DNF and a 12th place finish after hitting bike issues and other riders in recent rounds.
But Strang's steam engine-like pace meant he caught and passed Russell and faced just an eight second deficit to the then leader Kelley in the final two laps. As they entered the final lap Kelley got caught out again with lappers but ultimately had to concede to Strang's late race pace as they entered the faster grass section for the final time.
"I feel like I was capable of winning at the first round so to get seven races in and not have a win I was bummed out to say the least." Said Strang who finally gets his hands on the famous John Penton gas tank trophy after 15 years trying.
"The last two races haven't been all that good for me so to come out here and get the win, I am pumped. The John Penton's the only race I've been to every year since I've been here [in America] and John Penton's also the race I've never won so it's good to get the monkey off my back for sure.
"We've had three bad races and four good ones, you'd think I'd been doing it long enough to get around those problems but it happens you know."
2021 John Penton GNCC results: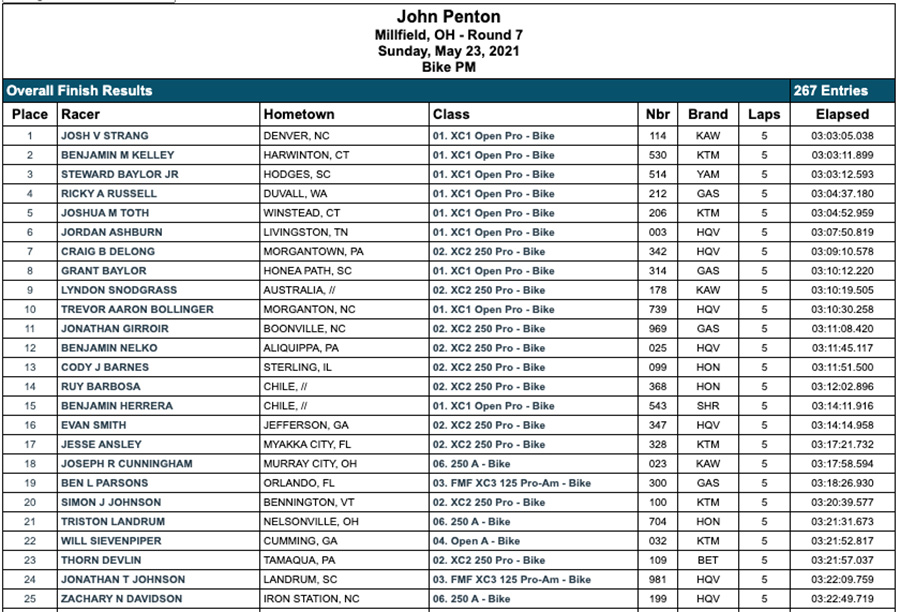 Another P2 as wins prove elusive for Kelley
Ben Kelley was wiped out after the race having put everything into first trying to pass Russell, then hold off Strang and in the last lap hold back a charging Baylor. It was Kelly's fourth second spot of the season, however he does sit nine point clear in the championship table.
Speaking after the race, Ben said he was "smoked" in the last lap and had no answer for a Strang. "Sometimes you get lucky with lappers and sometimes you don't, and I was unlucky today. Strang capitalized when he reeled me in and he was putting it to me in the Penton section in all that tight fast track.
"I was just so tired trying to ride through that fast and I was smoked on the last lap. Stew was catching me on the last lap and it was all I could do to keep moving forward and I held on for second. I really want that win but we'll get it here soon."
"I need to focus on GNCC" – Steward Baylor
Winner of the last four rounds, Steward Baylor had a tougher time of it at John Penton and admitted he thought about jacking it in with a couple of laps to go while laying sixth overall.
The AmPro Yamaha rider "dug deep into the hate tank" and pulled back three places to take a podium and almost snatch second from Kelley at the flag.
But Baylor was far from happy with the way his race had worked out. "It was a struggle." Explained Steward after the race. "We had a plan to not lead until lap three, go back-to-back pits and just follow those guys. This is one of those races where you don't really want to lead until the late in the day.
"We had the strategy but didn't execute it. Both races here this year I've not won the race not through my fault so I had to go to the rig and cool off. I'm frustrated to say the least. You have to make hay while the sun's shining and this was one of those days when it should have been different.
After a hectic schedule these last few weeks with AMA Sprint and National Enduro series under his belt, Baylor hinted the focus could have been lost for the bigger prize. "I want to get to a place where I can relax and right now it's just not working.
"We'll come back stronger next week. I know what I need to work on, we slacked off the last couple of weeks so I think we've got to go back to the drawing board and focus 100% on GNCC and not other series."
2021 GNCC Championship points after round seven: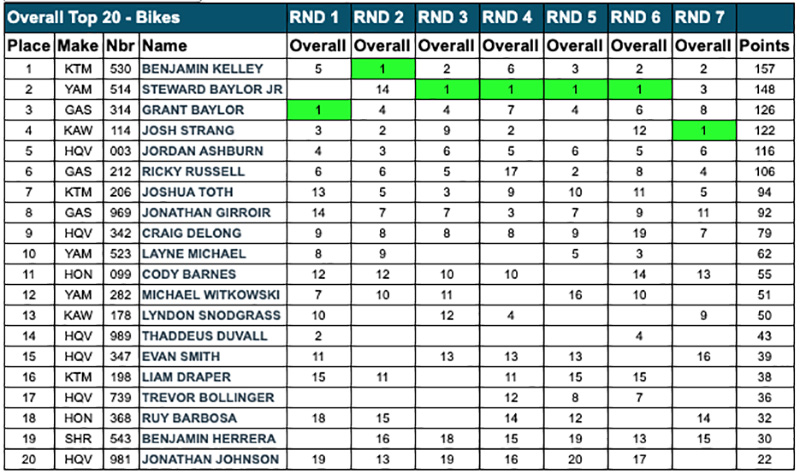 DeLong ends Girroir's XC2 win streak
Rockstar Energy Husqvarna Factory Racing's Craig DeLong finally delivered a race-winning performance in the XC2 Pro Class where Johnny Girroir has been dominant all season.
DeLong got off to a great start off the second row and got to the front early on and wasted no time creating a sizeable one-minute gap after the first lap. The lead grew to around two minutes by the halfway point allowing DeLong to cruise to the flag.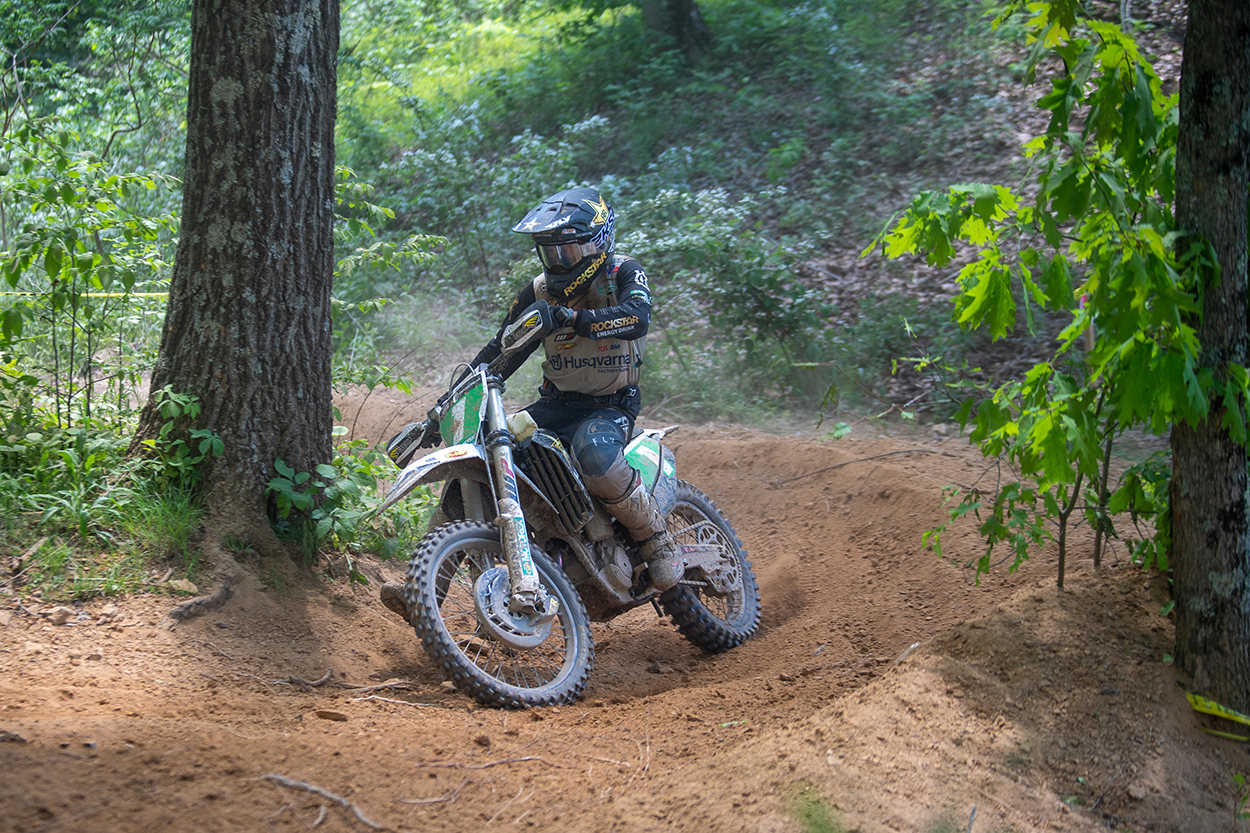 "I had a good start and just rode my own race from there," DeLong said. "I was feeling comfortable out there – I always look forward to John Penton, it feels like a home race.
"I was able to push, get a lead and control it from there. I got it up to about two minutes there and with about two laps to go, I kind of backed it down and saved myself – it was hot out there today."
Second place went to Babbitt's Online Kawasaki's other Aussie Lyndon Snodgrass who had the measure of the championship leader Jonathan Girroir who came home in third.
Archer two minutes clear in WMX
AmPro Yamaha's Rachael Archer has been impressive all season but she turned it up a notch further in the John Penton Sunday AM race. Mackenzie Tricker grabbed the holeshot but Archer was soon past and went on to lead all four laps of the two-hour race, as she took her third WXC class win with over a two-minute gap back to second place.
The battle for the podium positions in the WMX class was intense with Babbitt's Kawasaki's Korie Steede coming best with P2 despite being early on. Steede was running fourth and in contention on the final lap when Becca Sheets and Tayla Jones had an "on track incident" which allowed Korie through.
Jones got back on it to take the final WXC podium position, 17 seconds ahead of defending champion Sheets.
2021 John Penton AM race results: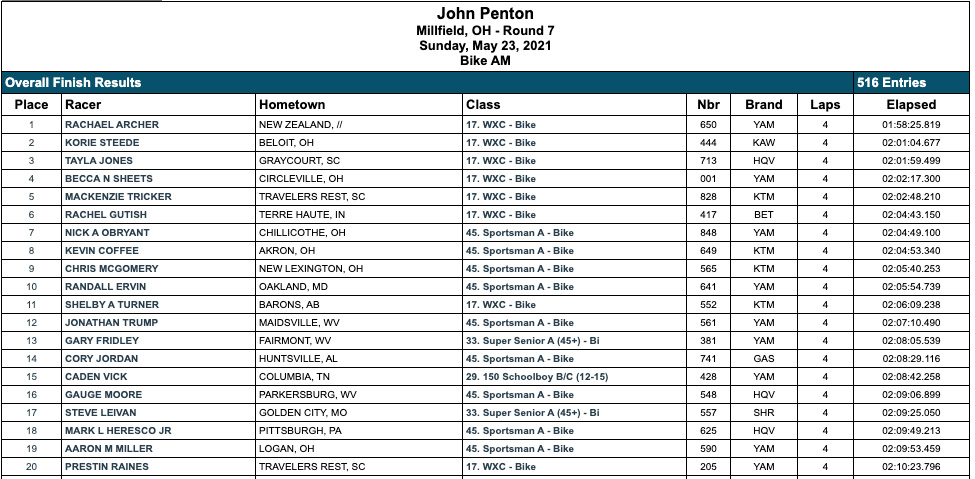 The next round of GNCC is at Mount Morris, Pennsylvania on June 6. Full results and more information: www.gnccracing.com
Photo Credit: Ken Hill + Mack Faint + Shan Moore