GNCC results: "Sneaky line" brings last lap Mason Dixon win for Baylor
The title protagonists Ben Kelley and Steward Baylor fought a race-long battle at the 2021 Mason Dixon GNCC with Baylor pulling a last lap move to take his fifth win of the season and close in on Kelley's points lead – meanwhile Snodgrass takes maiden XC2 win.
Leading across the line for six of the six laps at the Mason Dixon should have been enough for FMF KTM Factory Racing's Ben Kelley to take his second win of the 2021 GNCC season. The championship points leader grabbed the lead during lap one and set about stretching a lead.
AmPro Yamaha's Baylor was leading the chase and hunted his championship rival down along with Jordan Ashburn, Ricky Russell and Josh Strang fighting for the final podium spot.
Steward pulled a storming fourth lap time (around 30 seconds faster on the 11-plus mile lap) to close Kelley down, despite riding with no back brake after ripping it off.
Preparation is everything – training without a back brake pedal is one of Baylor's drills he says – and Baylor rode around the problem. A mistake got the Yamaha rider on Kelly's back wheel and he then pulled a neat line in the woods to make a pass on the last lap to take the win.
"I got off to a really rough start and I think I caught Ben two laps in and he looked back, saw me and dropped the hammer – and it was all I could do to stay with him." Explained Baylor at the finish.
"The ruts were deep and we had a lot to do with lappers. With three to go I'd closed the gap but shortly after that I ripped my brake pedal off.
"But luckily it's one of my drills back home to practice going fast without a back brake. I was able to real him back in and I had a line picked out I'd used earlier in the day and just shaved a tight corner and got by. I was able to capitalise on him missing that line and push dropped the hammer to look back."
2021 Mason-Dixon GNCC Pro results: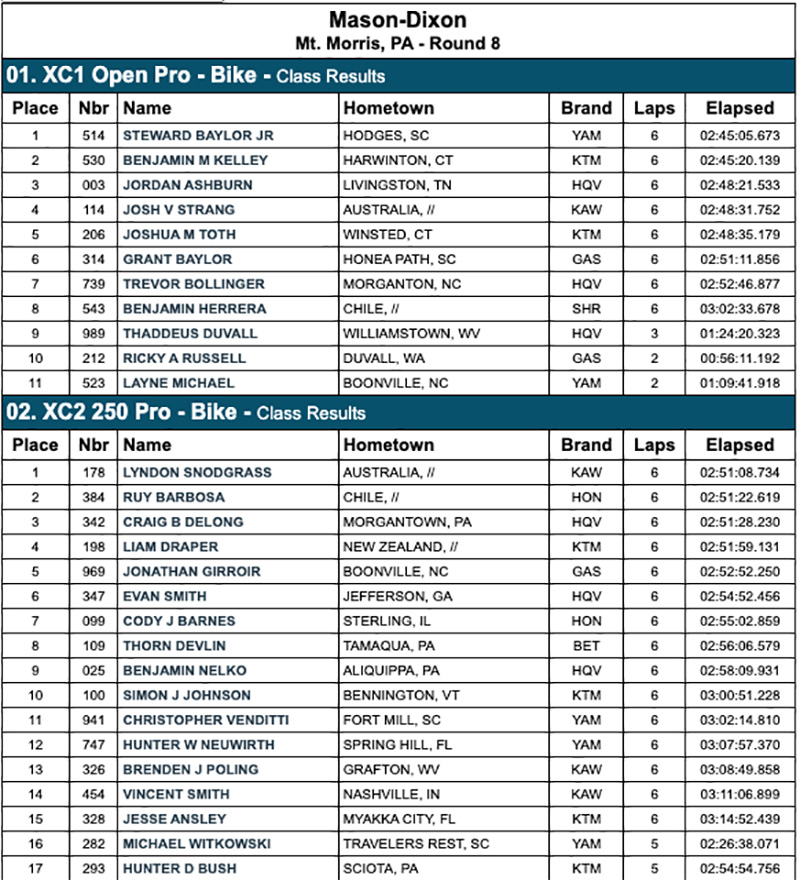 No cigar again for Kelley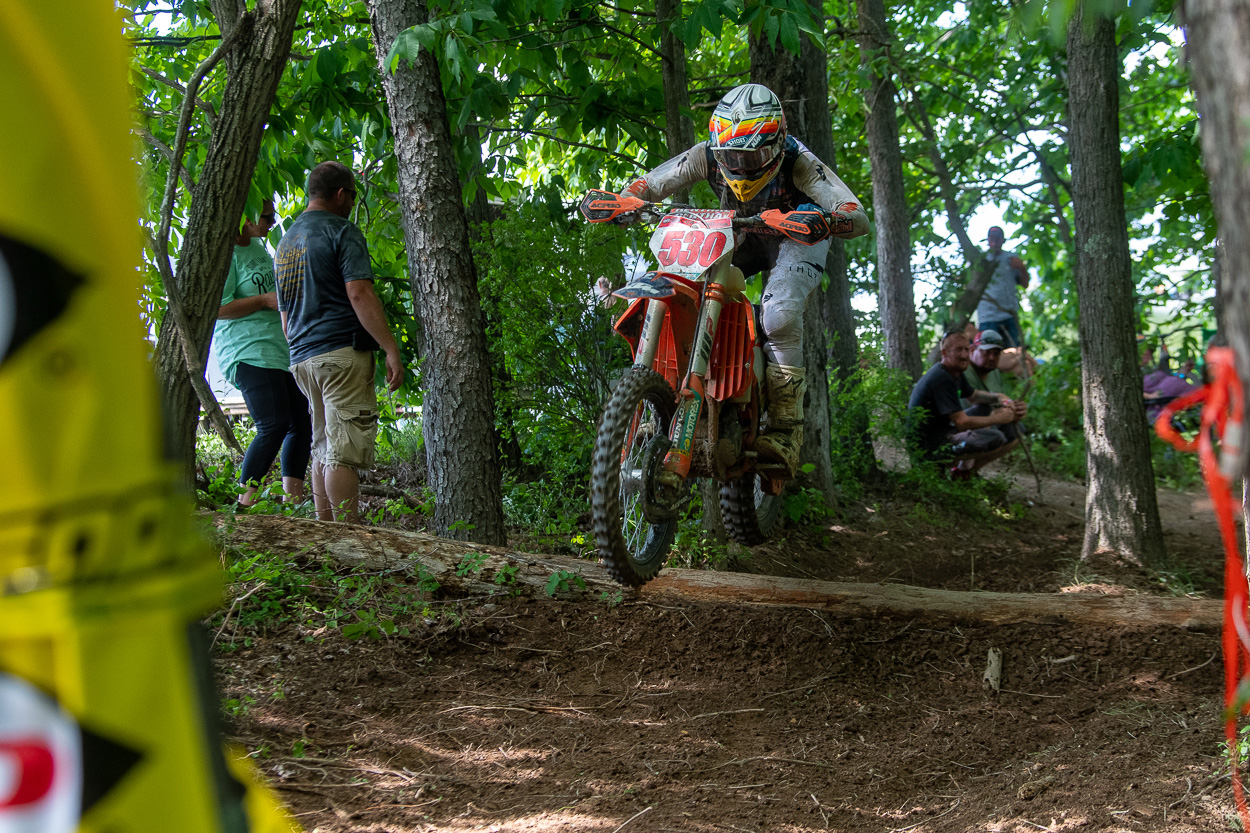 FMF KTM Factory pilot Kelley was pragmatic in defeat despite losing out at such a late stage."I got into the lead there at the end of the first lap and led all the way to the sixth lap.
"Stu was right there all day but I was holding strong and he had a sneaky little line and got by me. I missed it, I wasn't able to see it and that was all she wrote. I was tired at the end and the track was tight, rough and super rutted, so it was tough to make passes after that but I held strong for second."
Who was third?
The limelight was on the leading duo but behind Josh Strang was looking to back up his previous round win with another podium, Ricky Russell was looking good until he hit a tree and retired with a broken finger. By the white flag lap the number three plate holder Jordan Ashburn was in numerical position and held the advantage to seal his second podium of the year.
2021 GNCC points after Rnd 8: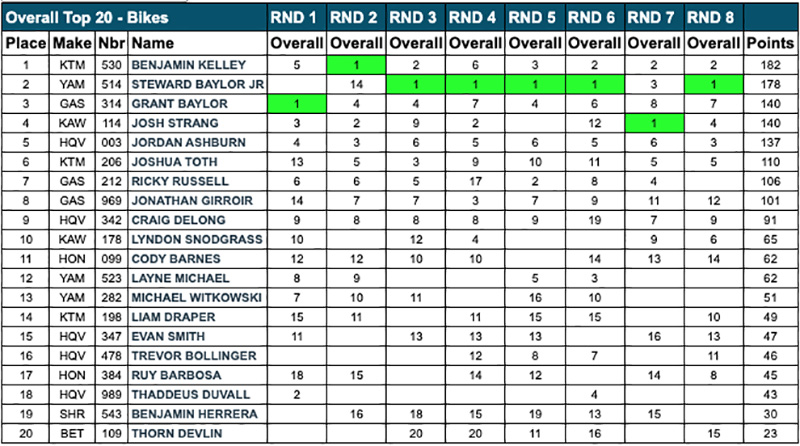 Maiden XC2 win for Lyndon Snodgrass
You'd have struggled to get betting odds on the XC2 results with Babbitts Online Kawasaki's Lyndon Snodgrass coming home ahead of Pheonix Honda's Ruy Barbosa with Craig Delong third.
Not that the Aussie Snodgrass has not threatened it this season but he spent the race riding out front, well up the order overall and crucially with no real challengers including the championship leader Johnny Girroir who had an off day.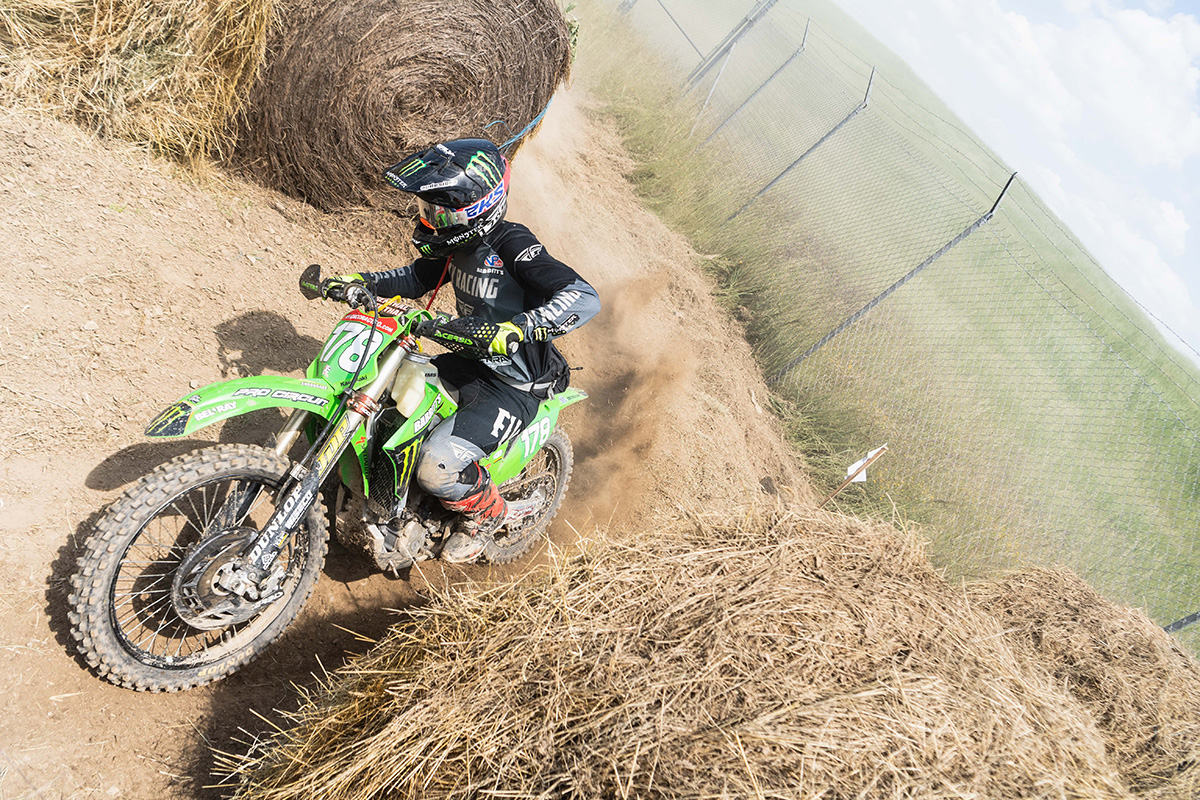 "It was a good day for me." Said Snodgrass after taking his first GNCC class victory. "I got out front early on and just tried to push and get a gap. I actually made a few mistakes and had a few crashes along the way but each time I just sprinted and tried to get a lead again. But I kept a gap right the way to the finish and I'm pumped with how I rode today."
Mason-Dixon XC2 Pro results: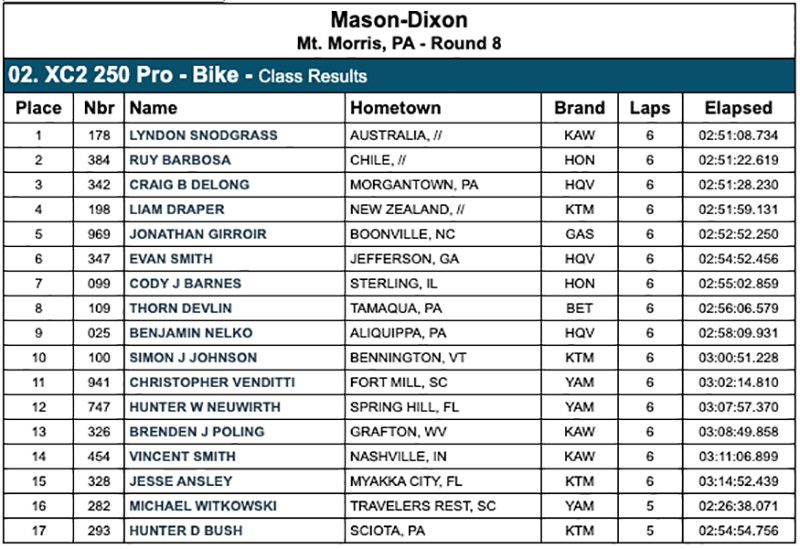 What happened to XC2 championship points leader, Johnny Girroir? His own words (below) explain it best but safe to say a crash off the start, then a bust gear shift and finally nutting a tree made "riding it in" the best option – it's better than crapping your pants he says…
Becca Sheets wins WXC "racing for points"
Making the very best of her final season in GNCC and taking the WXC win by 20 seconds, Yamaha's Becca Sheets headed a fierce battle in class. Both Mackenzie Tricker and Tayla Jones are finally coming back into the form we expect from them. The Aussie pair along with Rachel Archer all the way with Tricker eventually getting the P2 spot ahead of Archer at the flag.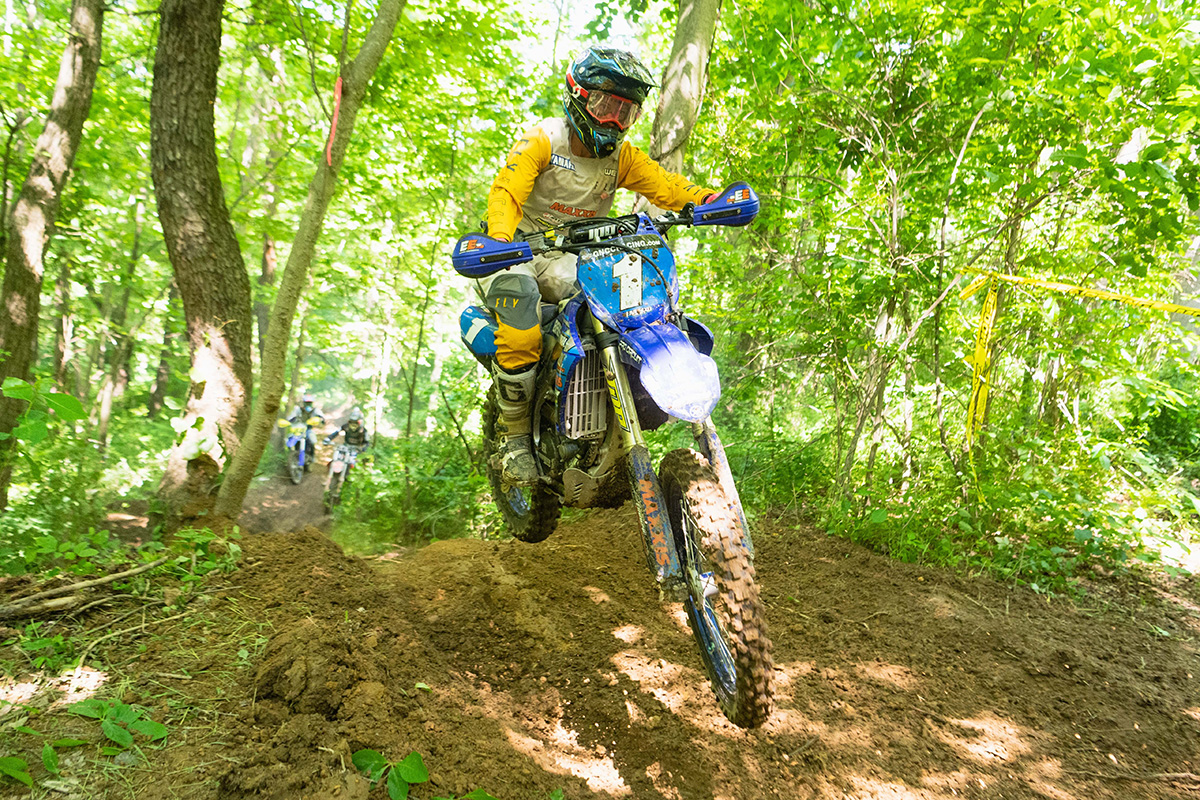 "My goal was to race for points today." Said Sheets on taking her fifth win of the season and maintaining her championship points lead. "I stayed up front but I did not know there was so much awesome battling going on behind me. I was just focusing forward and luckily I was able to get the job done. It was such a gnarly, awkward, tough track to ride."
Mason-Dixon WXC results: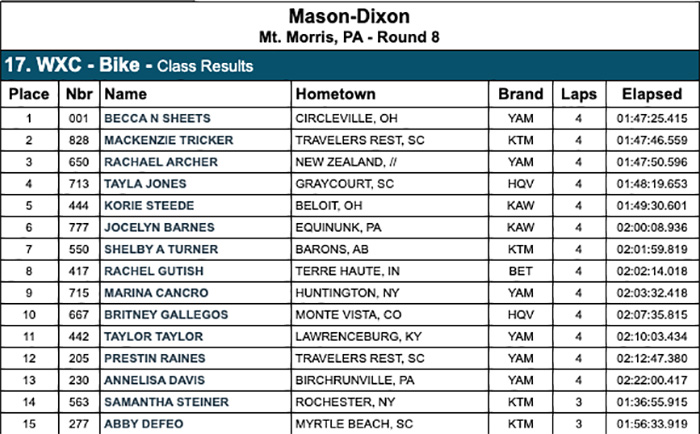 The next round of 2021 GNCC Racing season is at the infamous Snowshoe Mountain Resort on June 26-27.
Photo Credit: Ken Hill + Shan Moore + Mack Faint