2023 Erzbergrodeo results: Lettenbichler wins the battle with Bolt for his second victory
2023 Red Bull Erzbergrodeo Hare Scramble final result sees Mani Lettenbichler win the battle with Billy Bolt to take his second win in the Hard Enduro World Championship race where just 17 official finishers crossed the line.
2023 Erzbergrodeo Hare Scramble in a nutshell:
Trystan Hart and Mani Lettenbichler were fastest out the blocks, quickly established a Red Bull KTM one-two out front as the 2023 Erzbergrodeo Hare Scramble got underway.
A furious start as ever at noon saw Billy Bolt hit the deck big time in the first uphill littered with rocks. Ouch. Billy had to play catch-up to do and spent the first 20 minutes pasing and catching the leading KTM boys. When Hart made a few errors the Billy and Mani show unfolded once again.
In the past, top riders could walk most the course but these days the hardest sections are taped off and, in theory at least, no-one is walking, kicking rocks and spotting lines.
Just over the hour mark and Bolt led Lettenbichler, with Jonny Walker pushing ahead of Hart and Wade Young fifth. A gaggle of Teo Kabakchiev, Webb, Olszowy, Matt Green, Alfredo Gomez, Michael Walkner and the silent assassin Graham Jarvis incoming from his second row start.
Billy looked sweet in the epic Carl's Dinner rocks and stretched a lead but in the fresh, green and back on the dirt inside the trees at Motorex Highway Mani was back onto Billy's wheel. It was a struggle and Bill struggle more, letting Lettenbichler through for a lead change.
From then on, with Bolt looking like he'd burned his energy, Lettenbichler kept on the same relentless pace to run out a clear winner in 2:31.15, almost half an hour faster total race time than last year: "I had a good start and then Billy caught up to me and he was riding so good today. He was really strong in Carl's Dinner but I think he lost a bit of energy and I was able to past him back in the hilly stuff, I definitely like it better in the soft dirt than in the rocks. I was just letting him go and trying to ride my own race and I got him back. I'm speechless I made such a gap at the end."
Billy says a bad ding to his exhaust pipe didn't help his progress in the last hills but knew he'd lost the chance of a win on Motorex Hill: "That was my worst ever start to my best ever finish at Erzberg. I fell off at the start so the next 10 minutes were just a blur, I knew I had to pass as many people as possible before the forest. Actually I bent my front disk so I've been pumping my front brake all day.
"I dented my front pipe in Dinner and was pretty down on power. Mani is strong in the woods and on Motorex I took an extra switchback and he went straight and that was that. I knew the way I was having to work the bike and the condition of my rear tyre the game was up. I didn't come out of first gear since Carl's because the bike wouldn't pull. So it was a fair bit of drama, all self-induced, but all things considered I am very happy to finish second."
Bolt finished 11 minutes behind Mani but 15 minutes ahead of third placed Trystan Hart who eventually ran clear of Walker to claim his second podium on the bounce: "Back-to-back podiums, lots of people would be happy but I'm not so much. I put myself in a really good position, I was leading, but then I think I got tight and made a lot of mistakes in the first hour. I burnt so many matches today, once I got out of Carl's Dinner I didn't have much energy left."
Three-times winner Jonny Walker made his Iron Giant comeback to finish a fine fourth place and easily the best placed "privateer" rider in among the factory boys with Sherco's Wade Young getting better luck with his bike this time to take fifth.
Sixth place goes to Graham Jarvis pulling yet another result out the bag from a second row start. He might not have the speed to win this any longer but his technique remains a masterclass.
Michael Walkner took P7 in a race-long battle with Alfredo Gomez, Teo Kabakchiev, Cody Webb and Matty Green, who claims the Junior prize.
Completing 12th-through-17th places for the last official finishers was Sonny Goggia, Dominik Olszowy, Jack Price, Dan Peace, maybe the happiest finisher Mitch Brightmore and Will Hoare crossing the line just 30 seconds before the final claxon sounded.
A big crash put '22 podium finisher Mario Roman out the race.
2023 Erzbergrodeo Hare Scramble official finishers: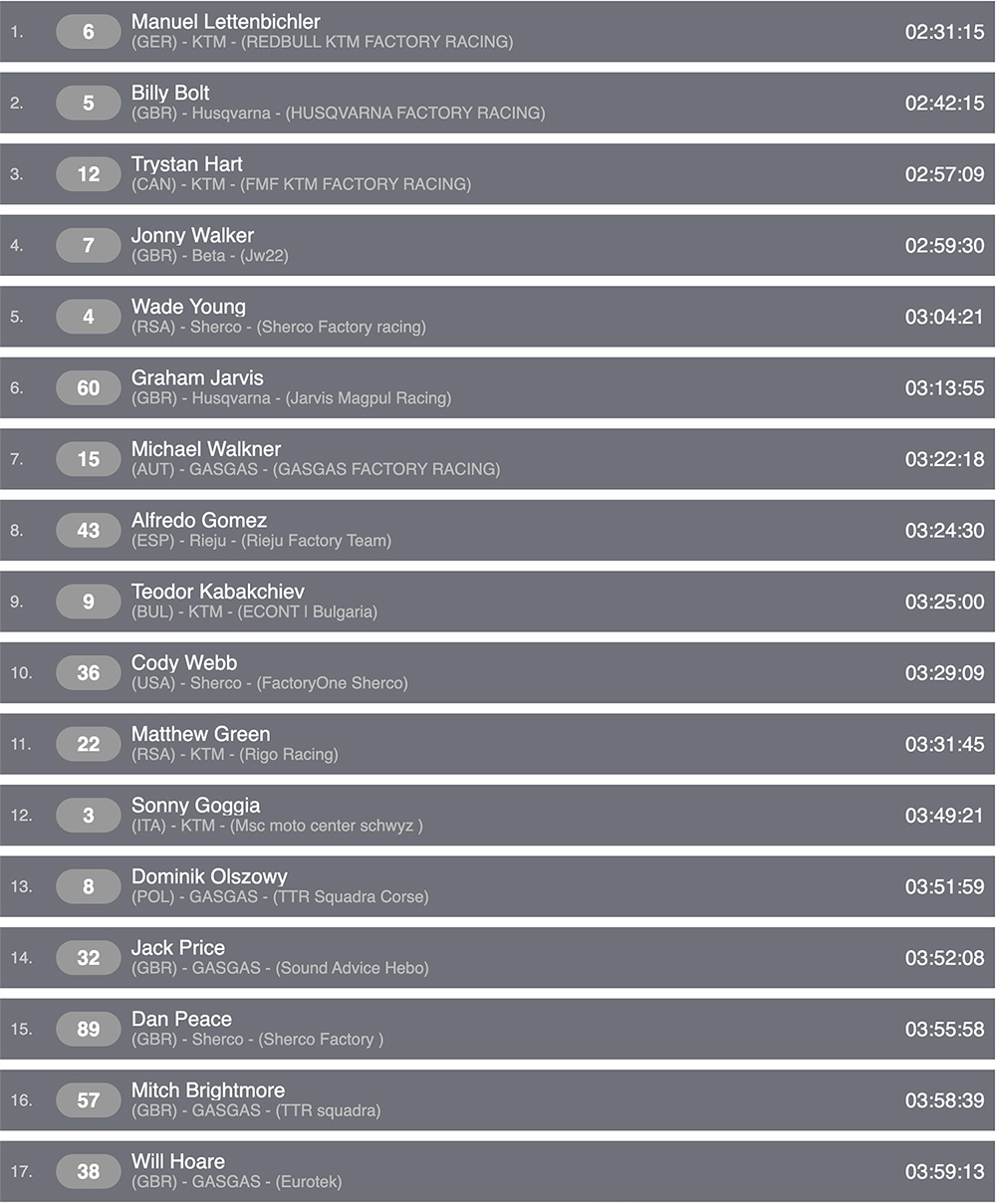 Results are provisional and will update
Photo Credit: