2023 Red Bull Outliers results: Fourth win of the Hard Enduro season for Lettenbichler
Manuel Lettenbichler continues his imperious 2023 Hard Enduro World Championship season with a fourth victory, claiming the Red Bull Outliers crown in Canada ahead of Billy Bolt and Trystan Hart.
We're getting use to this result aren't we? Red Bull KTM Factory Racing's Manuel Lettenbichler takes another Hard Enduro World Championship win. With the 2023 Red Bull Outliers victory in Canada, the reigning champion says he is "speechless" taking four wins out of four races this year and setting himself up for a third world crown. Can he make a perfect season?
After Saturday's spectacular prologue win, blocking all the moves Billy Bolt threw at him, Lettenbichler started the Sunday main race from pole position. The pair got off to a good start as mayhem ruled behind them in the dust and began to gap the rest of the field.
The "field" saw a gaggle of riders, including Mario Roman, getting caught up in a clash off the start – some riders were a bit too eager to be first in the dust.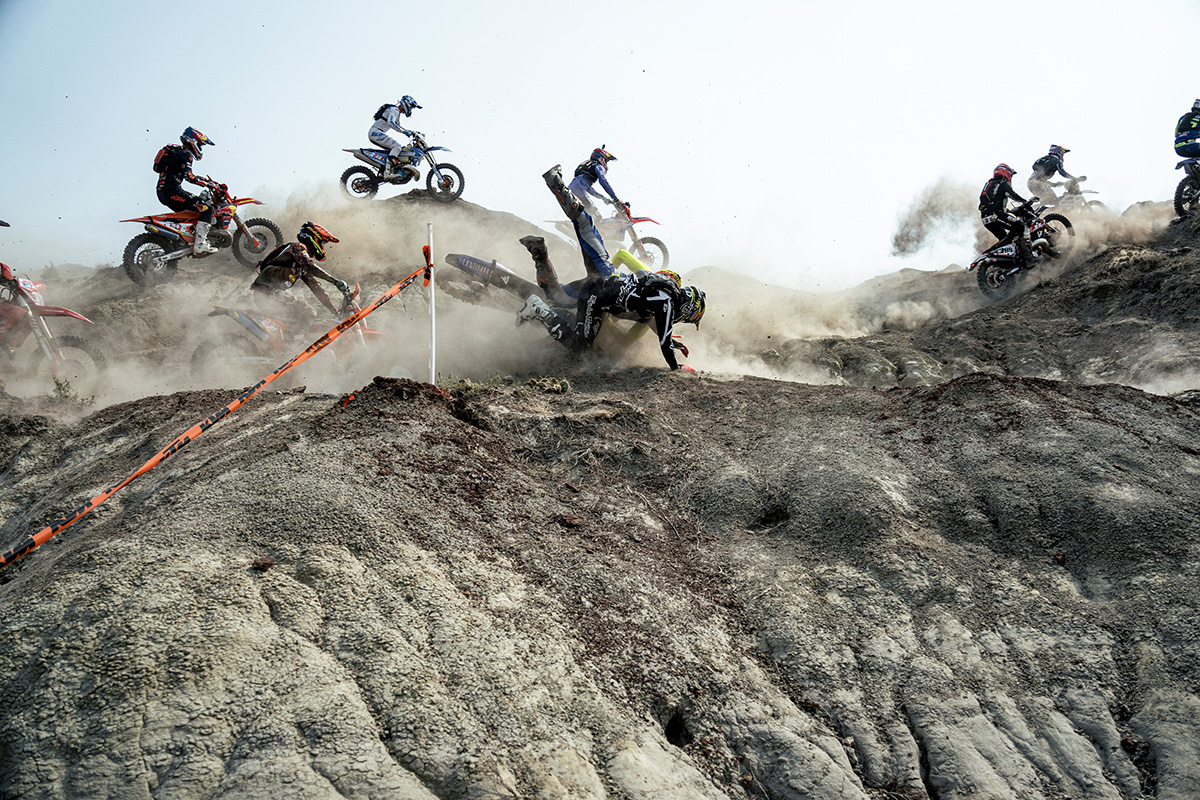 It meant Lettenbichler and Bolt were able to make a break for it with Roman quickly picking himself up to settle into third with Wade Young and Trystan Hart in the hunt. Roman was in sight of the leading pair as the two and half-hour race unfolded but never quite had the speed to close the gap. His Sherco teammate Young admitted he blew too much energy and lost too much time in lap two.
Hart meanwhile was also burning energy to make up places in front of his home crowd but three laps was hard on a course which proved easy to make a mistake with big consequences. The final results show a list of riders you might have expected to make a better result – Jonny Walker, Graham Jarvis and Teo Kabakchiev for example.
It got this close for the win...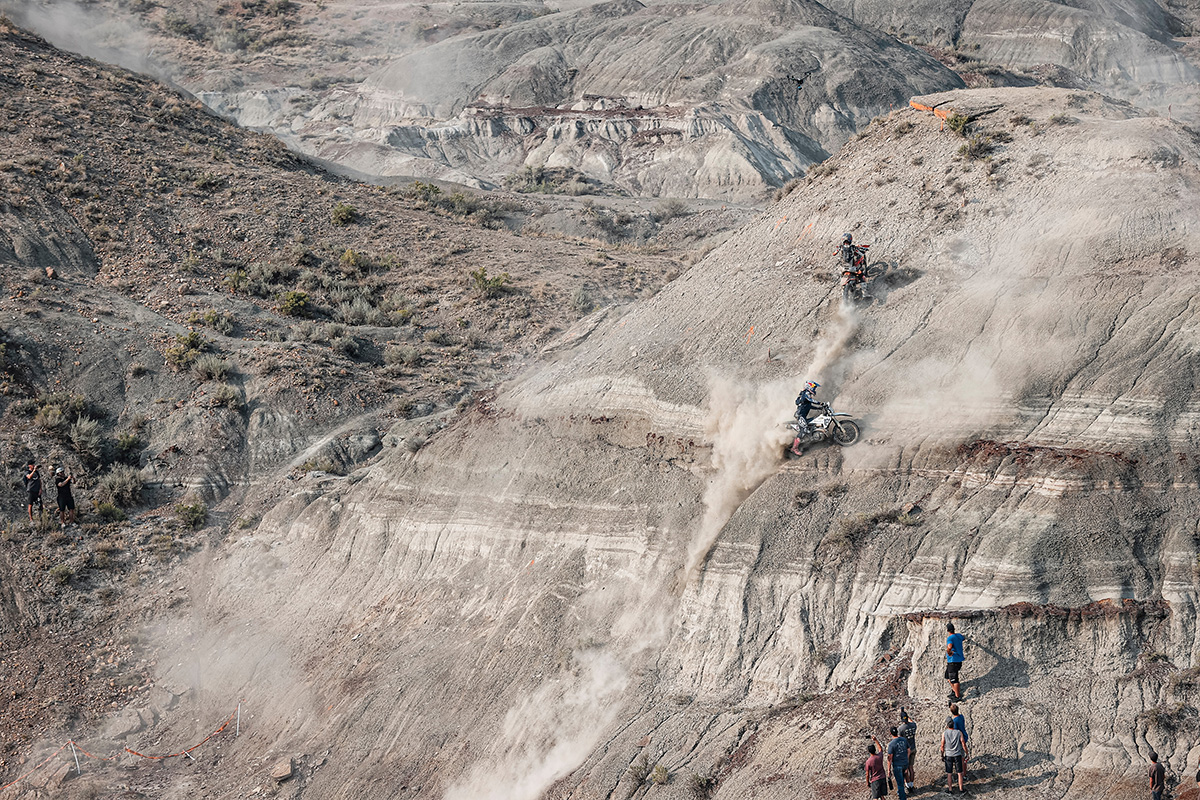 The final hill climbs were immense and like last year proved decisive. Bolt had made an error earlier in the lap allowing Mani breathing space and Roman to get a sniff of second position. Like the prologue, Billy regrouped, gapped Roman and closed right in on Lettenbichler's back wheel.
But the effort also proved too much for Bolt in the final stages, leaving Mani to crest the last epic climb to finish 41 seconds ahead and keep his 100 percent win record intact.
The reigning champion heads to the fifth and penultimate round of the series – the Hixpania Hard Enduro in mid-October – where it is possible he could win the 2023 title with almost a race win points gap over second.
Second place again means Bolt has overtaken Hart in the championship standings. With Teo Kabakchiev dropping to sixth place in Canada, the race is very much on in the final two rounds between Bolt and Hart for second in the series with just one point between them (63 to 62 respectively).
Say What? Top 3 riders speak
Manuel Lettenbichler: "I'm so happy to take the win here in Canada, it feels awesome! I managed to get up most of the hills without any problem and that helped me to conserve as much energy as possible. I bent my handlebars pretty good on one of the last uphills so that was a bit of a worry. Being the first to reach some of the sections was a bit of a disadvantage, because it was so slippery. Four wins in a row now, I'm speechless."
Billy Bolt: "It's been a good race and a great weekend. Finishing second in the prologue and runner-up in the main race has been solid. I knew it was going to be tough. There were a lot of big slippery climbs, and we were racing in some serious heat.
"I had a good start with Mani, and we rode together early on. I had a few mistakes throughout, but generally I was happy with my riding. On the final lap I had one big mistake that allowed Mario to close the gap to me, but I managed to recover and get some breathing room coming into the final big section. I got onto Mani's wheel there but had pushed a bit hard and just didn't have an answer to him at the end."
Trystan Hart: "Not the result I wanted to get here at my home race, but I have to be happy with a podium. The prologue didn't go my way – I made a few too many mistakes there, and today was the same. I got caught up in the mayhem early on and was chasing the whole way after that and it really took everything out of me. It's great to get onto the podium in front of all my home fans, I just wish it was a couple of steps higher."
Red Bull Outliers HEWC Round 4 Results: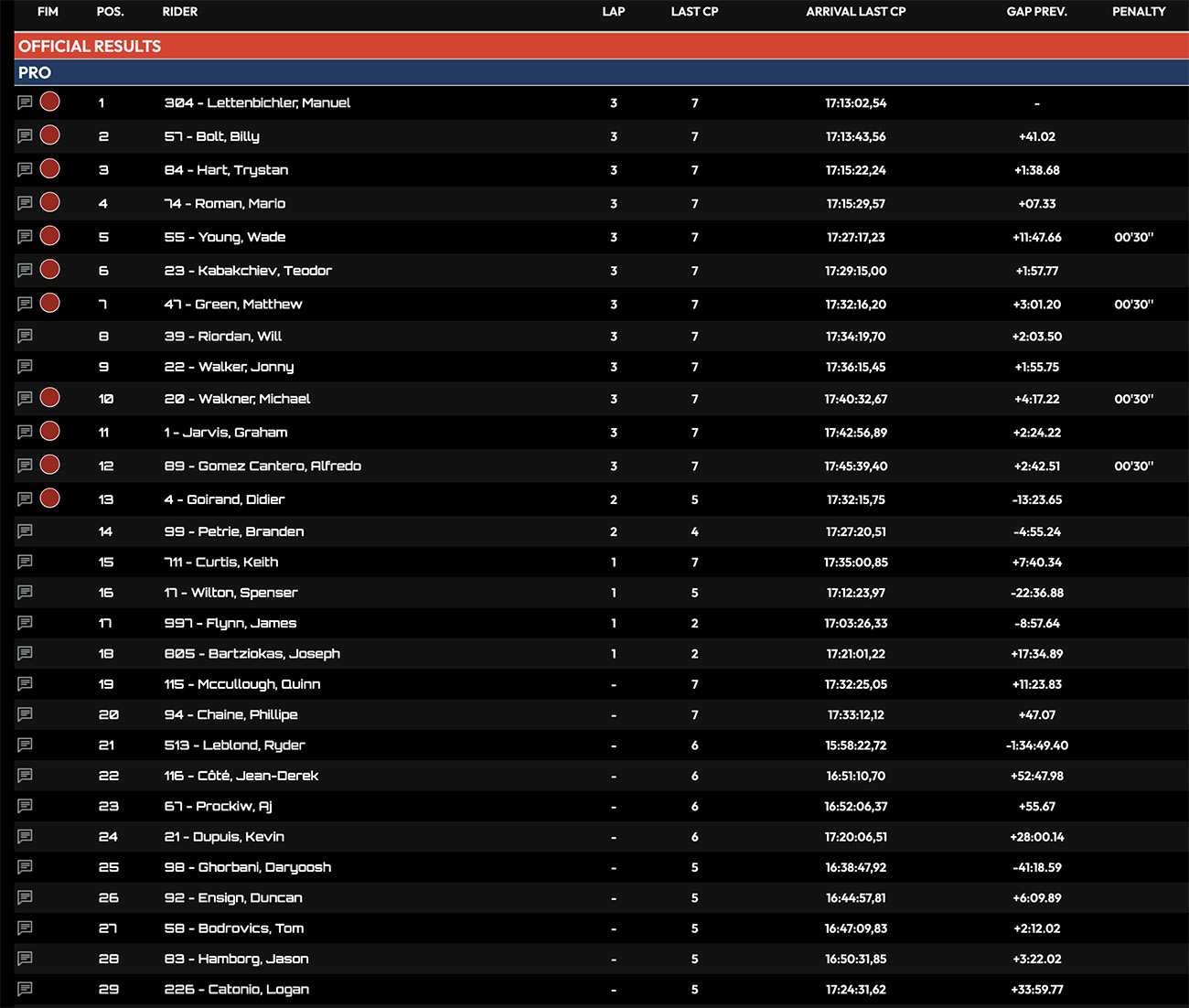 Provisional Championship Standings (After round 4)
1. Manuel Lettenbichler (GER), KTM, 86 points
2. Billy Bolt (GBR), Husqvarna, 63 pts
3. Trystan Hart (CAN), KTM, 62 pts
The FIM Hard Enduro World Championship continues with round five at Hixpania Hard Enduro in Spain on October 12-15.
Photo Credit: Future7Media | Andrea Belluschi + Mason Mashon Red Bull Content Pool