GetzenRodeo Hard Enduro: World Championship Showdown Preview
It's crunch time for the FIM Hard Enduro World Championship as riders head to Germany for the final round of 2021 at the GetzenRodeo – Billy Bolt and Manuel Lettenbichler go head-to-head the claim the first HEWC crown.
Just three points separate the top two riders in the Hard Enduro World Championship Billy Bolt and Mani Lettenbichler, both of them are former WESS champions and have been the dominant riders this inaugural season.
The points situation heading to the final round this weekend in Germany is so close because these two have stood next to each other on the podium so often this year. Bolt has taken two wins along the way but Lettenbichler's one victory was also where Bolt took his only non-podium result, fourth place at Romaniacs.
They arrive at Getzen with everything to play for and with no chance to play it safe on a famously intense course.
Wade Young is third and the only other rider who could mathematically win but at 17 points behind Bolt it would take some serious drama to swing in that direction. Wade is ahead of a good scrap for fourth thgouh between Mario Roman, Jonny Walker and the winner of the last round at Hixpania, Alfredo Gomez.
That list of riders, along with Taddy Blazusiak who returns to action this weekend, will all certainly be eager for win to close out this season and could well take points away from the protagonists...
Five fast Getzen facts...
Bolt has two wins to Lettenbichler's one – Abestone and Tenessee Knockout versus Romaniacs respectively.
Bolt doesn't have to win to take the title but if Mani does win, Billy must finish second to take the crown on a tie-break (they would be equal on two wins each but more second place results would hand it to Bill).
Mani has history around Getzen's formidable tight and technical track. He has won the previous two editions and took the WESS Championship crown on our last visit in 2019.
The race and terrain is similar to Tennessee Knockout which saw a really tight race between the pair with Billy narrowly taking the win.
Former Getzen winner Graham Jarvis remains in recovery from his Romaniacs knee injury and will not ride but Taddy Blazusiak comes back from his shoulder injury to round out his outdoor season.
Rule change to keep things equal?
The racing is intense and the course super-hard in places which is spectacular to watch especially as lead riders come up against lappers. This year though, the plan is to have no outside assistance inside the tapes from officials and or spectators.
Helping hands have seriously worked in favour of some riders in the previous editions, and against others. Enduro21's understanding is there's an agreement between the riders, the organisers and the championship promoters to keep things fair.
How Getzen's race format works
The GetzenRodeo is a single day race – no prologues, no mountain races, just the main event. It is still two races in one day though with a morning two-hour "GetzenRace" where just 60 riders battle for a place in the afternoon final.
The lead riders should get through but Bolt and Lettenbichler must get through this without issues. A good result also helps because the congested start (fired away by a massive cannon) can haemorrhage time if you're not at the front. And yes, just 60 in total for this one as opposed to the hundreds seen at other rounds.
The top-15 qualifiers from the morning race then progress to the "GetzenChamp" race in the afternoon (80 minutes + one lap) over an intensified course, run in the opposite direction. This is the spectacle the German crowds love to see and why the event is so popular.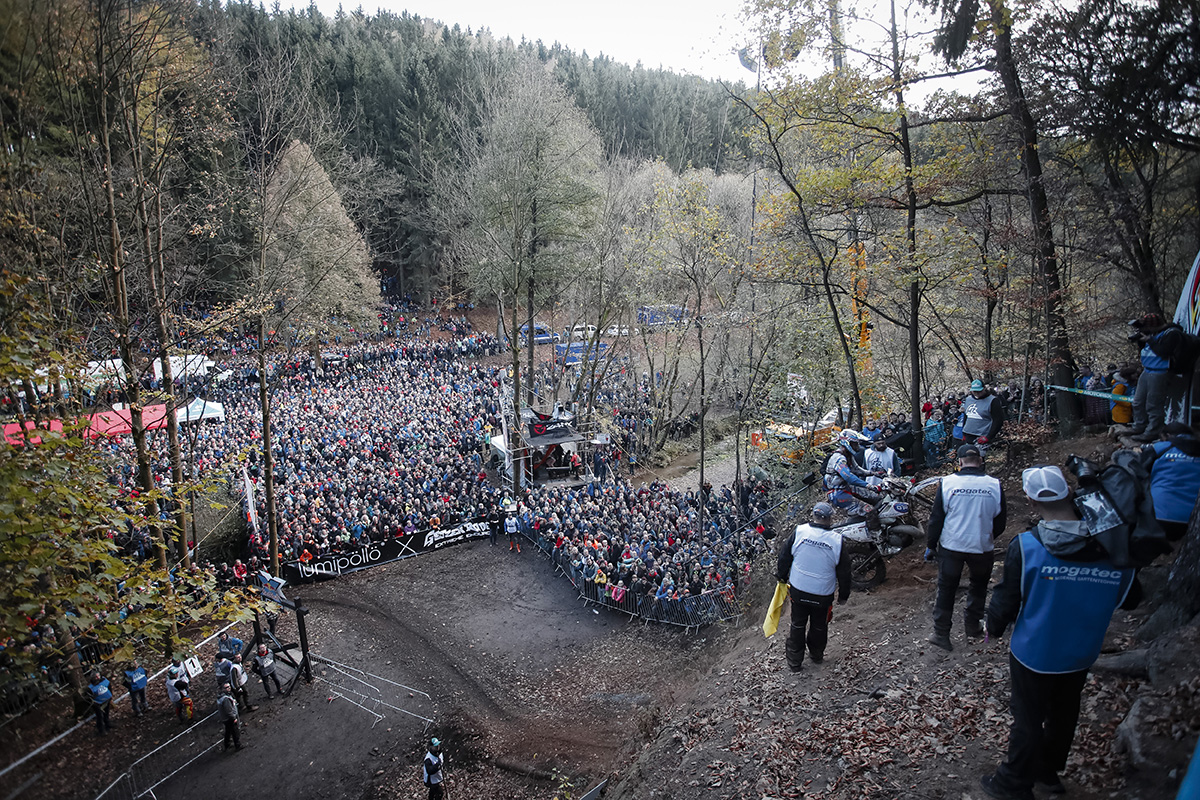 5,000 fans are allowed in via tickets and the atmosphere is usually electric – we expect that to be amplified this year not just because Mani is a home hero but because of so little racing in Germany over the last 18 months.
The main race will also be broadcast live on Red Bull TV starting at 13.30 local time (CET). Enduro21 will also bring you this broadcast along with all the results and news across race day. As ever, stay tuned.
GetzenRodeo race schedule:
Saturday, October 30
10.00 - 12.00: GetzenRace
14.00: GetzenChamp (80min +1 Lap)
15:45: Prize Giving Ceremony
2021 FIM Hard Enduro Championship Standings:
1. Billy Bolt (Husqvarna) 87pts
2. Manuel Lettenbichler (KTM) 84pts
3. Wade Young (Sherco) 70pts
4. Mario Roman (Sherco) 61pts
5. Jonny Walker (Beta) 55pts
6. Alfredo Gomez (Husqvarna) 53pts
7. Michael Walkner (GASGAS) 37pts
8. Teodor Kabakchiev (Husqvarna) 28pts
9. Taddy Blazusiak (GASGAS) 26pts
10. Dominik Olszowy (Husqvarna) 23pts
Photo Credit: Future7Media | Andrea Belluschi