GetzenRodeo HEWC showdown results: Billy Bolt crowned 2021 champion
Results from the final FIM Hard Enduro World Championship round of 2021 at the GetzenRodeo, Germany where Billy Bolt has been crowned inaugural Hard Enduro World Champion.
2021 GetzenRodeo in a nutshell:
Mani Lettenbichler started first, but Billy Bolt was just four seconds back and it just

took him half of lap one to be right on the back tyre of his championship rival.
It didn't take Bolt long to gain the lead and he looked set to open a gap but as we reached the 20 minute mark, Billy made a big mistake on a hill and Letti didn't waste the opportunity.
From there on Mani put in fast lap after fast lap and started opening a gap. Billy on the otherhand continued making mistakes and dropped down to sixth.
It looked like the title might have been decided in favour of Lettenbichler at this point as the local hero did everything he needed to. But Bolt stayed calm, got back in the groove both he and Mani had showed in the morning race, regained second position which was enough to take the 2021 Hard Enduro World Championship.
"I still have to process it, especially after how the race has gone." Said Billy. "I struggled like mad early on and found myself quite far back. I did a quite good job staying calm and being faster than the other guys. I couldn't catch Mani but managed to do what I needed to do to get the title."
Mani on the other hand finished the season with style, by winning his home race and clinching the second place in the championship. It was fitting the pair rounded out the year on the same points, 104. Bolt takes the title on count back with more second place finishes.
"It's a home race for me and I wanted to win it." Said Mani. "I tried my best today to try get the title, I think I showed it. I just want to congratulate Billy on it, we have been pushing each other during the whole season. I did everything I could for that title, in the end it only went to Billy because he had one second place more so that shows how close it has been."
Third place on teh day went to Mario Román who managed to pass Wade Young and to gain enough points to finish fourth in the championship, right behind his teammate.
Wade Young dropped way down the order but pulled back to finish fourth which meant enough points to take the bronze medal in championship.

The fight for fifth place, both in the race and in the standings, was hot between Jonny Walker and Alfredo Gómez. Finally Jonny took it by just three points.
GetzenRodeo results – GetzenChamp race (final):

Final 2021 Hard Enduro World Championship standings: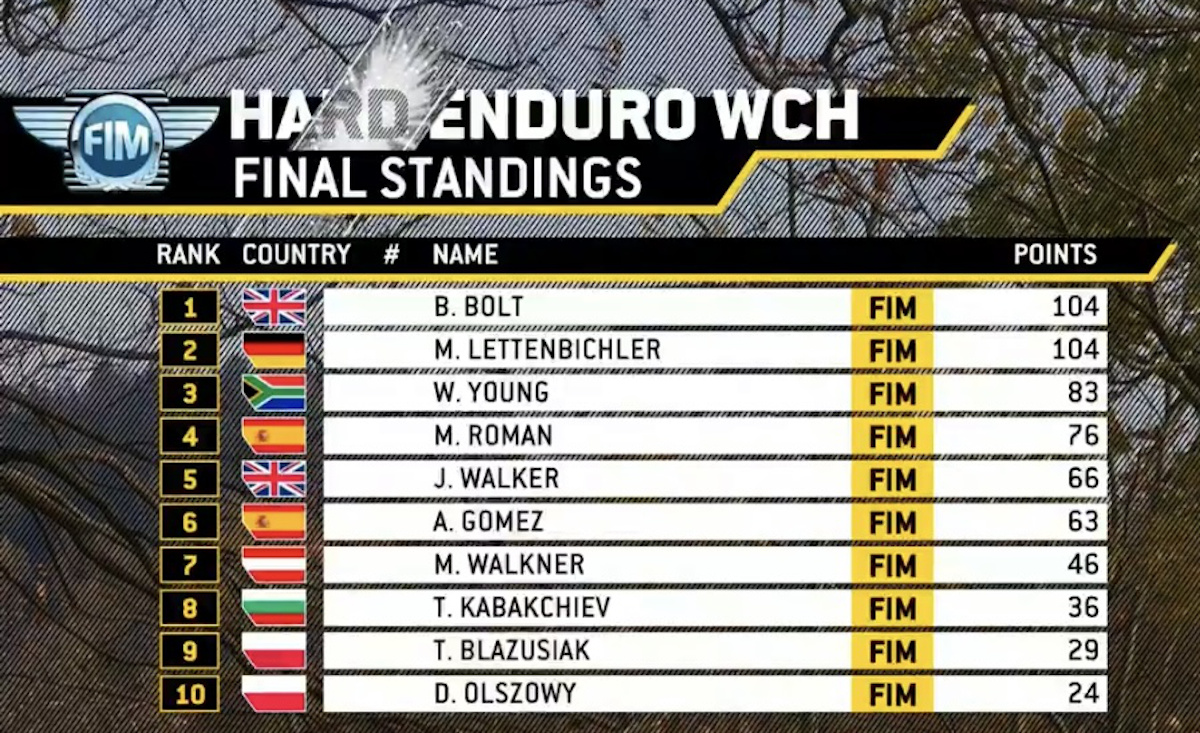 GetzenRodeo results – GetzenRace (morning race):
Photo Credit: Andrea Belluschi | Future7Media