Hixpania Hard Enduro: penultimate 2023 HEWC race in Spain schedule announced
Aguilar de Campoo is preparing to host the 24MX Hixpania Hard Enduro from October 12 to 15, the penultimate round of the 2023 FIM Hard Enduro World Championship in Spain where Manuel Lettenbichler has the chance to claim the title.
With one month until the Hard Enduro World Championship lands in Spain for the penultimate round of the season, race organisers The5Elements have revealed the race programme.
The big news is this seventh edition will have one more day of competition again this year, three in total, with the objective that the riders of all categories (Knights, Archers, Squires and Hixpanos) enjoy this experience to the fullest.
Hixpania Hard Enduro 2023 will start on Thursday, October 12, Columbus Day, with a free reconnaissance lap of the lake area for bike set-up and to get a feel for the terrain.
Friday will see riders tackle the previous day's route under timed conditions to set a time and pull out the 16 Squires, 16 Archers and 48 Knights to race the SuperEncierro (SuperEnduro races) in the afternoon on the historic streets of Aguilar.
Saturday, it will give way to the Campoo Xtreme races that will establish the starting grid for the ACERBIS El Camino Perdido grand final on Sunday, October 15.
24MX Hixpania Hard Enduro 2023 Schedule:
Wednesday, October 11, 2023
5:00pm: Opening of the office
18:30-21:00h: Administrative and technical verifications (non-FIM riders)
Thursday, October 12, 2023
8:00-10:00h: Administrative and technical verifications (non-FIM riders)
10:00-11:00am: Campoo Xtreme reconnaissance
Friday, October 13, 2023
8:00am: Formation of starting grids
9:00am: Departure Campoo Xtreme (1 lap) | SuperEncierro Classification
9:00am: Administrative and technical verifications (FIM riders only)
4:00pm-8:30pm: SuperEncierro street races
8:30pm-10:00pm: Parc ferme (Mandatory for all riders)
Saturday, October 14, 2023
8:00am: Entry to closed park
9:00am: Campoo Xtreme departure
3:00pm: Closing of Campoo Xtreme
7:30pm: Finisher medal ceremony
Sunday, October 15, 2023
10:00am: Riders assemble at start line
11:00am: Race start Acerbis El Camino Perdido
3:00pm: 24MX Hixpania Hard Enduro Podiums
Who will raise the winners sword this year?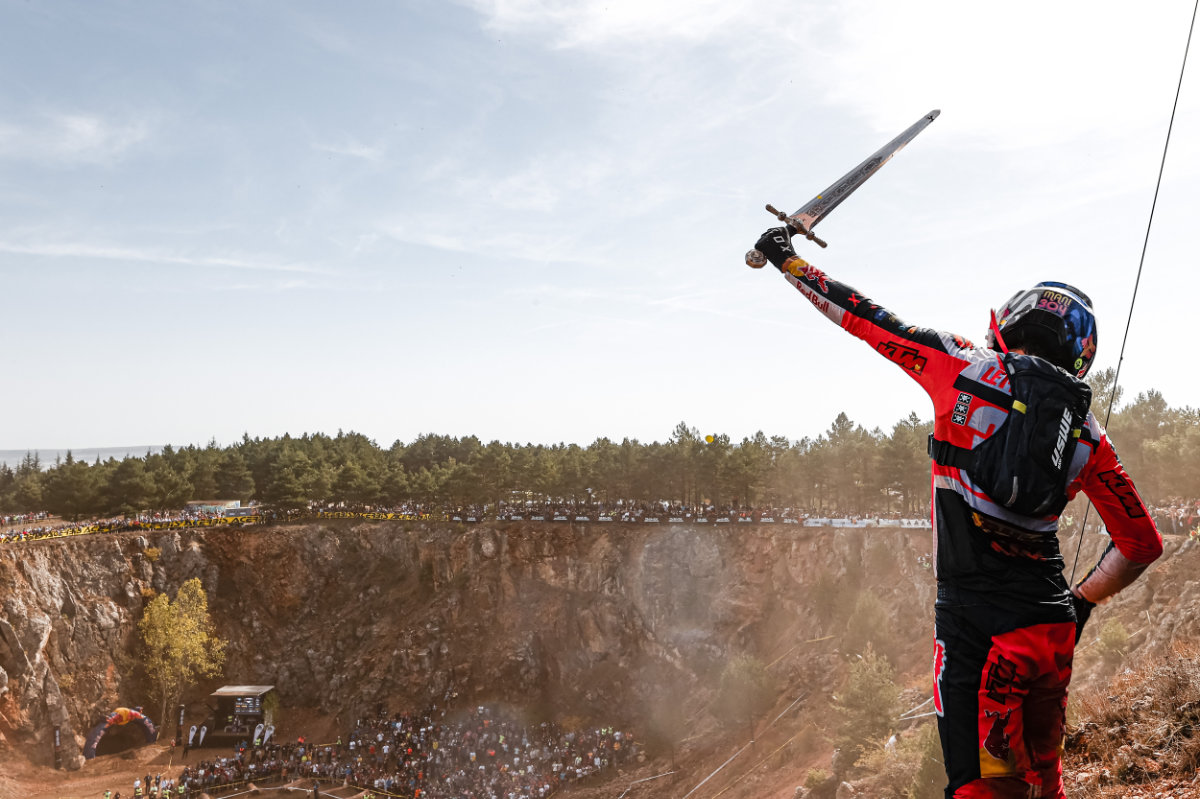 With a lead of 23 points at the top of the table, Manuel Lettenbichler arrives in La Mancha with everything in his favour to retain the world championship title he claimed in Spain one year ago. A string of four victories in the previous events of the calendar: Serbia, Austria, Romania and, more recently, also in Canada is remarkable for the KTM rider who remains unbeaten this HEWC season.
The Red Bull KTM Factory Racing rider already knows what it is to win the main Hixpania race having raised the sword in 2022, although surely his rivals will look to end this remarkable winning streak.
Main rival Billy Bolt will of course be a challenger but appears to already have switched attention to preparations for the SuperEnduro season. The time to shine is now for Trystan Hart, Teodor Kabakchiev, Graham Jarvis and in particular former winner Mario Roman on home soil.
It ain't gonna be easy with Mani in this form though…
More information and registration: www.hixpania.es