Hixpania Hard Enduro this weekend – HEWC Rnd7 live on TV
The 2021 FIM Hard Enduro World Championship heads to Spain this weekend for the penultimate race at Hixpania Hard Enduro in Aguilar de Campoo on October 1-3 – all the action from Sunday's main race will be broadcast live, and for free, on Red Bull TV.
With Billy Bolt holding a narrow points lead over Mani Lettenbichler, and a growing pile of riders like round six winner Wade Young, plus Jonny Walker and previous Hixpania winners Mario Roman and Alfredo Gomez, the Spanish round of the 2021 HEWC will be fascinating contest.
Stay tuned to Enduro21 for daily results and highlights from both qualifying days including the "Xtreme Campoo" race on Saturday.
Sadly, fans aren't allowed at this race due to restrictions but, wherever you are in the world, you can watch Sunday's main race, "El Camino Perdido", live and free on Red Bull TV. (At time of writing we haven't got a link to share, we'll post it here when we do).
Before that, here's what to keep an eye out for this weekend…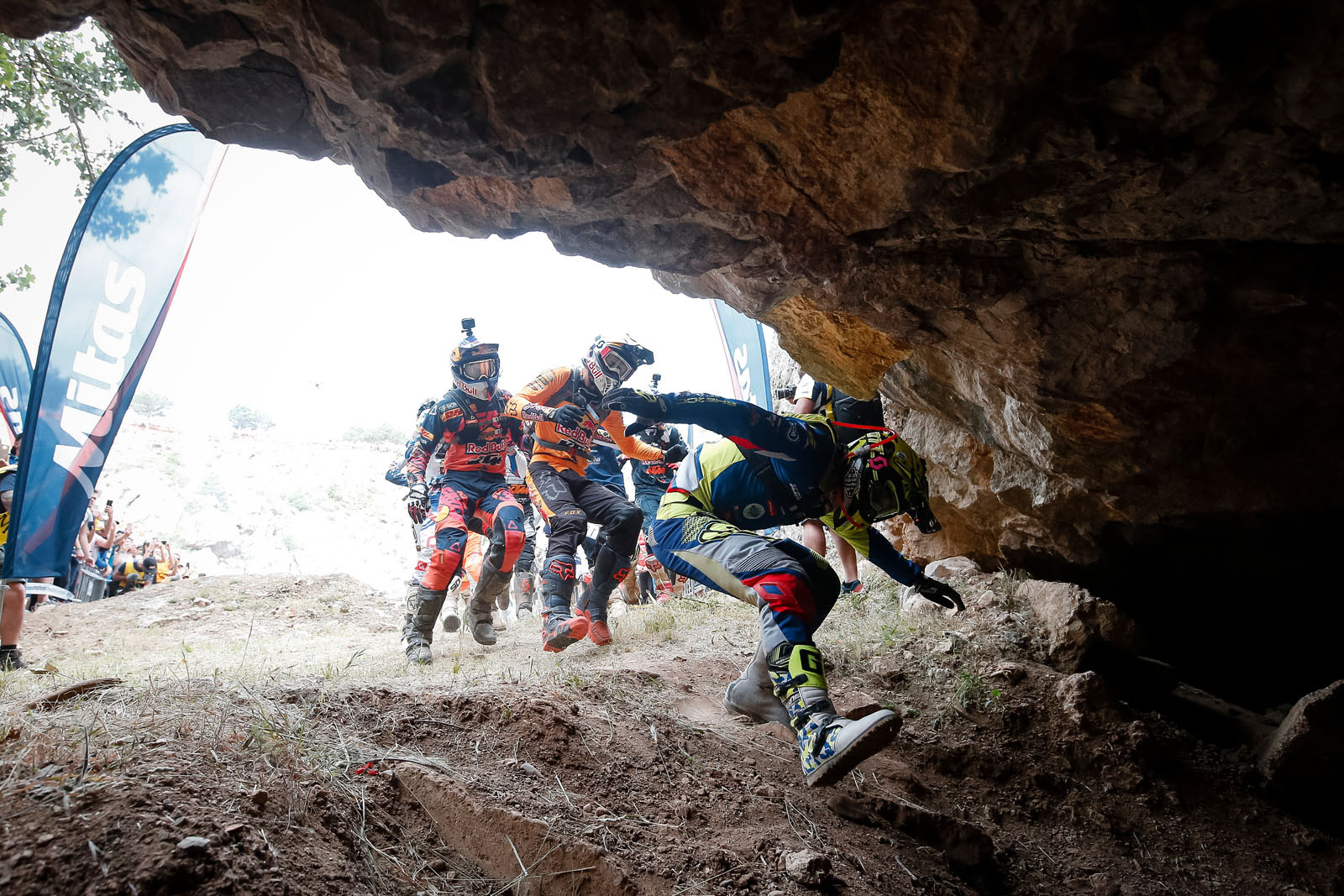 The start of The Lost Way main race at the 24MX Hixpania Hard Enduro is truly unique. Why? Well, because it starts in a cave! To get to their bikes, riders face a Le Mans style start where they run into a cave, squeeze through its small entrance, and scramble to their bikes. It's always exciting to see who's fastest on their feet.
The Final Climb
The final climb of the 24MX Hixpania Hard Enduro has consistently delivered many breathtaking finishes. While The Lost Way race is a multi-lap three-hour battle, the final climb is only used once at the end of the day - simply because it is so gnarly. With riders exhausted, it's a real sting in the tail to a true hard race. Riders have to give everything to reach the top.
Down By The Lake
During the three days of racing in Aguilar de Campoo there's a lot going on, with racing catered for all classes and abilities. While Sunday's race is short and intense, Saturday's Campoo X-Treme is quite the contrast. Competitors face a 30-kilometre-plus course that circumnavigates the town's reservoir. While the reservoir is filled with water, the surrounding countryside is overflowing with some of the very best hard enduro terrain there is.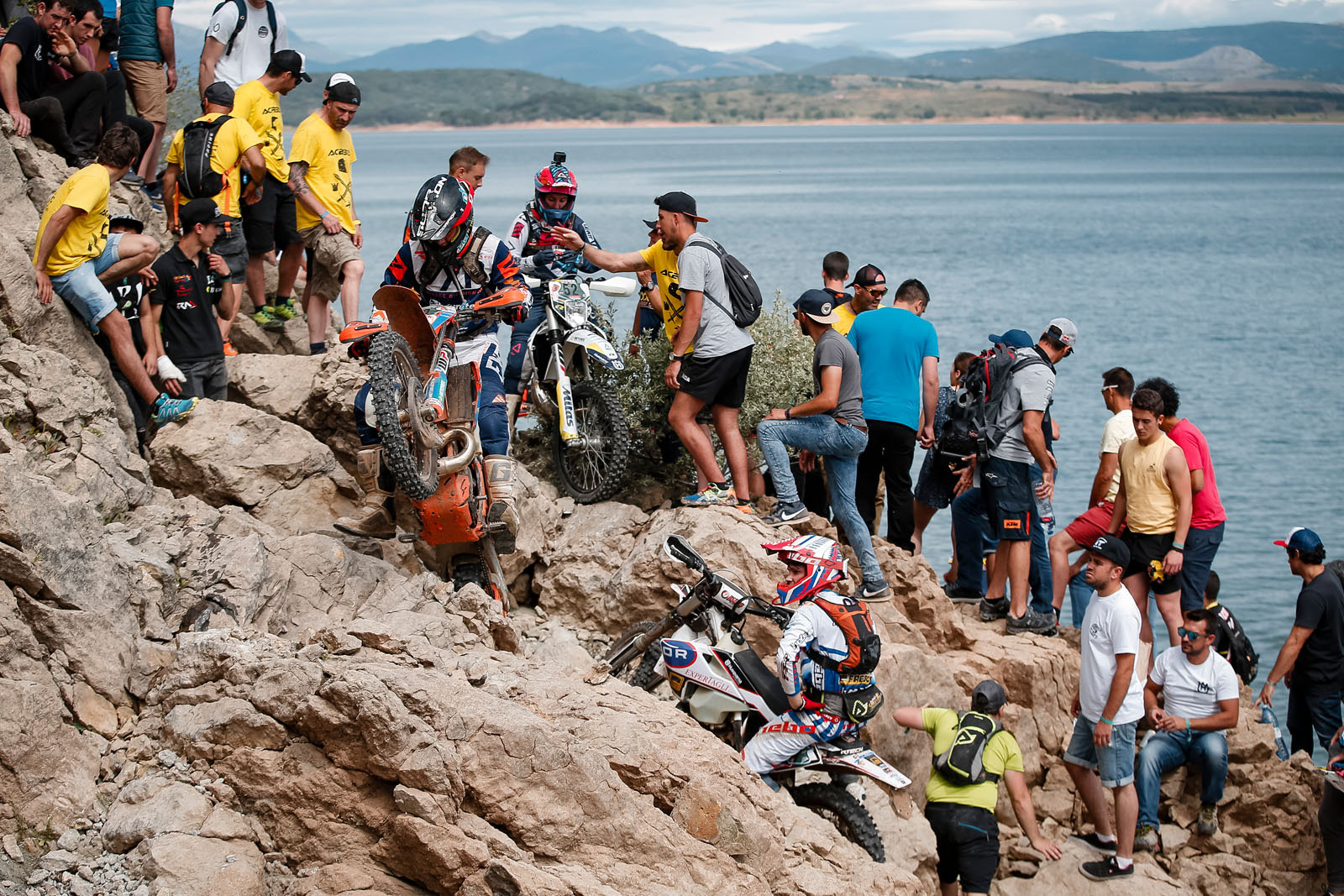 Who's Gonna Win?
As the penultimate round of this year's HEWC series, there's a lot riding on the outcome of round seven. The championship is hanging in the balance between Billy Bolt (Husqvarna) and Manuel Lettenbichler (KTM) with Sherco's Wade Young right there too, just nine points behind. 40 points are up for grabs with each race win so there is plenty to play for here.
A top result in Spain will be crucial ahead of the final round at Getzenrodeo at the end of October. But victory in Spain will be hard come by for these three as neither has ever won the race before. Unfortunately, former winner Graham Jarvis remains in recovery from his Romaniacs knee injury but his teammate Alfredo Gomez has form here as does Mario Roman on Spanish soil.
Along with Jonny Walker, all three will be welcoming the return to actual extreme enduro riding conditions following the XC race in Poland and will want that podium at the very least.
Check out how the Hixpania went down last time out in 2019:
FIM Hard Enduro World Championship standings (after 6 of 8 rounds):
1. Billy Bolt (Husqvarna) 70pts
2. Manuel Lettenbichler (KTM) 69pts
3. Wade Young (Sherco) 60pts
4. Mario Roman (Sherco) 48pts
5. Jonny Walker (Beta) 44pts
6. Alfredo Gomez (Husqvarna) 33pts
7. Michael Walkner (GASGAS) 28pts
8. Taddy Blazusiak (GASGAS) 26pts
9. Teodor Kabakchiev (Husqvarna) 21pts
10. Dominik Olszowy (KTM) 21pts
2021 24MX Hixpania Hard Enduro Schedule:
Friday, October 1: Hixpania Village
10:00-12:00 Sighting lap and qualification
12:00-15:00 Timed section
19:00-20:00 Park Ferme
Saturday, October 2: Campoo X-Treme
9:00 Campoo X-Treme first row start, then one row every 2 minutes. Each row will be formed by 25 riders. Location: Superenduro Paddock.
15:00 Prize and medal giving ceremony
Sunday, October 3: The Lost Way
11:00 Start – The Lost Way main race
14:00 Prize giving ceremony
Photo Credit: Future7Media