FIM Enduro Vintage Trophy: host countries confirmed until 2026
The FIM has confirmed in Italy, Poland and Germany as the host venues for the next three editions of the FIM Enduro Vintage Trophy from 2024 until 2026.
Following a recent meeting between the FIM President Jorge Viegas together with the Presidents and representatives of the Polski Zwiazek Motorowy (PZM), Federazione Motociclistica Italiana (FMI) and the Deutscher Motor Sport Bund e. V. (DMSB) the next three editions of the Enduro Vintage Trophy are confirmed as follows:
2024 – Camerino (Italy)
2025 – Kielce (Poland)
2026 – Zschopau (Germany)
Since its debut at the 2016 FIM International Six Days of Enduro in Spain, the Enduro Vintage Trophy has grown steadily in popularity and in 2021 was made a stand-alone event on the Italian Mediterranean island of Elba. The event continues to be staged in "enduro heartland" locations and that remains the case with this news.
After the success of last year's event in Portugal, the 2023 EVT will be staged by the Spanish Federation (RFME) from 18-21 October with the tests being held between the towns of Fontanals de Cerdanya and Alp, close to the borders with Andorra and France in North-Eastern Spain.
Check the highlights reel from last year's Portuguese EVT:
Italian champions
Italy will travel to Spain as the reigning champions after their three-rider team comprising Enrico Tortoli, Giorgio Grasso and Tulio Pellegrinelli raced to victory in Santiago Do Cacem last year, finishing ahead of Germany and Portugal.
An Italian trio also won the Vintage Silver Vase class title with Maurizio Bettini, Luigi Mazzoni and Mario Graziani topping the podium for MC Pantera 1 while America's Fred Hoess produced the best Individual performance ahead of the Italian duo of Giorgio Volpi and Adriano Micozzi.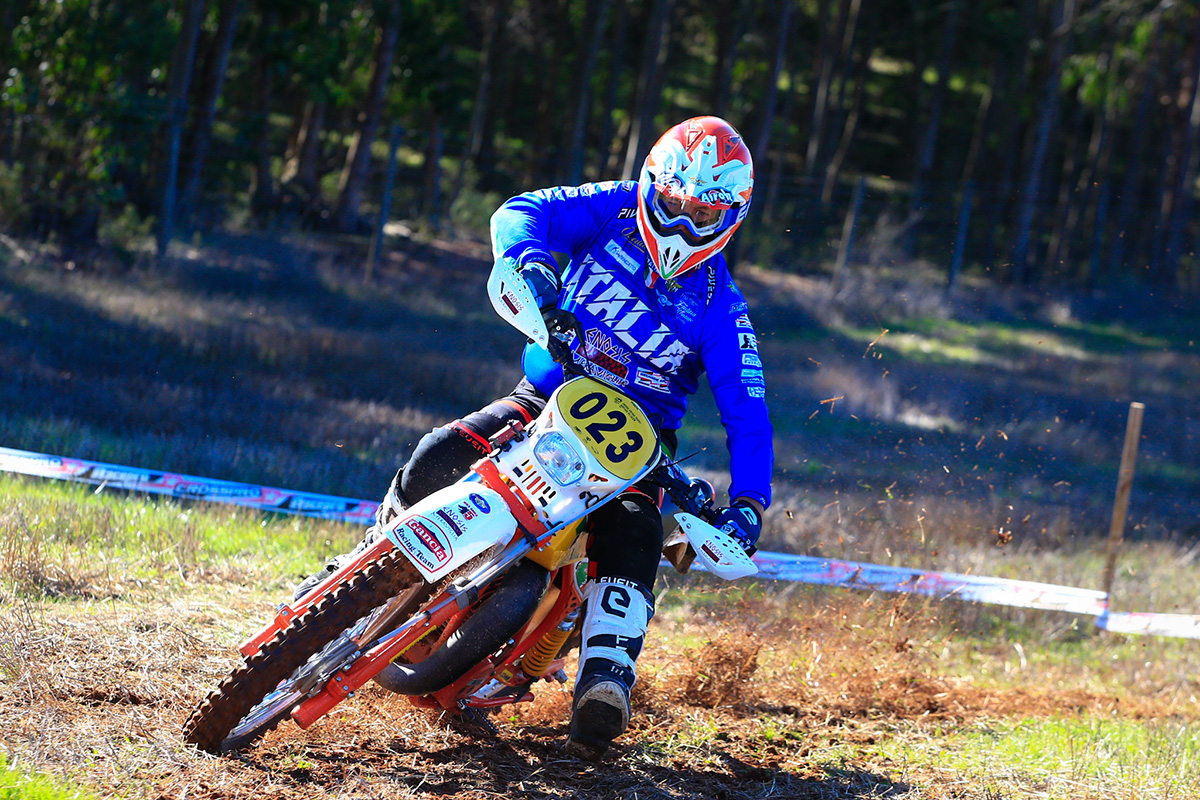 FIM President Jorge Viegas is delighted by the announcement, saying: "It is such a fantastic event, so it is really good news that we have confirmed the host venues for the FIM Enduro Vintage Trophy up to and including 2026. This event has really captured the imagination of riders and fans in a relatively short space of time. The friendly, nostalgic atmosphere is unique, but while the riders and their machines may belong to a different generation the competitive spirit remains unchanged."
John Collins, FIM Enduro Commission Director, stated: "The popularity of the FIM Enduro Vintage Trophy has grown and grown since it was introduced in 2016 and every year it is eagerly awaited so we are very happy to be able to confirm the venues for a further three years. I have no doubt that this event will continue to grow even further over the coming years."
More information: www.fim-moto.com (links to EVT page)
Photo Credit: Nuno Laranjeira