ISDE 2019: Day 2 Notebook direct from Portimao
Enduro21 daily notebook from the paddock at the 2019 International Six Days Enduro Portimao, Portugal – rider quotes and notebook notes.

A bright and sunny second day's action in Portugal for riders at the 2019 International Six Days Enduro brought a repeat performance from the leading riders, which is to say Daniel Sanders handed it to everyone again and Team Australia continue to lead both the World and Junior Trophy contests.
Competing on the same seven tests as the opening day, the day two tests were beaten up badly and a strong wind blowing off the Atlantic made it an air filter testing kind of day.
Daniel Sanders remains the measure of all riders as he continues to set test times no-one is able to match. Beginning the day with fastest first test 10 seconds clear, Chucky repeated the story for the next five tests to establish over half a minute lead – just like day one. The only rider with an answer to Sanders was again Josep Garcia who pipped the seventh and final test by a mere 0.92s.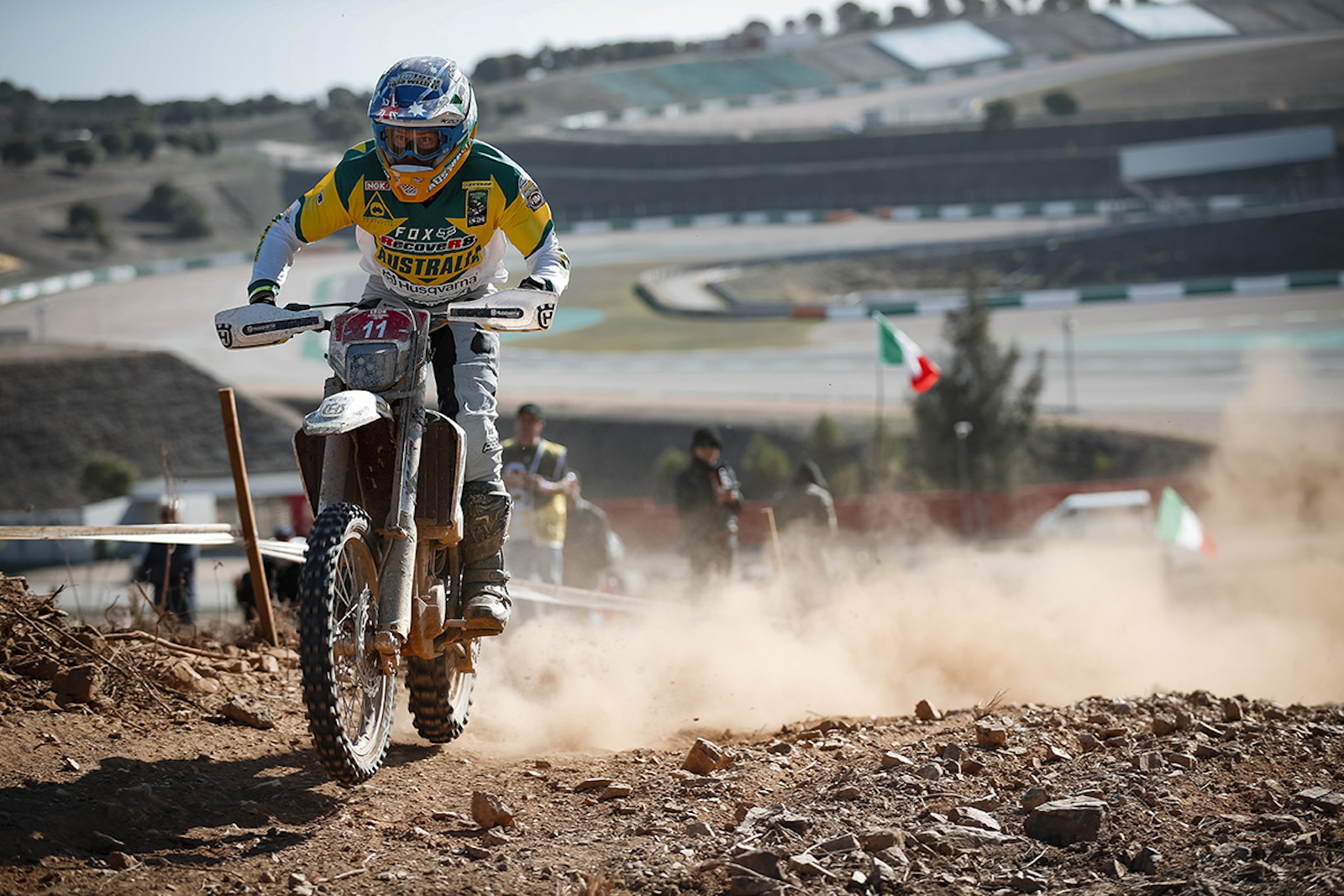 Riding back into the Aussie service area at the end of the day, Sanders had a visible smile on his face: "I just had to do the same as yesterday but because we were all on the same minute up front it was fair game for everyone and I came out swinging." Said Sanders.
"I had to adapt to the conditions and keep comfortable on the bike and not make too many mistakes.
"I'm looking forward to some fresh tracks tomorrow and maybe we'll see some rain so that'll be nice too. We'll get out tonight and refresh the memory for the tests and look forward to the new tracks."
Robert looking forward to 70mph tests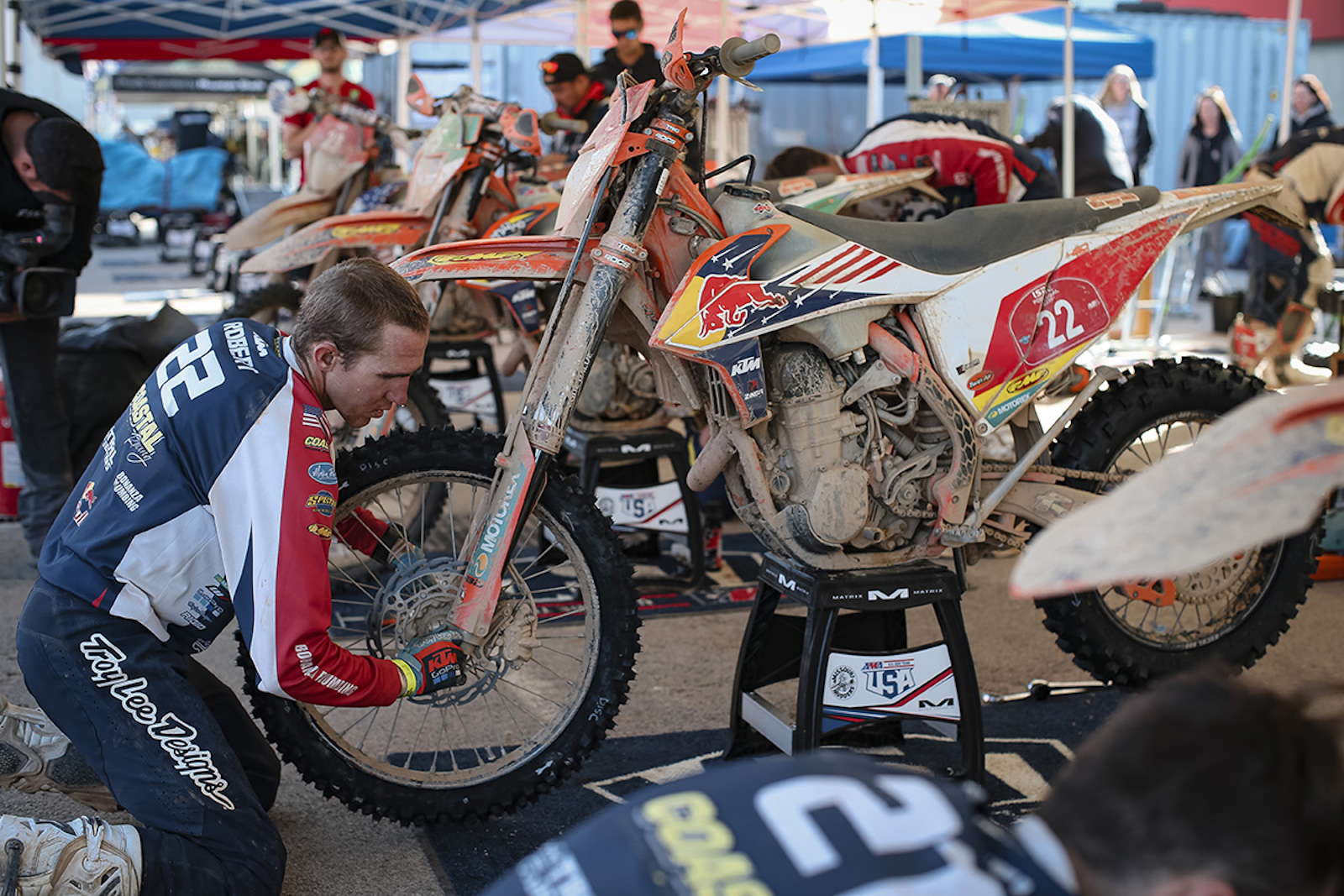 Taylor Robert and Kailub Russell are putting up a solid fight for Team USA's World Trophy squad who finished 50 seconds behind Australia. Third fastest US rider, Ryan Sipes had a tougher day matching his team-mates times in the beaten-up sandy tests, not his natural habitat he says, but the combined times continue to bring the fight to Australia and things would surely be different without the OZ talisman, Sanders.
For Robert though it is a case of trying to get closer to Sanders in the tests: "I had a good day yesterday and today really – there were a couple of tests I didn't quite get right but I'm riding good. I'm still working on trying to get close to Daniel (Sanders), he's riding really good and you cannot take anything away from that guy.
"We rode great again today as a team – Kailub and I were just swapping tests and within half a second all day long so that was cool.
"I am definitely looking forward to some fresh tests tomorrow, these ones are pretty beat-up. There are no sand tests for a start, a new one near the paddock and one up in the hills that is totally different to anything else we have all week, nice and green and grassy. So that one will be fun and we also have a really fast test, that one's gonna be interesting for sure because we'll be hitting 60 or 70 miles an hour."
Two-Stroke Tuesday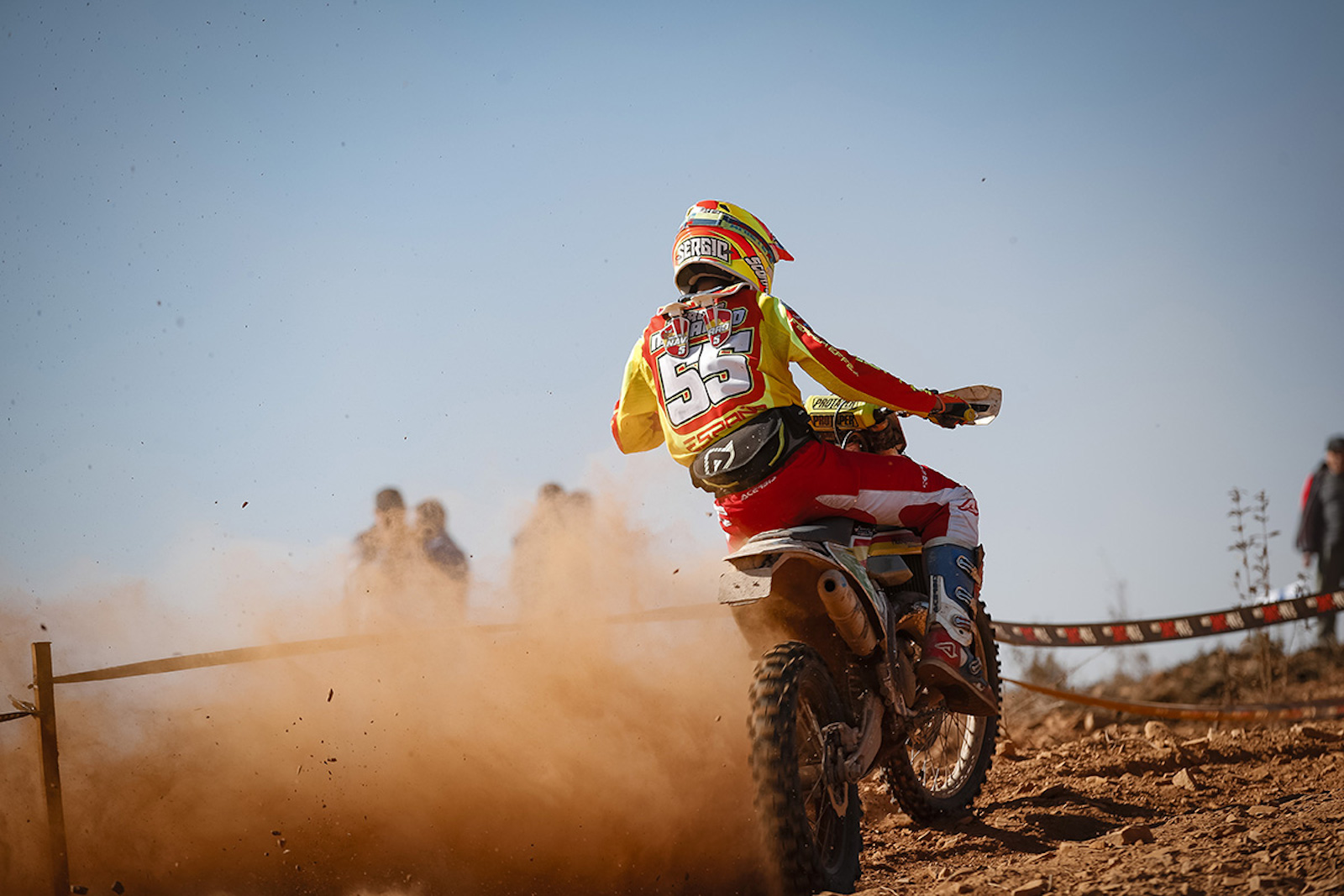 Standing trackside it is easy to get blown away at the ISDE. Not just because it is damn windy here in Portugal this week and not just because the world's best riders are so damn fast either. But a stand-out performer among the top 25 overall is a flying Sergio Navarro riding a 125 Husqvarna.
Celebrating #twostroketuesday in style, the Spaniard is making his 125 2T fizz like a fire-cracker among the four strokes thumping their way through the tests. Alongside the big E2 and E3 four strokes it is a heroic effort to watch and his diminutive size amplifies the effect: "Yes, really it seems unfair on these first two days with the fast, sandy tests to be on a 125, I am full gas everywhere, it is the only way!
"It makes a difference on the fast tests but I try to make up the time where I have the advantage and it is a lot of fun to race like this."
It's a lot of fun to watch too Sergio.
Verona fast but Aussie Juniors give no quarter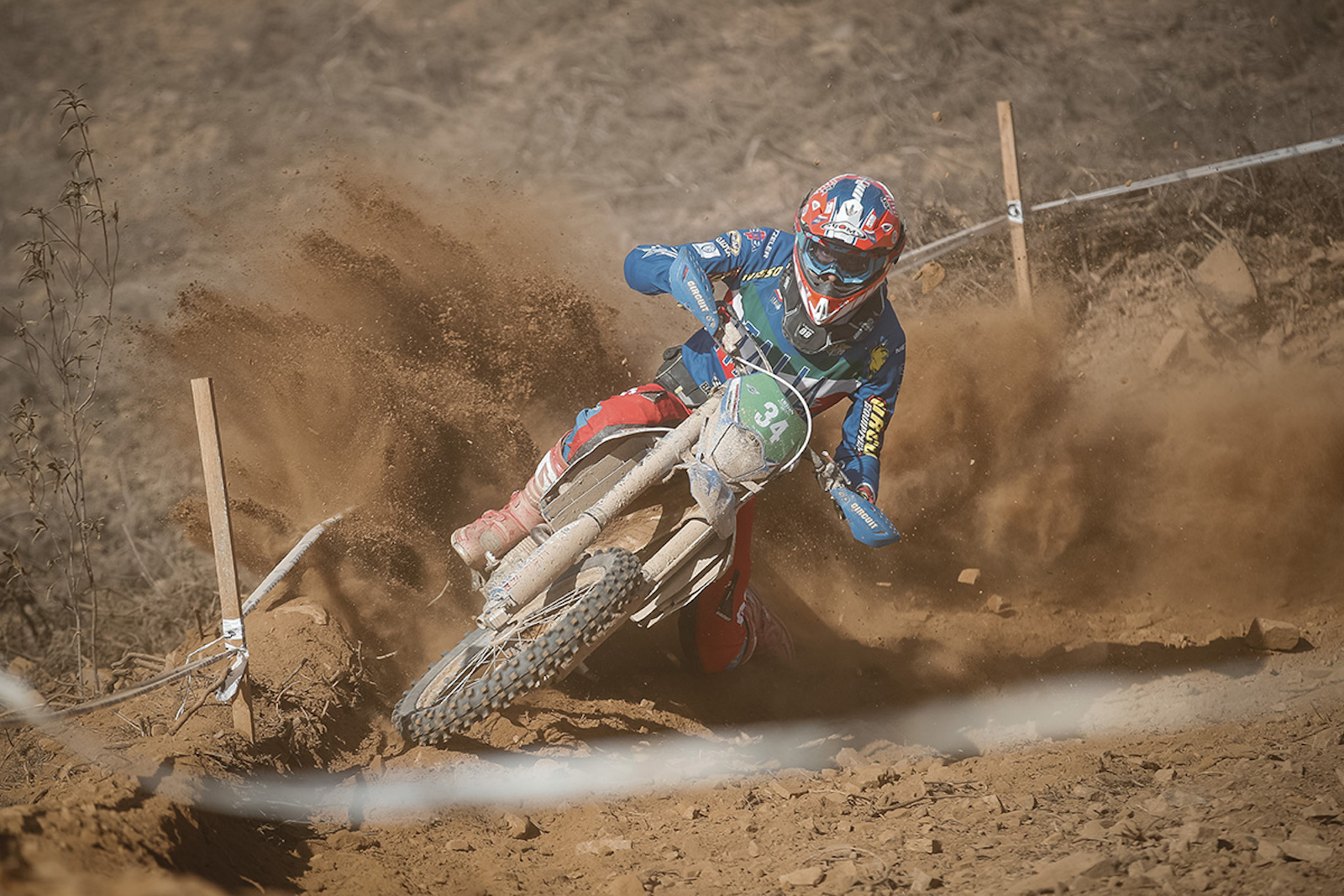 The Junior contest hotted up on day two with a sixth place finish overall and a fastest Junior result from Andrea Verona: "I am happy about my result today – sixth overall is a good result and also third in E1 class and top Junior. Yesterday we were fourth with the team so my result today improves the overall a bit to third but we have more to do."
Indeed the reigning Junior World Trophy team does have more to do because, unfortunately for Verona and his Italian team, the Australians are following Sanders' example.
Lyndon Snodgrass and Fraser Higlett, both also inside the top 10 overall, along with third rider Michael Driscoll, put in a combined effort to sit 3m:26s clear of USA with Italy over five minutes down on the leaders.
Franke speaking
It was good also to catch up with Maria Franke in the paddock. One of two stand-out individual performers in the Women's class this week so far, along with Brandy Richards, Franke says she enjoyed the rough terrain day two dished up: "I'm from a motocross background so these beaten-up tests suit me.
"This event this year is not so hard from the heat or anything but the bumps are so hard on the body. The sand tests especially are really tough but I like it!
"I don't expect to be at the top but every time I try to be at the top and I will try to do my best for the overall."
Happy Birthday Danny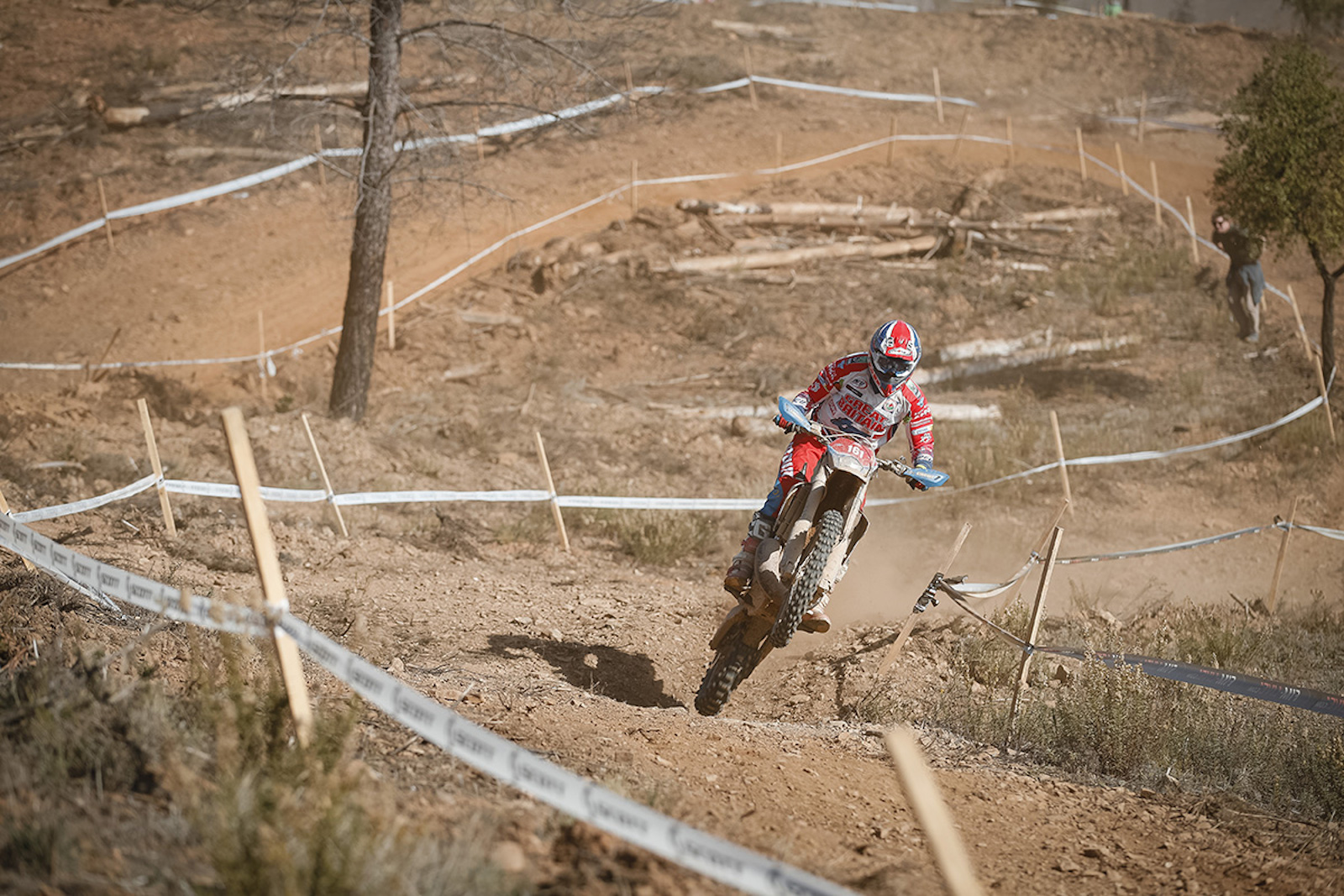 Meanwhile, EnduroGP World number three, Danny McCanney celebrated his birthday here today in Portugal. The day brought improved fortune for the Team GB World Trophy rider who stepped up with a seventh overall and second in the E3 class behind the all-conquering Chucky Sanders.
It was a result built on a day one with too many crashes McCanney explains: "Basically I had a bit of an issue with set-up, began the day with a couple of crashes in the first test which messed my head up, then on the second lap I crashed again and really didn't find my rhythm all day.
"But I made some changes, felt better and started a lot better today. Finally all day I didn't crash once and rode steady but consistent. The tests were a lot rougher but I prefer it that way and honestly, not crashing was the biggest help!"
Photo Credit: Future7Media/Andrea Belluschi