ISDE 2019 Notebook from Portugal – chaotic podiums and sketchy final tests
The final Enduro21 notebook from ISDE 2019 in Portugal reflects on what it takes to win, a sketchy final race and shines a light on why organisation and keeping the fans happy matters.
The International Six Days Enduro 2019 in Portugal is over and we have a new set of World Champions. Our final notebook direct from Portimao hears from the winning riders and the successful USA team manager to get a grasp on what it takes to win this biggest event in enduro.
We're also leaving Portugal with some question unanswered and scratching our heads after a chaotic podium ceremony. Did this year's ISDE location tick the right boxes? Was the organisation tuned into our sport of enduro? And why was the final motocross test "more like a supermoto race"?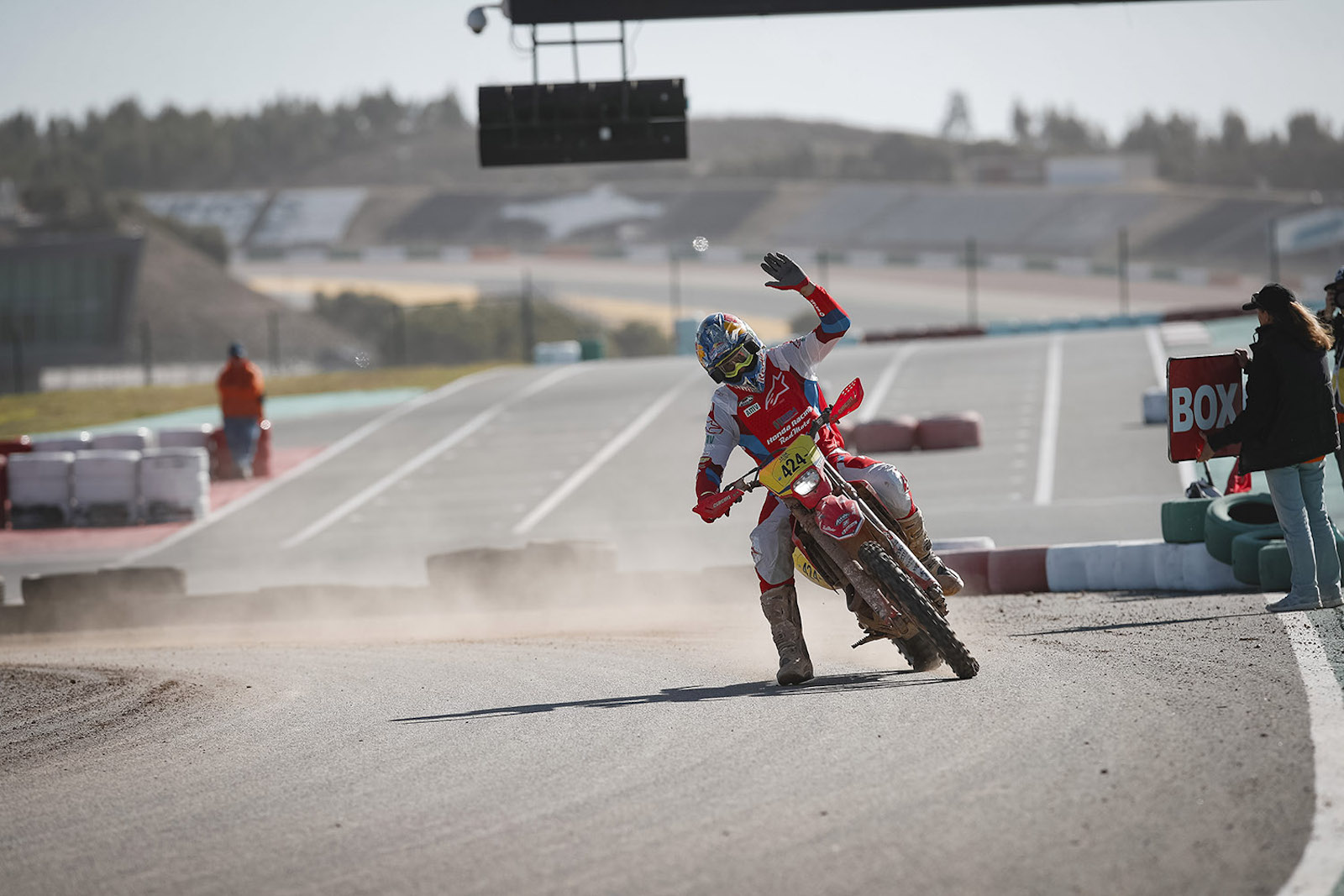 The ISDE World Trophy will be heading its way across the Atlantic Ocean to North America for only the second time in its history. The USA's previous victory in 2016 contained two of the four riders here in Portugal (Taylor Robert and Kailub Russell) and was in Spain, as we said in a previous ISDE Notebook, they must like the Iberian Peninsula.
It is all about the team game at ISDE and the US riders bossed the World Trophy by consistently sitting pretty in the test time sheets, all day, every day. While two riders dominated the individual results – namely Daniel Sanders and Josep Garcia – the collective efforts of Taylor Robert, Kailub Russell, Ryan Sipes and Steward Baylor were the force to be reckoned with.
What does it take to win ISDE World Trophies?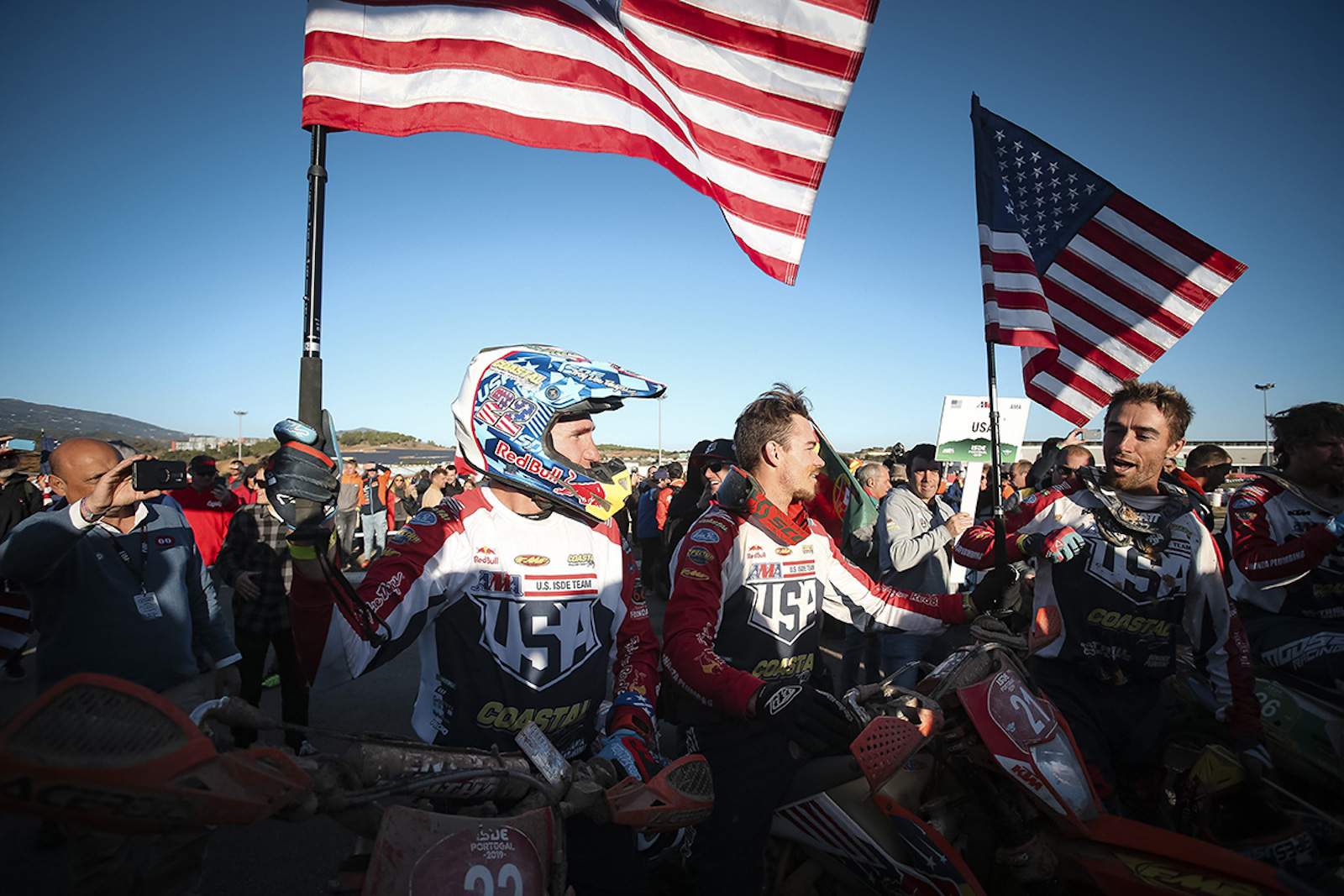 Speed in the tests counts obviously but preparation and getting your homework done is also a major factor. Walking the tests is obviously part of the deal ife but the victorious Team USA took track walking to a new level this year with 100 miles walked during a week and half before day one in Portugal officially began.
"We put in a tonne of homework for this ISDE." Explains Taylor Robert. "Everybody turned up even earlier than we have before just to walk the tests and be as best prepared as we could be coming into this week."
"We had almost 100 miles walking in a week and a half," adds USA Team Manager, Antii Kallonen. "That also puts a wear on you physically but we had it planned well, we had rest days where we took it a little easier and weren't like, 'go, go, go' walking the tests. You don't want to be burned up by the time you get to day one of the actual race. Every year we tweak the preparation a little bit but I think this year the hard work paid off."
Mental Strength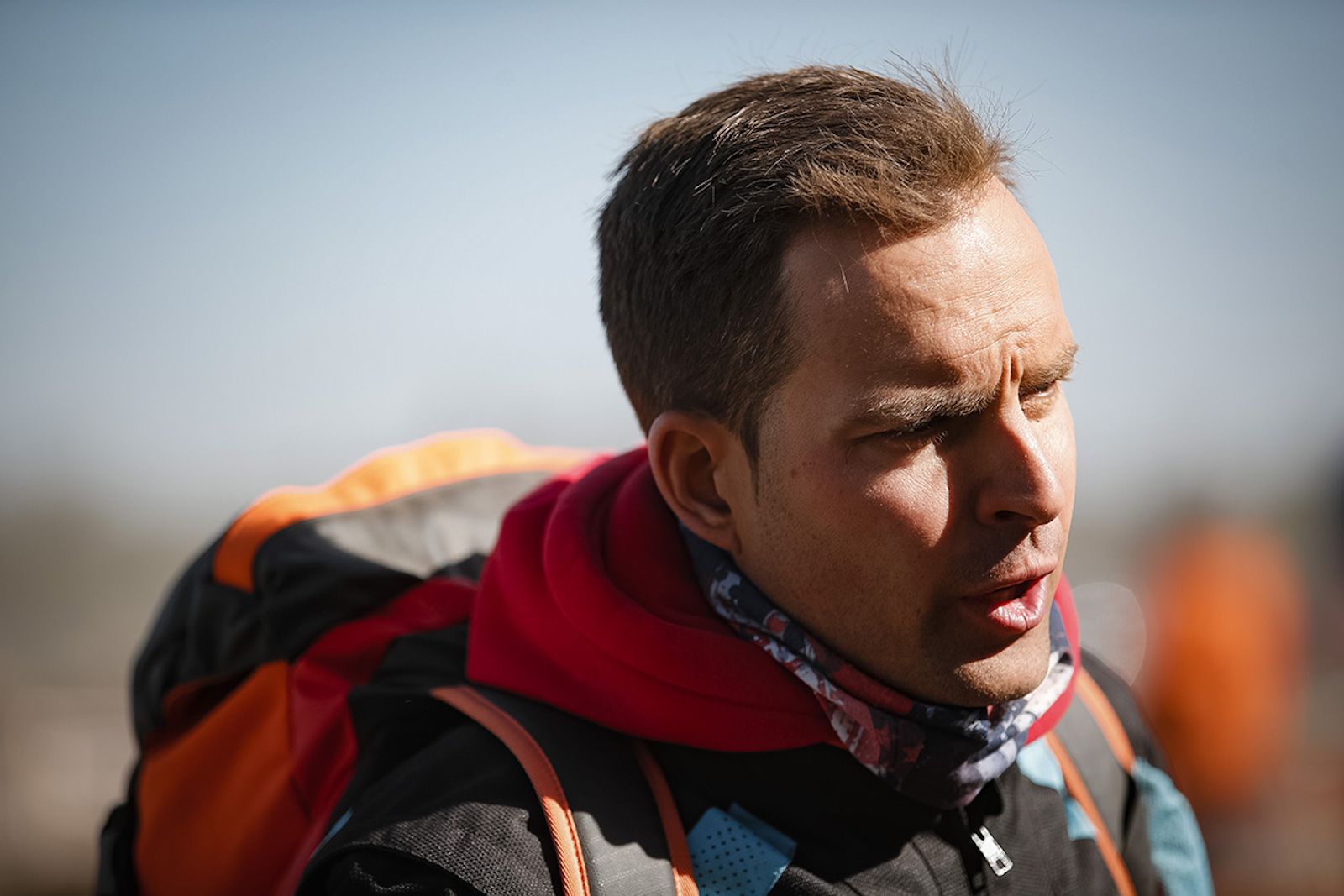 The key though was that collective performance from the three riders: "From day one we had three riders top five." Continues Kallonen. "We weren't quite edging out Australia at that point because Sanders was just so far ahead of everyone. When we got off the sand tests, on to the clay soil a bit more and had different weather conditions, our guys really excelled and turned it around."
Across all teams there are rival riders who race each other all year but stand shoulder-to-shoulder for the collective national pride at ISDE. The US team is perhaps unique in that the some of the riders don't compete against each other on home soil, instead racing different US championships.
Not that it mattered: "The riders are so close and all riders are so motivated each day – it has been the tightest team I have ever worked with since 2012. They are so close together working out on the track each day – they speak the same language. The team comradery has been great and that is a big part of it besides being physically and mentally strong."
Aussie Juniors prove a point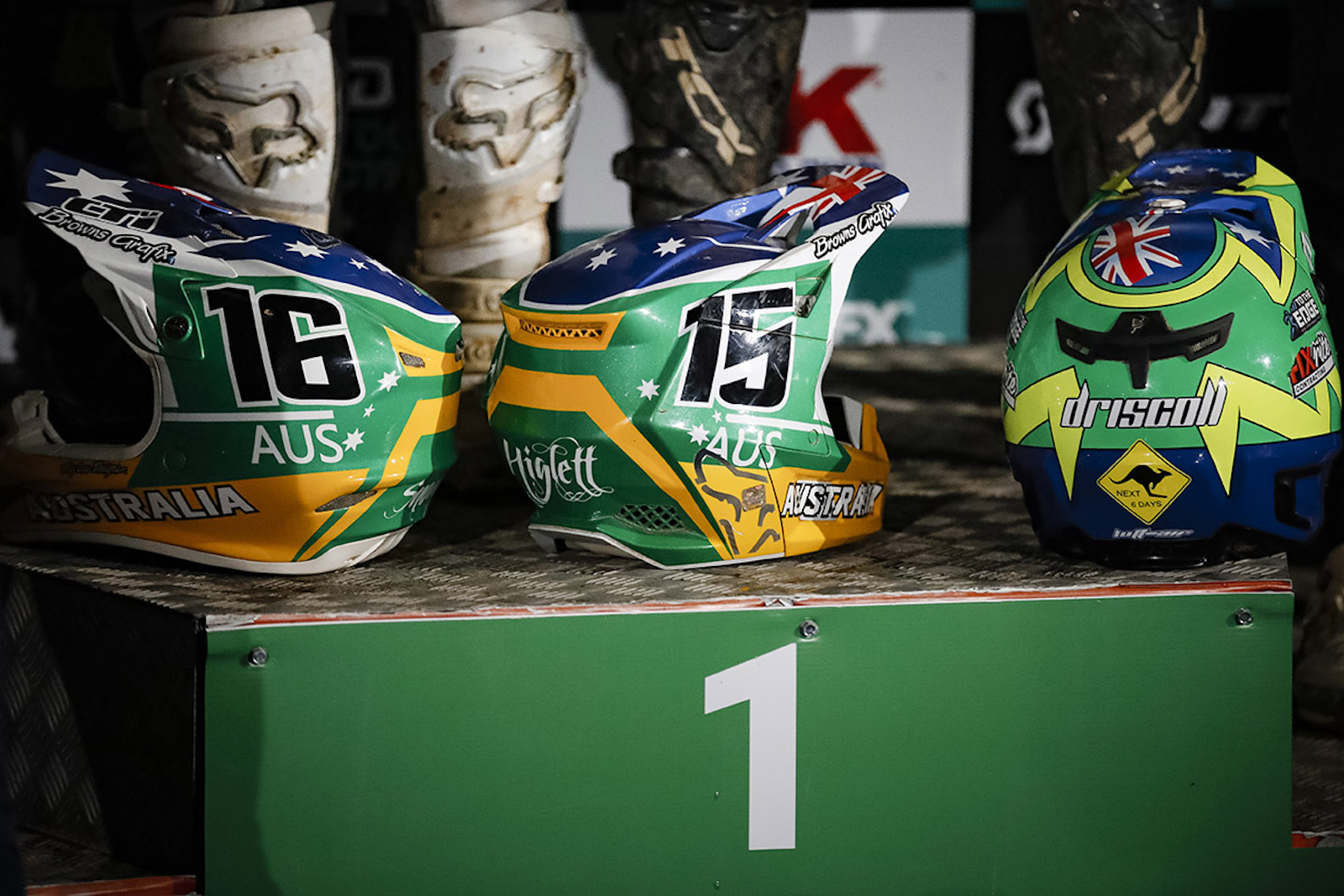 Indeed the USA Women and Australian Juniors all followed that strength in numbers pattern, locking out the other teams with collective force. Lyndon Snodgrass: "We came out on Monday and Tuesday really strong and it was just about maintaining our lead. I'm really pumped on my own performance this week but it's all about that moment when you cross the line and know the job is done."
Individual performances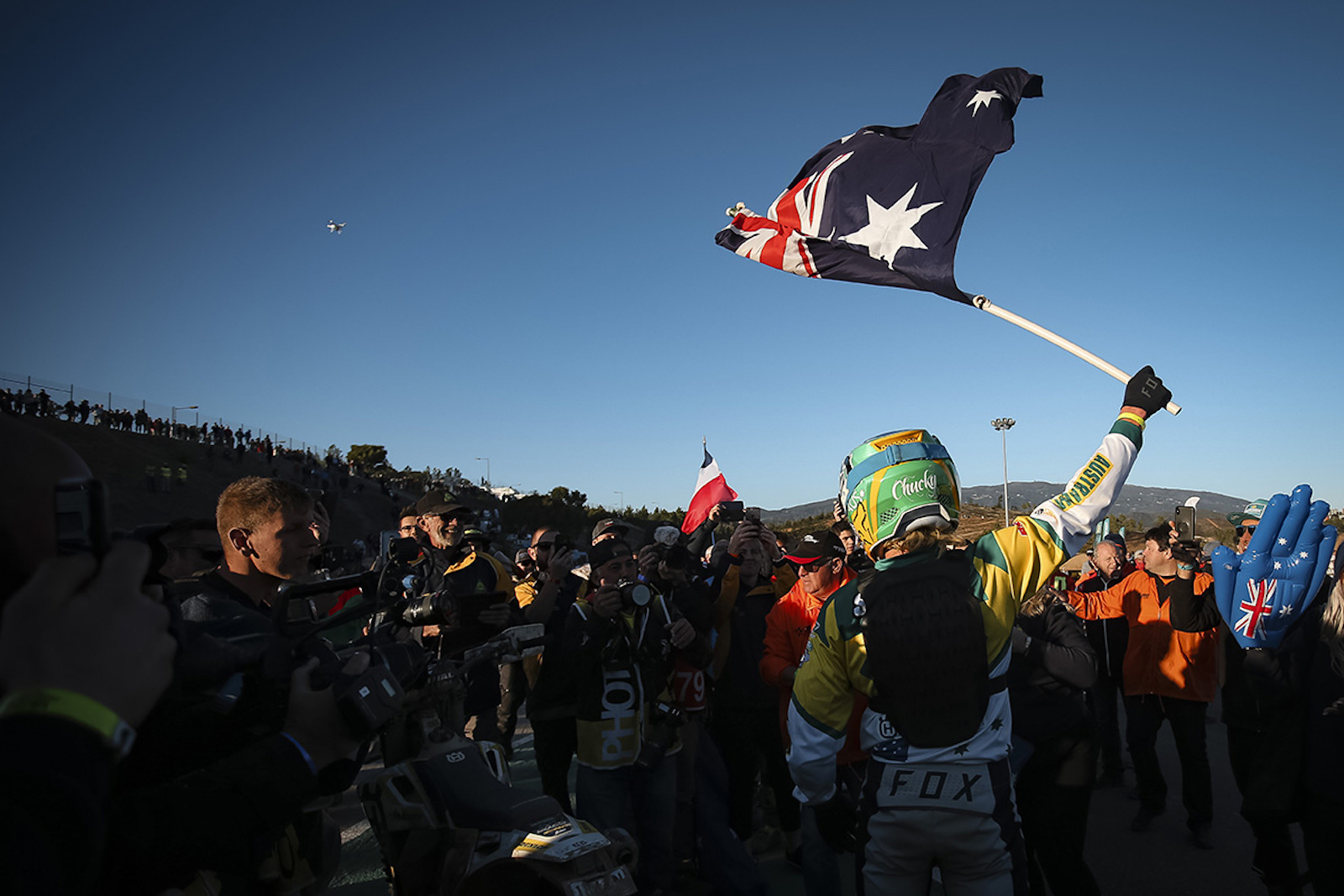 There is no question enduro is a great leveller. Along the way mechanical or physical issues affect the end results but the best normally win out. Taking a broader view you can say that is why, at this moment in history, the USA and Australia are on a run of domination at Six Days, like France were previously.
One of the fascinating elements of the ISDE will always be the individual contest. As riders from around the world from different championships come together: EnduroGP World Championship regulars, GNCC, WORCS and National Enduro riders from the US and the best of AORC in Australia.
The Chucky and Josep show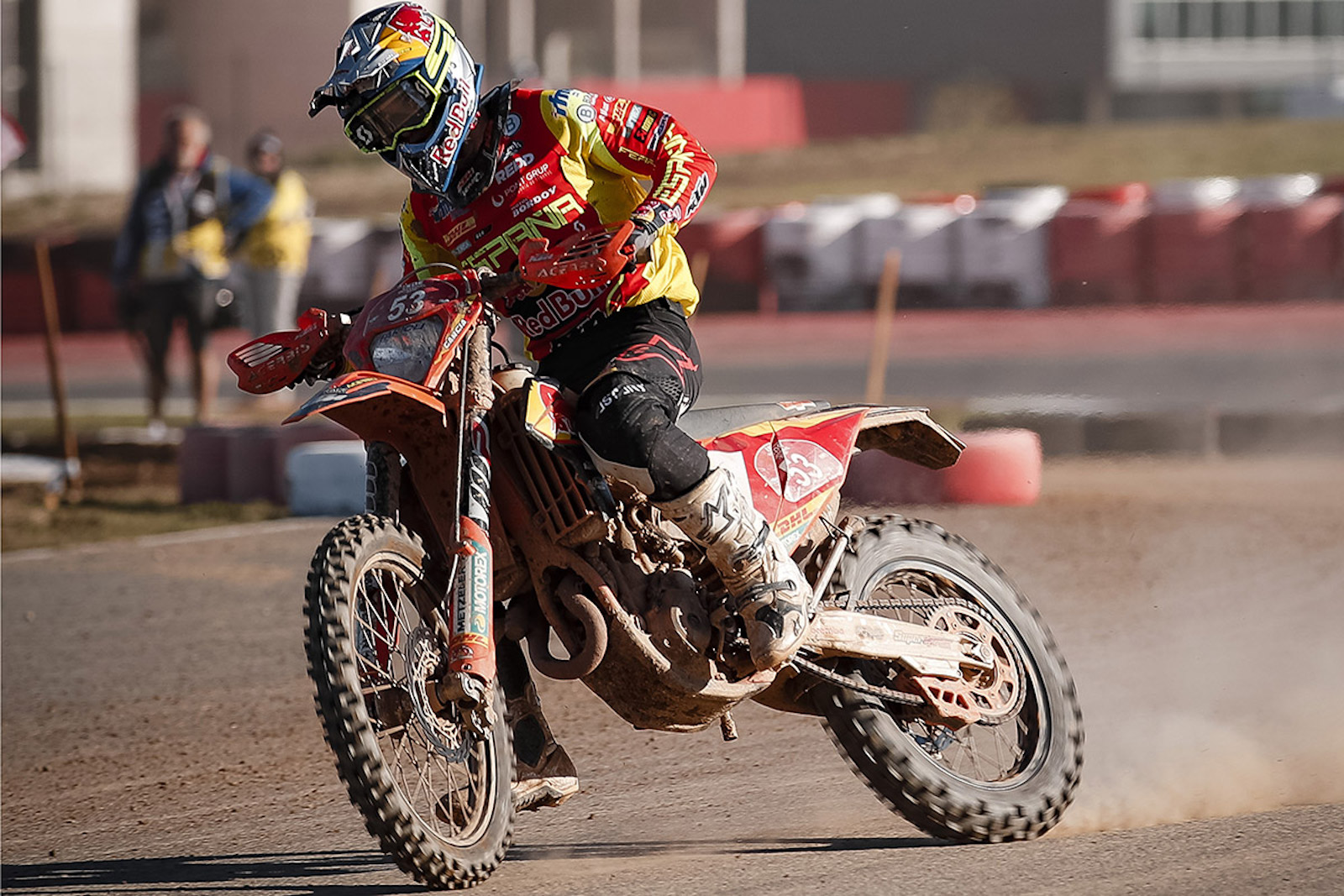 If the ISDE is that measure then Daniel Sanders and Josep Garcia are those two fastest riders right now. No matter where we were across the five days of main test action, in very varied conditions those two took the biscuits. Five seconds here, three seconds there. They add up over six days and 36 tests to a gap of 53 seconds overall for Daniel Sanders ahead of Josep Garcia. The next best was Taylor Robert, 4:22.34s down on the Australian. It was some show.
It was shame not to see the EnduroGP top brass riders Brad Freeman and Steve Holcombe prove themselves here in Portugal. Both put themselves out of the event with injuries – Freeman on day one, Holcombe prior to the event – but it would have been fascinating to see how they measure up against the rest of world.
"Sketchy" final test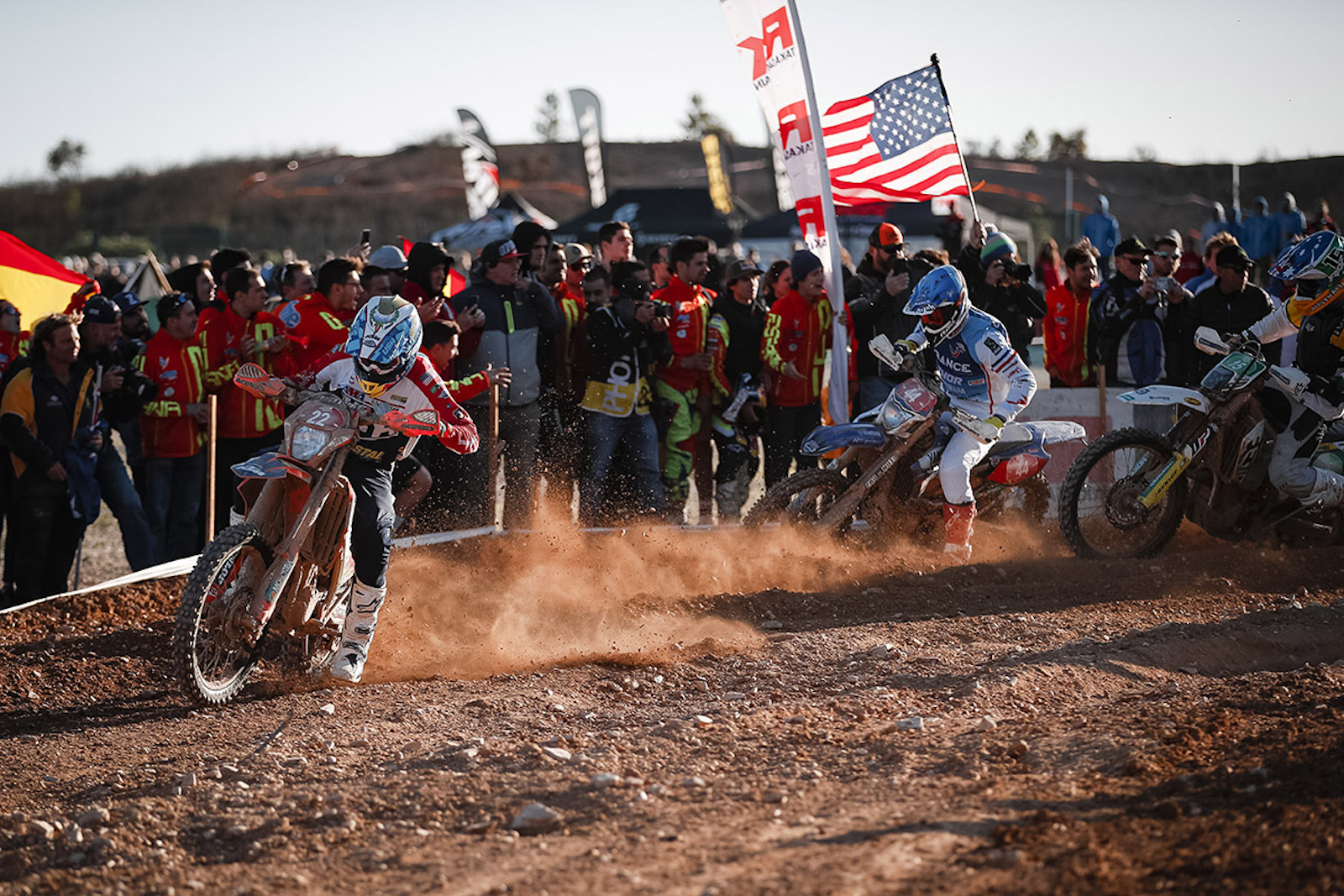 The final motocross test at the ISDE on day six is a spectacle, a blast of a race for the different classes, a chance to go shoulder-to-shoulder after a week of looking at timing screens. Overall results are not normally affected by this last test and so as long as the bikes make it, and the riders don't crash out, normally there isn't enough time difference and the result is sealed.
The original plan to hold the MX race at a track an hour and almost 100km away was ditched in favour of cobbling together a test on a kart track at the Autodromo International Circuit complex, a two-minute ride from the paddock.
It's not the first time the final test went off piste, it was the same at Sachsenring, Germany in 2012. In theory it was a better solution but the track was set on the kart track infield with poor dirt, was mostly one line and featured a healthy stretch of asphalt.
It was impressive to watch riders like Josep Garcia doing 75 metre slides or Women's World Trophy scratch overall winner, Maria Franke, power-sliding one-handed while wiping her goggles. But it was widely considered "sketchy" as we talked to riders at the track. Racing it was a question of staying upright and trying to minimise the shot-blasting from all the stones rather than savouring the final moments of a great week.
"More of a supermoto race than enduro"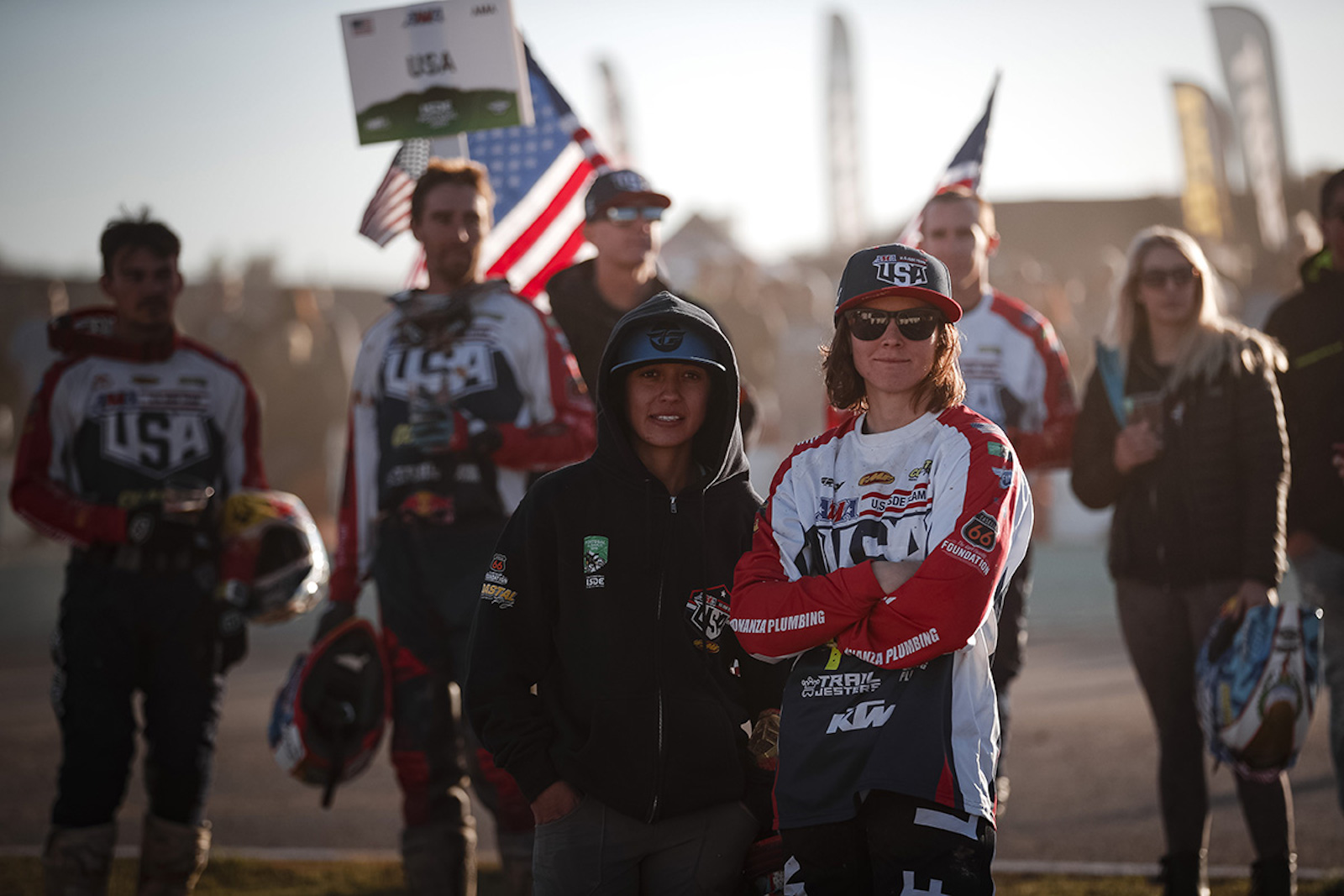 Women's World Trophy winner Brandy Richards was pleased to get through the final test: "Just finishing that moto I was so relieved to get the job done. They watered the track right before our race and it was super-sketchy, the whole time I was just saying to myself 'just don't fall, just don't fall.'"
Taylor Robert says pretty much the same about the track as Richards: "For me it was fun out front but honestly this was not the greatest conditions for a final moto race. We had to make do, go out there and get done what we had to get done. When you're racing in conditions there are so many things that can go wrong on a track like this – when you're racing on pavement, on a hard pack track like this."
Venue, organisation, fans? ISDE Portugal 2019 raises questions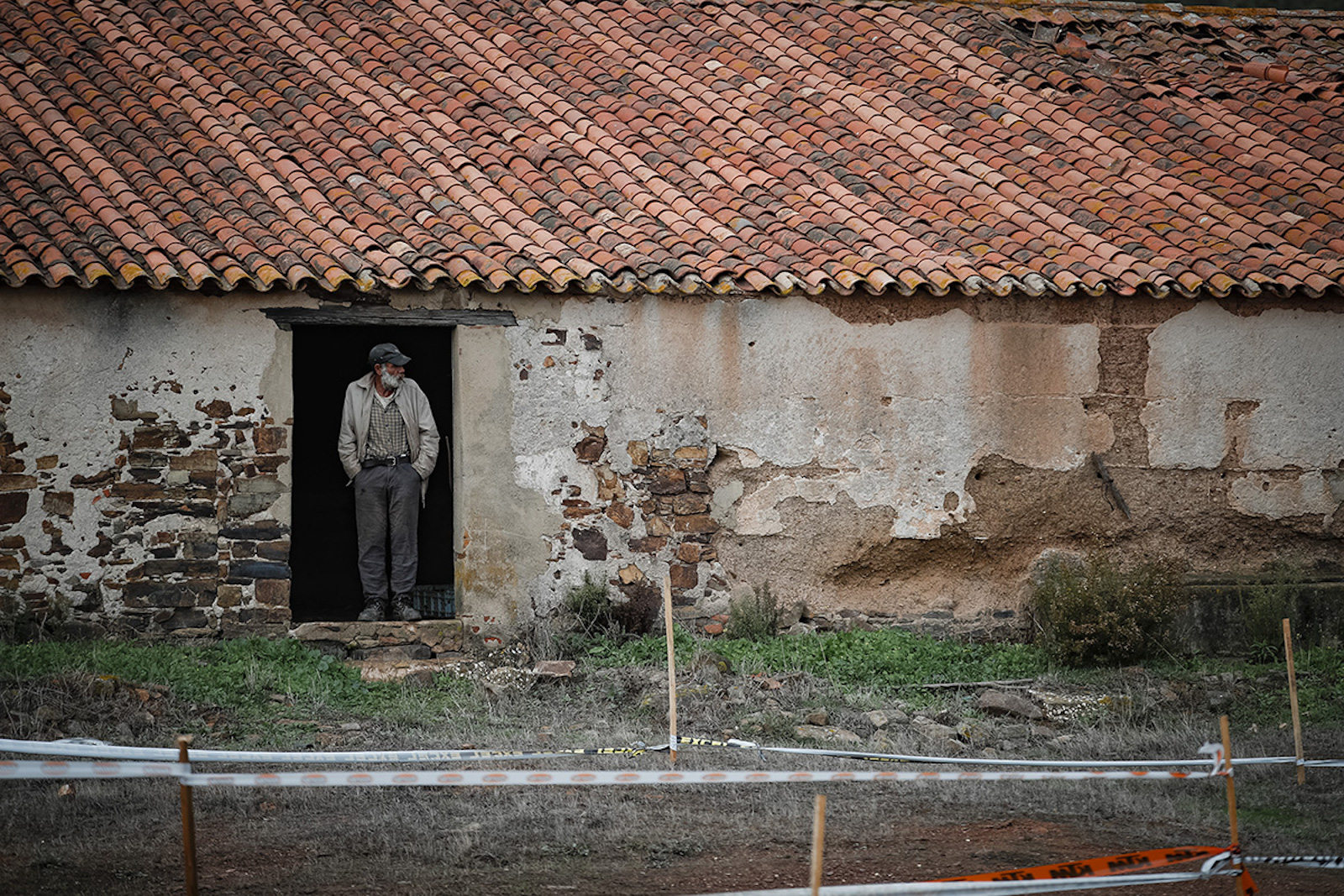 The fact that a last-minute change saw the MX test moved to the kart track in the first place was symptomatic of the week in Portugal which suffered some organisational issues you don't expect at this level. As one club rider put it to us, "if this was my local club organising the event you would expect problems, but an FIM event, the biggest enduro on the planet?" The media always have problems, so take no notice of us, but for the riders and fans to have problems and not know what is going on, right down to their being no programme until the event was almost finished, is poor.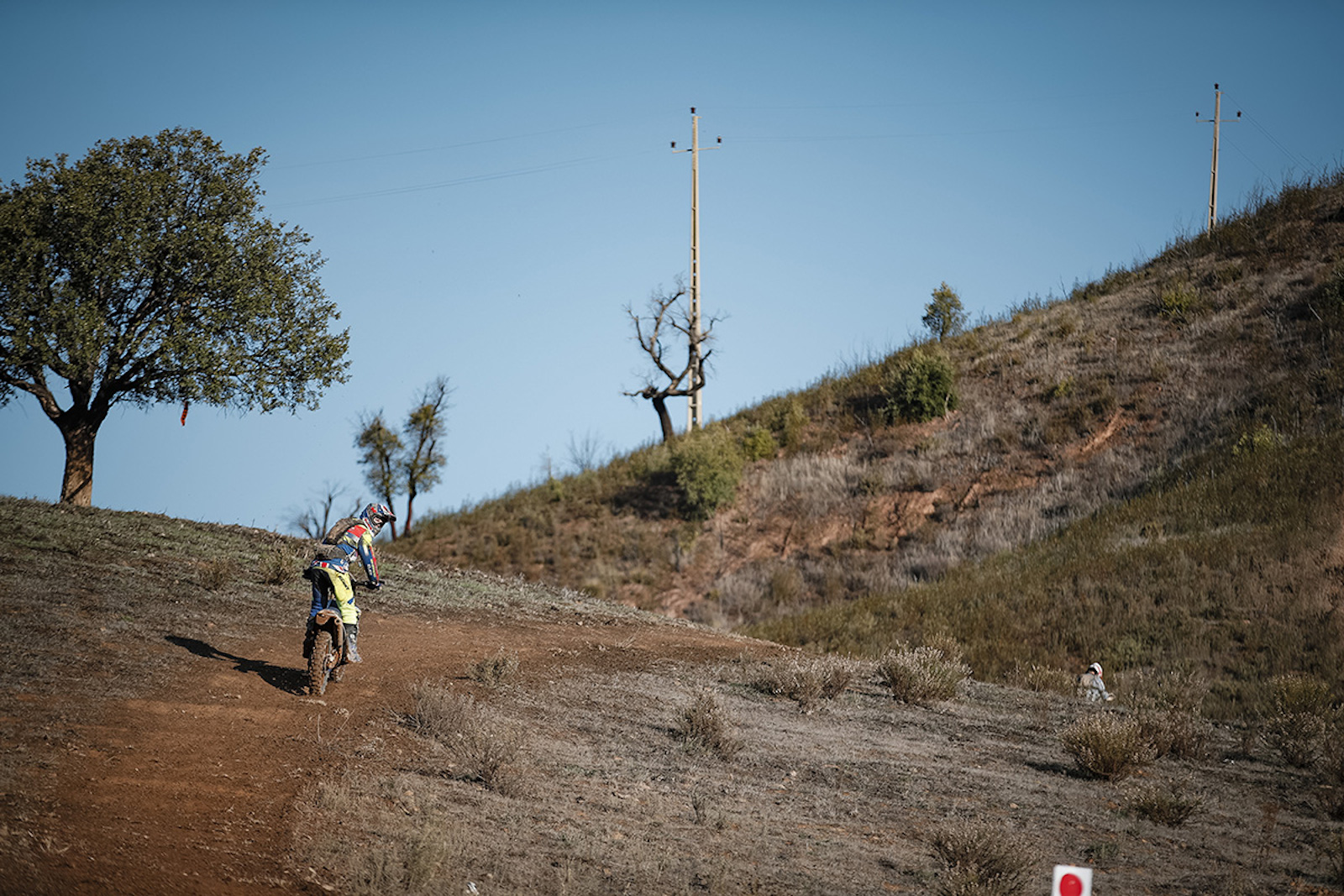 The crowds haven't been here in fact and as any Portuguese enduro rider will tell you, the south isn't the heartland of the sport in this country. There isn't the fan-base like there is in the north of Portugal where we know from experience the crowds can come out in huge numbers at Enduro World Championship GPs and events like Extreme Lagares in Porto.
The Portimao circuit worked in some ways as a logistics base (and to be fair most riders expressed the tests themselves were a good mix) but the fact it continued to operate as normal for cars and road race bikes, "made it feel like enduro doesn't matter round here" said one Portuguese.
Podium ceremony chaos
Charging people to get into the paddock was also a questionable decision in a sport normally so open to fans. Any trade stands in the paddock were wasting their time, they said. Local publicity was minimal for the event and anecdotally it seems the event was not promoted enough – what would be the point in a part of the country famous for its holiday homes and golf courses.
And then there was the podium ceremony which felt like a boat at sea without a skipper. It didn't help that the kart circuit bar was dishing out beer by the box load (though the riders were sure having a great time winding down from a week of racing) but as a formal conclusion to the week it was chaos.
ISDE 2019 had drama by the bucket load and as ever the huge numbers of riders who load up their own vans, ship bikes or pay through the nose for the bike rentals and then travel thousands of miles to compete are the back bone of this event and indeed the sport. Here's to them.
Roll on ISDE 2020.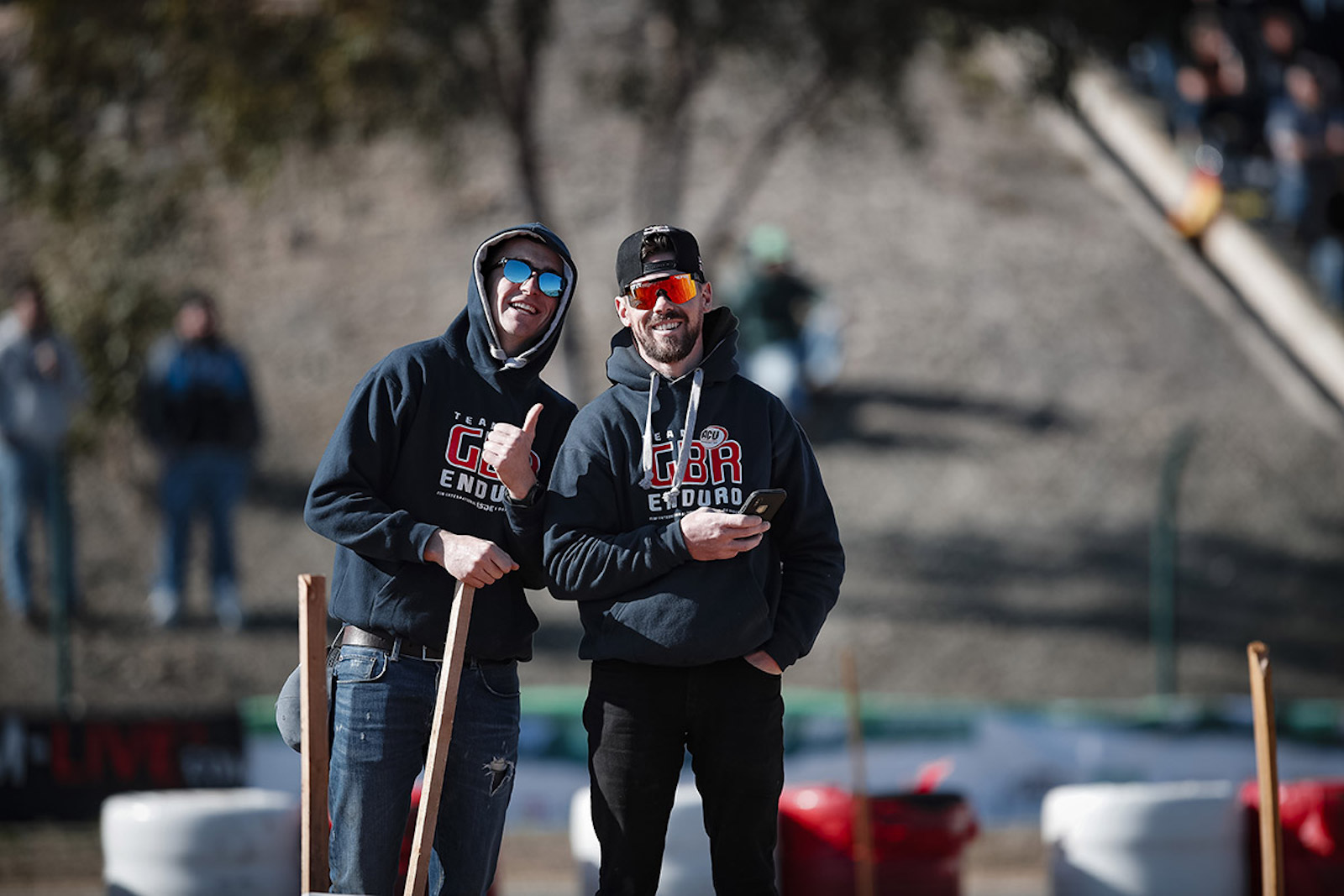 Photo Credit: Future7Media/Andrea Belluschi