ISDE 2022: Day 1 Notebook – teamwork making the dream work
Enduro21's daily notebook live and direct from the International Six Days of Enduro in Le Puy en Velay, France where a hot and dusty day one delivered a four teams to the top, saw major Junior riders go out after just one test and at least a couple of riders began precisely how they left off in Italy last year.
It was a good day for…Spain
Ain't that the truth! What a start to the 2022 ISDE for last year's runners-up team and the 2021 scratch winner Josep Garcia whose fastest outright time has helped Spain take a 22 second lead ahead of Italy second with Great Britain and USA are all within four seconds of each other – France is fifth within the same minute. This week is going to be awesome to witness.
The prediction that it was going to be tight between the World Trophy teams ran true with Josep also fastest out the blocks followed by Andrea Verona individually, with the Spaniard taking a perfect five from five test wins today.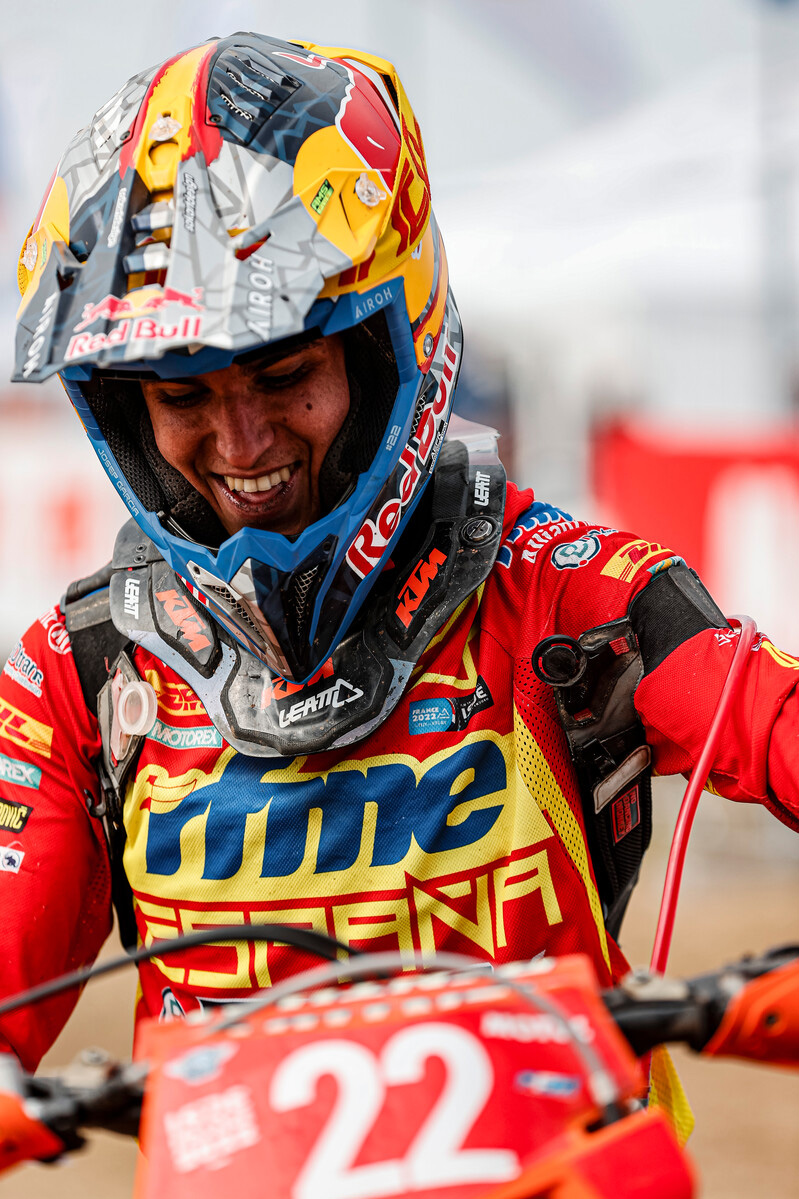 But it is the strength through the team right to the fourth rider which is as crucial as the fast guy out front and that is what puts Spain in an early lead. A couple of tests at the end of the day suited the bigger bikes with horsepower (and they've got plenty of that in the Spanish team with Sans and Betriu on the big 500s) but consistency is the key and it made the difference today.
Day 1 results: 2022 ISDE France results: Spain lead overall as Josep Garcia sets a blistering pace
It was a bad day for…not one but three Junior teams
It's a sad fact of enduro that sometimes our bikes don't want to play the game. But for three Pro class riders to retire on day one, more or less test one seems unreal.
Junior Trophy contenders France, USA and Sweden all lost key members Antoine Alix, Cody Barnes and Albin Norrbin. It was a bad start for three potential winners in the category and opens the door for remaining teams – Italy lead after day one from Finland and Great Britain.
"That was gnarly, it was rough as f**k."
The GB and Aussie boys started down the order, not so far behind France actually and that can be a disadvantage by contrast to the first riders on the tests (Italian and Spain) who have nothing but flat, or just their own (fast) lines to use as a guide.
The best in the EGP championship are naturally a good bit faster than, for example, Chile's World Trophy team (no disrespect) who started in front of the GB boys. That can mean they catch them up actually in the tests but that wasn't a problem today explains Holcombe.
"I thought it would be worse behind some of the slower riders than it was but it wasn't that I struggled to be honest. It's good to have a line there in the tests, but you don't know where that line goes – it could be in to a tree stump. So I struggled a little bit this morning to really attack. But some of the tests later on had less to hit if that makes sense.
"On the whole I think it is worse to start further back, there are some benefits but tomorrow will be good to start near the other guys and be on a similar playing field." Holcombe added.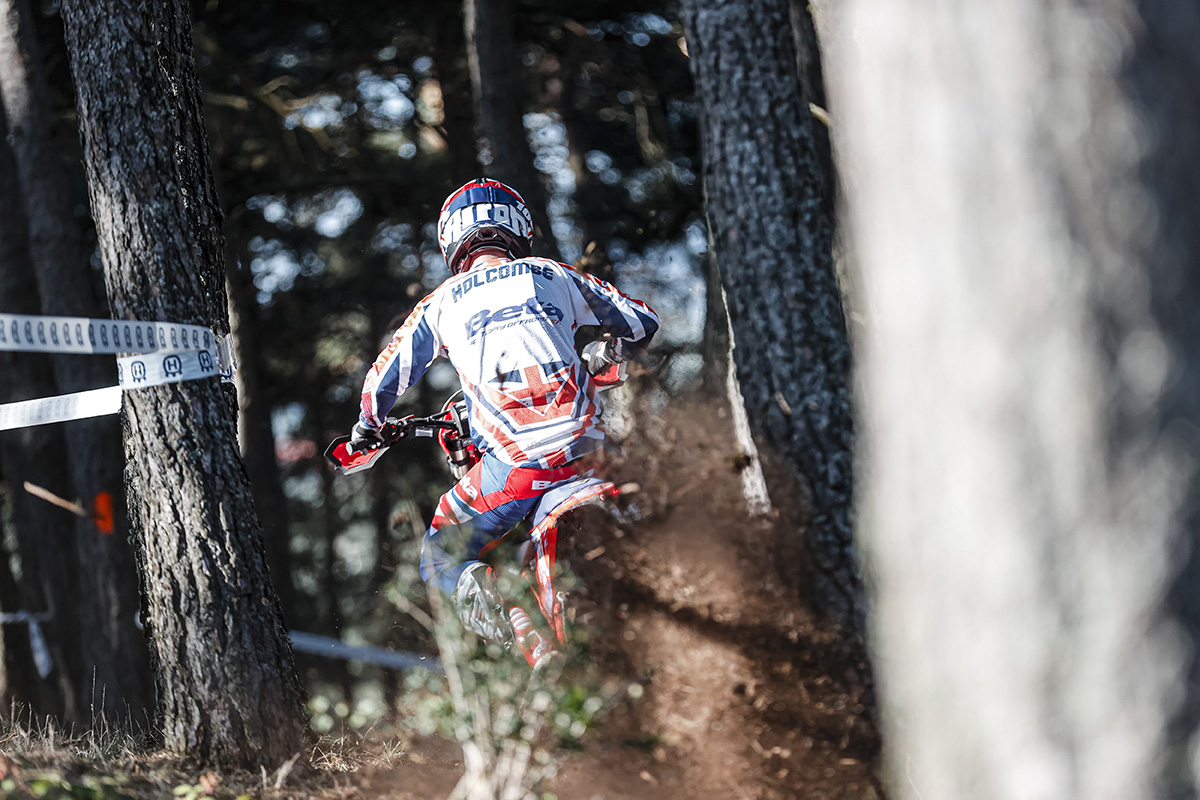 The reality of 500+ riders going through means test get beaten up. It's a feature of the ISDE and tomorrow the riders will go at the same tests again – although this year they ride each test once a day rather than multiple attempts on the same test for two days like last year.
Still the dry and soft dirt here was quickly getting eaten away by the tyres and by the time the Juniors arrived – around 90 riders in – Aussie Junior Korey Macmahon was able to explain the state of test two in more simple terms: "That was gnarly, it was rough as fuck."
Pichon shines on home soil
You'd have pretty shorts odds if you had bet against the new Junior Enduro World Champion Zach Pichon not being well in the mix here at his first ISDE. Highest placed in the Junior category scratch by miles he is also sixth overall, 43 seconds off Garcia.
With no team award possible for the Frenchman now his teammate Alix went out, he can go all out for an individual and class result.
"I was pretty upset at first this morning, it is really disappointing for the team. I was able to put that behind myself and focus on my own result. I was a bit slower in the last couple fo tests because they were fast and my 250 has less power but still, it was a pretty good day for me and I can focus on E1 now also because next year I will be in the seniors." Let that be a warning for y'all.
Culture shock
At the risk of sounding like a stuck record, the Women's category has a very familiar theme too. Out front is the 2021 scratch winner and taliswoman for reigning champions USA, Brandy Richards.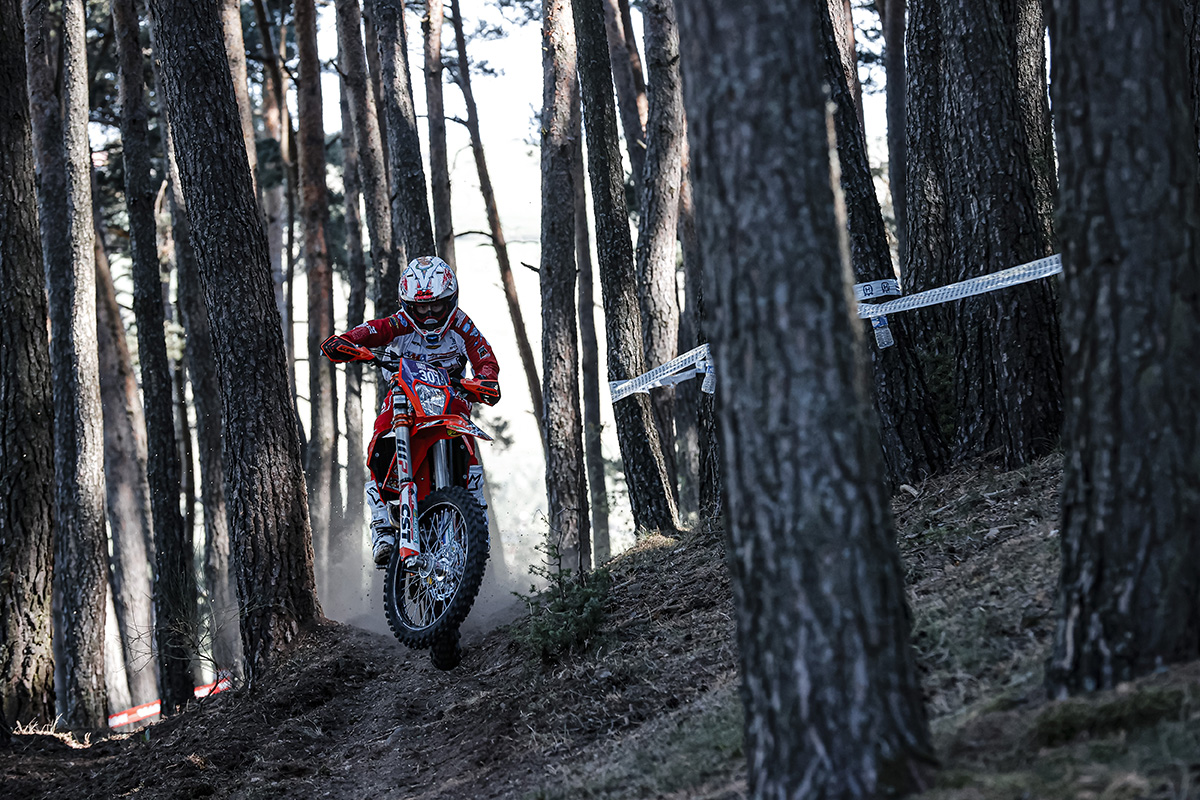 With all three riders (Brandy plus Korie Steede and Rachel Gutish) inside the top five, Team USA have made a near perfect start to their WWT title defence.
"We couldn't be happier really, Korie is in her first ISDE and she's right up there and Rachel's riding really well too, I'm super-stoked with how day one went."
We wondered how hard it was to jump from racing in the US to Europe and Richards explains it's not the country so much as the race format: "The first day is always a bit of a culture shock. We just don't have anything like it in the US to practice or get used to eth format. So day one is always abut feeling your way in a little bit, trying not to make mistakes making sure you follow the rule that you can't win it on day one but you sure can lose it."
That said, a near four-minute lead after just five tests is a good way to go about winning.
Long transfers = typical of French classic enduro
The racing might not be the same as the US but this year's ISDE is bringing something different to the table for many of the EnduroGP riders too. A few of them mentioned the long transfers (almost as much as the long day) and that means big gaps between special tests, an up and down day's racing mentally instead of the special tests coming them in relatively quick succession.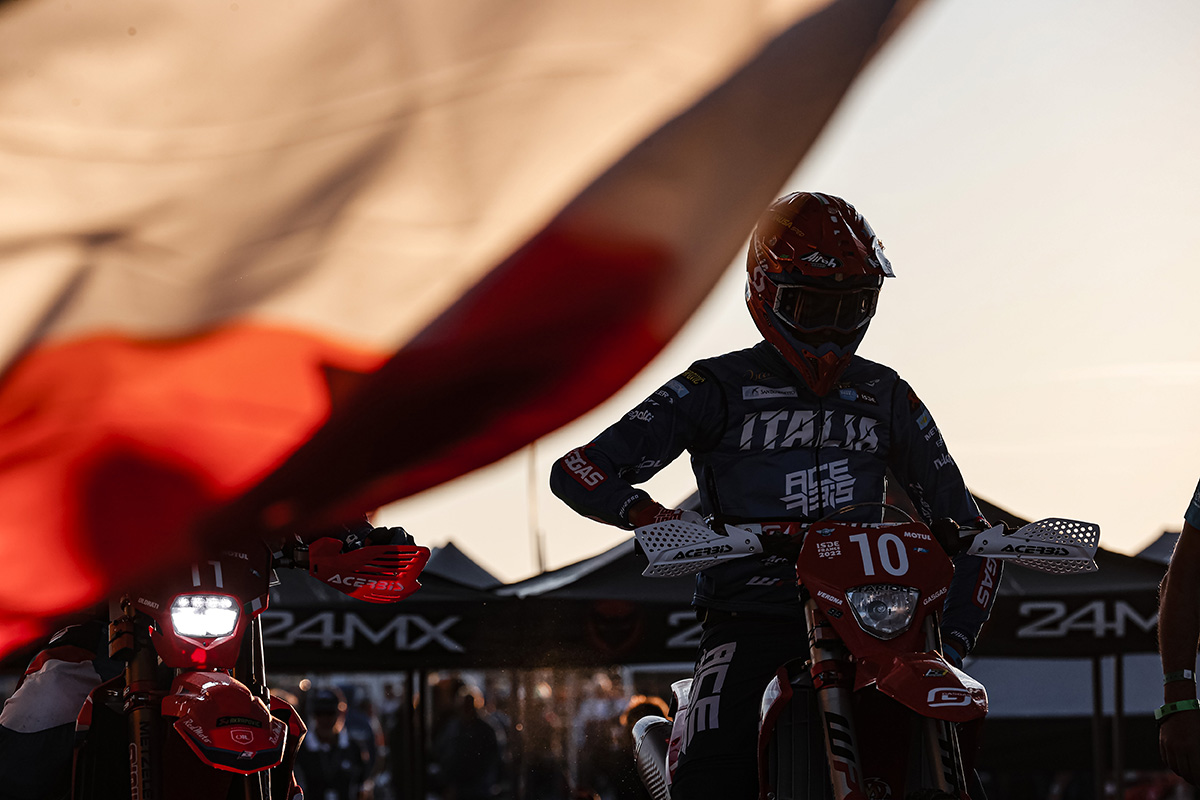 "I had a really up and down day," explained second placed scratch Andrea Verona. "I don't know why, maybe it is because I was starting in front and in some tests that was an advantage and in others not so good because there are no lines.
"Maybe it is also something I need to do mentally, I need to go into race mode more in the tests. From test to test we have a lot of time so the focus is up and down. So I need a bit of time to get used to this different format."
Tomorrow's another day...
Photo Credit: Future7Media | Andrea Belluschi