ISDE rules explained – a dummies guide
The International Six Days Enduro is no ordinary test of rider or machine but the event itself is something unique, a special blend of old-school rules and modern competition. If you're not sure of the ISDE rules or how the scoring works, here's a dummies guide to the biggest and oldest competition in motorcycle sport.
From the early days until now the International Six Days Enduro remains a true test of riding skill, endurance and machine reliability.
Over its long history, the rules and conditions have changed to keep in step with the developments in the sport and the bikes but without doubt it remains a supreme test of rider and machine. Italy 2021 looks like being a classic in that respect with 10 long special tests across the five days ahead – and don't forget the motocross test on day six.
What makes the ISDE unique is the fact that riders need to be self-sufficient, have a strong mechanical knowledge and the ability to work on their own bikes to make sure they reach the finish line. And here-in lies the great leveller and reality check at the ISDE, no matter if you're highly paid factory rider or regular club rider, the rules are the same.
What are the ISDE rules?
Each day is long enough with the first riders, grouped in three per minute, away at 08:00 here in Italy. They have four time controls out on the daily course, usually just before a test which they must hit or incur a time penalty.
Each day consists six timed tests and riders then must be back into the paddock for a pre-finish time check ahead of their service time before bikes are pushed into the parc ferme for the night.
Riders get two chances to work on their bikes outside of the allotted daily riding time. 15 minutes before the start and 15 minutes just before the finish of each day (in actual fact in Italy it is 18 minutes because of the extra distance to get from the pre-finish and through the paddock).
Put simply if you're start time is 08:00 you can enter parc ferme at 07:45 to get your bike. Those 15-minute time slots can be frantic as the week progresses and so many riding hours start to clock up.
Riders must also start their own bike each morning (via mechanical or electric starter) and ride 20 metres, failure to do so will result in a 10 second penalty.
All outside assistance is forbidden, other than the normal servicing given at the official refuelling stops to clean the number plates plus and tyres, mousses, air filters etc allowed to be prepared. For all else you're on your own.
Riders concentrate on daily tyre and mousse changing, air filter changes, fluid level and nut and bolt checks. That's if things go ok. Any crashes damaging any part must also be dealt with trackside or back at the paddock within the allotted time. Slipping clutches, knackered pistons, bent handlebars, leaking fork seals…you are own your own.
Who's in it to win it?
When it comes to the FIM World Trophy competition, each nation can enter a maximum of four riders with the best three scores used to give combined daily and end-of-event team results.
The fourth rider is a relatively recent development for each World Trophy team. The super-sub gives them breathing space should one rider, or bike, expire.
One out, all out is the rule for the Junior World Trophy teams for riders under 23 years of age. Three riders are entered per nation with the all times used to give combined daily and end-of-event team results.
In the FIM Women's World Trophy competition it is sort of the same. All riders times are counted but they get a chance to drop one rider if they retire or encounter a problem.
In every case it is the team with the best time overall who takes victory.
The trophy goes too…
The main ISDE trophies are awarded to the best World Trophy, Junior World Trophy and Women's Trophy teams, with a podium for the top three in each class. There are also categories for different capacity as per normal enduro rules (E1, E2, E3 etc.). Similarly there are daily classifications for each category (C1 Senior and Junior World Trophy, C2 Women and C3 club riders individual overall).
The bulk of the entry is of course made up from club team riders who compete for national as well as manufacturing team awards.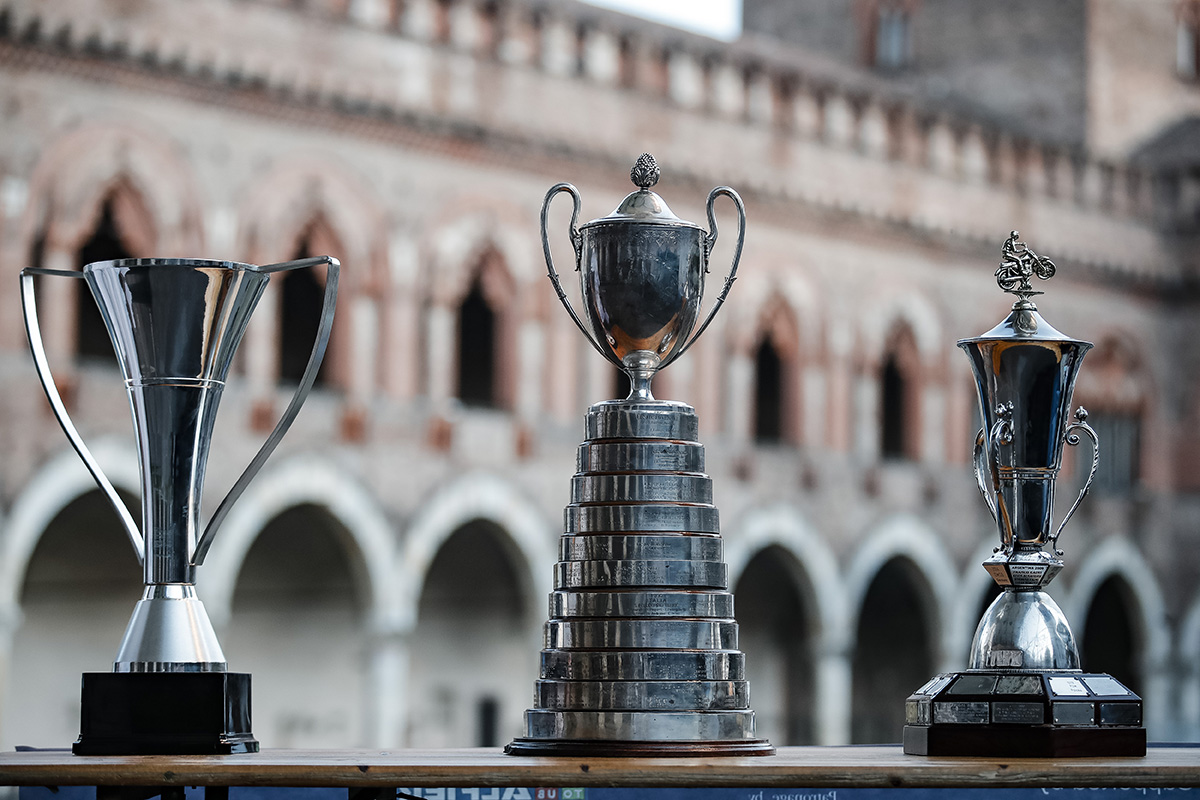 The much prized gold, silver and bronze ISDE medals are also awarded individually based on percentage of finishers, or relative to the best individual performance in the event within their specific class.
Individual gold medals go to riders who finish within 10 percent of their class' top competitor's total elapsed time, silver medals are awarded for those who finish within 25 percent, and bronze medals are awarded to any rider who finishes all six days within their time allowance.
The 2021 ISDE begins tomorrow, Monday August 30.
Photo Credit: Enduro21 | Andrea Belluschi