Sherco announce 2021 ISDE Rental and Assistance Packages
Sherco have announced their motorcycle rental and servicing packages for competitors racing the 2021 International Six Days Enduro (ISDE) in Italy.
The French manufacturer has won the race in announcing their 2021 ISDE support options ahead of other brands with choices of six two and four-stroke bikes from the 2022 model range and factory service assistance and support at the event.
Six, 2022 Sherco Factory model choices:
Two-stroke: 125 SE Factory | 250 SE Factory | 300 SE Factory. Rental cost for 2T model: €2690
Four-stroke: 250 SEF Factory | 300 SEF Factory | 450 SEF Factory. Rental cost for 4T model: €2990
Sherco bike rental details:
All are 2022 models
Motorcycle transportation costs to the 2021 ISDE event
Motorcycle registration and insurance
A Sherco Factory Racing kit (jersey, pants and gloves)
Motul products welcome pack
Suspension set-up advice
Motorcycle booking deadline is April 30, 2021. The number of vehicles available for rent is limited and the bikes will be allocated in order of arrival of the reservations.
Service and assistance package
The Sherco 'Factory Assistance and Support' programme at the ISDE will be provided by the same support crew the factory riders use at EnduroGP events.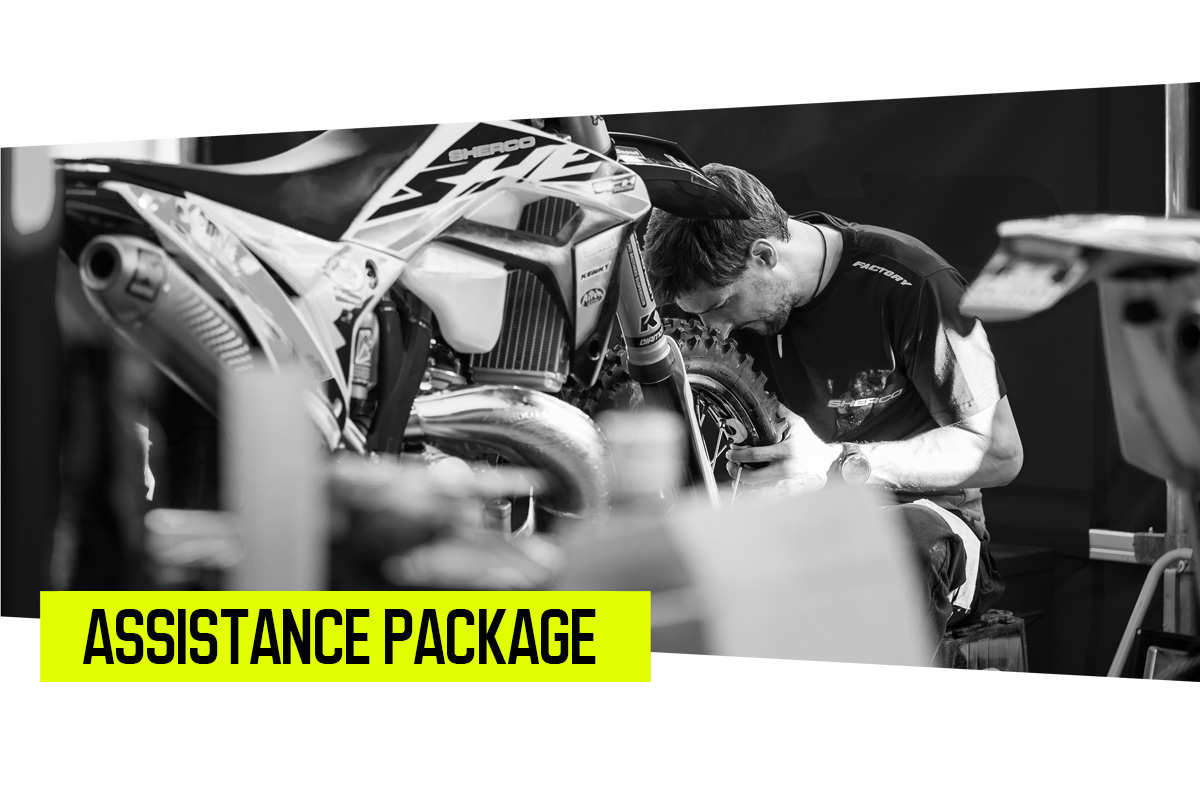 Sherco service package details:
Access to Sherco facilities in the paddock and at checkpoints
Technical and mechanical assistance during the six days of the race
Race information
A box to store your personal belongings in the paddock
Fuel for the race
Motul oils and all kinds of lubricants
Original parts replacement service*
Use of tools for motorcycle repair
Food (drinks, snacks, fruit, etc.) in the paddock and at the checkpoints
Six filter changes every day
Technical assistance under FIM rules
A Sherco Factory Racing kit (jersey, pants and gloves)
Friendly end-of-race meal with barbecue and drinks
* Important note: The parts consumed will be billed in addition to the assistance service.
Assistance package cost: €1350
Deadline to sign up for the service: July 15, 2021
To book either bike rental or register for servicing package (or both), email: This email address is being protected from spambots. You need JavaScript enabled to view it.