Italian Enduro rounds 4+5 preview: Ruprecht the rider to beat
After his double-victory last time out, TM Racing's Wil Ruprecht heads the multi-national entry of 200 riders heading to rounds four and five of the 2021 Italian Enduro Championship this weekend, April 24-25.
The Italian 'Absolutes' Championship heads to lake Piediluco in the centre of the Italian boot this weekend full of international riders getting pre-EnduroGP season race training in the bag. Wil Ruprecht has been on fire this season since switching to the 250 TM four-stroke and dominated the two days racing in Sicily last time out to lead the championship.
The international flavour extends to Beta Racing's Englishman Brad Freeman, New Zealander Hamish MacDonald, South African Wade Young (switching his skills this weekend to mix with the timecard enduro boys), Canadian Kade Tinkler and Brazilian Bruno Crivilin in Alex Salvini's S2 Motorsports team.
Boano TM's on fire
Many classes are dominated by the new riders in blue for the TM Boano Team this season. Aside from Ruprecht out front in the series, Matteo Cavallo leads the 250 4T class ahead of Andrea Verona on the GASGAS.
The 250 2T has Boano's Lorenzo Macoritto a safe distance ahead of "the timeless" Maurizio Micheluz while the 300 2T class has a heated battle between Thomas Marini, just four points ahead of Gian Luca Martini. In the Juniors, the young TM rider Matteo Pavoni leads after three victories ahead of Claudio Spanu.
Fantic Motor is the master in the smaller classes with Riccardo Fabris leading the Youth class and Davide Guarneri making a 125 Fantic sing this season for the E50 Racing team.
Here's just a taste of the entry list...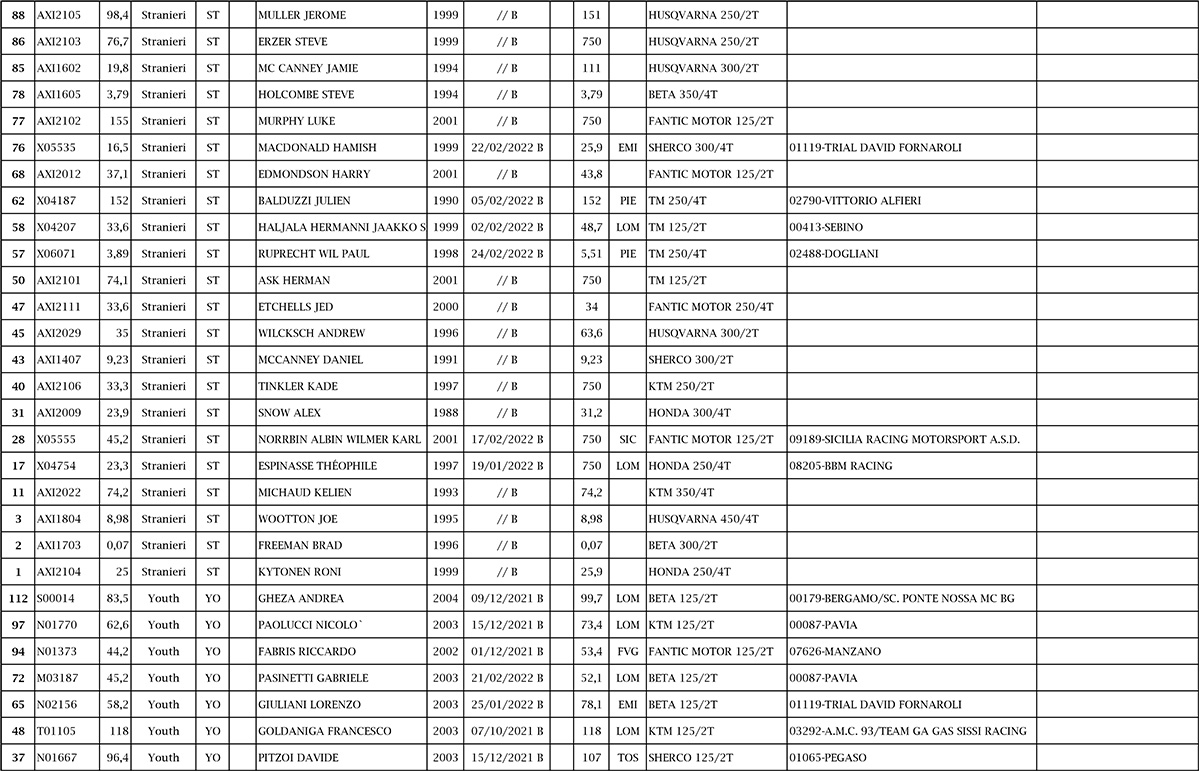 Over 200 riders are expected by the Moto Club Racing Terni which has laid on a 45km circuit, to be repeated four times on Saturday and three on Sunday. Three tests litter the course based in the hamlet of Piediluco which will host the paddock.
From 8.30am on Saturday riders will face the first special of the day the Extreme test followed by the Cross test before a transfer of about 45 minutes that will take them to the second service point and then the 5.5km long Enduro Test.
Follow the racing across the weekend on Italiano Enduro social media channels.
Photo Credit: Enduro21 | Andrea Belluschi