Italian Enduro: Freeman and Ruprecht share wins at Rnds 4 + 5
Results and highlights from rounds four and five of the 2021 Italian Enduro "Assoluti" Enduro Championship where Beta Racing's Brad Freeman and TM Boano Racing's Wil Ruprecht shared the limelight ahead of a world-class field.
Day 1, round 4 of the championship in a nutshell:
Bradley Freeman has been struggling with form at the previous rounds of the 2021 Italian championship but you wouldn't know it this weekend Piediluco as the E3 World Champion turned the tide.
Andrea Verona set a strong pace early on day one, taking the fight to Freeman and his long-term rival in class Matteo Cavallo up the sharp end of the timing sheets.
Beta Racing rider Freeman found his feet by the second lap however and went on to record eight wins from 12 special tests to finish almost 20 seconds ahead.
Thomas Oldrati rode characteristically hard all day to eventually get the better of Verona demoting the GASGAS rider to third.
Belgian Antoine Magain continues his early season sparkle with fourth overall scratch and second in the "Foreigners" class just ahead of his Sherco teammate Daniel McCanney (who was sixth overall scratch behind Cavallo).
2021 Italian Enduro Championship round 4 top 20 results: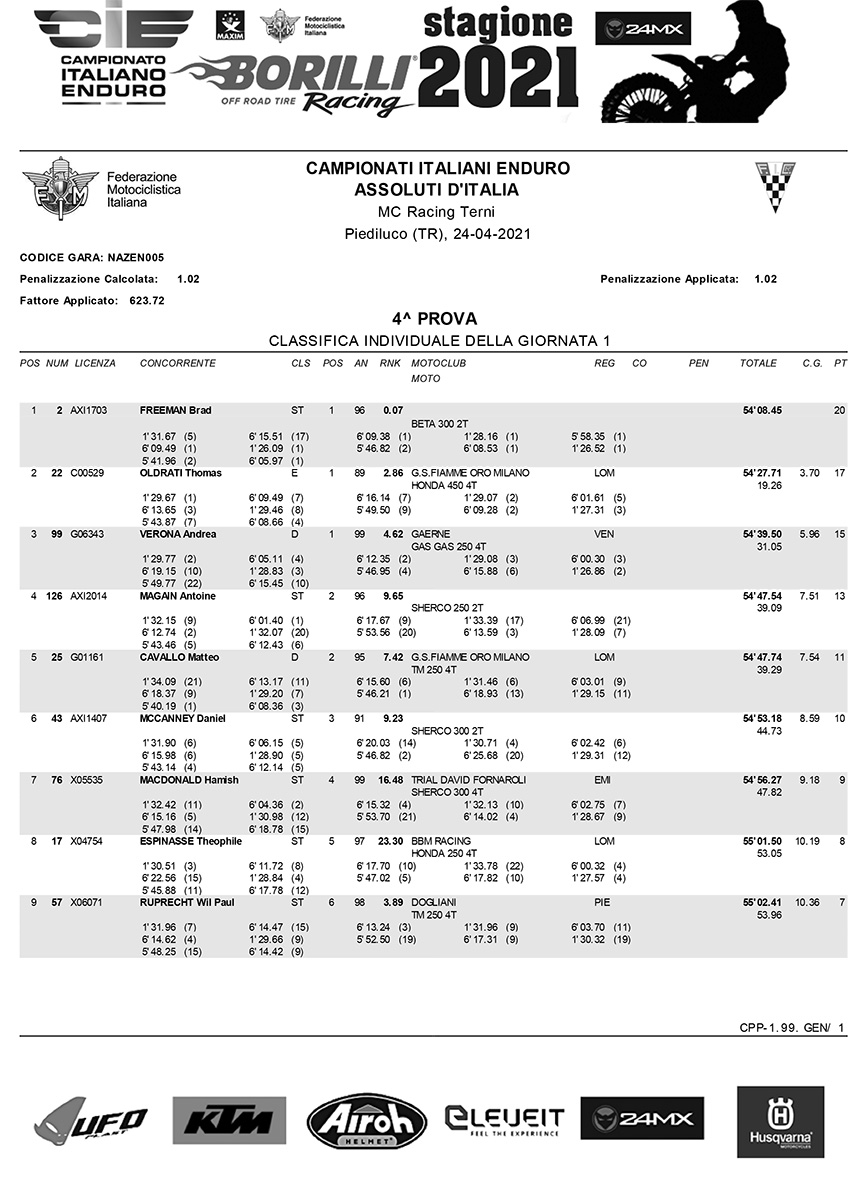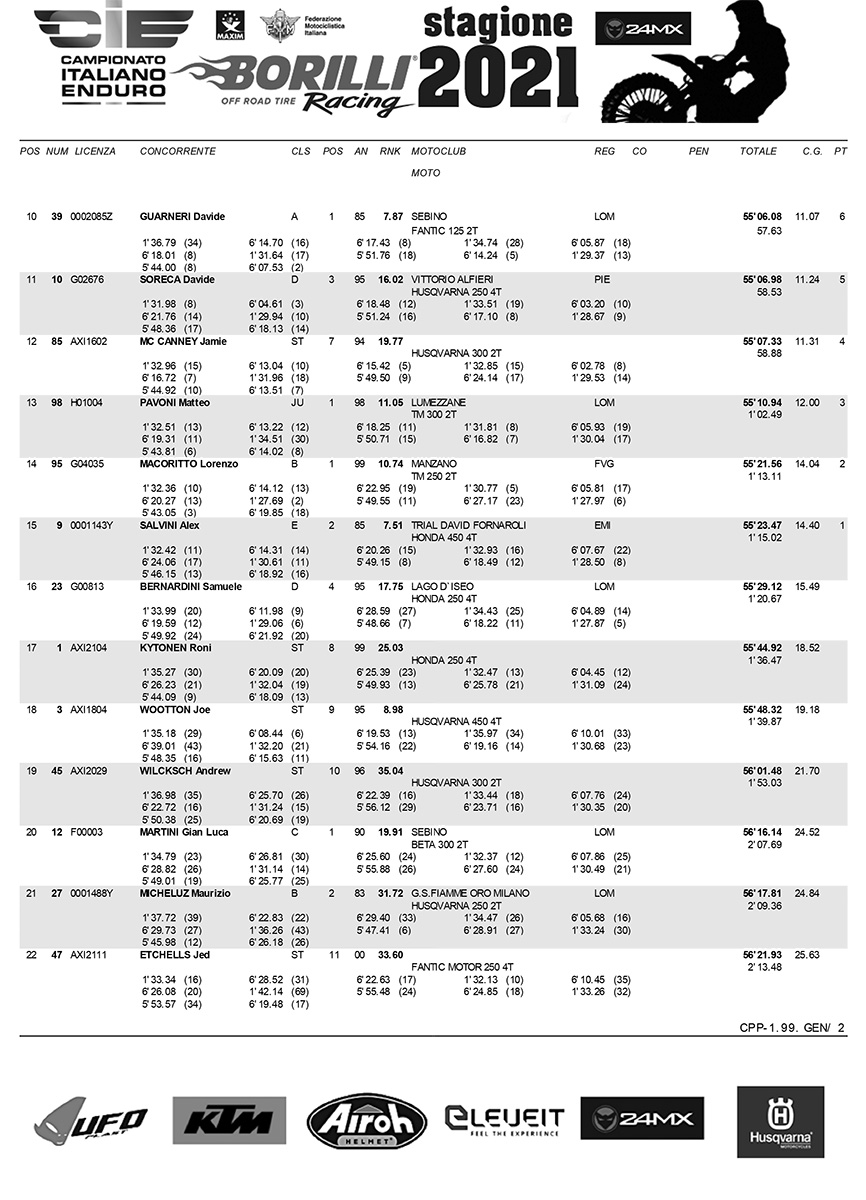 Video highlights from day 1 in Piediluco:
Day 2 – Last gasp win for Ruprecht
2021 Assoluti d'Italia Championship leader Wil Ruprecht had to work hard to turn around a ninth-place result on day one. The TM Racing rider set about the drier conditions on day two with a different head on and stood up to a less dominant Freeman and his consistent TM teammate Matteo Cavallo.
Times were tight all day but it came down to the final test after Ruprecht had eased his way to the top of the leader board by just five seconds in the penultimate test.
The final test of the day, an Enduro test, would normally be Brad territory but Brit made a costly mistake and lost 16 seconds while Ruprecht narrowly got the better of Antoine Magain to set the fastest time and took the overall victory to maintain his championship points lead.
Freeman's slower final test allowed Cavallo into second overall, dropping the Beta rider to the third step of the Assuluti podium.
Andrea Verona took the factory GASGAS to fourth overall ahead of Magain who was again best Sherco rider just ahead of his teammate Daniel McCanney.
Davide Guarneri had a storming weekend on the Fantic to win the 125 class and on day two bag a solid eighth overall well in among the bigger capacity machines.
2021 Italian Enduro Championship round 5 top 20 results: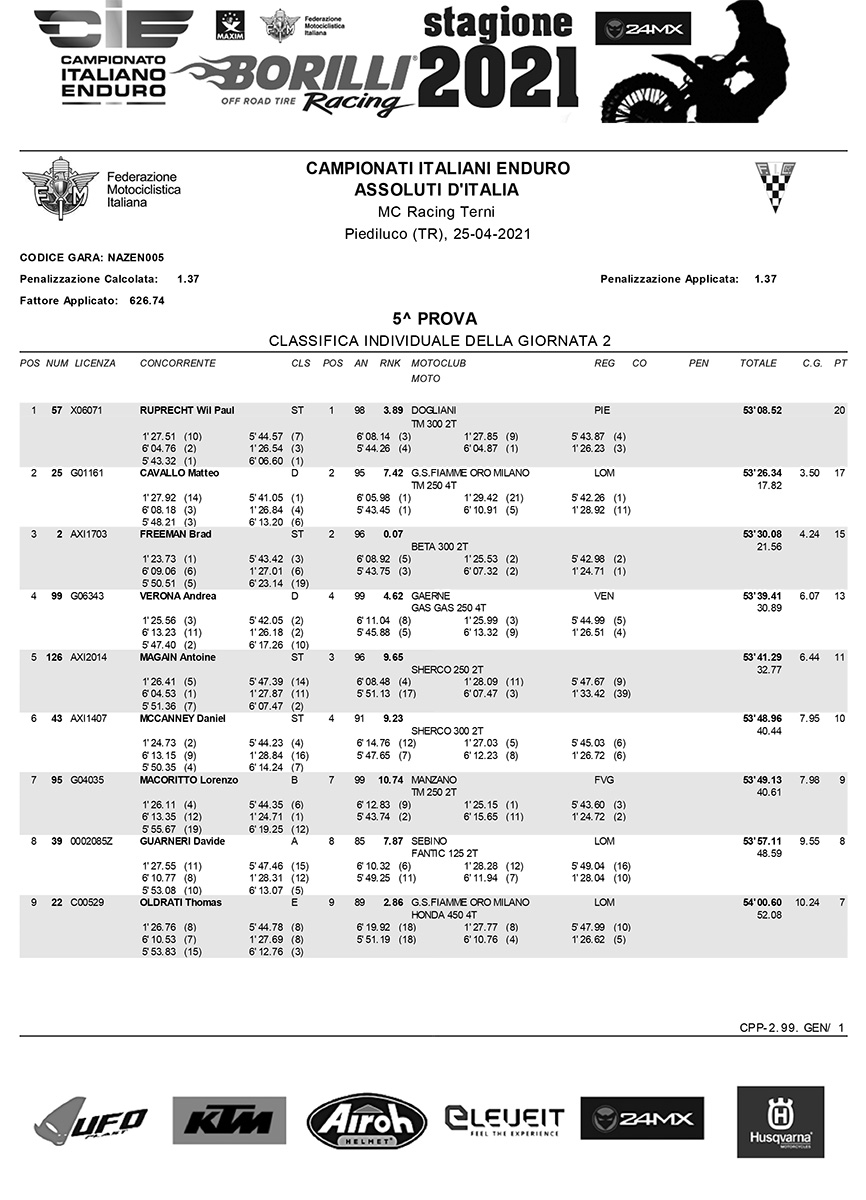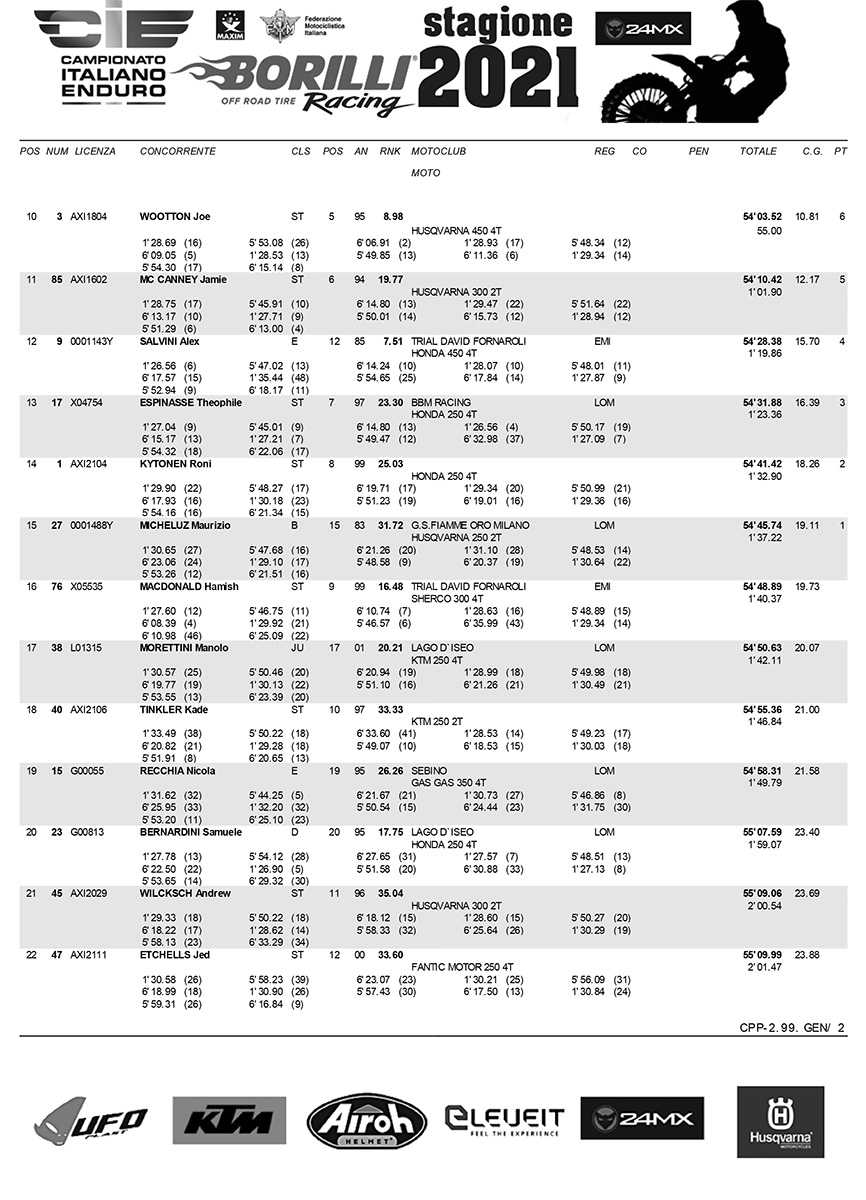 Full results on live.italianoenduro.com
Day 2 video highlights including rider interviews:
Photo Credit: Dario Agrati + Italiano Enduro