2022 Abu Dhabi Desert Challenge: Ross Branch wins stage 2 for Hero – Kevin Benavides leads
Hero Motosports rider Ross Branch wins stage two of the Abu Dhabi Desert Challenge, round two of the 2022 World Rally-Raid Championship. Kevin Benavides takes the overall lead for KTM halfway through the marathon stages as crashes affect the leaderboard.
With 580 kilometres of timed special already raced in the Abu Dhabi Desert Challenge (ADDC), no shortage of drama has already unfolded the Liwa desert. After a short and sharp prologue to decide start order which saw plenty of tactics being played out between the top teams, two full days of the world championship racing have seen crashes (overnight leader Mike Doherty, Rally 2 contender Bradley Cox and even Toby Price to name three) plus the usual swings in the leaderboard as start positions and navigation play a role.
Making his major race debut for Hero Motosports, Ross Branch bounced back from a heavy crash and DNF on day one to record the second stage victory ahead of the flying Benavides brothers.
Although it ultimately won't count for the overall, today's win a least restores some pride for the new Hero rider who took medical treatment after a heavy landing off a dune yesterday and unable to finished the stage officially.
"Today was really hard – I started the morning with a lot of pain from the crash yesterday, and by the time I reached refuel, I didn't really feel like going on." Said Branch. "I was learning a lot about the bike today – about braking, how it reacts to the dunes, shifting gears through the dunes, jumping off dunes…and that was fun. I got a better understanding of my new bike and it brought back a lot of confidence to me, and I definitely took a big step in the right direction.
"My body is aching everywhere, but it's definitely worth the pain. I've been waiting for a positive result for some time, and I'm happy we're here with a win!"
Stage 2 top three bikes:
Kevin Benavides takes over race lead
Kevin Benavides was one of the first riders to enter stage two's special but after 50 kilometres was also the first to come across Mike Doherty, a surprise rally leader after day one at this year's ADDC. Doherty crashed and needed medical assistance for a suspected broken leg early in the stage and it was Benavides K who called for the helicopter and waited with Mike until help arrived.
Back on his bike and with the tracks to follow, Kevin went on to set good pace and finish third after he was awarded the time back lost due to the incident. Third on the stage, behind his brother Luciano on the Husqvarna, also moves the KTM rider into the provisional rally lead.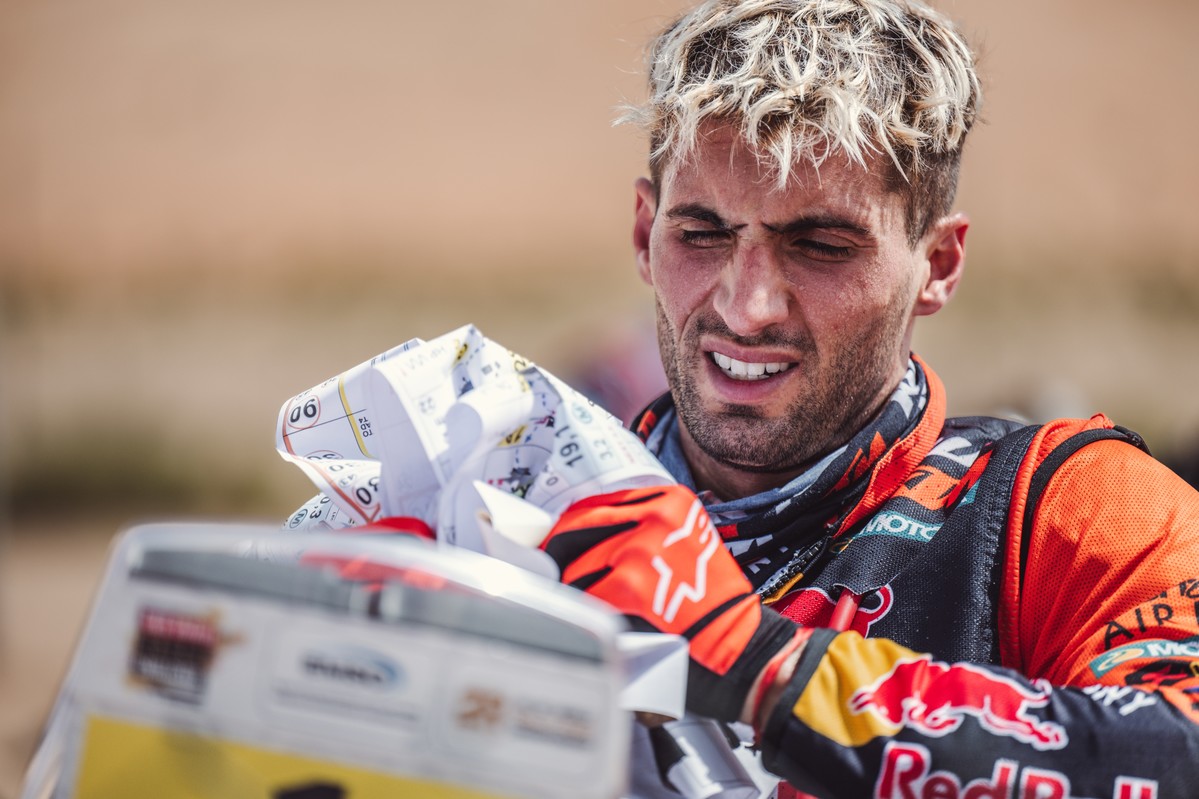 "It was a tough stage both physically and mentally," explains Kevin, "because at about kilometre 50 I stopped to help Mike Docherty after he had crashed. I called the helicopter and waited for just over 20 minutes before setting off again.
"It's always tough to regain your focus after something like that, but I was able to keep up a good pace and complete the stage safely. It feels good to be leading the race, so I'll try and keep this momentum going tomorrow."
Second in the classification for Brabec and Honda
The three Monster Energy Honda riders hold steady inside the top five. Ricky Brabec, fourth on stage two, is second in the overall race standings ahead of team-mate Jose Cornejo. Pablo Quintanilla is fifth, seven and a half minutes behind the leader.
"Day two was a good one." Says Brabec. "The stage was long and really hot in the dunes. I made no mistakes, but a couple of other people crashed. We capitalized on that and we will go on the attack. The team is in a great position and we're looking forward to tomorrow."
Mason Klein leads the Rally 2 classification after two days and two stage wins. The BAS KTM rider sits 15 minutes of Romain Dumontier and sits inside the top 15 overall.
Stge two was the first of the marathon satges which means bikes are checked over and worked on by the riders themselves tonight ahead of tomorrow's third stage. To arrive at the halfway point riders will race 255 kilometres of timed special with just 35 kilometres of liaison section.
2022 Abu Dhabi Desert Challenge stage 2 results: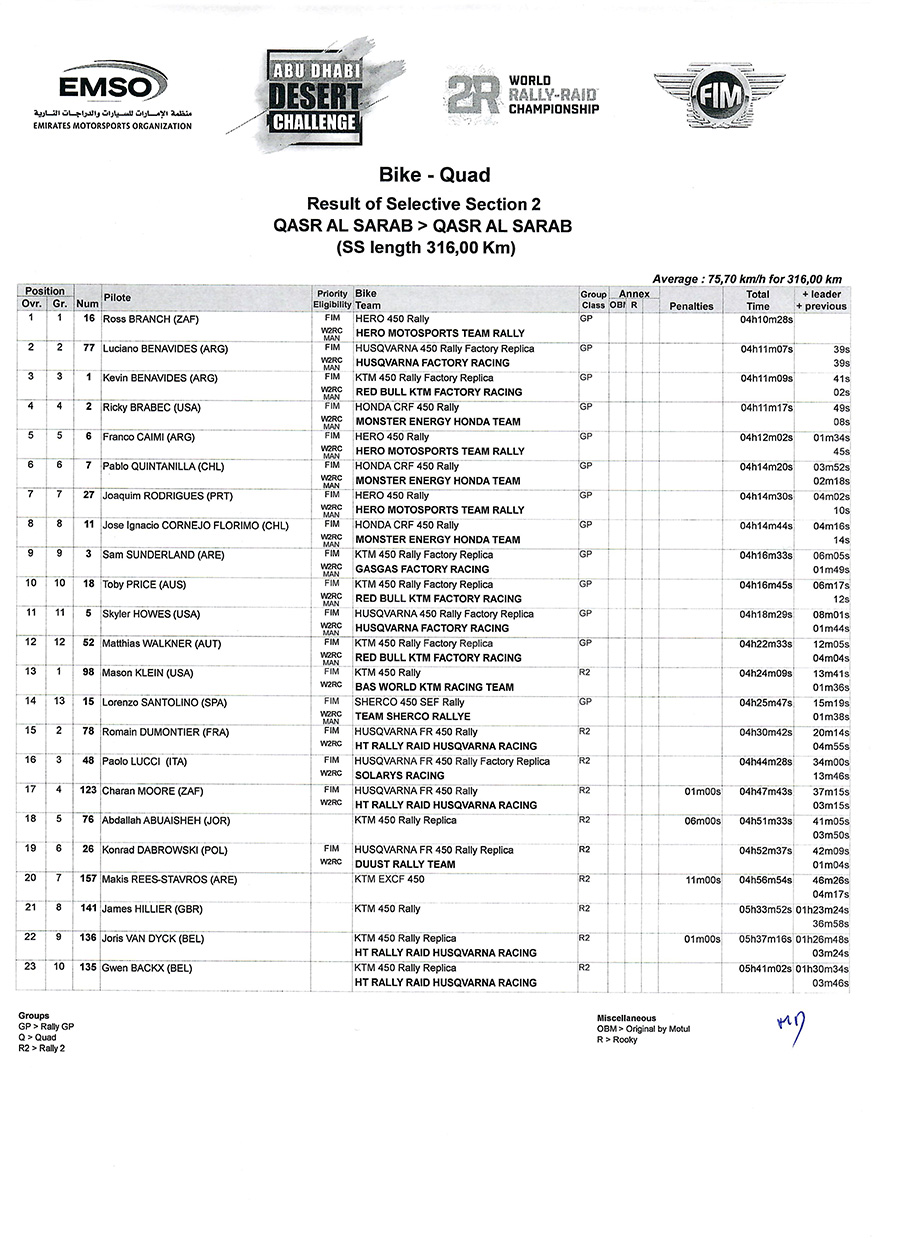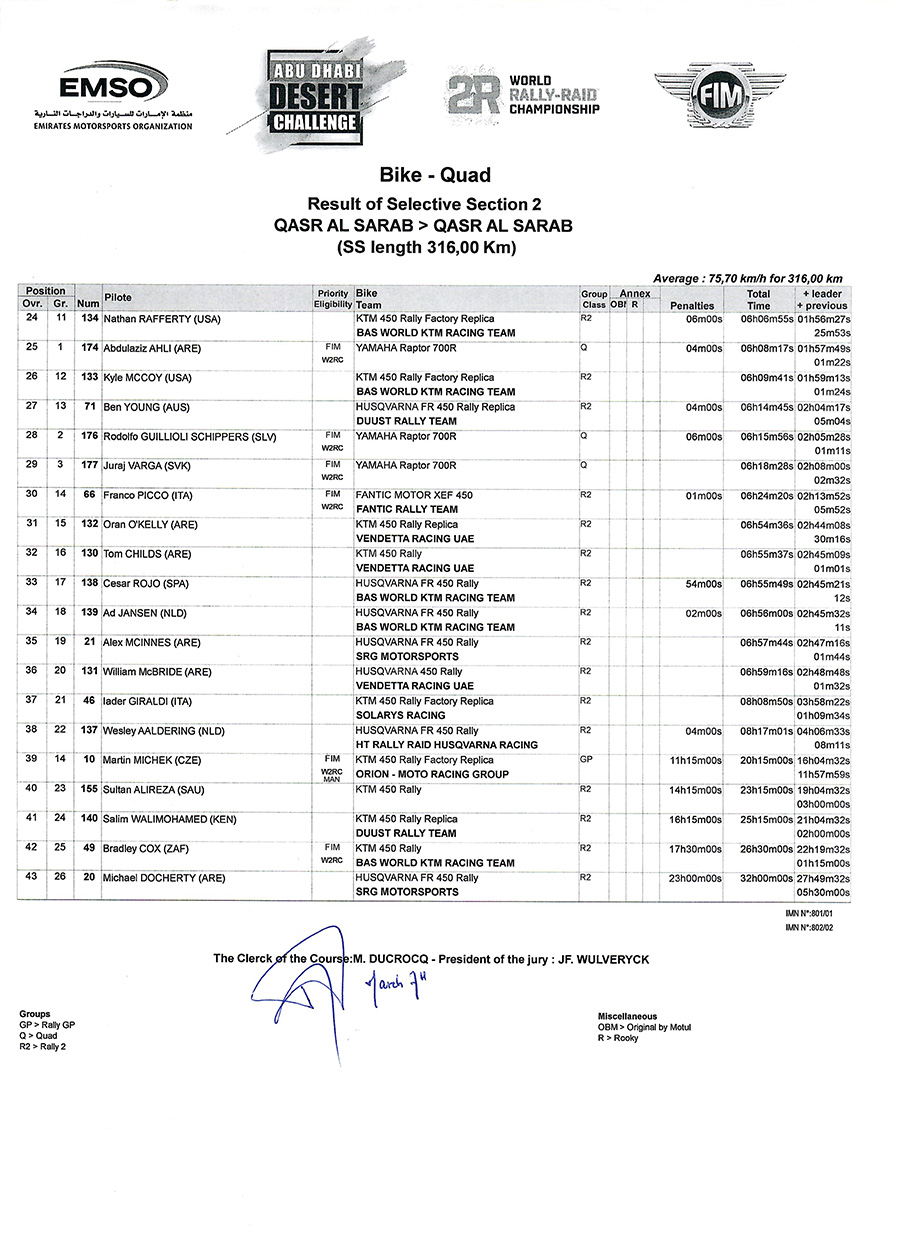 2022 Abu Dhabi Desert Challenge classification after stage 2: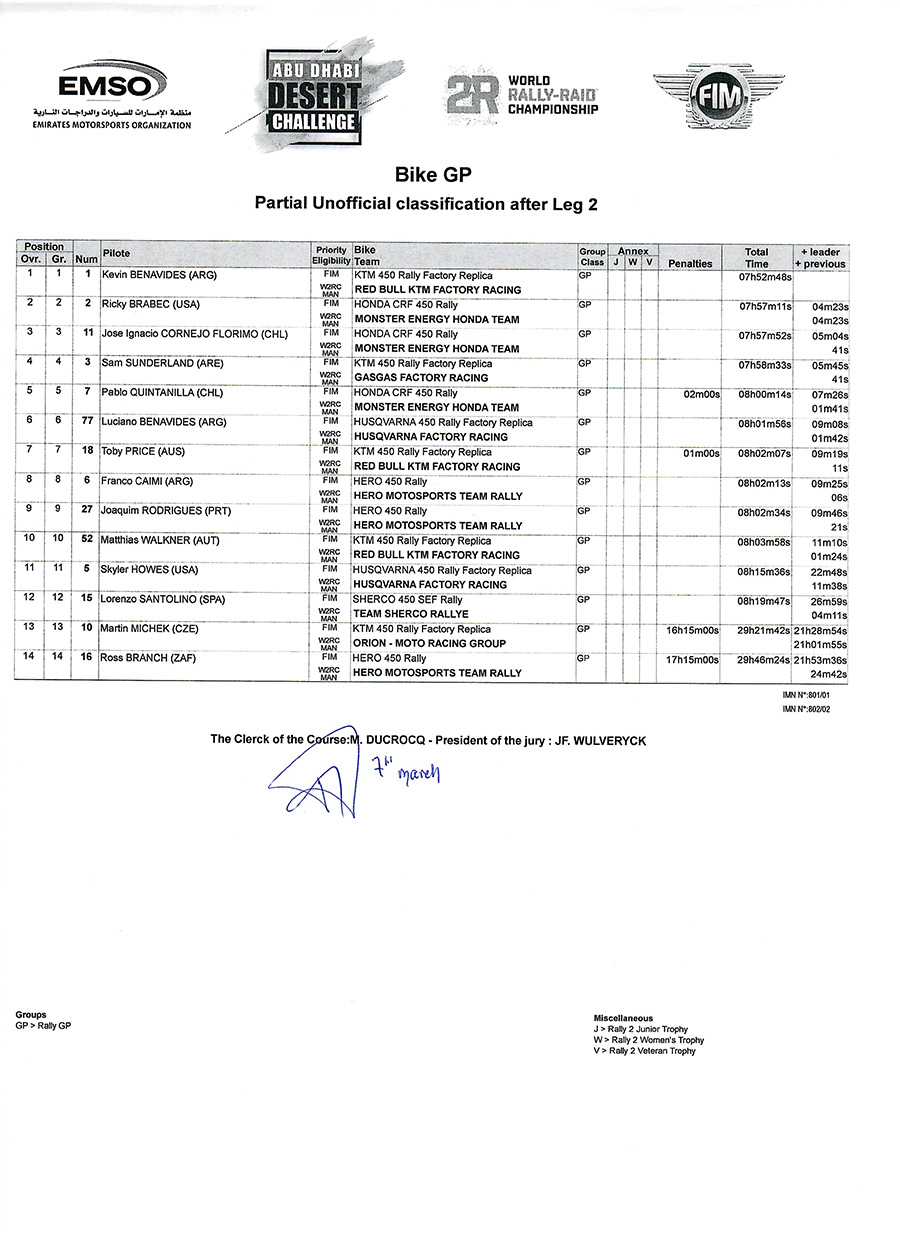 Photo Credit: Rally Zone + M Chytka