2022 World Rally-Raid Championship: stage 4 results – Benavides wins, Sunderland holds steady
Results from stage four of the Abu Dhabi Desert Challenge and round two of the 2022 World Rally-Raid Championship where Luciano Benavides and Toby Price topped the daily leaderboard but Dakar winner Sam Sunderland is sitting pretty with one day to go.
After leading out today, the penultimate stage on the 2022 ADDC, and despite finishing the day in ninth place, Sam Sunderland is in the driving seat for the win at round two of the World Rally-Raid Championship.
Husqvarna Factory Racing's Luciano Benavides won the stage just 32 seconds ahead of Toby Price, with Pablo Quintanilla an equal 32 seconds further back in third. Ricky Brabec and Joaquim Rodrigues completed the top five.
The younger Argentine Benavides brother was on form throughout the 243-kilometre special today and claims a deserved debut stage victory in the WRRC. "I really wanted a stage win," says Luciano, "and it feels really good to finally secure one for myself, but also the team as together we have been working really hard. From the start today I pushed really hard and I knew that I had a good opportunity to win after starting in 11th. At the refuelling stop I knew I was in with a good chance of winning but I kept focused on myself and my riding and relied on my roadbook to minimise mistakes, which paid off."
Finishing ninth on the penultimate stage means Sam Sunderland keeps the lead of the ADDC narrowly ahead of Pablo Quintanilla 23 seconds behind with Toby Price third and 1'42'' back, Ricky Brabec fourth at 2'34'' and Joaquim Rodrigues fifth and 5'09'' behind.
"Day four done, and I'm still in the overall lead," says Sam, "but it looks like things are really close at the top, just like Dakar. It was a tough stage again today with lots of rocky pistes and some big dunes. I caught Matthias (Walkner) around kilometer 80 and then rode with him for most of the day – he was doing a really good job of opening, so I just kept to a good, solid pace myself. It feels good to ride together like that and to be honest, I've been feeling a lot stronger in general as the race goes on."
All to play for on the final day
Tomorrow morning, the last special stage will see Price, Quintanilla and Brabec start in third, fourth and fifth positions while the defending champion and current ADDC leader Sunderland is ninth away with plenty of wheel tracks to aim at.
That gives the Dakar winner and W2RC leader all the cards in his GASGAS hands although Price and the Honda boys will have as say in it as they duke it out for the final podium place.
KTM's number one plate holder Kevin Benavides wasn't so lucky, in fact hasn't been so for two days now. After topping the time sheets at the midway point, Kevin finished stage four stuck in second gear having lost 36 minutes to his brother. After a heavy crash while leading stage three yesterday, round two of the WRRC is not going to plan for the former Dakar winner.
Another Rally 2 win on the cards for Klein
BAS KTM team's Mason Klein remains in charge of the Rally 2 class by 28-minute margin over Romain Dumontier. The young American finished P11 today in among the factory riders and looks set for another maximum points haul if he can navigate tomorrow's final stage without hitch.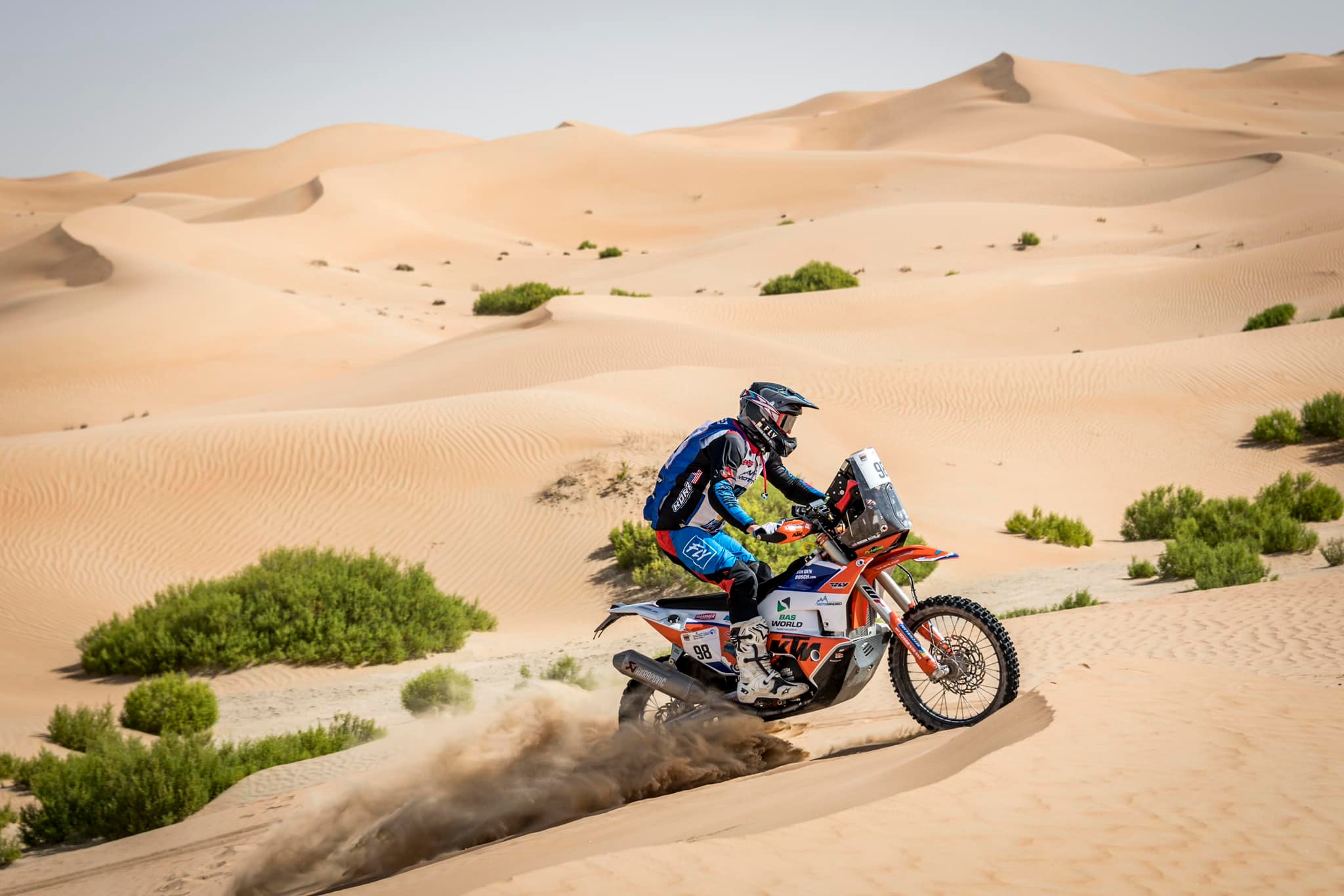 Stage five of the 2022 Abu Dhabi Desert Challenge will cover a total distance of 371 kilometres and feature a timed special of 209 kilometres.
2022 Abu Dhabi Desert Challenge stage 4 results: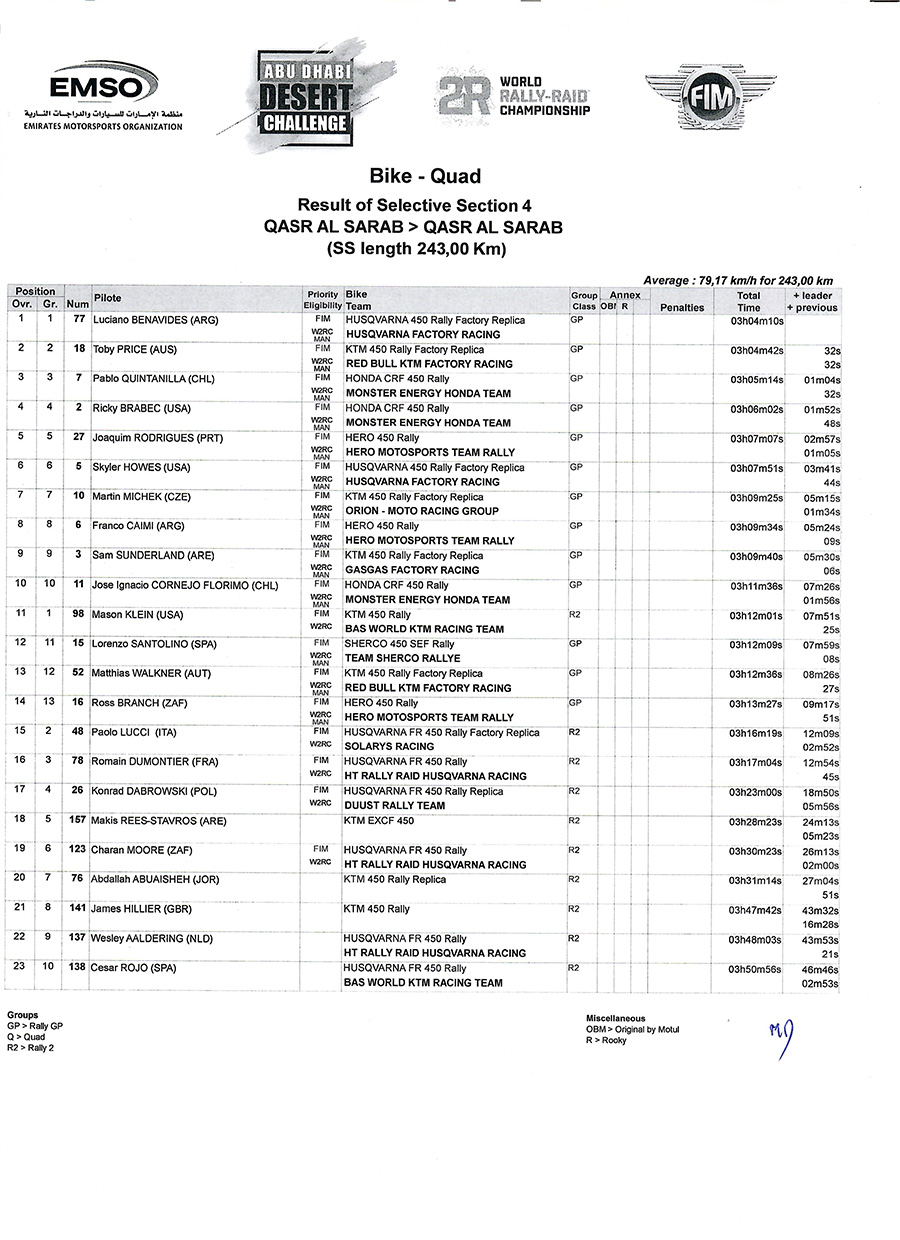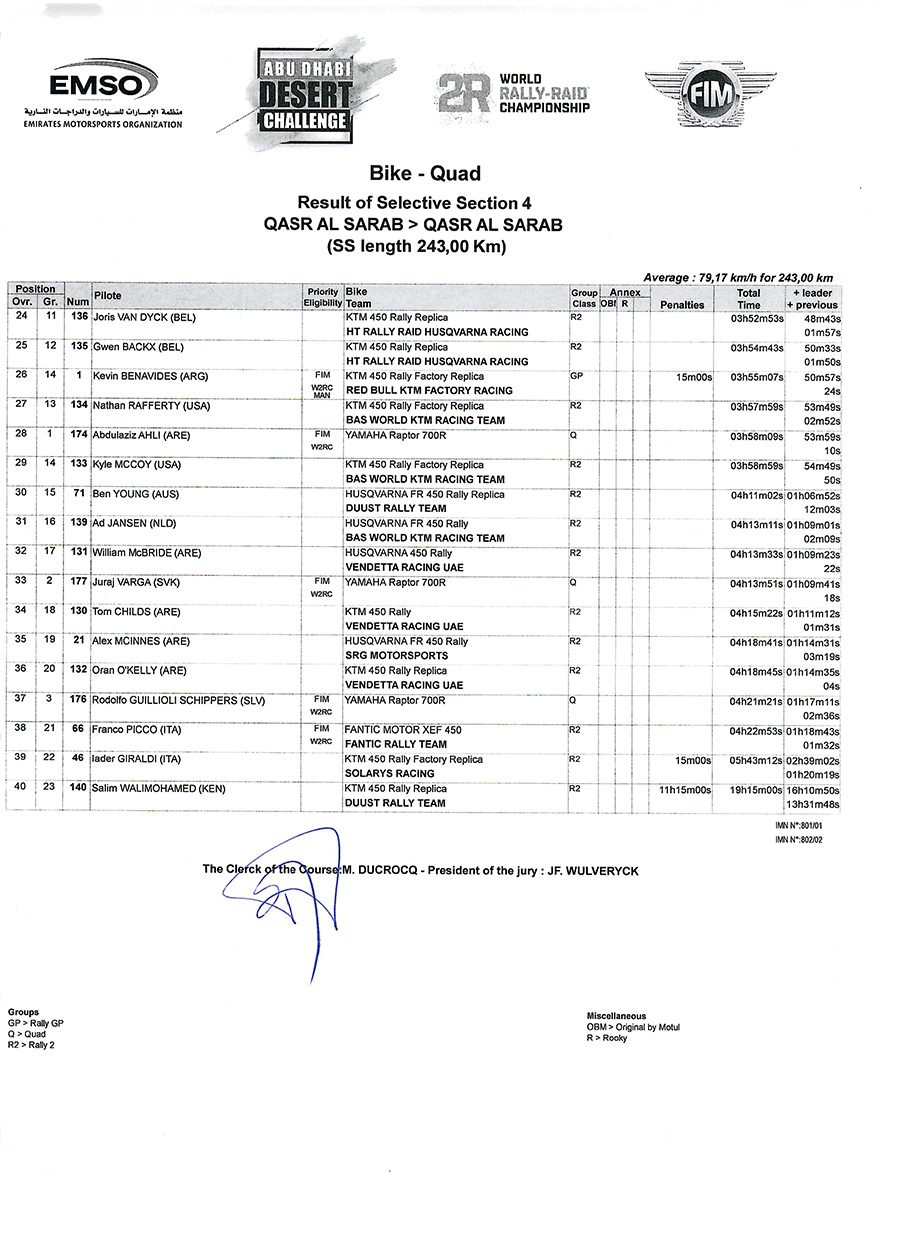 2022 Abu Dhabi Desert Challenge classification after stage 4: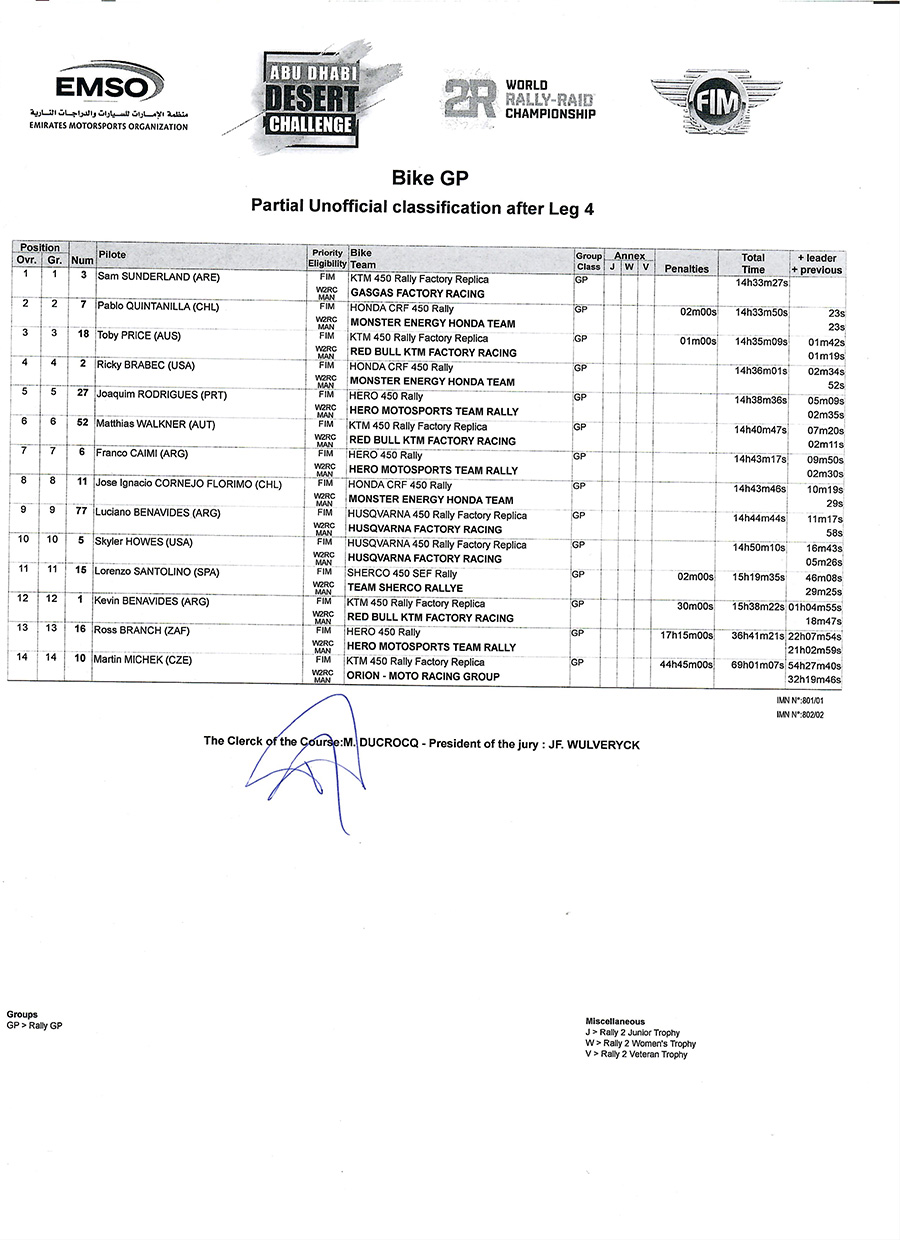 Photo Credit: M Chykta + Rally Zone