2022 Dakar Rally Notebook: a historic win on stage 2 and how nice is this wet sand?
Enduro21 notebook from day two at the 2022 Dakar Rally considers why 28 stage wins isn't to be sniffed at and how hard/awesome (or not) leading the way is in the Saudi wet sand.
The overall leaderboard at the 2022 Dakar Rally is already settled into a see-saw effect after just two days. We expect it but it feels a bit early. As the tricky notes catch riders out one day, setting them down the order, starting today with tracks to follow and more chance to ride and not read catapults them up the rankings.
Monster Energy Honda's Joan Barreda is no stranger to this cause-and-effect routine of daily Dakar racing and has made a habit of capitalising on a previous day's misdemeanour to collect stage wins in his long rally career.
It helps to follow tracks but you still have to do everything right to win a stage and the Spaniard can now count 28 stage wins to his name. That puts him third in the all-time motorcycle stage winners list behind Stephane Peterhansel and Cyril Despres. "I am happy to be the third rider in the history of the Dakar with the most stage victories. I'm proud of the work I've done over the years and the mark I've left." Said Joan.
It's worth noting those laying down tracks for all behind today looked most relaxed. Riders like Adrien Van Beveren, Matthias Walkner and Sam Sunderland sit more comfortably in the general classification after two days as those around them Yo-Yo.
Wet sand, hard work or a lot of fun?
Rain is hampering things this year in Saudi Arabia. It scuppered the overnight bivouac and planned marathon stages (today and tomorrow) – although the bonus is riders can hand their bikes over to someone else to change tyres and fit new filters tonight.
That rain is making the going good and clearly days like today suit riders like Adrien Van Beveren below or his teammate Andrew Short who says stage two was "very motocross-style in between the wide-open sections and overall it was just a great day on the bike."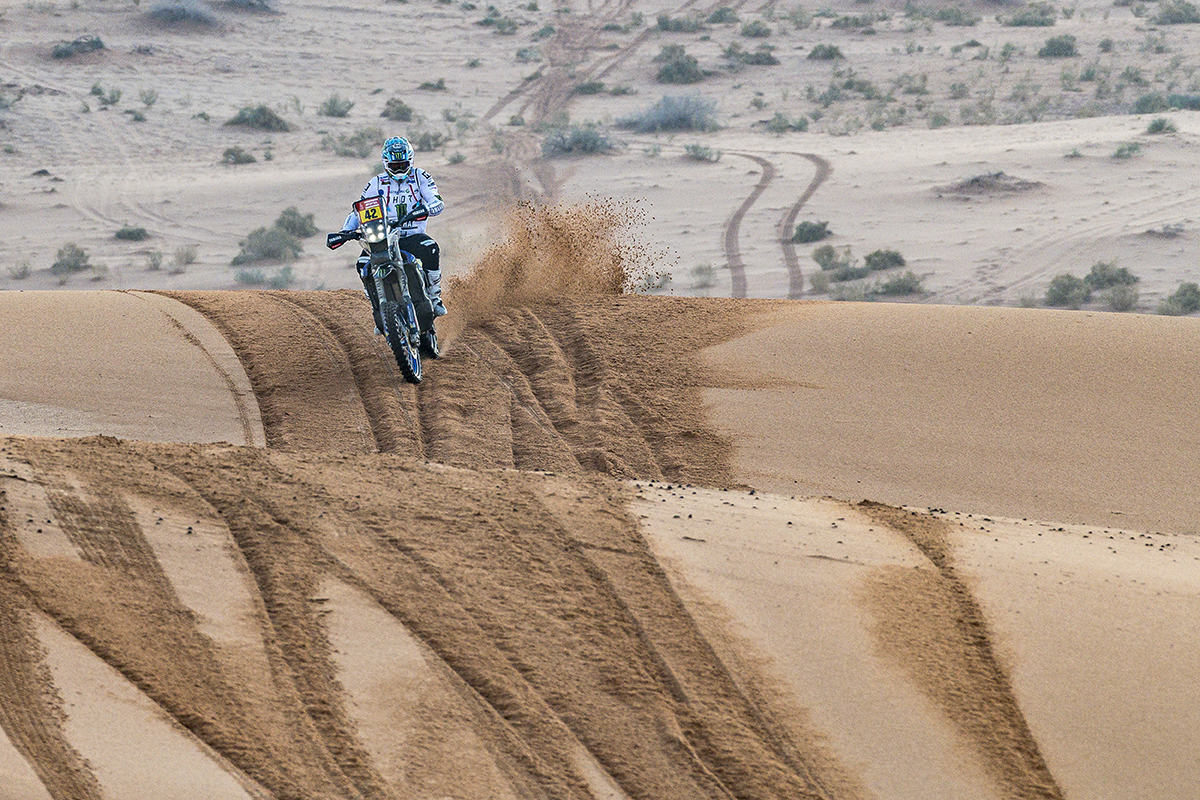 Outside the top 10 or so the track is getting churned up though and riders are reporting the wet sand is catching the bikes much more than the predictable dry sand you'd expect in the Saudi desert.
"I started quite far back and for me it was like a motocross track." Explains Ricky Brabec who began the stage in 39th. "I had a lot of lines to follow. The hardest part was riding in the wet sand with the big ruts that had been made by the bikes that had gone out in front. It was a very fast and physical day."
Going down rabbit holes and jumping canyons
Going slightly wrong on the navigation is easily done, a minor difference at one point can lead you down a wrong path (or canyon in this case) and take you off course. Riders made mistakes yesterday, today and will likely happen tomorrow and every day after.
Many less riders got caught out by the tricky navigation on stage two but Daniel Sanders can count himself as one. He headed down a canyon not far out from the fuel stop at 207km and says he let go about 20 minutes after heading "one valley too far to the left".
It was a different kind of error to that which foxed a people yesterday though, arguably more of a rookie error for the Australian still only on his second Dakar let's not forget.
Yesterday a heap of riders couldn't find a waypoint while today, Sanders simply took a slightly different direction. The trouble was when he realised, he was stuck inside the canyon. "In the end I had to jump over it to get out of it" says the Australian proving the point that rally-raid requires a mixed bag of off-road tricks.
It was a good day for…everybody who had a bad day yesterday?
That's a bit of a broad statement but it was a far better day for so many of the top riders who found the navigation yesterday a problem. Some are still moaning, or at least are confused about what they did, but the fact seems to be they just got it wrong and the notes are tight.
Today though riders like Kevin Benavides, Toby Price, Skyler Howes and Andrew Short made amends and finished the day inside the top 10.
Stage 2 🔥 @redbullmotors pic.twitter.com/wWrjCawMqR

— Kevin Benavides (@kmbenavides) January 3, 2022
It was also a good day for some of the riders who aren't superstars – but no lesser experienced – too. People like Stefan Svitko, Joachim Rodrigues, Martin Michek and Aaron Mare who was a late replacement at Dakar for the injured Franco Caimi in the Hero Motorsports team.
The South African now joins the vastly experienced Svitko (below) inside the top 10 general rankings at the end of stage two and looks confident on the unfamiliar Hero.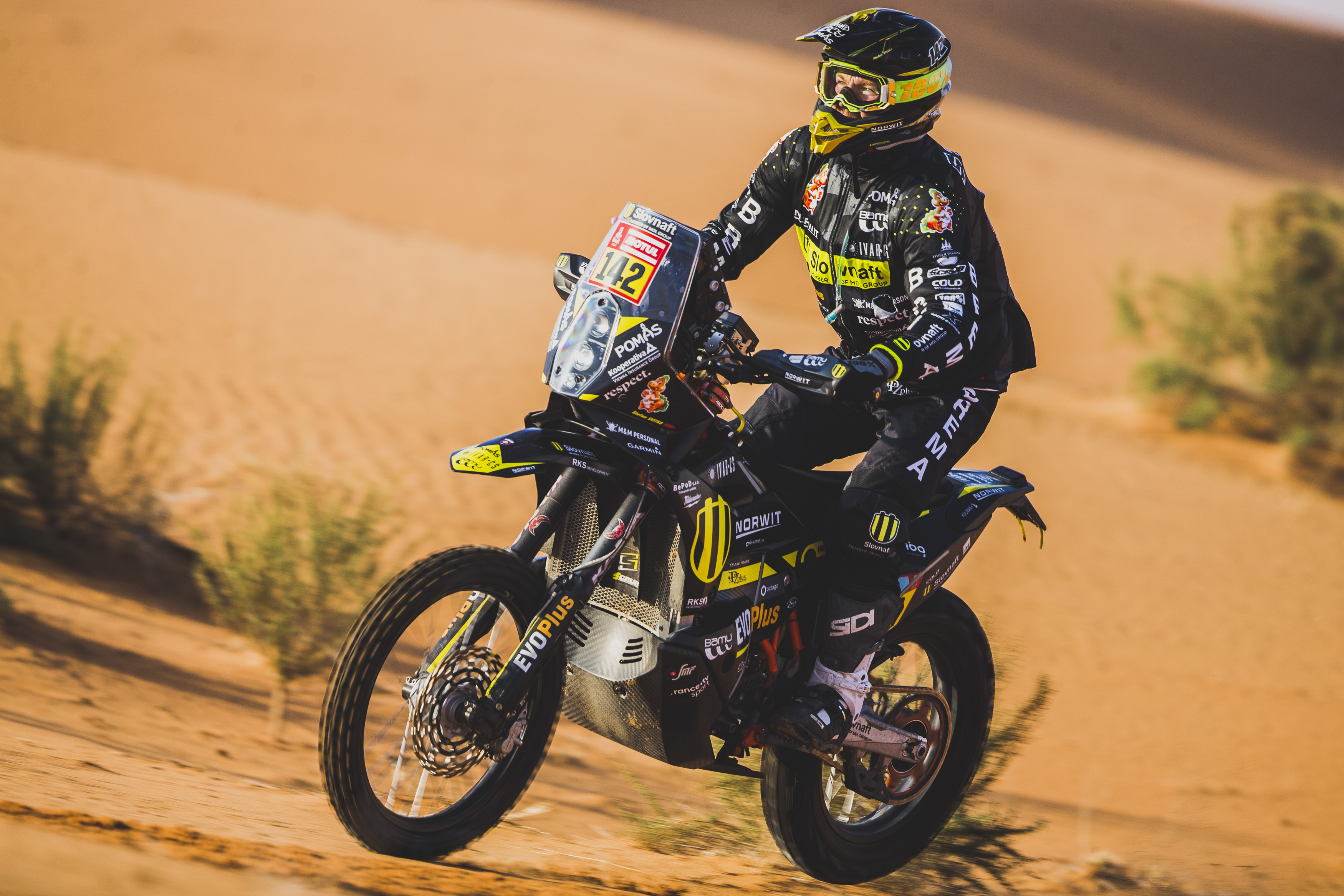 It was a bad day for…rally leaders
Well, you'd expect to point at Sanders who saw a decent lead evaporate as he went down that rabbit hole lost a load of time and was later slapped a 10 minute penalty which drops him to seventh on the leaderboard.
Pablo Quintanilla, lying second overnight, hasn't faired much better having lost a tonne of time to finish P25 today."At kilometre 260 I made a mistake and lost some time trying to understand what the mistake was so that I could get back on the right track." The Honda rider explains. "We've had navigation surprises for two days now but I'm calm and we know that there are always good and bad days on the Dakar."
All's far from lost for Pablo either. He is still the leading Honda rider but drops to P6 overall, 12 minutes down on Sunderland.
2022 Dakar rally scratch classification after stage 2 (top 30):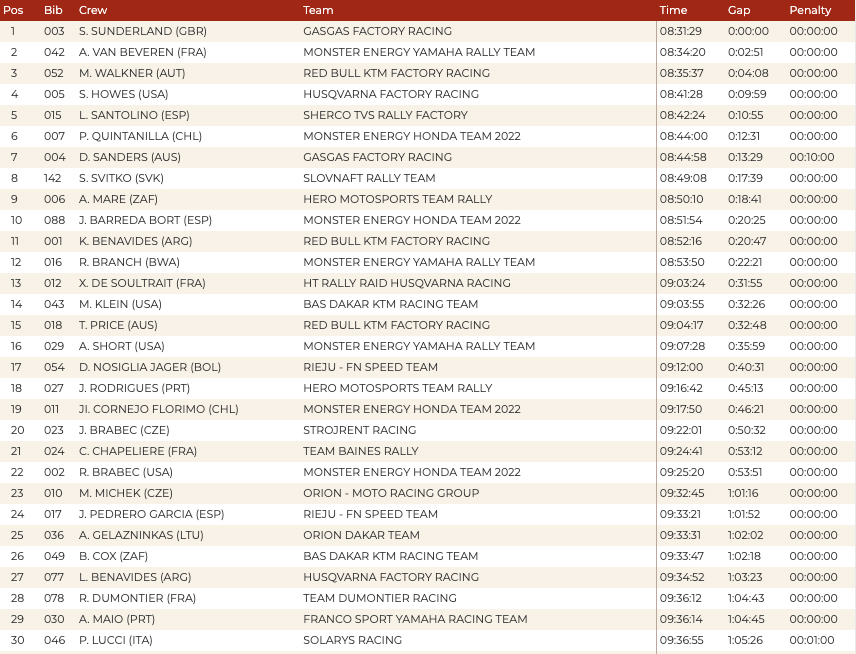 Find stage 2 results in our separate story: 2022 Dakar Rally Results: Barreda wins stage 2, Sunderland takes rally lead
Photo Credit: MCH Photo CZ + RallyZone + Flavien Duhamel