2022 Dakar Rally Results: Rodrigues takes Hero's first win on stage 3, Sunderland leads
Results from the 2022 Dakar Rally where Hero Motorsports' rider Joaquim Rodrigues has taken a historic first stage win for the Indian manufacturer ahead of Red Bull KTM's Toby Price and 20-year-old Mason Klein in third – Sam Sunderland continues to hold the overall rally lead.
Dakar Stage 3 in a nutshell:
Today's stage looped to and from Al Qaisumah but was shortened by 100km due to heavy rain. The 255km special actually started at CP1 after a 214 km liaison, before returning a further 166km to the bivouac.
More rain meant more wet sand and still plenty of dunes with around 30km classified as "level 2 difficulty", meaning they were BIG.
Joaquim Rodrigues grabs the headlines today. The Portuguese rider has been impressive on these early days of Dakar '22 – yesterday there were two Hero Motorsports riders in the top 10 along with Aaron Mare. On stage three, JRod showed the potential of the Hero machine by taking a best-ever result, winning the stage by one minute. He's the first Portuguese rider to win a stage since Paulo Goncalves.
Working his way back into contention after stage one misguidings, Toby Price clocked the second fastest time of 2:35.44 which was just 11 seconds faster than 20-year-old rookie, Mason Klein third. Klein's compatriot and training partner Skyler Howes was a further 12 seconds back – all three battled for the podium places throughout the stage.
Yesterday's top two, Joan Barreda and Sam Sunderland lost time today (finishing in 24th and 17th respectively) but there is speculation some sandbagging was going on. It could be nonsense, and both riders had trouble finding an unusual off-piste waypoint (normally they are on the track), but surely Barreda wasn't the same rider today.
The thing is nobody wants to lead tomorrow, the longest special of the rally at 465km. Daniel Sanders, who lead on corrected time for large parts of stage three having set-off back in 23rd place, was more blatant and stopped to have a picnic at the very end of the stage to add time.
Sanders finished fifth today but if you remove his 10mins overnight penalty (for "non respect of the zone control") he would be the rally leader tonight.
That honour stays with his GASGAS teammate, Sam Sunderland who leads by just 0.4s over Adrien Van Beveren. Along with Matthias Walkner and Skyler Howes, this top four are current looking prettiest (and playing it smartest?) at the top of the leaderboard.
2022 Dakar Rally Stage 3 results: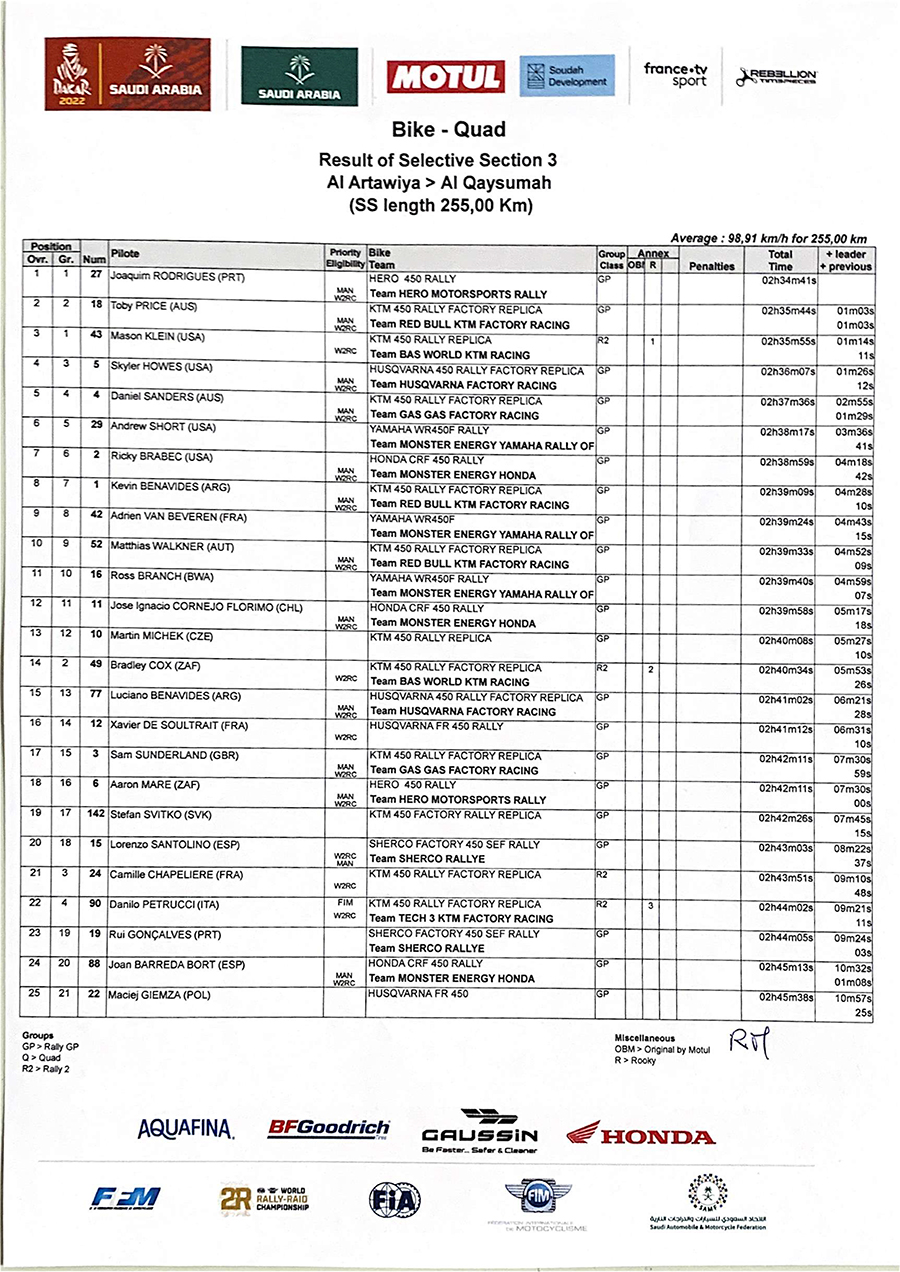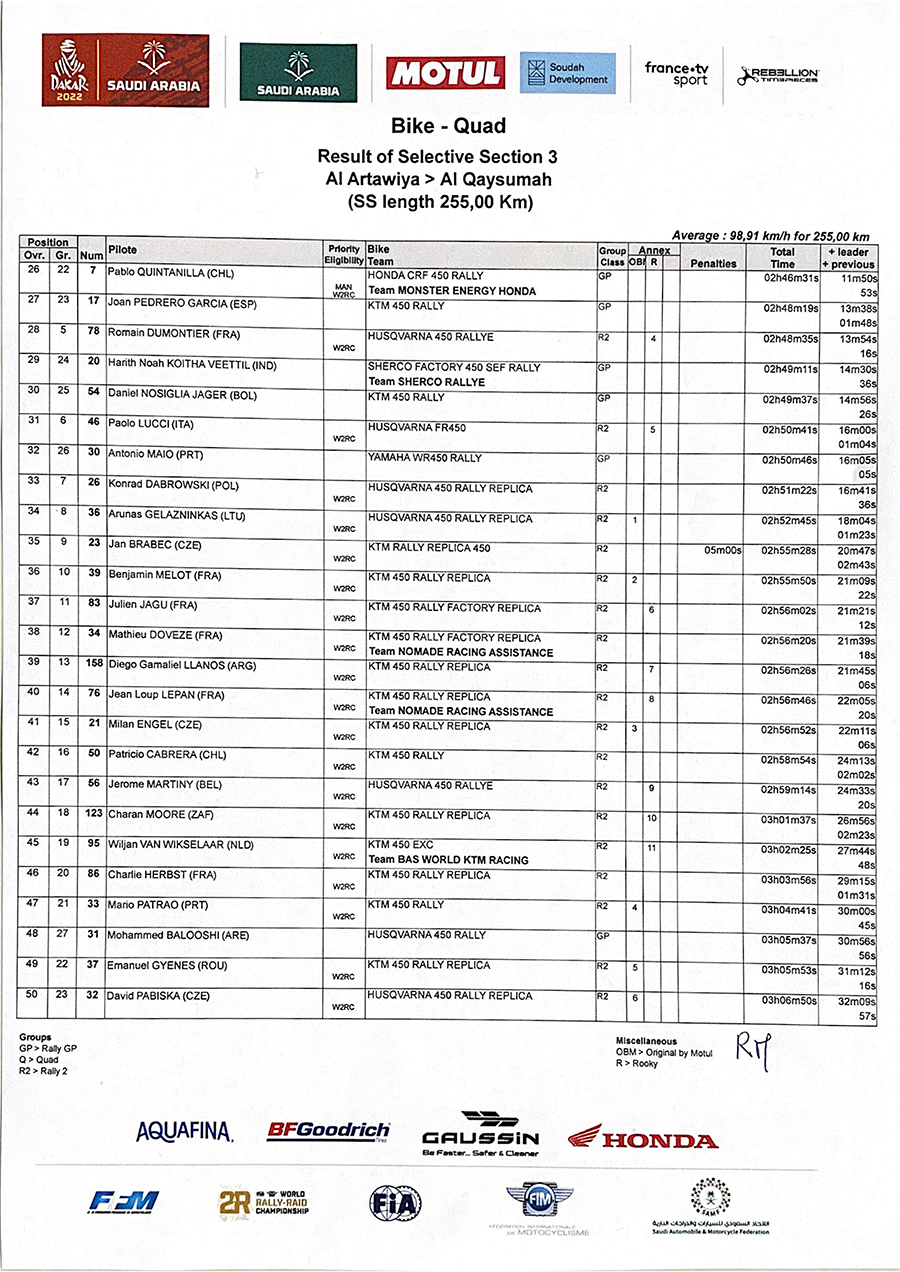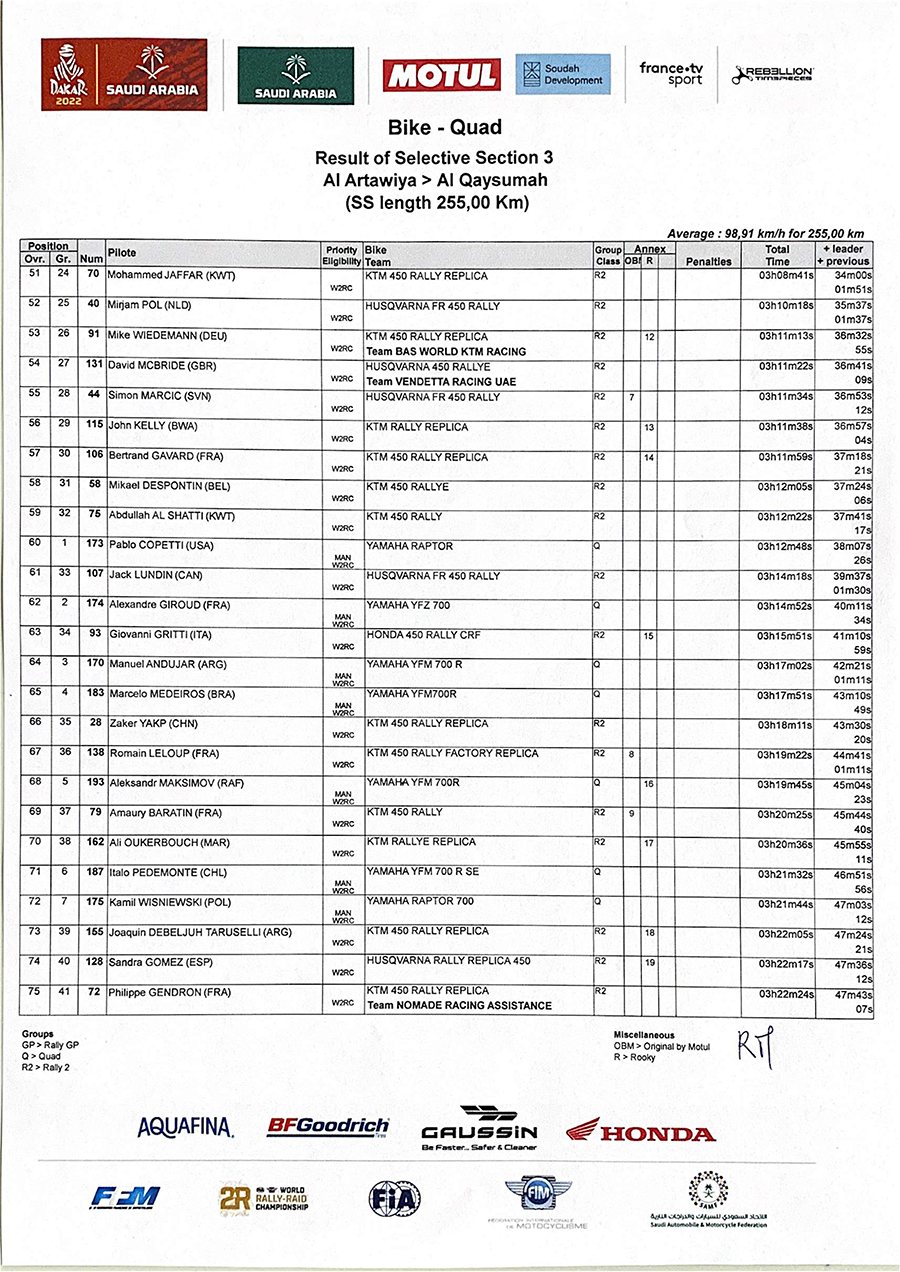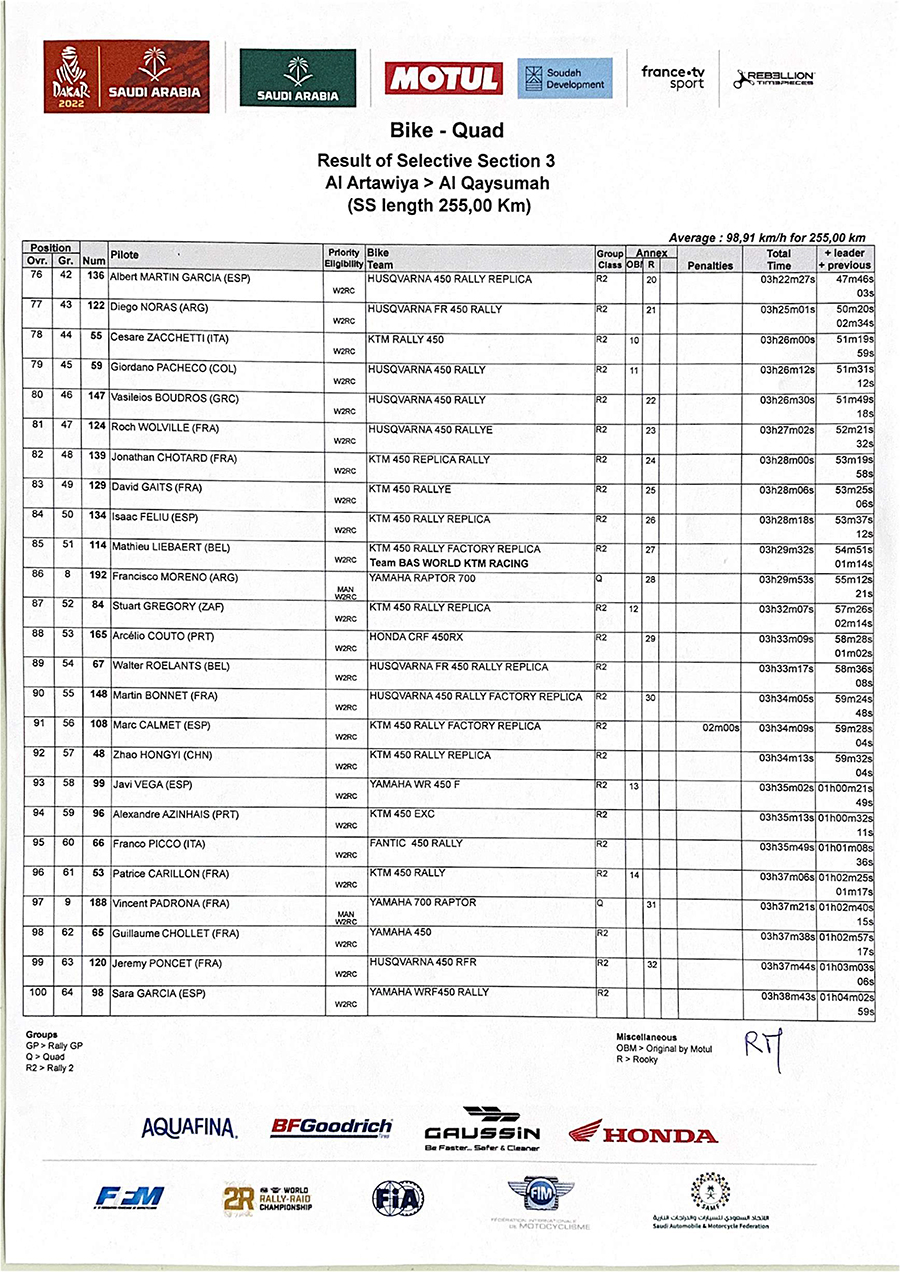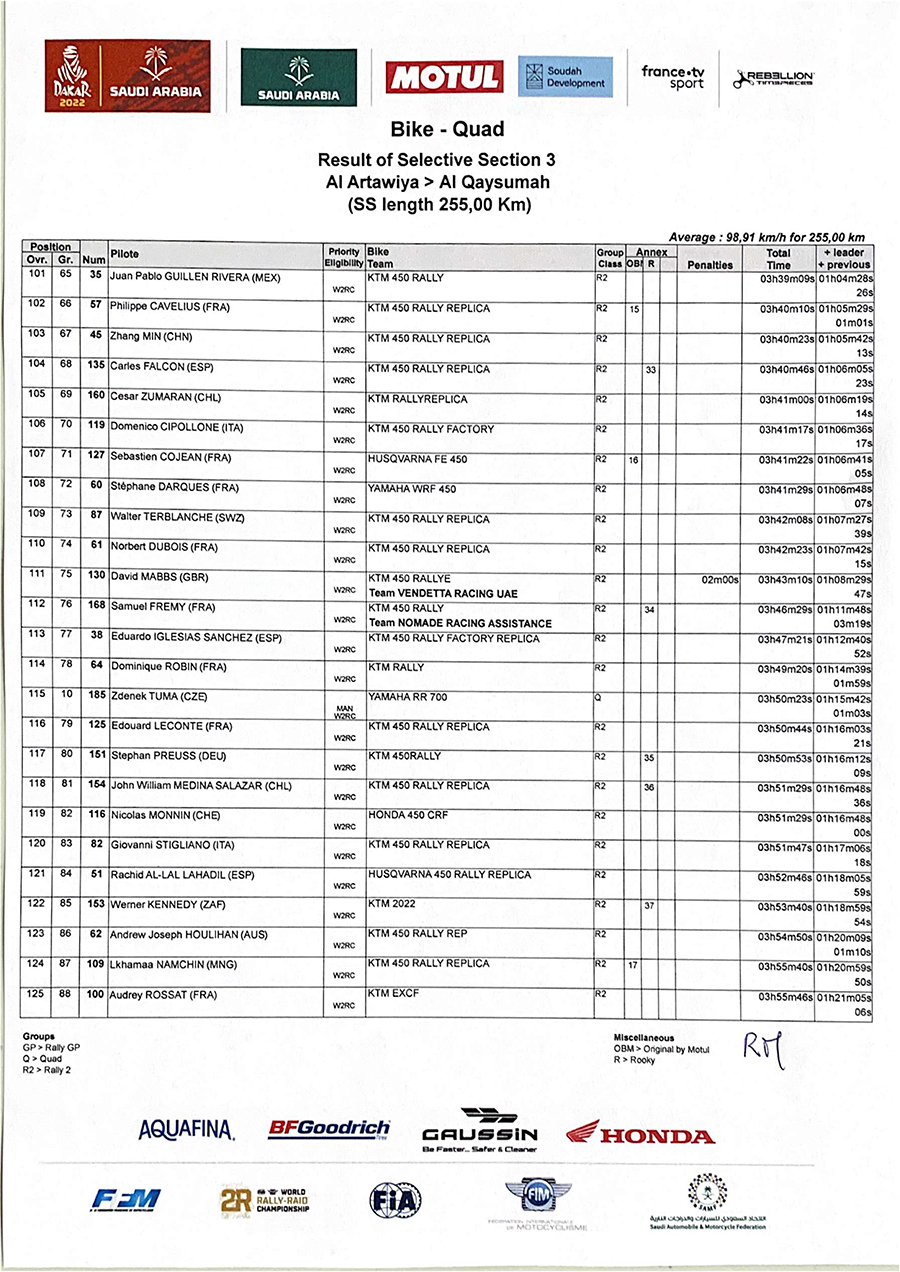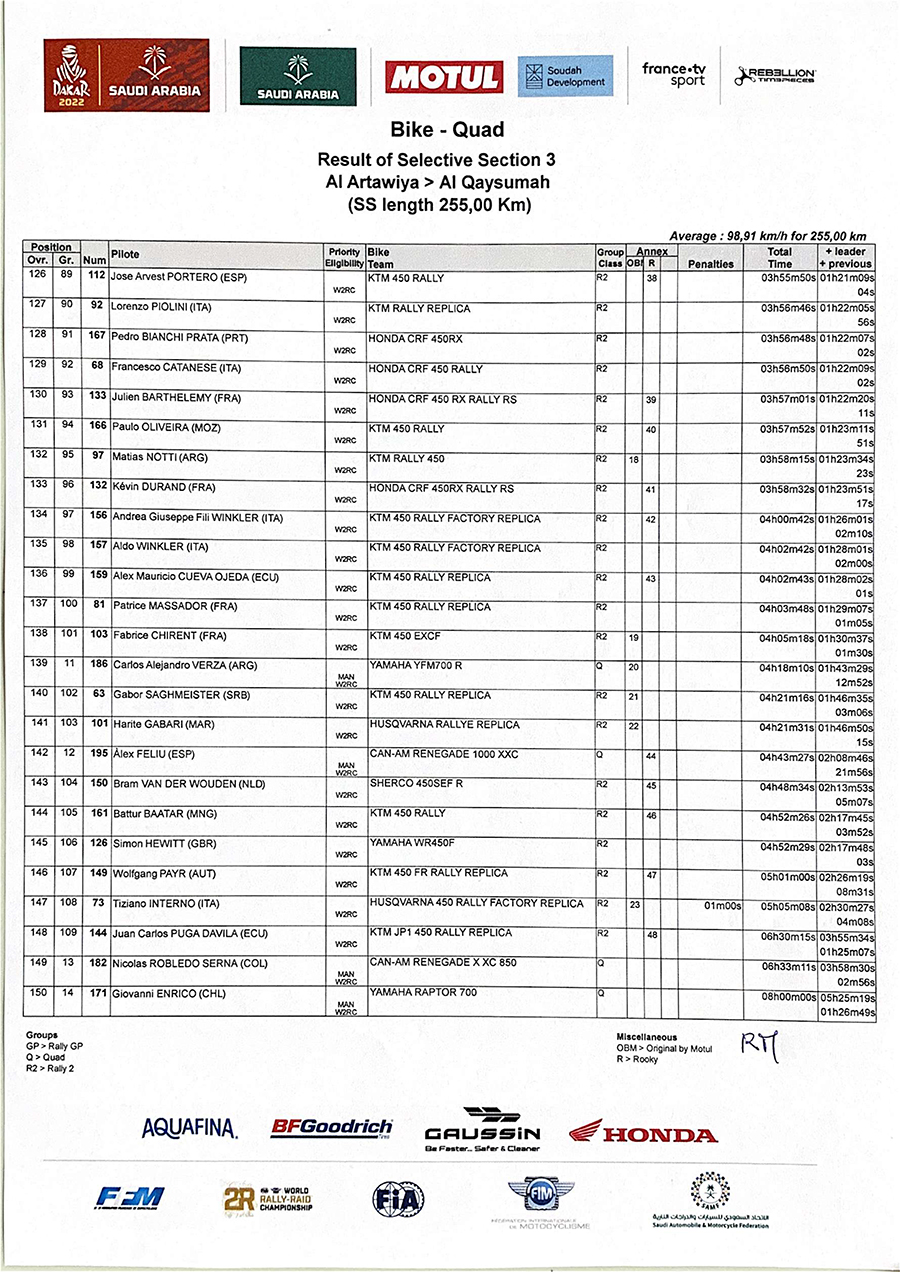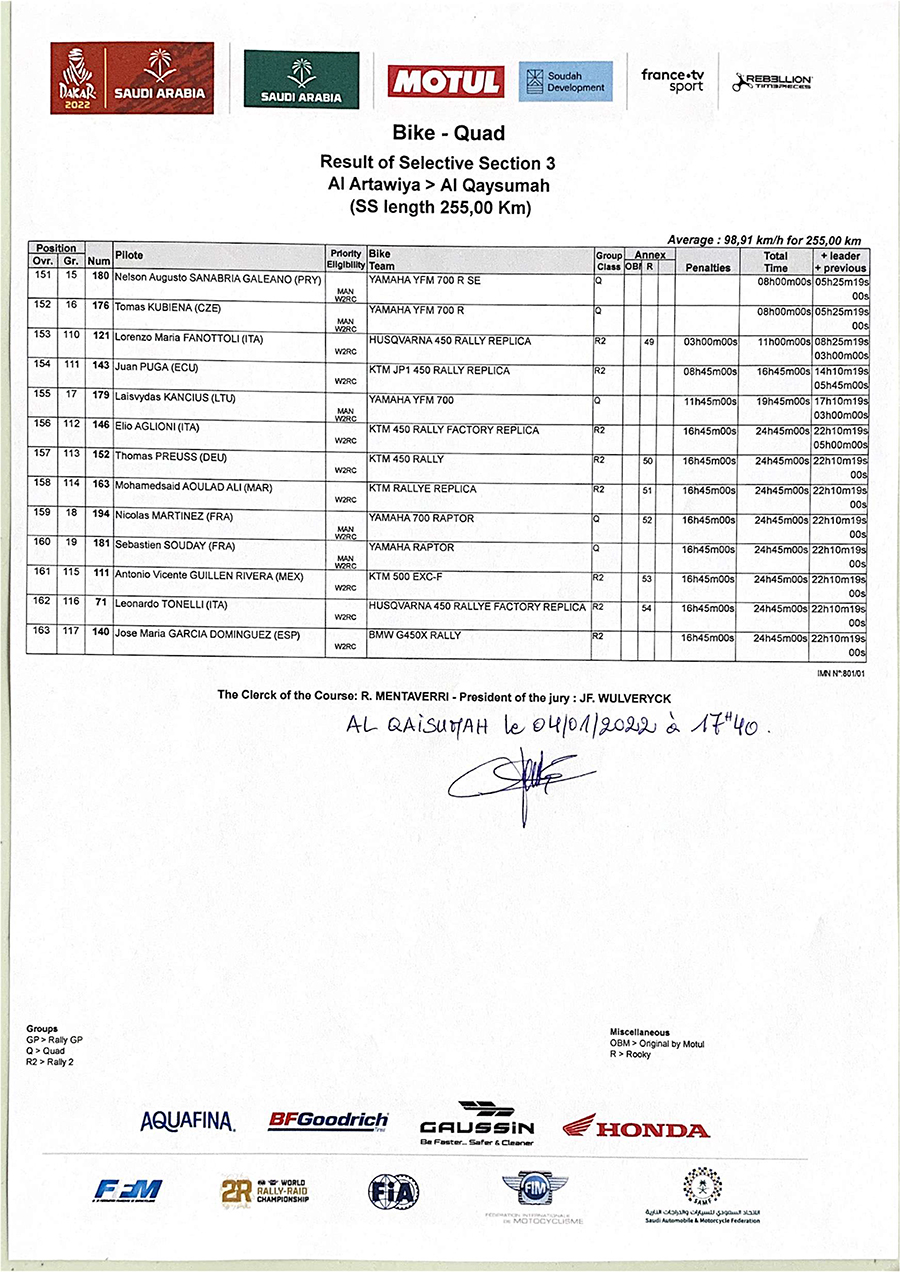 Provisional overall classification after stage 3 (top 30):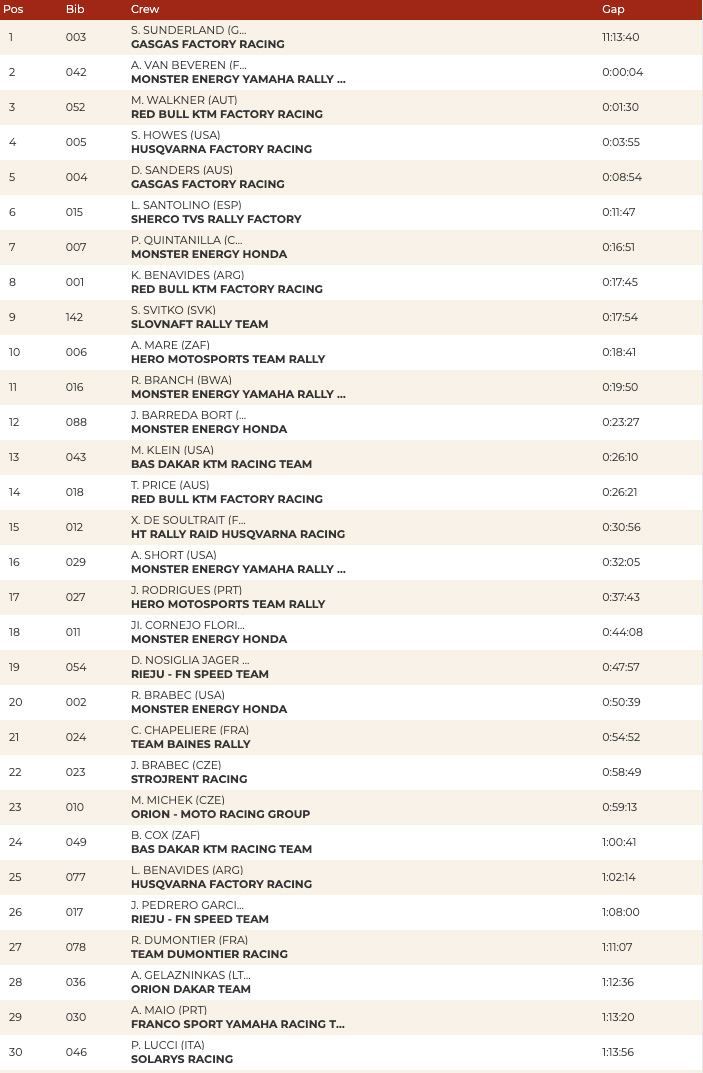 Photo Credit: RallyZone + Marcelo Maragni | Red Bull