2022 Dakar Rally Notebook: stage three maidens and was it picnics or tactics?
Enduro21 notebook diagnoses the details from day three of the 2022 Dakar Rally where picnics were the order of the day (or were they?), and maidens stole the show.
Stage three of the '22 Dakar was pretty uneventful in many ways. The course was shortened, rode relatively easy and faster, in the end riders were pretty equally matched. In short nothing much happened of note.
Except a trio of significant firsts that is. Firstly, Skyler Howes crossed the line first. Not in front on the time sheets (though he was pretty damn close) but he physically was first over the line which he understandably says feels "pretty, damn cool" – more coolness from Skyler below.
His buddy and compatriot Mason Klein ticked off another first today as well. The rookie was third on the scratch timesheets, an unofficial stage podium if you like, which is no small achievement for a 20-year-old privateer.
There was an Indian maiden too as Portuguese rider Joaquim Rodrigues took an historic first ever Dakar stage win for Hero Motorsports. It was all the more poignant for the memory of lost hero Paulo Goncalves, Rodrigues' mentor, compatriot and family member.
"I was riding and feeling so good, riding so fast that I even said to myself 'Paulo is riding with me here'." JRod says. "That thought came to me because all the navigation was on point, so I thought to myself 'he is with my riding today' and in the end we won, me and him, we won."
Picnics in the sand or sandbagging?
Daniel Sanders began stage three in 23rd place after going the wrong way yesterday. He lost the lead of the rally and had to make the GASGAS fly today to catch up the time lost. "I made a lot of time up in the first 60 kilometres of the stage." Said Sanders at the finish. "In the end, I pushed all the way."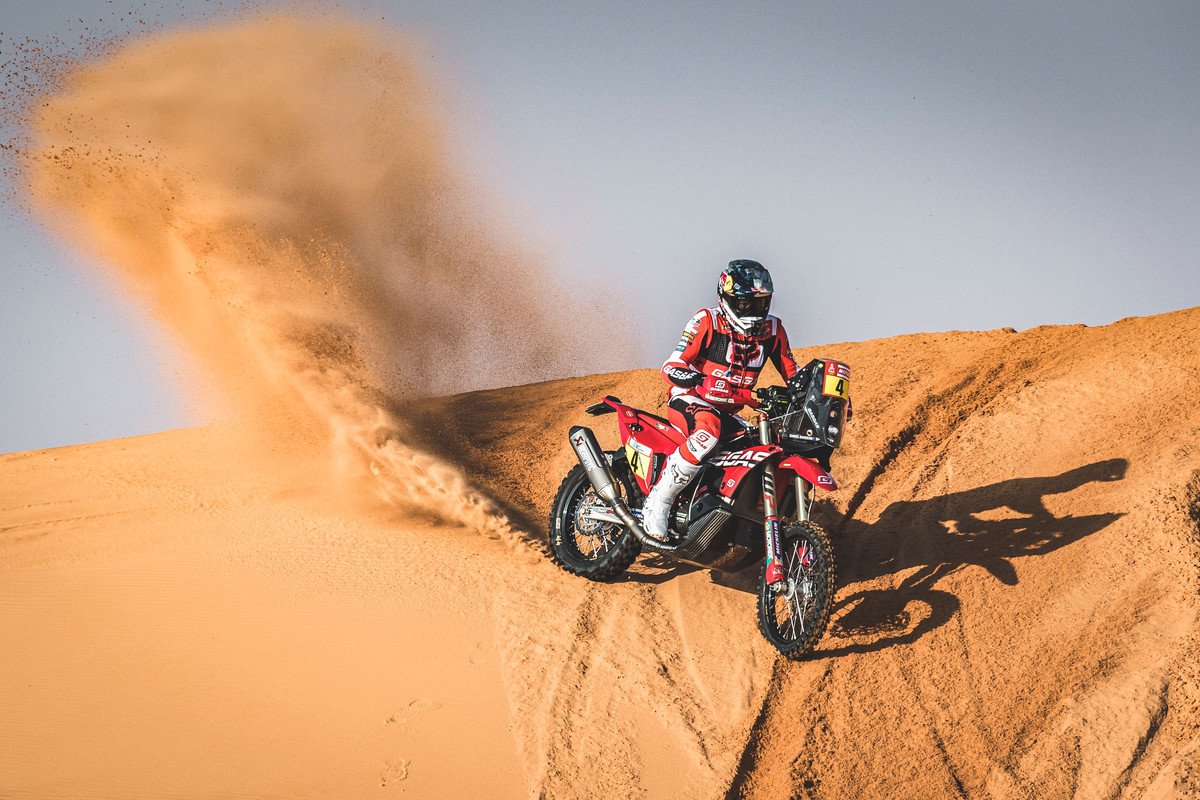 He should and could have won the stage but literally just short of the final timing beam, Sanders stopped, "had a picnic" for three minutes or so and then calmly rolled up to the time check.
There are experienced guys in the KTM Group of tents in the Saudi bivouacs. People like Jordi Villadoms and Marc Coma who are managing, helping with the tactics and guiding the GG, HSQ and KTM riders. Sanders is smart too and certainly not alone in playing a tactical card in a Dakar stage, riders have been doing it for decades.
"I just played it smart," Daniel continues, "tomorrow is the longest stage of the race and I wanted to start back a bit and catch the guys in front.
"I'm really in the fight at the moment, but it's day three and I thought to slow down and be smart for once was a good thing. It would have been cool to have another stage win but we're here for twelve days not just to win each stage."
Pivotal stage 4?
A fast and technically undemanding day like today means everyone finished close on time. Even the two riders out front, Joan Barreda and Sam Sunderland who went from P1 and P2 yesterday to 24th and 17th, weren't unduly bothered with time lost when they couldn't find a rogue waypoint (more on that below as well). Sunderland remains the rally leader after all.
But tomorrow, stage four, is the longest of the 2022 Dakar clocking 465 raced kilometres. No-one who has designs on winning the race really wants to lead any stage because opening the piste is slower than following. But tomorrow will be a different story and it could be a pivotal stage.
Sam Sunderland leads from Adrien Van Beveren, Mathias Walkner and Skyler Howes are all in close contention at the top of the leaderboard. But check down the running order and there are some significant riders with time deficits who could pull a blinder and will be aiming for the stage win.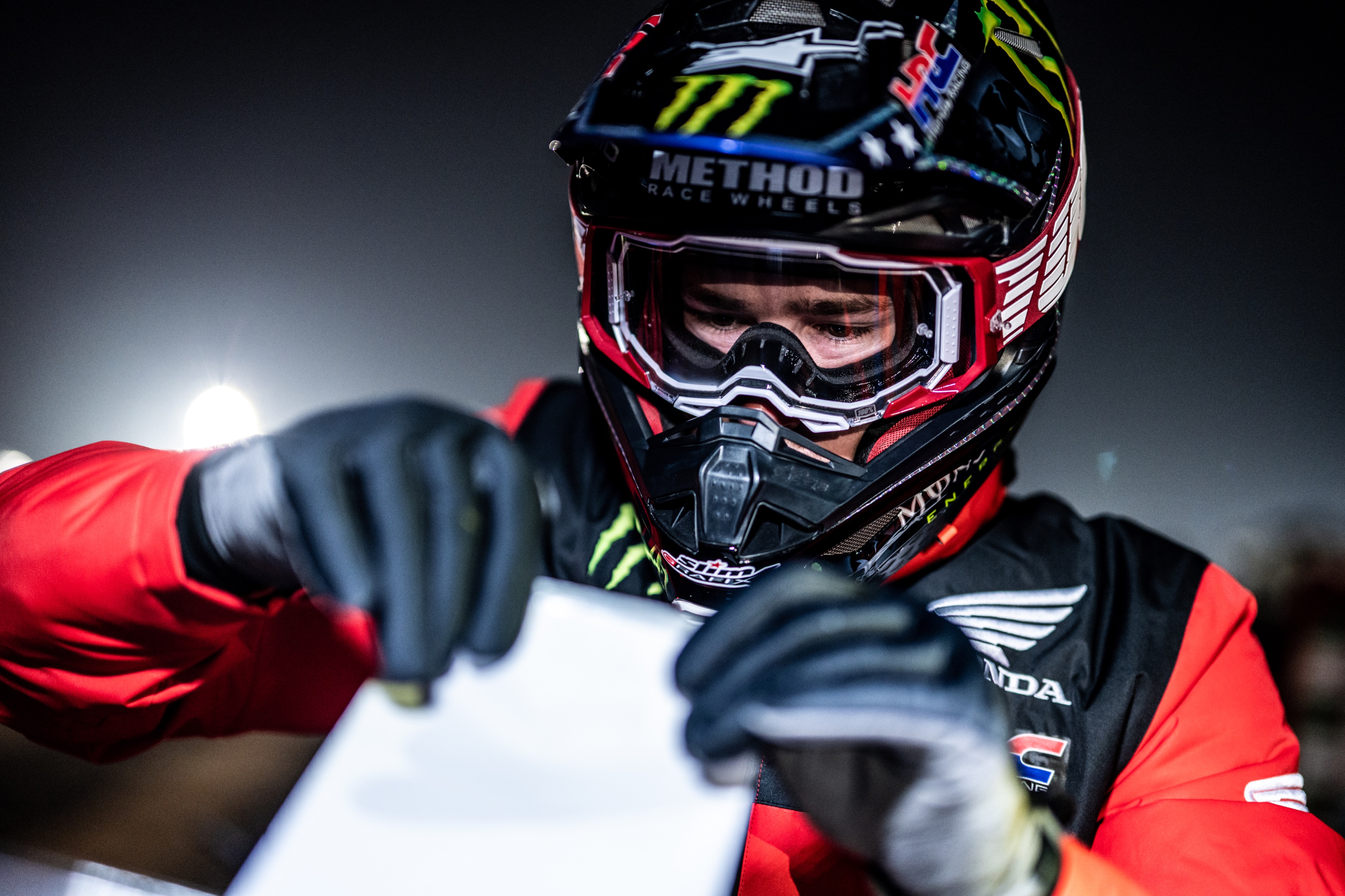 That will mean taking the bull by the horns, but there some red-blooded bulls like Ricky Brabec and Toby Price for example, both former winners and not shy. Or what about reigning champ Kevin Benavides or Pablo Quintanilla, who started so well but has never won the race?
How the time gaps look tonight will be quite different tomorrow and it will be an important day in terms of the final result.
Waypoints off-piste?
Just when you thought Dakar was hard enough they go and throw a curve ball and drop a waypoint off the beaten track.
Stage three saw riders hunting for a waypoint they had to go find in the dunes. WPs need 'validating' before continuing and that is where the two lead riders this morning, Sunderland and Barreda, had an issue and got caught so suddenly by those riders behind.
"Joan was doing a good job opening and I just tried to stay calm and focus on the navigation," explains Sam. "But then there was one WP in the off-piste…normally there not allowed to be off-piste, or in the rules it says no WPs in the off-piste…it was really tricky…then the guys arrived from the back. It was a little bit frustrating."
"Today was a good day", and this is a good interview...
By contrast it is refreshing in this hugely expensive sport, the second most prominent motorsport event behind F1, that pro riders are still smiling and enjoying the ride. Among the seriousness of it all, they are still having a blast and this is surely why we love off-road sport so much.
"Well, today was the first time in my life that I've opened the track on the Dakar Rally." Said a beaming Skyler Howes at the finish. "It was a cool feeling and I'm super proud of the way I navigated. It wasn't exactly perfect, but I did a pretty good job and I'm happy with this. I started fourth on the track and I crossed the line physically first, so yes, this was a really cool day."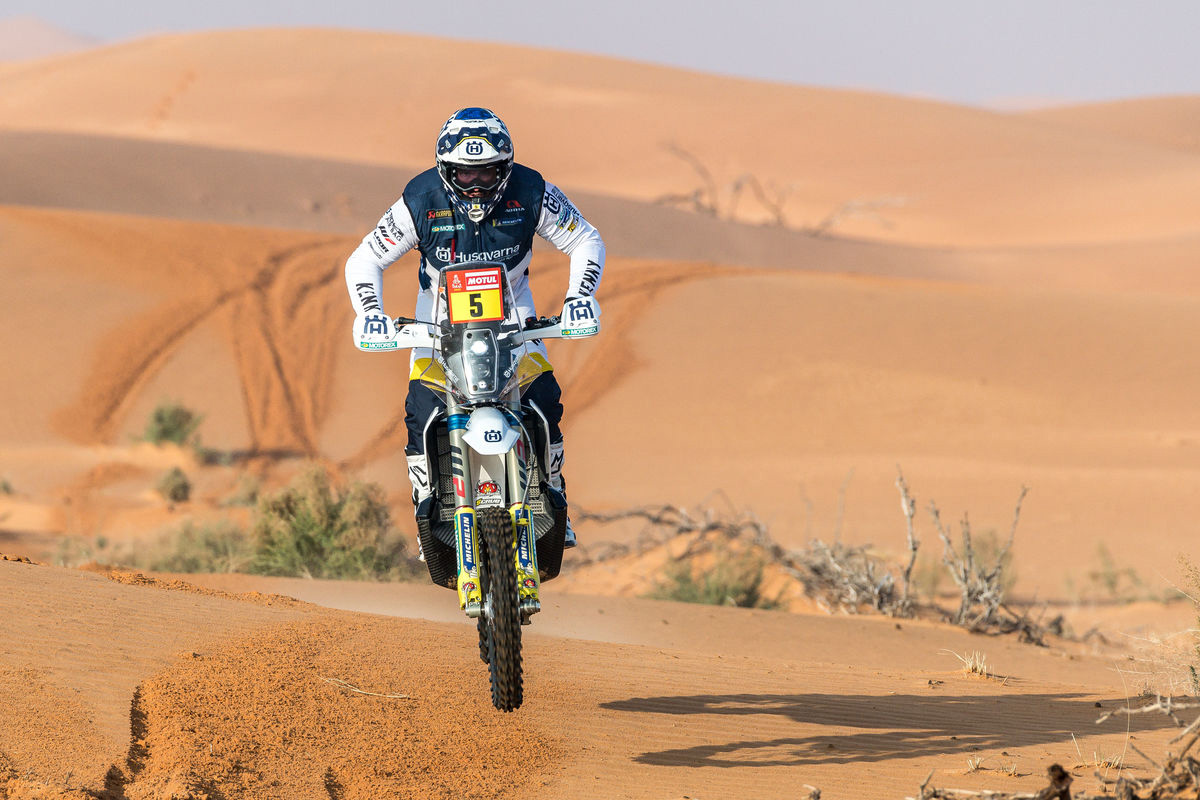 "The track was fun – it was a lot of fast tracks with dunes. Man, today was a good day – I had a great day on the dirt bike with my buddies.
"Last year I was on a rental bike as a privateer and now I'm here on a factory Husqvarna competing against the best in the world so it's really cool. At the end of the day, we're all dirt bike riders, whether you get to do it for a living or not, and we're just lucky to be here racing."
Amen to that.
Find stage 3 results in our separate story: 2022 Dakar Rally Results: Rodrigues takes Hero's first win on stage 3, Sunderland leads
Or the extended daily video highlights here: 2022 Dakar Rally stage 3 video highlights
Photo Credit: RallyZone + Red Bull