2022 Dakar Rally Results: Second stage win for Barreda on day 4, Sam Sunderland extends overall lead
Results from day four of the 2022 Dakar Rally where Monster Energy Honda's Joan Barreda has taken his second stage win ahead of teammate Pablo Quintanilla with Sherco's Rui Goncalves finishing third – Sam Sunderland and GASGAS continue to lead the overall classification.
Dakar Stage 4 in a nutshell:
Today's stage trekked over 700 kilometres from Al Qaisumah to Riyadh on a largely dirt track kinda day. At 465km, the timed special was the longest of the rally but featured very little sand dunes for the first time on the rally – just 12% in fact.
The story of the day was dictated by that terrain to an extent with riders riding grouped together, few making inroads on the time sheets except those behind battled dust and kept aiming at the next guy in front.
If you were at the front, like Toby Price, that meant it was difficult to make any time and the Australian spent his day down in the 30s on the scratch times. Yesterday's top four finished 38th, 30th, 25th and 21st respectively.
Monster Energy Honda's Joan Barreda added to his considerable daily Dakar tally with a 29th stage win. 24th yesterday meant a good start position today and he capitalised by going full gas to reel in the riders in front.
His HRC teammate Pablo Quintanilla shone today as well and finished P2, 4:37 behind Barreda.
Allowed back (to race for no award) ex-MotoGP rider Danilo Petrucci showed his skills are transferable by initailly finishing third, impressively six minutes off the pace. But he was later docked 10 minutes penalty.
Sherco riders had a good day too with Rui Goncalves showing his MX skills to record his best-ever Dakar stage result upon inheriting third place from Petrux. His teammate Lorenzo Santolino went P4 on the stage to hold a very solid top five scratch.
What about the overall? Again, all the pack riding caused a bit of stalemate but riders like Matthias Walkner, Adrien Van Beveren, Santolino and Sam Sunderland all benefitted from no dramas on this longest stage.
Sunderland continues to lead by three minutes, his third day on the bounce in charge and continues the GASGAS stranglehold on the overall classification. Walkner is second, two minutes ahead of Van Beveren.
The scratch result movers on the day were Quintanilla and Barreda (obviously) who shifted closer to Santolino, 11 and 13 minutes behind the rally leader respectively in sixth and seventh.
* results will update
2022 Dakar Rally Stage 4 results: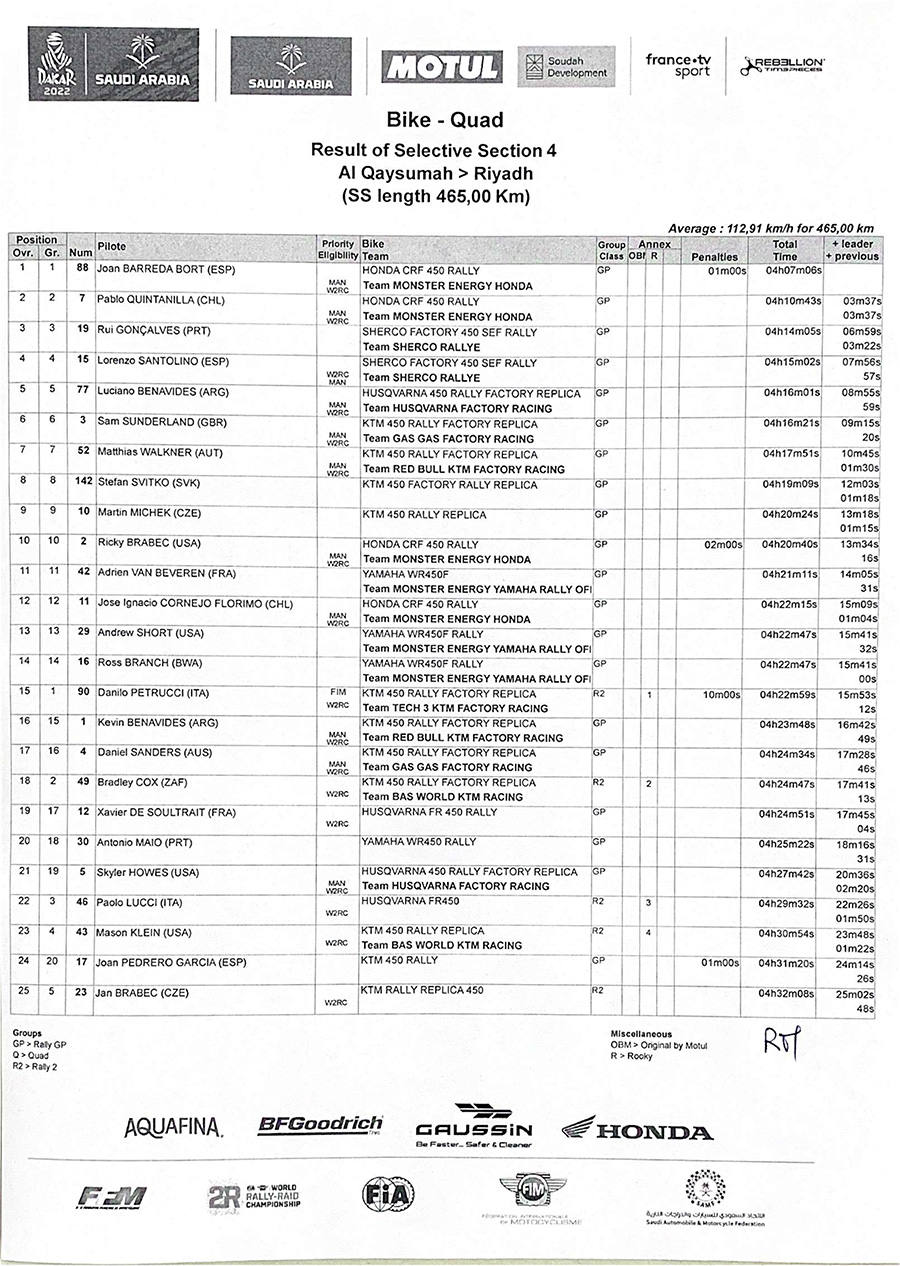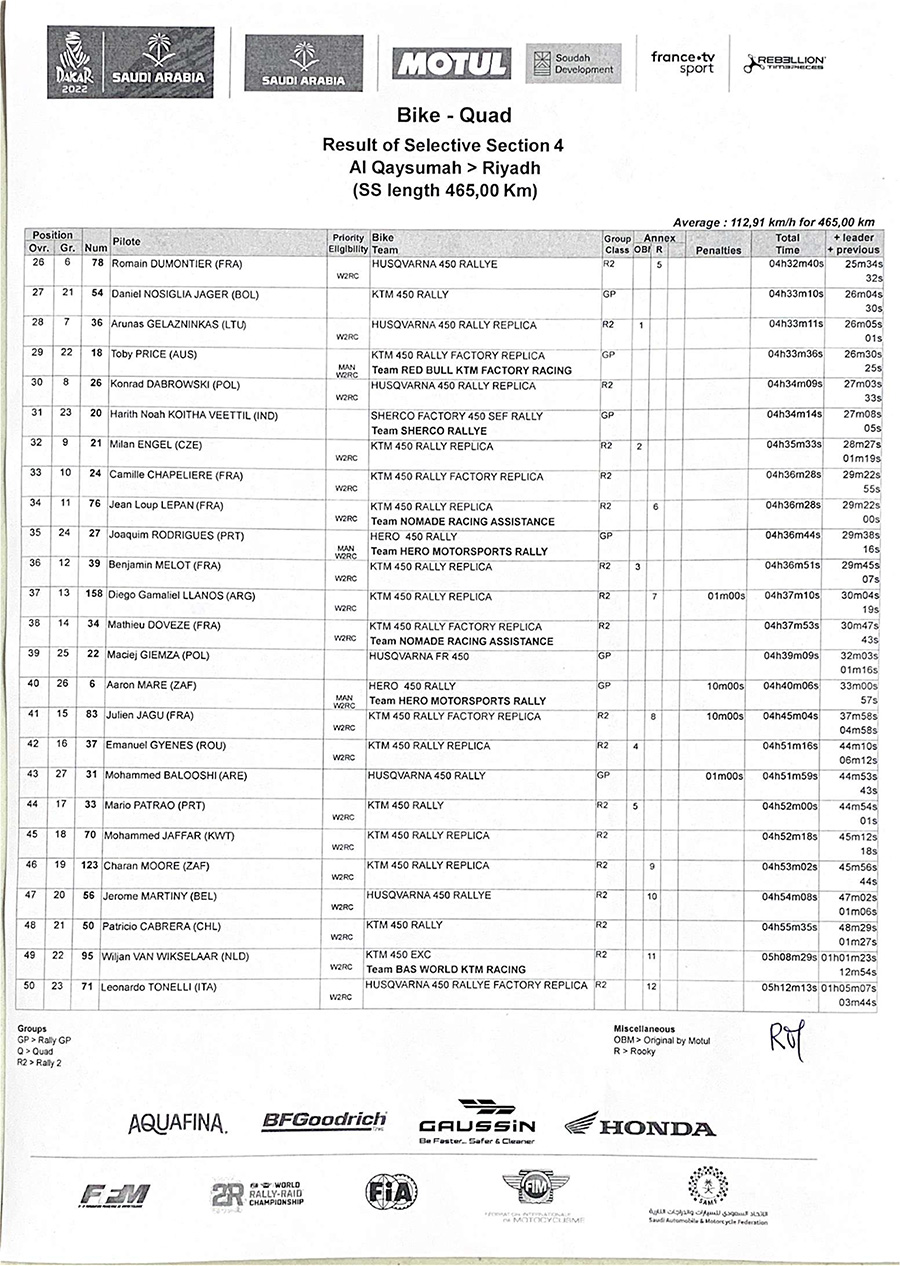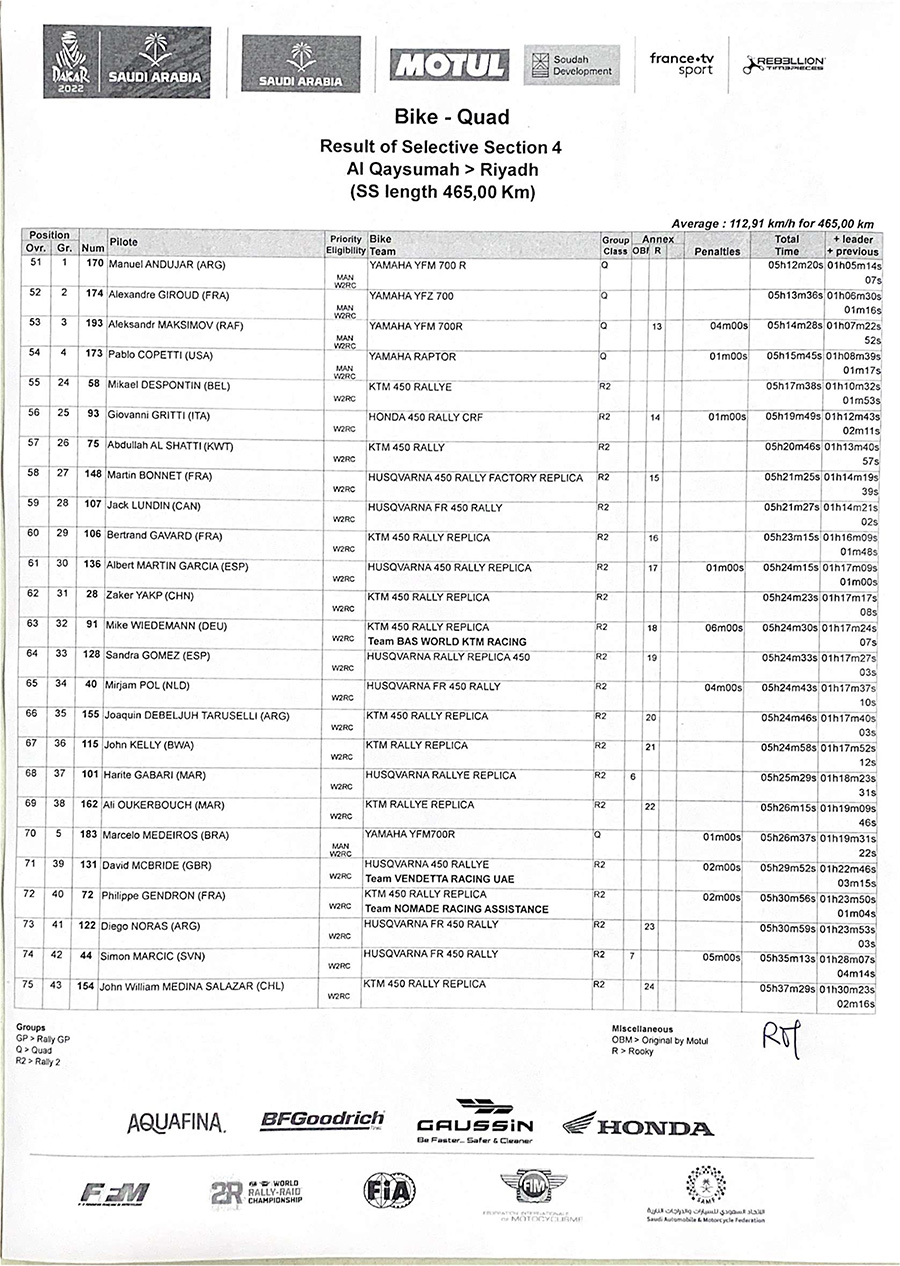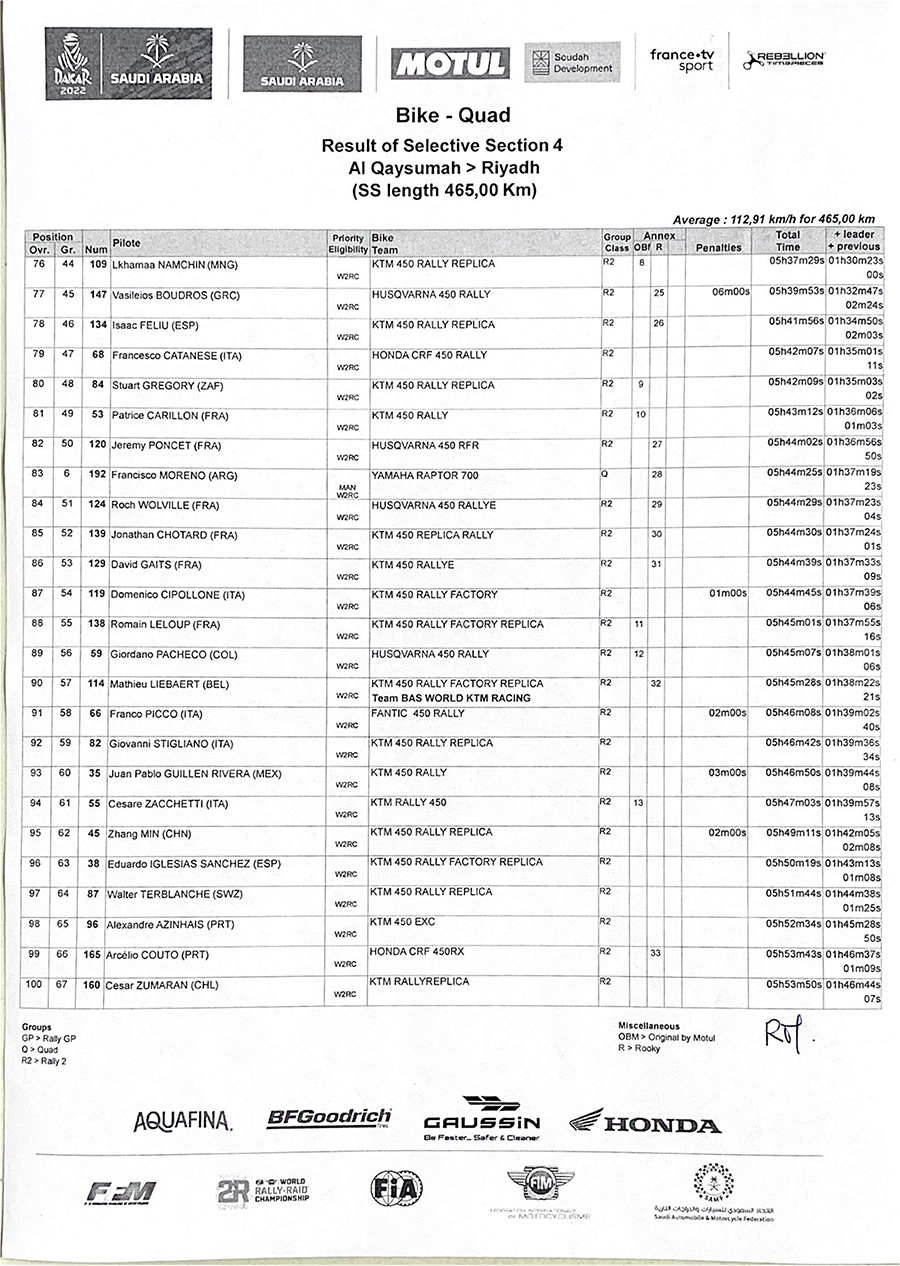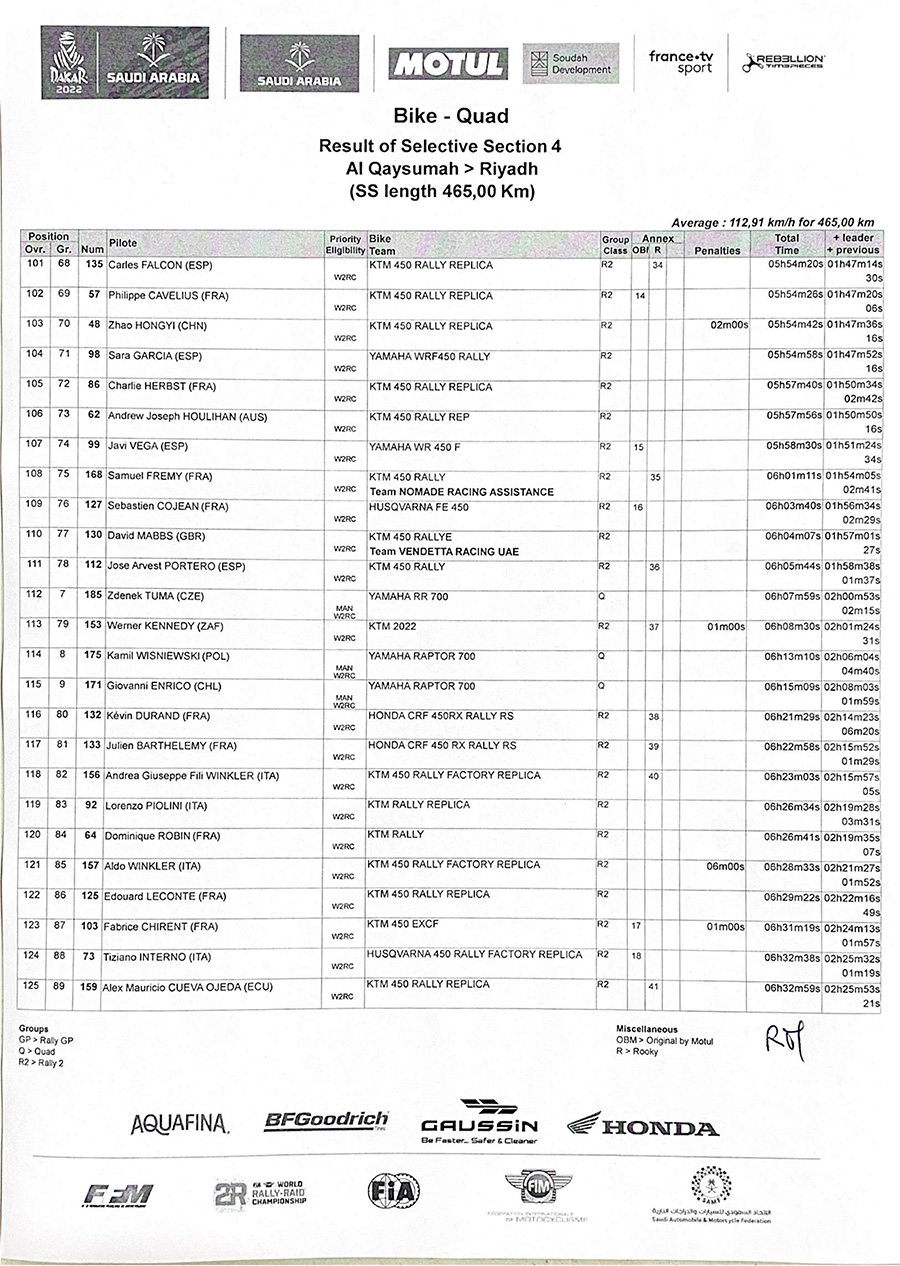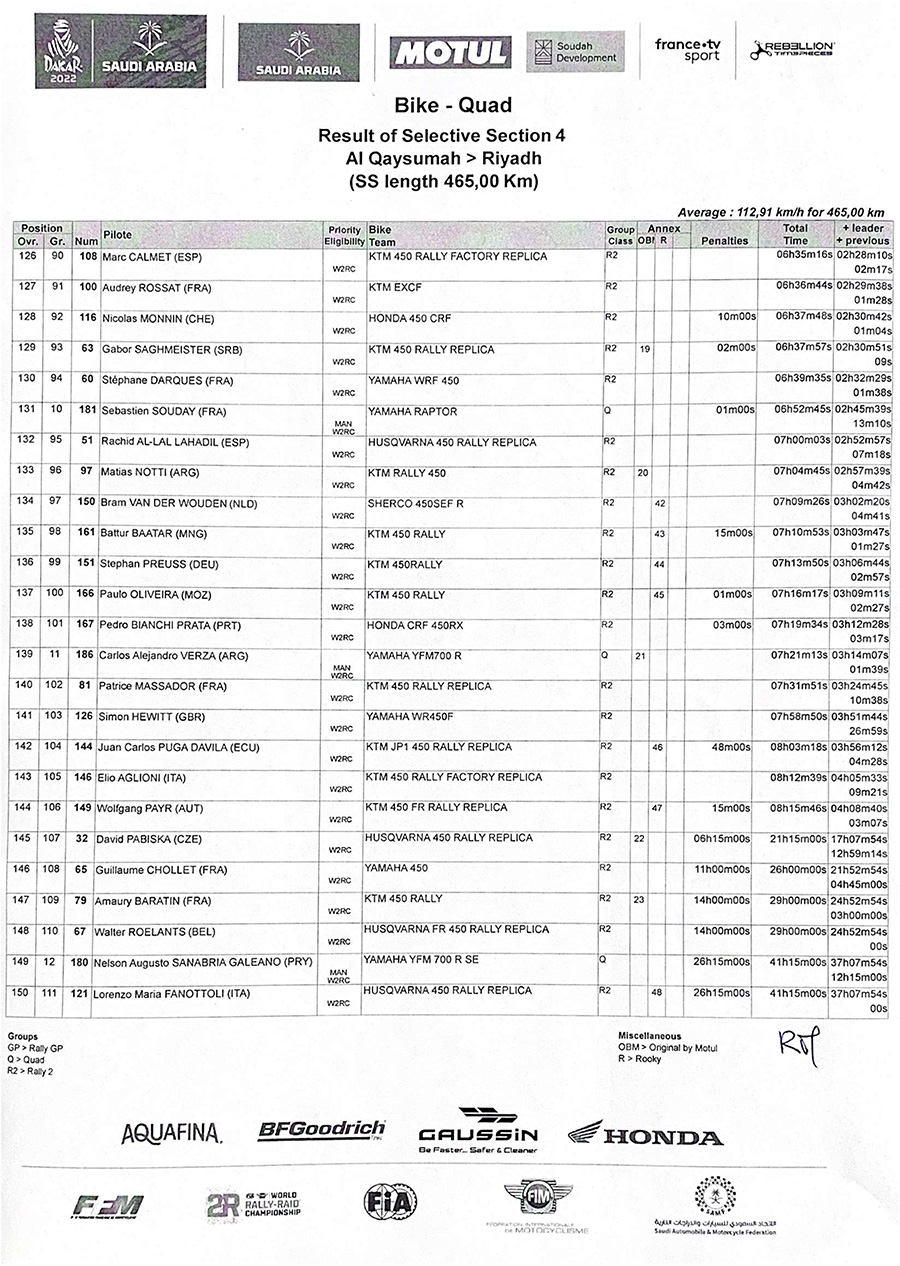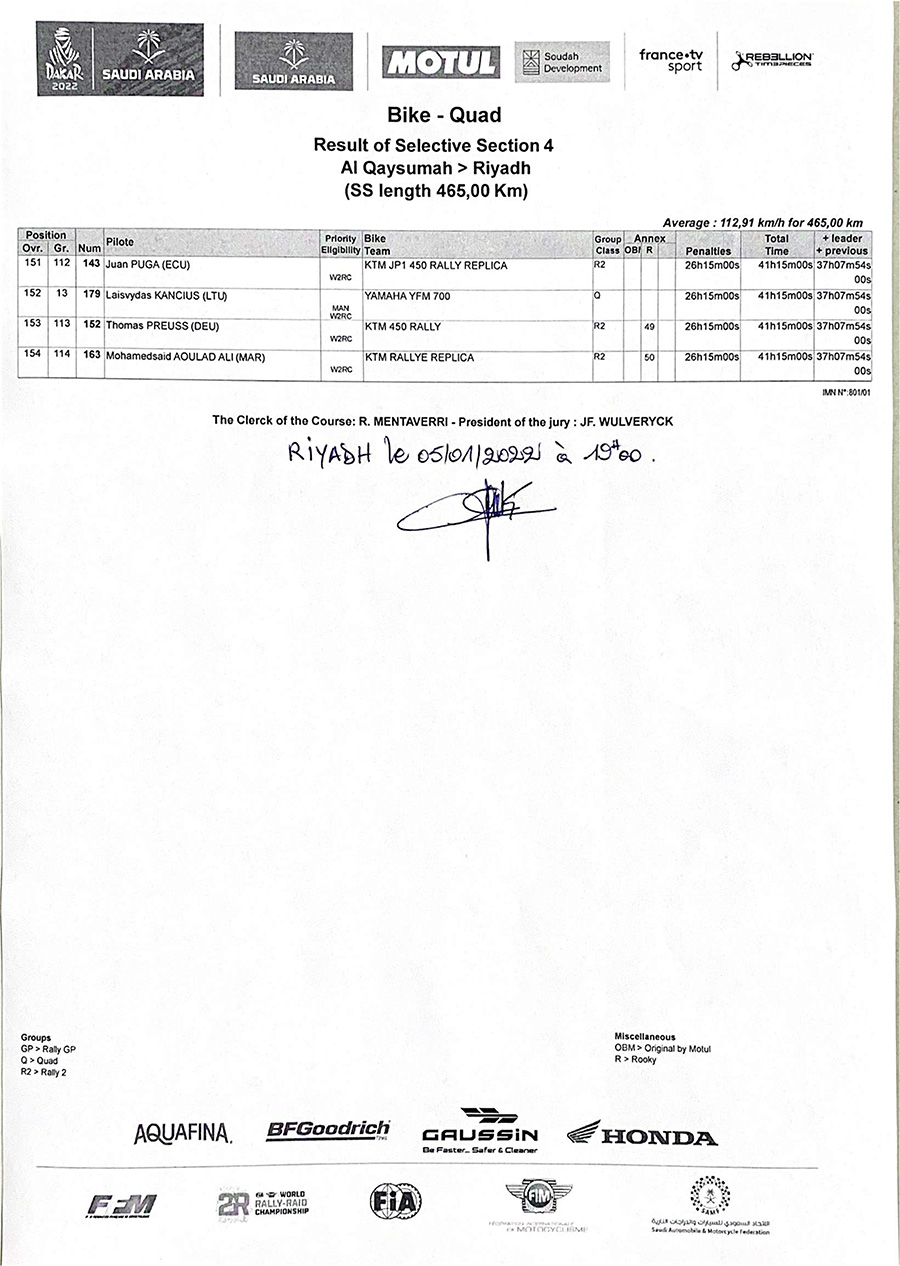 Provisional overall classification after stage 4 (top 30):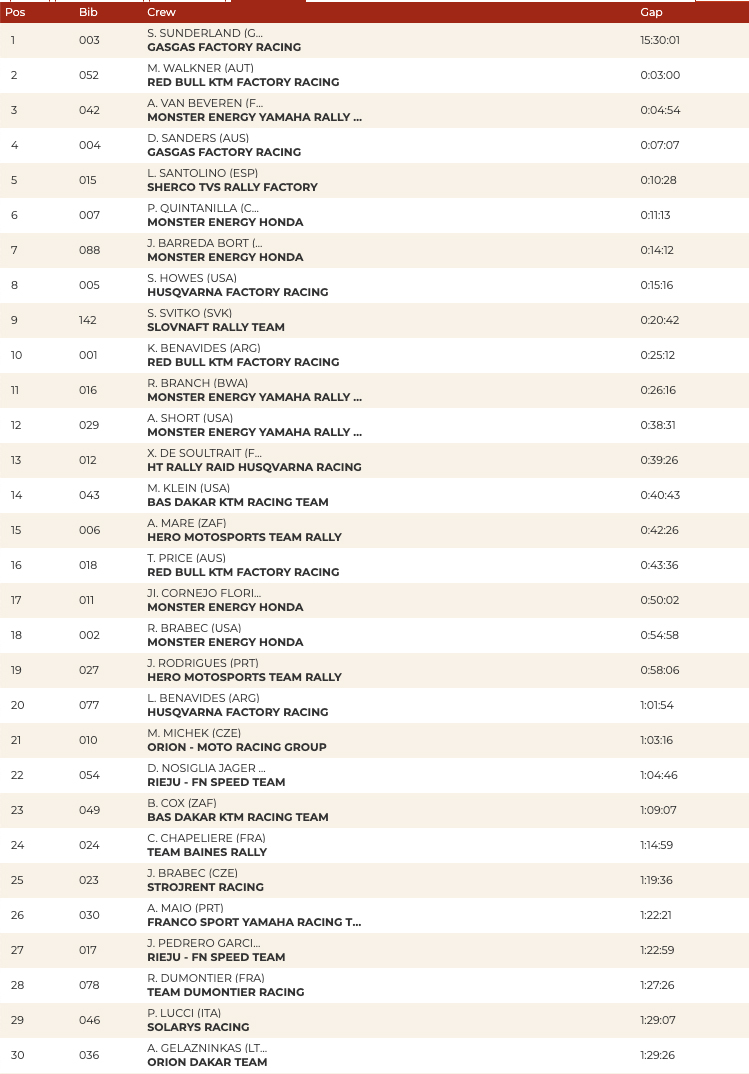 Photo Credit: MCH Photo CZ + RallyZone