2022 Dakar Rally Notebook: stage four – Rocky Balboa, records and Sherco's rise
Enduro21's daily Dakar Rally notebook dives into the details of day four where Joan Barreda ticked off another stage win for HRC, we look at the Rally 2, Original and Women's classes plus considers a role for Daniel Sanders in Rocky VI.
We expected some big changes on the leader board today in the race from Al Qaisumah to Riyadh, stage four of the Dakar. But if there's one thing which is certain about this race, you cannot predict it.
Stage four was a long, fast day that needed getting through without too much collateral damage and that seems to be the order of the day with a few notable exceptions.
The morning saw some action as riders gained time on those in front, like always. But after the first of the fuel stops, riders grouped and rode together with no-one really making any great inroads.
As usual, those who started first lost out the most – Toby Price, Mason Klein, Skyler Howes and stage three winner Joaquim Rodrigues all suffered and finished outside the top 20. They were caught by Daniel Sanders, Ricky Brabec, Andrew Short, Adrien Van Beveren, Kevin Benavides and Matthias Walkner – yesterday's fifth to 10th places.
As the stage wore on, packs of riders were blasting across the desert together like a they were on a day at the Tour De France. Kinda.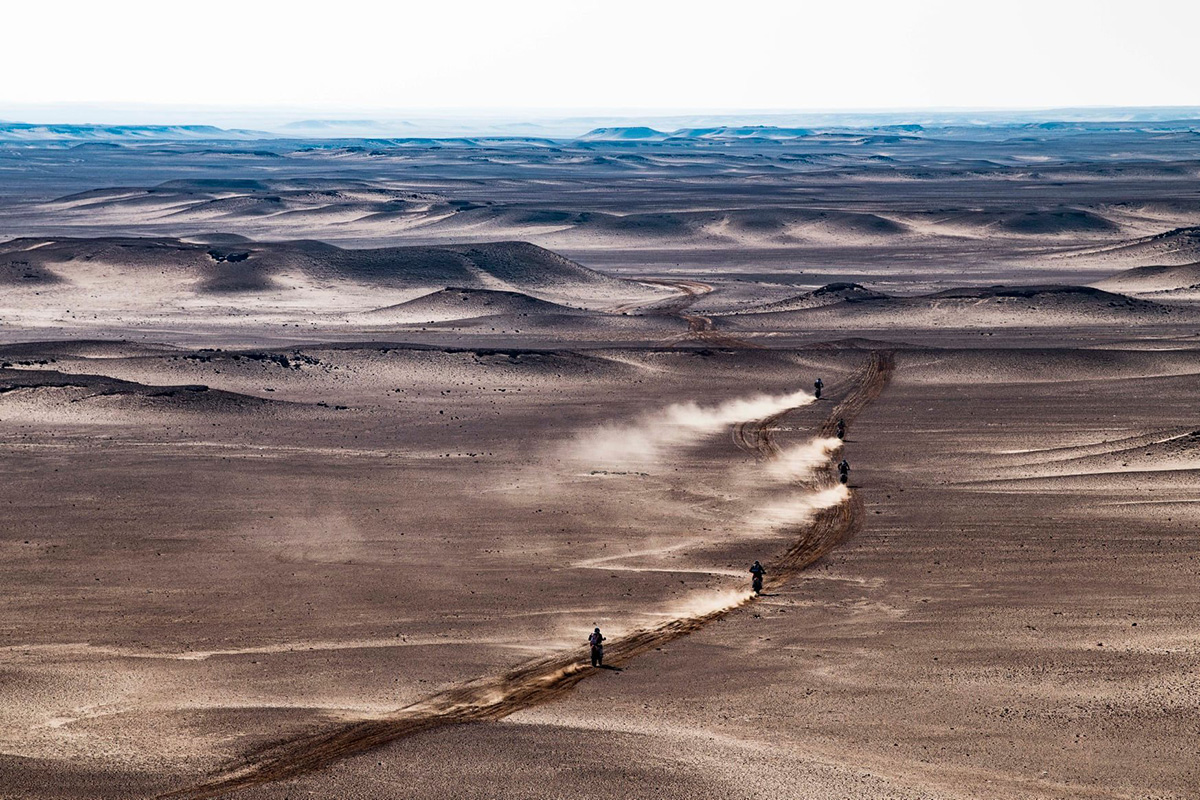 The big gains of the day therefore came from further back and chiefly that included a stage winner for the 29th time now, Joan Barreda with his teammate Pablo Quintanilla in second. With this day win, Barreda edges closer to the all-time moto stage win record set at 33 jointly by Stephane Peterhansel and Cyril Despres.
As with his stage two victory, the HRC rider benefitted from starting down the order and admits it was "a good special to claw back time in the overall. I started from far back and I was feeling well, so I pushed hard all day long.
"I'm still in the hunt for a top placing, but I need to take it step by step… one kilometre at a time. The stage win record? We'll see, it would be awesome and way beyond my expectations."
The other big winners on the day were the Sherco pairing Rui Goncalves and Lorenzo Santolino, plus KTM's Danilo Petrucci (more on Petrucci below).
Hitting the sweet spot
There is a significant huddle of riders holding station at this stage of the rally. In terms of the leader board (rather than the stage result), Sam Sunderland, Adrien Van Beveren, Matthias Walkner, Daniel Sanders and Santolino are most notable in trying not to win but equally not dropping too much time during each stage.
Unless you lost a load of time in one stage, like Price or Brabec for example who are doing their best against the odds to claw time back, the smart ones are concentrating on hitting that sweet spot.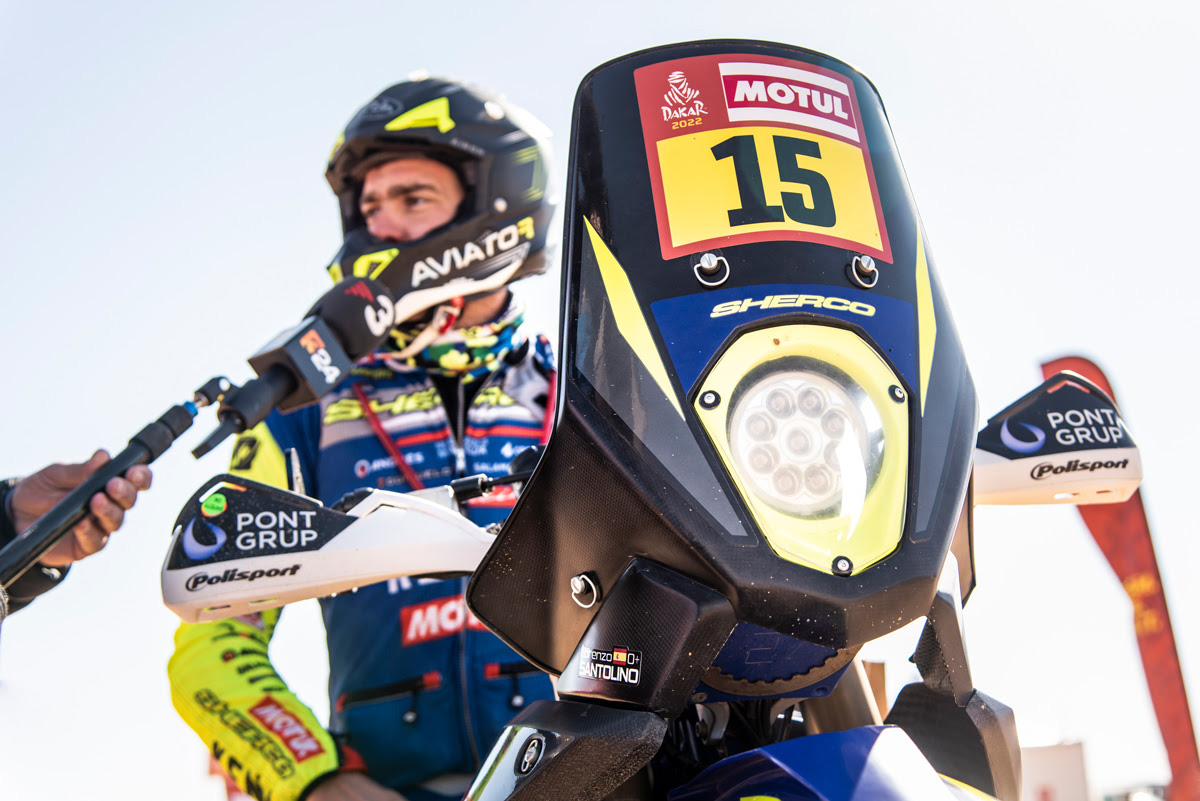 Lorenzo Santolino is notable in the sweet race because his progress as a podium contender seems to be matching Sherco's progress as a manufacturer. "Sherco is making progress year after year." Says the Spaniard. "We're not the biggest brand, but that doesn't stop us from doing well. We're on the right track."
His teammate Rui Goncalves was also on the right track on stage four. The ex-MXGP rider showed his speed skills again but this time didn't miss any waypoints and delivered the French manufacturer their best ever collecive Dakar stage results of third and fourth.
The return of Rocky Balboa?
We weren't going to talk about Daniel Sanders today but he got a fat lip and we couldn't resist using the image. Along with Skyler Howes, the Australian had done his share of opening the stage today before he went and headbutted his GASGAS, just like last year...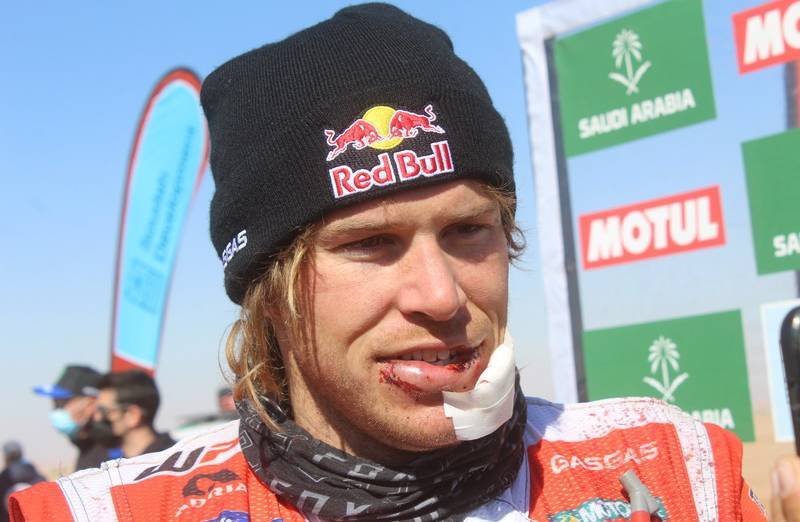 "While I was opening with Skyler I landed off a dune jump on a mound." Explains the Rocky Balboa lookalike. "That's why my face is like this. I face-planted the navigation screen. I hit my head pretty hard, but I was really lucky I didn't crash. The airbag went off and it was good to just regroup and get to the next refuel, finish strong and try not to lose too much time today because it was the biggest stage of the race." Concludes Sanders before adding, "It was good fun."
Something which might dull the pain for Chucky tonight is the 10-minute penalty he received on stage two has been annulled. At the time they said he hadn't "respected a control zone" but Sanders and his team protested and the jury handed the time back, putting him fourth overall and seven minutes behind his GASGAS teammate.
A.O.B. – what the hell else is going on as week one marches on?
Two days ago, MotoGP exile Danilo Petrucci stood and watched his KTM 450 take-off with a helicopter. It had stopped pumping fuel and his rally was over.
Except it wasn't because the organisers gave him an 11-hour time penalty and let him carry on effectively for no result. Since then, he's been proving MotoGP riders can ride sand and finished 22nd on stage three, nine minutes off the pace.
Today he upped the game further and actually led the stage scratch for a while before coming home third on corrected time. Cue a heap of headlines from around the mainstream motorcycle media.
Sadly for all those headline writers, when the dust settled, a few riders got shuffled around the official results and Petrux was eventually classified in 15th having been docked 10 minutes for speeding in a controlled zone.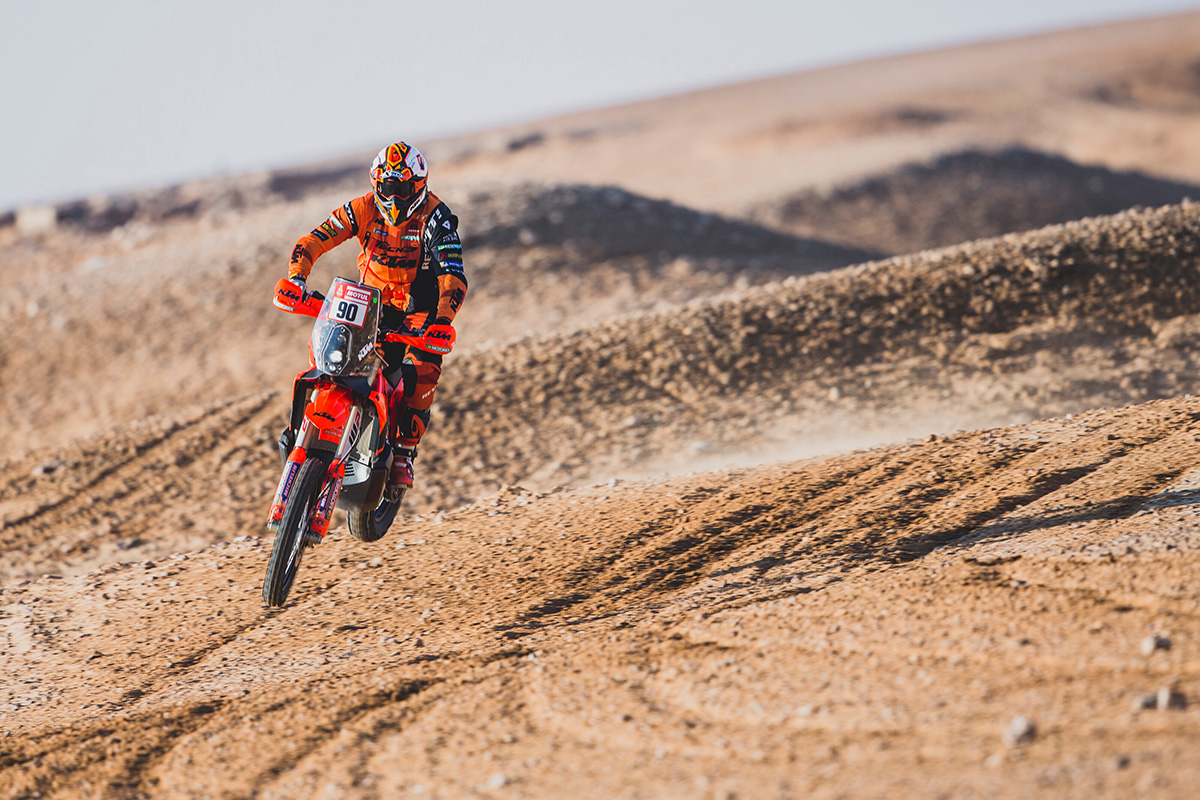 It mattered not, Danilo grabbed a load of headlines and that is why KTM are paying him to be here. Besides, it was a good show from an asphalt jockey to match the best rally riders in the world on this stage and he looks to be absolutely loving it.
Hard Malle men pushing the top 30
The Original by Motul class, formerly known as the Malle Moto category (which means you're on your own as a rider prepping your bike, living out of a box and sleeping in a tent) is being led by Lithuanian Arunas Gelazninkas from Czech Republic rider Milan Engel and South African Charan Moore third.
Along with Frenchman Benjamin Melot in fourth, they're hauling it on the stages and pushing each other for a top 30 placing scratch.
The kids are alright...
The battle for Rally 2 class is being led by American Mason Klein, in no small part because the awesome results he is posting so far this week. He's closely followed by Bradley Cox, son of a Dakar legend Alfie Cox, with French beach race specialist Camille Chapelliere third and enjoying the Saudi dune. Klein and Co are also leading both the rookie and juniors too so could have a stack of trophies if they keep this up.
Women of the world
Leading the women's category this year (now that Laia Sanz is on four wheels) is Dutch rider Mirjam Pol ahead of Sandra Gomez, Sara Garcia and Audrey Rossat – enduro fans will know a couple of those names at least.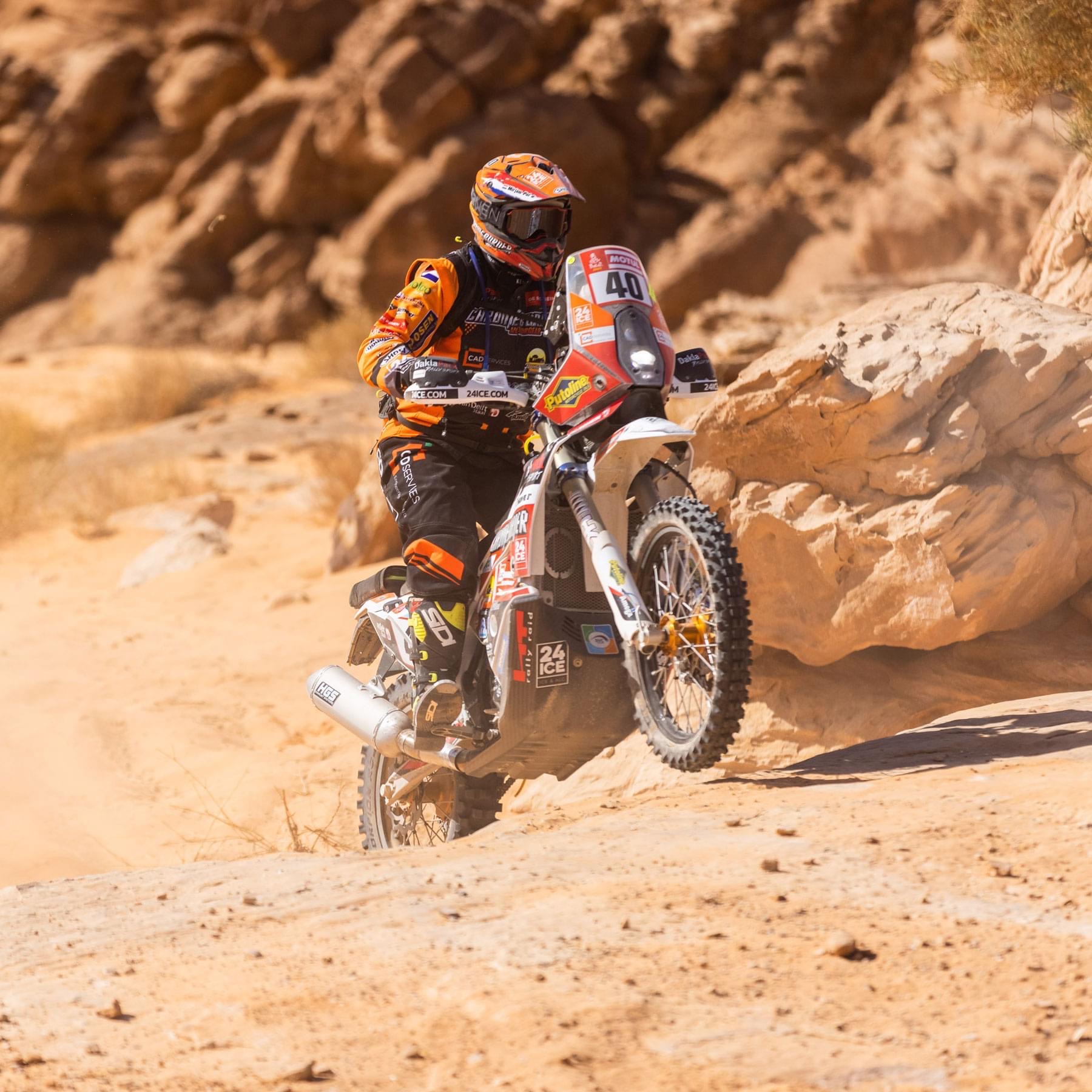 Pol has a big lead in class of almost two hours at this stage. Behind her is rookie Sandra Gomez who has put TrialGP, EnduroGP and ISDE to one side for a couple of weeks and jumped onto a big rally bike.
It's a steep learning curve but one she is clearly enjoying in her first Dakar race. Sandra finished stage four on top in the women's class, narrowly ahead of Pol on time and in 60th place overall.
Today's top 3 bikes footage…the need for speed
Find full moto results in our separate story: 2022 Dakar Rally Results: Second day win for Barreda on stage 4, Sam Sunderland extends overall lead
Photo Credit: MCH Photo CZ + Charly Lopez | A.S.O. + Marcelo Maragni + Flavien Duhamel | Red Bull