Dakar Rally 2021 news & results: victory for Joan Barreda on stage 2
Stage two results from the 2021 Dakar Rally where Monster Energy Honda rider Joan Barreda has turned the tables on the KTM armada to collect his 25th Dakar stage victory in the Saudi sand dunes – KTM riders have it tough out front and Andrew Short retires with a mechanical.
Oh, what a difference a day makes in Rally racing. Stage two of the 2021 Dakar Rally saw the first taste of proper sand dunes for the riders, a big turnaround at the top of the leaderboard for the Monster Energy Honda and Red Bull KTM riders.
Riding in the sweet spot around 10 to 15 riders back, Joan Barreda and Ricky Brabec played the advantage following other rider's wheel tracks through the dunes to leapfrog up the results.
Barreda completed the special stage in a total time of 4:17:56, an impressive 3:55s ahead of his teammate Brabec, who in turn was just under three minutes ahead of third-placed Pablo Quintanilla.
This could be Barreda's last Dakar on two-wheels (so he has said) and the Spaniard, who now leads the rally by six minutes from Ricky and Yamah's Ross Branch in third. A win is long overdue for Barreda (by about 10 years). Watch this space.
Keeping the lead proved difficult for stage one winner Toby Price who reports rear fuel tank issues, causing him to ride more conservatively today. He was also out front with his teammate Sam Sunderland and Honda's Kevin Benavides, opening the piste and laying the tracks for others to follow.
Price, Sunderland and Benavides' finishing positions of 24th, 21st and 17th respectively were proof that leading can cost heaps of time. Price moves from rally leader to 16th and almost 18 minutes down on Barreda. This Dakar looks likely to pan out like an epic, five-set game of grand slam tennis.
Yesterday's P3 finisher, Matthias Walkner, hit bike trouble 30 (ish) minutes into today's stage and lost well-over two hours fixing an issue.
Word up also to Andrew Short, the Monster Energy Yamaha rider, who also had a mechanical issue 273km into the special stage. Although it may have been possible to use assistance and fix the bike, Shorty made the decision it was terminal and took a heli ride the hell outta there.
2021 Dakar Rally Stage 2 results: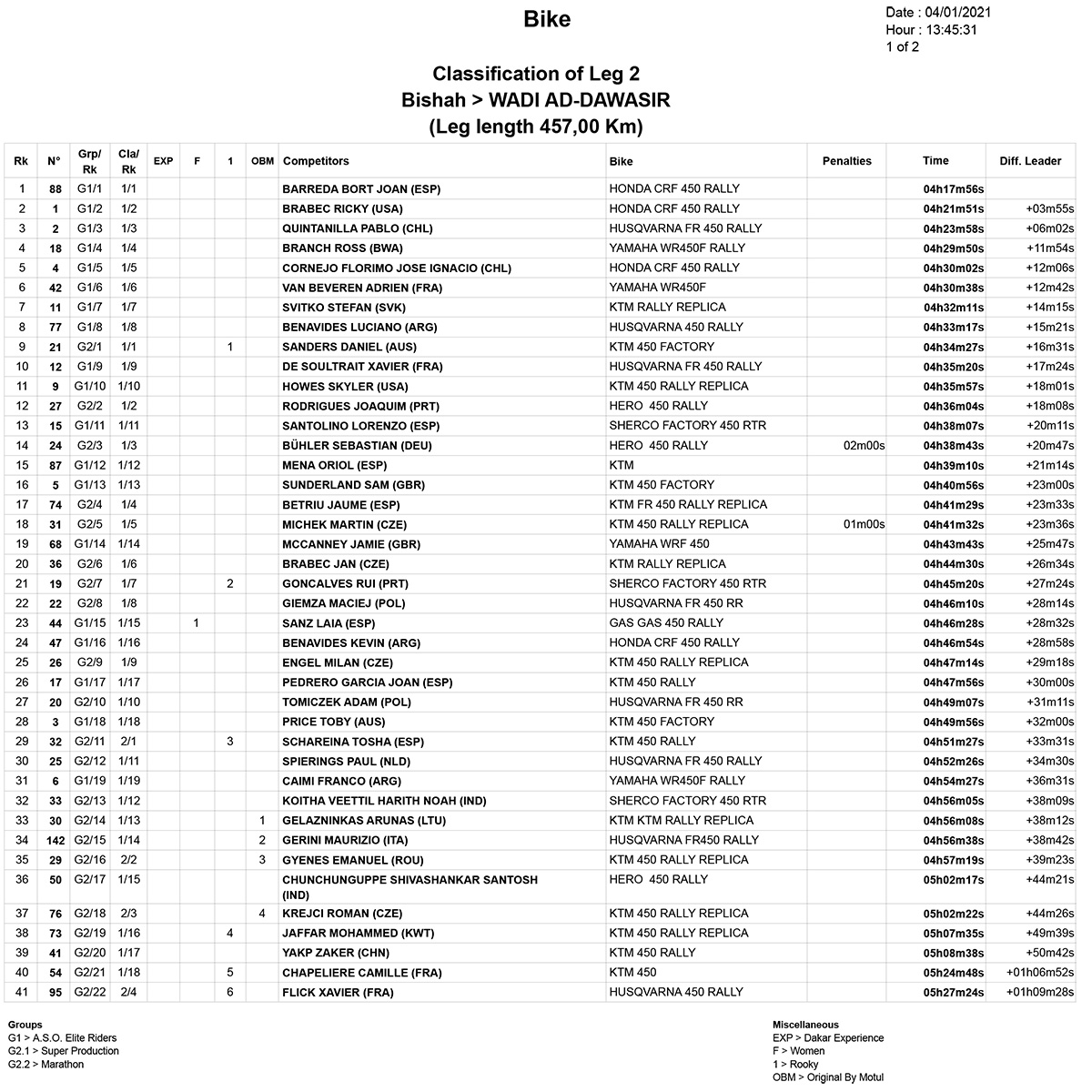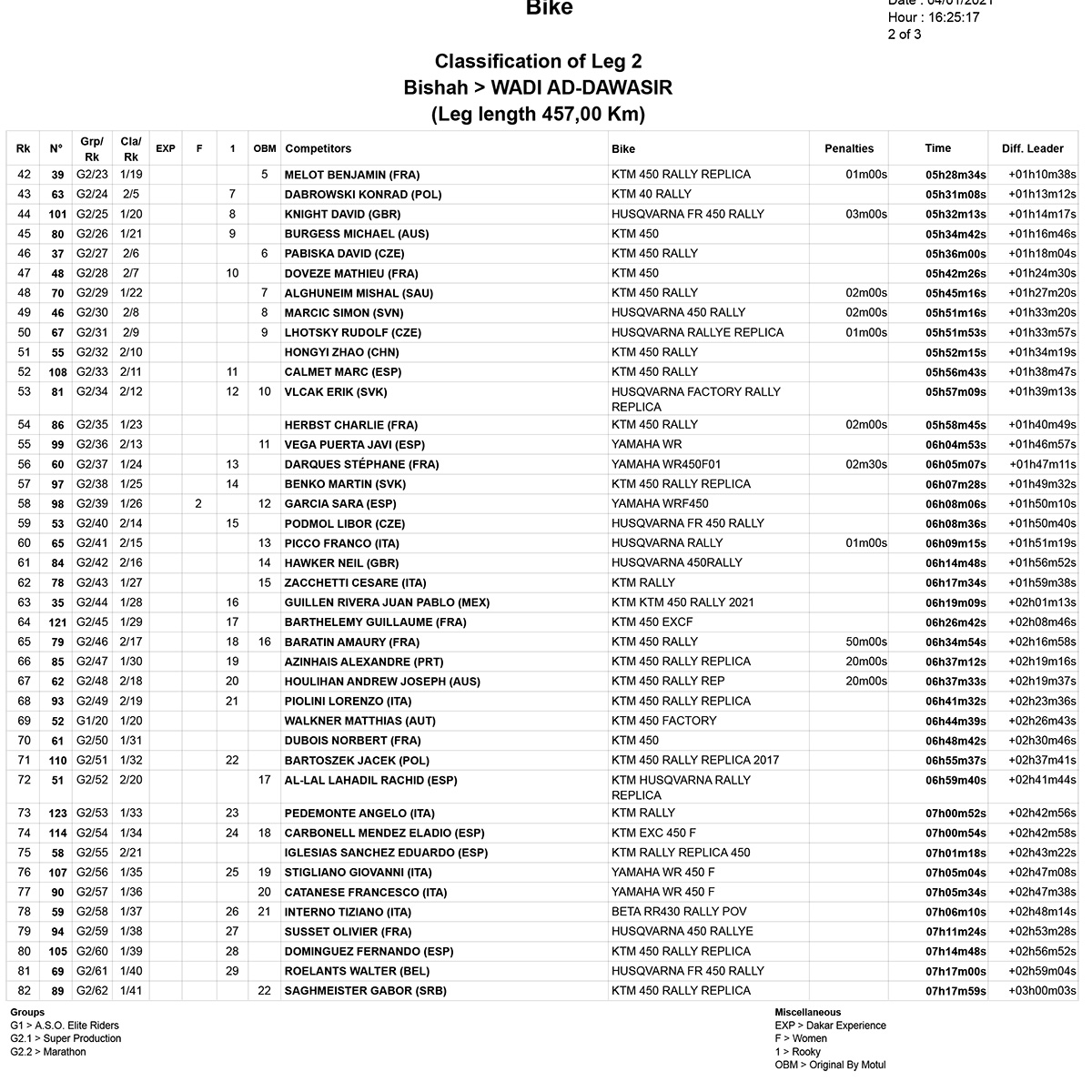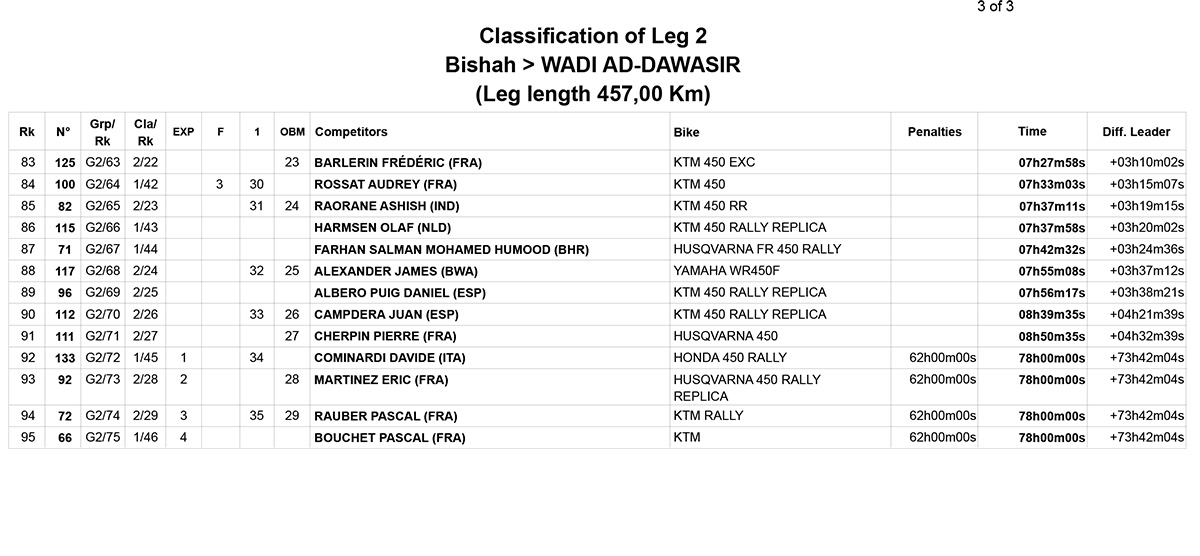 It doesn't matter if you're a privateer or a factory rider, you've got to have the mechancial skills in this sport...
2021 Dakar Rally overall motorcycle standings (after stage 2):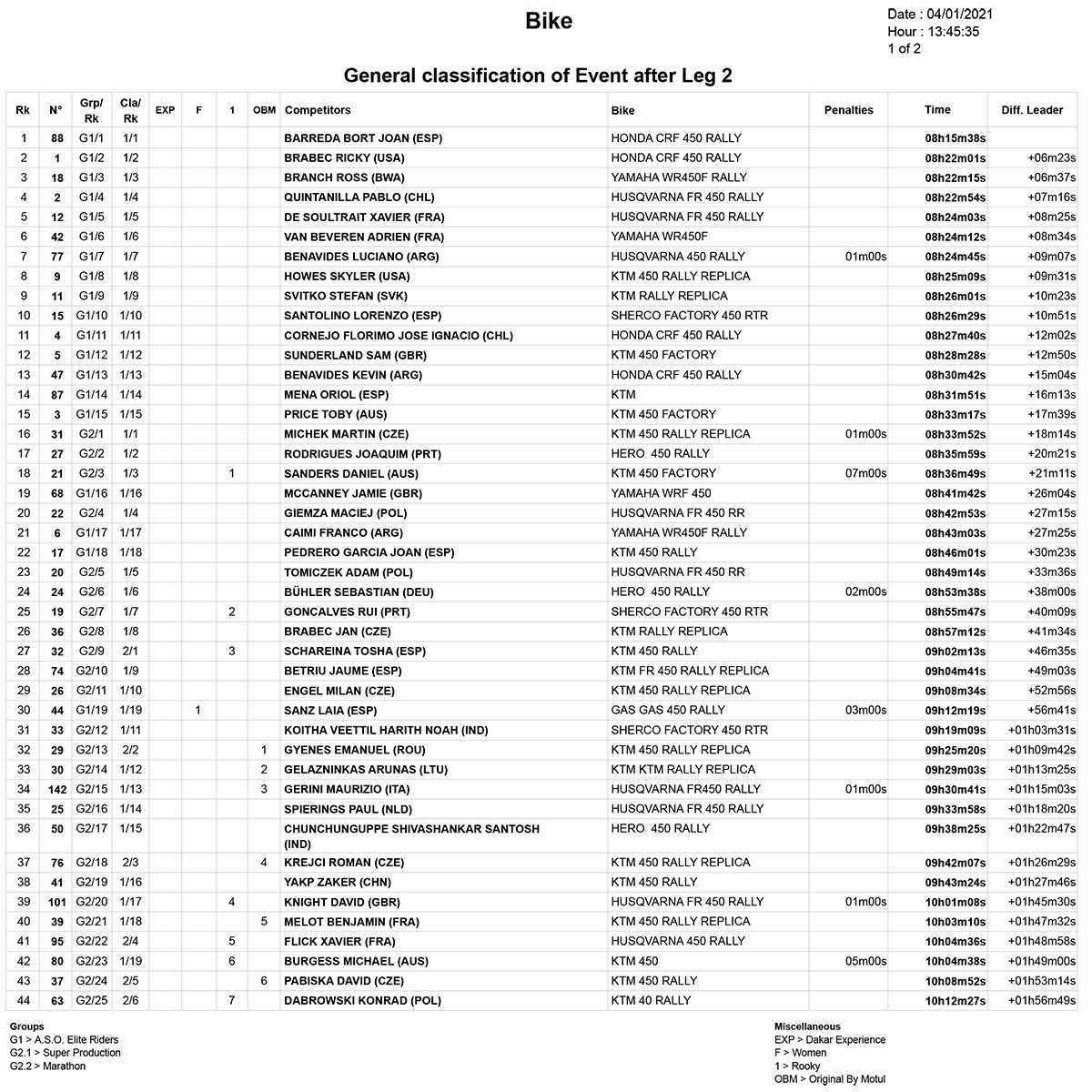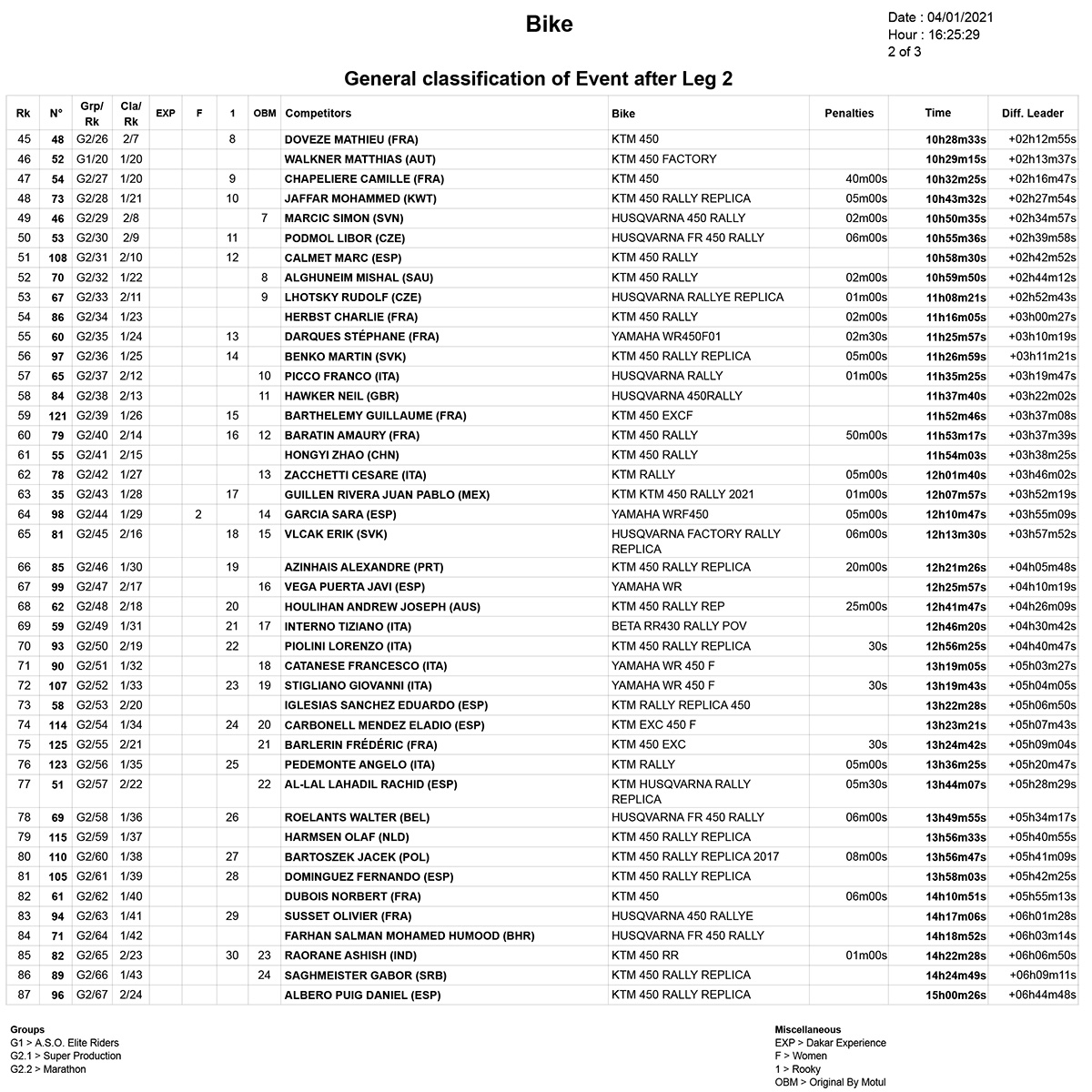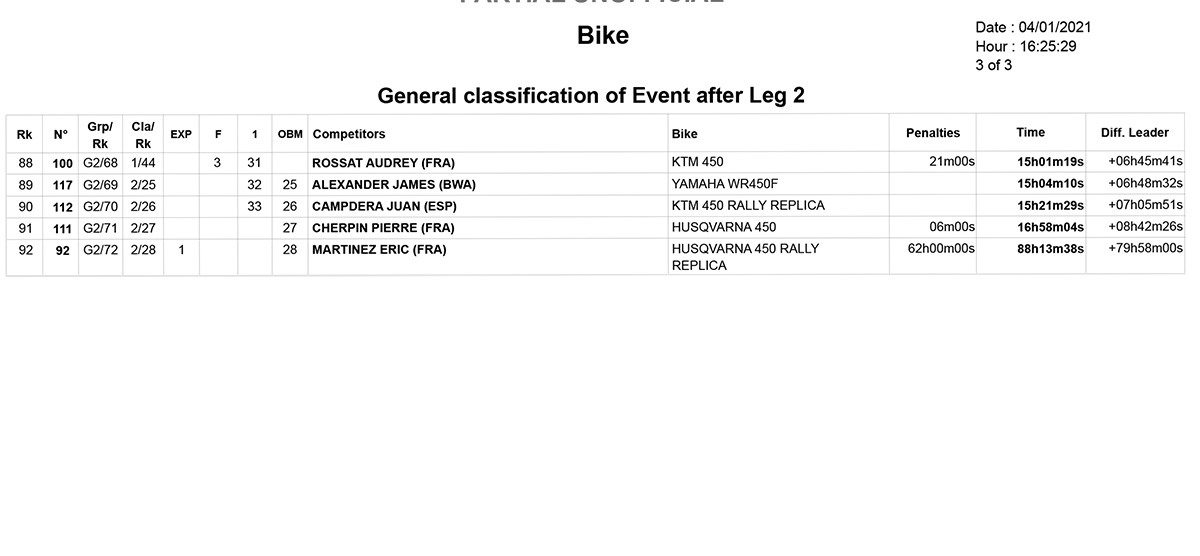 Photo Credit: Rally Zone