2022 Dakar Rally Notebook: stage seven – the yin and the yang of rally racing
Enduro21's daily Dakar Rally notebook is a short one but dishes up a small feast of awesome bike images from the rest day and checks in on a stage which reality checked potential winner Daniel Sanders and promoted Adrien Van Beveren.
The start of week two at the Dakar promised to be tough. Long days riding on stage seven and eight sends the riders down through this vast country towards Wadi ad Dawasir, both are going to have a cause and effect on the outcome. Get through these days well and the finishline starts to come into view.
Yesterday's rest day gives riders a day away from the pegs and teams chance to get through some meaningful maintenance. The photographers were hard at work so we've chucked a load on the image gallery above, swipe through to see some of the bikes of Dakar 2022 undressed. That includes a good look at the latest KTM chassis...
Daniel's downfall
The talking point on stage seven of the rally happened early, just seven kilometres into the day when Daniel Sanders hit the ground on the road liaison, breaking his wrist and elbow.
Like all competitors at the Dakar, Sanders dedicates his life to this cause and to see it blown away in such a simple way, on the street not far from the paddock, is a mammoth WTF moment.
Given all the problems these last two years with Covid, how much time away from home, particularly for Australian's dealing with their border controls (just ask Novak Djokovic), it must be a bitter pill.
Chucky has good company in that paddock, plenty there know how he is feeling.
The GASGAS team offer some insight in the stage seven video highlights: Dakar Rally stage 7 video highlights – Nacho's day
Right, where were we?
Not wishing to tempt fate but this is the first time Adrien Van Beveren and Yamaha have led the Dakar since 2018. That year was probably his and Yamaha's best Dakar (in the modern era) but it unravelled badly for the Frenchman when he crashed not long after. Along with another high-speed get off in 2020, AVB has had a tough few years and for sure he knows how Sanders feels tonight.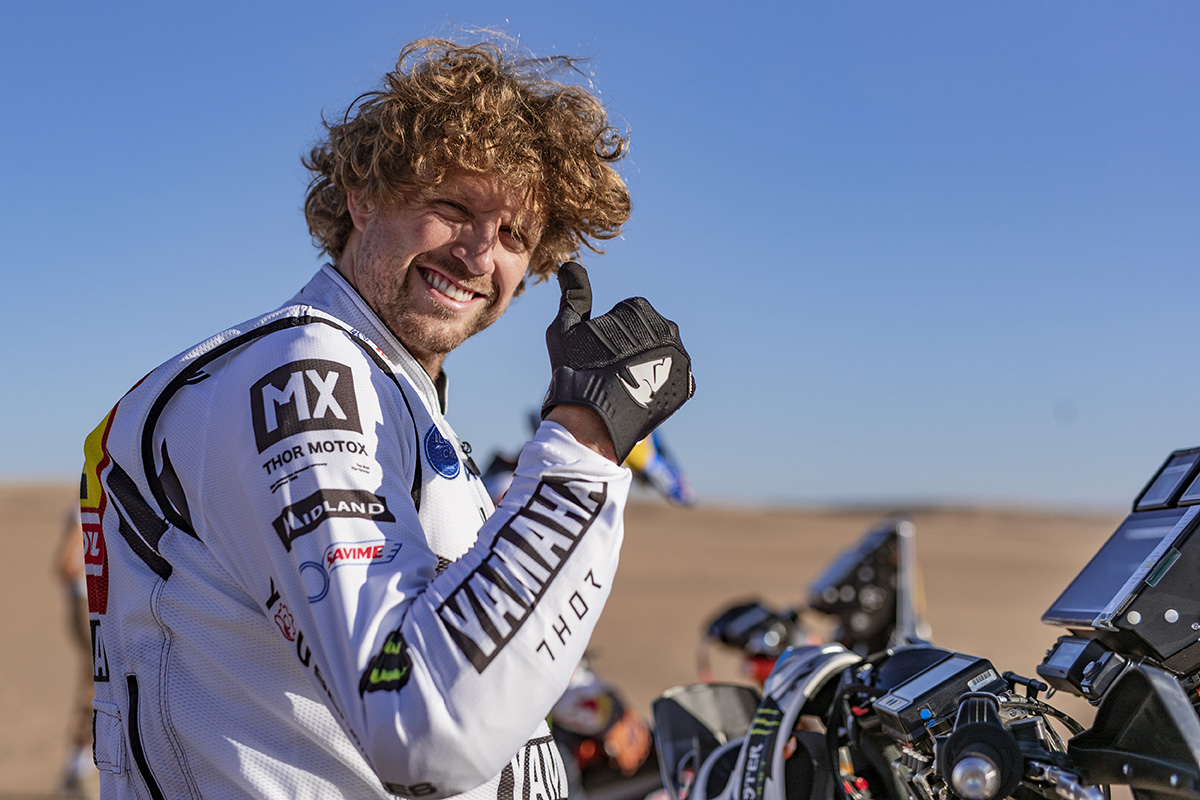 Yamaha have stuck by Van Beveren though and he's worked hard to get his confidence back, as he told Enduro21 when we spoke to him a couple of months ago.
But it has paid off and they are, for now at least, back on top. "Today was a great day for me." Says AVB. "There was some really tricky navigation and I didn't make any big mistakes."
Being smart, going fast when it matters, being aware of what his rivals are doing and ripping in the dunes seems to be the trick for Adrien who is now over five minutes clear overall. "Where I felt I could push, I really pushed where it was possible to do so. It feels great to be leading after everything that has happened to me over recent years, but I know all too well that the race is far from over. I'll continue to focus on each day and keep fighting to the end."
There's only another 3000+ kilometres to go…
After stage seven there are still over 1500 racing kilometres left, 3261 in total including the transfers or liaisons.
That's a lot of time left for things to go right or wrong and while the many privateers still in the rally are surely just aiming at the finish line, the professional riders, especially those capable of winning, are brutally aware how fickle this event can be.
Today's sea of quotes from the factory riders are full of "there's a long way to go" and "anything can happen" type comments. It's true and it probably will.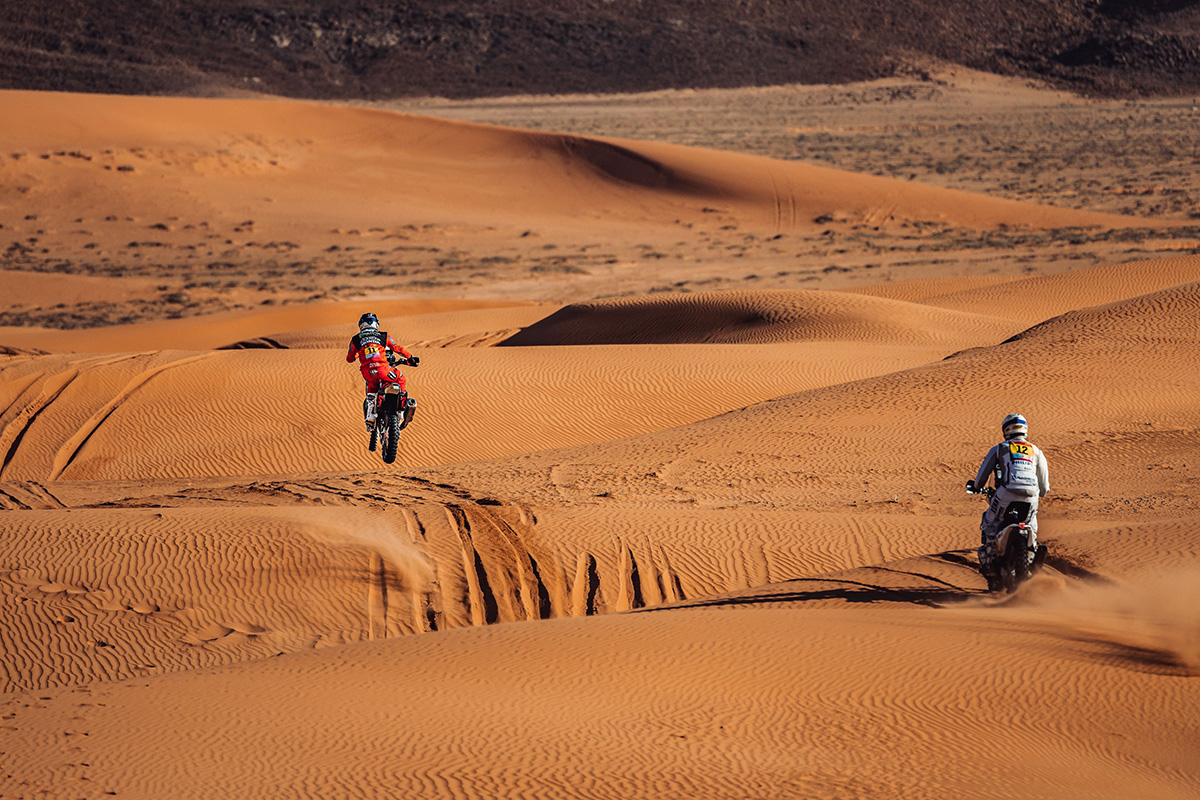 Time to fly
We're not ignoring Jose 'Nacho' Cornejo's stage win today. He's one of many rider who reset for week two and is riding in a different frame of mind, a little wiser for the week one shenanigans it seems. "Today was a great day to attack and that's exactly what I did. I knew the navigation would be sketchy, so I eased up a bit to avoid navigation mistakes." Says the Chilean."This week is different. The first week is behind us and we are now going to attack and fight until the finish."
Stage eight is a long slog down the country, from Al Dawadimi to Wadi ad Dawasir, with a total of 435km of liaison, much of which is road riding.
On the map it looks like a straight line but Likely the riders will travel up and down more than left and right tomorrow with around 200km of the 395km special stage in sand dunes. The sand specialists are going to love it.
Find full results from stage 7 in our separate story: 2022 Dakar Rally Results: stage 7 win for Honda's Nacho Cornejo – Van Beveren takes overall lead
Photo Credit: RallyZone + A.S.O Charly Lopez