2023 Dakar Rally: Prologue results – Toby Price quickest
Results from the 2023 Dakar Rally and the opening day's short, sharp prologue where Toby Price put all his experience to good use in a tricky 'enduro test' to set the fastest time for Red Bull KTM ahead of Daniel Sanders on the GASGAS.
Dakar '23 Prologue in a nutshell:
As is tradition, the 121 bikes at this year's Dakar Rally filed across the start podium in reverse order of the '22 World Championship in one minute intervals to open the show.
The riders faced a tricky 13 kilometres of mixed conditions in a featureless landescape on the banks of the Red Sea, right outside the bivouac. The course itself was quickly catching riders out with a mixture of bedrock, loose rocks and intermittent soft sand sections – it was all quite flat but the sudden changes in the surface saw a few crashes and plenty of bust tapes in what ultimately wasn't so far removed from a flat enduro test.
The test saw some old enduro boys at the top of the time sheets with Toby Price setting the fastest time for KTM. As ever Toby didn't look the fastest but his trademark steady away style saw him hitting his markers for best effect.
One second behind Price came compatriot Daniel Sanders, as ever fast out the blocks and completing the course in 08:23 on the GASGAS.
They were followed home, slightly unbelievably, by three riders on exactly the same time: Ross Branch on the Hero, Joan Barreda making it four manufacturers in the top four (and fastest Honda rider) followed by Kevin Benavides on the second KTM.
In fact behind the Aussies out front, the middle order of the front runners were all incredibly close on times with many setting same or similar results.
Notable times came from Sebastien Buhler and Michael Docherty in P8 + P9, two of eight different nationalities inside the top 10 also.
Docherty was best-placed Rally2 rider in ninth with Charan Moore posting an impressive 19th overall to top the Original by Motul class.
'22 Dakar winner Sam Sunderland was P10 after running on in one corner – he wasn't alone in doing that with some corners blind in a featureless landscape.
Nacho Cornejo was another, he went down in the first turn, losing over a minute in the process which will cost him a poor start position (at the front) tomorrrow.
The riders inside the top 10 are able to choose any start position in the 28 RallyGP class tomorrow, stage one proper, with Price getting first option. That means start positions will not be the same as prologue results FYI.
Prologue results, overall (provisional):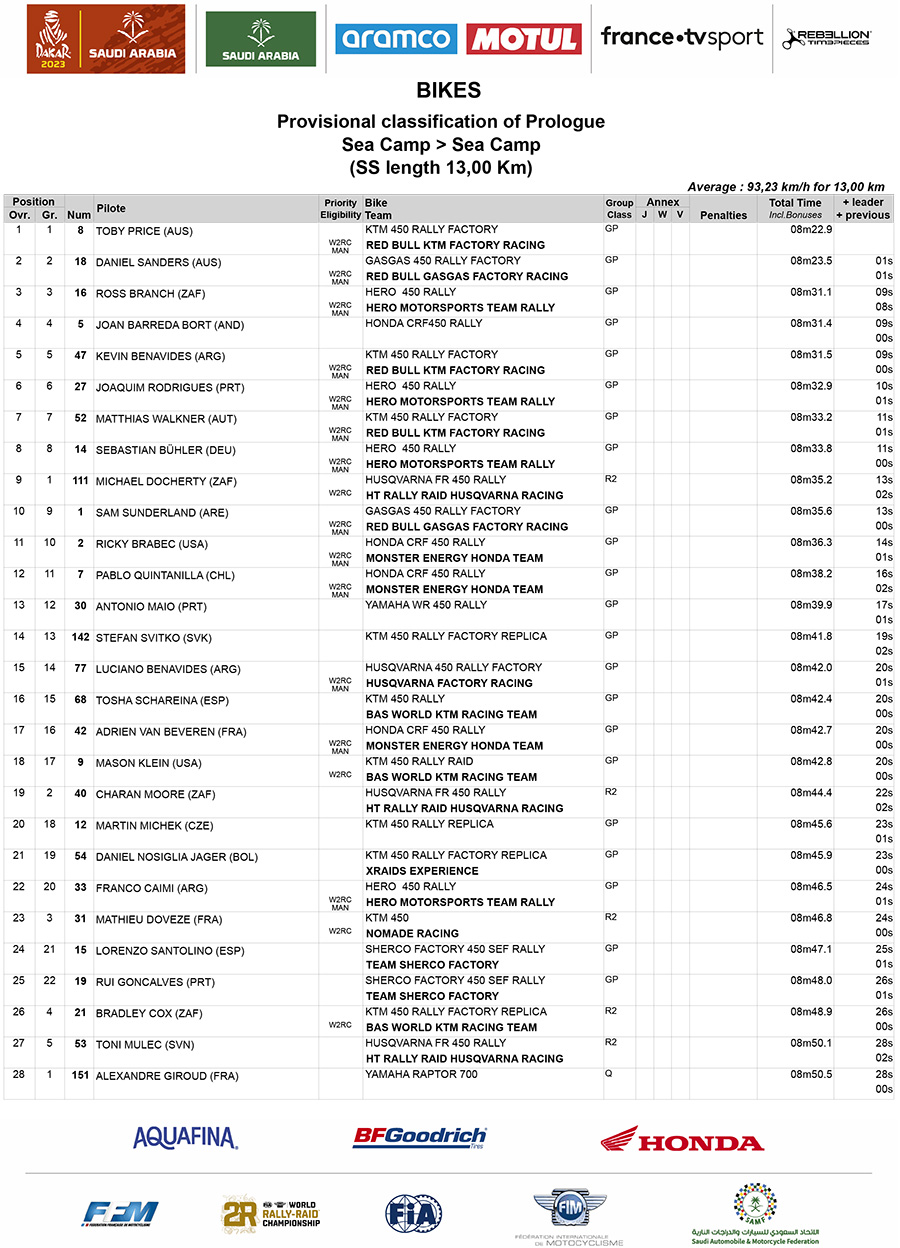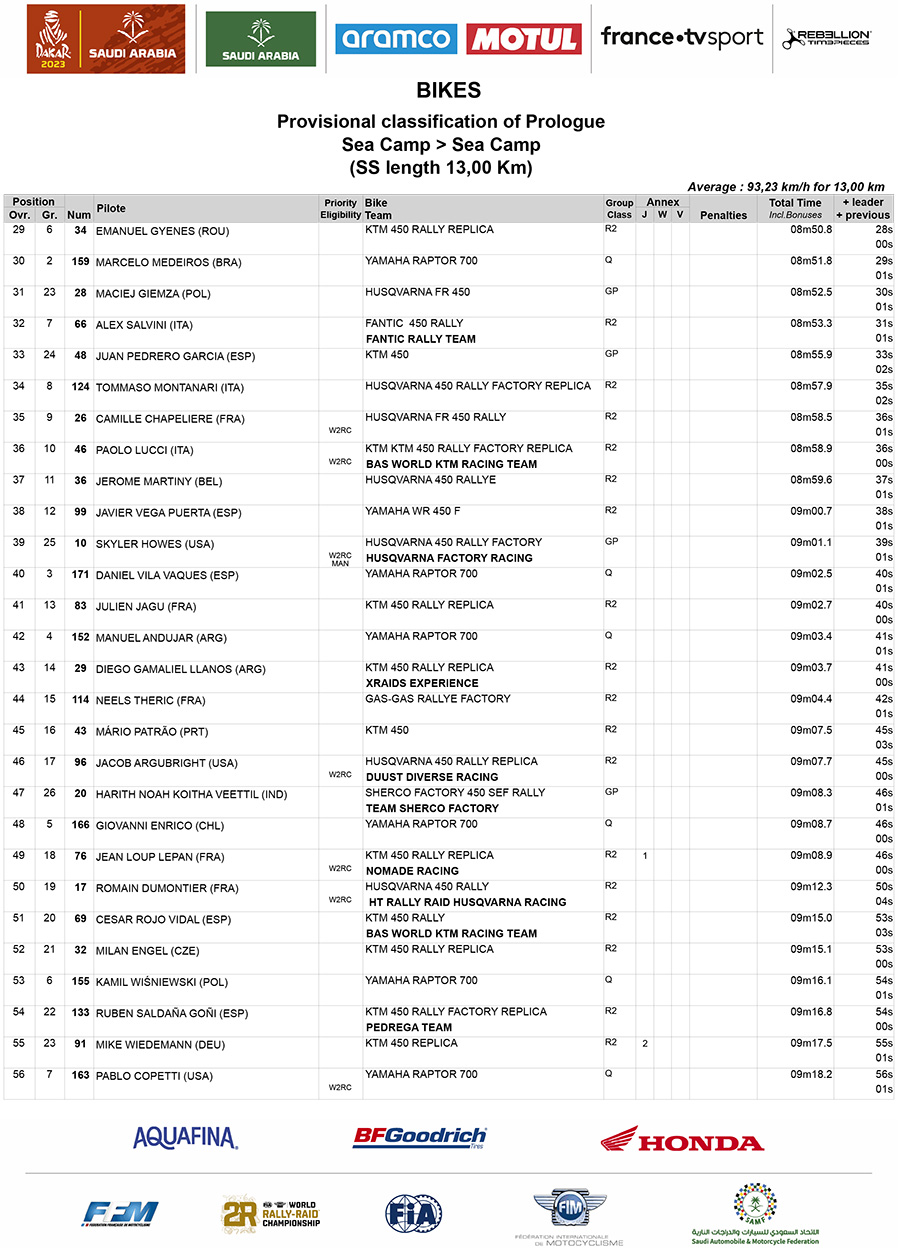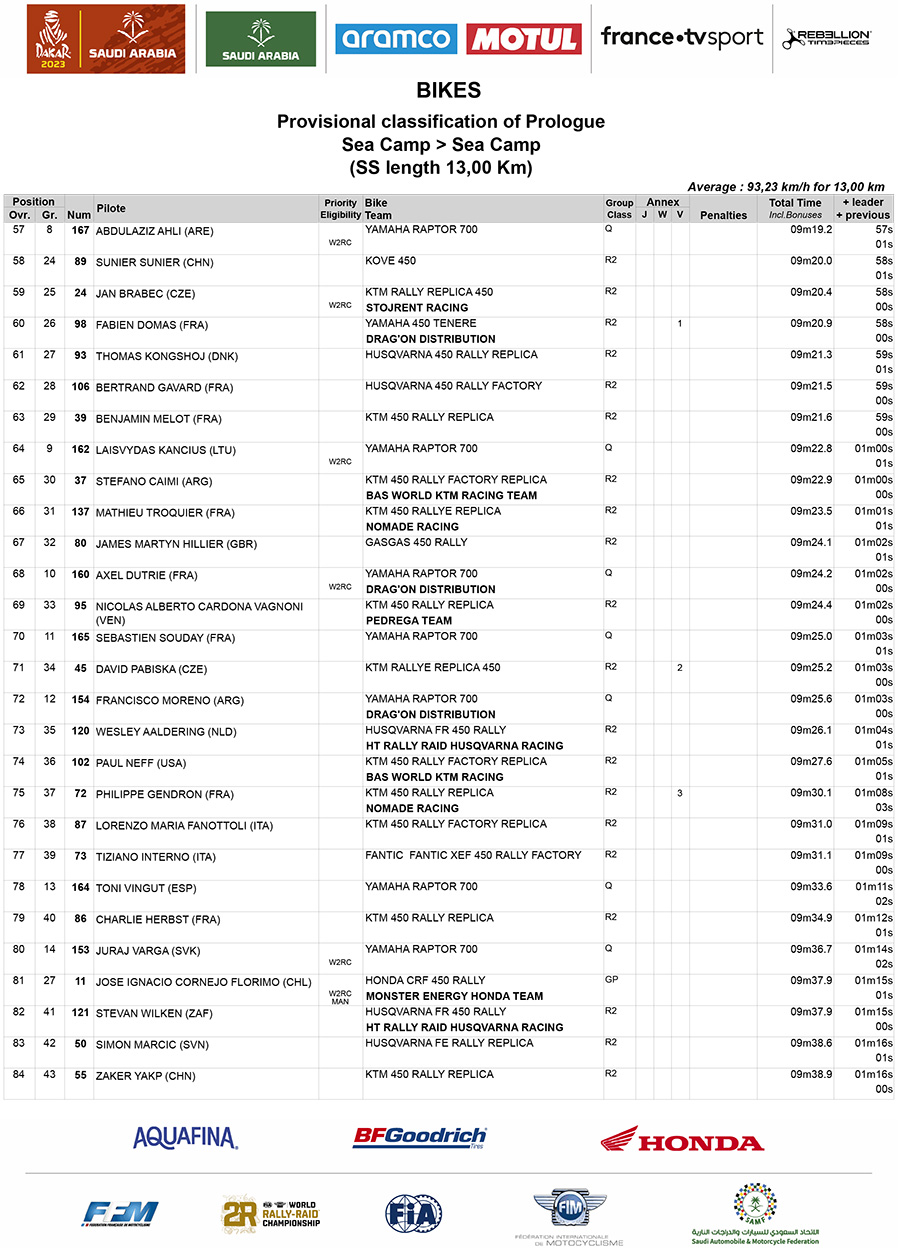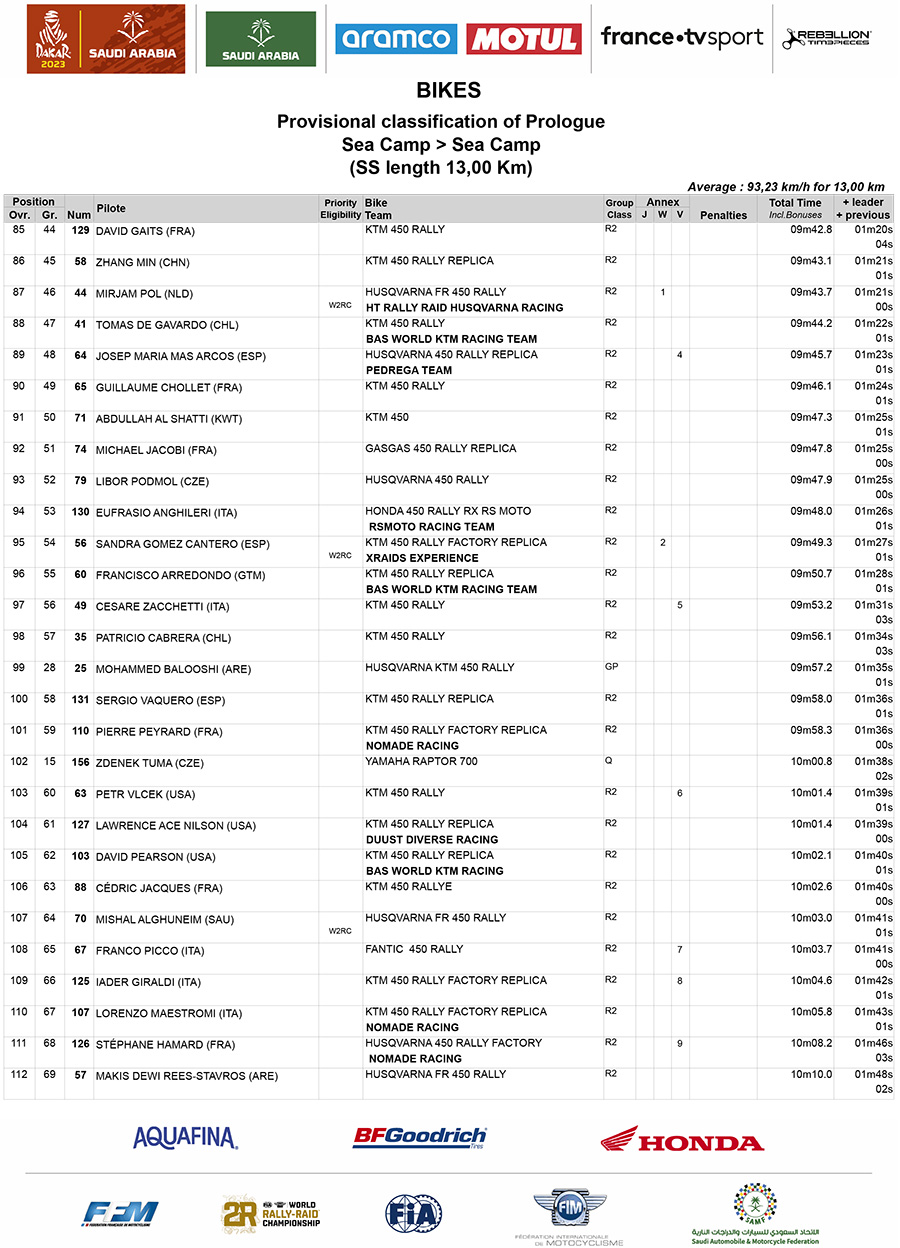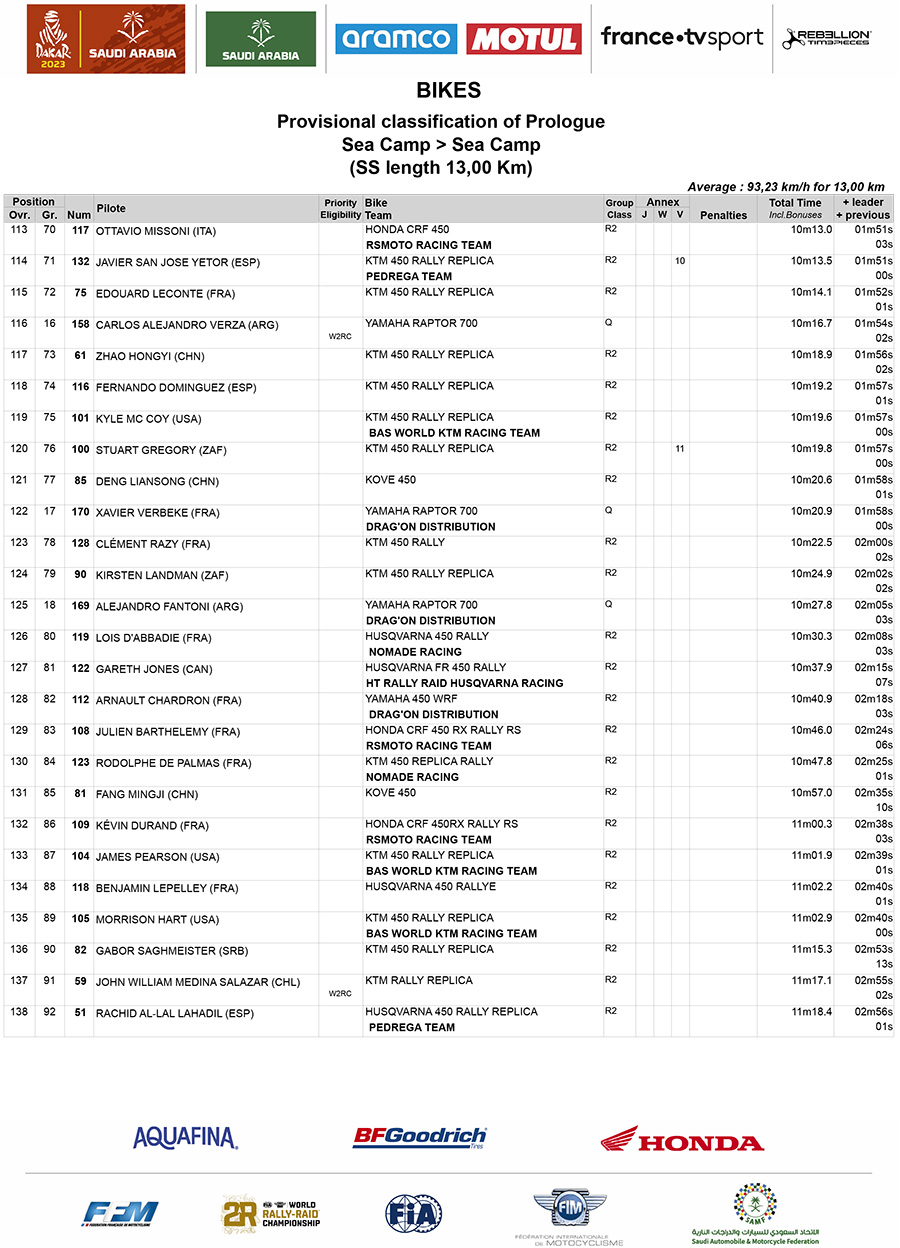 Photo Credit: Rally Zone + A.S.O. | J.Delfosse | DPPI